So you're staring at your deep fryer and have no idea how to use it. Or you want to replicate the deep-fried crunchy goodness you get at fast-food restaurants at home. If this is you, you've landed in the right place. Today, we're walking you through how to use a deep fryer like a professional, while keeping safety in mind.
While this appliance is more daunting to most home cooks than your regular air fryer, it is worth learning how to use it. You'll see, it's not as intimidating as you might think.
Step 1: Choose the Right Oil
First things first: you need to pick the right oil for your food. You should always use a frying oil with a high smoke point. That way, it won't burn or give your food a foul taste.
Peanut oil, canola oil, grapeseed oil, vegetable oil, and sunflower oil all have a high smoke point, making them great contenders for the job. Olive oil, on the other hand, should be avoided completely when deep frying.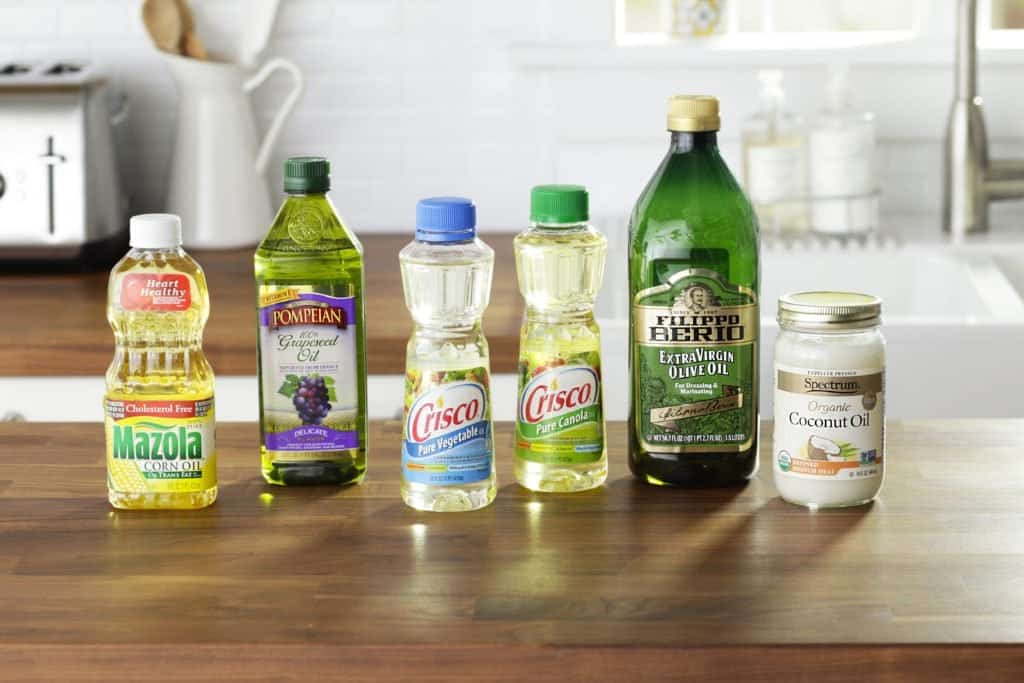 Step 2: Pour the Oil in the Deep Fryer
Now that you have your oil, pout it into the deep fryer. You never want to put too much oil in the tank (we'll get into that in a bit). Most deep fryers come with a "maximum fill line." That's the line you want to hit.
Make sure you're only pouring in the oil if the deep fryer is at room temperature. If it's hot, you'll have to let it cool down to deep fry again.
Step 3: Turn On and Set the Temperature
Now, it's time to turn on the deep fryer and select a temperature setting.
Different foods should be cooked at different temperatures. This will make sure they get crispy and golden brown on the outside while being perfectly cooked on the inside.
If you're making fried chicken, curly fries, onion rings, or doughnuts, set your fryer to 375ºF. If you're making deep-fried prawns, samosas, or mozzarella sticks, make sure the temperature is set to 350ºF. It may not seem like much of a difference, but it is.
Pro tip: get a kitchen thermometer to measure the temperature of the oil if your deep fryer doesn't have any fancy settings.
Step 4: Prepare and Lower Food into the Oil
When you've chosen what fried food will be on the menu, it's time to prepare it. 
Pat down your food with a few paper towels before putting it on the deep fryer basket. Make sure it has no more moisture on the outside. That's because moisture makes the oil bubble and splatter, which could be very dangerous to you.
Once that's done, gently lower the basket into the oil tank. You shouldn't just drop it in the oil, otherwise, it will splatter and could burn you.
Lastly, you should put on the lid that came with your deep fryer. Once again, this will minimize your risk of getting burned.
Step 5: Watch the Cook Time
The next step is to set a timer and wait for your food to cook.
When you're new to deep frying, cooking times can be hard to estimate. That's why it's better to follow a rough chart like this one:
Fried chicken: 12-15 minutes

French fries: 6-10 minutes

Battered fish: 3-5 minutes

Tempura vegetables: 1-2 minutes

Mozzarella sticks: 2-3 minutes

Falafel: 4-6 minutes

Egg rolls: 4-6 minutes

Doughnuts: 2-4 minutes

Turkey: 3-5 minutes, per pound
Even when you become a pro deep fryer, you should never walk away from the food as it's frying.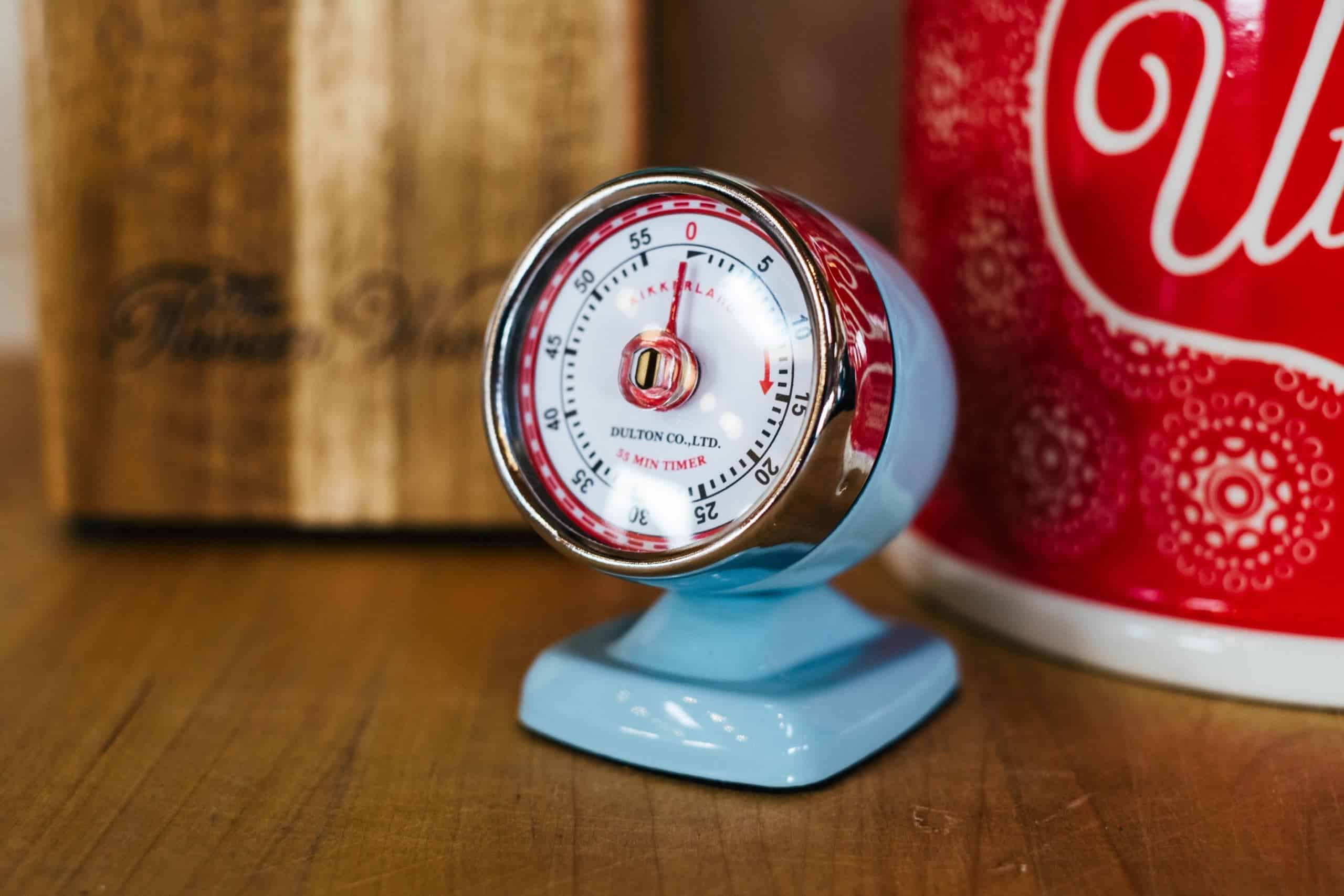 Step 6: Remove the Food from the Deep Fat Fryer
When the timer is up, your fried foods should be beautifully golden. This is when you turn off the deep fryer and take off the lid.
Carefully raise the basket so as not to splatter the hot oil everywhere.
If you're extra lucky, your deep fryer will have a "basket resting position." It allows you to set down the fryer basket on a metal structure so that most of the oil can drip. If yours didn't come with it, you'll just have to hold the basket by the handle yourself.
Now, you'll want to let the food sit on a cooling or drying rack over a baking tray. You could also rest your food atop some paper towels. This will remove the excess oil from your food.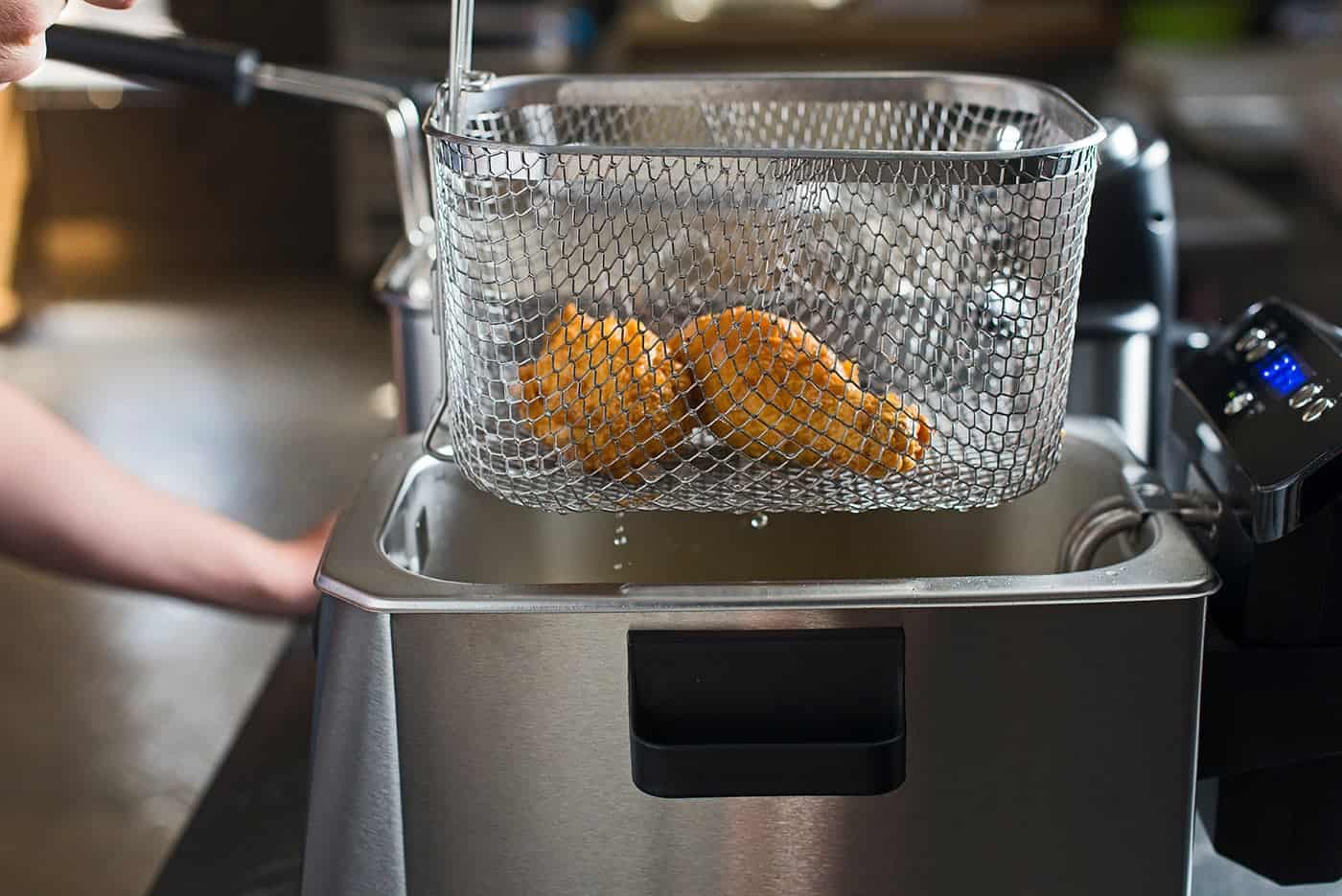 Step 7: Plate Up!
This is the best part, plating up your food and eating it! We're sure you're already an expert on this step.
Don't be shy and try all kinds of different fried food recipes. Deep fryers are pretty simple and straightforward to use, as you've seen, so there's nothing to fear. Try new flavor combinations and play around with textures.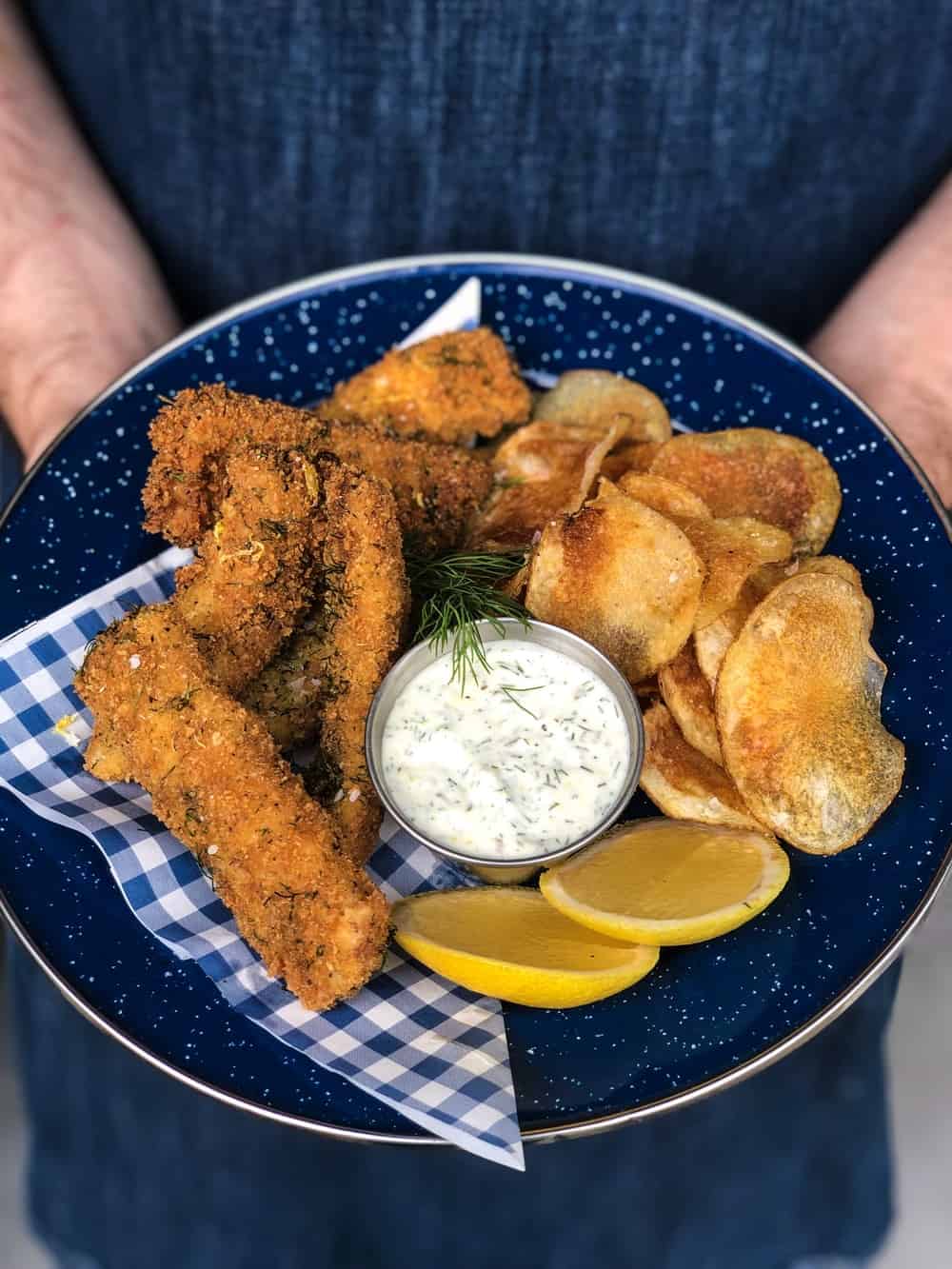 Top Safety Tips for Frying Food in a Deep Fryer
Still not completely sure that you'll nail the first time you use a deep fryer? Keep these safety tips for deep fryers in mind and you'll be out of harm's way.
Don't Overfill the Fryer
There's a reason why manufacturers include a "fill line" inside their deep fryers. It room for lowering the basket with the food in it without raising the level of the oil too much. Overfilling an air fryer would make hot oil spill and leave you with awful burns.
Don't Touch Your Deep Fryer While It's On
This is a basic tip, but you'd be surprised at how many people get into an accident this way while handling their deep fryers. Most models' exterior will heat considerably, so even a light touch on anywhere but the handles could burn you.
Wait for the Oil to Cool Before Cleaning
Never, ever, ever drain the oil from deep fryers while it's still hot. It won't be pretty. Instead, wait for it to cool down for some hours until it's reached room temperature.
Since we're talking about this, it's not a good idea to flush or pour oil down the drain. It will clog your plumbing and will end up costing you a pretty penny in the long run. Instead, put your used frying oil in a sealed container and put it in the trash. Alternatively, you could also leave it in an oil recycling bin, if your town has one.
Lastly, remember you can reuse cooking oil for up to eight times. You'll know it's time to use new frying oil if it gets a burnt color or has too many particles floating in it.
Keep the Cord Out of the Way
Our last tip is no less important. To make sure no accidents happen with spilled hot oil, your deep fryer cord should be neatly tucked away. This way, you won't trip on it and the deep fryer won't tip over. This is especially important if you have young children at home.