You don't need us telling you just how useful a food processor is. By now, it seems that everyone has embarked on the hype surrounding this useful kitchen appliance. But do you know how to use a food processor, and we mean really use all its features?
If you don't, you're missing out. Luckily, that can be fixed. Today, we're showing you how to make the most of your favorite kitchen helper. Turns out, it's not just a matter of pressing "on" and sitting back.
Setting Up Your Food Processor
You can't unlock all the cool and useful functions of a food processor if you don't know how to set it up correctly.
For starters, you need to know what kind of food processor you have. Is it a mini chopper or a full-sized processor? They're both great, but the latter comes with the most features and lets you do plenty of tasks the mini just can't handle.
Either way, you'll then want to place the work bowl in its correct position on top of the food processor base.
Thirdly, make sure the blade isn't attached and plug in your appliance. Check that you're not pressing any buttons just yet.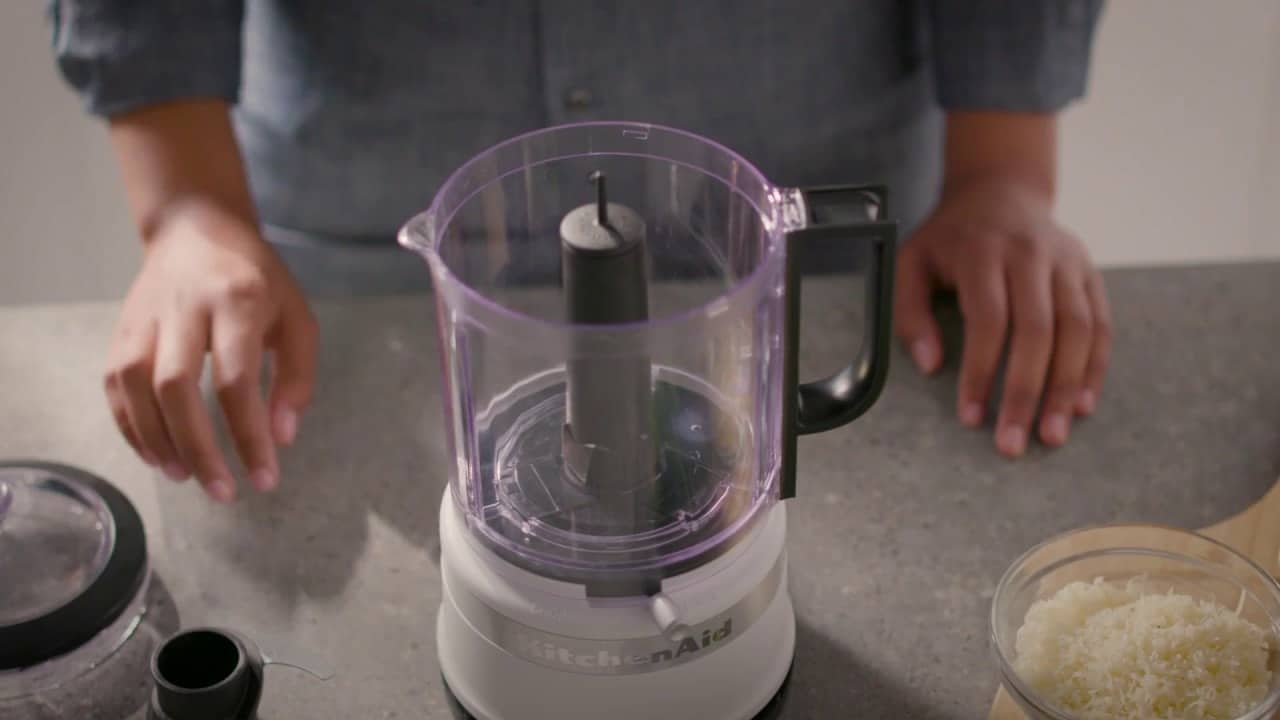 Choosing the Right Attachments
Now comes the fun part: picking the right accessories to use with your food processor. Depending on what you're making, you may need a different blade than the one you're used to.
Keep in mind that you can usually only switch out blades and disks if you have a full-sized food processor. The mini choppers, while useful, tend to only use the s-shaped standard blade. Even if your full-sized food processor didn't come with extra blades, you can easily get them online. We recommend choosing accessories from the same manufacturers as your appliance.
Spending the time to figure out which attachment you need is worth it, we promise.
Standard S-Shaped Blade
We're sure you've used your food processor's s-shaped blade (or Sabatier blade). It's the one all models come with and probably the one you've used the most. It's a multi-purpose stainless steel blade perfect for mixing, roughly chopping, grinding, and pureeing.
As handy as it is, the s-shaped blade also holds some secrets. If you use it while pressing "pulse" you'll get roughly chopped foods. But if you press the "on" button, you'll get a smooth puré.
Don't get those two functions mixed up, or else you'll probably end up not liking your food processor!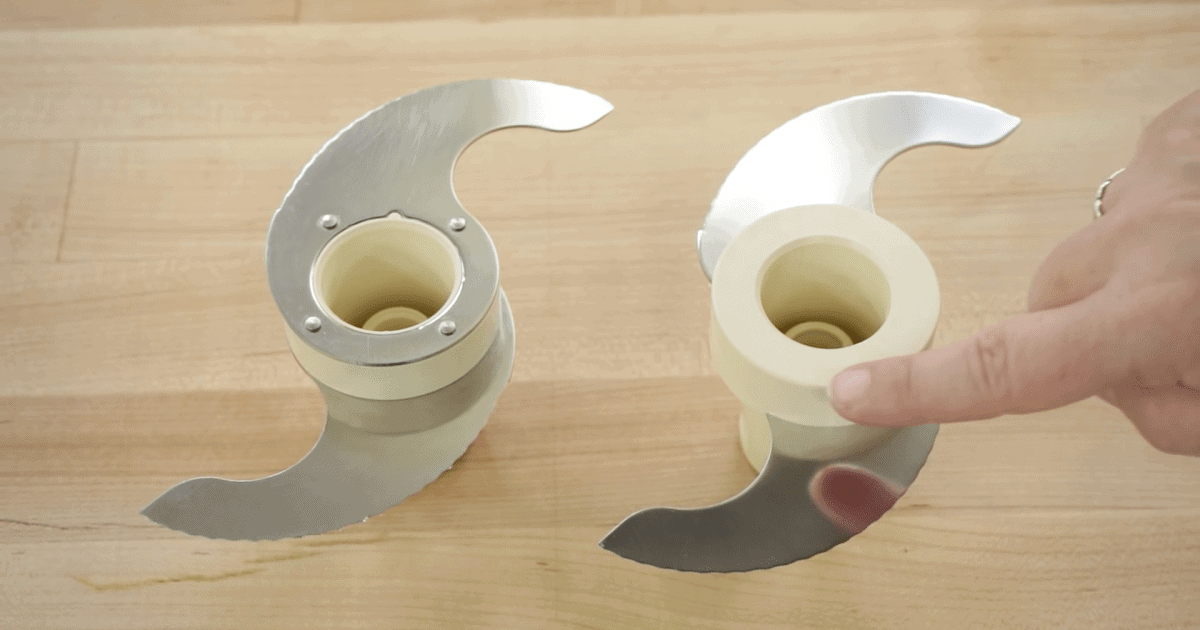 Grinding Meat
You don't always need a meat grinder to get minced meat, let alone buy it pre-packaged from the supermarket. If you have a powerful enough food processor, you can mince chunks of meat easily using the s-shaped blade.
Pro tip: make sure you're putting your protein in the freezer until it's firm before you chuck it in the bowl and always press "pulse" until you're happy with the consistency. This will ensure you get ground meat instead of a meat puré.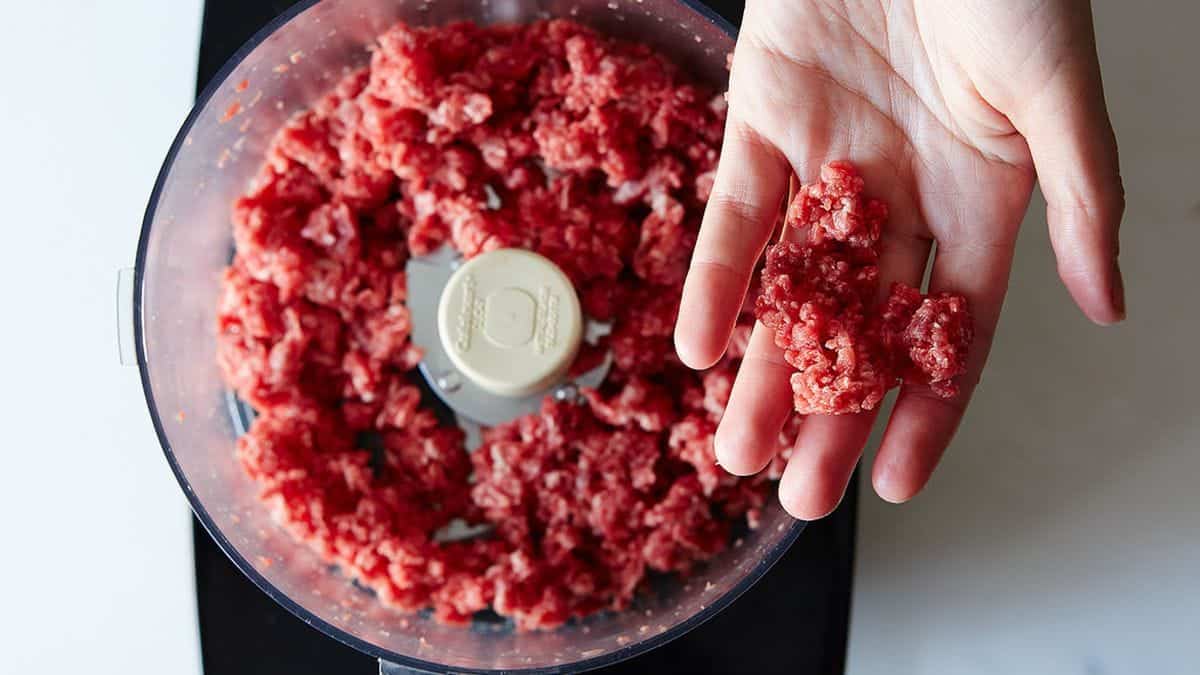 Making Nut Butter
Another awesome trick is to place raw or toasted nuts in the bowl of your food processor with the S-blade already mounted. Then, press "on" (or a medium-speed setting) and blend for a few minutes until you get a smooth, paste-like consistency.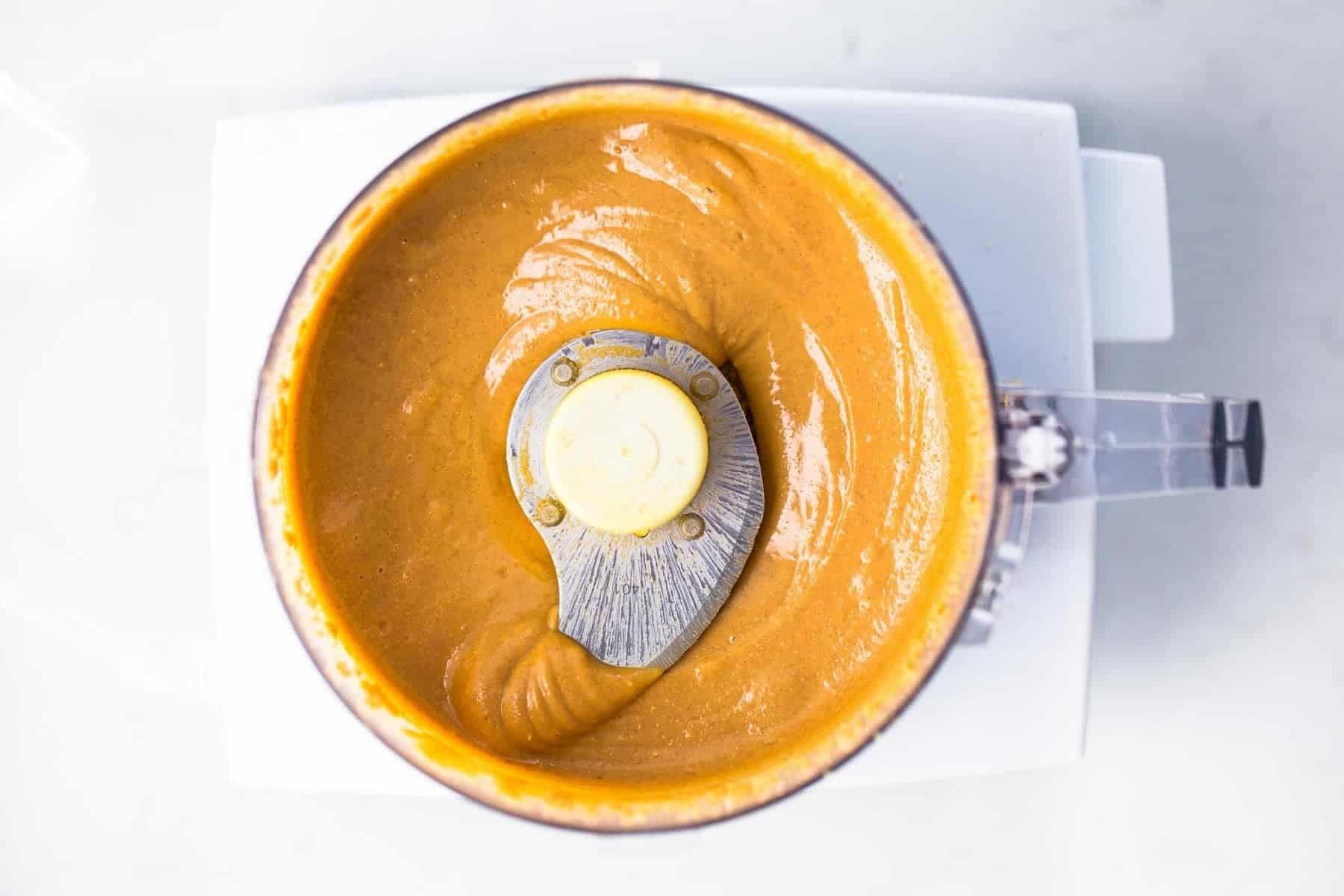 Salad Dressings and Dips
Whipping up homemade salad dressings and dips is also incredibly easy, but not every food processor owner knows they can do it. Add your ingredients to the bowl, with the sharp s-shaped blade on, and press "on" until it gets as smooth or as chunky as you want. If the recipe calls for you to slowly drizzle in oil, stick around—we'll get to that.
Slicing Disk
Now, we're wafing into semi-uncharted territory. Would you be surprised to know that many home cooks have never used anything but their s-shaped blade?
The slicing disk is one of many incredible accessories you have to try for yourself. It sits on top of your food processor, level with the sides of the work bowl, and slices any food you put through the feed tube.
Each food processor has a different way of attaching these optional disks. More often than not, you do it by attaching the stem to the disk, locking it in place, and screwing it into the middle of the work bowl. It's easy!
You can choose how thin you want your slices to be. Most brands sell disks for different-thickness slices. For instance, one- or two-millimeter disks are perfect for ribbon-thin slices. But you can always go as thick as you'd like.
Before you put on the slicing disk, make sure you've removed the s-shaped blade from your food processor. If you don't, you'll end up with a mash instead of slices.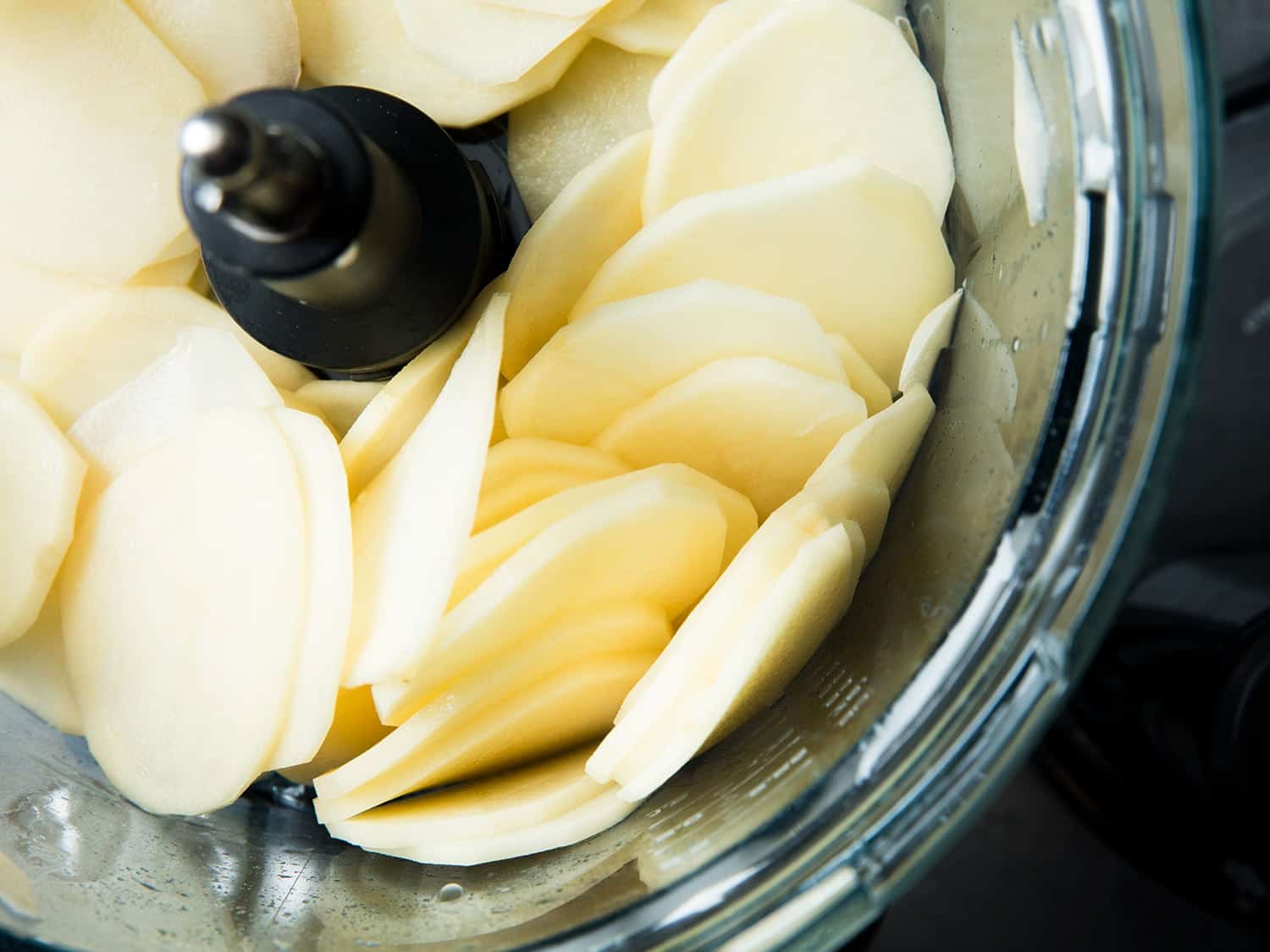 Making Shaved Salads
When you have a slicing disk, shaved salads aren't a bore anymore. In just a few seconds, your food processor will slice all your salad's components. Try putting a carrot, zucchini, or potato through the feed tube for beautiful and elegant slices.
Shredding Disk
The shredding disk also works wonders, even if most people have never used it before. It works similarly as the slicing disk, in the sense that it also sits on the top of the blender, at the same level as the walls of your working bowl. When you push food down the feed tube, you end up with fantastically even shreds on the other side.
Once again, you'll have to make sure the S-blade isn't mounted when you plan on using the shredding disk. Also, double-check to see if the grating disk is secured in place before pressing the "on" button.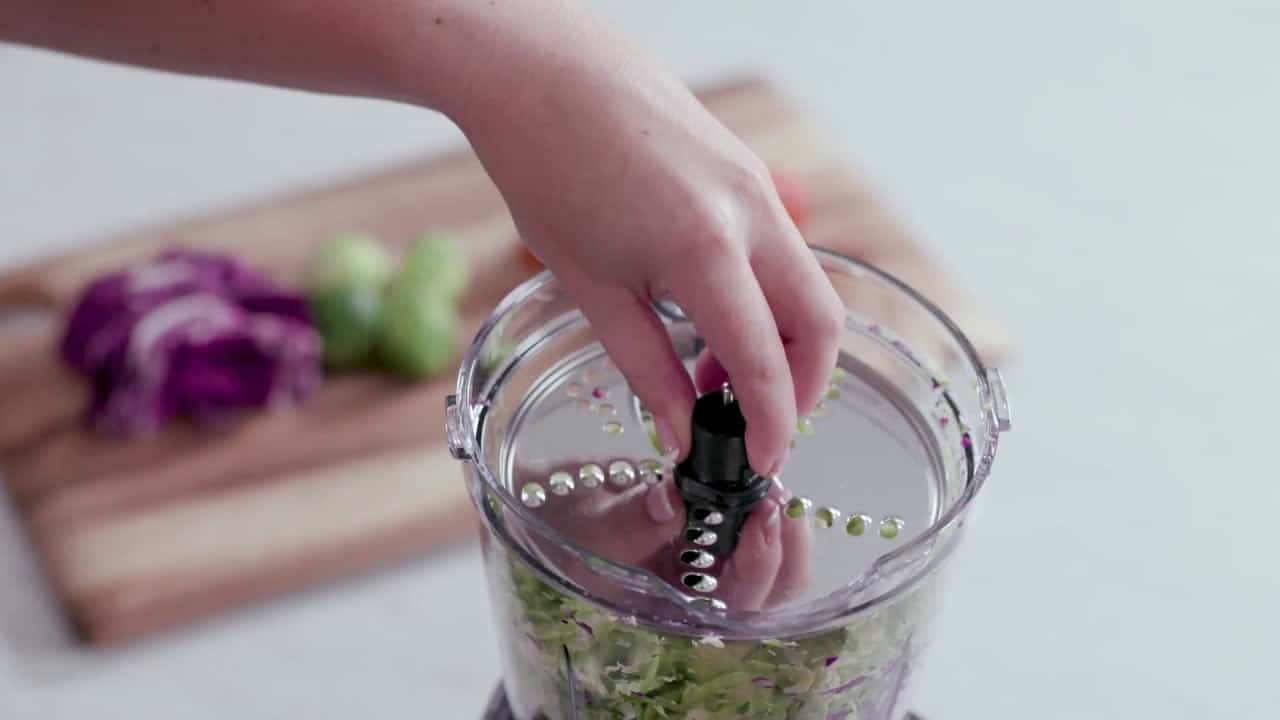 Shredding Vegetables
The most obvious use for this disk is probably to shred vegetables. But it's not a boring function at all. Try using the grating disk on carrots or cabbage to see just how convenient it is. You'll likely not need to use a vegetable chopper again.
Grating Cheese
Did you know you can also get freshly grated cheese using this disk? It's easier than you think—and much better than getting it from the supermarket. Push down (not with your hands!) the block of cheese you want to grate through the tube. It's so quick and easy; who needs manual cheese graters?
Dough Blade
This is probably the best-kept secret about how to use a food processor: you can knead dough in it. Just make sure your appliance comes with a dough blade attachment, or buy one online.
Unlike the other accessories, this one is made of plastic instead of stainless steel. That's because it has a much gentler job to do, since there's no chopping, mincing, dicing, or puréeing involved.
Attach the dough blade where you usually place the S-blade and add in your flour. Never fill up the work bowl past the midway or two-thirds mark to prevent making a mess.
Remember to go easy on your food processor when you're kneading dough. Start at a low speed and, if needed, work your way up. The trick is being patient.
Since this is a heavy-duty task, it should only be done on a powerful food processor. Most doughs tend to be sticky or heavy, so if the food processor's motor isn't strong enough, it could overheat and break down.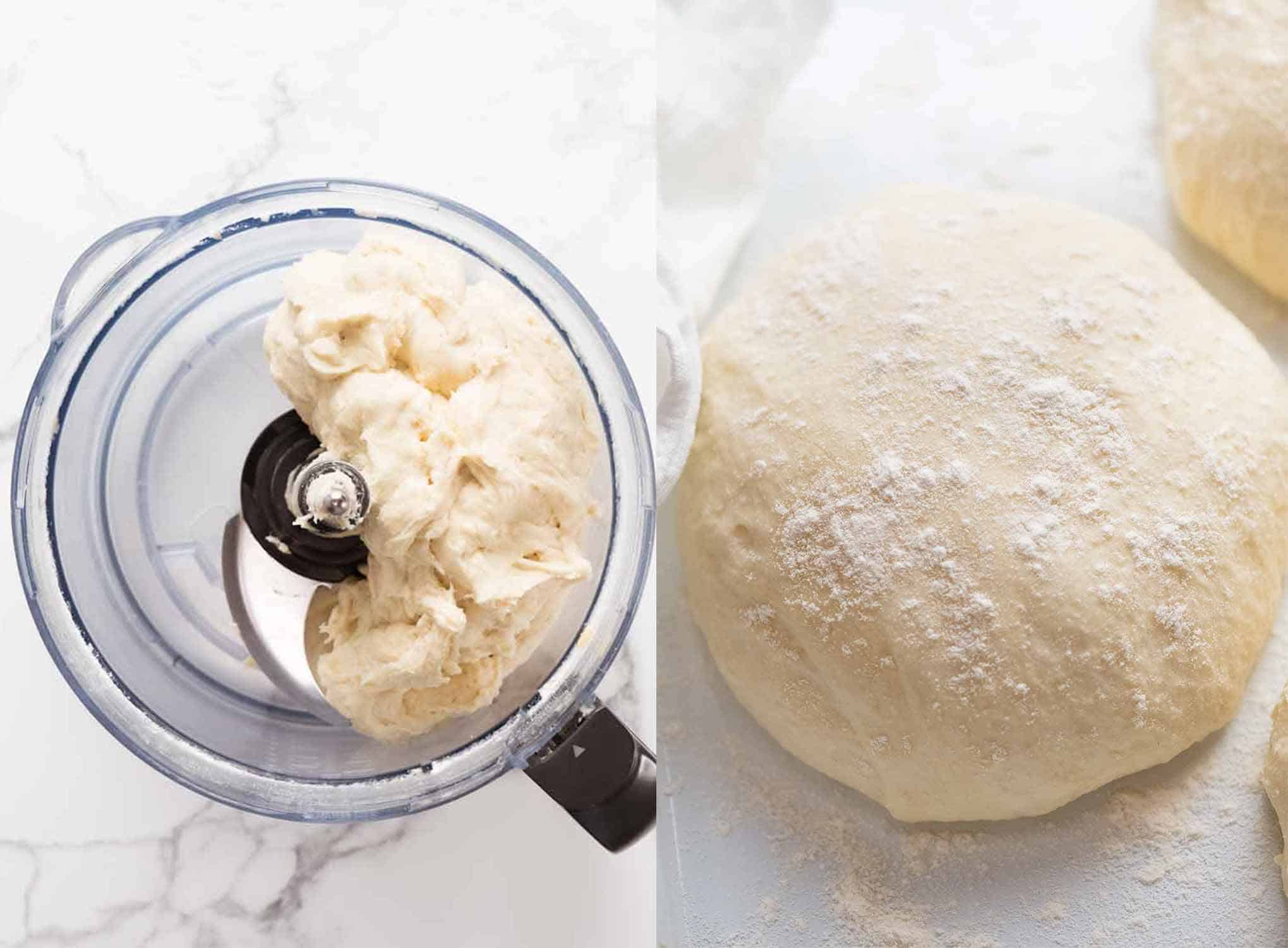 How to Use a Food Processor Speed Settings?
There's even more to learn! Who knew an appliance as simple as the food processor could have so many tricks hidden away?
Picking the right speed setting for the recipe you're making is also crucial. It could make the difference between lumpy and smooth, creamy peanut butter, for example.
Pulse
The pulse setting is the one you should use for solid foods you don't want to turn into a puré if you're using the S-blade. Since it only makes the blade rotate for a few fractions of a second at a time, it lets you choose when to stop, thus giving you greater control over your recipes.
Low-Speed Setting
Not every food processor has a low-speed setting. If yours does, it's time to learn how to use it. You're better off pressing the "low speed" button when you're dealing with heavy-duty tasks. Whether it's dough you're trying to knead or hard beans you're trying to crush, start gentle and work your way up. This prevents the engine in your food processor from heating up and quitting on you.
High-Speed Setting
The high-speed setting is perfect for turning small chunks of food into purées and mash. Once the risk of overheating your appliance is gone, you can crank up the speed to achieve a smooth consistency for your dips, dressings, and spreads. Play around with it!
Correctly Placing the Lid
Before choosing a speed setting, make sure the lid is closed so that nothing will spill out from the bowl all over you and your workspace. This is where locking lids come in handy, especially when they have a silicone rim to ensure the bowl is perfectly sealed.
How to Use a Food Processor Feed Tube
That plastic tube shooting up from the lid is called a feed tube and it's not shaped like that for no reason. It usually comes with a food pusher made of plastic which also doubles as lid to the tube. Always use it to add ingredients to the work bowl; it'll save your fingers from accidents.
The feed tube (or feed chute) is where you lower the foods to be sliced and shredded by the accessory disks. This is also through where you can add a gentle trickle of cold water (for dough) or oil (for salad dressings).
Once you start using the feed tube, you won't want to stop. It's the easiest, most effortless way of adding ingredients to whatever you're making without having to turn off the food processor.