Every coffee fanatic has their favorite way to drink coffee. One of my favorite ways to brew coffee is with a french press. Why? Because french press coffee is super simple and very reliable!
I could go on forever about why I use a french press. First off, French presses are compact and portable. unlike drip coffee makers. French presses don't need to be plugged in! As long as you have access to hot water, you can make coffee with it virtually anywhere!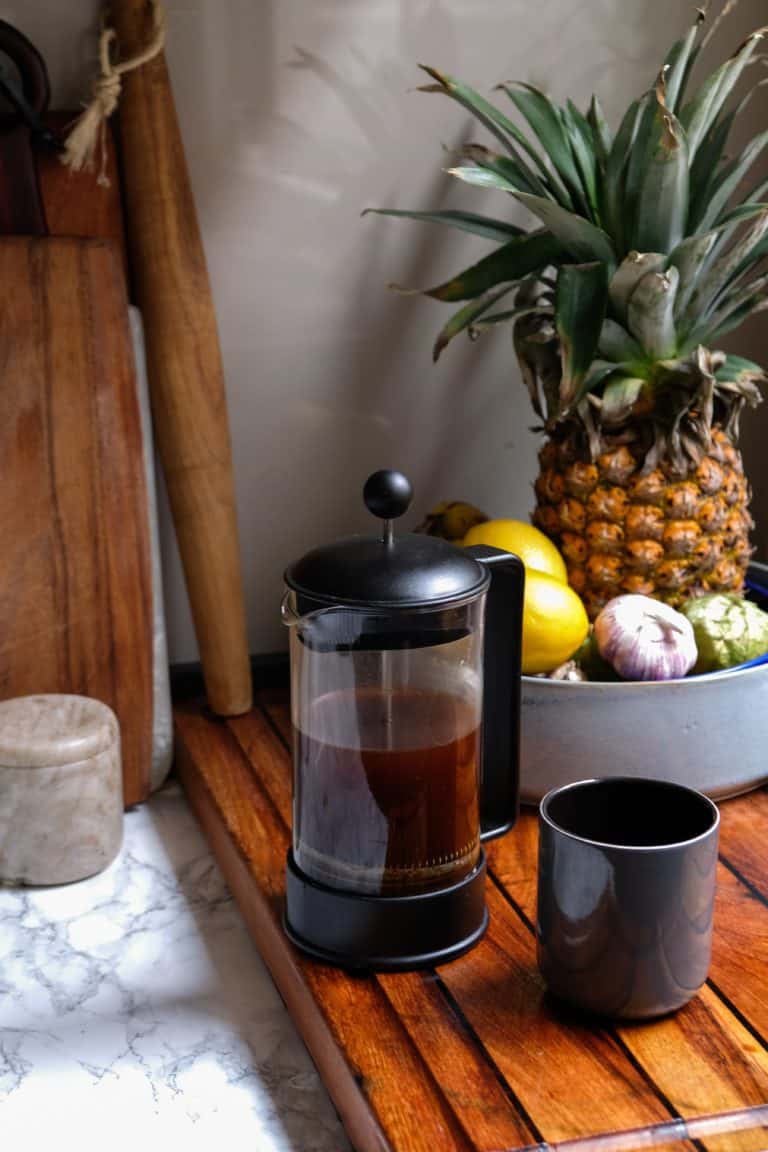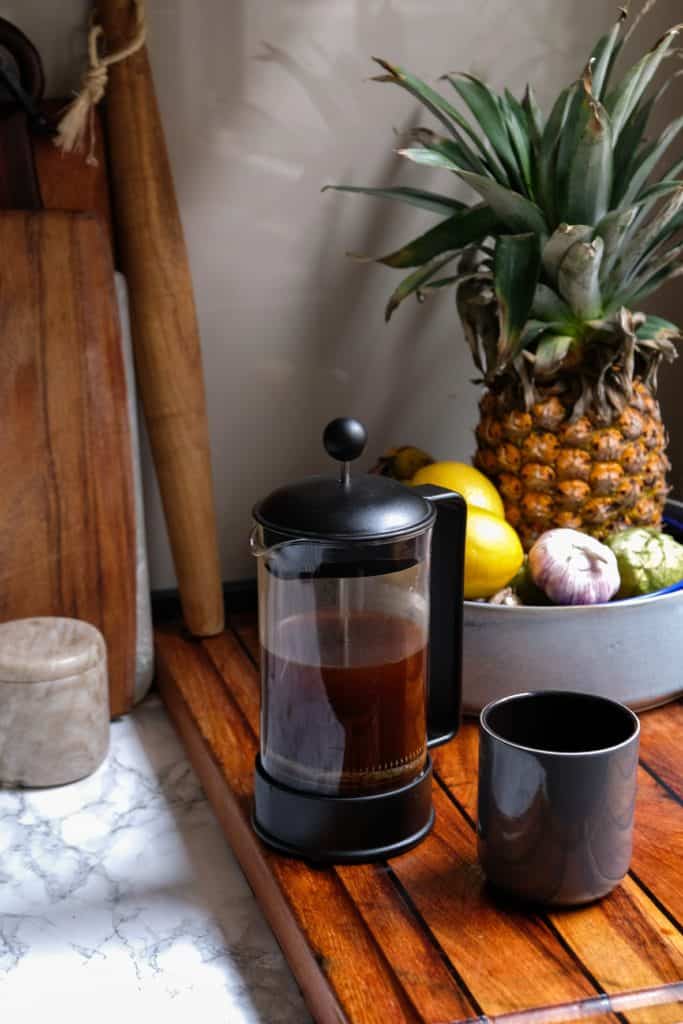 French presses also come in all sorts of sizes. This makes them great for any sized household. There are 3-cup presses, which are basically single-serve. From there, you have 4 and 8 cup presses. There are also 12 cup presses which are great if you have a large family or a ton of roommates!
Above all, a french press coffee maker is super simple to use. That is because it is an immersion brewing method. This method requires just the right amount of coffee grounds, hot water, and time! In under 10 minutes, you can have a perfect cup of coffee. This can be even faster if you have an electric kettle at home.
I've said enough about why french presses are great. So, how do you make the perfect cup of french press coffee? I have the essential guide to how to use a french press below!
Step 1: Grind your Coffee Beans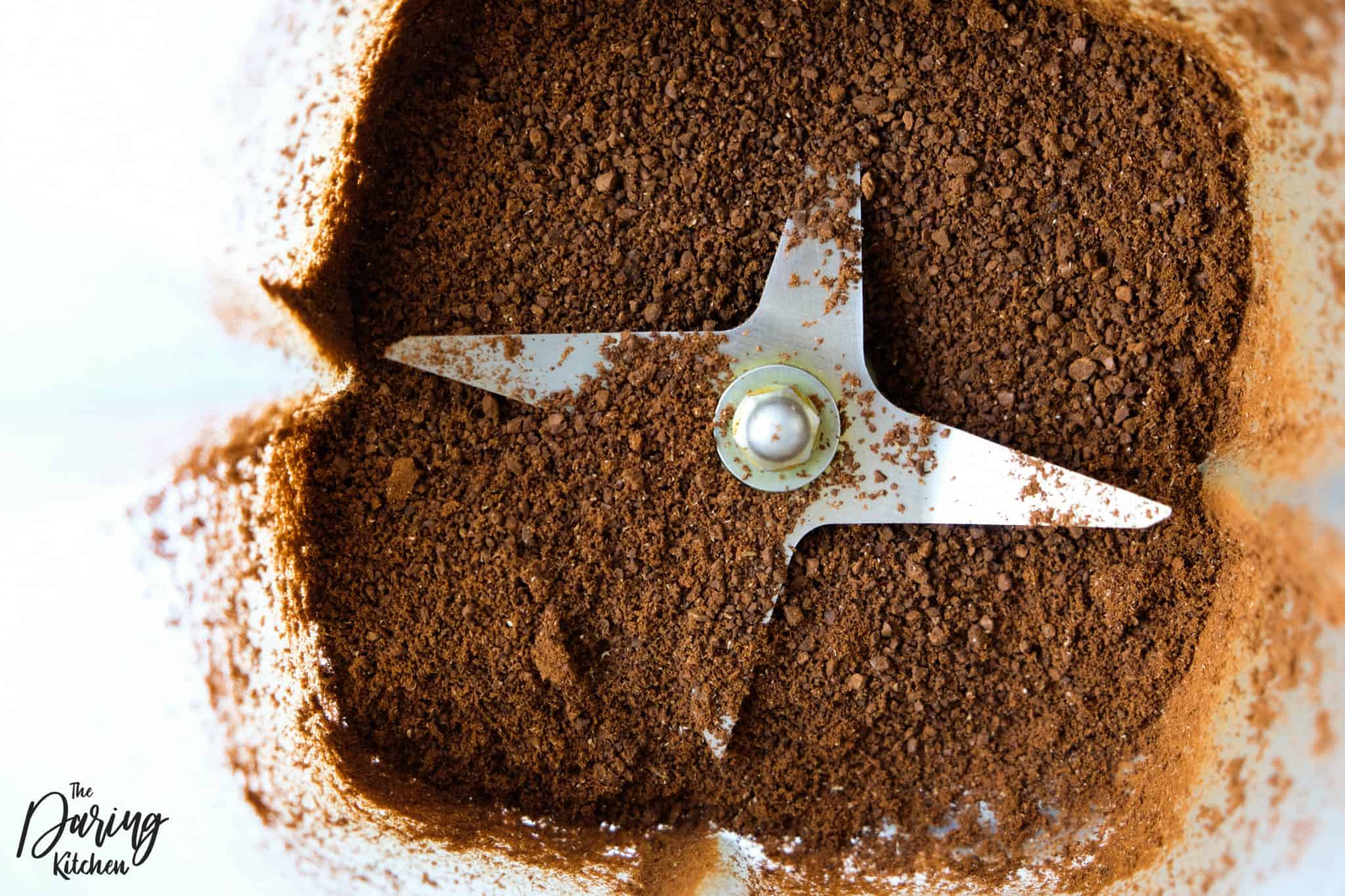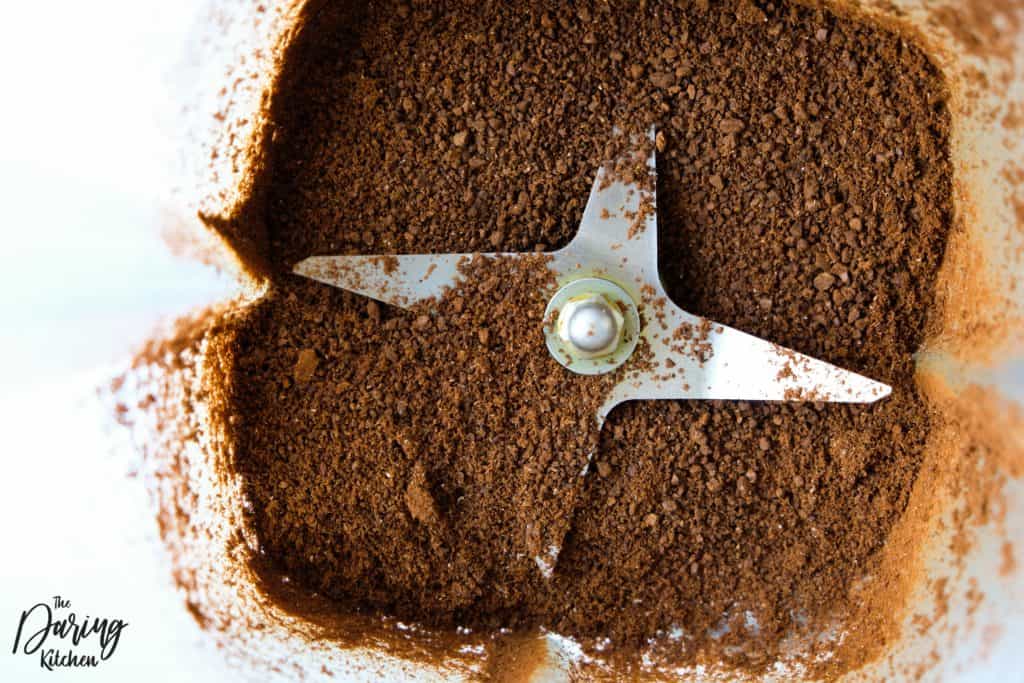 Choose your favorite coffee beans. Technically, you can use any coffee beans, but French press coffee tends to taste best with medium or dark roasts.
For french press coffee, the grind size matters. You will need coffee grinds that are medium to coarsely ground. This is very important because, if you use too fine of a grind, your coffee will be over-extracted. This will result in coffee that is bitter and astringent.
It is always best to grind your own coffee. This will give you the best flavor. But, local coffee shops typically will grind your coffee beans for you, if you prefer them preground!
Pro tip! Pour hot water from your kettle or tap into your press while you grind your beans. This will warm up and bring your french press coffee maker to the right temperature.
Step 2: Measure your Ground Coffee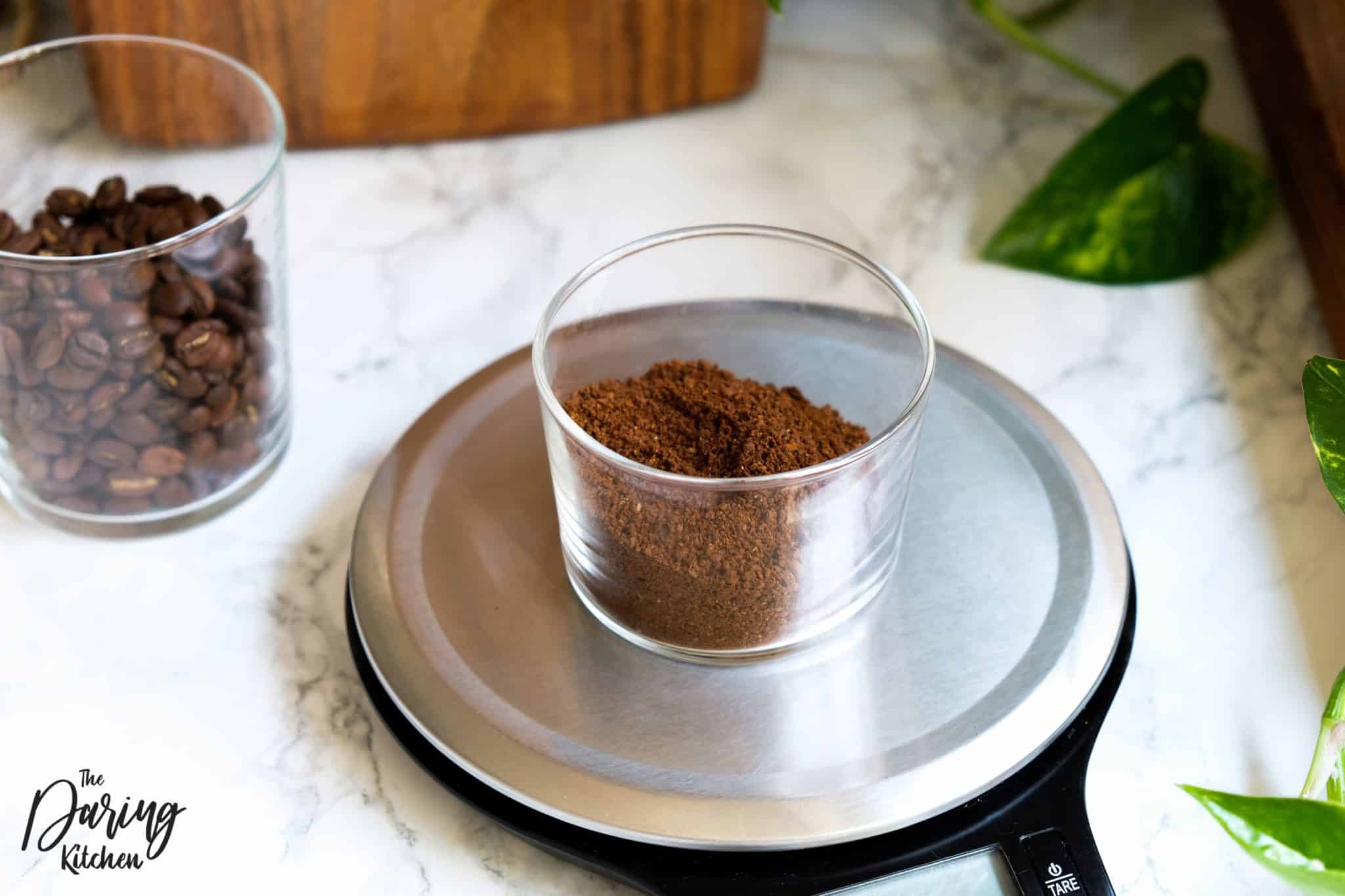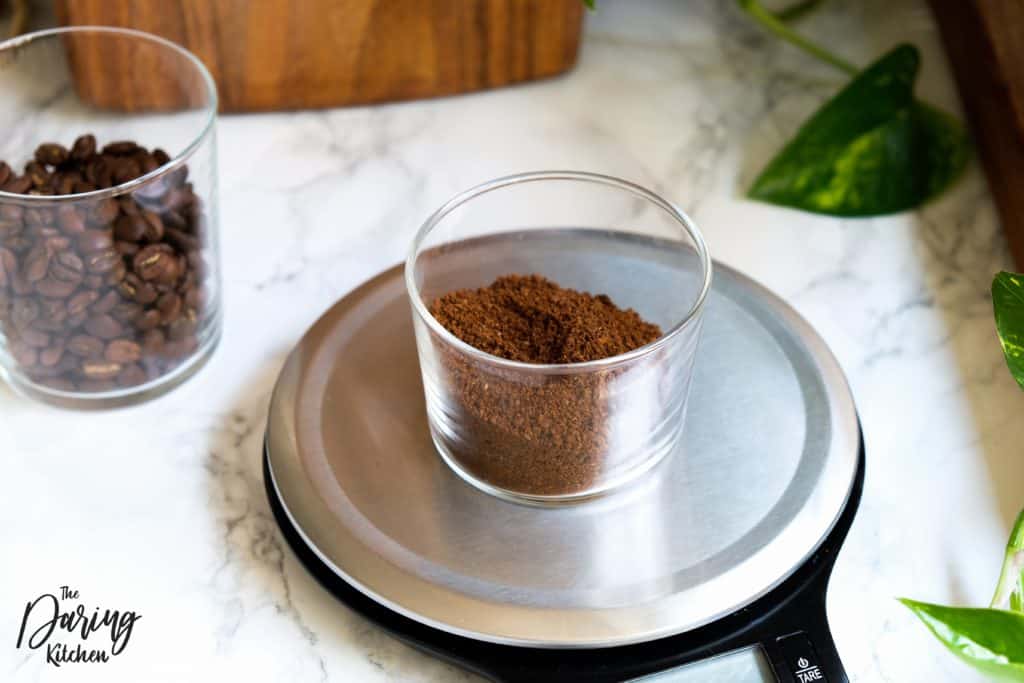 This step may sound a little professional, but trust me, it's important! The ground coffee to water ratio really matters. A food scale lets you achieve the right ratio, leading to a perfect cup of coffee!
For every 4 ounces of water, you will need 8 grams of ground coffee. Or, you will need 8 grams for every half cup of water.
If you do not have a scale, have no fear! A reliable conversion is 3 tablespoons to every 1 cup of water. This may not be as exact, but still yields a delicious cup of french press coffee.
You can always slightly increase or decrease this ratio, depending on how intense you like your coffee. If you use more coffee, just remember not to over brew your coffee. You may run into the over-extracted issue I mentioned in Step 1.
Step 3: Add your Coffee Grounds to your French Press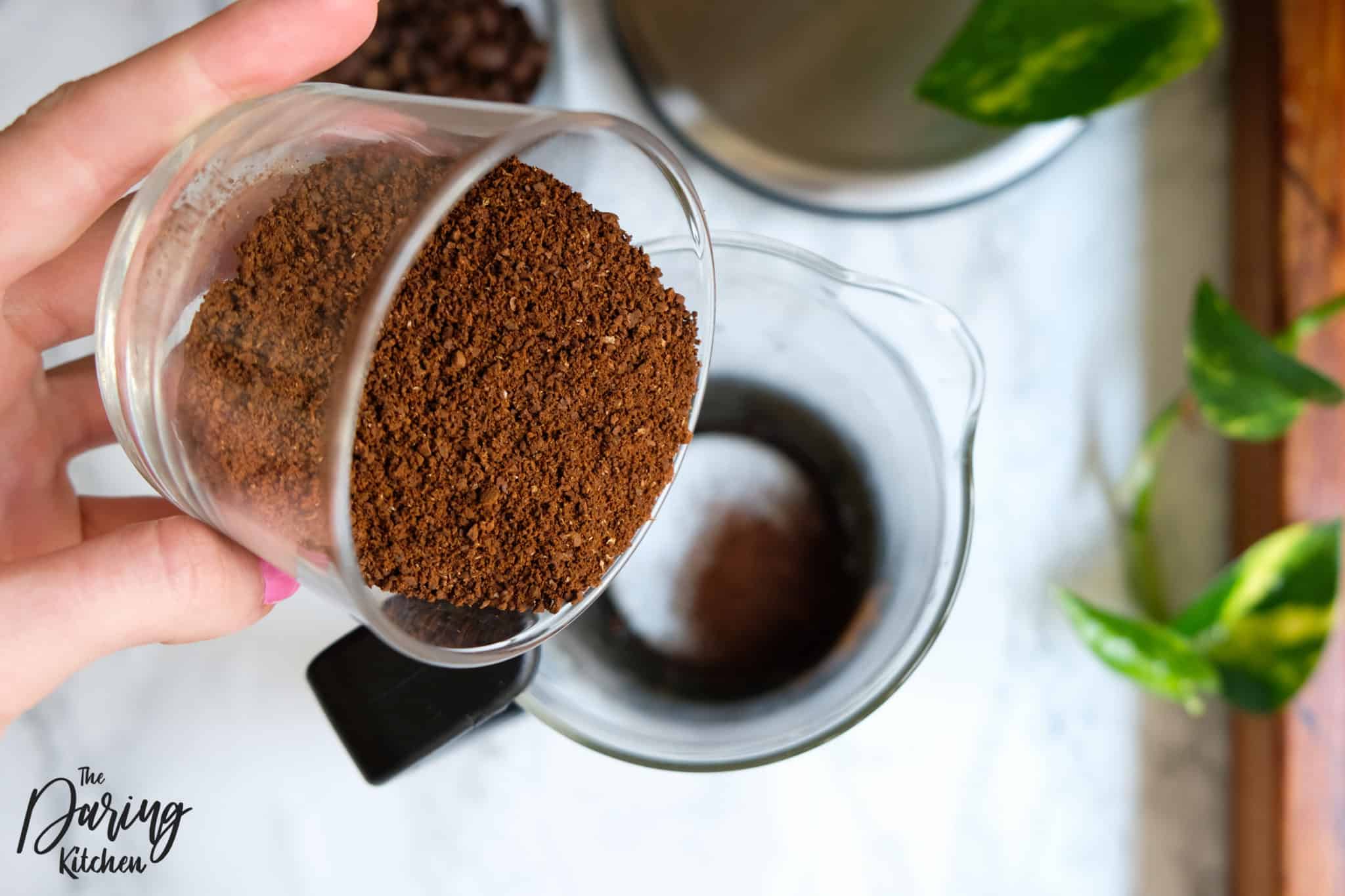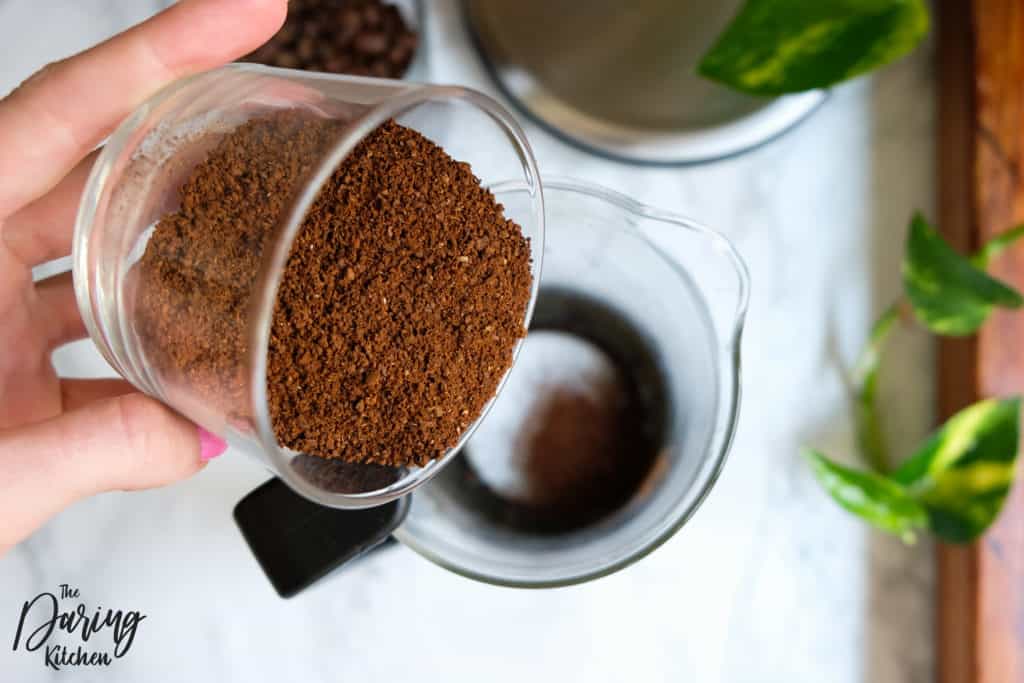 Add the necessary amount of coffee grinds to the base of your french press. Now is the time to start boiling your water, using an electric kettle or a pot on the stove. You will need enough water to almost fill your entire french press coffee maker.
If you used the 'Pro tip,' make sure you discard the hot water in the french press BEFORE adding the coffee grounds.
Step 4: Pour in your Hot Water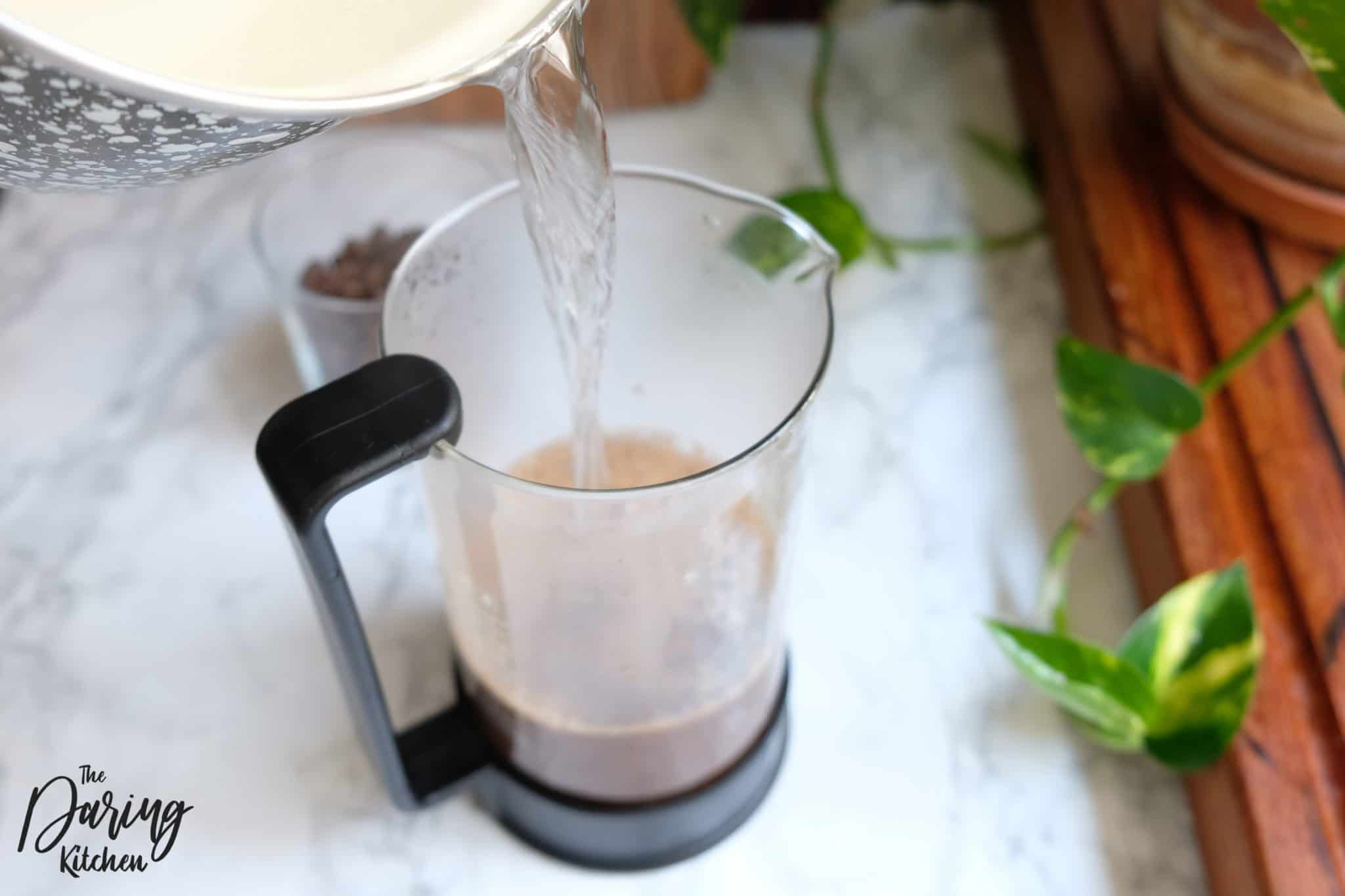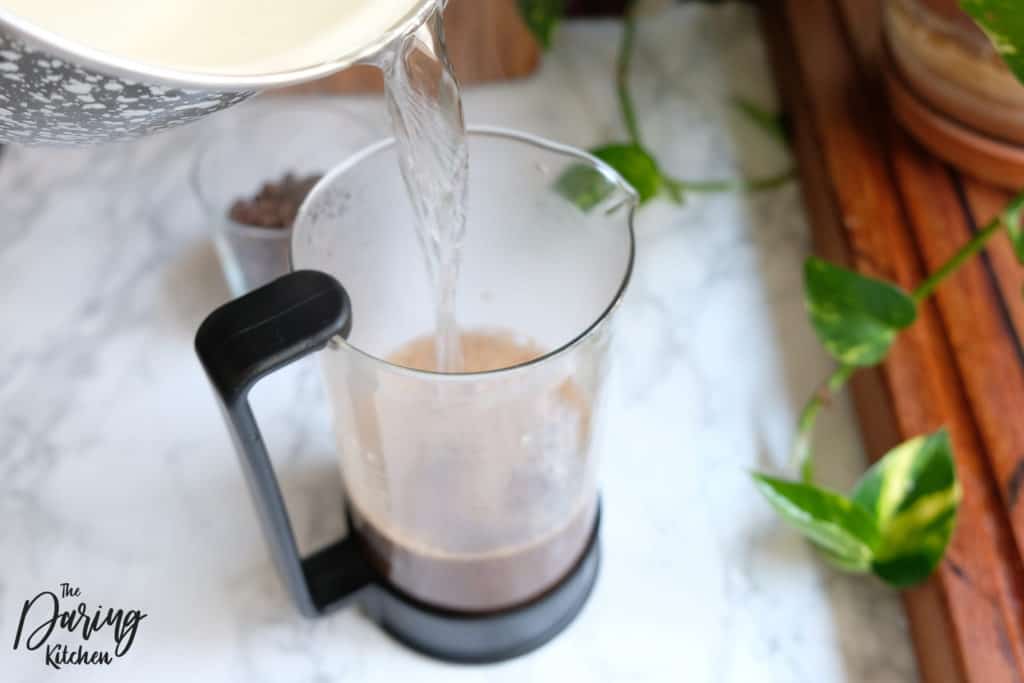 Once your water reaches a boil, allow it to sit off the heat for 45 seconds. You do not want to scorch your coffee grounds with the water! If you want to be on the 'barista level,' check the temperature of your water. It should be at 195 degrees Fahrenheit.
Pour your hot water gently over the coffee grounds in a circular motion. Fill your press until the hot water reaches just under the coffee maker's spout.
Then, carefully stir the coffee grinds and water, making sure to submerge any coffee grounds left on top.
Step 5: Cover your French Press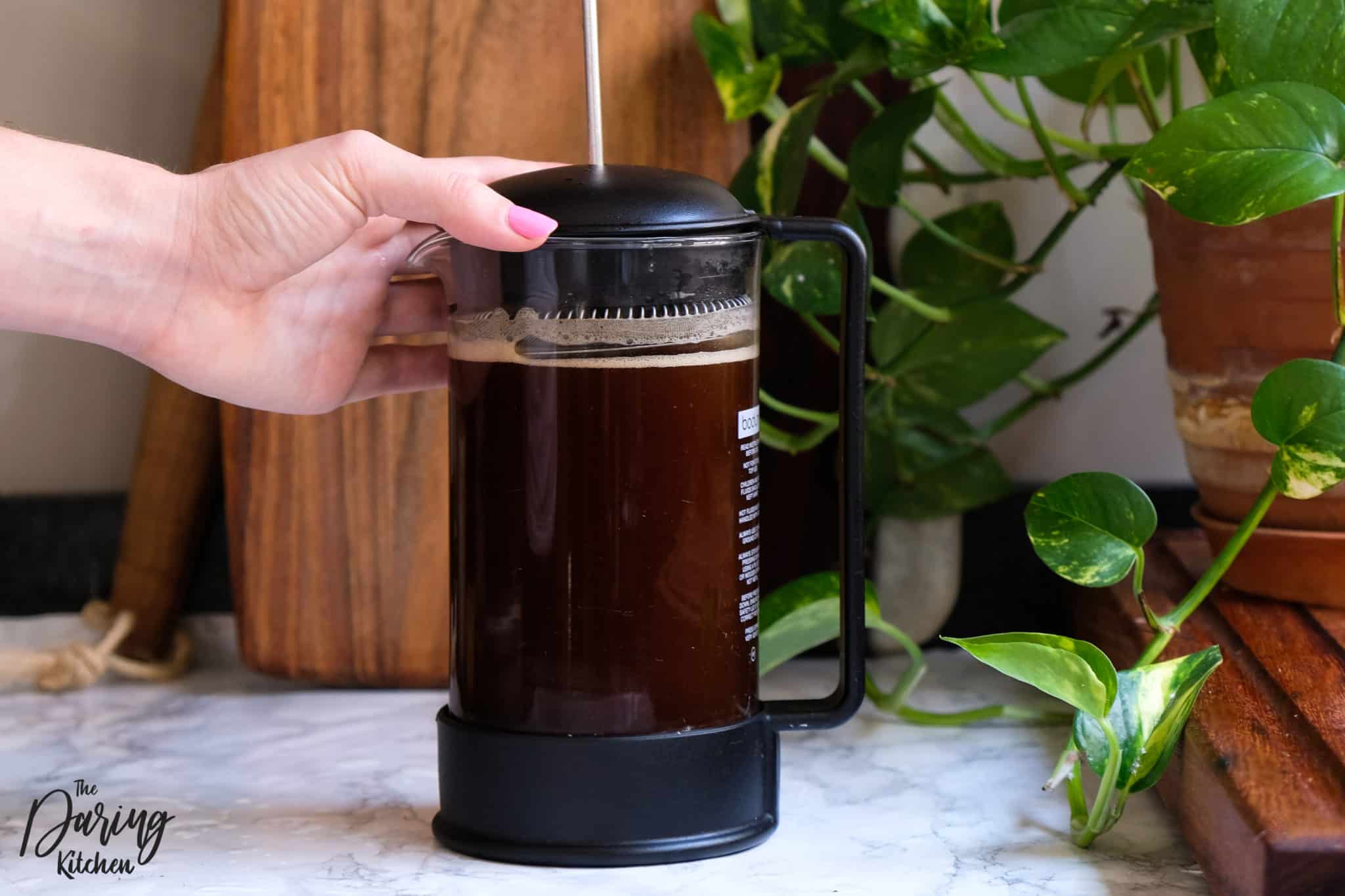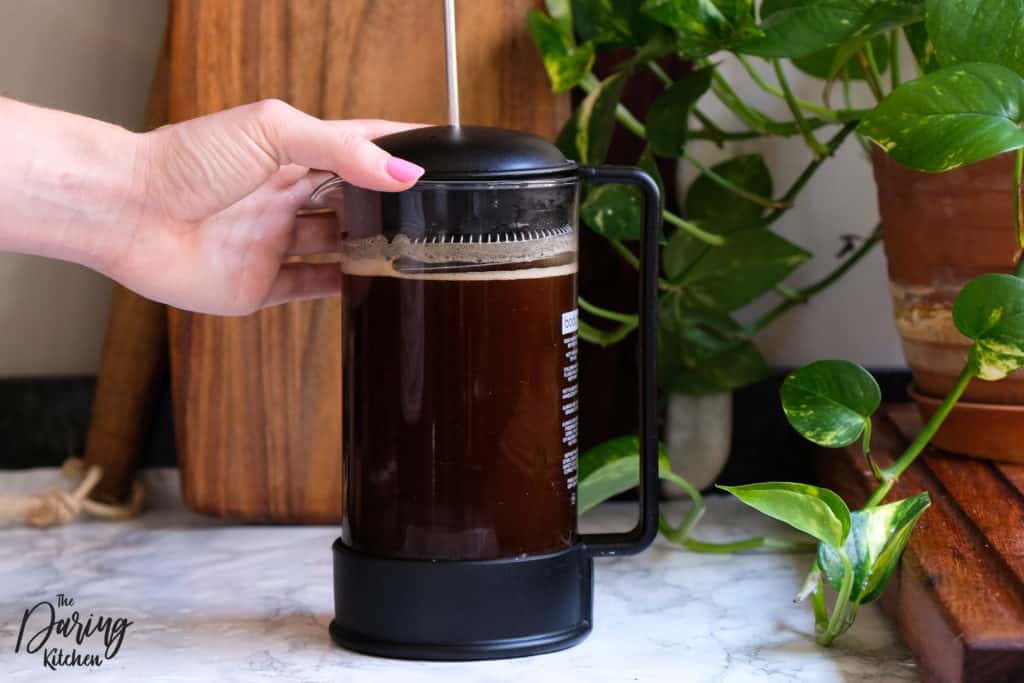 Using your lid, cover your french press. Make sure it is secured to the top.
Your coffee will need to brew for 4 minutes. I love using my iPhone timer as it has a super loud alarm I never miss.
Note: Do not push down the plunger! That is reserved for the last step.
Step 6: Push Down Coffee Plunger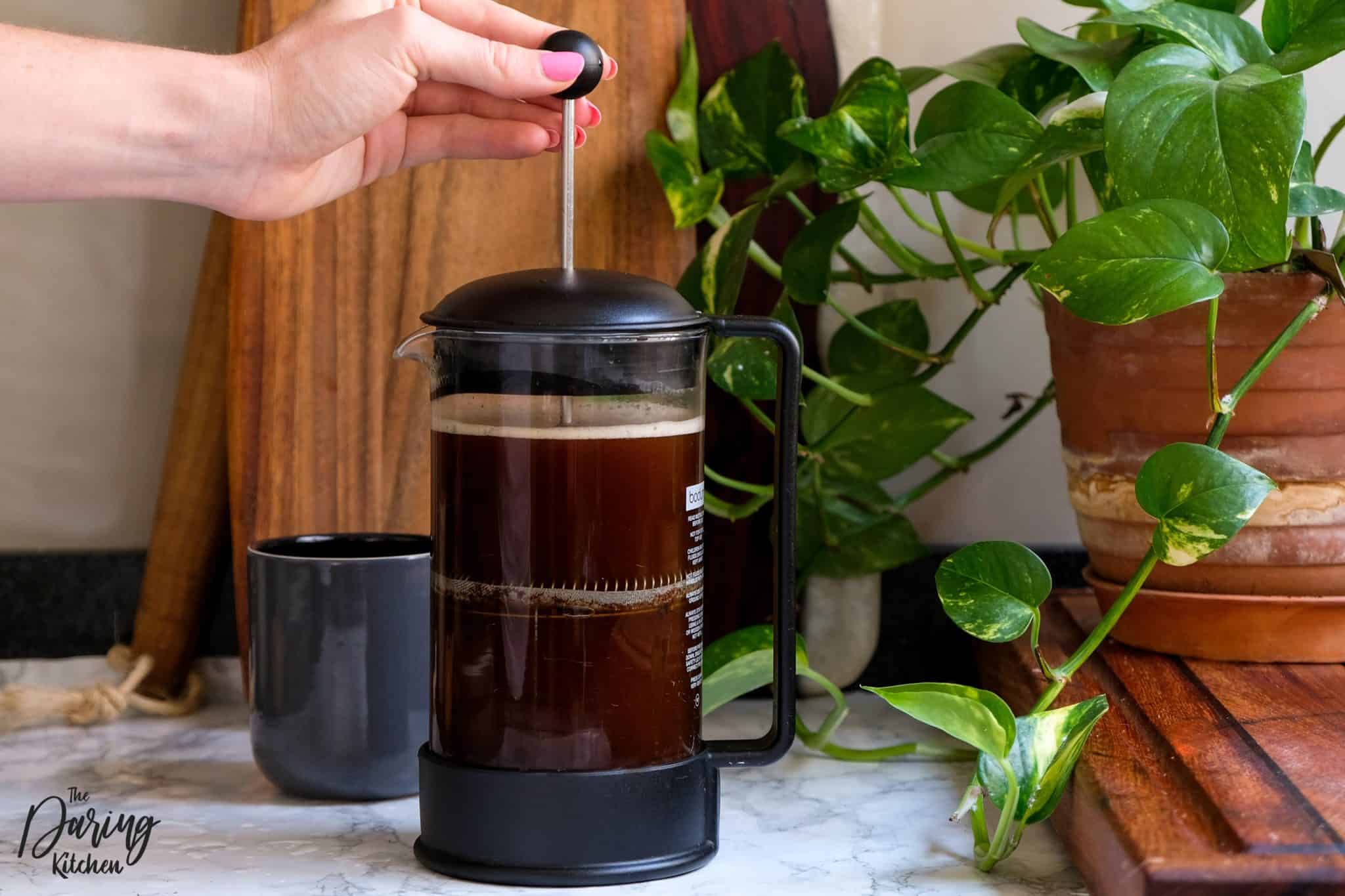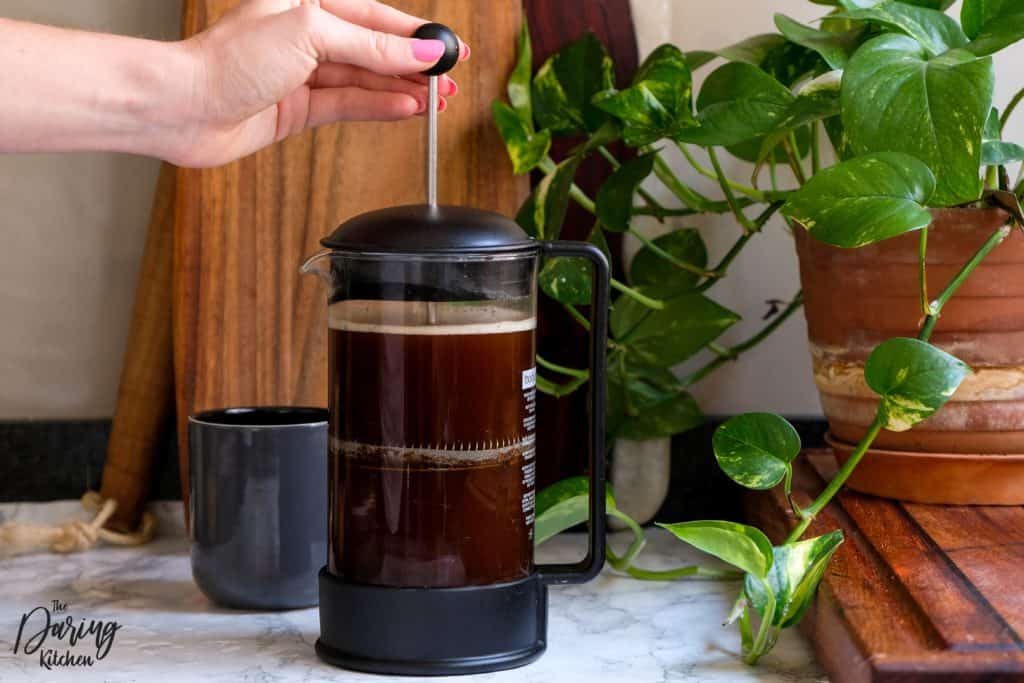 Now, it's time to reveal your coffee. Gently push down the plunger on your press. This is what will filter your coffee completely.
I suggest pushing your plunger down very slowly. This will ensure you filter out all the coffee grinds, leaving you with a clean and delicious cup of coffee.
Step 7: Enjoy your Fresh Coffee!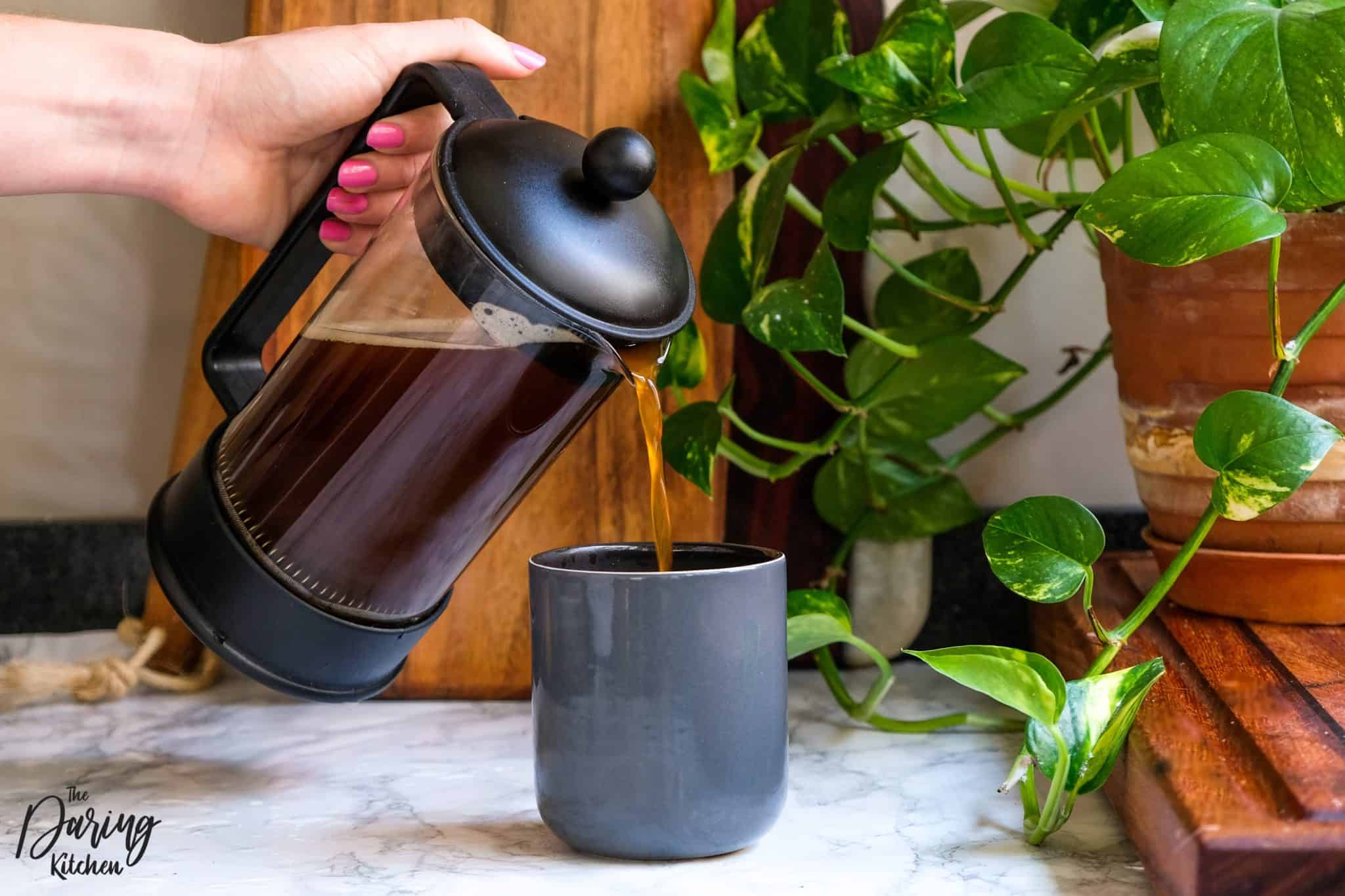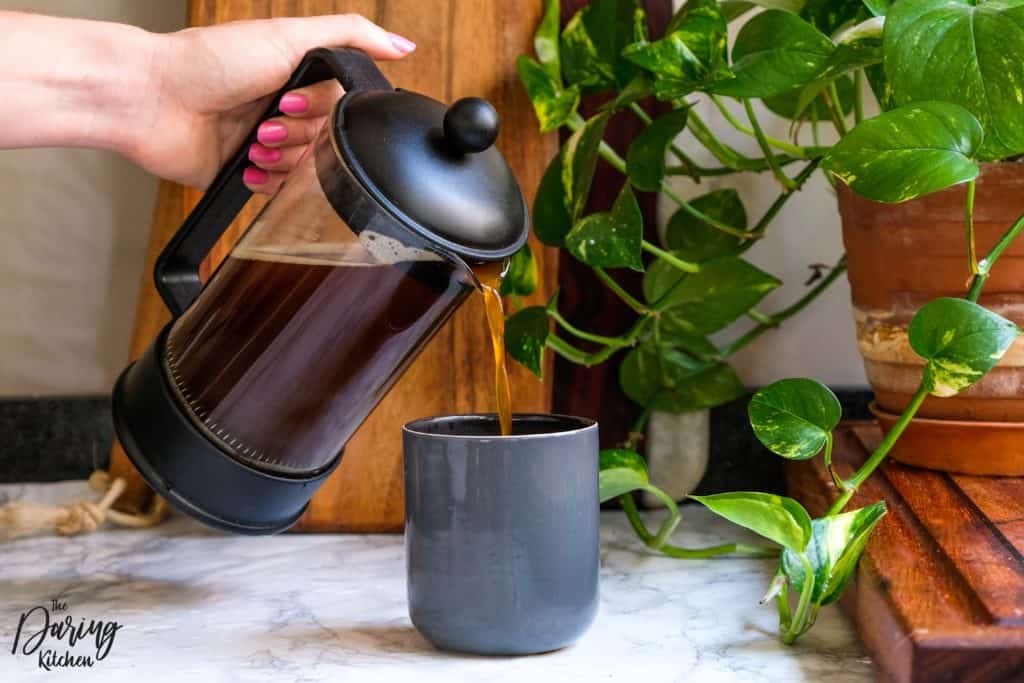 Pour your coffee into your preferred mug. Add any sweetener or milk that you like!
I hope you enjoyed this guide on how to use a french press! It is my favorite way to start the morning. A fresh cup of hot french press coffee is just the way to start the day on an outstanding foot.
Don't hesitate to send me any comments or questions about french presses in the comments below!