Meat grinders are scary-looking appliances not every home cook is comfortable using. When used incorrectly, they can leave you with serious kitchen battle scars. And while you can grind meat without a meat grinder, why not get over your fear and use the specialized appliance you already have at home?
Today, we're teaching you how to use a meat grinder safely. We've written a step-by-step guide so you can feel perfectly confident and comfortable when using a meat grinder. You'll see that grinding your own meat at home isn't that hard, and it pays off. Ready to learn? Keep on reading.
Not All Meat Grinders Work the Same
First things first, we have to highlight that different meat grinders work differently. There are three types of grinders out there: manual, electric, and stand-mixer attachments. Which one is the best meat grinder for you we can't say—but we've included all the details you need to find the top appliance in our meat grinder reviews and buying guides.
Our instructions in this guide, however, apply to all models and types.
Regardless of which one you choose, you'll be able to make delicious recipes from scratch. We recommend giving these Vietnamese caramelized pork bowls a try, as well as this flavor-packed ground lamb curry (you can even use your instant pot to make it!)
Manual Meat Grinders
Manual meat grinders are also known as hand-crank food grinders. They're affordable and very easy to use—but a little labor-intensive. Fix them on your kitchen counter, feed the meat through the tube, and rotate the crank to grind the meat. You'll have to engage your arm muscles—daily workout, anyone?
Electric Meat Grinders
Electric meat grinders do most of the work for you. There's no crank to rotate; all you have to do is push the whole chunks of meat through the tube and press the "start grinding" button. Simple as that. Of course, the convenience comes at a cost: these appliances are typically the most expensive on the market.
Stand Mixer Attachments
If you have a stand mixer, it's a good idea to get a food grinder attachment to process meat for you. Mount it on your mixer, feed the meat through the tube, and turn on the appliance. These attachments are a great alternative for home cooks with not a lot of room in their kitchen.
Step 1: Choose and Prepare the Meat
Now that we've gone over the different types of grinders you may have at home, let's get down to the business of grinding your own meat at home.
The first thing to do is pick the best meat for whatever recipe you're making. You don't have to stick with ground beef. Turkey, chicken, lamb, and pork also let you make delicious meals. You can even mix them for a more complex flavor profile.
One tip: you should be aiming for fatty cuts. They're affordable and work wonders with the grinder. Plus, since you'll be mincing the meat, it would be a waste to grind an expensive cut. If you can get close to 20% fat ratio, all the better.
Whatever meat you choose, remember to cut it into one- or two-inch chunks.
Step 2: Freeze the Meat and Grinder
Then, you'll want to spread the chunks of meat on a baking sheet lined with parchment paper. Make sure they're not all touching each other.
You should then place the tray in the freezer for up to two hours. You want the meat to be partially semi-frozen—neither rock-solid nor soft. Put the grinder plates and blades from your grinder in the freezer, too.
This may seem like an odd step, but it will help you grind your own meat without making a mess. If you don't freeze the meat and grinder parts, you'll have a much harder time cleaning your food grinder. Not to mention that the ground meat will resemble more a mushy clump than perfectly defined meat grounds.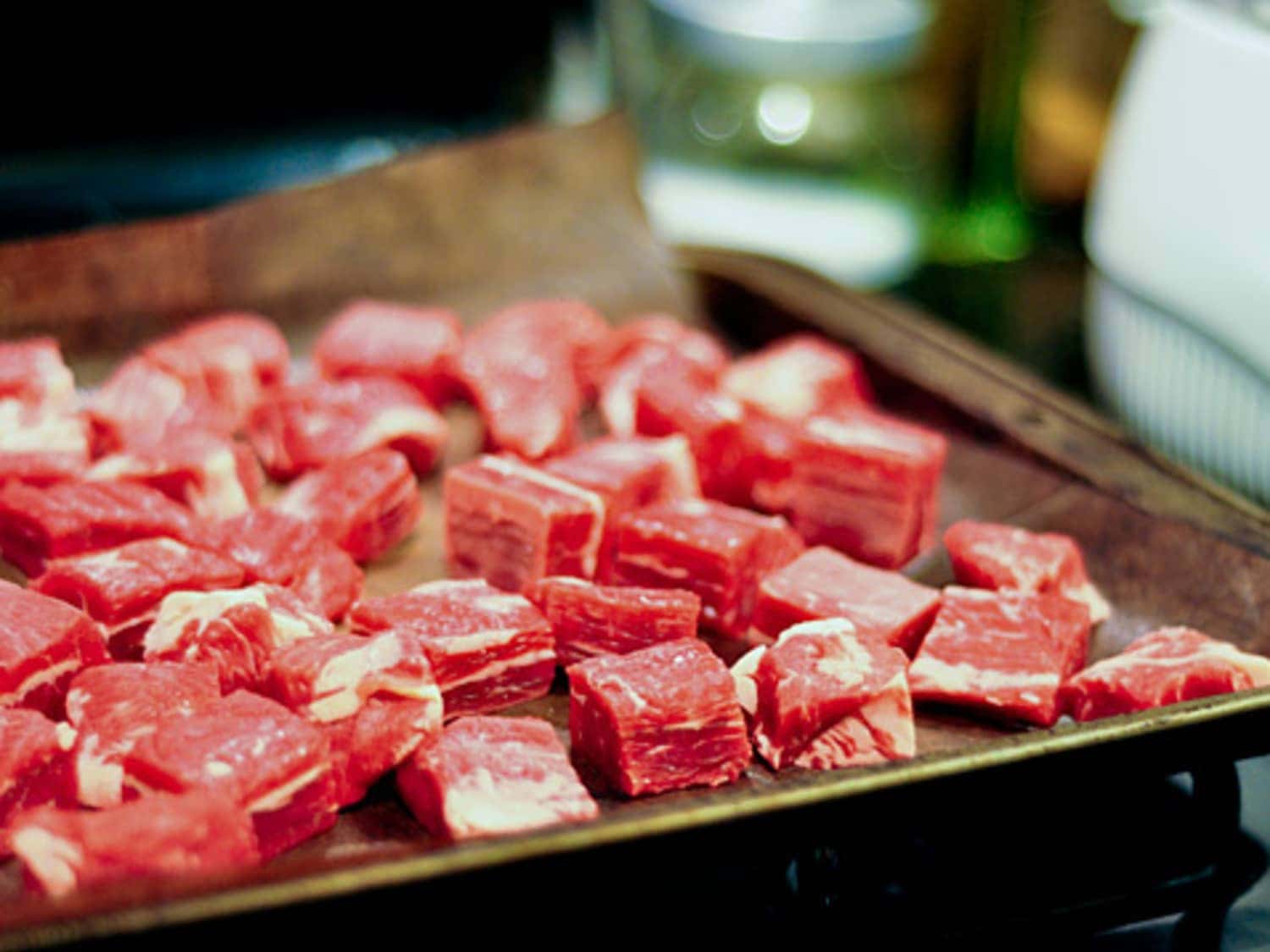 Step 3: Put the Grinder Together
Once those two hours are done, it's time to take out the grinder parts from the freezer and reassemble your meat grinding appliance. 
Before you do, make sure all the parts are clean and well-sanitized. Your appliance should also be unplugged from a power outlet, to prevent it from accidentally turning on and harming you.
Step 4: Feed the Meat into the Grinder
Then, you'll want to put the cold meat through the feed tube. Make sure you're not using your hands to push down the meat.
Don't forget that you can also push other foods besides meat through the tube. Add onion, garlic, and peppercorns for a more flavorful meat mince.
Step 5: Choose a Speed Setting
You'll skip this step if you're using a manual crank meat grinder. But if you're using an electric food grinder or a meat grinder attachment, you'll have to choose a speed setting. We recommend you start at a lower speed and work your way up. This way, you can have better full control of your meat mince without panicking.
Whatever setting you pick, the meat grounds will come out on the other side of the gadget, so don't forget to set down an empty bowl to catch them!
How to Stay Safe When Grinding Meat at Home
If you're nervous about using such a powerful machine, don't worry. Most machines come with a bunch of different safety features to keep you safe. Either way, we'll leave you some pieces of safety advice.
Don't Use Your Hands to Push the Meat
Never, ever, reach into the feed tube with your hand. You stand a chance of getting seriously hurt. Instead, use the plastic or metal pusher that came with your meat grinder. Alternatively, you can use a (washed) carrot as an improvised pusher.
Don't Leave Raw Meat Out for Too Long
Meat should never be left out of the fridge for over two hours. This is one of the most important food safety rules to keep in mind. Be quick when cutting the meat before putting it in the freezer.
Thoroughly Clean Your Meat Grinder
It's important to disassemble the meat grinder after each use and thoroughly washing all the parts that came in contact with meat. A quick rinse just won't do. Use a gentle soap and hot water to sanitize the grinding plate and blades.
Other Tips and Tricks for Delicious Freshly Ground Meat
Before we leave you, we have some extra tips and tricks for even more delicious ground meat. Don't forget to use them and to let us know how they worked out for you!
Be Generous With Seasonings
Don't skip out on the seasoning. Use pepper and salt generously, before or after you grind the meat. You can also add aromatics to your meat ground to amp up the flavors.
Grind and Regrind as Needed
The beauty of a meat grinder is that it gives you the flexibility to get grounds however fine and however coarse you want. If after one go you would still like the grounds finer, run them through the grinder again. Alternatively, you could then chop up the grinds by hand using a butcher's or chef knife.
Always Keep the Parts Cold
For a better grinding experience, keep everything cold, meat and parts included. It will stop the meat from sticking to them, making your job of cleaning things up in the end much, much easier.