Summer is finally here - and you know what that means, right? Grilling season.
Whether it's a backyard bash with the boys or a family barbeque that has you pining for a new grill, it can be tough to find one that will fit into your budget and lifestyle without compromising the taste of your fresh, flavorful grilled dogs. 
An infrared grill is one of the best tools you can have for a memorable summer grilling experience. Whether you're making hot dogs, hamburgers, steaks, or something a little more sophisticated, you've got to consider investing in one of the best infrared grills. 
What is an infrared grill, you might ask? While traditional gas or charcoal grills heat food with a technique called convection, infrared grills use heat that is transferred immediately from the source to a solid heating element. The heated surface then radiates infrared waves to the foods from its surface. 
Unlike traditional grilling methods, grilling with an infrared grill results in almost zero heat loss to the air. Your food will remain more moist and tender and ar result, since it doesn't become dried out.

Ready to start looking for a new infrared grill? Here's what you should look for. 
10 Best Infrared Grills for Fun Summer Grilling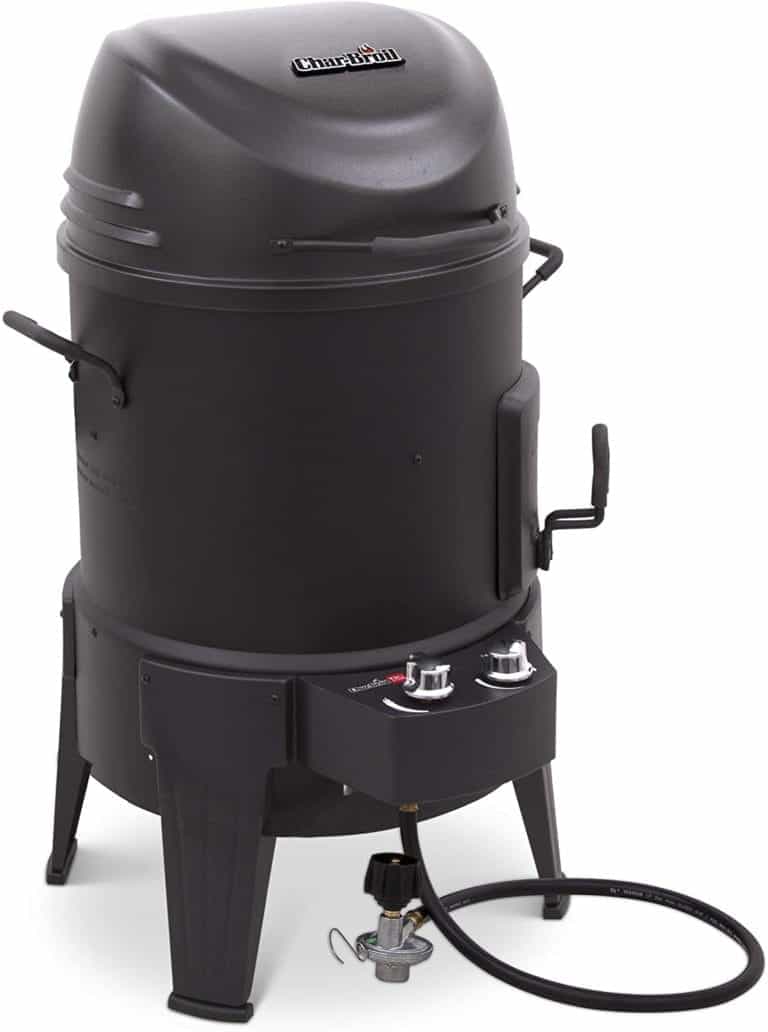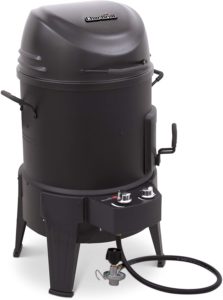 Char-Broil is a leading name in grilling, which is why you will see this giant's products several times in our review of the best infrared grills. This grill is affordable as well as effective, and it's a triple-purpose machine, too.
If you're looking for increased versatility for your backyard bash, look no further than this machine. It can serve as a roaster, smoker, and a grill, and although it's kind of odd-looking, you'll love the results that it produces.
It's easy to use and can be used on a wide variety of foods, from ribs to roasted turkeys. It has TRU-Infrared technology, cooking your food quickly with very little risk of flare-ups. 
One of the best grills for people with limited space, this one measures in at only 180 square inches of cooking area. If you don't plan on cooking for a ton of people, that's ideal. It comes with a smoker box that will help you add flavor with your favorite chip selection. Plus, you will be able to control the temperature with 9,000 to 18,000 potential BTUs. 
What We Liked:
Easy to use 

Serves three purposes in one grill

Holds up to 25 lbs for roasting 

What We Didn't Like:
Limited smoking capabilities with a small wood chip tray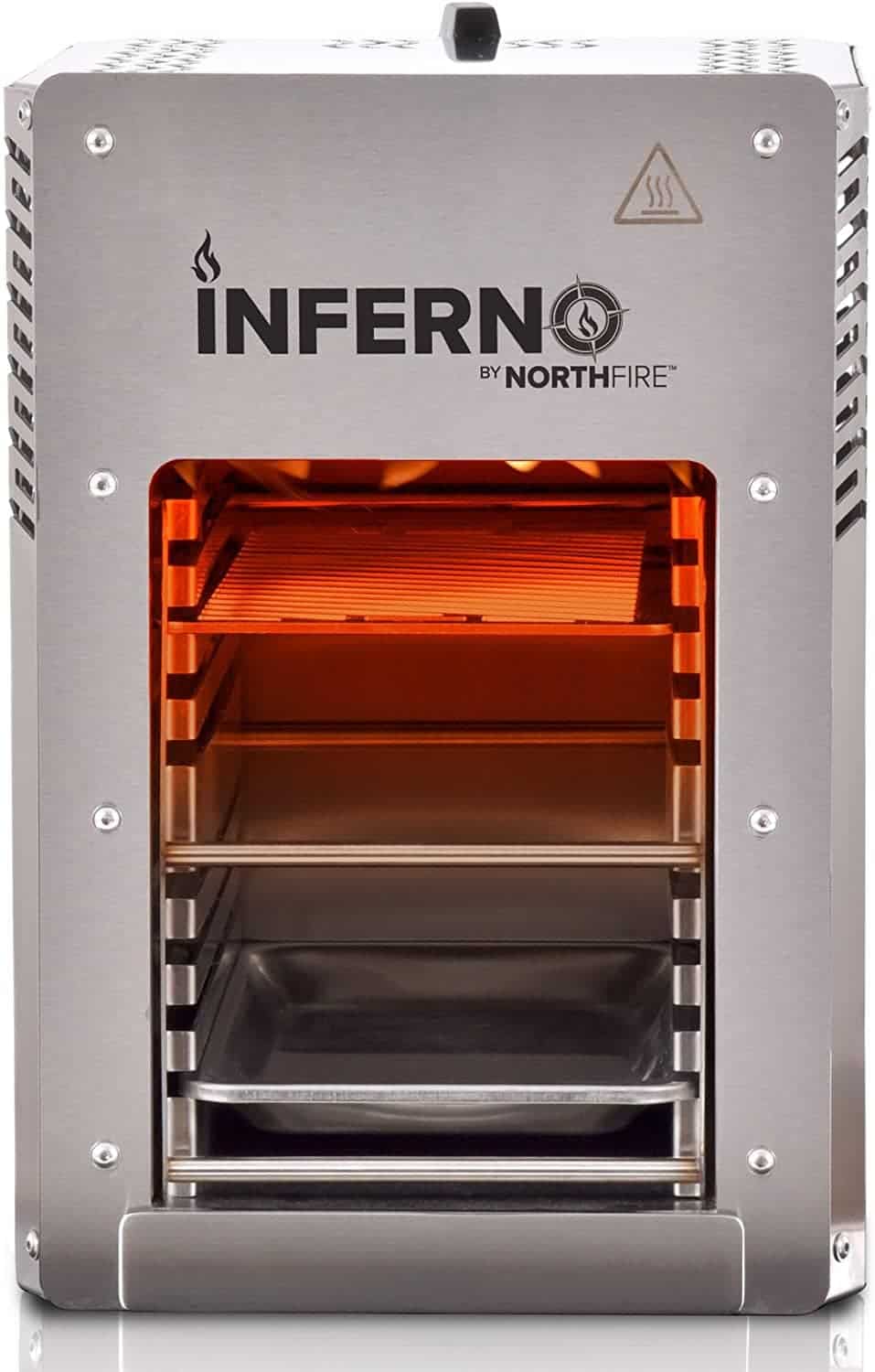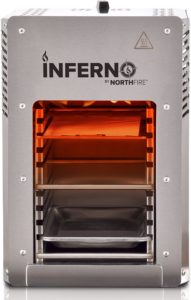 Although Northfire isn't one of the most often heard-of brands when it comes to grilling, this infrared grill will nonetheless blow you away with its effectiveness and versatility. 
Don't let its odd outward appearance fool you. The grill might look odd - in fact, it looks more like an oven than an outdoor barbeque grill - but it heats up fast and will cook up your favorite meal in no time. In fact, it heats up to 15000 degrees Fahrenheit - you read that right.
With its high temperatures, the grill can cook anything you could ever want. From chicken to fish, burgers to seafood, this grill can tackle it all. It can even cook you dessert! Plus, it will grill up your favorite treats in a mere matter of minutes, since it has a top infrared burner that heats up fast. 
It is easy to use, too. It has an ignitor that will help you get ready to go in a matter of seconds. It also has four separate grill racks that will let you cook multiple types of food at once. One of the most helpful features of this grill is that the various levels of grill rack enable you to change the level of doneness in your meat. The higher up on the grill you go, the more "done" your meat will be. 
That's a super helpful feature if you're cooking for a large group of people - each of whom wants their steak done at a different temperature!
It is made almost entirely out of stainless steel components, making it easy to clean and take apart. You'll get a food tray, drip tray, handle, and grill plate in this single compact grill. It's super portable, too - something you'll love for your next tailgate party.
What We Liked:
Multiple grilling racks allow for customized cooking

Heats up fast

Very easy to clean 

What We Didn't Like:
Somewhat confusing instructions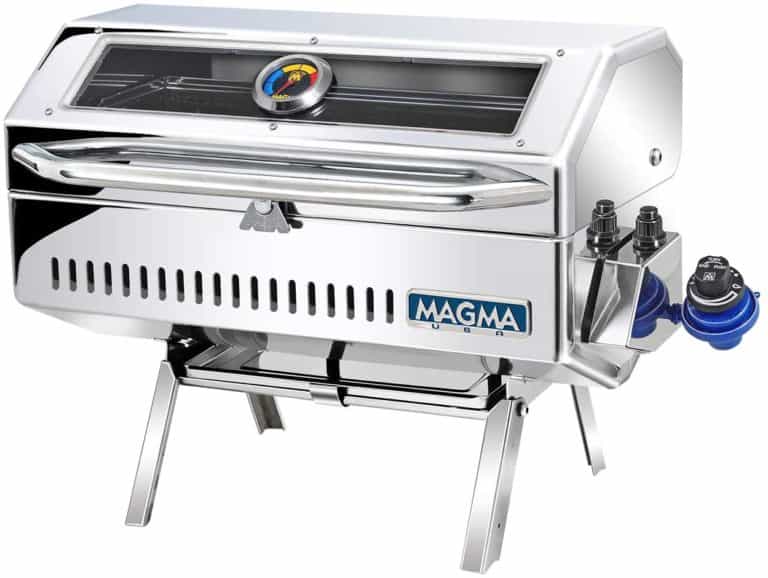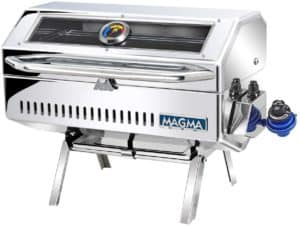 This gourmet infrared grill by Magma Products is one of the most upscale options you will find. 
It is super portable, with legs that fold away so you can easily transport it from one spot to another. A small, compact grill, it's perfect for boating and camping, designed with marine-grade stainless steel. You don't have to worry about saltwater spray, since this grill is made for oceanside use. 
It comes with all kinds of stainless steel features that make this grill easy to clean up and care for - and also quite durable. It has sear plates beneath the cooking grates that allow you to heat up your food to 500 degrees Fahrenheit in a mere five minutes. It offers 11,200 BTUs, in fact. 
You'll find that this grill sears your food well as it spreads heat evenly and maintains its temperature throughout the entire cooking experience. 
Plus, Magma sells all kinds of bonus products that you can use to further enhance your grilling experience. You'll get a serving shelf, a carrying bag, a cover, and even a grill mount. Plus, Magma Products has some of the best customer service and support in case anything goes wrong.
What We Liked:
Well-built grill that cooks well in strong winds and poor conditions

Made out of marine-grade stainless steel

Has a built-in viewing window so you can check on the progress of your food without opening the grill

What We Didn't Like:
Does not come with a built-in warming rack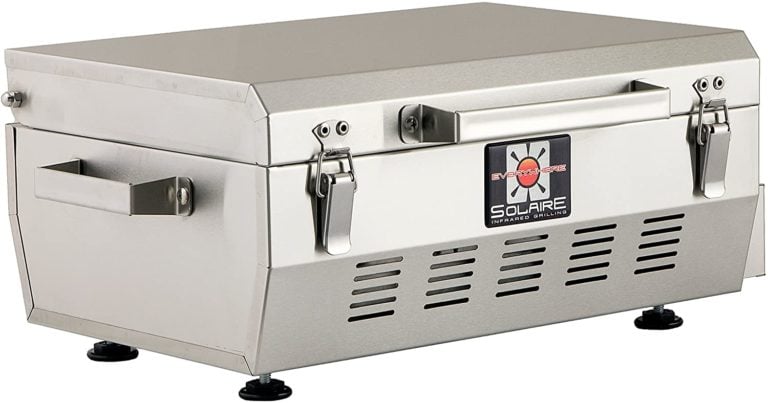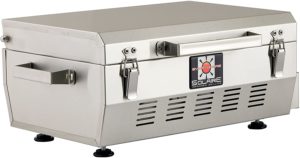 Made out of rugged stainless steel, the Solaire Everywhere Portable Infrared grill is great for camping and tailgating. At 15 pounds, it's super lightweight yet offers large enough dimensions for youth to feed your whole family.
It is built with infrared ceramic and stainless steel burners. These reach 14,000 BTUs in a snap, allowing you to quickly sear your food after waiting only two or three minutes for the grill to heat up. 
It distributes heat evenly, too, so you won't have to worry about cold or hot spots on your grill. You'll love the juicy,tender meat that this grill will help you produce. 
It offers users 140 square inches of cooking space and has a unique grill grate that will enhance the flavor of your food. The drippings of the meat, rather than increasing the risk of a flare-up, actually improve the flavor of your food as they become flavor-enhancing smoke instead. 
The entire grill is made out of 304 stainless steel, making this grill a long-lasting, durable option that's also easy to clean. 
What We Liked:
Lightweight and durable design

Reaches high temperatures fast

Solid build with good materials

What We Didn't Like:
Not the best for slow and steady cooking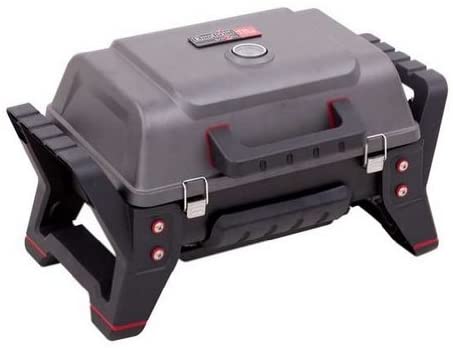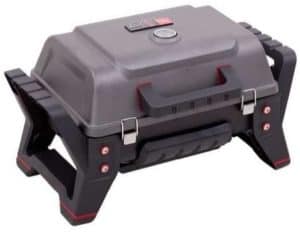 Headed on a camping trip? If so, you'll want to consider this portable infrared grill, also from Char-Broil. It's tiny, compact, and lightweight - the perfect size for taking on a boat, in a motorhome, or with you on your next backwoods adventure.
It comes with a cast-aluminum firebox that can be secured while it's in transit. At only 20 pounds, you'll barely notice you have it with you. Despite its small size, it is sturdy - far from being flimsy. It is built for versatility and can handle anything you - or life in general! - happen to throw at it. 
You won't even realize that this grill is as tiny as it is once you start using it. It gets as hot as larger options - often, it produces so much heat that it needs to be reigned in. It is well-built and will sear, roast, and char like the next big boy. 
What We Liked:
Heats up fast

Lid and cast aluminum firebox are durable and latch securely 

Gets as hot as larger grills

What We Didn't Like:
Needs to be cleaned and maintained often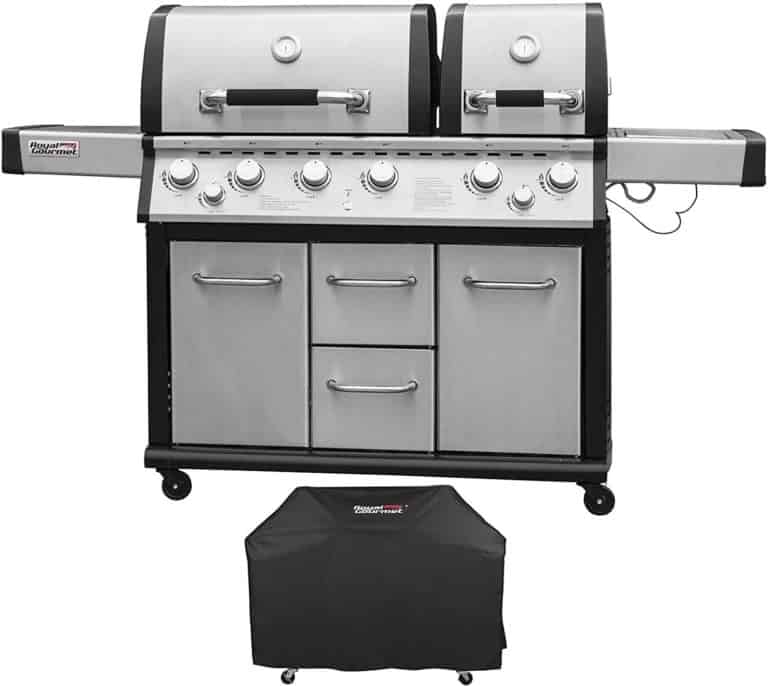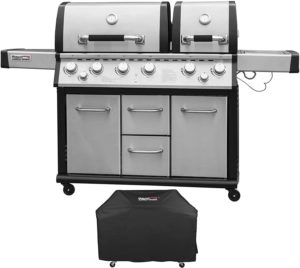 Royal Gourmet is another top brand to consider when you're on the hunt for the perfect infrared grill. It comes with all the features you'd expect out of a grill - and a few that may surprise you.
This option has stainless steel tube burners, an infrared rear burner, and a brass side burner. Together, the burners offer more than 96,000 BTUs. That's all the power you could ever want out of a grill!
Not only that, but it comes with cast-iron cooking grates that are sloped to give you 697 square inches of cooking space. The grill comes with 264 square inches of warming space, too. It has a stainless steel heavy duty lid with a cast aluminum end cap along with built-in thermometers to help you keep track of the temperature, too.
Plus, the grill has stainless steel side tables to give you prep space as you're getting ready to put meat on the grill. It has hanging hooks for your tools and a full cart design that will give you all the storage space you could ever  want - or need.
What We Liked:
Easy to assemble

Comes with storage space

Massive cooking area

What We Didn't Like:
Split lid takes up some space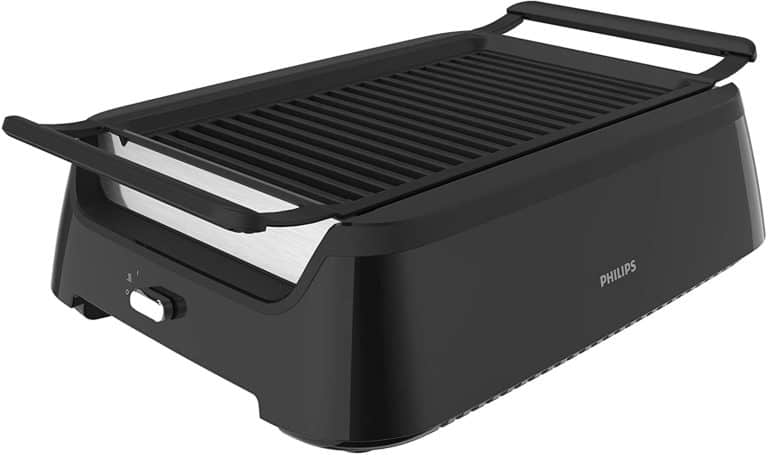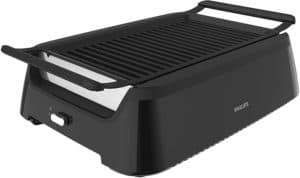 Want to do some indoor grilling - without smoking out your house? 
This infrared grill by Philips will help you meet your needs. It is an easy to use grill that can be plugged into any power outlet for quick indoor grilling. 
Here's how it works.
When you plug in this grill, the infrared heaters will direct heat toward the meat where it's cooking at the top. It has two separate heat settings - one is a "keep warm" setting that will keep your food nice and toasty (but not cook it any further) until you're ready to eat. The other is a full power setting that will provide you with cooking temperatures of up to 446 degrees Fahrenheit. 
This grill doesn't come with a ton of bells and whistles, but there's nothing wrong with that. You'll olive how easy it is to use, since it doesn't have any of the expensive apps or fancy controls that other grills have. 
You only have to wait about six minutes for this grill to heat up. You do need to be careful about the cuts of meat that you cook, though, as super thick cuts often have too much fat for this grill to handle.
Otherwise, you'll love how well this grill works in most settings. It won't fill your grill up with smoke, yet you'll still be able to enjoy the juicy flavor and gorgeous earmarks that you would otherwise only get with time-intensive outdoor grilling.
What We Liked:
Great for indoor use

Comes with a drip tray that catches grease to reduce smoke

Heats up fast

What We Didn't Like:
Infrared light makes it hard to check on the progress of your cooking meat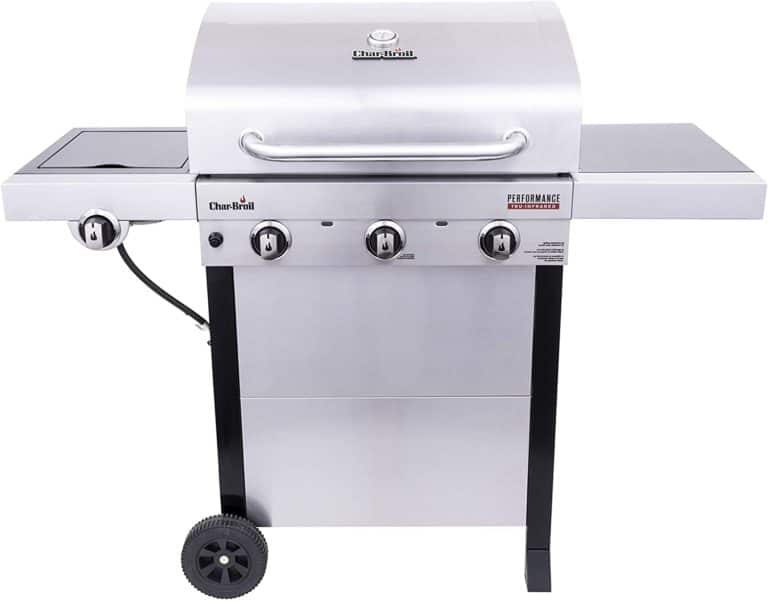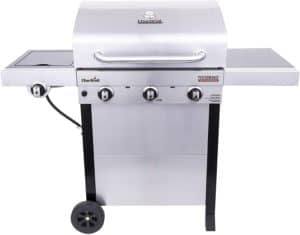 This infrared grill is wonderful if you plan on cooking for a large group of people. With 450 square inches of cooking area, the grill spreads out a whopping 24,000 BTUs so you won't have to worry about being undergunned. It also has a 10,000 BTU side burner if you need even more space. 
Not only that, but this infrared grill has a warming rack just off to the side of the grill. You can swing it away when you don't need it, but when you do, it will provide 150 square inches of additional space. This warming rack is porcelain coated so it's easy to clean.
The Char-Broil 463370719 heats up cleanly and evenly. It reaches high temperatures with ease and searing is easy - no scrubbing required. Even installation is a cinch, as the grill comes with straightforward instructions that shouldn't give you any trouble at all. 
What We Liked:
The grill is mounted on large wheels so it's easy to move around

Side burner comes with its own fold-down lid for storage and extra food prep space

Electronic ignition helps all the burners light up at once
What We Didn't Like: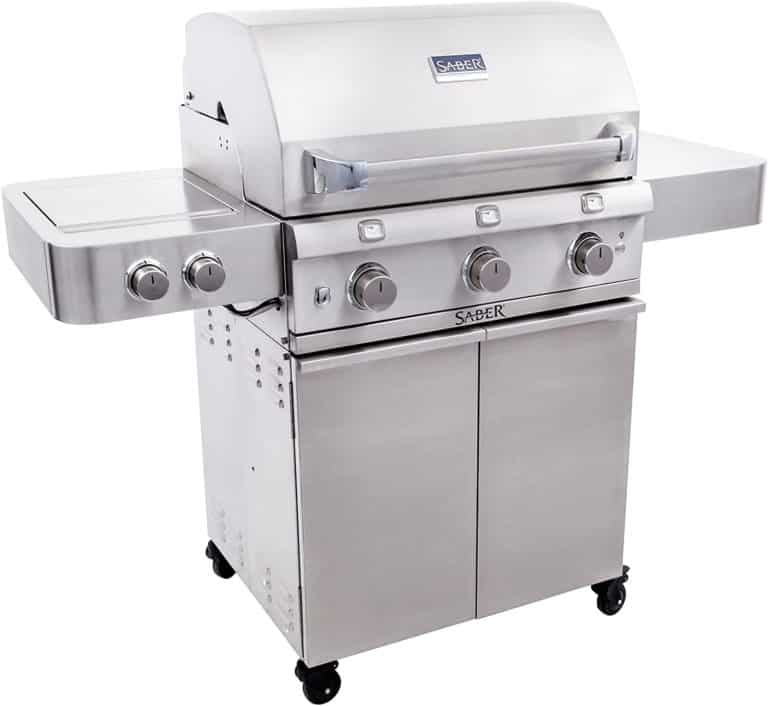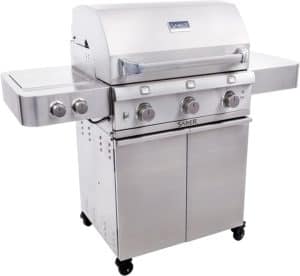 This 3-burner grill by Saber Grills is one of the best if you're new to infrared grilling. It is safe and simple to use, so you won't find yourself overwhelmed by all the options that infrared grills normally have. 
This high-end grill is ready to use in only three minutes. You'll be able to use it almost immediately after turning it on. It comes with its own versatile warming rack, too.
One of the nicest features about this warming rack is that it is easy to rotate. That way, you can use it at whatever angle you'd like. It comes with a smaller side grill, too, so you can cook side dishes or toppings like mushrooms, peppers, and onions. It has a built-in base cabinet for storage, too, where you'll find extendable shelves that can be used for stashing all your gear. 
There is a bit of assembly required, but you shouldn't have too much trouble to find it, since the grill is shipped with a helpful user's manual. 
What We Liked:
Easy to keep clean 

Offers 18,000 BTUs with its side burner alone

Has lots of room for storage 

What We Didn't Like:
Does require some assembly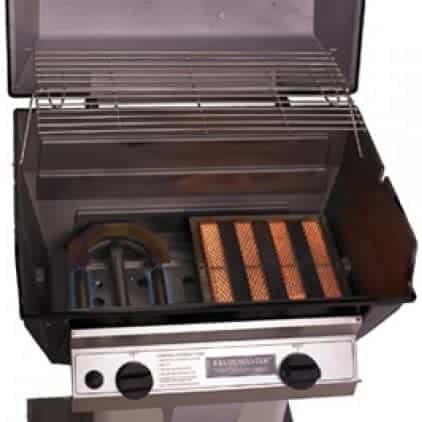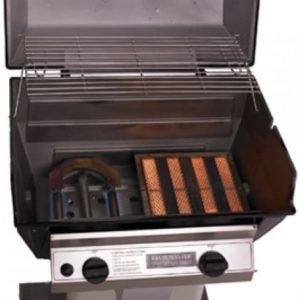 Another top of the line infrared grill for you to consider is this option by Broilmaster. It heats up in a minute, offering consistent distribution of heat. 
Again, if you're new to infrared grilling - or grilling in general -this leading model is one for you to consider. It is lightweight at 87 pounds. Although not as compact and portable as some of the other models on this list, it's still relatively easy to transport on camping trips and picnics. 
To get started, all you need to do is turn your grill on. It's as easy as that. It has two separate burners with one operating on infrared energy and the other using natural gas. You'll have plenty of cooking space as well as a built-in temperature gauge.
It even comes with a helpful warming rack! You'll get 20,000 BTUs per burner, helping you cook a variety of foods in no time. It is versatile and portable, so you won't have any trouble using it on a variety of outdoor adventures. 
What We Liked:
Maximum temperatures of 1600 degrees Fahrenheit

Easy to keep clean 

Has a rack for warming 

What We Didn't Like:
Does not come with its own stand
What to Look for in an Infrared Grill: A Quick Buying Guide
Type
Believe it or not, not all infrared grills are built alike. There are several different types of infrared systems and configurations.
A ceramic infrared burner system is one of the most common, typically used for quick, hot cooking. It will set your burners at around 600 to 1000 degrees Fahrenheit, perfect for a quick sear. However, this kind of grill is more prone to accidental flare-ups, so be aware of this risk. 
Another kind of infrared grill is a heat emitter system. Although cheaper than a ceramic infrared burner system, it won't give you the same high temperatures. Usually, you will only reach between 300 and 650 degrees when using this kind of infrared grill. 
In a heat emitter system grill, the heat is produced from stainless steel tube burners before being transferred to your food from a stainless steel heat emitting panel.
Another kind of grill system is a TEC system. This system is named after a company that was known as the pioneer of infrared cooking. You'll find options like conversion burners and radiant glass panels. These tend to produce heat at around 350 to 850 degrees Fahrenheit and are not prone to flare-ups. 
There are also hybrid grills, which combine multiple forms of infrared technology. Some only have one or two plates, while the rest use more conventional cooking methods. There are three main configurations to look for.
One is a preinstalled burner, in which one of the interior burners is a permanently fixed infrared burner. These tend to be more expensive. Another, less expensive option is an interchangeable infrared burner, which is a good option if you want something more flexible. 
A final hybrid option is a sear station side burner. This is a great technology if you don't want to have to take up precious real estate within your barbeque with an infrared plate. The sear station is located on the outside of the grill and offers increased versatility. 
Size
Size is one of the most important features when it comes to choosing the right infrared grill. Like other kinds of grills, it's essential that you choose a machine that will meet your needs. There are all kinds of sizes available, including small portable units and massive commercial-grade machines. Consider how many people you tend to cook for and how often you plan on using your grill before you buy.
Do keep in mind, though, that infrared grills can give you more usable space per square inch than other kinds of grills. You will, in essence, get more "bang for your buck" regardless of what size you purchase. 
Ease of Use
While some grills only need to be plugged in to work, others are more complicated, requiring some time to heat up before they're ready to use. Be realistic about your skills and pick a grill that's designed for beginners if you don't have a lot of experience in grilling.
Don't forget about cleanup, either! It's easy to neglect the cleaning process after a long day of grilling, but in order to keep your equipment running in tip-top shape, you're going to want to consider how easy your grill will be to clean. Look for ceramic-coated or stainless-steel features before you buy. 
Energy Source
Most infrared grills run on gas, charcoal, or electricity. Consider how you plan to power your grill and decide which method is most convenient and affordable for you.
Heat Up Your Summer Grilling Experience with an Infrared Grill
Curious about which one of these infrared grills is the best? There's no single best infrared grill for everyone, but with a little bit of research and consideration of which features are most important to you, you're sure to find a grill that hits the mark each and every time. 
One thing that is for sure, though, is that a good infrared grill can take your summer grilling experience to the next level. Invest in one of these helpful appliances, and your backyard pool party is sure to go from acceptable to awesome in no time. Pass the mustard!