For more than 80 years, Insinkerator has significantly evolved to become one of the most renowned and respected names in the household appliance industry. Compared to other garbage disposal systems that have littered the market, the Insinkerator counterparts are compatible with nearly all septic systems.
Each component of Insinkerator garbage disposal is crafted from top-notch stainless steel to guarantee unrivaled sturdiness and durability. It's this attention to detail that sets this brand apart from the pack.
The Insinkerator Evolution Excel 1.0 HP is a prime example of what the brand has to offer. From its top of the line induction motor to the powerful noise reduction technology that will gently purr while efficiently crushing all your food waste, this unit provides excellent performance that will spark a smile with every use.
With the Insinkerator name embedded into the unit, longevity and quality are the least of your concerns. Evolution Excel is also backed by one of the best warranties in the industry; a 7-year in-home warranty that's a miss in its rivals.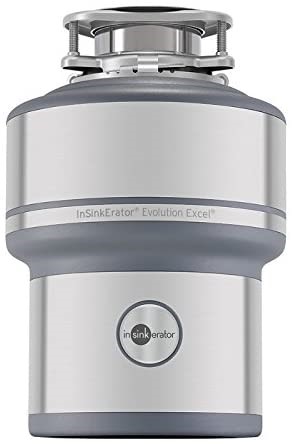 The warranty includes free house calls, labor, and the replacement or repair of parts within this timeframe. You'll also be pleased to discover that the unit comes with a jam assist feature that's a lifesaver when you let it bite off more than it can chew.
The Insinkerator Evolution Excel is the perfect representation of the highest standard in garbage disposal performance. From hard vegetables to rib bones, this unit can handle all courtesy of the built-in powerful 1 Horsepower (HP) motor. It's superior to the ½ HP motor found in the previous models, such as the Insinkerator Badger.
Granted, if you're angling at saving extra bucks, then the pocket-friendly Badger series with ½ or ⅓ HP will get the job done, more so, for a small household of 1 to 3 people. However, for larger households of 7 to 9 people or if you love hosting parties, then a pricier 1 HP model that delivers unmatched grinding efficiency is your Holy Grail.
Pros
Efficiently handles most food waste
Impressively quiet with a strong motor
Comes with an auto un-jam feature
In-home 7-year labor and parts warranty included
Powerful 3-stage multi grind system
Constructed from sturdy and durable stainless steel
Cons
Bulky and heavy that makes the installation process challenging
No power cord included
About Insinkerator
Let's face it. If you've grimaced as you fish around inside your kitchen bin for a dropped spoon or scrubbed the residue off its side, chances are, you're throwing your arms up in joy and relief at this revolutionary invention, wondering how no one thought of it before.
In 1927, the 1st food waste disposal system in the world was birthed by an architect in Wisconsin called John W. Hammes. It was made of sheet metal and operated via a small motor. Over the years, he dexterously modified the design, and in design, perfection in the form of the Insinkerator was born.
The brand immensely grew in the following years until it was acquired by Emerson, a reputable global engineering and technology firm, in 1968, becoming an integral part of its identity. Today, hundreds of thousands of units are sold to households across the US.
Headquartered in St. Louis, Missouri, Emerson is a worldwide leader in technology and manufacturing. Along with churning out food state-of-the-art food waste disposal systems, the company is well-diversified with the best touchless kitchen faucets, hot water taps, faucet water filters, and whole house water filters being part of the story.
Emerson's activities include services and products in consumer and commercial markets. Renowned and respected for advanced engineering capabilities coupled with management proficiency, Emerson currently has 230 manufacturing locations across the globe, with about 132,000 employees.
Should You Invest in a Garbage Disposal?
If you experience the following, it may be time to invest in a top-notch garbage disposal or replace your existing one.
You frequently scrape all the food scraps from your sink into the garbage
Your sink frequently gets clogged from food scraps making their way down your drain. As a result, you incur recurring costs for roping in a plumber to resolve the issue
You regularly reset your current garbage disposal
The disposal's blades fail to chop efficiently
The unit has an unfixable leak
There's a lingering odor in your kitchen, even with your current garbage disposal
Your current disposal frequently gets clogged
Factors to Consider When Choosing Garbage Disposal
We've rounded up the key buying aspects to consider, permitting an informed decision. After all, the last thing you need is to fritter your money away on a product that won't get the job done or doesn't fit your needs.
Noise Level
Are you sensitive to noise? Then keep in mind that all garbage disposals produce noise but at varying intensities. Therefore, upon selecting a product, factor in the levels of noise that work best for you. If you're bothered by loud noises, then the whisper-quiet Insinkerator Evolution Excel is right up your alley. Contrarily, those with less sensitivity to noise might be content with the louder Badger 5 and Evolution XTR models.
Motor Strength
It dictates the amount of waste your disposal can tackle and how efficiently it can grind everything up. It's a no-brainer that stronger and more powerful motors can comfortably handle tough garbage, crushing it more finely than the weaker counterparts.
It matters as the finer the grind, the lower the chances of it clogging the drain. Motors with 1 to 2 HP have the technology and strength to withstand tougher food waste and heavy use such as hard, fibrous vegetables and bones that would stump the weaker counterparts.
Chamber Material and Size
It's no secret that garbage disposals with a superior HP are larger, given that their motors are a beast at handling more food. Moreover, blades and chambers constructed from stainless steel are not only more efficient and durable but also the easiest to clean and rust-resistant.
Additional Features
The superior and pricier garbage disposals come with a few extras that come in handy. For instance, sound baffles to reduce the decibel unit and anti-splash baffles that are a lifesaver in keeping your sink spick and span, to corrosion protection shields. As a tip, we recommend purchasing a model with an enzyme reservoir to aid in breaking down the food scraps.
Special Features of the Insinkerator Evolution Excel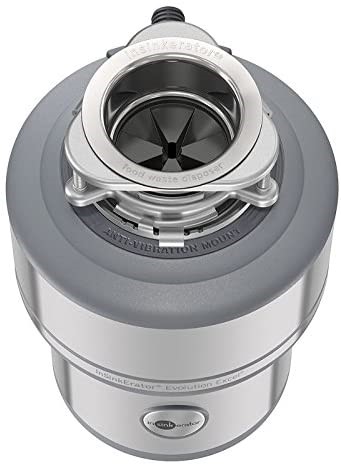 Here's a breakdown of the perks that come with investing in this model.
1. Multi Grind Technology
With its powerful 1 HP induction motor, the Insinkerator Evolution Excel can handle nearly anything you throw down its chute. The top of the range 3-stage grinding technology can make mincemeat of bones, hard vegetables, banana peels, and more in a jiffy.
Since the food is pulverized into a near liquid form, it diminishes the likelihood of your drains developing clogs or accumulating debris. For more details on this feature, check out this video:
2. Dura-Drive Technology
Many garbage disposal manufacturers have openly sought to duplicate this top-notch technology found in the Insinkerator Evolution Excel but haven't been successful. The power of the model's induction motor can be felt in its performance, and every time it's turned on.
3. Quick-Lock Technology
The unique locking mechanism found in Excel makes it a breeze to install nearly anywhere. If you're replacing an old Insinkerator unit, simply unscrew it and screw in your new model. Nonetheless, this technology functions seamlessly with other garbage disposal brands.
4. Sound Seal Technology
It's this patented technology that allows the Evolution Excel to function virtually noise-free. The unit can be used anytime, day or night, without the worry of disturbing other members of your household. Let's explore what Sound Seal Technology is offering.
Quiet Collar Sink
It's a unique design item that's carefully positioned at the mouth of a kitchen sink.  A quiet collar sink creates a thin layer of water above the sink opening. As a result, it blocks out the noise created when the garbage disposal is in use. Check out this video for a demonstration:
Anti-Vibration Mount
The unit has a rubber connection between the mounting bracket and disposal opening. The anti-vibration sink mount lowers vibration and cuts down the sound produced. Here's a video for more details on how this feature works:
Alternatives
If you have some special needs or requirements for your garbage disposal, here are 3 alternatives that are worth a closer look.
Are you on the quest for a garbage disposal that's a snug fit under your kitchen, more so, if you have limited space? Then the Insinkerator Evolution Compact is your Holy Grail. Not only is it lightweight compared to the Excel counterpart, but it also isn't as heavy. It's ideal for small households.
While the Evolution Excel is septic-friendly, the Insinkerator Evolution Septic Assist adds a layer of confidence to homes with septic tanks. With a special feature known as Bio-Charge, the unit facilitates the automatic injection of microorganisms that perfectly break down food waste.
If you're on the quest for sheer power in a garbage disposal but don't want to shell out extra bucks on the fancy features that the Evolution Excel comes with, then the American Standard ASD 1250 is right up your alley. It has 1.25 HP, which is superior to Excel, which has 1 HP.
Conclusion
If you're on the quest for a high-end, top-rated, and all-powerful garbage disposal for your chef-quality or upscale kitchen, then the Insinkerator Evolution Excel is your best bet. It will provide all the power you could ever dream of without hurting your electrical budget or causing noise interference. It's perfect for people who don't like restrictions and want the durability and power to dispose of nearly everything without your sink frequently clogging up.