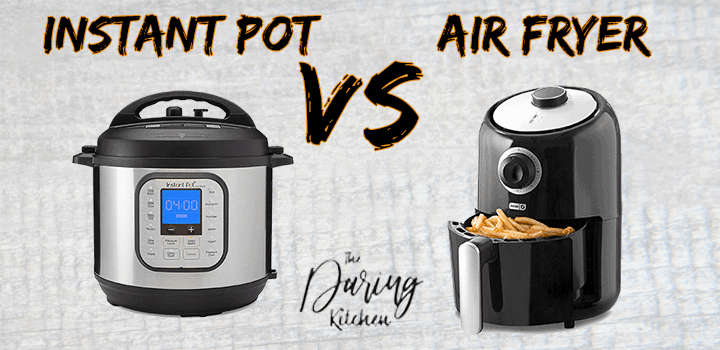 The versatility of use vs crispy deliciousness, or in other words, instant pot vs air fryer. Wondering which is the best or the healthier option for you and your family?
Their main difference is that the Instant Pot can replace several appliances in your kitchen as an all-in-one cooker. It does the job of a crock-pot, a pressure cooker, a sauté pan, a rice maker, a yogurt maker, and much more - how great is that.
On the other hand, an air fryer uses hot air to give food a deep-fried texture and taste without using any oil or deep frying anything. Food that is fried and healthy at the same time with no mess in the kitchen? Wow! That's a pretty good reason to love this device, don't you think?
But there is more to it. From the way both of these appliances cook, their ease of use, pros and cons to their speed, price, or durability, there are several differences and important features to discover. This is what this article is all about, so let's get to it.
What Is An Instant Pot?
The instant pot is a popular brand of multicookers. You can think of it as an upgraded pressure cooker with a lot of different cooking functions. By using high heat and pressure, it cooks food much faster than traditional stovetops or ovens and saves you the trouble of using different pots and pans for the same recipe.
Most importantly, you can put everything inside and wave goodbye to your electric cooking pal. An instant pot can be used as a high or low-pressure cooker, a slow cooker or crock-pot, steamer, warmer, rice cooker..you name it. Sautéing is another good feature to love your instant pot for.
Additional programs are also available with some models including sterilizing and egg or cake making. Depending on the type and size of your appliance, you can insert different dishes directly into it such as springform pans or cupcake molds.
What Can You Cook in It?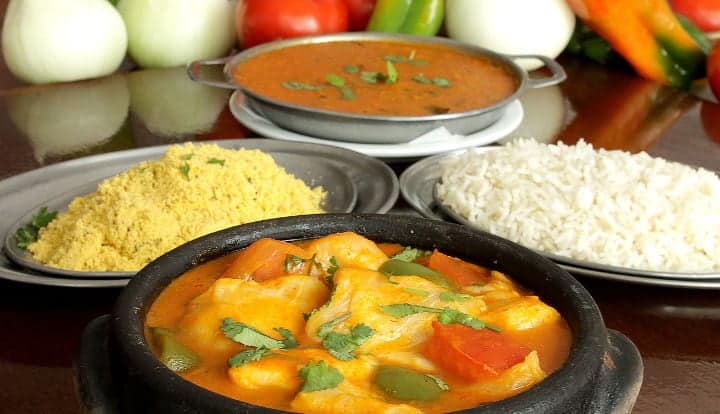 Some of the most common dishes you can prepare with this pot are:
Soups
Stews
Rice
Beef/Pork/Poultry
Vegetables
Hard-cooked eggs
Yogurt
Porridge
Desserts
There are hundreds of instant pot recipes and cookbooks to help you prepare successful dishes especially if you are a beginner. Keto diet or low carb consumers will also find plenty of inspiration there.
What Is An Air Fryer?
An air fryer is a kitchen device that uses convection to circulate very hot air (300-400F) around the food. This is performed by a fan working at a high speed and that's how the food gets its crispy layer and golden-brown color like in deep frying.
Most of these models have temperature settings and timer adjustments to achieve precise cooking. Some of them come with additional accessories for different types of cooking such as rotisserie baskets and spits, pizza pans, cake barrels, grilling racks, and more.
What Can You Cook in It?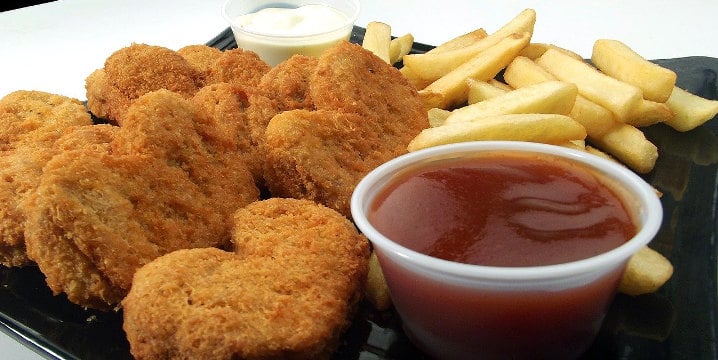 Think of what you can fry, grill, roast or bake - in some cases even what you can boil such as eggs- and you have a good idea of what an air fryer appliance can do. It can be used to heat frozen foods or prepare from-scratch meals.
Some models also have 'dehydrate' settings that allow you to make home jerky from different types of meat.
Here are some of its most common cooking applications:
Chicken wings
French fries
Steak
Burgers and sausages
Pork chops
Fish
Bacon
Mozzarella sticks
Vegetables
Toasted bread
Chocolate chip cookies
Cupcakes and doughnuts
Quiche and pies
Differences of Instant Pot And Air Fryer
Here is a comparison of these two appliances based on some important features:
Ease Of Use
Instant pots come with different settings and timers to cook your food at different temperatures, as well as keep it warm or defrost foods. The wide range of functions makes cooking easier and more precise but it may take some time to get the hang of all the settings especially if you are a beginner in pressure cooking.
On the other hand, an air fryer is easier to use since there are fewer buttons and settings to learn about. In both cases, there are manuals to help you as well as recipes for each device, so over time, you will gain more experience.
Cooking time
Both of these devices are designed to speed up the cooking time when compared to stovetops or ovens. Foods that take hours to be cooked such as dry beans can take 30 minutes to 1 hour in an instant pot.
But remember: you also need to count the time it takes to pressurize the instant pot. It's usually 10-15 minutes unless you are using a simple setting such assautéing. In the end, you will have to let the pot depressurize before opening the lid. Depending on the dish, this can take 5 to 40 minutes. Meat dishes need 10 minutes at least so the meat doesn't become hard.
An important detail: some models are Wi-Fi so you can control or monitor your pot with your tablet or smartphone.
Air fryers are faster than instant pots because they only have one cycle of cooking to handle and the meals they prepare are lighter. Normally, the cooking time is 15-25 minutes whether it's meat, fish, or veggies. The preheat time is 3-5 minutes, but always check your manual for specific recommendations.
Versatility
Multi-cookers are famous for their versatility due to their different settings and capabilities. There are more types of food you can prepare in an instant pot than in an air fryer.
Size
Instant pots come in 4 sizes from 3 to 8 quarts. The 3 quart is good for 2 to 3 people while the 5 and the 6 quarts are great for a family of 4 to 6. If you are cooking for 6 or more people, you need the bigger model of 8 quarts.
Remember that depending on the brand, all sizes may or may not be available.
Air fryers come in sizes 2.2 to 16-quart. The smaller ones are in the range of 2.2 to 3.7-quart and the large models are 5 to 6 quarts. For a dinner of 6, the 10-quart capacity is perfect.
Safety and Health
Air fryers use less to no oil which is good in terms of limiting fat intake especially for those who are on a diet or try to avoid unnecessary fats due to health problems. However, many air fryer cooking recipes recommend the use of cooking sprays which contain trans fats and other health-damaging ingredients such as propellants.
Also, in terms of safety, it is recommended that you don't put any oil in the air fryer or keep it near flammable objects. There have also been some complaints about air fryers smelling plastic when overheated. Many air fryers are made of plastic and although the food comes in contact with a metal basket and not directly with the plastic, there are still some worries about chemicals leaching into the food when cooked at such high temperatures.
If you don't feel comfortable with the use of plastic, you can go for an air fryer oven made of glass and metal.
When it comes to the safety of materials, the instant pot may be a healthier option. It is made of stainless steel which is safe for cooking and has no Teflon coating inside which is considered to be potentially toxic. Plus, there are safety mechanisms in place to prevent potential accidents.
Durability
Instant pot appliances are made to last due to their high-quality materials, technology, and robust construction. When it comes to air fryers, some issues reported in regards to their trays breaking down makes them not as durable. Since all models are not the same, you may want to check what users' reviews say about the specific product you want to buy.
Price
The cost for an instant pot can start from $60 and go up to almost $200 but air fryers can be a lot more expensive depending on the specific model and additional features. You can buy an air fryer for as low as $40 and as high as over $1000 if you go for an air fryer oven with rotisserie.
Instant Pot Cons
It takes some time to get the hang of it: Give yourself some time to understand how it works and learn all about its various settings and timers.
Can be hazardous to use: All that pressure in your cooker makes for some hazards. The good news is you can avoid accidents by taking the right precautions. For example, always use a cup of liquid in your pot and never fill it fully. Also, keep your face away from the steam when opening the lid and don't use the pot like a deep fryer.
You can't check on your food: If you like keeping visual or olfactory contact with your food, you can't do it with this appliance. And it's not so convenient to correct or add something to the recipe fast because you have to depressurize the pot, wait, open the lid, add the missing ingredient, close the lid, pressurize and start all over again.
Not suitable for small kitchens: If you don't have enough counter space or place to store, this machine may not be a good option.
Air Fryer Cons
May have to rotate the food manually: Foods that are air fried in a basket don't become so crispy on the part that is down, so you need to manually rotate the food. However, some top-notch models have food agitators that constantly shake the food while getting cooked.
Food may get burned: As the device circulates very hot air, you need to pay attention so your food doesn't get burned. Setting the timer properly can prevent this problem.
Food can dry out: Since no or very little oil is used, your meal can dry out. To avoid this, some people use more oil than just a mist of cooking spray. For safe use, read your device manual first.
Finally, Instant PotOr Air Fryer - What To Buy?
Here are some reasons why you would like to buy an instant pot:
You want to cook plenty of food in advance and be ready for any meal of the day.
Have a busy schedule and need a device to do the cooking on its own.
Need a versatile appliance to prepare different types of food fast and easy.
Want to de-clutter your cooking space and replace your pots and pans with one handy appliance.
Similarly, you may choose to buy an air fryer because:
You love fried food and you want a healthier alternative to deep-frying.
Like the versatility of frying, grilling or roasting with less to no oil.
Love adding easy to make delicious veggies to your meal - soft inside and crispy outside.
Need a quick meal or side dish solution in a matter of minutes.
Have small kids and want to prevent scald injuries caused by hot oil.
Want to keep your stovetop clean without splattered oil.
Lastly, if you can't choose between an instant pot vs an air fryer, and you are willing to pay a little bit more, you can go for a Ninja Foodie which is a combination of the two, all in one device!