If you're one of our more mature readers, you know all about the bad reputation traditional stovetop pressure cookers had a while back.
Not only was there the risk of suffering some pretty serious burns given how easy the lids were to take off, but your food could have very easily ended up on the ceiling and walls, which would be a pain to clean up.
Thankfully, there's no such risk with the modern electric models. They usually come equipped with plenty of built-in safety features that prevent you from removing the lid before all the pressure inside has safely been released.
To be clear, every time you come across the phrase "pressure cooker" in this article, I'm referring to the electric variants and not the stovetops that we grew with.
With so many different options available on the market, the real question is – which one should you get? This Instant Pot vs Pressure Cooker guide takes an in-depth look at everything you need to know about electric pressure cookers and the amazing features that top models have. Let's get into it, shall we?
The Pressure Cookers I own
The Mueller 6 Quart Pressure Cooker 10-in-1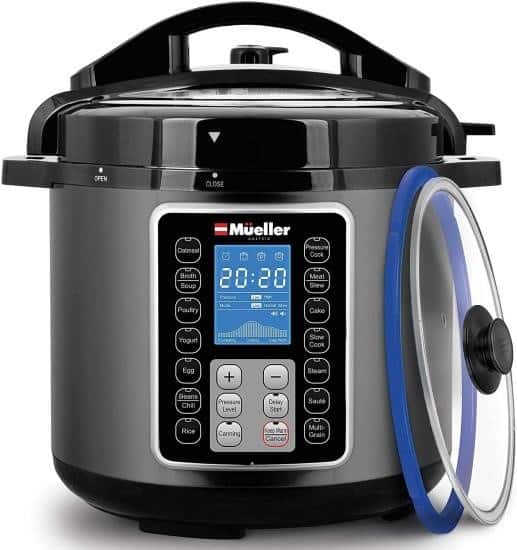 The first electric pressure cooker I ever owned was the Mueller 6-Quart 10-in-1. When I first bought it a few years ago, it was because I succumbed to all the pressure and hype surrounding it.
I didn't use it as much as I would have liked, perhaps because I was still scarred from childhood when I witnessed a stovetop cooker explode in my mother's kitchen.
Nonetheless, once I got the hang of it, I couldn't picture life without it. I was particularly impressed by the fact that it allowed me to cook two dishes at once.
Not to mention that it saved me a ton of money that I would have otherwise spent purchasing other kitchen appliances that I would have needed at the time – 10 to be exact.
I've used it for several years now as a pressure cooker, rice cooker, egg cooker, slow cooker, steamer, cake maker, yogurt maker, warmer, and sterilizer.
I even use it for sautéing and searing when I need to. I was hooked. I didn't want to spend too much money on a pressure cooker, and boy did it surpass my expectations. No regrets there!
Instant Pot Duo 6 Quart Electric Pressure Cooker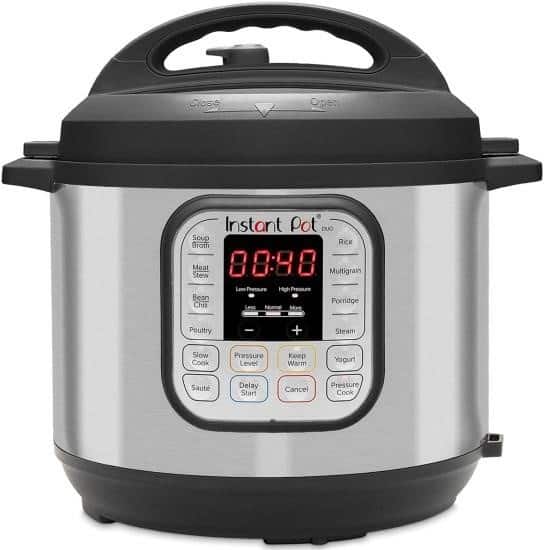 The second pressure cooker I own is the Instant Pot Duo 6 Quart 7-in-1. This was gifted to me by my husband after I "hinted" towards getting an additional pressure cooker to handle the additional cooking load now that I have a few more people in my household.
While I don't usually advocate for husbands getting their wives kitchen appliances as gifts, this was the exception. I was quite happy with his selection.
I like that it has 10+ built-in safety features, so I don't have to worry about my kids running into the kitchen and opening it up when they know I'm baking a cheesecake.
It even has an overheat protection feature that automatically adjusts the heating intensity and duration of whatever I'm cooking. That way, I never run the risk of finding the food in it burnt to a crisp.
Just like the Mueller, I like that it also combines several kitchen appliances in one. It is a pressure cooker, rice cooker, slow cooker, steamer, and sauté pan as well. After using it a couple of times, I noticed that it cooks food somewhat faster than the Mueller, but just by a few minutes.
All in all, I was pretty happy with it. The Instant Pot mobile app I downloaded was also a nice touch.
What Are the Common Features in the Instant Pot vs Pressure Cooker Review
Since I already own both appliances and I'm pretty pleased with their performance so far, I thought it would be best to do a side-by-side comparison of the Instant Pot vs Pressure Cooker so that you know what to expect from both of them.
That is not to say these are the only available options on the market or that they're the best ones you'll find. I'm speaking on these because I've used them for a while and can provide my honest experience of both.
I'm pretty sure there are several other amazing brands out there that are worth checking out, but for now, I'll review these two.
Capacity
The Mueller Electric Pressure Cooker and the Instant Pot both have a 6-Quart capacity. This is usually ideal for feeding between four and six people at any given time.
When my household had five people – two adults, two teenagers, and one "tween" – I didn't have any issues using the Mueller to cook for everyone. In most cases, I always had food leftover for lunch the next day since I work from home.
If you have a larger family, you might want to get a bigger 8-Qt or 10-Qt cooker, or like me, get a second one you can use concurrently.
Housing
Both appliances have an easy-to-clean housing that makes it a breeze to wipe off fingerprints or food smudges without requiring too much elbow-grease to do it. A soft, damp cloth does the trick to restore your pressure cooker to its previous fresh-off-the-factory condition.
Dishwasher Safe
The Mueller and Instant Pot housing is not dishwasher safe. Remember, electric pressure cookers are not stovetops, so they have electrical wiring and components that can get damaged when they come into contact with water.
As I mentioned before, all you need to keep it clean is a damp cloth to give it a solid wipe-down. However, you can take out the inner pot and toss it in the dishwasher much like that of a slow cooker – which is fine since that's where all the cooking happens anyway.
Size and Weight
Both appliances measure roughly the same size. The dimensions of the Mueller are 15.5 x 13 x 13 inches, and that of the Instant Pot is 13.38 x 12.2 x 12.48 inches. They take up a similar amount of space on my kitchen counter.
The Mueller weighs 15.42 pounds compared to Instant Pot's 11.8 pounds. In reality, I hardly notice the difference when I pick both of them up.
Price Point
When I first bought the Mueller, it was pricier compared to what it costs today. Both appliances have roughly the same price-points with a ten bucks difference between the two.
Keep in mind that different models come at different prices. For instance, Instant Pot's 8-Qt and 10-Qt models are a little pricier than those I currently have (the 6-Qt). The Mueller has some extra features (10-in-1) compared to the Instant Pot (7-in-1), which explains the $10 difference between them.
Delay Start
Both appliances have a 24-hour delay start timer. This means that you can load it up in advance with whatever you intend to cook later and set the timer for it to power on and begin the process at a specific time.
Now, if you're like me, you probably prefer to be home while your pressure cooker is on. However, I like making oatmeal for the kids when they get up in the morning.
To make it easier, I put the oatmeal in the electric cooker at night and set the timer to have it ready by the time I'm heading to the kitchen in the morning.
While it might not seem like a big deal to make it when I get up, it's all about the small wins and little conveniences for me. If there's something that makes your life a little easier, why not take full advantage of it?
Inner Pot
Both appliances have a stainless steel inner pot, which makes them extremely durable. You also don't have to worry about any of the health concerns associated with using non-stick coated cookware.
The stainless steel makes them non-magnetic and extremely-resilient even at high temperatures. They're also easy to clean, which saves me loads of time that I would have otherwise spent scrubbing down the interior to get all the food stains out.
Similar but Different Features in the Instant Pot vs Pressure Cooker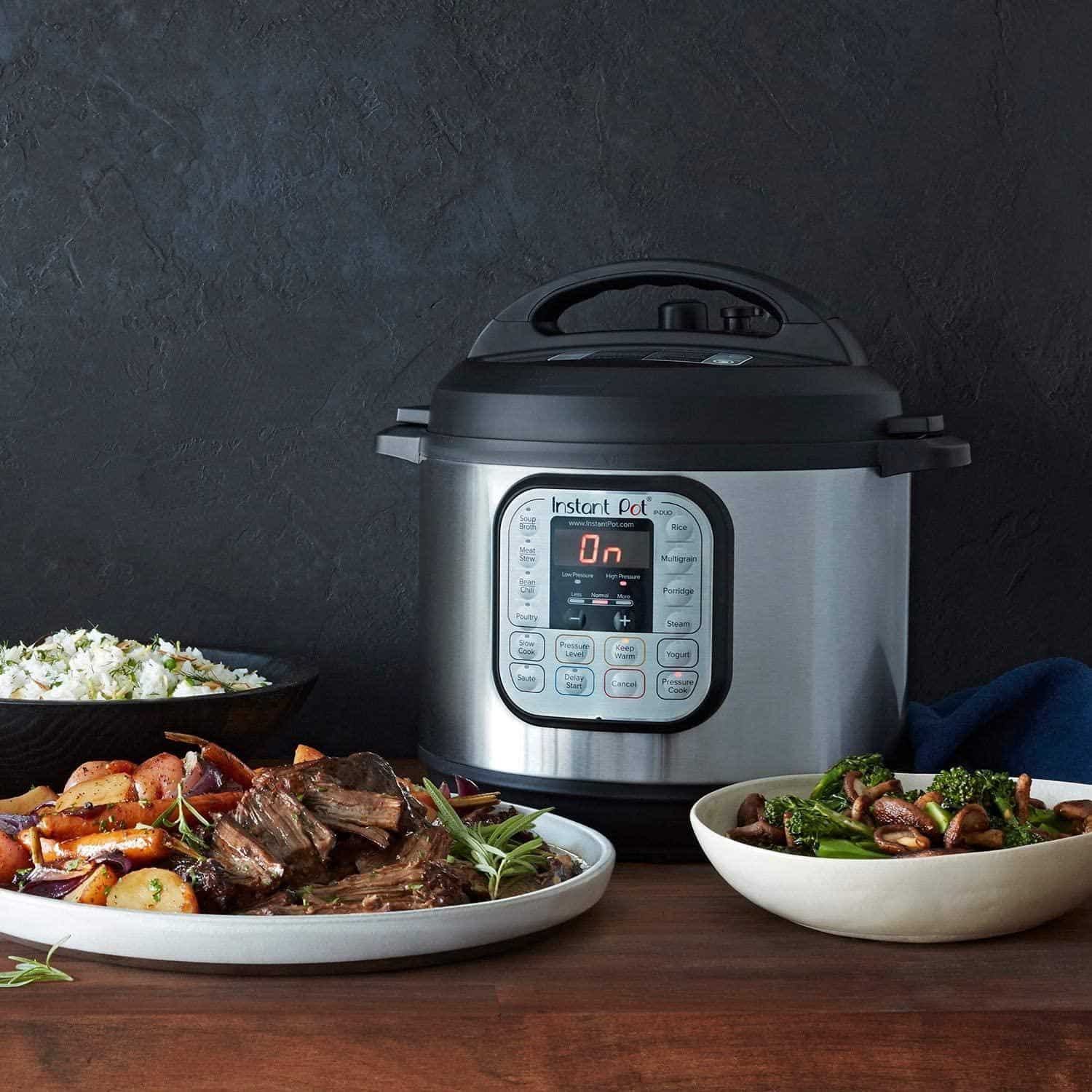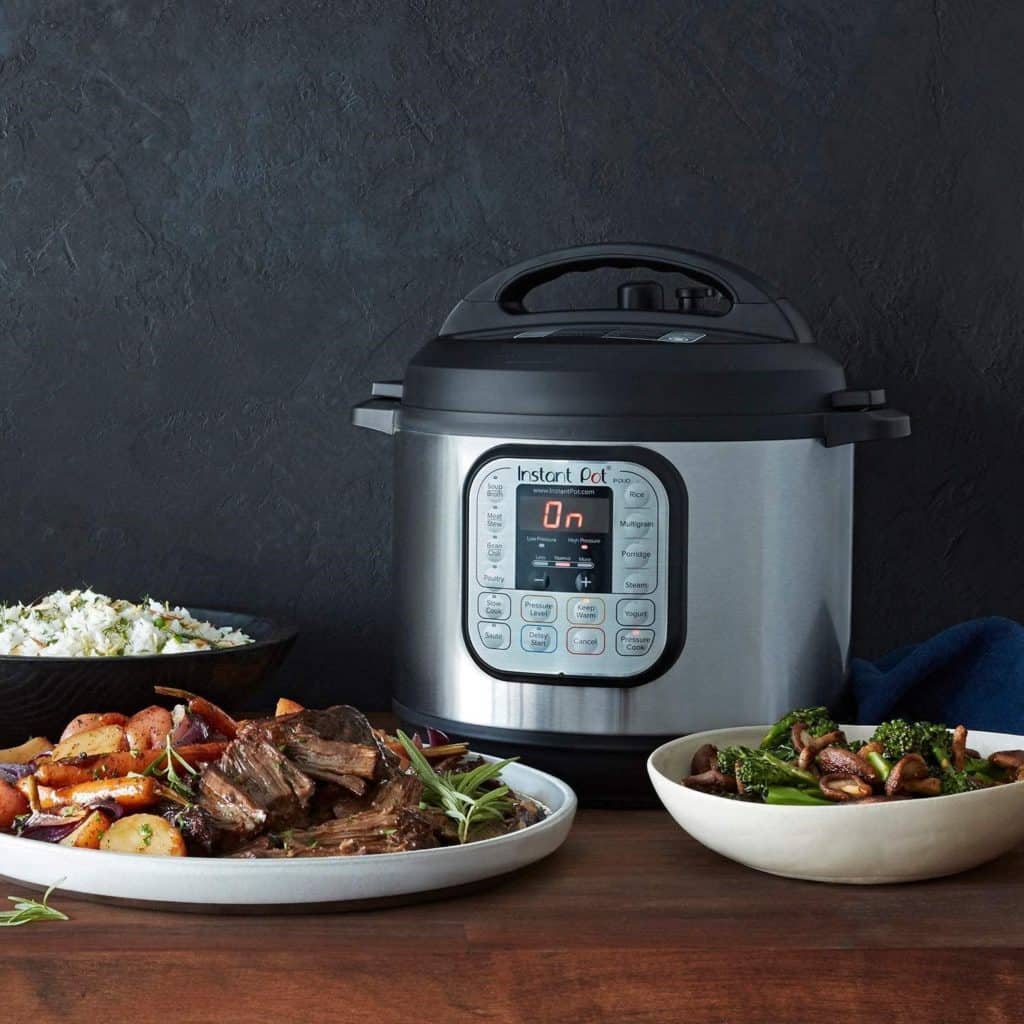 This category of features refers to the surface-level similarities between the two brands of electric cookers that happen to be quite different once you examine them in detail. Here are some of the ones I found.
Warranty
The Mueller Cooker is backed by a two-year limited warranty covering defects resulting from workmanship, material, or normal wear and tear.
Instant Pot also offers a warranty on its cooker (hence the similarity) but is only valid for one year from the purchase date. It also covers defects resulting from workmanship, material, or the normal wear and tear that comes from using the appliance.
Handles
Both appliances are fitted with strong, durable, heat-resistant handles. The only difference is – Instant Pot has a slightly lower profile compared to Mueller. This isn't an issue per se unless there's a bit of a height limitation in the space you intend to store it.
Power Cord
Both appliances come with a power cord, which is expected given that they are both electric. However, the Mueller comes with a detachable cord, making it easier to store, particularly in tight spaces. This reduces the risk of the cord getting damaged in the process.
On the flip side, there's always the potential of it getting loose over time, so there's that.
In the case of the Instant Pot, the power cord is permanently attached to the housing of the appliance, which could be a positive or a negative depending on how you look at it.
Replacement Parts and Accessories
Replacement parts and accessories for both products are available on the respective company websites or Amazon. The difference between the two comes down to their price-points.
Instant Pot accessories tend to be cheaper compared to those of Mueller Pressure Cookers. A set of three sealing rings for the 6-Qt pressure cooker, for instance, retails for about $15, while a set of two Mueller 6-Qt gaskets retails for around $13.
Different Features in the Instant Pot vs Pressure Cooker Review
No comparison would be complete without exploring the differences between the two appliances. Here are some of the notable ones.
Preset Programs
The Mueller has a total of 15 preset smart buttons that are already pre-programmed for a variety of dishes. These include pressure cook, rice, beans/chili, egg, yogurt, poultry, broth/soup, oatmeal/porridge, meat/stew, cake, slow cook, steam, sauté, and multi-grain cooking.
I like that it takes the guesswork out of the whole process, allowing me to simply touch a button and have the cooker decide how much time it'll take for whatever's in there to cook. So far, I've not been disappointed with the results.
The Instant Pot Cooker also has the same presets except for the egg option. Nonetheless, I don't mind having to manually input the timer if I want some hard-boiled eggs.
Android/iOS App
Another glaring difference between the two cookers is the fact that the Instant Pot has a mobile app available that's compatible with Android and iOS devices. I installed it on my phone and instantly had access to hundreds of recipes, some of which I've already tried out with my pressure cooker, and I must say – I was pleasantly surprised by how great they turned out.
Mueller, on the other hand, doesn't have a mobile app.
Do You Need a Pressure Cooker?
Sure, everyone's raving about their pressure cooker and how easy and convenient it is to get dinner ready in a matter of minutes. Just because they're hot on the market right now doesn't mean you need one.
Here are a few pointers to help you know if it is right for you.
Time Factor
If you spend all day up and about and barely have time for anything else, let alone an hour to cook dinner at the end of a long day, you need to get yourself a pressure cooker.
Meals that would ordinarily take 45 minutes can be done in as little as 10. That was a total game-changer for me.
Multitasking Capability
Short cooking times aside, pressure cookers offer a hands-off approach to cooking. With the pre-programmed settings they come with for different meal types, all you have to do is place the food you want to cook in the pot, set it to the specific type of meal you're making, and leave it to do the rest while you go off and do something else.
Now, I don't know about you, but that was reason enough for me to get one.
The Winner Is ...
While I've used both the Mueller and Instant Pot cookers for a while now, I must say Instant Pot does have a slight edge over Mueller, as far as the price of replacement parts and accessories is concerned.
There's also the fact that Instant Pot tends to cook my food slightly faster than the Mueller. That aside, I think they're both excellent choices if you're in the market for one.
Final Words
If you've never used a pressure cooker before, let's just say it will completely transform your kitchen life. I hope this Instant Pot vs Pressure Cooker review has given you some insight into what to expect from these top brands.
In the meantime, if you're looking to add a rice cooker to your set of kitchen appliances, check our detailed review of the top options worth checking out.