There is a kitchen appliance that has revolutionized the world of cooking for amateur home chefs. It's the perfect blend of technology and versatile cooking methods. You can use it as a rice cooker, a crockpot, a pressure cooker, a steamer, and much more—all without you needing to spending money (and storage space) on any of those gadgets. It's the world-famous best instant pot.
If you're trying to switch things up in the kitchen, this is an awesome appliance to get. Have we mentioned how versatile it is? Moreover, it's incredibly easy to use, too. The hard part would be choosing the perfect instant pot for your kitchen, but don't fret.
Today, we're taking you on a tour of the top six instant pots on the market. Whether you're a beginner cook or an experienced home chef looking to innovate, we're sure you'll find the best model for you.
1) Best Instant Pot for the Money: 6-Quart Instant Pot Duo Multi-Use Cooker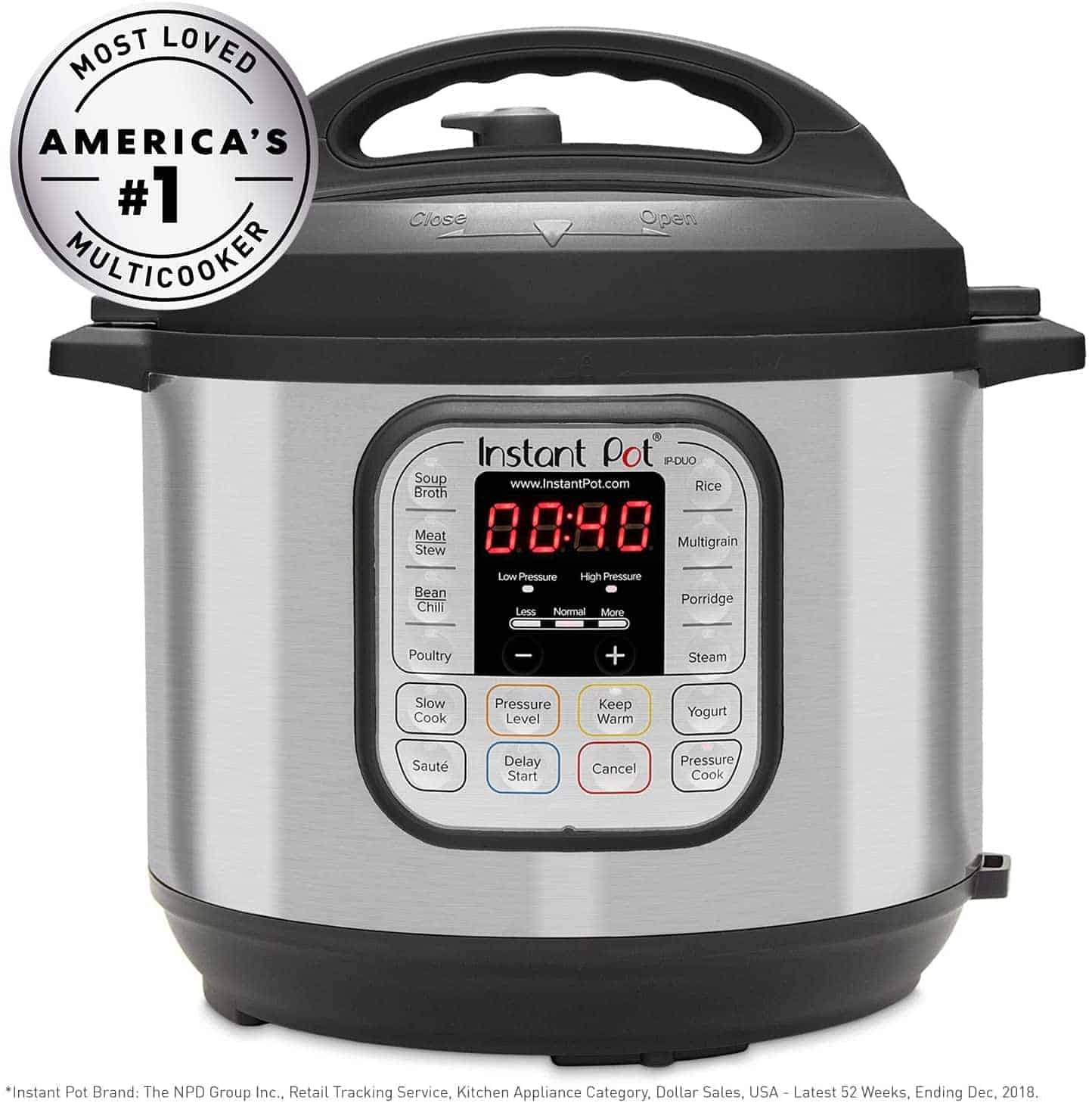 If we had to choose just one instant pot unit, we'd go with the Instant Pot Duo model. We love how versatile yet easy to use it is. Moreover, it's also affordable! What's there not to love?
First things first, you can play around with seven cooking settings. The Instant Pot Duo doubles as a bunch of different kitchen appliances, for instance as a rice cooker and a vegetable steamer. Plus, you can choose whether you want to use high-pressure cooking or not.
On top of that, the Instant Pot Duo has a cool "delay start" setting. When you set it up, your instant pot will count down the hours until it starts cooking. This means you could come home from work to a perfectly cooked dish.
If you've never used an Instant Pot Duo and you're scared that it will malfunction, you have nothing to worry about. The built-in safety features include overheating protection, safe steam release, and a safety lock. They're very effective in preventing kitchen accidents, thus also protecting your dear investment.
Lastly, you won't break a sweat cleaning up this appliance. The removable nonstick pot and the pressure cooking lid can both go in the dishwasher for a hands-off clean-up session.
2) Best Instant Pot for Beginners: 6-Quart Instant Pot Lux 6-in-1 Electric Cooker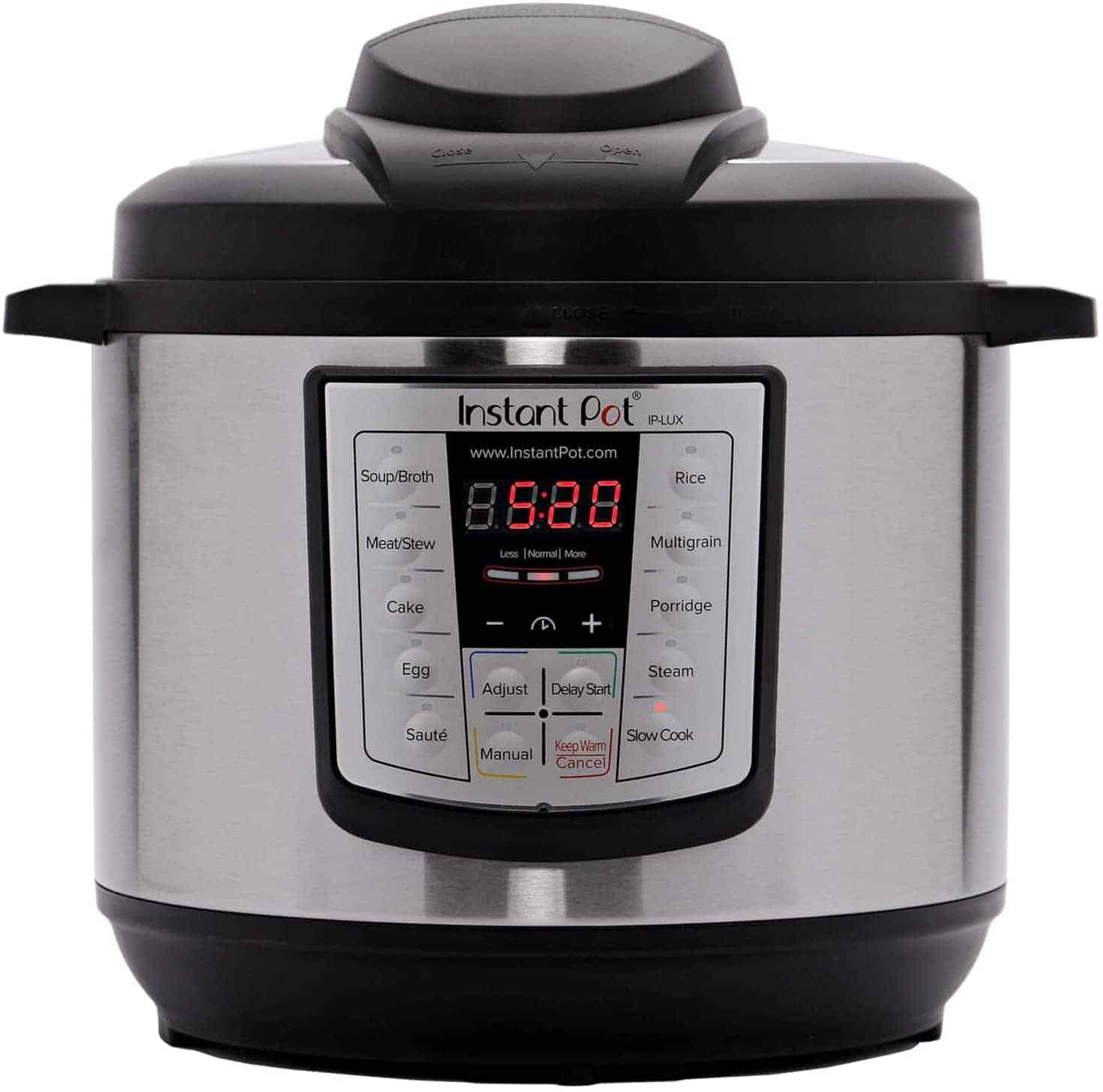 Never worked with an electric instant pot before? No worries. The Lux 6-in-1 model is so easy to operate, you won't even notice the learning curve. It's the best instant pot for amateur home chefs who want delicious meals quick but don't want to deal with any of the mess.
This is more rudimentary than the Instant Pot Duo and the other instant pot models. But that doesn't mean it's any less useful! It boasts six different cooking settings, including sauté, steam, rice cooker, stew, and much more.
Adjusting the pressure inside your cooker is easy. "High pressure" is great for when you need your meat or beans tender while cutting down on cooking time. Flipping between the different settings is super easy; all you have to do is press a few buttons.
The "keep warm" feature comes in handy when you cook meals ahead of time. The instant pot will keep your food at serving temperature for hours, if need be.
3) Top Budget-Friendly Pick: Mueller 10-in-1 Pro Series 6-Quart Instant Pot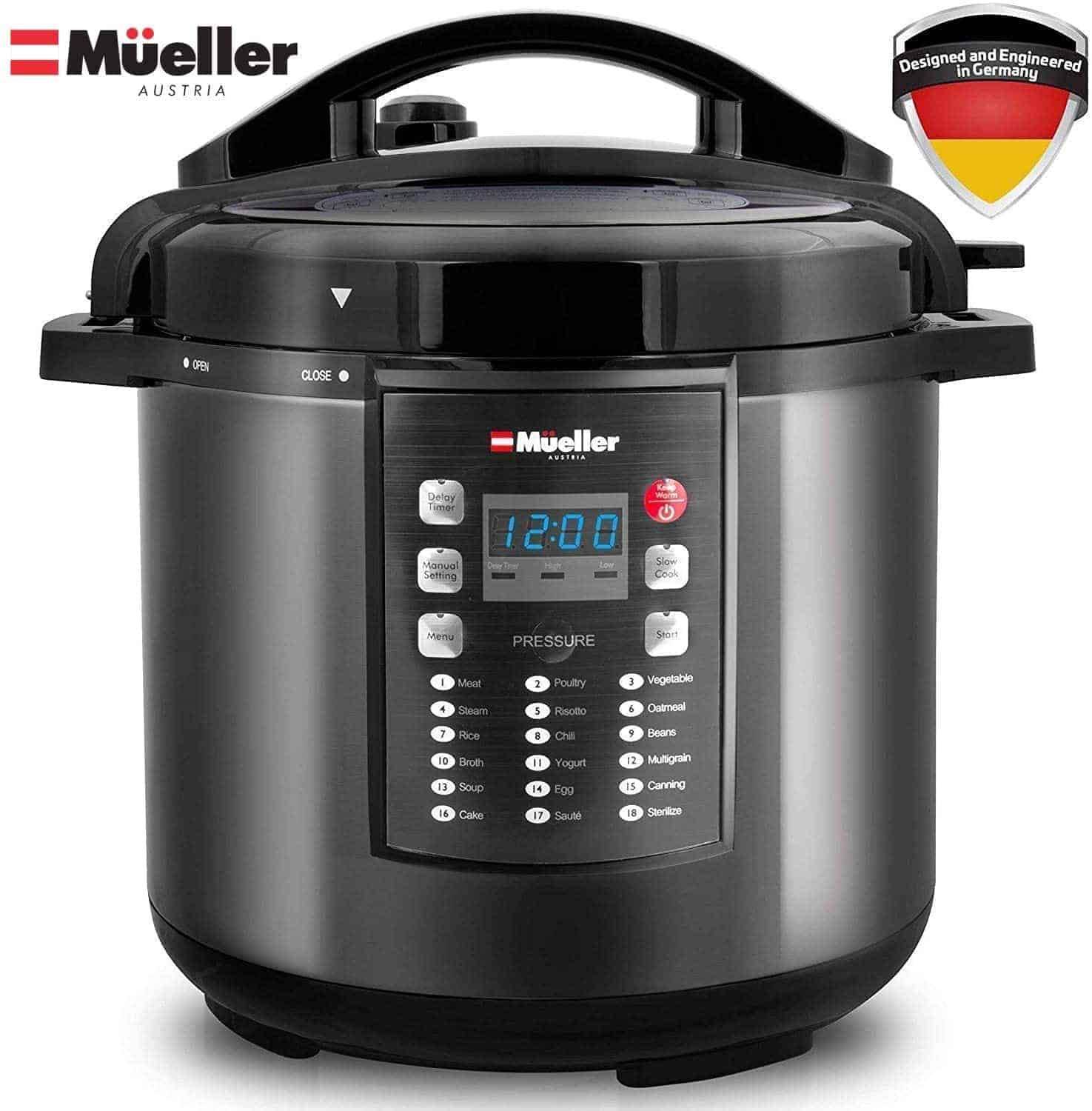 Another great option to consider is the Mueller 10-in-1 instant pot. It's the most affordable item on our list, making it a perfect introduction to this kind of appliance to even the most inexperienced home cook.
There are fewer buttons on this instant pot, but you still get lots of flexibility when cooking. It both doubles as a slow cooker and boasts high-pressure cooking; the Mueller can help you whip up a delicious meal in no time—and with very little effort.
Two other cool features are the "keep warm" and "delay time" settings. The former keeps your food at ideal serving temperature for hours on end. The latter is great for prepping your meals ahead of time, for instance, the morning before you leave for work.
Lastly, cleaning up after yourself won't be a hassle when you use the Mueller instant pot. All the parts of the pot that come in contact with your food are easily removable. Plus, you can put them in the dishwasher to have even less work.
4) Best Instant Pot for Families: Duo Evo Plus 8-Quart Instant Pot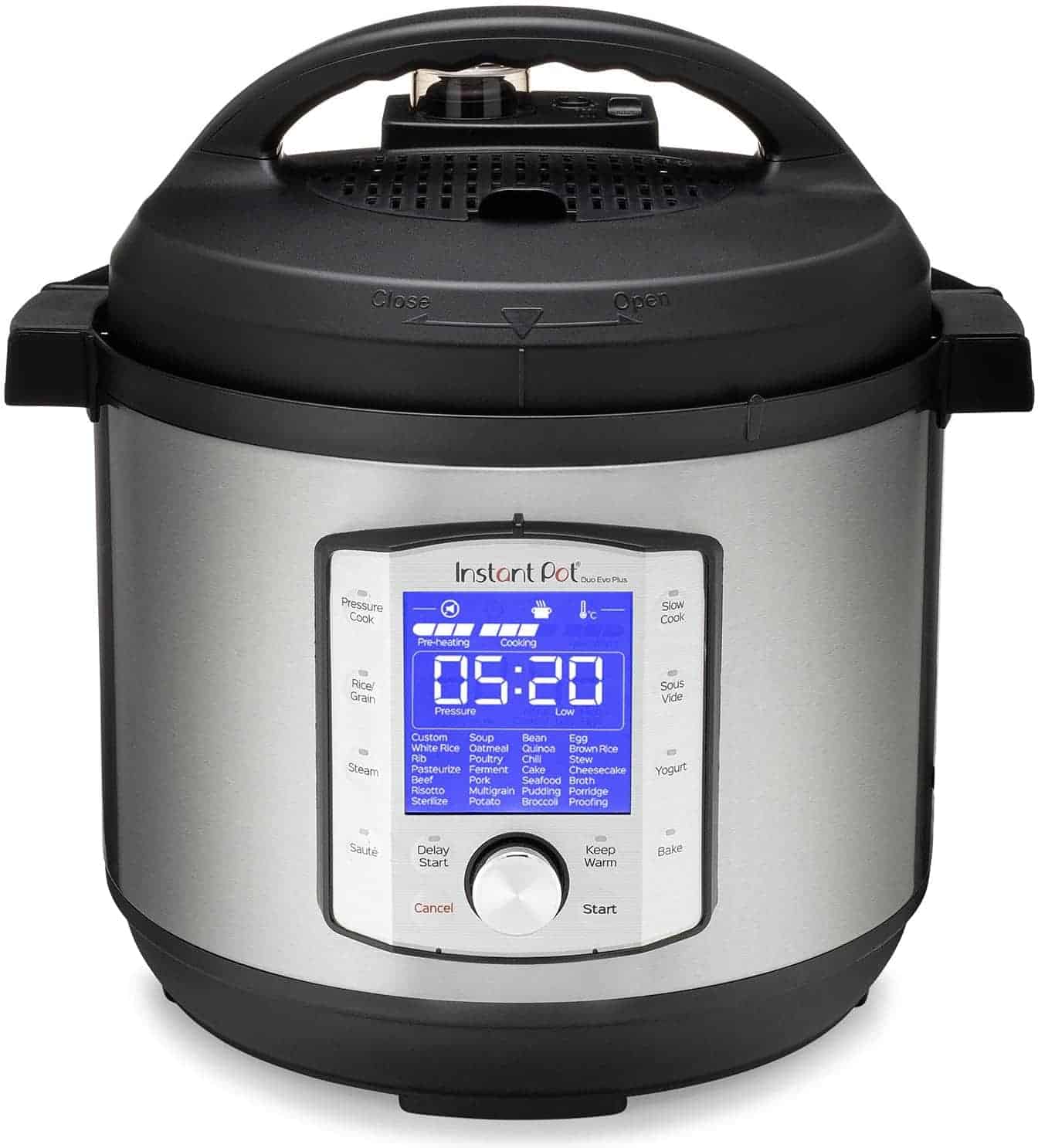 What if you want to cook for a large family? Easy: you get the Duo Evo Plus instant pot. It has a generous capacity stainless steel inner pot and boasts all the functions you'd expect from any other model.
Cooking large portions of food in one sitting isn't always fun. Thankfully, the spacious Duo Evo Plus instant pot makes the whole ordeal much easier. You can fill up the stainless steel cooking pot with up to eight quarts of food. That's enough for a feast!
Moreover, you won't be sacrificing any of the bells and whistles smaller instant pot models offer. This one has over nine different cooking settings, from sautéing and acting as a slow cooker to sous-vide and rice cooking.
The best thing about this appliance is that you can control most aspects of the cooking process. Adjust the temperature, pressure cook levels, and pre-heating times of your instant pot to your heart's content. Monitor everything through the easy-to-read blue LCD screen. You'll have full rein in the kitchen.
5) Best Instant Pot for Advanced Home Cooks: Pressure Cook and Fryer Combo Model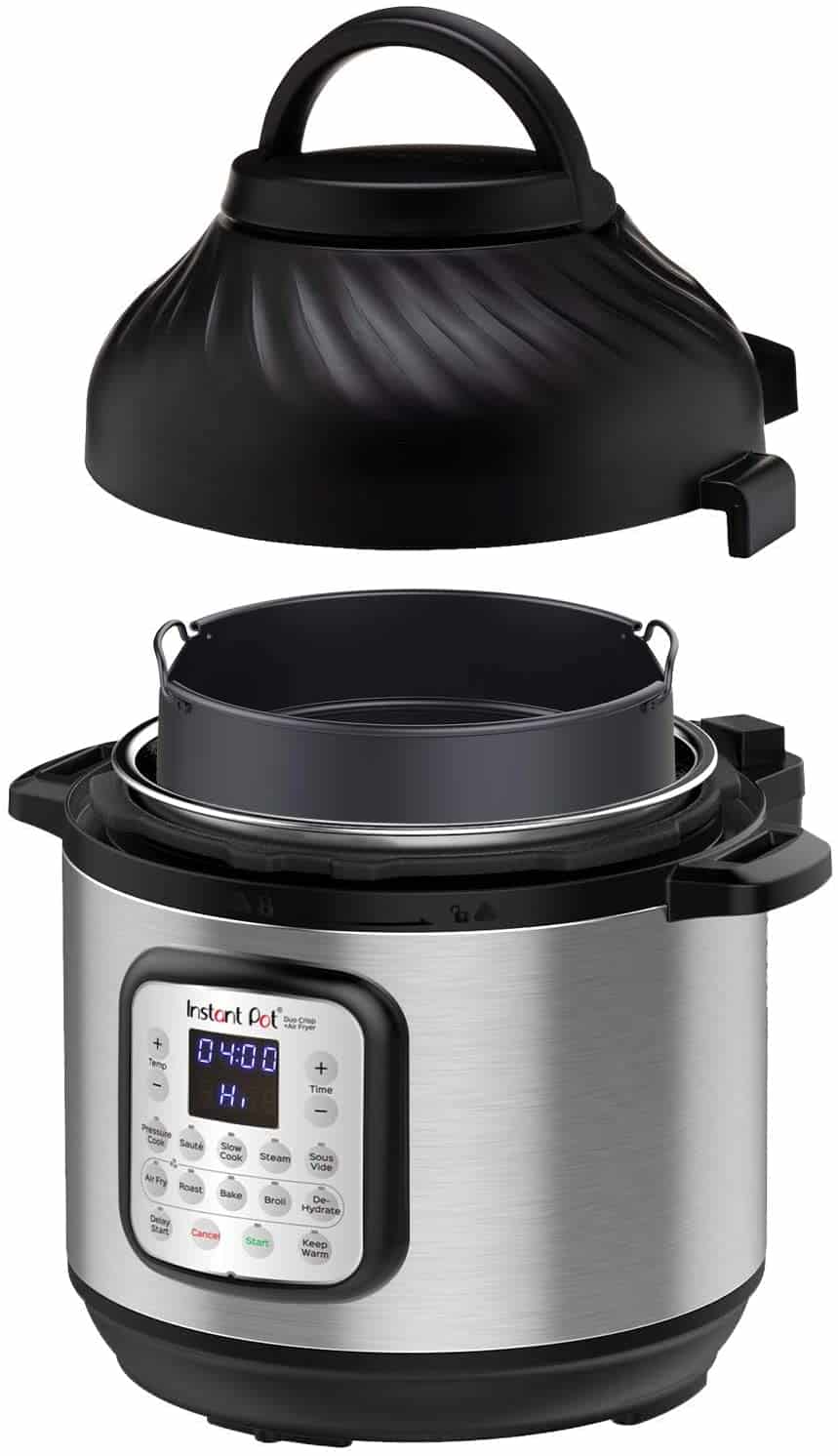 This is perhaps the most surprising pick we have today: the pressure-cooker-meets-air-fryer model. It does everything other electric instant pots do and then some! It's the best instant pot for an advanced home cook.
We didn't expect to find a multi-purpose cooker that could whip up both delicious stews and crispy fries. But here we are! This unit combines the best of both worlds: it will pressure cook, sauté, act as a slow cooker, steam, cook sous-vide style, dehydrate fruits and veggies, broil, bake, roast, and air-fry. What else could you ask for?
As if that weren't enough, the eight-quart capacity is also an amazing addition. You can effortlessly prepare supper for your entire family in the blink of an eye. You can even fit a whole chicken inside!
Because it combines so many cooking functions in just one appliance, it's also a great pick if you don't have much room to work with. This relatively small gadget essentially does the job of multiple other kitchen appliances.
6) Most Sophisticated Techy Instant Pot Model: Smart WiFi 8-in-1 Unit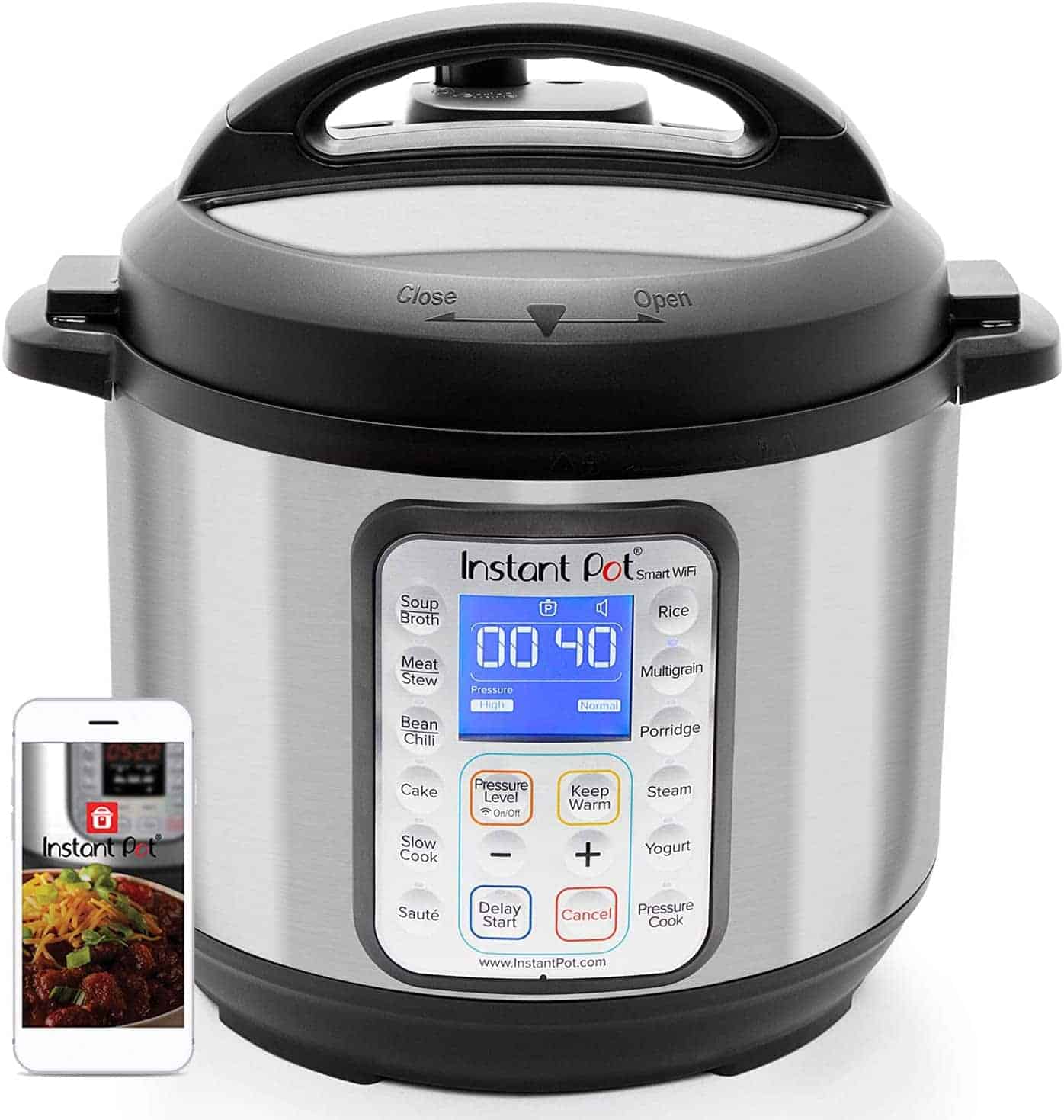 If you have a passion for technology, you won't regret getting the Smart WiFi instant pot. It boasts new-and-improved cooking functions on top of offering wireless connection to the internet, your phone, and your Alexa!
There isn't much this appliance can't do. It boasts a bunch of different cooking features you'll want, from pressure-cooking to yogurt-making.
The blue LCD screen lets you see how the cooking process is going along. It also lets you make changes between settings effortlessly.
But what makes this unit truly special is the WiFi smart programs. Using only the Instant Pot app on your phone you can control your instant pot. Change the temperature, pressure settings, or timer without ever having to step foot into the kitchen. You could even activate the voice control so you can tell Alexa to make changes on the instant pot for you!
Lastly, this instant pot offers over ten different safety features. They're there to protect you from any accidents in the kitchen. For instance, the overheat protection will prevent the instant pot from burning up and getting damaged, thus protecting your investment.
What Does an Instant Pot Cook?
The question should be "what doesn't an instant pot cook?" This might be the most versatile kitchen appliance we've ever reviewed.
Most models already have an impressive range of specialized features. They include pressure cooking, rice cooking, steaming vegetables and fish, slow cooker settings, and regular-pressure cooking. For instance, it can make meat stew or soup broth under the "slow cooking" setting, and tenderize beef on the "pressure cooking" setting.
The higher-end models take it a step further and throw in unexpected settings that can come in handy when you least expect it. Did you know that some instant pots let you make yogurt, air fry foods without oil, bake, and broil?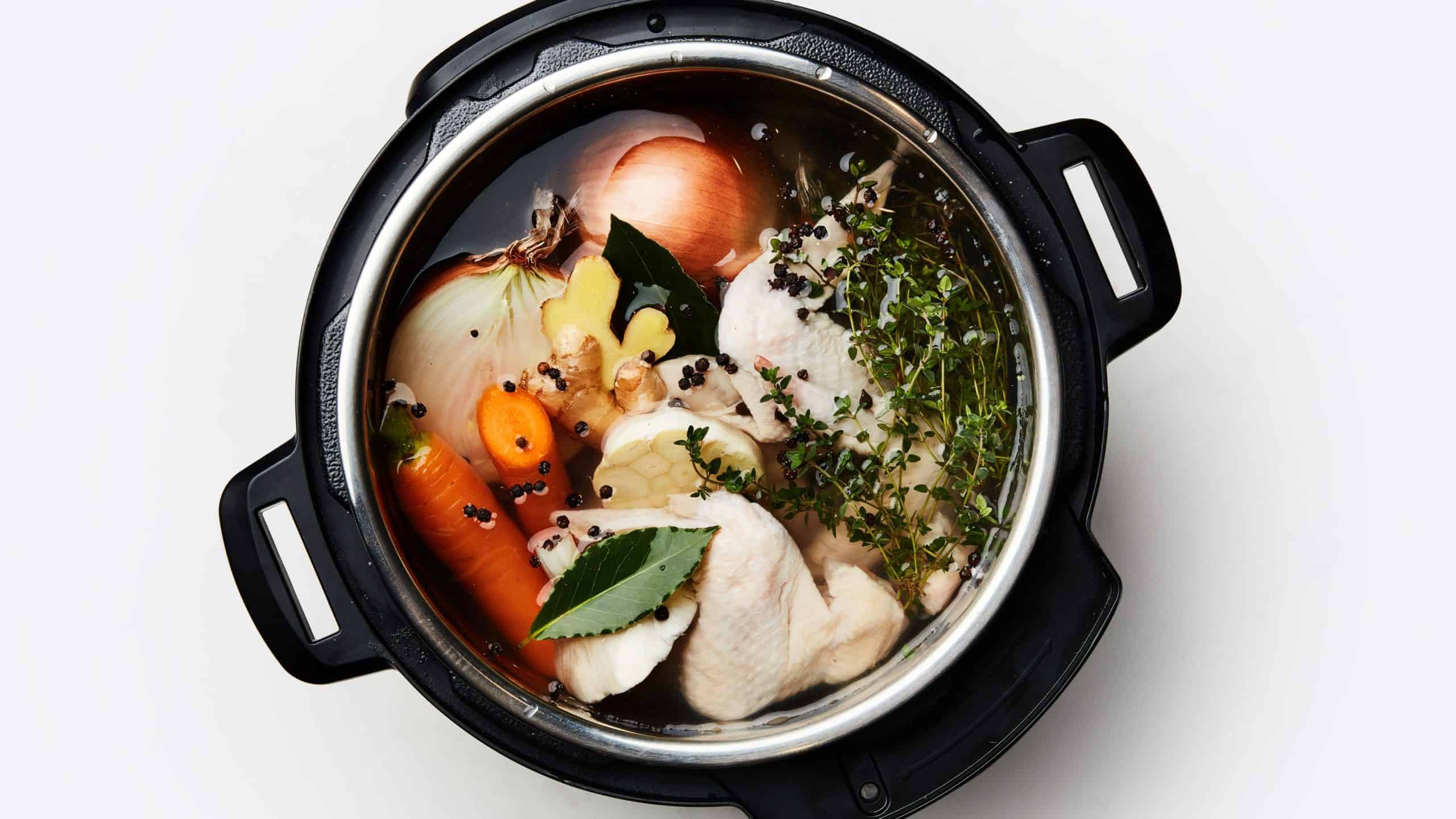 Best Instant Pot or Pressure Cooker?
While instant pots and pressure cookers seem similar, they're not the same appliance under a different name. An instant pot is a pressure cooker, but a pressure cooker isn't an instant pot.
Pressure cookers can only—you guessed it—pressure cook. This cuts down the cooking time and tenderizes meat super quickly. Awesome as that may be, you can't do anything else with it.
Instant pot models, on the other hand, also cook foods under pressure but do much more on top of that. They're more versatile.
Instant Pot vs. Air Fryer
Electric instant pots and air fryers couldn't be more different even if they tried. They're both awesome additions to your kitchen, as they complement each other brilliantly.
An air fryer crips up food without the need for oil. It's a healthier alternative to using a deep fryer. For instance, using one of these appliances, you can get crunchy fries by just lightly drizzling the potatoes with a few drops of oil.
Most instant pot models don't come close to getting that crispy texture on your food. It's not their goal! Electric instant pots are meant to make stove-top foods, like curries, beans, meat stew, soup broth, sautéed chicken, rice, you name it.
In a nutshell, they're each great at their jobs—but you won't be replacing one with the other any time soon.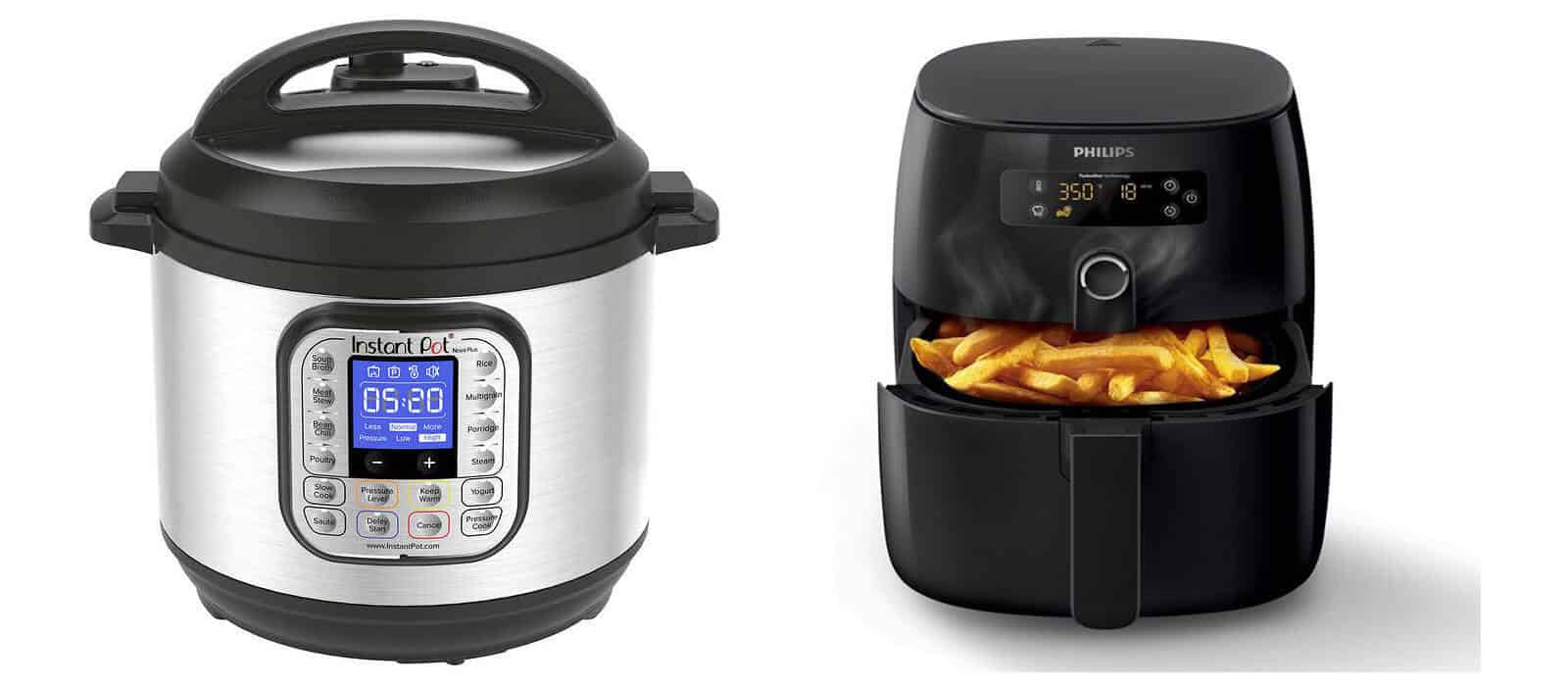 What Is the Best Instant Pot to Buy?: Ultimate Guide
Many years have passed since the first electric instant pots came on the market. And with time, more and more brands came forward with their cooking innovations. There are so many different models: Instant Pot Duo, Instant Pot Smart WiFi, Instant Pot Ultra, Instant Pot Duo Plus, and the list goes on—how do you settle on just one?
Capacity
First, you must think of how large your instant pot should be. How many people will you be cooking for? The best instant pot for you will be one that's handy in the day-to-day.
Typically, you'll find three-, six-, and eight-quart models. The smallest models are great if you're cooking for up to three people. The largest are perfect for large families, as they can handle a lot of food at once.
As you can guess, the larger the instant pot, the more expensive it is. Thus, you'll have to weigh budget and pot size to see which model is worth getting.
Always remember, though, that the "maximum" capacity refers to how much food the stainless steel inner cooking pot can handle. There is a line in the stainless steel inner pot telling you what's the maximum capacity. You cannot go over it!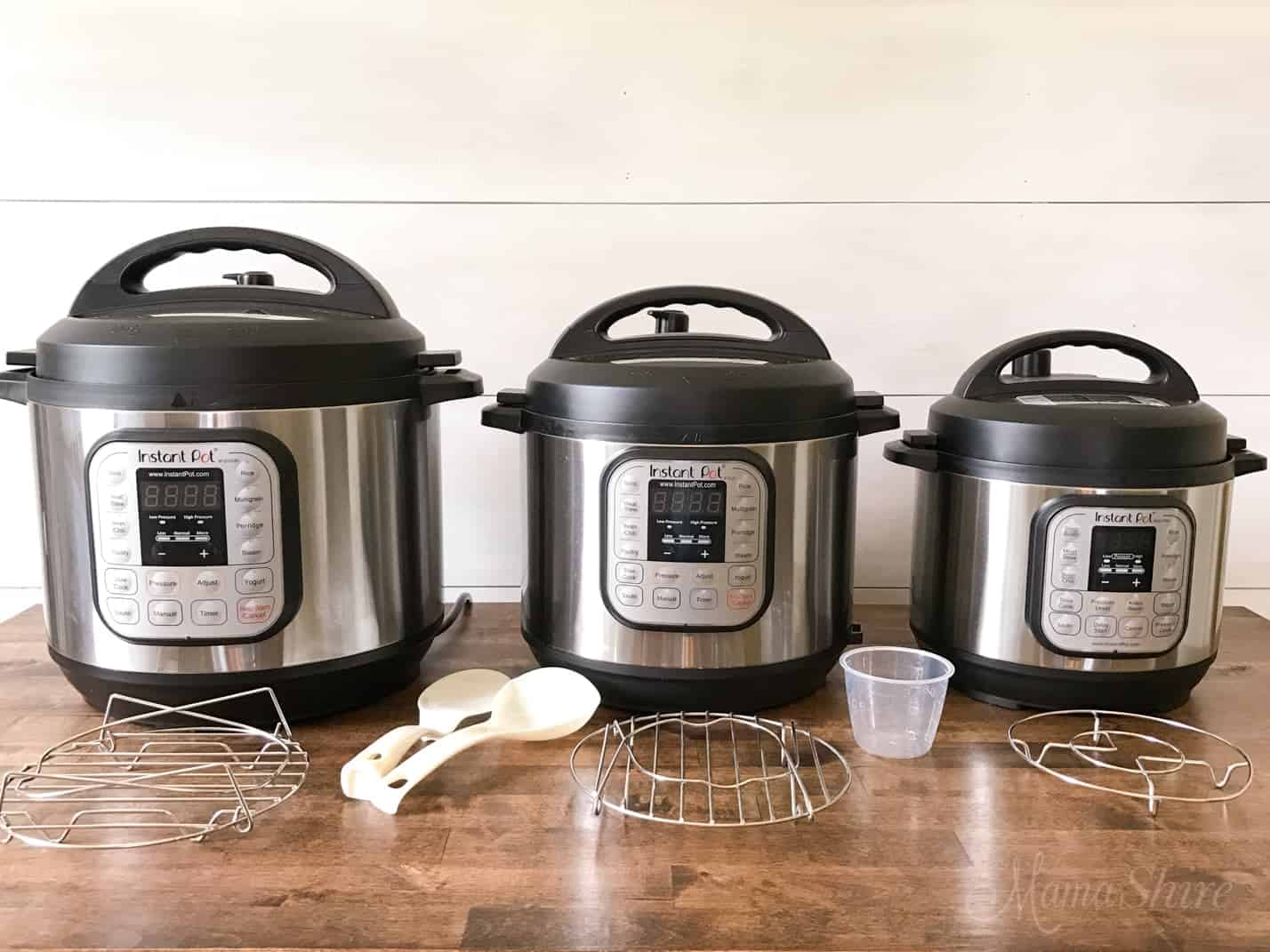 Versatility
The most basic instant pot models boast five or six different cooking functions. They're also the cheapest and a great investment if you're looking to save money. The most sophisticated and best instant pot models, on the other hand, can boast as many as eleven cooking functions. But they're also more expensive.
Either way, they're a good investment because they replace so many other kitchen appliances. For instance, even the most basic instant pots replace slow cookers and pressure cookers!
Make a list of the cooking settings you want in your appliance. Then, check them against each model you look at. This is the easiest way to narrow down your search to just a couple of appliances.
Ease of Use
You'll also want an instant pot that is easy to use. Some models are very futuristic and take a while getting used to. The more basic instant pot models are more accessible.
If you're not tech-savvy and don't have much time (or interest) to learn how to operate your new instant pot, pick a model that is more straight-forward. The earlier models, especially, are simpler and have a lower learning curve.
If, however, you don't mind more of a challenge, you might just reap the benefits of the latest models available! Some even use WiFi to connect the cooker to your phone and the internet, so you can always get new recipes. Go for it!
Added Accessories
In addition to the accessories and cooking functions your electric instant pot will come with, there are also extra accessories you could get. You don't need them to use your instant pot, but they could be a useful addition.
For instance, you'll find a steamer basket, steamer rack, measuring cup, soup spoon, tongs, wire racks for cooking eggs, springform pans, muffin tins, and more. Since they're sold separately, they aren't compatible with all models. If you're interested in getting these add-ons, make sure they'll fit in your instant pot!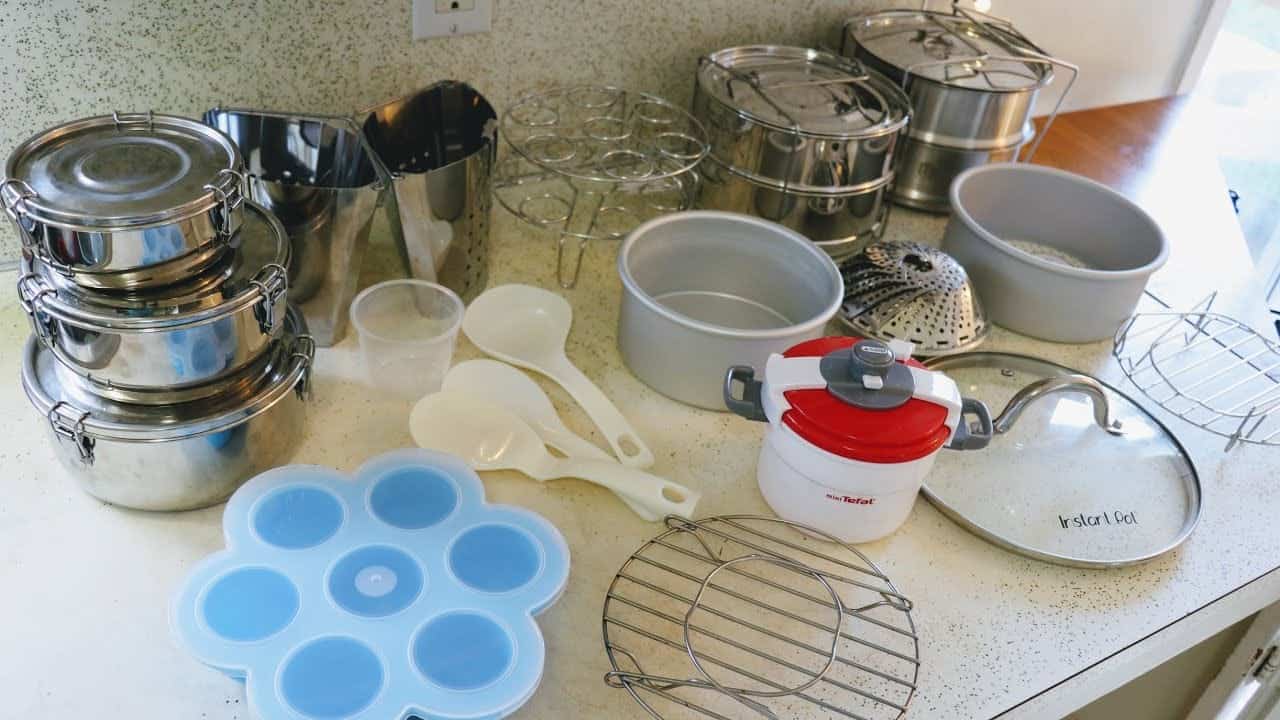 Smart Settings?
This is just for the tech-savvy chefs out there: how important is having smart settings on your electric pressure cooker? Some models boast WiFi connections and set-in-advance features to bring the wonders of technology into the kitchen. If you'd like to play around with these settings, it might be worth it widening your budget and splurging a little.
Safety Features
Most people have heard of horror stories featuring exploding pressure cookers. Fortunately, the days of third-degree burns and loud booms are mostly over. Nowadays, you don't need to worry about unsafe pressure cookers—that is if you use them correctly!
When looking for an electric pressure cooker, you'll want to ensure the manufacturer behind it is trustworthy. What is their reputation in the appliances world? Are customers happy with their purchase?
Spending a little more on a well-loved item is worth it. The best instant pots are well-rated and have glowing reviews online. Don't risk getting a cheap, unreviewed instant pot that could be damaged and hurt you in the kitchen.
Easy to Clean
Almost all instant pot models are a dream to clean. But it's always worth looking more closely at the product to see if it is all that easy to clean. Is it dishwasher safe? Does it have a removable pot? Is it covered in a non-stick coating? These three features alone will make your job infinitely easier when your meal is ready.
Budget
Last but not least, don't lose sight of your budget. It's easy to forget how much money you can spend when you see so many bells and whistles on newer and more expensive units. But you can still get a high-quality instant pot on a lower budget! You may have to sacrifice a few superfluous add-ons, but you'll still get your handy-dandy versatile kitchen essential.