If you have stumbled upon this post, you have likely turned vegan, or want to embark on a vegan lifestyle. Awesome! You're probably here to get an answer to one of the most common questions for newly-turned vegans: Is cocoa butter vegan?
Anything with 'butter' may make you assume it contains some kind of animal product. It's important to remember that while not all kinds of butter are from dairy, that doesn't make them automatically vegan. Confused? Don't worry, our guide below is here to remove your confusion.
What is Cocoa Butter?
Cocoa butter is an edible vegetable fat and looks similar to yellow-colored dairy butter. The fat that makes cocoa butter is extracted from cocoa beans.
The cocoa bean, also known as theobroma cacao, comes from South America's rainforests.
The Theobroma cacao tree was initially found in the Amazonian region; however, many humid tropical regions like Oceania, America, and Asia have started cultivating it. You may find cocoa butter in solid form at room temperature, but it easily melts when applied to the skin.
This makes it useful for skin as well as cooking! Cocoa butter, like shea butter, is a very popular ingredient in skin ointments. This ingredient is used in everything from lip balm to body butter, as it serves several skin benefits. We'll get into that more a bit later.
How is Chocolate Made with Cocoa Butter?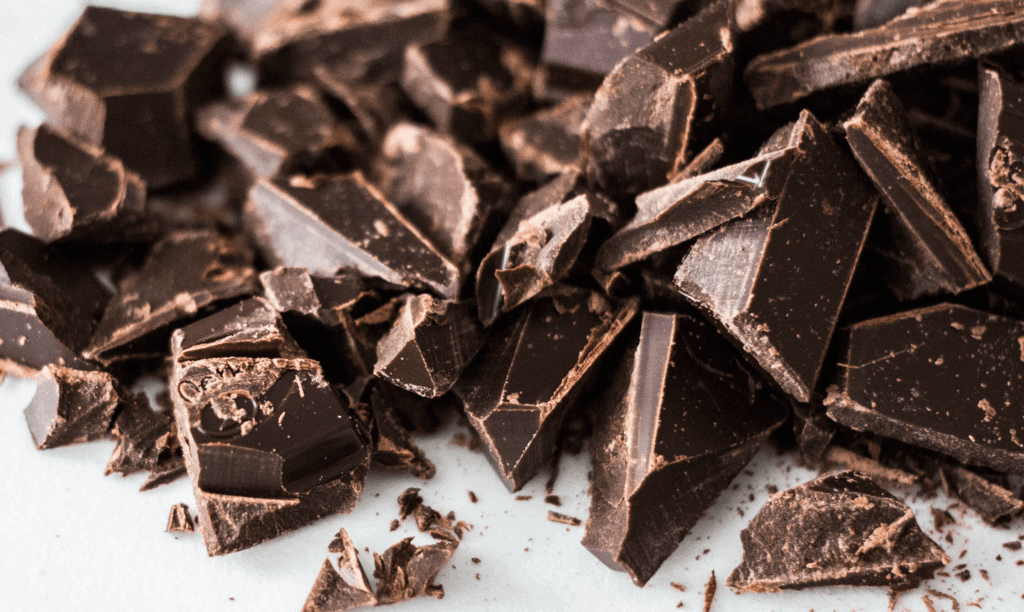 Cocoa butter is made by fermenting, drying, and roasting the freshly harvested cocoa beans.
The oil coming out of the cocoa bean is used to make cocoa butter. The extraction of oil from the beans leaves out a dark brown paste which is then used to make cocoa powder.
The cocoa trees are found in rainforests. They grow under canopies but can avail sunshine whenever required. Once they start yielding fruits after 5 years of growth, the pods are cut from the tree and the beans and pulp are scooped out.
The beans are kept in the pulp for fermentation. The pulp is then cleaned and roasted. Next, the nib is extracted by cutting open the cocoa shell.
The extraction is further ground into powder. This powder is considered raw chocolate and can be further refined to make different products like a chocolate bar or chocolate milk powder.
Not all the beans will give you the same chocolate flavor. The following 3 factors decide flavor:
The type of bean used
The time needed to roast the beans
The additional ingredients used during the manufacturing process of chocolate
Chocolates with a larger proportion of cocoa butter and cocoa mass will produce a strong flavor.
Once the ingredients are combined, a process called conching takes place. It involves the refining and smoothening of the mixture. The last step is tempering where the mixture is heated to result in smooth finish chocolate crystals.
We generally love eating chocolates that literally melt in our mouths. Do you know what makes it possible? It is Criollo cocoa bean - an ingredient found in Central America. The luxury chocolates use pure ingredients and follow a lengthy conching process to produce the smoothest and the most expensive chocolates.
What are the Other Uses of Cocoa Butter?
Cocoa butter is versatile. Apart from being a major ingredient in chocolate, it is also popularly used in skin creams, lotions, and lip balms.
Cocoa butter provides several health benefits including:
Skin Health
Getting vitamin E
You can get vitamin E from cocoa butter, which has several benefits like supporting reproduction, enhanced vision, improved brain, blood, and skin health.
Keeping your skin moisturized
Cocoa butter is one of the main ingredients in skin cream because it contains a large number of fatty acids. Fatty acids are good for skin hydration and help in sustaining the moisture in the skin. This prevents your skin from drying.
Providing skin healing properties
Cocoa butter is also known to be a part of treating conditions like dermatitis and eczema. The protective oil-based nature and rich moisture content work to prevent itching while allowing the skin to heal properly.
Hair Health
Eliminating dandruff
Unrefined cocoa butter works great in moisturizing your scalp, which can help you eliminate any dandruff issues.
Moisturizing hair and protecting the scalp
Cocoa butter is also great for moisturizing your hair, giving it some much-needed nutrients.  The use of unrefined cocoa butter can rejuvenate your hair and make it look shiny and healthy again.
Reducing frizz
Frizzy hair can ruin a good hair day, but cocoa butter can help you tame that frizz for a perfect look! Use it as a styling cream and set your hair exactly the way you wish.
Providing deep conditioning
If you want to have soft hair, cocoa butter can help! Melt cocoa butter until you get the consistency of the oil, then apply it and comb it through your hair.
Let it stay on your hair for some time, anywhere from thirty minutes to an hour. Then, wash it off to find perfectly conditioned hair.
So, Is Cocoa Butter Vegan?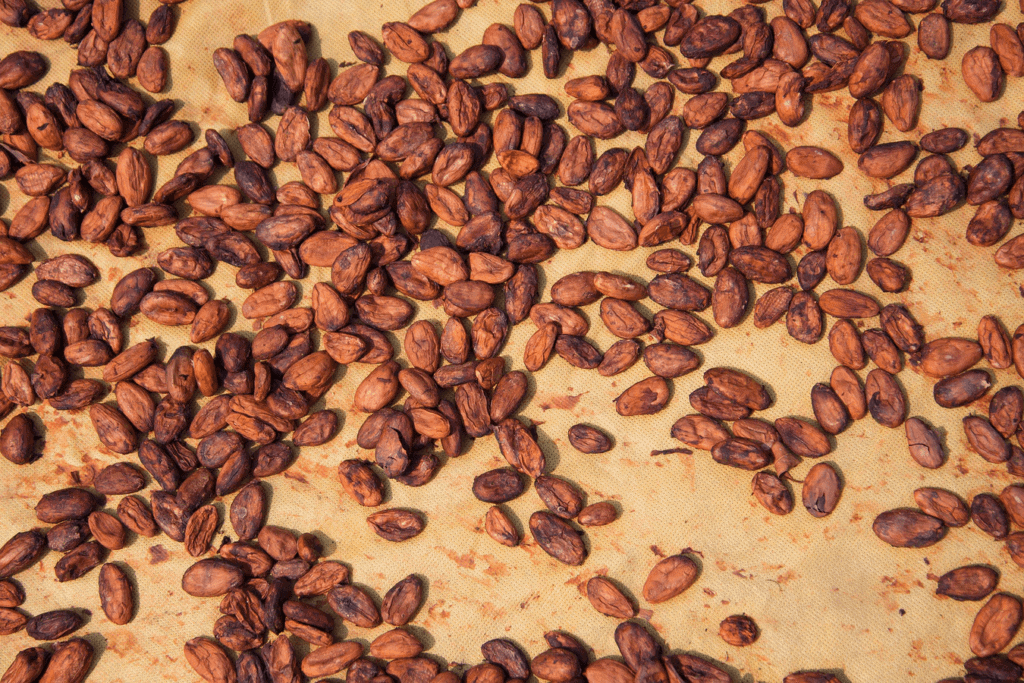 While there are a lot of other benefits to using cocoa butter, the question remains- is cocoa butter vegan? Can vegans use it to get all these benefits?
If you are a vegan, you want to make sure that there is no animal harm or abuse in any product that you use. Any ingredient that is derived from animals is a strict NO for the vegan community.
The good news is, cocoa butter and cocoa powder is not an animal-derived ingredient. It is totally a plant-based product. This means cocoa butter is vegan when used in its natural form.
However, if cocoa butter is one of the ingredients in a food product, it does not necessarily mean the food is vegan-friendly. For instance, cocoa butter is often used alongside dairy products to make milk chocolate or white chocolate.
These chocolates use condensed or powdered milk in their preparation. So, even though cocoa butter is vegan, cocoa-butter-derived products like milk and white chocolates are not vegan-friendly.
This isn't always the case! Cocoa butter is sometimes used to make dark chocolate by combining it with cocoa liquor and sugar. This means most dark chocolates are dairy-free and you, as a vegan, can enjoy them. If you're a dark chocolate lover, you might want to try these vegan dark chocolate brands.
If you're a vegan looking to consume cocoa butter or powder, know it's not just dairy you need to be mindful of. Cocoa butter is often combined with ingredients like gelatin, honey, and eggs.
You can find it in many chocolate bars, chocolate-covered candies, or baked goods. If you find eggs, dairy, whey, lactose, gelatin, honey, casein, carmine, cochineal, animal-derived vitamin D3, or omega-3 fatty acids, step back from buying that product, as it's not vegan.
As long as you're sure that the cocoa butter is pure with no additions, it will be 100% plant-based and can be enjoyed by vegans. There is no use of animal derivatives during the processing of cocoa butter or powder.
How to Make Your Own Vegan Cocoa Butter
If you don't want to take a risk by unknowingly using a non-vegan cocoa butter product, you can always try some easy and interesting do-it-yourself recipes.
Ecuadorian Cocoa Butter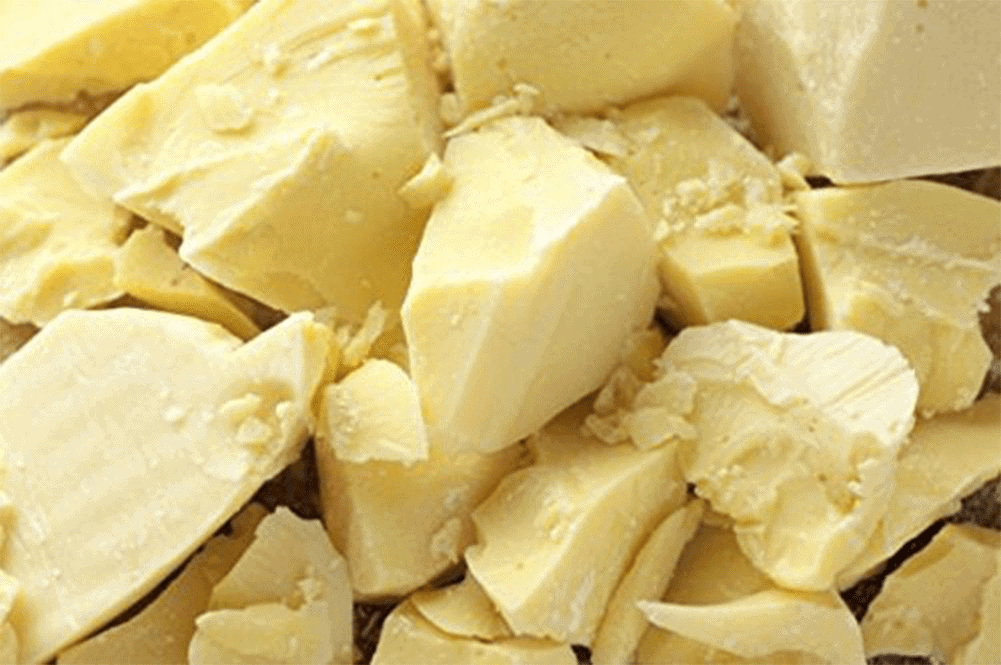 Are you interested in making a homemade vegan chocolate recipe? Follow this video with just 3 simple ingredients below.
Be wary- working with homemade chocolate can be tricky, so be sure to follow our helpful tips on the most common issues you can experience with chocolate.
If you've been ignoring mac and cheese thinking that it can't be vegan, you're in luck! You can make the creamiest vegan mac and cheese and satisfy your cravings, using cocoa butter as your vegan butter choice.
Now that we know that cocoa butter is an equally important ingredient for skin health, why not try making a vegan cream at home? For a super-moisturizing cocoa body butter, take a look at this great DIY video:
The Bottom Line
Today, you'll find many people using cocoa butter in a variety of different ways. If you're not sensitive to cocoa butter or are a vegan looking to try new plant-based products, do give it a try.
Cocoa butter products are easily available in supermarkets, natural food stores, drug stores, and even online. If you're concerned about additives or are not too sure whether it's vegan or not, you can buy 100 percent cocoa butter and make your own skin products. There are a lot of tutorials to help you with the process.
Now that the secrets of cocoa butter have been spilled, say goodbye to using dairy or animal-derived ingredients, and hello to focusing more on DIY-based products.
If you have any questions related to cocoa butter, let us know in the comments below. Also, share your experience with the DIY recipes that have turned out successfully! We'd love to know all about your vegan experiments with cocoa butter.