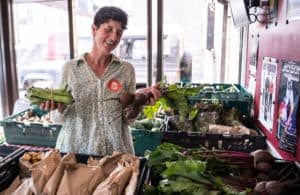 Brexit is shining a light on our reliance on imports – nearly half of UK's food comes from overseas, which is why now food prices are set to rise.
Sadly, we only produce 60% of the food we consume, and our self sufficiency has fallen dramatically. But now the demand for local food is rising, proving it's not just a fad. But is Britain ready for it? Some communities are already stepping up to the challenge.
Producing sufficient, healthy food for the UK amid a changing climate is a major challenge for us. "Trends are going to collide to make it easier for small farmers and producers to take on the big companies," predicts charity Nesta.
From Isle of Man to Somerset, the trend is already happening and people are starting to open 'Food Assemblies' in their local community. Anyone, anywhere can do it and it's a simple, part-time activity that brings local food to where you live.
"I like that it gives some power back to the consumers and the producers. I like that it celebrates the reality of food growing, production and distribution," says Lindsay Downes of Frome's Food Assembly in Somerset.
"I was really appalled at how hard it was to get vegetables that were local – that really motivated me to start thinking more about food. If I wanted it, other people must be wanting it," explain Pia McGee, who works alongside Lindsay.
Each week, these two mothers – Lindsay and Pia – bring together a network of local people and food producers which has entirely changed the shopping experience where they live. They run their local food community at a school, Steinar Academy. Since they appeared on BBC's Countryfile, everyone recognises them in their town!
"Setting up a Food Assembly very much makes you feel part of the community and gives you an identity within it. It is important to give customers choices about where they buy their food and The Food Assembly empowers people to act on their beliefs. You allow your community to make positive change,' says Lindsay.
The Food Assembly is a network of local food communities in the UK, which has gained recognition for "making a positive difference to how and what Britain eats."
While buying takes place online, the collection happens weekly during a pop-up market where its organiser, customers, and farmers gather and meet. All the food comes from an average distance of 28 miles – meaning less food miles!
No Food Assembly is the same; all have their unique characteristics and charm. Some are managed by mums, others by community groups or organisations. They can be found in cities, barns, schools or even in pubs!
Community is a key component of any local food project – that's what encouraged city worker Sarah Mahomed Ross to start a Food Assembly in Nunhead, South-east London. Sarah's collection takes place in London's first co-operatively owned pub, The Ivy House.
"Getting that sense of community is really important and when you live in a big city, it is hard to feel that. The best thing about my Food Assembly is that I get to meet local people and introduce them to really great food," says Sarah.
Gastronomy graduate, Stuart Guzinski, started Scotland's first Food Assembly last year in his local pub – now he also travels around advocating local food at festivals and conferences.
"It's part of a movement towards a fairer food system: our food producers get paid fairly for their work and it connects everyone back to their food. Then it's much easier to understand what goes into your food," he says.
The beauty of purchasing directly from small producers and farmers is that you know exactly what you're getting. What's more, you're lowering your carbon footprint. Food Assembly produce is all preordered online so farmers know exactly how much produce to bring – there is no food waste.
We're all seem to be heading in the right direction – supporting local farmers and foodmakers means you buy what you need and appreciate it much better – wonky, ugly or crooked.
In what other ways can we back local food? Is there anything else happening like this where you live? Post your comments below and on social media using #FoodRevolution