It's no secret that Nutella is one of the most popular chocolate spreads across the globe. The sweetened, hazelnut-based favorite is highly versatile and comes in handy in a vast assortment of sweet treats.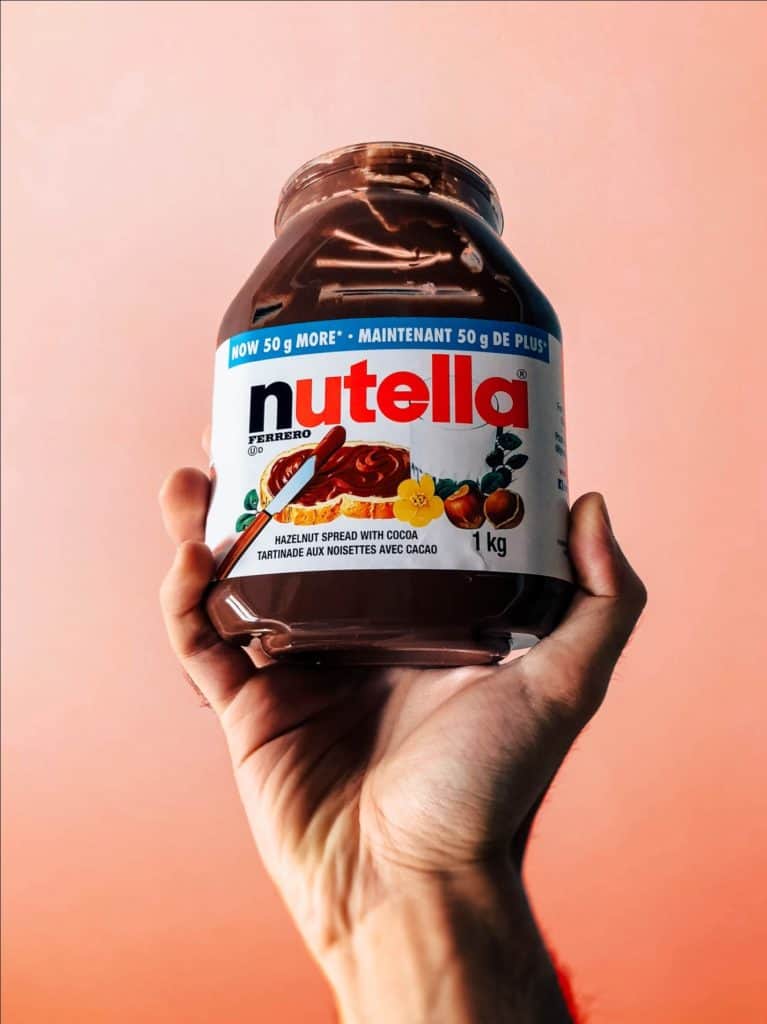 Whether you prefer it on muffins, crepes, toast, cake, or brownies, the only question that truly matters to anyone following a plant-based diet is, 'Is Nutella Vegan?' In this guide, we provide an in-depth answer to this question. Read on!
Nutella Has Milk
Milk is unarguably non-vegan as it's an animal product and is one of the seven ingredients that Nutella manufacturers list as going into the delicious spread.
Nutella contains powdered milk, which, from a vegan's point of view, is the result of bovine suffering. While vegetarians can consume milk, we can't say the same for vegans.
The Problematic Ingredients in Nutella
While Nutella is a product of 7 ingredients, the truth is, the precise formulation of the spread slightly differs from one country to another. Essentially, it's made from the following.
1. Sugar
Most people reasonably assume that because sugar is derived from a plant, it is 100% vegan. While there's some truth to this, the problems crop up from how sugar is processed. Bone char that stems from animal bones is usually used to eliminate impurities from sugar and give it a whiter and brighter appearance.
Increasingly, in modern times, this isn't the case. However, with a boatload of processed products that have littered the market, including Nutella, discovering whether or not bone char has been used can be an uphill battle.
If a product has sugar, anyone strictly following a plant-based diet should reach out to the manufacturer to inquire about the use of bone char, unless it's certified as vegan. A plant-based diet can be healthy if it doesn't have lots of sugar.
Given that vegan-certified sugar has an abundance of calories and lacks real nutrients, Nutella and other high-sugar items should be consumed in moderation.
2. Palm Oil
It's no surprise that palm oil is certified as vegan, given that it originates from a plant. Due to the multitude of ethical issues encompassing palm oil, many vegans opt not to use palm oil or products that contain it. With about 50% of supermarket products containing palm oil, it's easier said than done. However, Nutella is a product that can be avoided.
The deforestation that the farming of palm oil necessitates is detrimental to the environment. More importantly for most vegans, the habitat loss it ushers in contributes to the likely extinction of a multitude of species. Aside from the environmental problems that crop up from palm oil production, it's significantly low in nutrients and high in calories, like sugar.
Oil and sugar and the two main ingredients Nutella contains. The combination of high sugar and fat has been tied to a vast assortment of health issues. As much as the manufacturers portray Nutella as a wholesome food, the truth is, it has a high-calorie content that provides little in the way of fiber, vitamins, and minerals.
3. Lecithin
It features heavily around the site, with the reason being, lecithin was initially separated from egg yolk. Its name means egg yolk in Ancient Greek. An array of products has lecithin as it functions as an emulsifier. Increasingly, lists of ingredients include the lecithin source, an important piece of information for vegans.
Lecithin can be derived from animal products such as eggs. However, it's also a product of soy and other plants. While milk implies vegans cannot consume Nutella, the lecithin used is obtained from sunflower seeds or soy.
4. Cocoa
The best chocolates are not vegan because milk is typically the culprit. However, lecithin, honey, cream, butter, and other non-vegan ingredients are also to blame. Despite the confusion due to its connection to chocolate, cocoa is 100% plant-based.
Homemade Nutella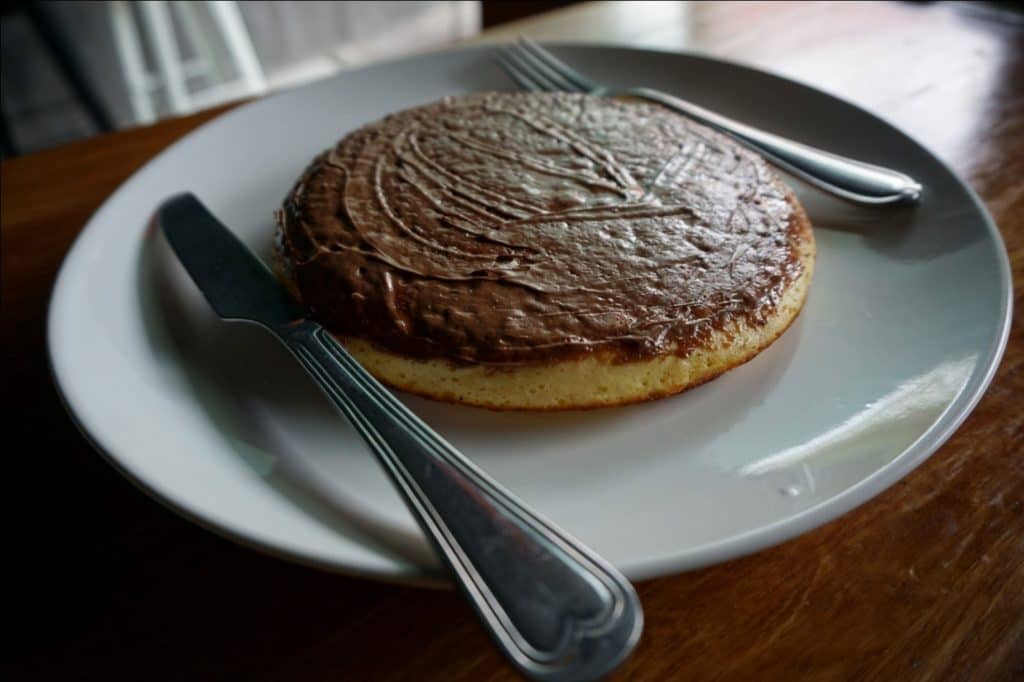 If finding suitable spreads is proving to be an uphill battle, you make your own. You can try out vegan Nutella recipes that use hazelnut, vanilla extract, hazelnut milk, dark chocolate, a tad bit of coconut oil, a bit of salt, and maple syrup.
Roast the hazelnuts in a dry oven and blitz them down to a creamy paste using a food processor. It's important to exercise patience during this process to ensure you scrape down any bits that are not getting blended.
After all, creating a smooth paste is essential to acquiring the ideal texture. Then, add the melted chocolate and other ingredients. Repeat the blending process, and voila! You have your vegan Nutella without animal cruelty and palm oil.
Nutella Substitutes
Below are a few options to consider if you're on the quest for delicious vegan substitutes for Nutella.
Plain Nut Butter
For a swift, healthy sap, opt for natural nut butter that lacks extra ingredients such as oils and sugar. These have lower sugar content than Nutella and deliver a hearty dose of healthy fats and protein. Peanut and almond butter are great vegan options with about 7 grams of filling protein for every couple of tablespoons. Furthermore, hazelnut butter is a great option to consider in place of Nutella.
Justin's Chocolate Hazelnut and Almond Butter
Made with organic cocoa powder, powdered sugar, dry-roasted almonds and hazelnuts, and sea salt, this spread provides the classic Nutella taste. With Justin's Chocolate Hazelnut and Almond Butter, you can rest easy knowing it is 100% vegan.
Peanut Butter & Co. Dark Chocolate Hazelnut Spread
You can delight in this hazelnut and dark chocolate spread by the spoonful, in baked foods such as a cinnamon coffee cake, or with fruit. Moreover, you'll be pleased to learn that the lecithin in this product is acquired from sunflowers, making it 100% vegan.
Artisana Organics Hazelnut Cacao Spread
If you're looking for an organic hazelnut and vegan spread, then your search ends here with this product. It's made of organic hazelnuts, coconut sugar, vanilla, and coconut oil. You'll be happy to learn that cacao powder is an excellent source of disease-fighting antioxidants.
Nocciolata Dairy Free
If you want a certified-vegan option to Nutella, Nocciolata Dairy Free is your best bet. A non-dairy lover can now delight in the creamy decadence that this spread provides.
As a product of organic ingredients that lack colors, artificial sweeteners, GMOs, additives, and colorings, Nocciolata Dairy Free is the perfect blend of cocoa butter, raw cane sugar, hazelnuts, cocoa, and natural vanilla extract for a chocolate-infused spread that provides an undeniably smooth texture and superior flavor.
Nocciolata Dairy Free has a rich chocolate flavor that is well-balanced by the generous hazelnuts. It's ideal if you're sensitive to milk or lactose intolerant, gravitate towards a more powerful flavor, or follow a plant-based diet.
The Bottom Line
Nutella is non-vegan. In many countries across the globe, you may stumble upon varying formulations of the spread, all containing milk. That implies, even though you were to ignore any other concerns, Nutella will never be plant-based. While the manufacturers offer their flagship spread, all other Nutella-based products are also indisputably non-vegan.
Well, the good news is, chocolate fans around the world won't be overly disappointed to learn that Nutella is non-vegan, as there are some great vegan alternatives. After all, Nutella is essentially a form of hazelnut spread coupled with Italian chocolate.
The alternatives and rivals to Nutella have a closely similar taste and are vegan-friendly. Your local health food store and larger supermarkets should have at least one of these.