Let's face it. Few pleasures in life are better than sitting back with a steaming bowl of carb-y, delicious pasta. Ziti, linguine, macaroni, bowtie, spaghetti, and penne that come in all sizes and shapes are beautiful in their special way.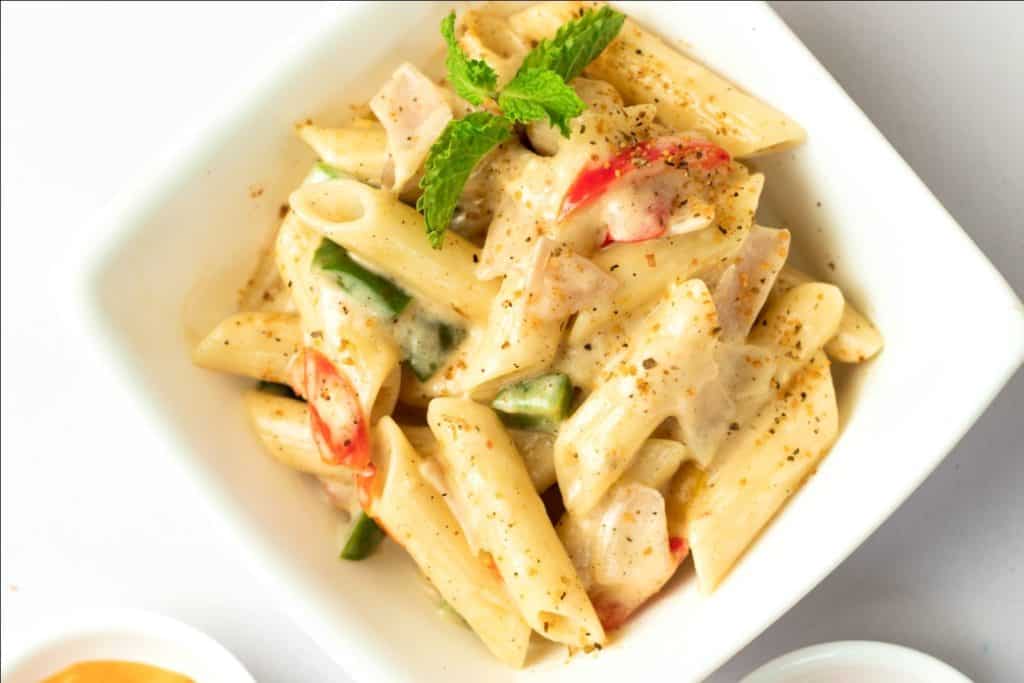 However, with the increasing number of people switching up their diet for ethical, health, and environmental reasons, you might be wondering, 'Is Pasta Vegan?' To answer this question, we'll delve into the details. Read on!
A Brief History of Pasta
It was conventionally made from salt, wheat, water, and eggs. The initial pasta dish was made in Sicily back in 1154. Historians discovered that this recipe was closely similar to lasagna compared to what you know today as your generic noodles, as it had meat stuffing.
Another variation of this dish from our modern-day pasta is that it's not cooked like dry or fresh pasta. Keeping that in mind, there's no concrete evidence of pasta up until the 13th or 14th century.
The initial kinds of pasta were cooked by boiling a large sheet of dough. However, as time passed, people learned that the efficiency of this method was lacking. As per Greek mythology, pasta making initially cropped up when Hephaestus, one of the Greek Gods, made long strands of dough and passed them through two rotating cubes to compress them.
In the 15th and 14th centuries, pasta soared in popularity as a result of its easy storage. In turn, people could effortlessly bring pasta with them in the progression to the New World. When voyagers made landfall, pasta became popular across the globe.
The manufacturing of pasta via machinery began in the 16th century on Italy's coast in a small city called Sanremo. Over time, Sanremo became one of the world's most renowned food destinations for locals and tourists.
If pasta was regarded as great, things got better when a boatload of sauces was introduced. People could delight in their pasta with mouthwatering sauces, such as three-cheese and tomato, barbecue, and Alfredo.
It was initially part of European and Italian cuisines. However, due to immigration, the food gained popularity in Canada, the US, and other countries worldwide. Moreover, the food was spread so far away that it became an essential part of South African cuisines.
Ingredients of Pasta
Pasta is usually made of water, flour, eggs, and salt. Most pasta is made from durum or semolina and a type of wheat flour. However, other grains, such as spelt, corn, quinoa, and rice, can be used. While these grains deliver stickier and softer pasta, they are undoubtedly a welcome option for those with wheat intolerances or allergies.
Whole grain wheat can be used to make other types of pasta that give it a darker appearance and enhance the nutritional value. Non-grain flour such as soybean can also be used to make pasta or wheat with other types of flour.
Eggs come in handy as a great way to boost pasta's quality. The egg enriches pasta from an organoleptic and nutritional standpoint. However, it has an essential technological function whereby it infuses softness, elasticity, and resistance into the dough.
Water usually prepares the dough and makes it possible to mold into various shapes, after which it's removed during the drying process mentioned above. As expected, salt is added for flavor.
Dried Pasta vs Fresh Pasta: What's the Difference?
Fresh pasta is usually made and cooked in the same sitting. Then, there's dried pasta, commonly referred to as pasta secca. It's typically boxed up for sale in grocery stored to be cooked at your earliest convenience. Given that these two types of pasta differ in production and veganism, let's explore the details of each.
Fresh Pasta
It's a blend of flour, eggs, salt, and water. At times, fresh pasta can be made with oil as a substitute for eggs. However, eggs are the most common ingredient in fresh pasta. For starters, the salt and flour are blended in a bowl. Secondly, a 'well' is made right at the center of the flour where the cracked eggs go in. The flour is patiently mixed into the eggs until it becomes a dough.
Once the flour and eggs are properly mixed, the dough is kneaded until no air bubbles can be seen upon cutting it. After this step, the dough should be left to rest before it is cut into the desired shape (lasagna noodles, fettuccine, or spaghetti, you name it), after which it is ready to be tossed in hot water and left to boil.
Dried Pasta
You can dry freshly-made pasta, which means that certain dried pasta may contain eggs. Nevertheless, most dried, boxed, and mass-produced pasta typically doesn't contain animal products.
What you may not realize is that dried pasta typically contains two main ingredients; semolina and flour.
The mass-production of dried pasta involves mixing semolina (a wheat product) with water. The dough is then pressed through pasta molds to generate the desired shape.
Once the dough is molded and sliced, the pasta is dried under extreme heat, after which it's packaged and dispatched to retail and online stores across the globe.
Is Pasta Vegan?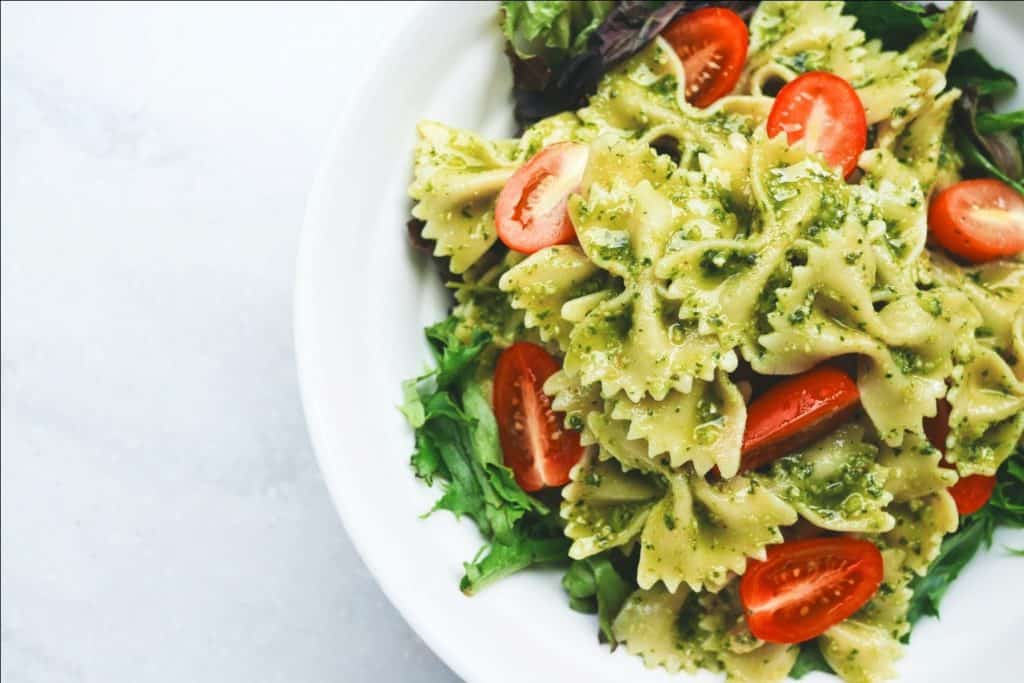 Armed with the knowledge of how the two main types of pasta are made, let's circle back to the question at hand, 'Is Pasta Vegan?' The answer is yes and no. Here's why.
As you may have guessed after learning how fresh pasta is made, it's a no-brainer; it's non-vegan. Eggs are one of the most common ingredients that make fresh pasta off-limits for veganism. The same cannot be said about dried pasta.
The absence of egg during the mass production of dried pasta makes it plant-based as the common ingredients are wheat flour, water, and semolina. Moreover, it uses oil as a substitute for eggs.
With that being said, your best bet is to double-check the ingredients. Although it's unusual, there are instances where boxed pasta can contain eggs and other animal products, as is the case with fresh pasta.
Therefore, it wouldn't hurt to double-check the packaging, ask the wait staff at an eatery, or reach out to the manufacturer. You're better off conducting your due diligence than making assumptions only to later find out that the pasta wasn't vegan. After all, better safe than sorry.
Popular Vegan Pasta Brands
While most store-bought pasta is vegan, we've rounded up a few of the top picks for brands.
1. San Remo
It's one of the pasta companies that recently dipped its foot into the plant-based market upon launching its vegan ravioli range. These products include Sundried Basil & Tomato, Garlic & Spinach, and Roast Olive & Capsicum.
You'll be pleased to learn that San Remo doesn't use any preservatives, artificial colors, or flavors in its recipes. Moreover, the Roast Olive & Capsicum version provides 27.6 grams of protein per serving.
2. Banza
Churning out pasta made from chickpeas, Banza products have 23 grams of protein as opposed to the 13 grams that regular pasta contains and 8 grams of fiber, which is 5 grams more than the conventional counterparts. Banza products also have fewer carbohydrates. The vegan chickpea pasta comes in different shapes and sizes, ranging from shells, penne, bowties, and rotini, to elbows.
3. Explore Cuisine
These gluten-free and grain-free noodles are a product of red lentils. Therefore, it comes as no surprise then that they have superior protein content than your regular pasta. You have free rein to use Explore Cuisine as you would penne pasta.
4. Kite Hill
Vegan Kite Hill purveyor manufactures three plant-based options of packaged pasta. For starters, the dairy-free Mushroom Ricotta Ravioli comprises Portabella mushrooms, almond milk ricotta, Shiitake and is egg-free. Secondly, the brand offers Ricotta Tortellini that's made of parsley and black pepper. Thirdly, you can try out the dairy-free Spinach Ricotta Ravioli.
5. Ancient Harvest
Not only are all products from Ancient Harvest non-GMO, but they are also made from organic quinoa flour coupled with corn-flour. Moreover, they are one of the fastest-cooking pasta in the market, with a maximum of 6 minutes required.
6. Barilla
Anyone with gluten sensitivity or celiac disease will be pleased to learn that Barilla pasta is gluten-free. Moreover, being an Italian company that has been in the industry since 1877, you're assured of the authenticity you desire from the pasta. Their gluten-free products are made from rice, corn, and are quite frankly, mouthwatering, leaving you craving more.
7. Jovial Foods
It's a brand that churns out gluten-free pasta from brown rice. Pasta from Jovial Foods is vegan except for one that contains eggs, so keep an eye out. Furthermore, the brand has a gluten-free lasagna pasta option that a boatload of its competitors doesn't produce.
8. Tolerant Foods
If you're on the quest for a brand of pasta that is rich in protein, then Tolerant Foods wraps up your search. Made from legumes, it's not only non-GMO but also 100% organic. The red lentil penne is a popular option.
Furthermore, Tolerant Foods manufactures pasta from chickpeas, green lentils, and black beans and uses vegetables like vegetables such as beets that have numerous health benefits.
9. True Roots
As an organic company, True Roots manufactures pasta from corn flour, amaranth, whole grain brown rice, red lentils, and quinoa. The brand also has pasta made from peas with more of an al dente texture, if that's your preference, and comes in a vast assortment of shapes.
The Bottom Line
Whether you're switching to a plant-based diet or have decided to give veganism a try, you now know there's no need to give up pasta, the most popular food in the world. Although you may be unable to delight in a myriad of fresh pasta, there's a wealth of recipes and options available for you.