Unless you've been hiding under a rock for the last couple of years, or you're one of the healthy cherubs that exclusively eat homemade meals, chances are, you've heard of the recent ramen boom.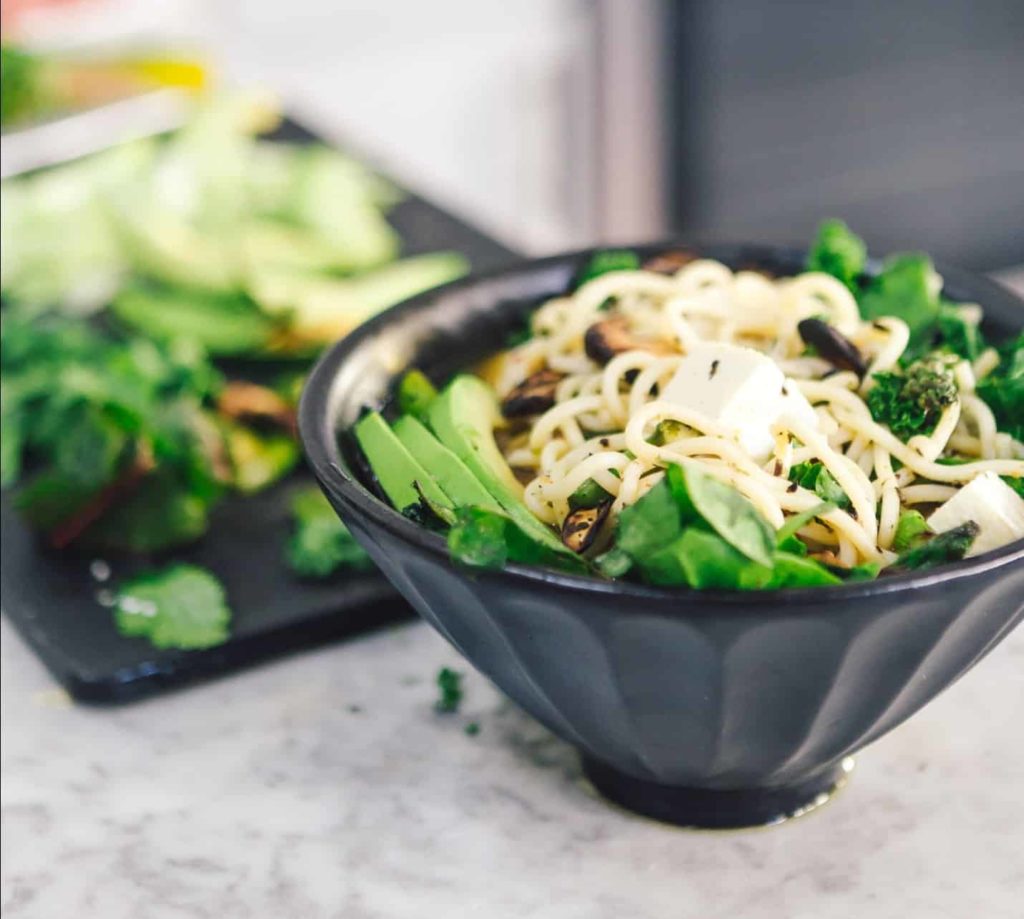 With 'ramen bars' cropping up all over the place, there's no denying that the dish has experienced a type of rebirth from the cheap Styrofoam to gourmet grub.
The resurgence in popularity of this food has vegans questioning if they can get in on the trend without compromising their health and morals.
Keeping that in mind, we'll tackle a few of these questions, such as 'Is ramen vegan?' 'Where did it originate from?' 'Is it healthy?' Read on!
What Is Ramen?
Whether ramen initially originated from Japan or China remains a mystery as both countries lay claims to these delicious noodles.
However, we can be certain that noodle shops had sprung up in both countries by the early 1900s.  Ramen was commonly referred to as 'Chinese Soba Noodles' in Japan until the 1950s, perhaps giving away the true origin.
Nonetheless, Japan has undoubtedly made ramen its own in the multitude of years since its introduction. Instant ramen initially came about in 1958, courtesy of Momofuku Ando. He made Chicken Ramen to augment the low food supply after World War II.
Furthermore, Ando founded the chain of Nissin ramen products that gained popularity and made its way out of Japan in 1971 under the brand name 'Cup Noodles.' The name was later changed to 'Cup O' Noodles', and as they say, the rest is history.
Ramen Ingredients
These noodles are conventionally from the perfect blend of salt, wheat flour, and water. The mixture is then kneaded thoroughly until it becomes a dough that is cut and steamed.
Mass-produced ramen commonly found in online and local retail stores contains other ingredients infused into the mixture for added flavor and freshness preservation.
True ramen noodles also have a type of alkaline water known as kansui, which gives ramen its distinct springiness that can also be mimicked with baking soda to cut down the cost. It's worth noting that using baking soda means the noodles won't be true ramen.
Should You Eat Ramen?
Granted, these delicious and easy-to-make noodles seem harmless. After all, how bad could a simple broth, noodles, and veggies be? However, studies have proved that frequent consumption of instant noodles can usher in a boatload of health adversities.
When a study was performed on a multitude of South Koreans, it unveiled various outcomes. For instance, women that consumed ramen twice a week irrespective of other foods and how much they exercised had a higher likelihood of developing metabolic syndrome.
Other potential culprits in these health adversities is a petroleum byproduct used as a preservative (TBHQ) or high levels of calories, sodium, and saturated fat that these noodles typically contain.
Is Ramen Vegan?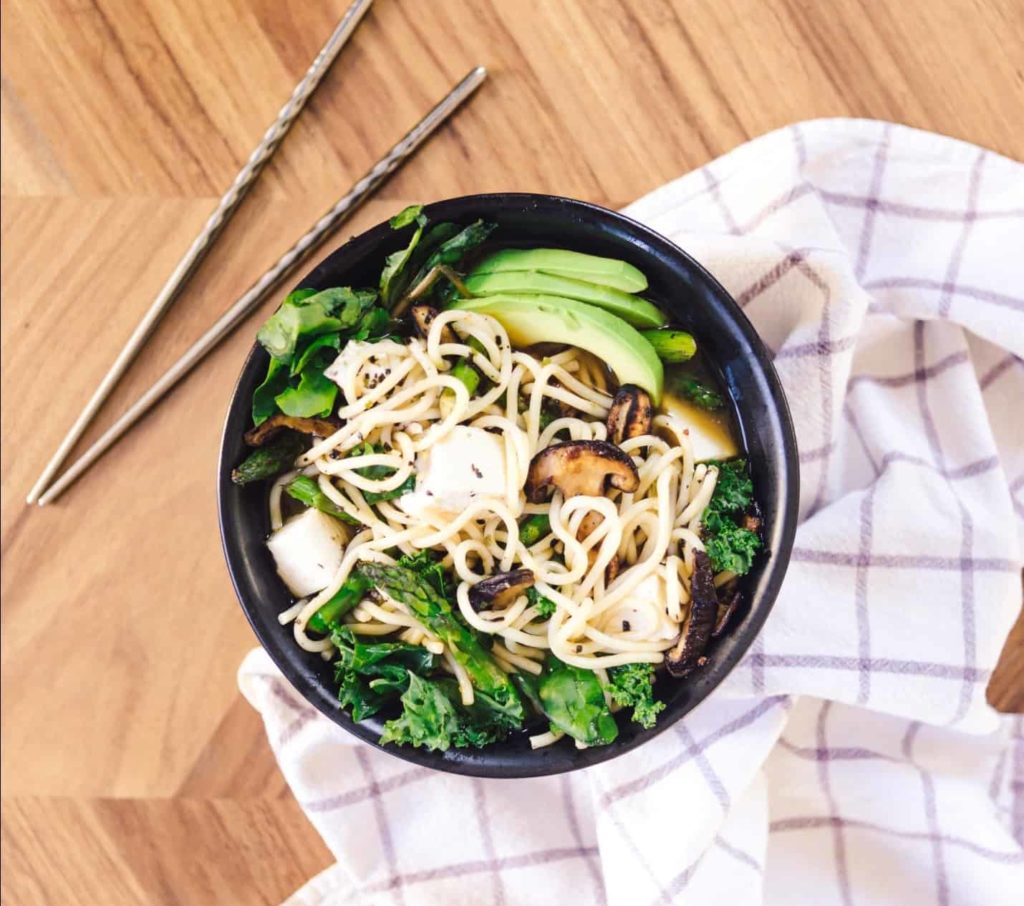 As usual, the answer to this question is yes and no. Although the noodles are vegan, if you opt for instant ramen, the flavor packets of most renowned brands contain animal products. The powdered flavors are shrimp, beef, and chicken. The only mainstream flavors that lack animal products in the flavoring packets are Nissin's Chilli, Soy Sauce, and Oriental flavors.
Best Vegan Ramen Brands
Check out our top picks on the plant-based ramen brands you could buy.
1. Dr. McDougall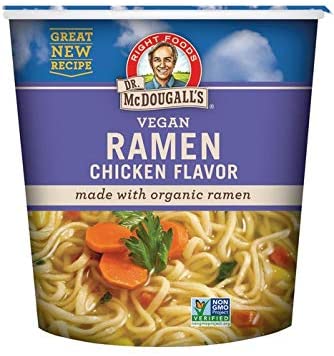 It offers a vast assortment of plant-based foods that are easy to cook and eat. Dr. McDougall ramen comes in a multitude of flavors, including the popular Miso and Chicken.
The best part about this brand is that you can rest easy knowing it is 100% vegan. After all, Dr. McDougall is one of the most well-known vegan doctors. It also comes as no surprise that the flavor packets usually have a significantly lower sodium content compared to other ramen brands.
2. Lotus Foods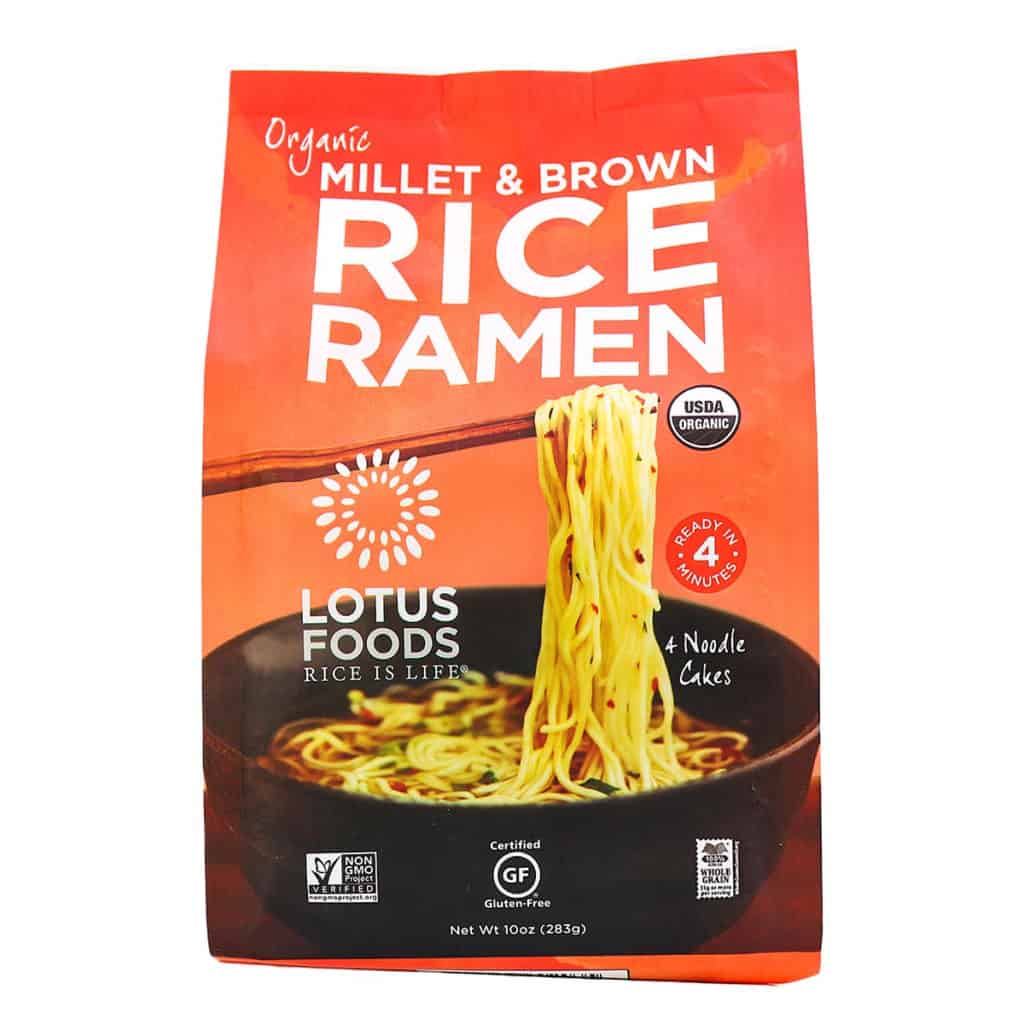 You can take your pick from the broad range of Lotus Foods plant-based ramen flavors, such as:
Brown Rice and Millet
Pearl Rice
Brown Rice and Purple Potato
Buckwheat Mushroom Rice
Brown Rice and Wakame
Most of the products are labeled as 'vegan,' which implies Lotus Foods is doing something right. Furthermore, their ingredient statements are usually free of preservatives, and some types of uncooked ramen from this brand lack the flavor packets.
3. Koyo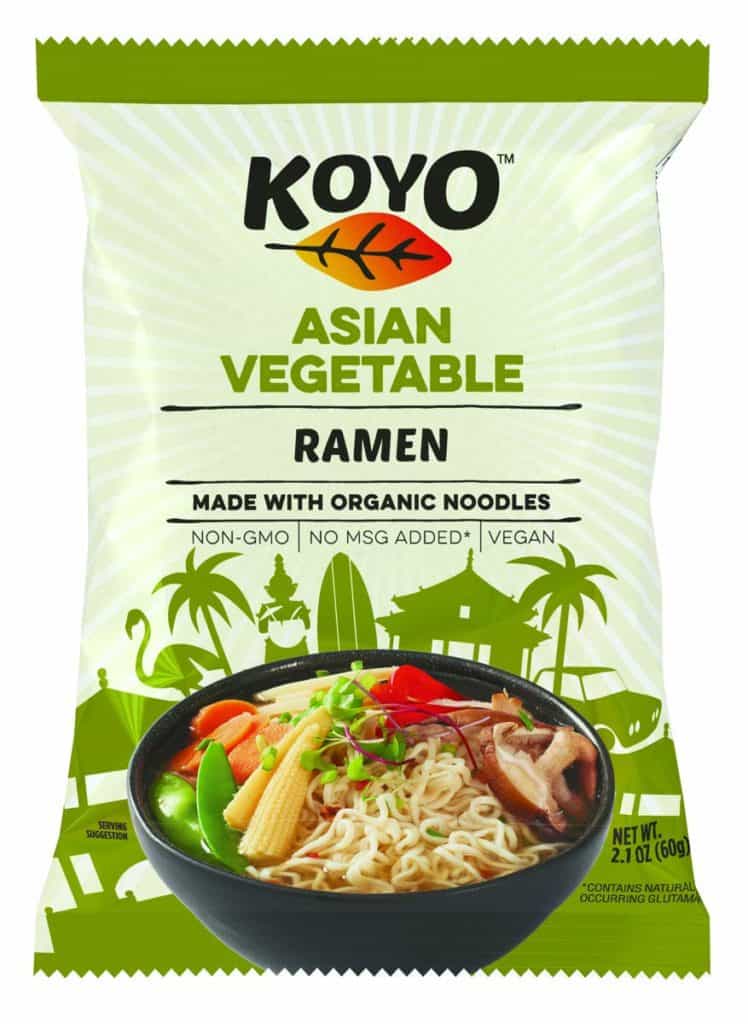 It's one of the top brands for vegan ramen, with all the available flavors being 100% plant-based. You can take your pick from:
Tofu Miso
Asian Vegetable
Garlic Pepper
Seaweed
Pepper and Garlic
Soba
Lemongrass Ginger
Mushroom
Much like Lotus Foods, Koyo ramen is entirely organic with clean ingredient statements.
4. Paldo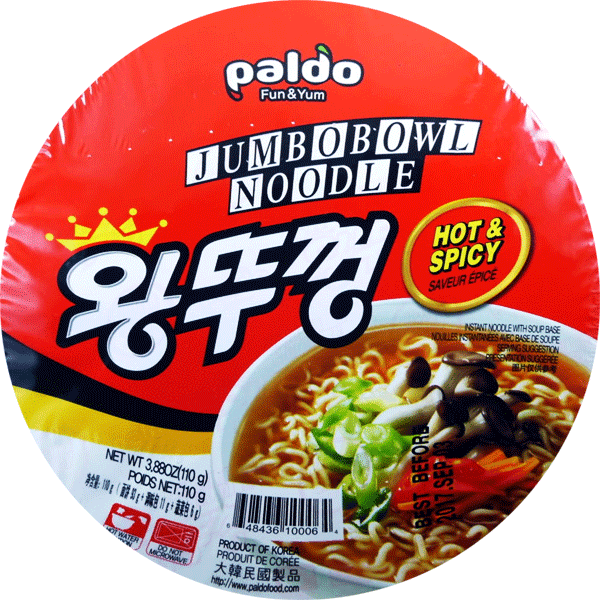 Much like Nongshim, Paldo is a popular Asian food brand that is unintentionally plant-based. You can choose from the following flavors that lack animal ingredients.
Premium Jjajang
Kimchi
Jjajangmen Chajang
Teumsae
5. Thai Kitchen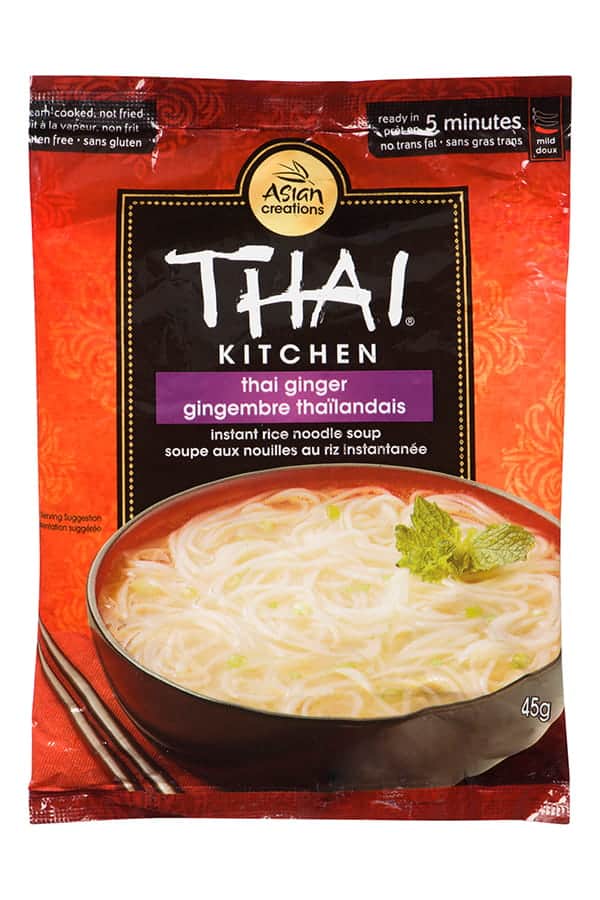 If you're on the quest for the simplest instant ramen at an affordable cost, then Thai Kitchen wraps up your search. It offers two types of rice noodles; the thicker stir-fry option and the thinner vermicelli. Vegans will be pleased to discover that Thai Kitchen's ramen only contains water and rice.
Once you cook these noodles in hot water, you can add equal amounts of chili sauce, soy sauce, and sesame oil for a burst of flavor. Thai Kitchen ramen also pairs well with scallions, cilantro, and crushed peanuts.
Tips
If there is an Asian grocery store in your jurisdiction, pop in to see if they stock vegan ramen. Chances are their prices will be a steal compared to your regular local retail store.
Most grocery wholesalers and local online stores stock ramen in bulk and at a discounted price. Given that uncooked ramen noodles can last a lifetime, it's advisable to buy in bulk and cut down on costs.
The Bottom Line
As is the case with all plant-based foods, there is a multitude of ways to delight in ramen once you know what you're doing.
With the vast assortment of vegan ramen flavors and countless recipes to try out, this global staple has a place in the vegan pantry.
Regardless of whether you want to whip up a ramen salad that is low in sodium and loaded with veggies or you're a junk food vegan, the world is truly your oyster!