You can tell a jackfruit from a durian without even seeing it, as long as you're familiar with their smells. People tend to have conflicting opinions about whether they love or hate either of the odors.
Putting aside these differences, though, how can you tell a jackfruit vs. a durian just from looking at it? Can you use them as substitutes for one another?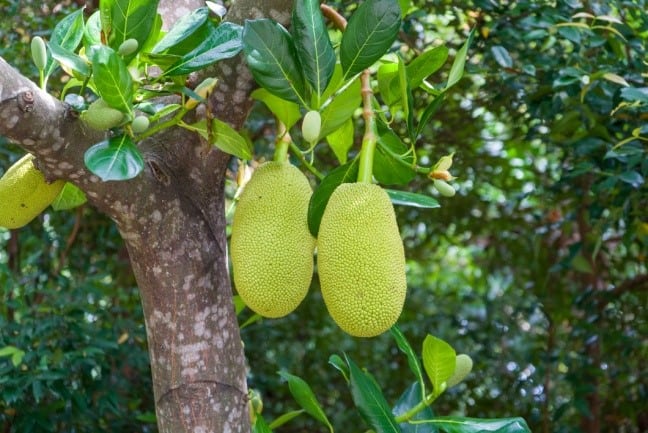 Let's analyze them together. Firstly, both fruits grow in trees and are abundant in tropical countries. They have a resemblance, too, with their spiky coverings.
And yet, they came from a totally different family. Jackfruit is from the mulberry and fig family, while durian comes from the mallow chain.
So how can you tell them apart?
Here's our detailed comparison of the jackfruit vs. durian, along with their similarities and their differences.
Jackfruit vs. Durian: Similarities and Differences
You'll always find both fruits in the roster of "strong-smelling-fruits" which you may not be allowed to eat in public rooms. They are also banned on airplanes! Why? It's because just a single piece of these fruits is enough to saturate an entire room with its stench!
The smell can last for hours, even days – no joke. Like I said, not everyone loves the common characteristics of jackfruit and durian.
Here are some more of the qualities that they share, and those they do not.
Jackfruit vs. Durian: Appearance
These green fruits have spikes all over their bodies, so at first glance you can mistake them for each other. But when you look closer, you'll see the jackfruit actually has fine, blunt spikes. The durian's spikes are larger and more defined, and it's also pointier and sharper.
If a jackfruit is thrown at you, there's likely not going to be much damage done. But we can't say the same with durian with its – believe it or not - reported incidences of causing fatalities. In addition to their bulbous appearances, the colors of their rinds appear similar. The skin colors of both fruits could range from green to yellow or brown.
Jackfruit vs. Durian: Size and Shape
In some instances, when you consider jackfruit vs. durian when they're the same size, they may look similar. But here's the trick – the jackfruit can grow larger than the durian.
The jackfruit can grow so large, in fact, that it received the title of largest fruit in the world! On average, a jackfruit grows to a sizable 30 cm long, and even up to 50! A typical durian will range from 14 to 32 cm, but it can never grow bigger than its contender.
The jackfruit is also heavier, as it can reach up to about 110 pounds. The durian's weight tops at about 30 pounds. In terms of shape, both of them have a similar oval bulge.
However, larger jackfruit sometimes can have an elongated oval or oblong shape. Durian, on the other hand, is more round and circular.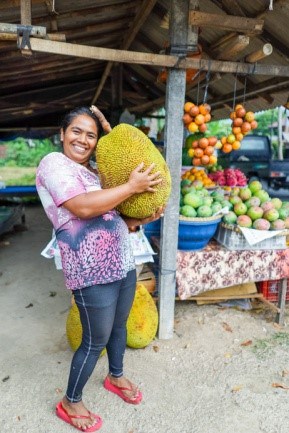 Jackfruit vs. Durian: Core
Both the jackfruit and the durian have fleshy, mushy, pulpy interior. The pulps are light yellow in color when they are ripe. Some overripe jackfruits develop into a bright yellow, while overripe durian often has a somewhat yellow-green hue.
The fleshy pulp of both fruits is known as "aril." It is the edible portion of ripe durian and jackfruit that coats the seeds. In jackfruit, the aril covers each seed individually, along with a mix of white, stringy, inedible fibers.
These fibers, and the skin of the jackfruit itself, have a sticky latex sap covering. This sticky sap makes it messy for eating, and it's not easy to remove it by washing.
Some people may rub cooking oil on their hands before opening up and eating a jackfruit. This is to prevent the cobweb-like elastic fibers from sticking to their fingers.
On the other hand, the durian has a tidier, neater core. There are no adhesive fibers, and it's easier to access its edible pulp. Durian has a hollow pod case interior that houses these pulps. The edible portion also covers the seed. Durian seeds are slightly bigger than that of the jackfruit as well.
Jackfruit vs. Durian: Taste
Durian's notorious stench often gets in the way of some people trying it, so they miss out. Disregarding the smell, most people would agree that durian wins in the jackfruit vs. durian taste match. The durian offers a blend of sweetness and saltiness which makes it more delectable.
Its custard-like pulp has a thick, creamy texture. The flavor is an explosion of savory notes that makes you think of other strong and delicious flavors, like cream cheese, buttery garlic, or pudding.
The pulp of a jackfruit is juicy, rubbery, and sweet, with a tropical taste when ripe. It can also impart a pungent smell, but it's not as foul as the durian. Its flavor is similar to a mixture of banana, pineapple, apple, and a hint of mango. People often relate it to a yummy piece of Juicy Fruit gum.
Edible jackfruits or durians are actually not limited to ripe fruits. Even the unripe fruit of these two is edible when cooked. It's best with meat dishes, stews, and vegetarian recipes.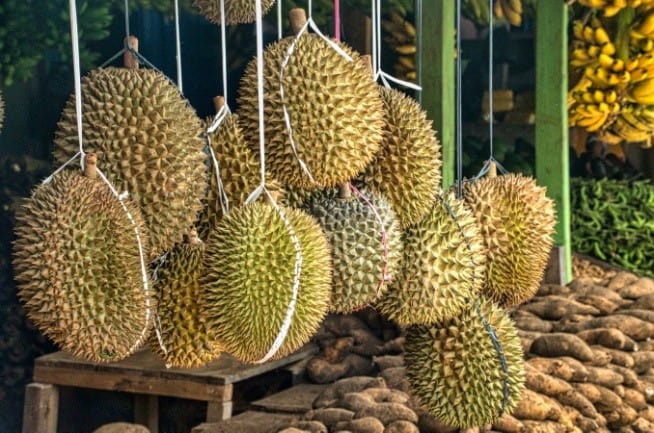 Jackfruit vs. Durian: Culinary Uses
Jackfruit makes an excellent ingredient in a mock pulled pork recipe. It is a great alternative for meat and processed food in the so-called meat-free revolution. Jackfruit has a similar texture to meat but with lesser protein content.
So if you want a well-balanced diet, you may need to include a bit of extra protein to make up for it, if you use jackfruit as a meat substitute. Jackfruit goes well with legumes, so why not give it a try?
Even ripe jackfruit seeds are edible. You can boil them, roast them, or pop them into the oven and snack on them as you would nuts. Cooked jackfruit seeds taste like almond and sunflower seeds.
It's unusual to see unripe durian sold, even in the local farmer's market. But, just like the versatile jackfruit, you can turn durian into a culinary surprise. Less ripened durians pair wonderfully with veggies, as they almost taste like chicken. You can even turn them into Thailand's famous durian chips.
Plus, ripe durian is also an ingredient in some ice creams, candies, bread, and other desserts. Like jackfruit, you can also roast or boil the durian seed and turn it into healthy finger food.
Jackfruit vs. Durian: Health Benefits
So what's in these fruits, and how do you benefit from them?
Besides its vitamin C, Jackfruit is packed with essential nutrients. It has trace amounts of fiber and protein. It's also loaded with vitamin A, riboflavin, magnesium, potassium, copper, and manganese.
The low glycemic index of jackfruit can help with blood sugar management. In addition to its protein and antioxidant content, it can prevent a spike in sugar levels. Jackfruit also has low-calorie content that people use in weight management.
The jackfruit seed has laxative, anti-microbial, antifungal, and anti-inflammatory properties.
Durian is one of the most nutritious fruits available, as it can provide truckloads of benefits. Compared to some other fruits – including the jackfruit – durian is not to be belittled. With just a cup of pulp, you can get your fix of thiamine, niacin, folate, magnesium, and other nutritious elements.
With heaps of antioxidants and healthy plant compounds, durian offers many health benefits. These antioxidants can remove harmful free radicals, which can reduce the risk of cancer. It can also lower blood sugar levels, prevent heart disease, and fight infections.
Jackfruit vs. Durian: Origin and Habitat
Aside from their similar anatomical structure, jackfruit and durian also share similar features in its botanical structures. Both fruits grow in trees in humid, tropical environments. That's why they are abundant in Southeast Asia. The trees have the same shiny, oblong-shaped leaves.
The durian tree is a bit taller than the jackfruit. It can grow up to a towering 150 feet tall. It's almost half the size of the average jackfruit tree, which can grow to about 80 feet.
Another difference in the jackfruit vs. durian is how the fruits appear on each tree. When the jackfruit grows, the fruits appear in a cluster along the trunk or nearby branches.
Durian fruits are cluttered along the branches, although they may sometimes appear on the tree trunk. This is how you identify tell either of the fruit trees if you see them in their jungle habitats.
Jackfruit vs. Durian: Peak Season
An abundance of jackfruit depends on  location. In some places, ripe jackfruits are available from about March to June. In other locales, it can peak from April to September. A single jackfruit tree can yield about 10 to 200 fruits per year.
In some places, you can frequently buy ripe jackfruit in grocery and gourmet stores. There are also unripe ones sold in tin cans.
Durian flowers begin to bloom from about March to June. That's why its peak season is usually around July to September; the peak occurs after the flowers bloom. Sometimes, there is a minor growth season from December to February.
Durians are not only cheaper and fresher during peak seasons. This is also the time when they taste the best. Annually, a durian tree can produce around 15 to 200 fruits, and that is just from a single tree.
Jackfruit vs. Durian: Scent
Of course, we can't end this article without comparing the fruits' most evident characteristic – their smell.
We know about durian's reputation, and we can't blame public rooms and planes for banning it. The stench is often compared to something rotten and smelly. American chef Anthony Bourdain even likened it to "French kissing your dead grandmother."
Everyone has an opinion about durian's smell, but people who have tried it have everything good to say about its taste.
Jackfruit is not at all stinky, but it does have a strong scent. The scent is somewhat sweet, although it does have some rotten essence to it. That's why some people may also find it unpleasant, and it's also been banned from closed rooms.
But while they are not allowed in airplane cabins, jackfruits are good to board as cargo.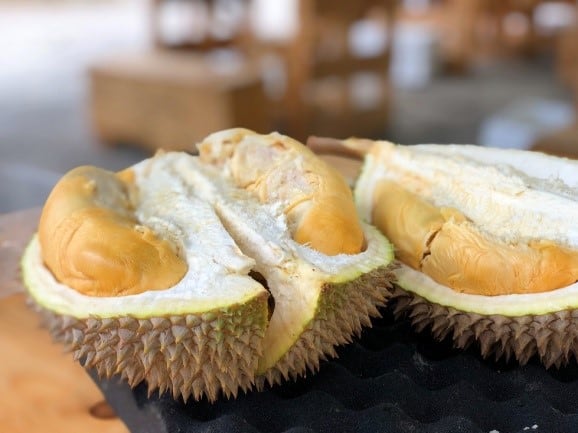 Takeaway
Thinking about jackfruit vs. durian, they may look the same, but they really are completely different. Durians and jackfruits do not come from the same family, and they're not similar on the inside. And the fruits don't taste the same at all.
Therefore, you can't substitute one for the other. One thing is for sure: you can use either as a substitute for meat products.
Whatever your preference is between jackfruits and durians, it's good to know that both are beneficial, nutrient-wise. So be sure to hold your nose, and help yourself to a portion of any of these fruits.