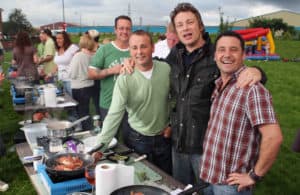 After Jamie had turned the world of school dinners on its head he set about revolutionising the cooking habits of the inhabitants of small market town in Yorkshire in 2008. The mums and miners of Rotherham had their eating habits and their cooking skills exposed on TV; children brought up almost exclusively on take-aways and gruff miners who had never turned on an oven.
There was a gap in skills, a lost generation for whom cooking was a mystery. Without skills being passed down from generation to generation or learnt at school, parents had become dependant on ready meals and fast food. At the heart of Jamie's Rotherham Revolution was a belief that cooking from scratch was important for the health and the heart of a community. Jamie's solution was a community cooking course teaching basic skills, equipping people with the nutritional know-how and food skills to be able to feed themselves and their families affordable, nutritious and delicious meals. Empowering people to make better food choices and lead healthier lives has always been the core principle behind Jamie's Ministry of Food program. Jamie says that "cooking is without a doubt, one of the most important skills a person can ever learn. Once someone has that knowledge, that's it – they're set for life"
Eight years on the Ministry of Food course continues to reach into the hearts of communities most likely to be suffering the consequences of poor diet, work closely with public health and local charities  invested in improving health inequalities. People completing the course report an increase in kitchen confidence, a decrease in weekly take away spend and an increase in their fruit and veg consumption.
Today we have three Ministry of Food centers in the towns of Leeds, Bradford and Rotherham and partnerships with charities who deliver the Ministry of Food course as outreach in their communities.
Some of our fabulous partners such as Food Nation in Newcastle or Sunderland Foundation of Light take on the challenge of teaching cooking in offices and school classrooms – bringing cooking skills to hard to reach communities. Maureen Grimes who attended a class in South Shields says that the course " has given me the motivation to cook from scratch. It has improved my child's taste and knowledge in food. At home we have started to make meals from scratch using fresh produce. My cutting technique has improved and our knowledge of herbs and spices has improved so much."
Sizzling beef, chicken fajitas and homemade burgers are firm favourites, along with some tasty salads and jazzy dressings. As Keith from Leeds comments " it is not rocket science" but it was the friendliness and encouragement of the cookery trainers that means Keith is now hosting many of his friends for dinner instead of popping down the Chippy. When Keith's wife passed away he found himself slipping into a diet of convenience food, until one day walking through Leed's market he was persuaded to join a course. Keith remembers growing up with rations and never really understanding herbs and spices, now he is regular visiter to some of the spicier stalls in Leeds markets, buying his fruit,veg and meat fresh from the traders and often popping back into the Ministry of Food center for some more tips and tricks.
Similarly Jennifer in Rotherham admitted that in all her 35 years she had never bothered to cook, her visits to the supermarket resulted in a trolley full of packets and jars. That was until she booked onto the beginners course at the Ministry of Food in Rotherham. Now Jennifer cooks everything from scratch, she is built up a great relationship with her local butchers and found him to be mine of useful information. It was only when one day walking past the Ministry of Food in the center of Rotherham that Jennifer was persuaded to try a sample of Jamie's Lentil and spinach soup and finding it to be 'the best soup she'd ever eaten'' she thought she'd try her hand at cooking. When we meet Jennifer she was half through an advanced course and could not remember the last time she had bought a jarred sauce or packet, "my shopping habits have changed dramatically" she told us and it seems her friends and family have been enjoying the change.
But as Soraya, the Bradford center manager reminds us, the Ministry of Food is "important to people for a lot of reasons". Evidence collected by Public Health shows marked difference in eating and and shopping habits, but the benefits also extend to increases in general confidence and social capital, "Some people don't get out of their homes or interact with other people, so if they come with community groups they are cooking a recipe, talking to other group members and sitting down and having a meal, it becomes a social event for them". In Sunderland their course targets families and they find a 98% improvement in the relationship between the family after the completion of the course. As Jamie Revolution goes global the Ministry of Food takes the revolution into kitchen across the country.
For more information about Ministry of Food contact us at [email protected]