Whether you have arthritis or you just struggle getting jars open sometimes, investing in a  good jar opener can make a world of difference. 
Jars are sealed tightly to help them stay fresh, which is something you've got to appreciate when it comes to the flavor and safety of your food. However, it can pose problems if you don't have a ton of hand strength (particularly if you live alone). 
Once you invest in one of the best jar openers, you'll be able to access the contents of your favorite jars of food with ease. They come in a range of styles and sizes (and price points!) though, so knowing what to look for can be a challenge.
Here are some of the leading jar openers on the market -and some tips on what to look for during your next shopping trip.
10 Best Jar Openers
1.
EZ Off Under Cabinet Jar Lid & Bottle Opener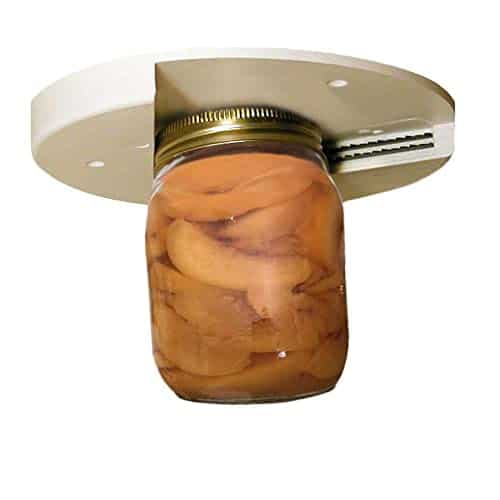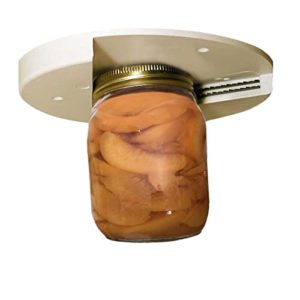 Nothing says "effective '' quite like the phrase "EZ"- and this jar opener is no exception. 
The EZ Off Jar Opener is one of the best jar openers to consider if you don't have a ton of counter space. It's designed to be mounted beneath your kitchen counter. Not only will it remain hidden from sight and out of the way, but it will also be positioned exactly where you need it when it comes time to open a stubborn jar.
It has a dual V-grip that opens jars quickly and conveniently. It's perfect for small kitchens and offers you a firm grip on all kinds of jar lids. All you need to do is twist to get a lid off. 
It can be somewhat challenging to install the unit - and it's important to note that it is a manual unit and will still require a bit of torsion. However, it's easy to use, regardless of your age or strength. 
What We Liked:
Mounts beneath your kitchen counter to stay out of sight

Firmly grips all kinds of jar lids

Affordable and easy to use
What We Didn't Like: 
Installation can be a bit tricky if you do not follow the included instructions
2.
Hamilton Beach Open Ease Jar Opener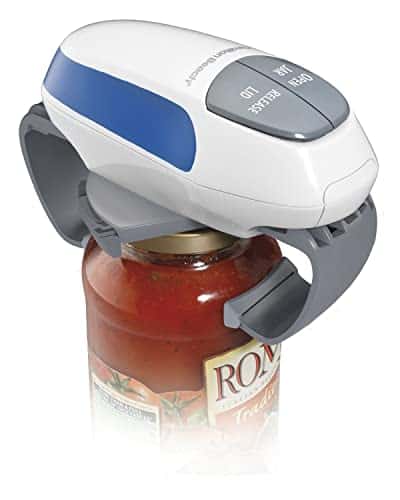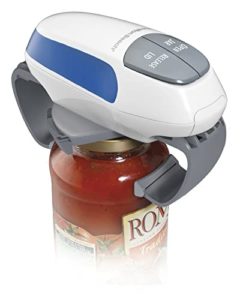 Hamilton Beach is a company that offers several convenient kitchen products, and this jar opener is no exception. It only can fit a wide variety of jars - it adapts to suit diameters between one and four inches - but it also is made out of durable, long-lasting materials.
This jar opener's compact design easily makes it one of the top picks on the market. It is automatic, so all you need to do to pop open a jar of your favorite tomato sauce is to press a single button. The jar opener will take care of the rest.
The Hamilton Beach Open Ease is battery-powered, and with a single set of batteries, you'll be able to conquer more than 250 jars. You'll get two free AA batteries with your purchase, too, so you can start cracking jars open right away. 
It goes without saying that this jar opener is easy to use, comfortable, and ergonomic - but we'll say it again. This jar opener by Hamilton Beach is easily one of the best on the market.
What We Liked:
Just two batteries can open more than 250 jars

Suitable for use on jars with diameters between one and four inches

Compact and easy to store
What We Didn't Like: 
Cannot be used on plastic jars
3.
Evriholder Easy Grip Jar Opener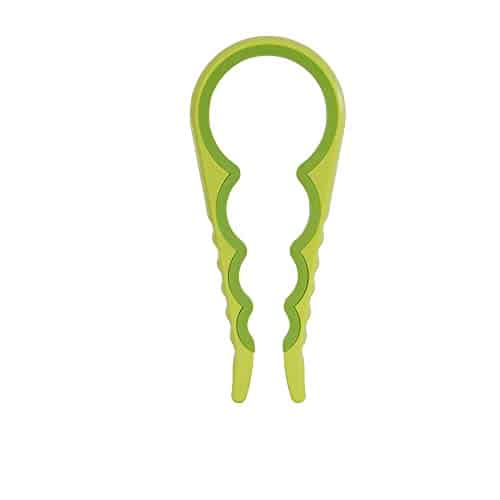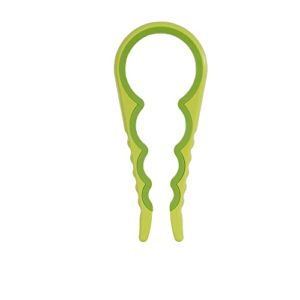 If you're sick of having to run jars under hot water every time you try to get them open, you may want to consider using this jar opener by Evriholder. It allows you to open all kinds of jars of different sizes without a problem.
At a mere 4.3 ounces, it's lightweight and easy to use. It has a unique scalloped design that allows you to use it on all kinds of lids of different sizes. No matter how big your hands might be, this tool is perfect for delivering the friction you need to uncap a jar. It has a rubber gasket that gives you a secure grip and is simple to use. 
You don't have to read a lengthy installation manual in order to use this jar opener. Simply pull it out of your drawer and go! That's another major benefit of this product - it is so compact that it can easily slide into any space. 
The Evriholder is the perfect jar opener for children, the elderly, or those with arthritis. No more straining - no more stressing!

What We Liked:
Works on jars and caps of all shapes and sizes

Ergonomic, secure grip

Patented design makes it easy and convenient to use and store
What We Didn't Like: 
Not the most durable jar opener you will find
4.
Leifheit 03131 Lid and Jar Opener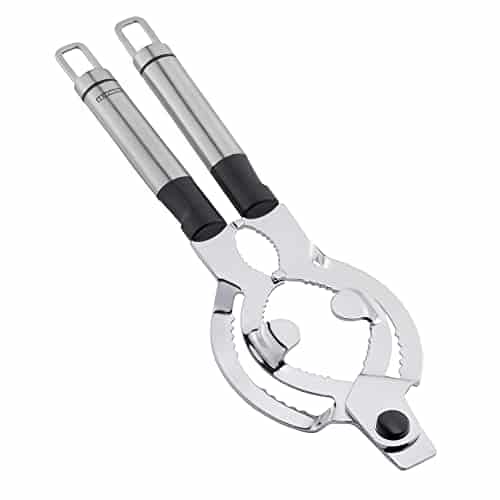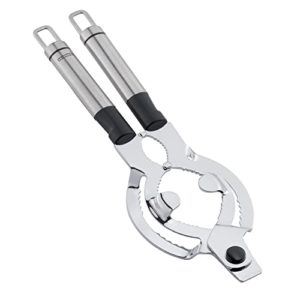 With a sleek stainless steel design, this jar opener really stands out from the rest of the competition. It has super long handles to give you all the leverage you need as well as ergonomic grips that will make it easy for you to hang on to the jar as you are twisting.
Equipped with a set of grooves and teeth, this jar opener grip tightly to the lids of all kinds of jars is versatile and equipped with a special hinge that allows it to fit a wide variety of lid sizes. 
If you have large, arthritic hands, you'll especially appreciate this jar opener. Unlike many jar opener that have handles spaced tightly together, this jar opener has handles that are quite wide. While it can be difficult to use if you have tiny, nimble fingers, it's ideal for people who struggle when it comes to gripping ordinary jars. 
It's even dishwasher safe! 
What We Liked:
Has a hinge that adjusts to lids of most sizes

Rust-free and durable stainless steel construction

Has extra-long handle for comfort and leverage
What We Didn't Like: 
Can be difficult to use if you have small hands 
5.
Prepworks by Progressive Jar Opener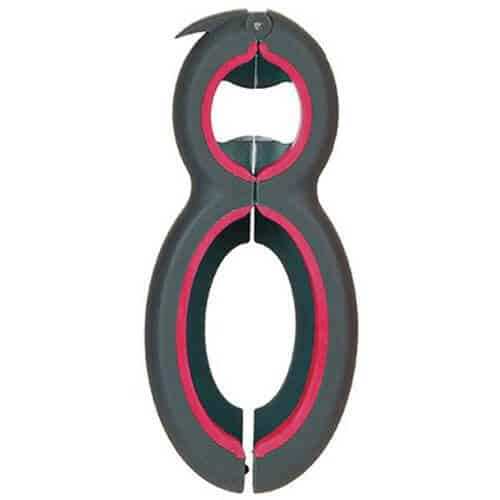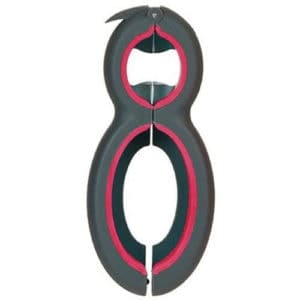 You've spent all day on your feet or in the office - the last thing you want to do while you're trying to cook dinner is to wrestle with a jar opener for hours.
This jar opener by Progressive is one of the best jar openers when it comes to reducing the amount of time you need to spend in the kitchen. Progressive is one of the country's leading manufacturers of kitchen gear. This jar opener is no exception.
It is designed to last with an ergonomic feel so you can uncap jars faster - and get dinner on the table. 
A six-in-one tool, this jar opener can be used not only to open jars, but also to unlock safety seals, remove bottle caps and tops, and hook on to or unzip bags. It can also pull tabs. A versatile and easy to use jar opener, it's also dishwasher-safe.
What We Liked:
Comes with a hidden blade to unzip bags

Stylish grey and red design

Can be used to open seals along with lids
What We Didn't Like: 
Not the most durable compared to other jar openers
6.
Kuhn Rikon Opener for Jars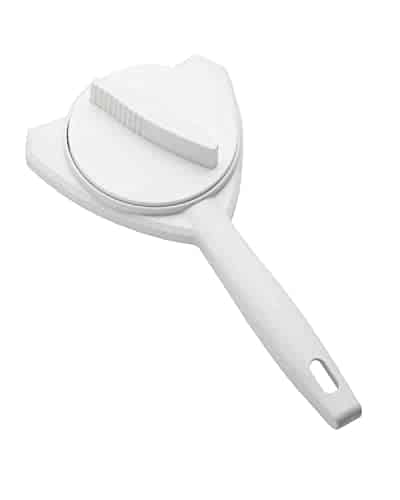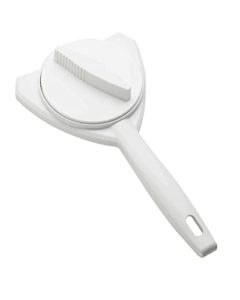 When you're in the market for a portable, compact jar opener, you won't find a better option than the Kuhn Rikon Jar Opener. Designed for use on both bottles and jars, it is lightweight and portable, equipped with a large hole in the handle that makes it easy to store when it's not in use. 
This jar opener has a design that allows it to lock conveniently onto any lid measuring between one and three and a half inches. It has a long handle that gives you all the leverage you need (without having to expend a ton of effort). 
It is smooth and effortless to use, and is perfect to take with you on camping trips or when you move to a new home. It's built with sturdy, heavy-duty plastic and is dishwasher safe. 
What We Liked:
Easy to keep clean

Can be used on both grooved and smooth lids

Portable and lightweight 
What We Didn't Like: 
Does not work on all lid sizes
7.
Kichwit Jar Opener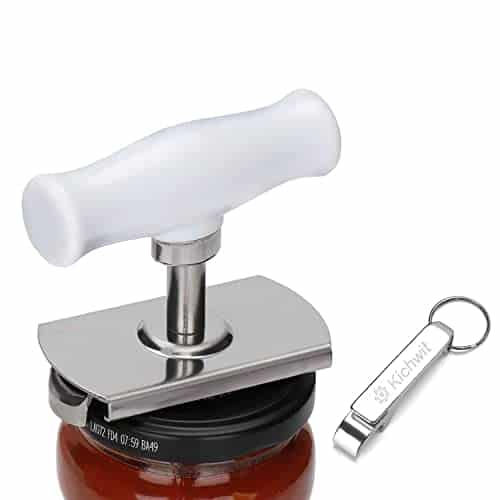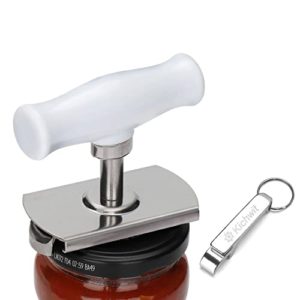 The Kichwit Jar Opener is marketed specifically toward people with arthritis, so it makes sense that we would include this product on our list of the best jar openers. It's made out of durable, high-quality materials that will allow you to use it for many years with no complaints.
It has an ergonomic handle that provides you with a solid grip while you are uncapping your favorite jars. Its unique ratcheting mechanism grips and opens your stubborn jars and bottles with a simple twist.
You won't need a ton of storage space to stash this jar opener. It can be slid into a drawer and then removed at any time to open jars with diameters between 1.2" and 3.7". It even comes with a free bottle opener keychain made out of aluminum so you can take advantage of its benefits on the go, too!
What We Liked:
Only weighs 5 oz

Comes with a bottle opener

Is shipped with a lifetime warranty from the manufacturer
What We Didn't Like: 
The plastic handle can crack after years of use
8.
Swing-A-Way Can Opener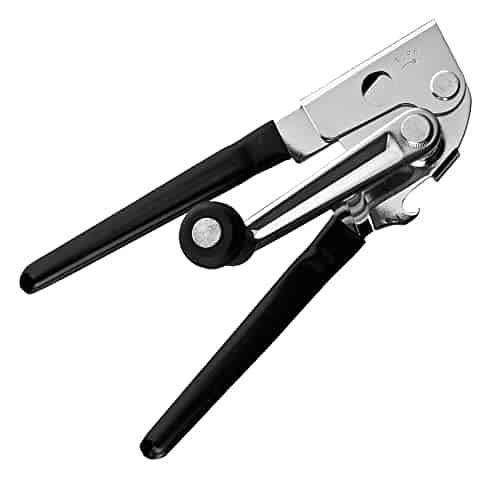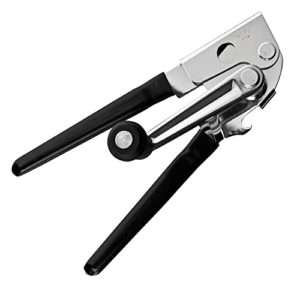 A classic style jar opener, this is one of the best jar openers if you want a simple, efficient design. It's made out of durable stainless steel so you don't have to worry about it rusting or falling apart any time soon.
It isn't known to break, bend, or rust very easily. This jar opener can be operated with a simple crank of one hand, with very little pressure applied. It has spring-loaded power for effortless operation.
You'll get a ton of leverage with the extra-long handles. It is easy to adjust so you don't have to worry about lengthy installation or usage instructions, either. It's also not difficult to clean, since all you need to do is wipe it down with a wet cloth and a bit of soap.
What We Liked:
Easy to keep clean and to prevent rust

Can fit lids of various sizes

Has a strong stainless steel construction
What We Didn't Like: 
Need to be careful using it, as you can pinch yourself near the handles
9.
Black & Decker JW200BM Jar Opener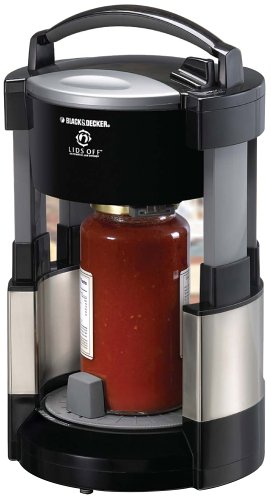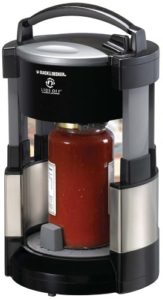 If you want a jar opener that will do 99% of the work for you, look no further than this dynamic jar opener from Black & Decker. It can handle everything - except for cooking your dinner, that is. 
It is perfect for people who suffer from arthritis, as it requires no twisting or yanking on your part. It's an automatic jar opener that can be placed on a kitchen counter. It has a front opening where you insert your jars. As soon as you put a jar into the space, the opener will go to work on getting off a lid.
It can be used on all kinds of jars, including those that are vacuum-sealed and traditionally are quite difficult to get open. Measuring a small 8.5" x  7.75" x 10", it can collapse down into a smaller size for easy storage, too. 
This jar opener is remarkably versatile and easy to adjust. It can be used on caps, lids, and jars of all kinds of shapes, sizes, and materials. 
What We Liked:
Collapses down for storage

Lightweight and portable

Automatic operation requires no manual work 
What We Didn't Like: 
Takes up precious counter space
10.
OXO Good Grips Jar Opener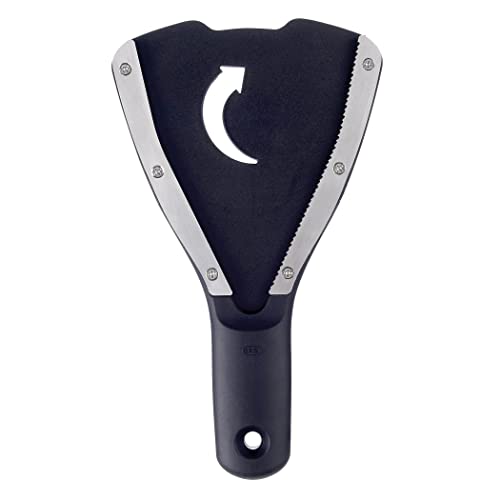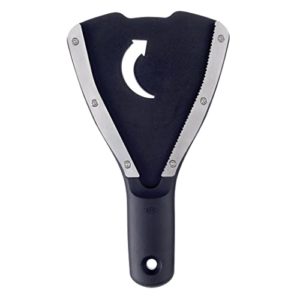 OXO is a company that manufactures a wide array of ergonomic kitchen products. Ths jar opener, one of several products in the Good Grips line, offers excellent versatility and unparalleled comfort. 
It can be used on several different sizes of jars. It is lightweight, and despite requiring manual operation, is not difficult to use. It weighs less than three ounces and is equipped with a base pad and contoured handle, both of which will reduce pressure on your hands and wrists.
In addition to being comfortable to use, the OXO Good Grips Jar Opener can reduce the amount of force needed to open most styles of jars. It has razor-sharp teeth made out of stainless steel that grip your jars with ease. It is also dishwasher-safe so you don't have to worry about cutting yourself by mistake while you are washing it up. 
What We Liked:
Dishwasher safe

Allows you to exert minimal force while opening jars

Comes with sharp stainless steel teeth that can grip jars of most sizes and styles
What We Didn't Like: 
The base pad must still be hand washed
How to Find the Perfect Jar Opener For Any Kitchen 
Not sure what to look for when you're shopping for a jar opener? Truth be told, the long list of options can be overwhelming. However, these tips will help you find the perfect jar opener - no matter what kind of budget or style preferences you might have.
Electric vs. Manual
Deciding whether you want a manual or electric jar opener is one of the first decisions you need to make when you start shopping for a jar opener. This is the most basic way to classify jar openers, after all.
Manual jar openers are usually handheld, while electric jar openers tend to run on batteries. They do not have to be held in your hand, although it can give you better control in some cases. You will only need to press a button on the device and the jar opener will take care of the lid. 
Electric jar openers offer a great deal of power, meaning you should be able to get just about any kind of jar open. However, they also need to be plugged in, recharged, or equipped with fresh batteries from time to time. Some are also suited for use only on very specific kinds of jars, which is something else to keep in mind. 
Type of Jar
This is a tough feature to factor into your purchasing decision, since you won't always know what kind of jar you need to open until you actually get your groceries home. However, you might want to consider what kinds of jars you tend to have the most trouble opening. Not all jar openers can be used on glass and plastic jars alike - pick one that is versatile enough to be used on a wide array of materials. 
Materials
There are all kinds of materials you will find used in jar opener construction. Some are made out of durable plastic, while stainless steel and metal are two other common choices. Stainless steel is a good choice if you want an option that is rust-proof and resilient. However, it will also be heavier, so that's something to bear in mind. 
You'll also want to consider how easy your jar opener will be to clean. It should be easy to clean up quickly with a damp cloth, or, if you have a dishwasher, you might want to look for a model that is dishwasher safe. 
Size and Available Space
How much free space do you have in your kitchen? If you're lucky enough to have a massive, sprawling kitchen, then this might not be as big of a concern. However, if you're living in a dorm room or a tiny studio apartment, you will want to pay close attention to how much space your jar opener of choice will take up.
Choose a model that will fit well in the space you have available. There are some powerful electric jar openers that are compact enough to slide into a drawer for easy storage, but some jar openers will take up a lot of counter space. 
Handles
What do the handles on your jar opener look like? You'll want to select a jar opener with handles that don't cut into your hands, but they also need to be durable and ergonomic, too.  
Grip
The stronger the grip that your jar opener has, the less pressure you will need to exert - it's as simple as that. Look for a jar opener that locks securely onto the lip of your jars so you don't have to worry about applying a ton of pressure while using your jar opener. 
Invest in a High-Quality Jar Opener - and Quit the Straining and the Twisting!
Are you sick of yelling for help from a spouse or roommate every time you need to get a jar open? If that's the case, it might be time to invest in a good jar opener. This will not only help you get your jars open without all the twisting and straining, but it can minimize the stress that you place on your palms and wrists.
Keep in mind - twist on a jar too much, and it could even cause the jar to break. This could result in painful cuts and abrasion to your skin - and no jar of pickles is worth a visit to the emergency room!
There's no need to fret. Invest in one of the best jar openers, and you'll save yourself the stress and trouble.