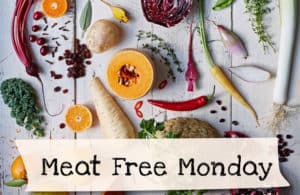 Sustainability really matters. To sustain nutritious food for now and for the future, we need to care for the planet that produces it, linking up individuals, food and the environment to create a sustainable, healthy food system on both a commercial and a domestic level. Cutting back on our meat consumption is one part of this. According to the Food and Agriculture Organisation of the United Nations (FAO), the livestock sector is "one of the top two or three most significant contributors to the most serious environmental problems, at every scale from local to global".
What is Meat Free Monday?
Meat Free Monday is a campaign which encourages people to skip meat for one day a week to improve their health and help the environment. It's an easy, effective and tasty way for all of us to become more responsible global citizens.
Good for our health
Evidence exists to suggest that too much meat, especially beef, pork and lamb, can increase the risk of cancer and heart problems – so reducing our intake is a good idea for our health. Plus, going meat free gives us a chance to fill our bodies up with extra fruit and vegetables. Fruit and vegetables are nutritional powerhouses that can help us maintain a healthy weight and a healthy heart, and they are packed with loads of little extra vitamins and minerals that have all sorts of benefits for our bodies, too.
Good for the environment
Meat production uses a lot of land and huge quantities of water – both for raising animals and to grow food for them. In fact, one third of all land on earth is used for meat production. Plus, animals are fed crops, such as maize and soya, which could be used to feed humans. It can take up to 12kg of grain and nearly 200 bathtubs of water to produce just 1kg of beef!
Producing meat causes greenhouse gases which are damaging to the planet. These gases rise into the atmosphere, trapping the sun's heat and causing what is known as global warming. This means that the earth can get too hot, which results in climate change.
There's also an important animal welfare element to cutting back on meat too. Read all about that and get tips for being a conscious consumer here. It is for these reasons that the new Netherlands Dietary Guidelines are looking to take meat off the menu.
Meat Free Monday Recipes and Resources!
In support of the Meat Free Monday campaign, our Kitchen Garden Project have teamed up with Meat Free Monday to create an exciting new teaching resource which includes three fabulous recipes with step-by-step instructions, as well as information on the campaign. Check out this brilliant resource and the vegetable spaghetti, mini meat free burgers and super squash curry recipes here.
What do you think? Should we all be cutting back on the meat and taking part in the Meat Free Monday campaign? Post your thoughts in the comments below and ioin the conversation online with #FoodRevolution and #WorldMeatFreeDay.