Oh, for the love of olives!
People tend to either love them or hate them, which isn't surprising since olives are tiny powerhouses of briny, strong flavor. The taste may take some getting used to, but once you do, these salty little bites can be quite addictive.
Kalamata olives and black olives are two of the most popular olive options, but what actually are the differences between these two tiny fruits? You can easily distinguish these two olive varieties from one another by way of appearance, texture, and taste. Let's find out what these differences are when it comes to Kalamata olives vs. black olives!
What are Olives?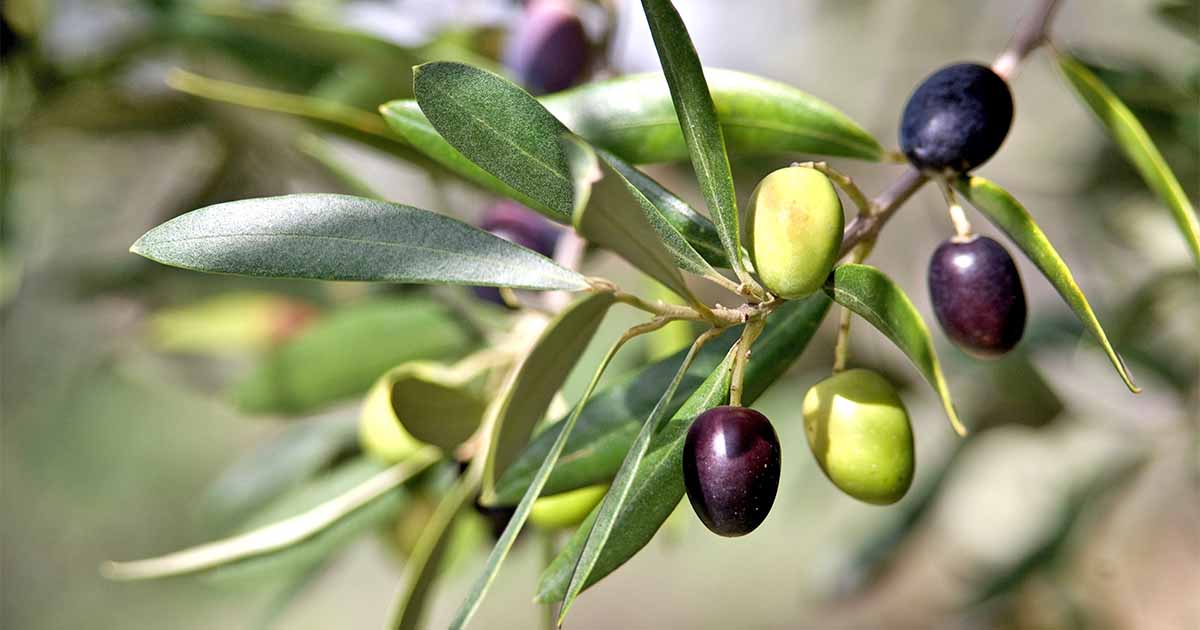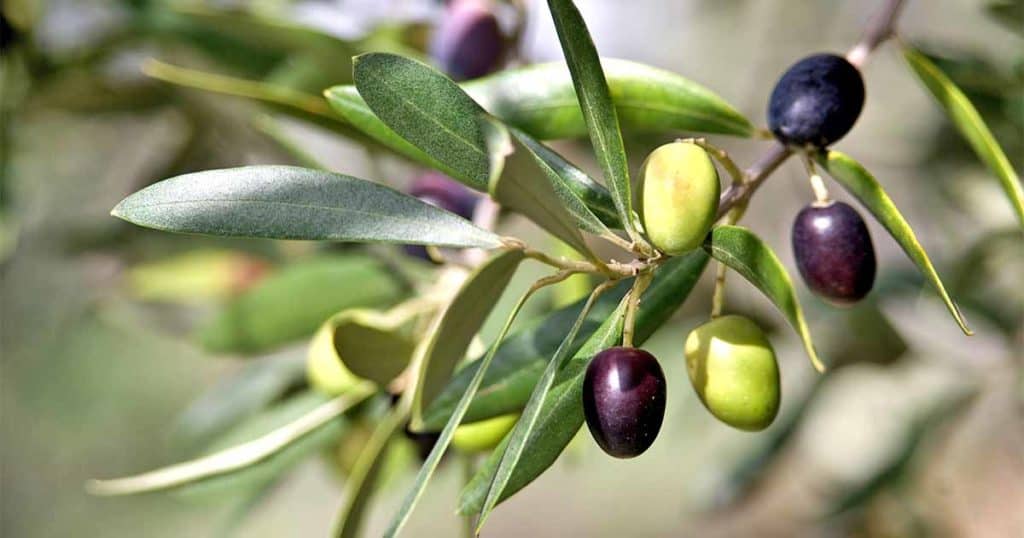 Olives are a part of the stone fruit family, along with apricots, peaches, mangoes, and even cashews! These little fruits were first grown in the warm and dry climate of the Mediterranean, but now are produced in similar climates found all around the world including regions of North and South America and Australia.
The olive tree is an extremely valuable resource as it produces not only loads of tasty fruit but also the olive leaves can be used for medicinal purposes. In addition, olive tree wood is an exceptionally beautiful hardwood that can be fashioned into furniture, tools, and décor. Not to mention, olive oil! The richly flavored oil produced by olives is popular in cuisines around the globe.
How Are Olives Processed?
In their natural state, raw olives taste bitter, far too bitter to ever eat straight from the tree. This is due to the presence of phenolic compounds which are produced by the tree in order to deter birds and other animals from snapping up all of the fruit. Early olive harvesters found that by soaking olives in a saltwater solution or curing them in salt in a dark and dry place, this bitterness would eventually dissipate, leaving the olives with a salty flavor as opposed to their natural astringency.
The problem with this method of curing is that it can take a long time, so these days, commercial olive producers use a chemical shortcut by way of a lye solution, which helps to remove the bitterness much faster than saltwater. After the olives are soaked for the proper amount of time, they are washed and then packed into brine or pickling solution.
How Do Olives Taste?
While the specific flavors of olives may vary, you can expect all olives to have a strong, salty, briny flavor with an oily texture. All olives start out green in color, from which point they may turn different shades of brown, black, or purple depending on variety.
What are Kalamata Olives?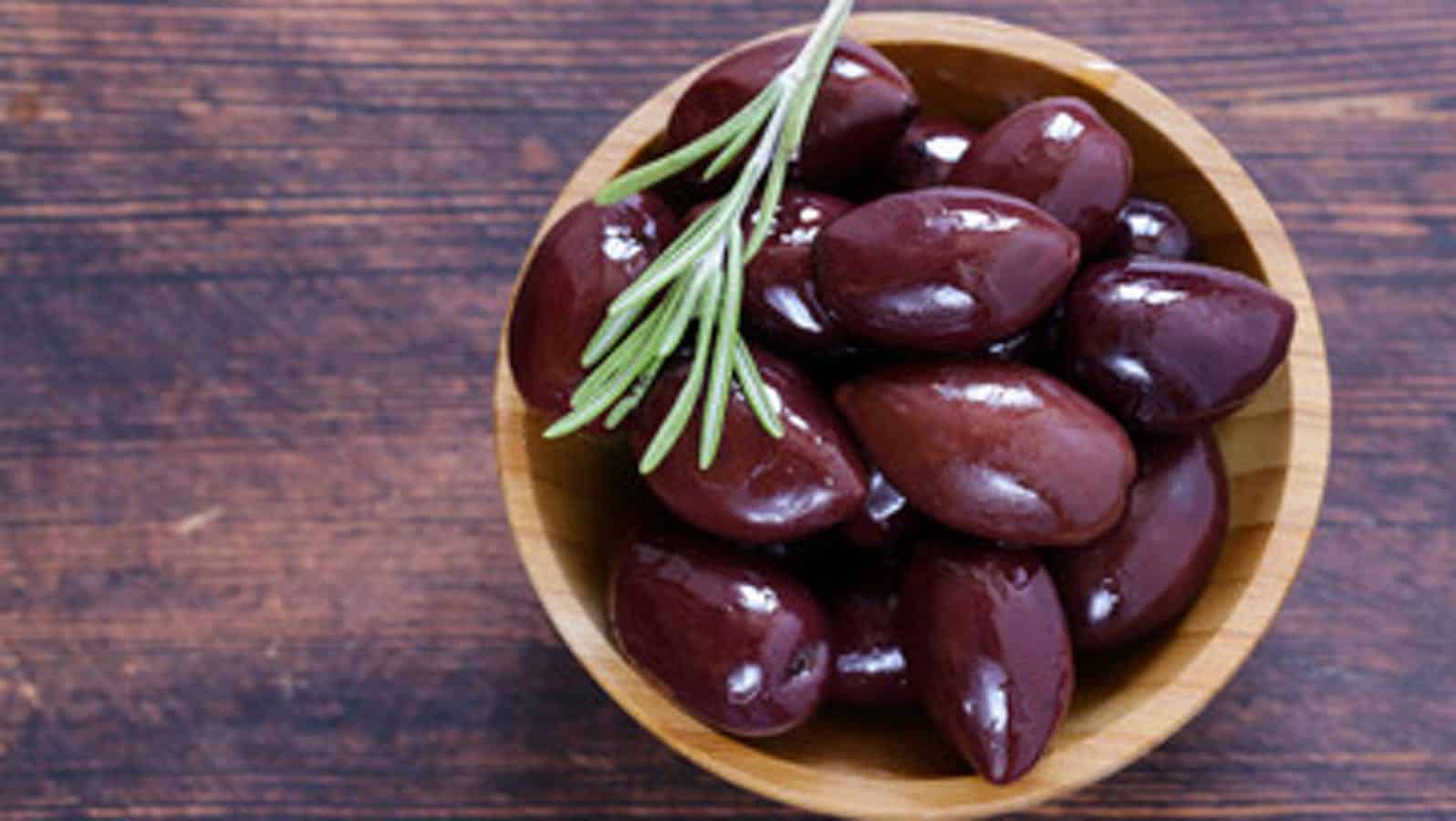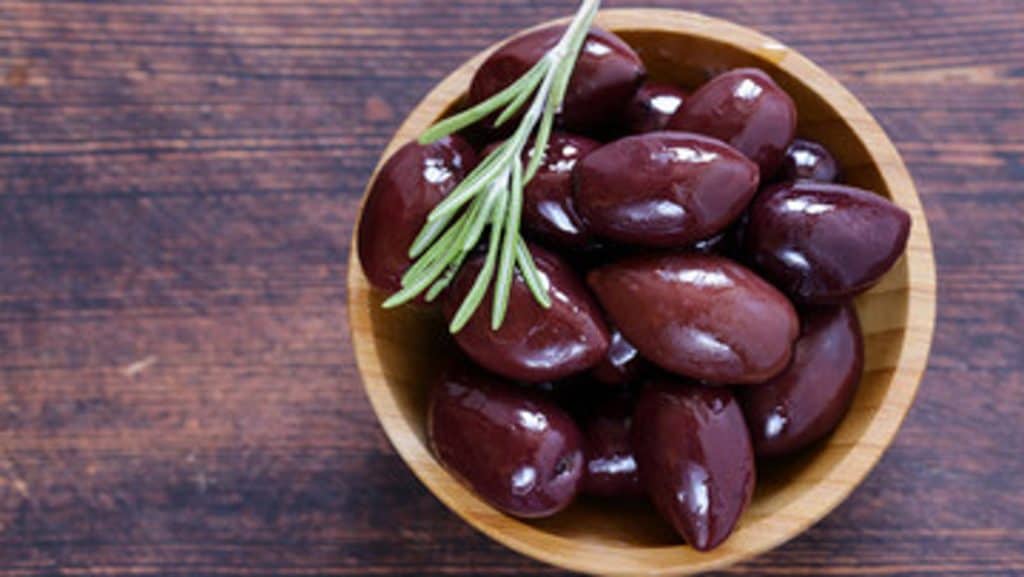 Kalamata olives are actually a specific type of black olive from the Messinia region of southern Greece and take their name from the nearby city of Kalamata.
Appearance
Despite their designation as a black olive, Kalamata olives are actually dark purple or purplish-brown in color, much like the skin of an eggplant. As we learned that all olives start out green, this uniform deep purple color indicates another characteristic that is unique to Kalamatas: they are picked only when ripe!
Other olive varieties may be picked at any point in the ripening process, but not Kalamatas. They are carefully harvested only after being fully mature. Kalamatas tend to be larger than other olives and have a distinctly long and ovular, almond shape with pointed ends. Kalamata olives are often available pitted, but many varieties are sold with the pits still inside, so take care before your chomp!
Processing
When curing Kalamata olives, producers usually forgo the lye solution which is used on many other types of olives and instead stick to plain salt instead. This process takes longer but allows the olives to maintain certain taste characteristics. After the bitterness is removed by the salt soak, Kalamata olives are often packed into a flavorful brine which may contain red wine vinegar, fresh lemon slices, and possibly various herbs such as bay leaves.
What Do Kalamata Olives Taste Like?
Kalamata olives taste wonderful! They possess a rich flavor, thanks to all of that natural oil, and have a slightly fruity taste as compared to other olives which have been harvested in an unripe state. There are often other layers of flavor involved, but these can vary depending on the brine they are packed in, which may lend red wine or herbaceous flavors depending on the ingredients used.
In addition, ripe olives have a decidedly different texture than unripe olives, therefore Kalamatas have a characteristic soft yet meaty texture which is easy to appreciate in a bowl of mixed olives or in recipes such as our Mediterranean Lunch Bowl.
What are Black Olives?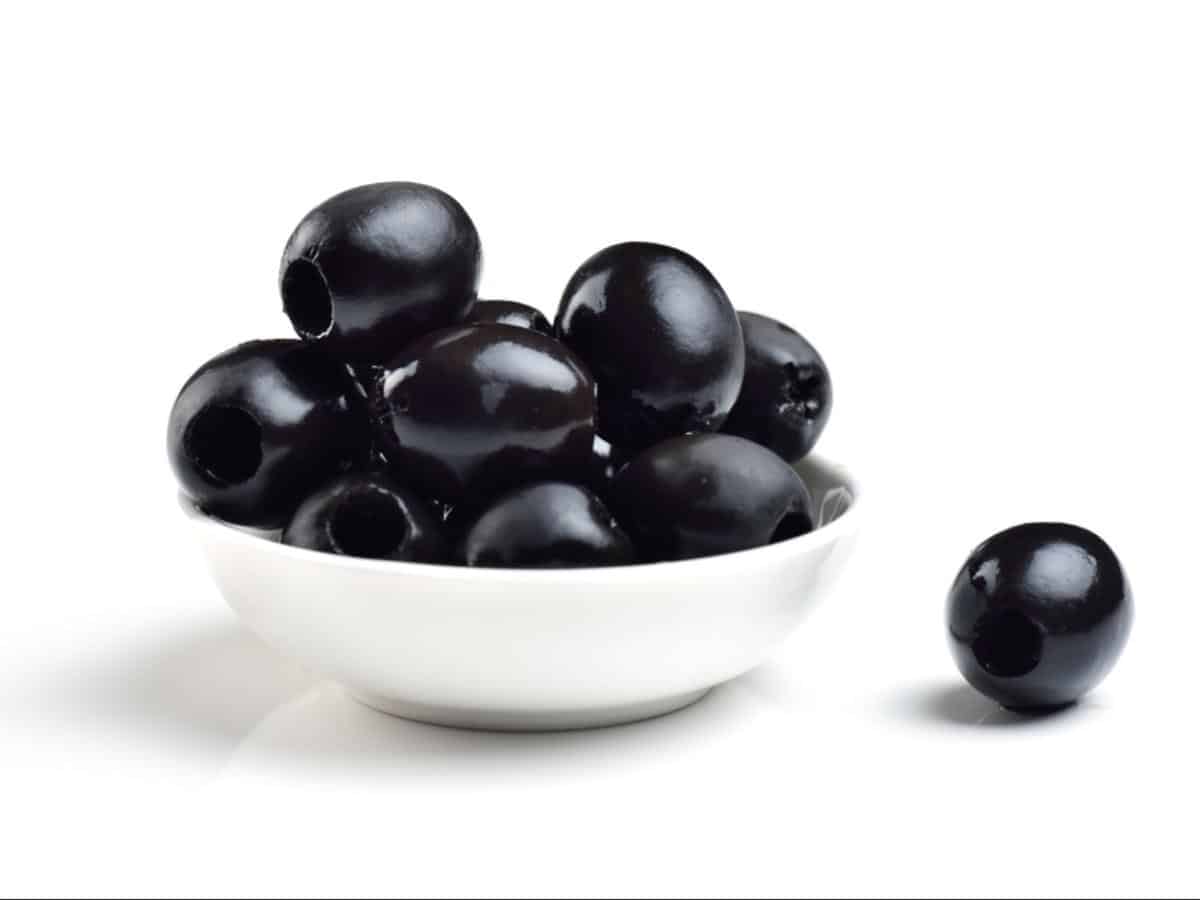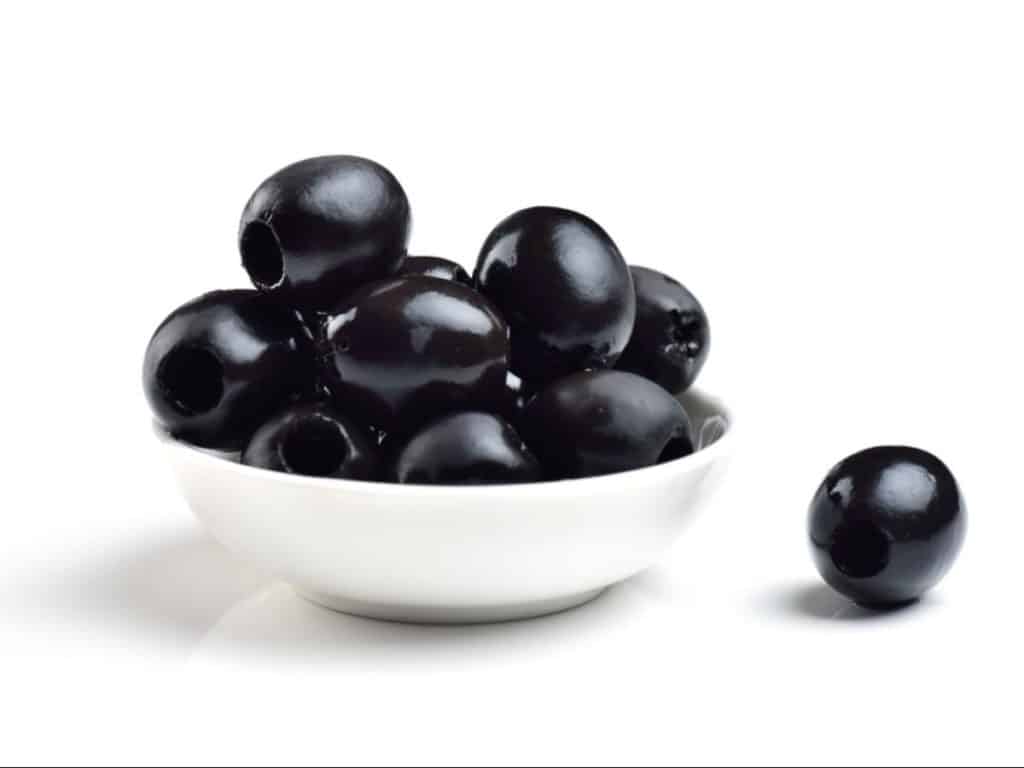 As you may have gleaned from the fact that Kalamatas are just one singular type of black olive, the term "black olives" therefore refers to a whole group of olives rather than a specific varietal! However, when most people think of black olives, they're picturing the commercial, canned variety.
Appearance
Also sometimes called California black olives (regardless of where they are produced), black olives often appear to be dark black in color, but closer examination will reveal that many times they are a deep chocolate brown, sometimes even having a tinge of rich navy blue. They also tend to be very round, with a smooth and shiny texture, as opposed to Kalamatas which are oblong and have a slightly rougher surface. While most black olives tend to run on the small to medium size, there are varieties which are extra-large and jumbo.
Processing
As discussed earlier, one of the most distinguishing characteristics between olive varieties lies in the way in which they are processed. Since most black olives are harvested green and unripe, they typically go through the curing process that involves a lye solution as opposed to a saltwater brine solution. The lye helps to ripen the olives during processing, turning them from green to brown and black.
This also explains why some olives in a can of black olives may be softer than others, as it's not uncommon for a partly ripe black olive to make its way into the batch! Once the olives are done in the lye solution and washed, they are packed in a lightly salted brine solution, and gently cooked during canning.
What Do Black Olives Taste Like?
While all Kalamatas taste quite similar, black olives can have a wide range of tastes. This is due to the different types of olives which may be used in the production of black olives, varying degrees of ripeness, brining method, and any particular seasonings used by individual producers.
Generally speaking though, black olives tend to have a milder flavor as compared to Kalamata olives, being less robust than other olives with only slightly salty flavor. Since black olives are artificially ripened, they tend to have less fruitiness than Kalamatas which are allowed to fully ripen on the tree before harvest.
Texturally speaking, black olives will feel a little crisper as compared to the meaty chew of Kalamatas, somewhat like al dente pasta vs. well-cooked pasta.
Can You Substitute Kalamata Olives With Black Olives?
Due to the difference in intensity of flavor between these two types of olives, they do not necessarily make a perfect substitute for one another. Where the mildness of black sliced olives might complement a pasta sauce nicely, the briny, fruitiness of Kalamata olives could easily overpower the subtle sweetness of tomatoes and onion. On the other hand, recipes that call for Kalamata olives are looking for true olive flavor which a simple can of black olives may not deliver.
That said, olives are olives, and it's fairly certain that subbing one for the other in either direction would be hard pressed to "ruin" a recipe. If you decide to substitute Kalamata olives with black olives, go a bit more heavy handed than the recipe calls for. If your substitute is going to be the other way around, opt for a lesser amount of Kalamatas in order to avoid a flavor takeover!
Other Types of Olives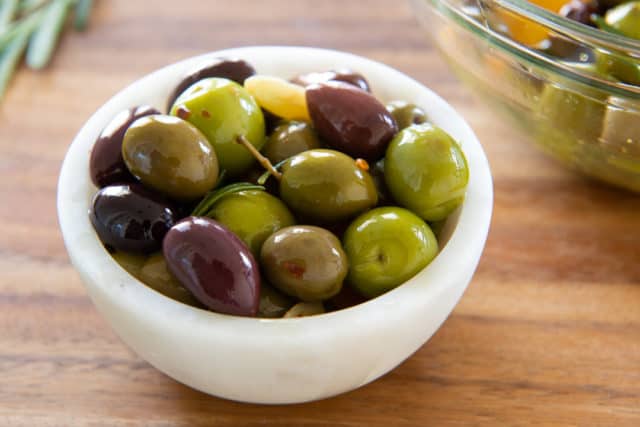 Kalamata olives and black olives are far from being the only two types of olives out there. If neither of these are to your liking, or if you simply love them and can't wait to try more, check out some of these other popular olive varieties and preparations.
Manzanilla Olives are perhaps the most widely recognized green olives. They are relatively small in size, punchy in flavor, and often stuffed with pimento (sweet red pepper!) or blue cheese.
Halkidiki Green Olives are big, green, Greek olives which are often stuffed with feta cheese--yum! These olives are crisp and buttery, with a bright, briny flavor.
Nicoise Olives are a classic in French cuisine, cured in salt and often packed with various herbs. These olives are a key component in dishes such as Nicoise salad and olive tapenade.
Gaeta Black Olives are tiny, dark pink to violet colored olives. Gaeta olives are similar to Kalamatas in flavor and texture but are packed into a more petite size!
What Type of Olives are Used for Olive Oil?
The olives that are used for olive oil are not the same ones that we snack on whole or toss into salads. While it's true that your average table olives will yield oil, as they are oily by nature, they will not produce the same type of olive oil you'd expect from the container you buy at the store.
Olives that are grown for olive oil (whether light olive oil or extra virgin olive oil) have an especially high oil content, higher levels of phenolic acids, and much more robust, sometimes even peppery flavors.
Are Olives Good for You?
If you're as in love with these tiny savory bites as we are, then you'll be happy to learn that yes, olives pack a whopping load of health benefits into their tiny packages! Those same phenolic acids which are responsible for the extreme bitterness of olives are the same compounds which provide a whole host of antioxidants.
In case you needed any more convincing to eat olives (and plenty of them!), they are also rich in vitamin E, another natural antioxidant as well as plenty of heart-healthy monounsaturated fats.
Summary of Differences Between Kalamata Olives and Black Olives
While bearing plenty of similarities (they are both olives after all!) it's clear that Kalamata olives and black olives have some unique differences:
Appearance: A Kalamata olive is almond shaped, with an elongated body and pointed ends while black olives are much more round and smooth. Kalamatas may be dark purple or purple-brown in color while black olives are much darker brown to black. Kalamatas also tend to be larger than many black olives, although there are some black olives out there which are jumbo sized!
Harvest and Curing Process: Black and Kalamata olives are cured differently from one another. Black olives are harvested while still green and soaked in a lye solution, which removes their bitterness and turns them dark brown or black. Unlike black olives, Kalamata olives are harvested only when ripe and they are cured in a saltwater solution. After their solutions are washed away, both Kalamata and black olives are packaged in brine for shelf stability.
Taste: Kalamata olives have a much richer and stronger taste compared to black olives and have fruity notes thanks to being allowed to fully ripen. The taste of Kalamatas may vary from producer to producer, as some opt to package their olives in wine vinegar and herbs while others opt for a simple salt brine. Black olives are less fruity, due to being harvested while unripe, and have a pleasantly mild flavor.
Regardless of which olives end up being your favorite, they remain a tasty way to incorporate some healthy fats into your diet, and if you ever grow weary of Kalamata olives and black olives, there are plenty more olive varieties out there to try!