To think that when we were kids, scissors were nothing more than a play toy. In fact, I bet scissor handling was one of the first lessons you learned in preschool, way before you even knew the depth of how important they really were. Now, both professionals and novice cooks rely on kitchen shears to do pretty much everything around the kitchen. Sure, you could easily use a knife to break down a chicken, but having the best shears will get the job done better. And quite well too might I add. And thanks to the training you got when you were a toddler, you're less likely to cut yourself.
Why the fuss about kitchen shears?
No matter your level of experience, owning a good shears set is quite important. From being extremely versatile to being a handy ally around the kitchen, kitchen shears make chopping up herbs and deboning chicken a cinch. Not to mention you can also employ them as package openers, twine clippers, dough trimmers and a bunch of other things.
But with so many types of shears and scissors on the market, finding a suitable pair can be an arduous and daunting task. Especially without having done an extensive research and intrusive testing.  No need to worry though. In today's guide, we have something that'll interest you:
The top 10 best kitchen shears on the market in 2020.
We are going to explore:
The factors you need to consider when shopping for a kitchen shear.
Common frequently asked questions about shears.
10 of the best kitchen shears reviewed in detail.
This is the most comprehensive checklist you'll find around. And the best part? Every single item on the list is tested and proven to be nothing short of the best. So, if you want the best, you'll love today's guide.
Check it out.
Why Kitchen Shears? What Are Kitchen Shears Used For?
If you have survived all those years without decent shears, you might be wondering whether they really matter in the first place.
Here's the thing:
We all know the agony of deboning a chicken without the right tool. If you use shears, however, you'll have an easier time cracking all the bones and getting your chicken done in no time at all
Shears are as easy to use as they come
They are quite versatile and so you can do pretty much anything from deboning a chicken, snipping up herbs, opening a can and opening packed food as long as you have a good pair of multi-use shears
Pre-Purchase Considerations
With top-rated kitchen shears, all components work together to give you a remarkable experience. Here are some things that you need to keep an eye out for when making a purchase decision.
Sharpness
The best kitchen shears are designed to cut through some very tough foods, so it definitely goes without saying that you want to find yourself a pair that can debone, snip and cut through stuff without any problems. And just as with knives, some are no doubt better than others in terms of overall sharpness. However, like chef's knives, most hears are made from high carbon stainless steel which is designed to stay sharp. And if they don't, you can always sharpen them using a wet stone.
Pull Apart Blades
Most shears have a pull apart feature which makes it easy to unlatch the blades. This feature is often added to make the cleaning process a tad bit easier – and it does. However, there has to be a balance. If the blades come apart too easily, it's going to be difficult to use and a tad more dangerous. If it's too tight, you might have a little more trouble pulling them apart for cleaning purposes. So, if you're intent about buying shears with pull apart blades, make sure they are well constructed so that they still open well enough without falling apart.
Hand Size and Strength
Once you've figured out the size, weight, and model you want to buy, it makes total sense to think about how comfortable it'll be in your hands. Or if it's even the right fit for your hands. If you have fairly small hands, you should avoid shears with spring-loaded handles because they can be a bit difficult to open and close up meaning that you'll end up getting your hands fatigued. People with big hands are not off the hook either. Having large handles is barely enough. They need to be made of a comfortable material and fit just right so that they don't slip out of your hand.
Price
You can find shears that fit just about any budget.
Basic shears cost as little as $7.00 to $15.00. And while most bargain shears are likely to be of lower quality, there are some pretty decent shears that won't cost you an arm and a leg.
Middle range shears which cost between $20.00 to $30.00 tend to be of a much decent quality.
For utmost quality, you're sure to part with a little more. Say $30.00 and above. A luxury kitchen shear like this will probably be made of fine materials that should last for years to come.
Comfort
Cooking is hard enough without the added stress of fighting hand fatigue caused by cramped and uncomfortable kitchen shear handles. So, once you find the right sized shears, you need to ensure that the handles are comfortable enough for use.
Blade Weight and Length
Shears come in varying lengths and weights. If possible hold the shears in your hands and find a pair with just the right kind of balance before making a purchase.
Style
Kitchen shears come in a myriad of different styles. So, depending on your preference, you can choose one that speaks to you aesthetically.
Serrations
Most shears have either serrated blades or fine blades for that fine cut.  It is important to look for blades with small serrations because they provide a little more grip especially when you're cutting slippery items.
Durability
A well-constructed pair of shears could give you years of service. The reverse is also true for a pair made with low-quality materials. If you do not wish to replace your shears after every few months, your best bet would be to keep an eye out for durability.
10 Best Kitchen Shears Reviewed
Chef Remi Multi-Purpose Utility Shears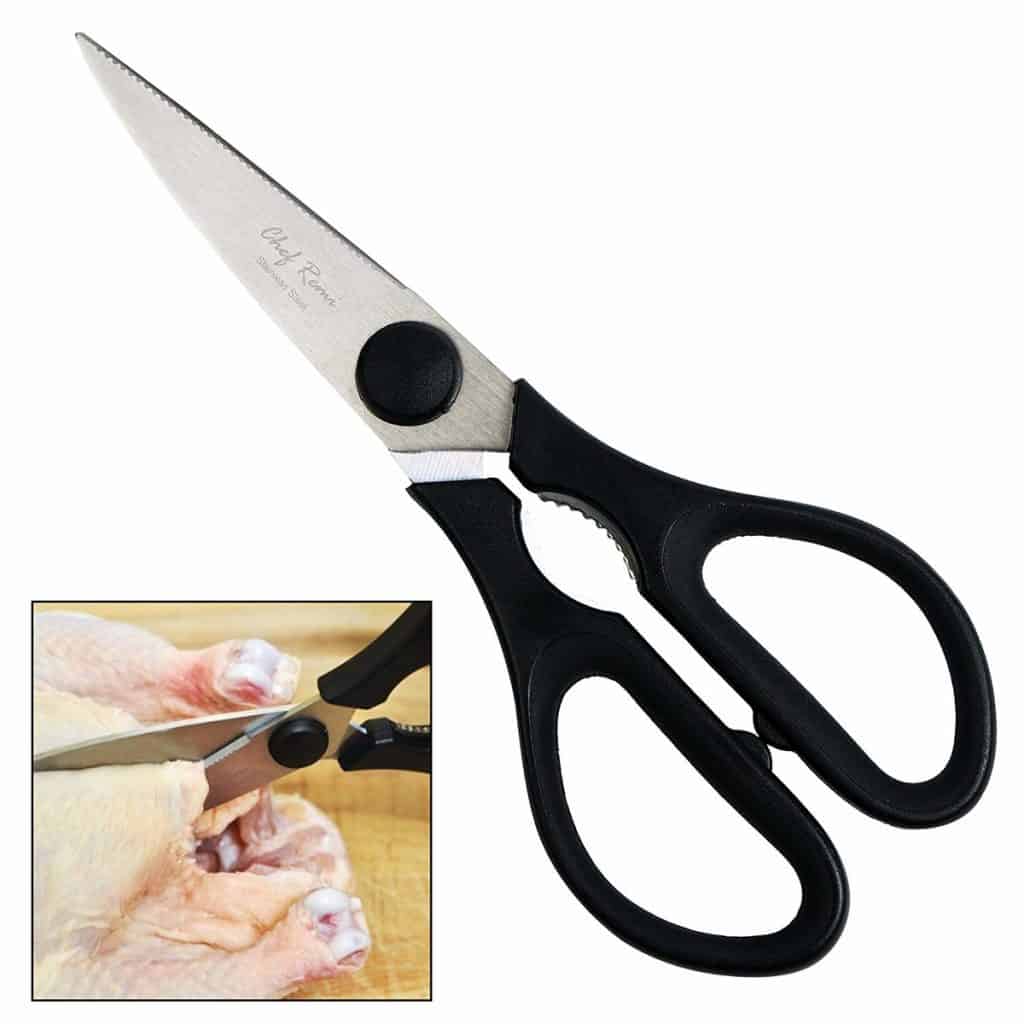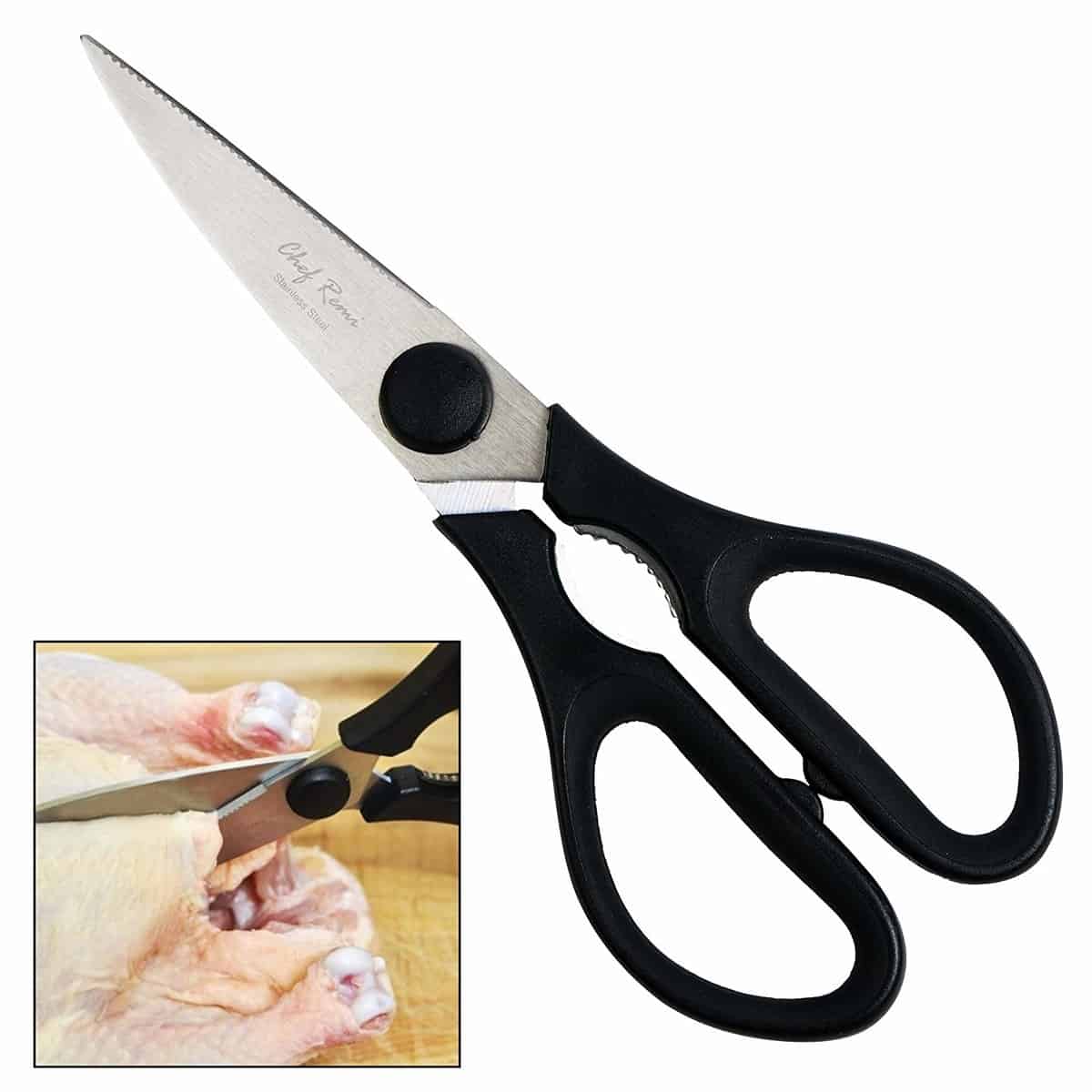 Whether you are a whiz in the kitchen or a walking disaster or just simply a mum struggling to fit in healthy meals between all the crazy chores you have to do, a good pair of shears is all you need to whip up a sumptuous fried chicken, and the right set can outshine most modern knife sets. Featuring micro-serrated blade edges designed to grip onto even the slipperiest of foods, these ingenious pair are the perfect ally to make a wholesome meal within no time at all.
The Chef Remi  shears boasts an ultra-sharp, stainless steel corrosion resistant blades that stay sharp for years and years to come and ergonomic handles that ensure that you're as comfortable as ever the whole time you're squeezing the shears. Plus, they are a smart solution for elderly people or those that have arthritis issues.
Highlights of the Chef Remi Multi-Purpose Utility Shears
Comfortable easy grip handles that make food preparation a breeze.
Sharp stainless-steel blades that make food prep a snip.
Chef Remi is awfully versatile and so whether its poultry shears, meat scissors, nutcracker or all-purpose utility scissors you're looking for, it won't let you down.
Interchangeable handle that makes it easy to use regardless of whether you're left handed or right handed.
Zwilling J.A. Henckels Twin L Kitchen Shears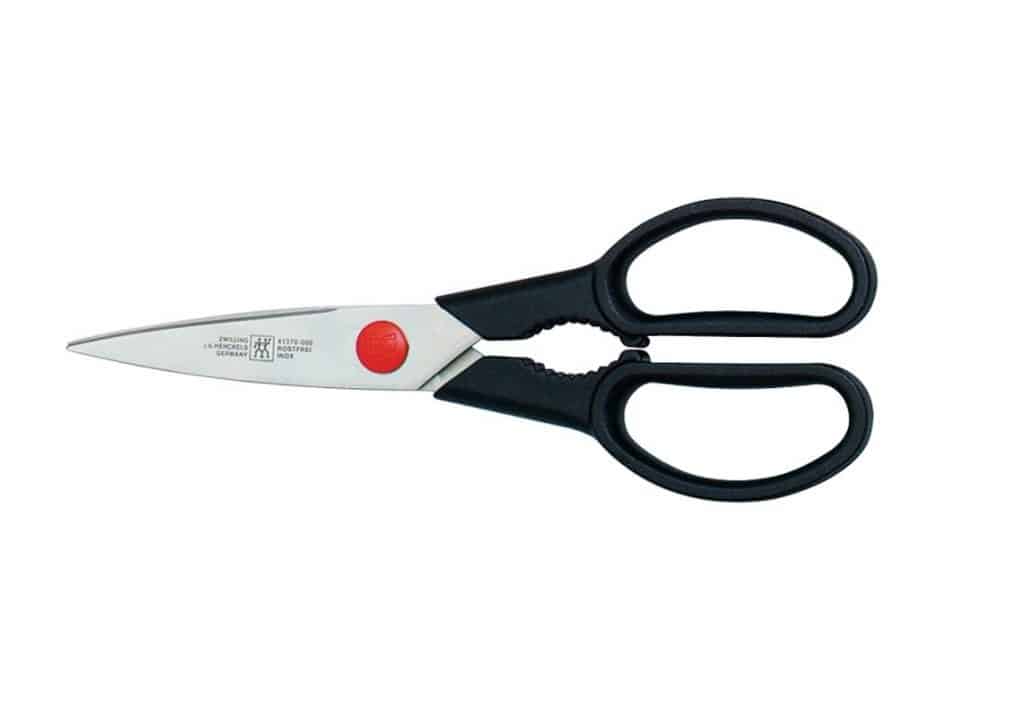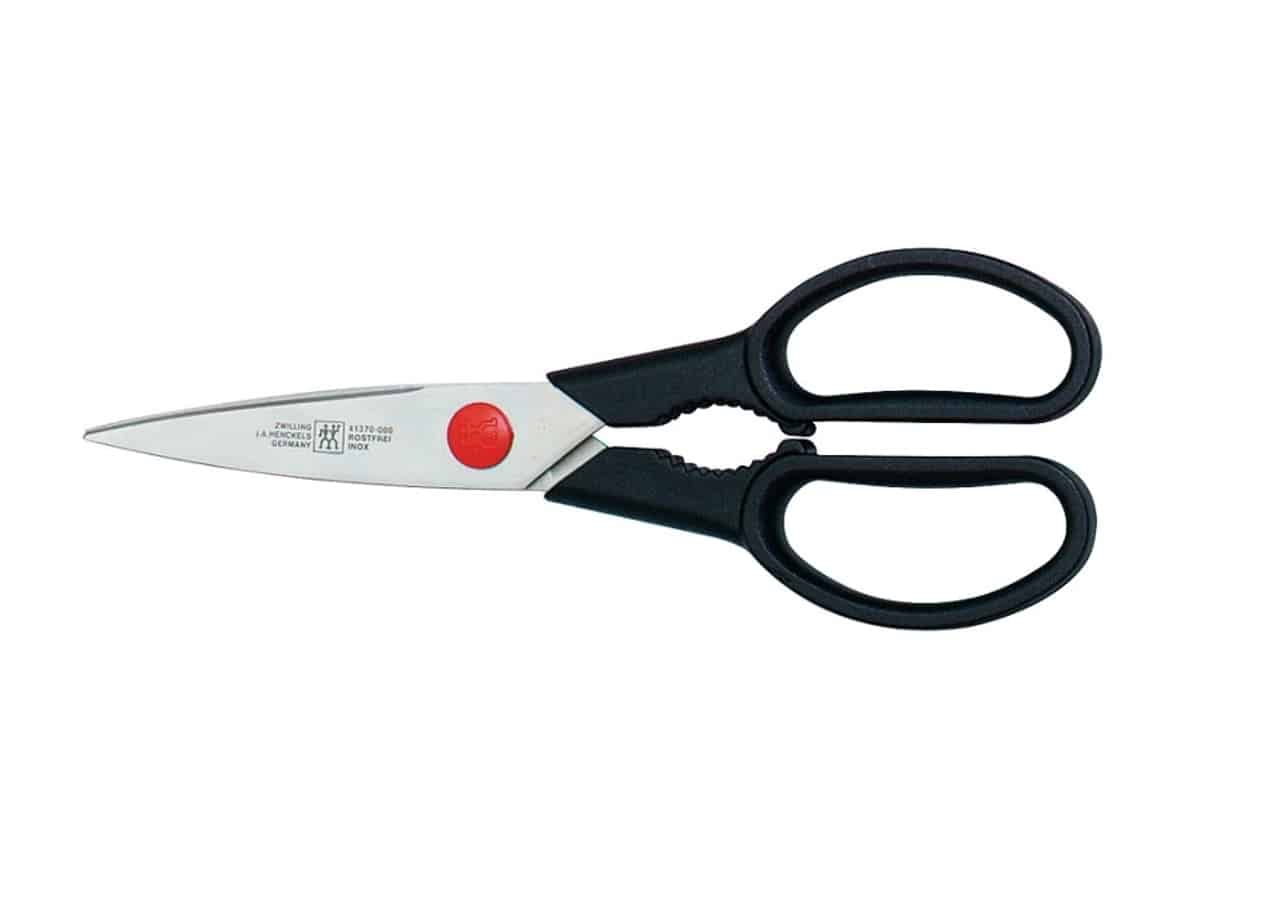 Synonymous with quality, the Zwilling J.A. Henckels International is a gold standard trademark for premium quality cookware, cutlery and kitchen tools around the world. However, while the shears offer a quick and easy solution to food preparation, they can only handle small tasks at a go and the blades don't come apart. But then again, they are quite unlike other shears you'll find on the market. So, you'll agree that this is a small price to pay for all its advantages.
Compact enough to take up minimal drawer space, the Twin L Shears have a remarkable sense of convenience that you'll no doubt appreciate. Not to mention, they also feature a nifty bottle cap opener integrated to the handle for all your bottle opening needs.
Costing a little under $25.00, this bargain pair of shears are really all you need to get started.
Highlights of the Zwilling J.A. Henckels Twin L Kitchen Shears
Spacious cushioned handles for comfort and control.
Easy to clean.
It is dishwasher safe.
Mroco Stainless Steel Kitchen Shears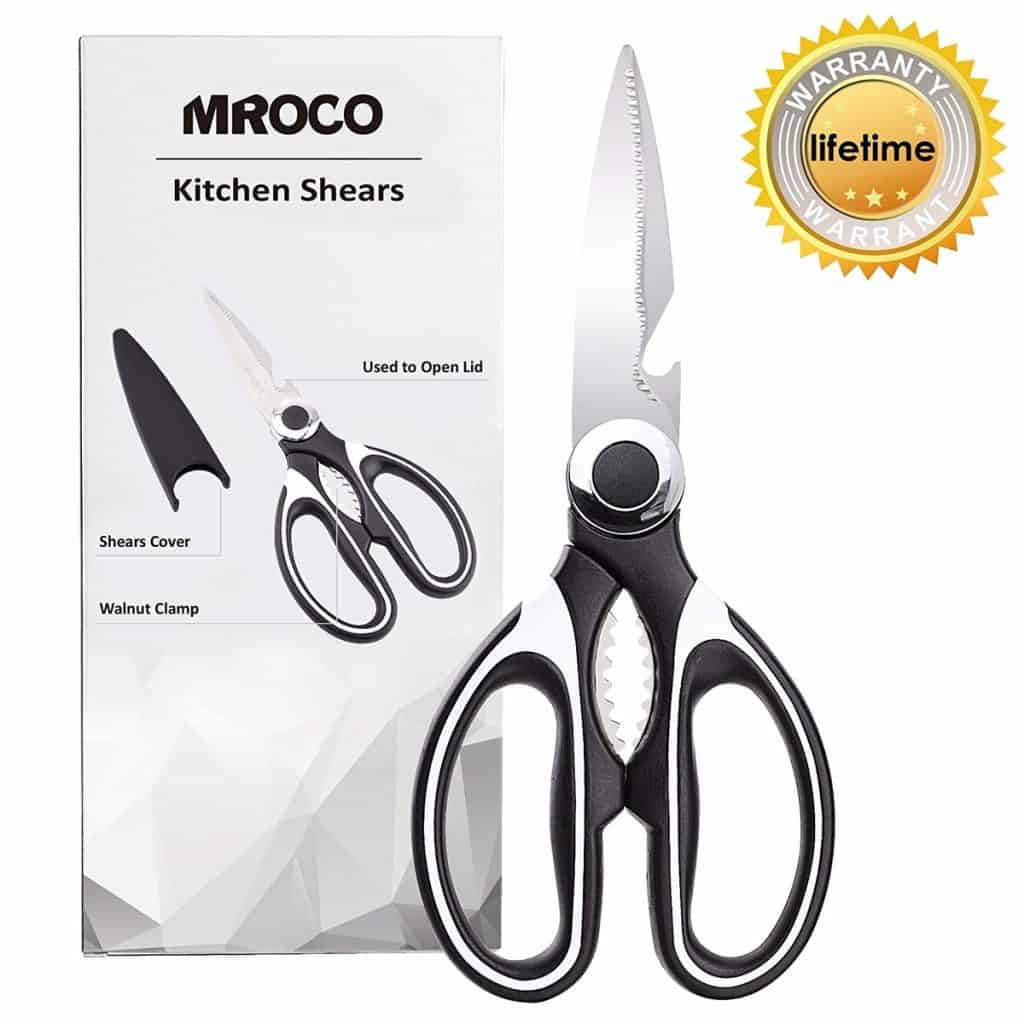 The Mroco Heavy Duty Stainless Steel pair of shears are the best in its class – and by a huge margin. With these, you can do pretty much anything from cutting meat, chicken bones, chopping vegetables, scraping fish scales and cracking nuts. According to Mroco, the shears are also corrosion resistant. However, you and I both know that it's better to be safe than sorry and so it'd be best to keep the pair in a dry place.
In addition, these Mroco shears have ultra-sharp blades that cut into just about anything easily making food preparation a snip. Not to mention, they are also quite the comfy pair.
Highlights of the Mroco Heavy Duty Stainless Steel Kitchen Shears
It is multifunctional and can do pretty much anything from cutting chicken wings, ribs, vegetables, poultry and seafood.
It is quite versatile and can double up as a bottle opener and nutcracker.
It is dishwasher safe.
Kitchen Aid Shears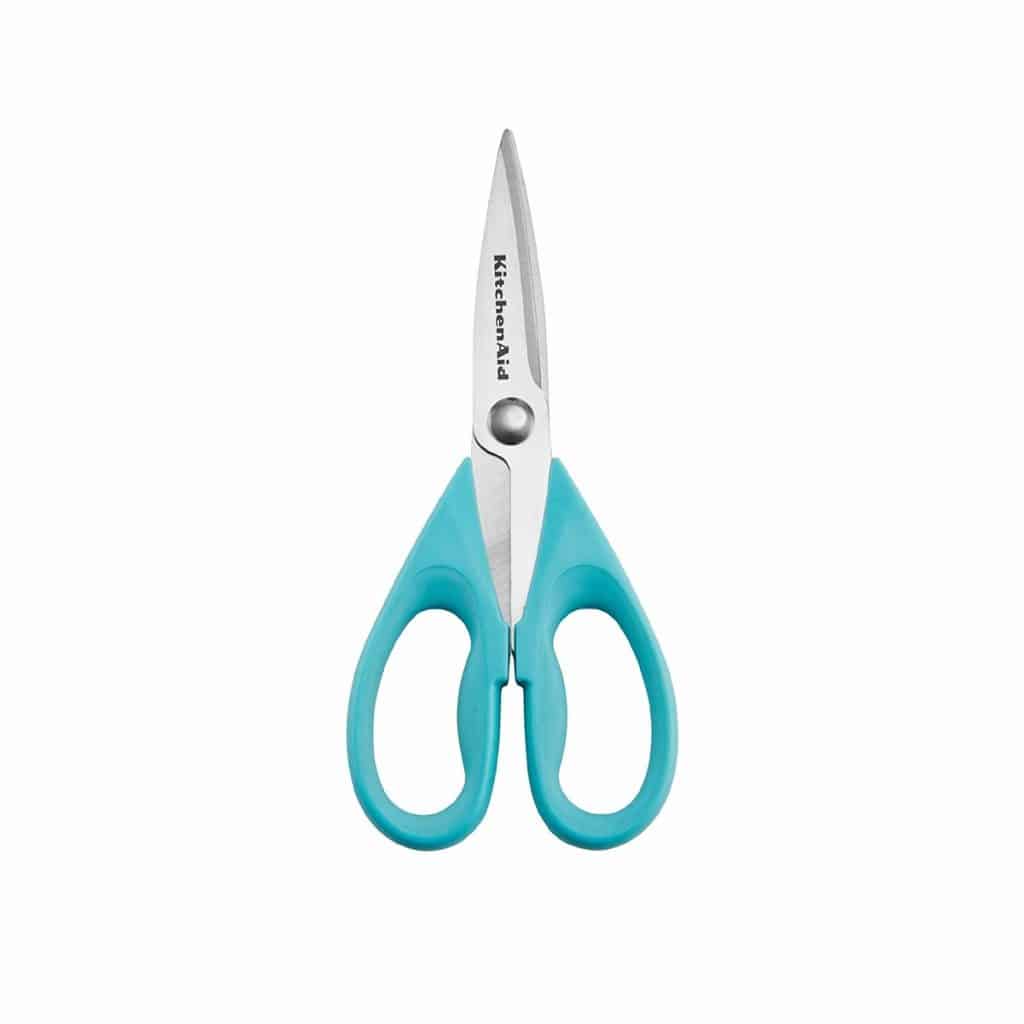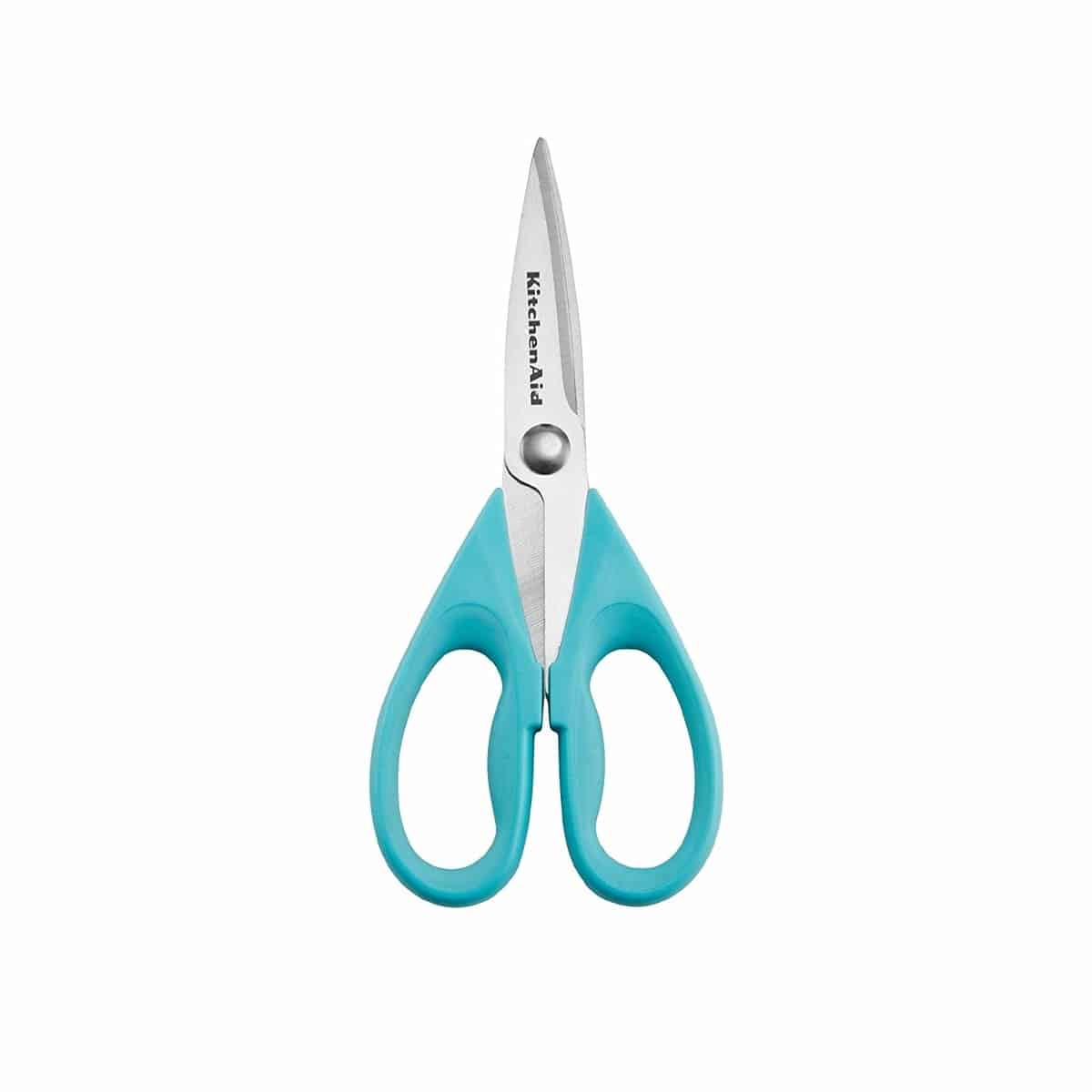 Being the iconic brand that it is, it makes perfect sense that the KitchenAid Soft Grip Shears make it to fourth place on our list today (And I'll tell you why). KitchenAid's soft grip shears get everything right. You can say that they are a sworn winner from the get-go.  Featuring micro-serrated blades for enhanced cutting performance, you cannot only cut through dry foods seamlessly, but you'll also have no trouble cutting through wet slippery foods either. The pair also features stainless steel blades that resist corrosion and comfortable handles that ensure maximum comfort.
Available in four different colors, this bargain-priced pair of shears make the perfect ally for someone looking to do basic kitchen tasks. Nothing too complex.
Highlights of the KitchenAid Shears
They are dishwasher safe.
KitchenAid shears are extra thick for added strength and durability.
Oxo Good Grips Spring-Loaded Poultry Shears

If you're on the market for a new pair of Oxo shears, you'll enjoy a dizzying array of remarkable choices. And the best? The Oxo Good Grips Spring-Loaded Poultry pair of shears. Ideal for cutting flowers, meat, twine, vegetables and cardboard, this tool is the perfect ally when you need to tackle a variety of tasks around the house.
Featuring micro-serrated blades that grip onto items securely to prevent slipping, this Good Grips pair of shears is without a doubt a cut above other shears. They are versatile and have soft plush comfortable handles that help make your work easier. Plus, you can always pull the blades apart when you want to do some cleaning.
Highlights of the Oxo Good Grips Spring-Loaded Poultry Shears
Pull apart blades that make it easy to clean.
Micro-serrated blades that grip onto foods and stuff securely.
Cushioning pads on the grip that help absorb the pressure so that you can prepare food with ease.
Wusthof WU5558-1 Come-Apart Kitchen Shears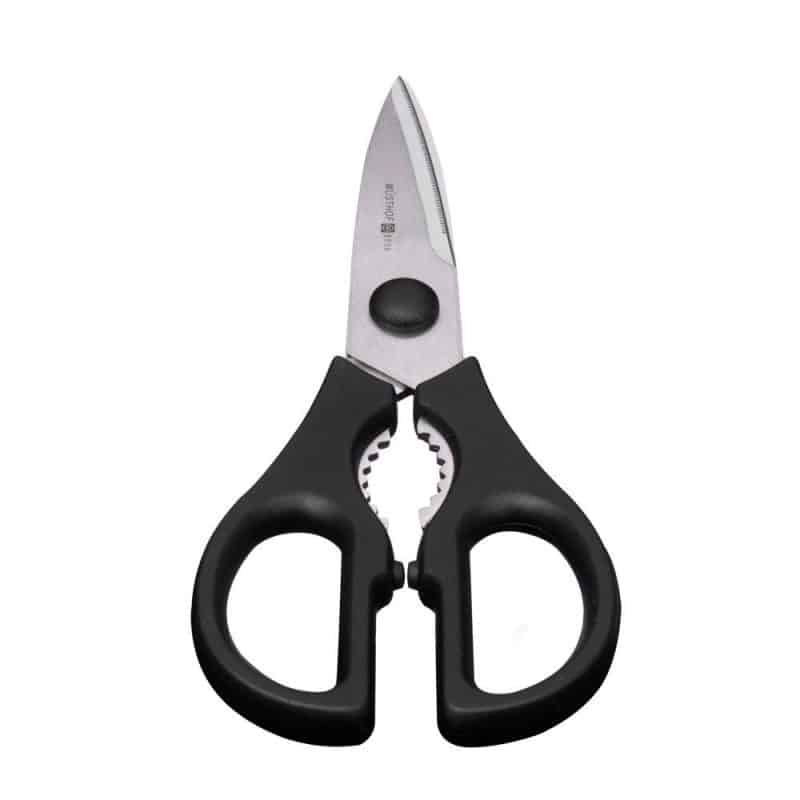 If your goal is to get dinner done just in time for the kids to eat before they fall asleep, you have two options: order take out or invest in tools that'll help make your food prep process a breeze. If you chose to cook a wholesome meal, you can't go wrong with these Wusthof scissors. We've got just the thing!
These powerful 8-inch shears cut anything from string to skin in a snip. They are well balanced and easily interchangeable to make it easier for both right-handed and left-handed users. Featuring serrated blades to help prevent slippage and provide a better grip, these multiuse shears will no doubt find many uses around your kitchen. As an extra perk, the shears can also be pulled apart to make cleaning the blades a seamless task.
Highlights of the Wusthof WU5558-1 Come-Apart Kitchen Shears
You can pull apart the blades to make cleaning and sharpening them an easy and seamless task.
It doubles up as a cutter and a jar opener.
Fiskars Fast-prep Herb Shears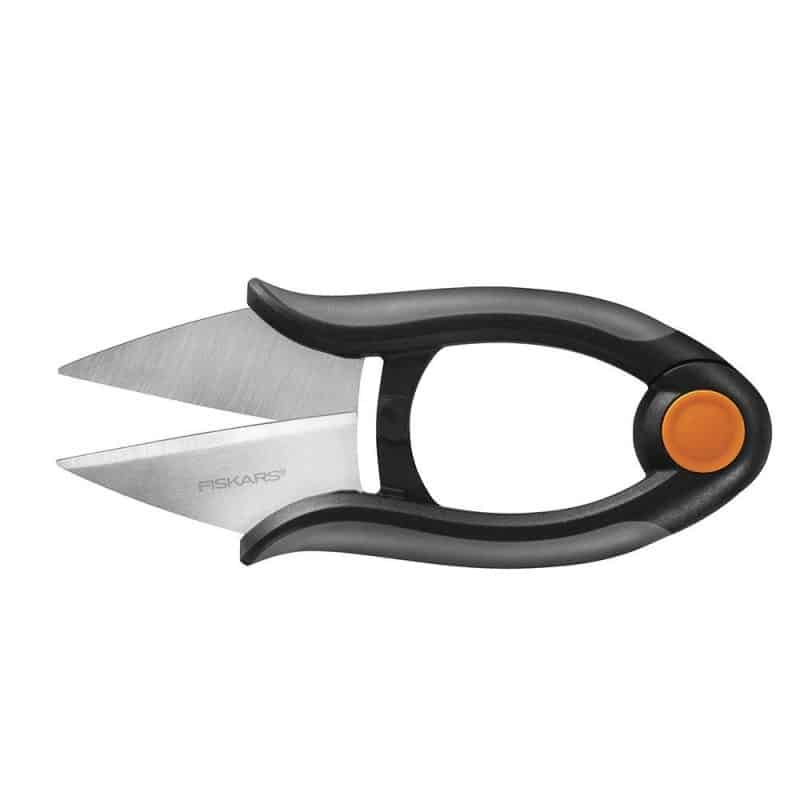 For those who want a pair of snippers that are both reliable and spectacular, you can have it all with the Fiskars Fast Prep pair of herb scissors. Engineered to put speed and control at your fingertips, these refreshing streamlined pair of shears make meal prep a breeze.
The shears also have a unique spring action design that makes every stroke of blades virtually effortless and they are also quite easy to clean.
Highlights of the Fiskars Fast-prep Herb Scissors
Full lifetime warranty.
Spring action design that automatically opens the shears after each cut to reduce hand strain.
Soft grip touch points that enhance comfort.
Sharp stainless-steel blades that make clean cuts.
Mairico Ultra Sharp Premium Heavy-Duty Kitchen Shears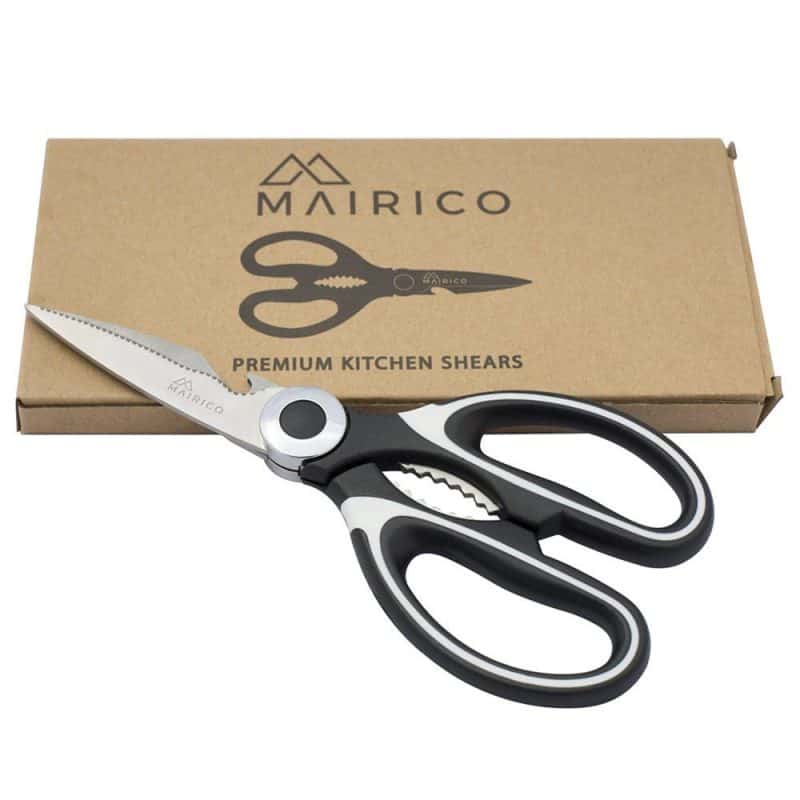 According to Mairico, the Mairico Ultra Sharp Premium Heavy-Duty shears are the best professional shears you'll find on the market. And we agree. Delivering impeccable performance and high quality both inside and outside the kitchen, this beautiful high-quality pair of shears is a cut above the rest when it comes to getting the job done.
Costing as little under $10.00, this bargain-priced pair of shears drives a good bargain in as far as affordability goes. The blades are extra sharp to deliver precise cuts with minimal effort and quite versatile too meaning you can do pretty much anything from cutting vegetables, meat, herbs, fish and butterflying a chicken. In fact, we think that these are the best kitchen shears for cutting chicken. So, if you need poultry shears, try these.
As an extra perk, you can also use it to open bottles and crack nuts too which means you get more than what you paid for.
Highlights of the Mairico Ultra Sharp Premium Heavy-Duty Kitchen Shears
Mairico shears are quite durable.
Ultra-sharp blades that deliver precise cuts with minimal efforts.
The handles are ergonomically designed to provide a comfortable grip.
It is super light which helps make performing your chores effortless.
Gelindo Kitchen Scissors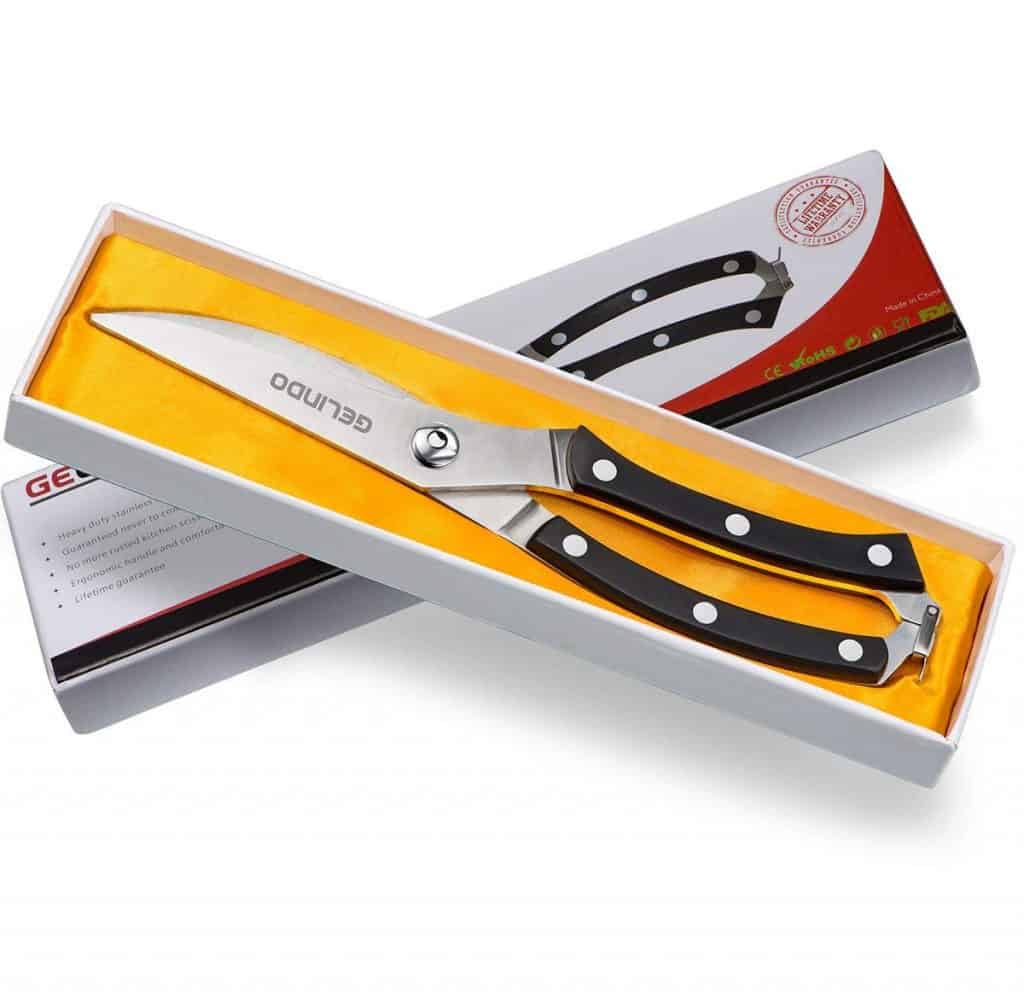 Most of your ammo will probably be pretty much basic. However, Gelindo makes sure that everything from the packaging is carefully thought of to give you a remarkable experience. The Gelindo shears is wrapped with a beautiful package which makes it hard to miss and has sharp blades that cut through just about anything seamlessly. The shears also boast of a triple riveted 4mm stainless steel construction that spans from tip to end to guarantee unmatched durability for years and years to come.
Highlights of the Gelindo Kitchen Scissors
They are easy to use.
They are versatile and can cut through pretty much anything.
They are backed with a 100% worry-free lifetime warranty. 
All-Clad C3220908 Stainless Steel Kitchen Shears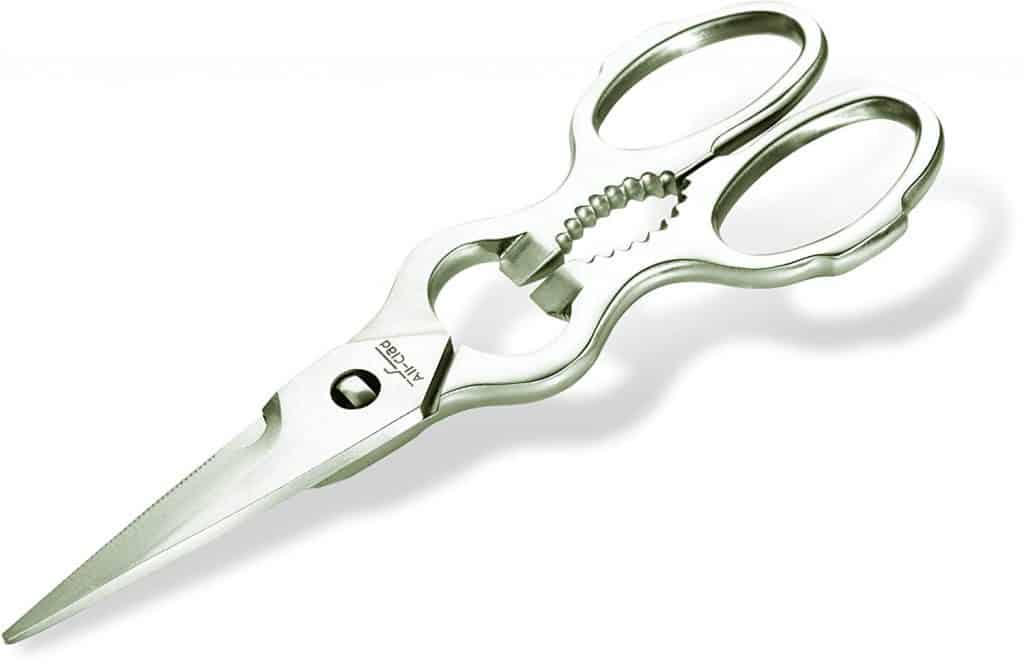 Constructed of a tough brushed stainless steel material, these sleek shears tackle pretty much anything from cutting food, paper, flowers, and cardboard. They are well balanced and interchangeable to make it easier for both left-handed and right-handed users and have an upper blade that's micro serrated and finely honed edges for precision cutting.
The shears are 7.5 inches in length and the blades come apart quite easily when you need to clean or sharpen them. Not to mention they also come with a bone notch which makes cutting through joints and bones a breeze.
Highlights of the All-Clad C3220908 Stainless Steel Kitchen Shears
They are dishwasher safe.
They pull apart easily for easy cleaning and sharpening.
They feature micro-serrated blades for precision cutting.
Frequently Asked Questions
Kichen Shears Vs Scissors: Are kitchen shears and kitchen scissors the same thing?
In common parlance, shears and scissors are one and the same thing. However, technically speaking, shears have longer blades than kitchen scissors. In addition, scissors often have symmetrical, equally sized finger holes handles whereas shears have different sized handles.
Are kitchen shears dishwasher safe?
Yes. Well, at least most of them are. However, in order to keep the blades sharp, it's better to hand wash them instead.
Are there different shears for cutting different foods?
Yes. There are poultry shears which are typically longer and heavier than regular shears. Then there are much smaller shears which perform much smaller tasks like snipping herbs. And lastly, there are special shears for proteins and fish. However, unless you are a professional chef, you will do just fine with one good pair multi-use kitchen shears.
What do you use a kitchen shear for?
There are plenty of things you can do with shears around the kitchen. However, the most obvious uses include deboning poultry, snipping herbs and cutting open food packaging.
Kitchen shears are not your typical kitchen or steak knives. You might not even like them much at first. But take my word for it; good shears will save you a lot of heartache around the kitchen. They are efficient, reliable and a jack of all trades which is exactly what you need to make meal prep a seamless task. And the best thing is that they come in a variety of designs which means you can find the best kitchen sheers that suit your fancy quite easily.