The KitchenAid KDTE334GPS dishwasher has a ton of amazing features: enough room for all your utensils and silverware, shelves and tines that are foldable, adjustable racks, bottle jets, to spray arms, and even a third dish rack. The KitchenAid KDTE334GPS dishwasher is a quiet and gorgeous machine that will class up your kitchen.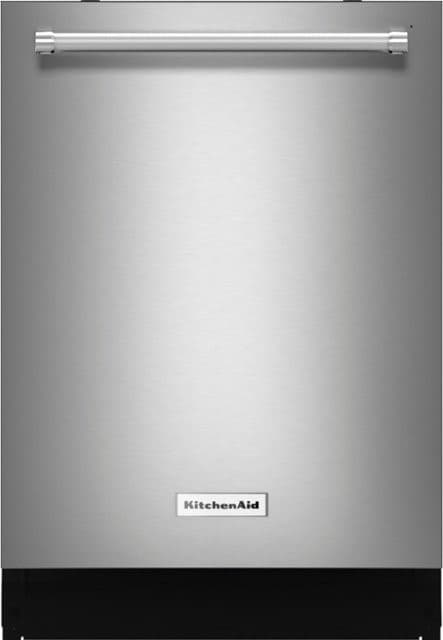 Compared to Bosch dishwashers, the KitchenAid KDTE344GPS is a great alternative if you don't want to spend the kind of money you would on a Bosch. Bosch and KitchenAid dishwashers have powerful wash cycles, great drying cycles, third racks, and are both made in America.
Pros
Nearly inaudible when running (39 dBA)
Gorgeous look
Three dish racks
Fingerprint resistant exterior
Cons:
Poor washing quality
The handle moves a little
The Brand
KitchenAid is owned by Whirlpool Corporation, the biggest appliance manufacturer in the United States, and is considered to be a premium brand.
Whirlpool Corporation is based out of Michigan but has plants all across Northern America. Whirlpool is a well-known brand and has been around for over 100 years.
Appearance and Design
KitchenAid appliances have always had a great design and sleek appearance and the KDTE334GPS is no different. The outside design is very simple and has a premium feel to it, while not breaking the bank.
One of the biggest flaws with a lot of dishwashers is finger print staining. However, the KitchenAid KDTE334GPS is finger print resistant and even has a great handle at the top to make opening and closing easy.
The controls are very simple to use and are hidden at the top of the washer door, which helps with the sleek overall appearance.
Features and Benefits
The KitchenAid KDTE334GPS dishwasher is gorgeous because of its sleek body and durable, heavy-duty appearance.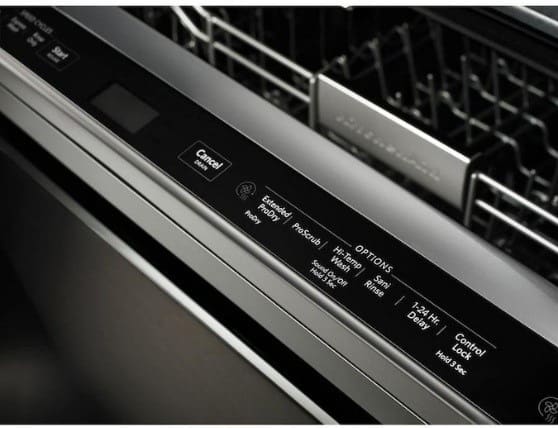 The inside of the machine is made from reflective stainless steel that will draw light into the machine so you can see inside the machine better.
When using the KitchenAid KDTE334GPS dishwasher, you'll notice that it's extremely quiet. It only produces 39 dB of sound and is considered to be one of the quietest dishwashers on the market today.
There are three dish racks inside the machine; the top one is a flat, shallow rack that is great for laying down cooking utensils. The middle rack can easily be adjusted so that tall plates and pots can be washed in the bottom rack.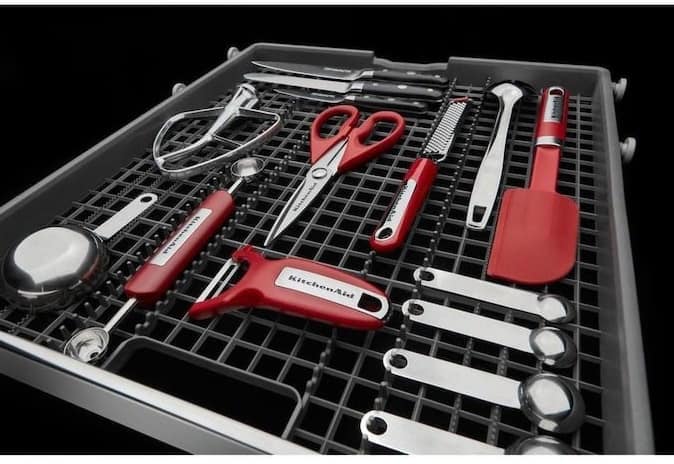 With all three racks, you can fit an entire service for 12 people inside the dishwasher, and you'll find that your cutlery will easily slide into the angled slots of the silverware basket.
Washing Cycles
There is an automatic cycle that you can use with this dishwasher, where the machine will sense how dirty the dishes are and adjust the wash cycle to match the dirtiness of your dishes. This machine can also be run with an Express Wash, which cuts the washing time significantly.
The normal cycle is said to take around three hours, and the heavy cycle can take four hours to completely wash and dry your dishes. If you're someone who likes to "set it and forget it," this dishwasher is a great option.
Another thing to note is that the heavy cycle does the best job at cleaning your dishes, and the quick cycle does a better job than the normal cycle.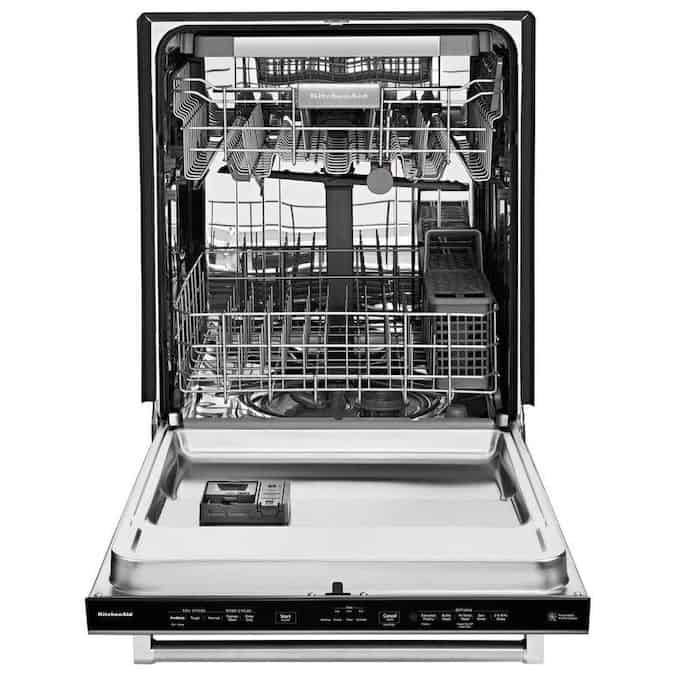 The downside is that the KitchenAid KDTE334GPS doesn't always do a great job cleaning leftover food and residue off of your dishes. So, you might have to commit to rinsing and scrapping your dishes before loading the dishwasher.
Conclusion
The KitchenAid KDTE334GPS is an amazing dishwasher that not only looks great but also performs great and runs quietly.
If the thing you're looking for with a new dishwasher is that it looks stunning in your kitchen and is very quiet when running, the KitchenAid KDTE344GPS might end up at the top of your list.
However, this machine's main problem is that it takes a long time to run through cycles and leaves behind food residue on your dishes. Compared to many other dishwashers, this machine is a great alternative if you aren't looking to spend as much money.