There is an old proverb that goes, "A sharp knife is a chef's best friend."  We don't know who originally said it, but we have a pretty good guess that this person was a chef themselves.
Ask any culinary professional these days what their most important tool in the kitchen is, and they will invariably reply, "A good, sharp knife." That's because knife-work is at the heart of nearly every dish that comes out of the kitchen, whether it's the fanciest 3 Michelin Star joint in the city, or your very own kitchen.
However, very few people are sharpening their knives often enough. Whether they are intimidated by the process or simply too busy to get it done, they are doing themselves a disservice. Sharp knives are faster and more efficient with food product, so what exactly is the deal here?
The best knife sharpeners are the ones that make the process easy and reliable, while not being too expensive for the everyday chef to afford. Below, our team is having a look at the 12 best knife sharpeners of the year, breaking it down by style, functionality, and value. Afterwards, we are going to go a bit deeper into the question of how, exactly, to choose a sharpener that suits you and your specific purpose.
"A Sharp Knife is a Safe Knife": Why You Should Keep Your Knives Sharp
There are some people out there who are actually frightened by the concept of a very sharp knife. And for good reason, too. According to the University of Rochester, dull knife blades lead to more injuries because dull knives require more pressure to make the same cut. That increased pressure increases the damage that will be done if the knife happens to slip.
In addition, a very sharp knife also "bites" more effectively into the food surface, which reduces blade slipping altogether, even on those pesky, slippery tomatoes. Dull knives slip way more often, which can lead to injury.
So if you want to avoid the unpleasantness of a sudden deep cut, the first thing you should do is make sure that your knives are adequately sharpened.
Top 12 Knife Sharpeners
Whetstone Knife Sharpening Stone: 2-Sided Knife Sharpener Set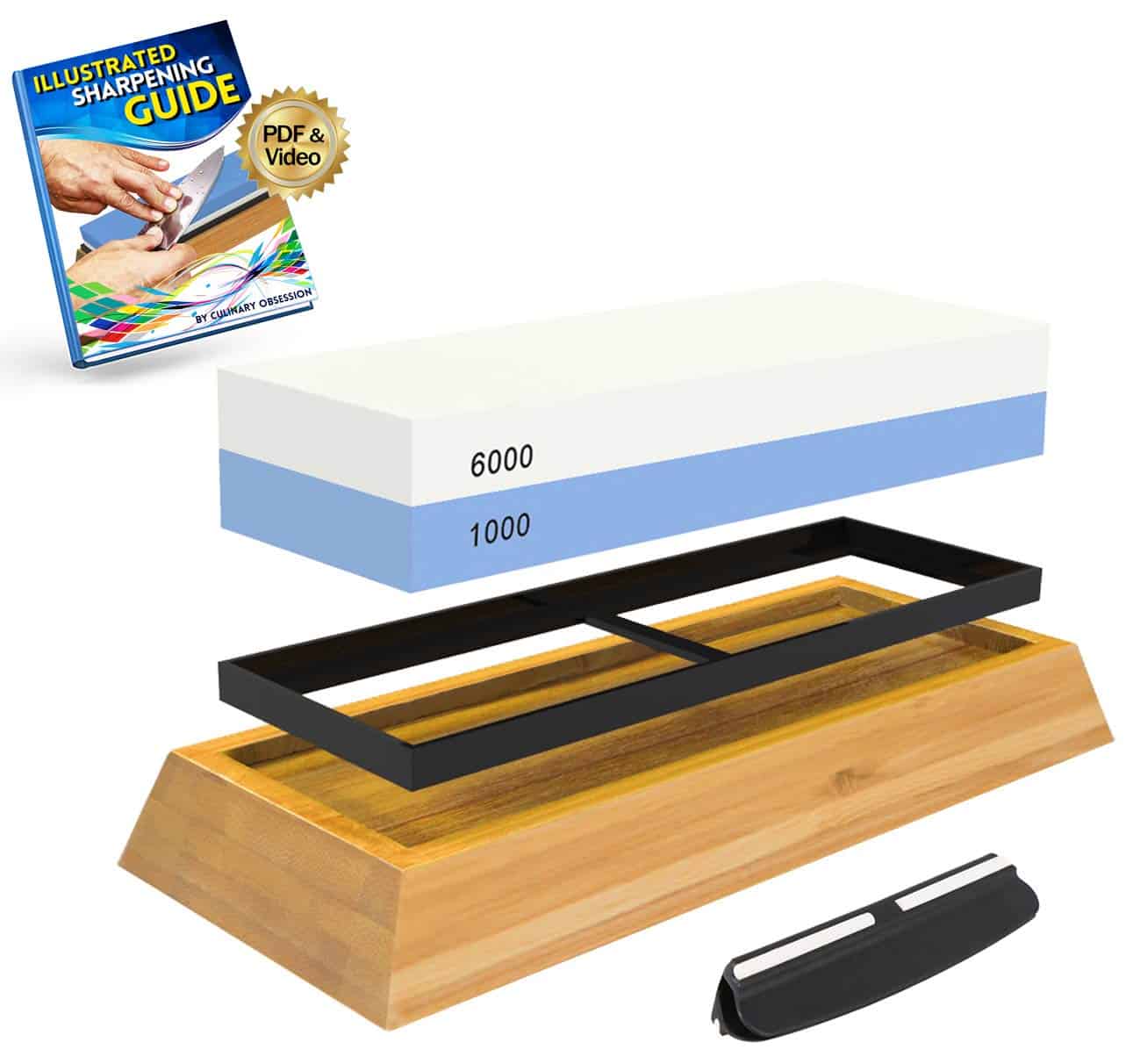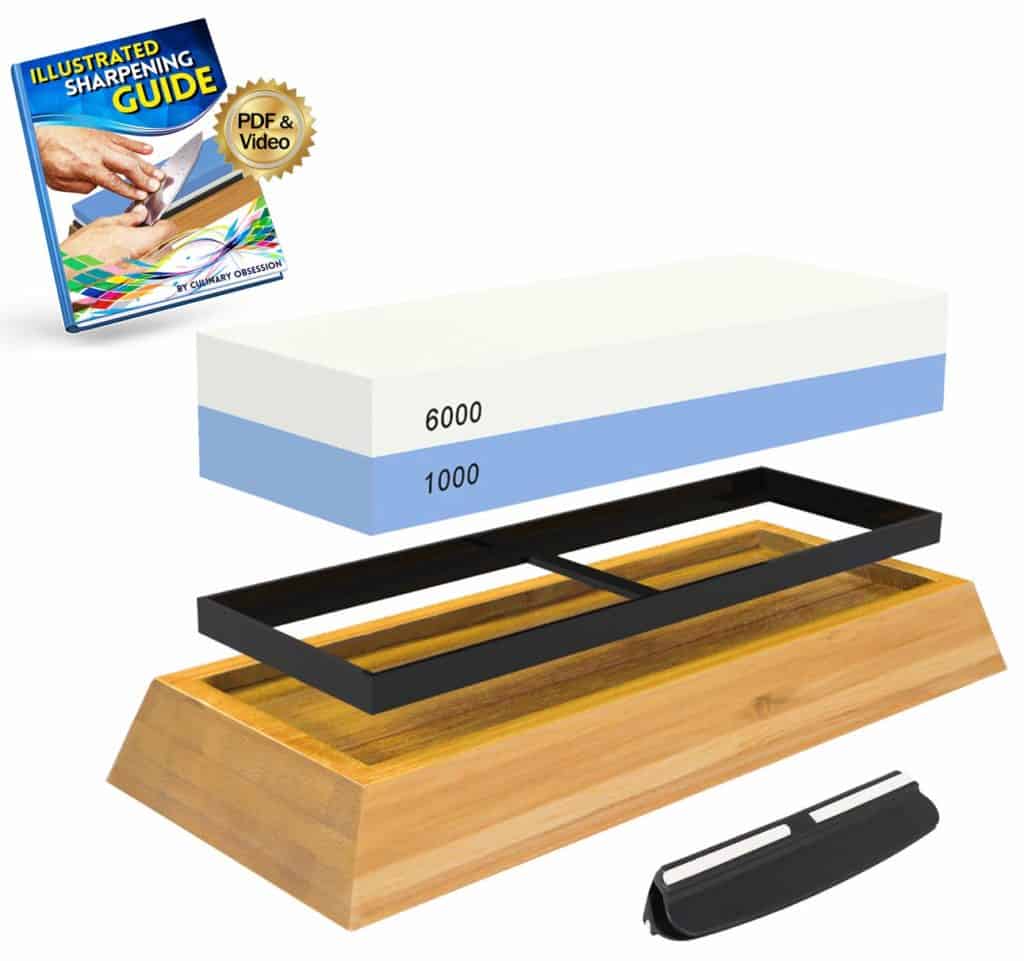 If you ask a handful of Chefs what their personal preference is on sharpening their favorite knives, there is a good chance that a majority of them will tell you that they will only trust a whetstone to get their blades to where they need to be. While electric blade sharpeners have a lot of advantages, chiefly the ability to sharpen a knife in less than a minute, they do not offer the kind of control and customization that a whetstone offers.
Here's the deal. With a whetstone, the cutting angle is entirely controlled by the user. This means that my altering the angle at which the blade is being pulled across the stone will alter the final cut angle, and therefore the sharpness. In addition, the ability to flip the whetstone and access two different grits (1000 and 8000) means that even more control is possible.
The other significant but less obvious benefit to a whetstone over an electric knife sharpener is that it allows the user to sharpen any knife that they have. Electric sharpeners, as well as most manual knife sharpeners, usually have a set cut angle that can not be modified for different styles of knife, for instance, a 20 degree German style kitchen knife versus a 15 degree Japanese style kitchen knife. Even filet knives can get in on the fun.
They may take a bit of practice to master, but every good chef should at least know how to use one of these, if they don't already.
The Specs:
Brand: Culinary Obsession
Type: Manual Whetstone
Model #: CUL-MN-W01
Top Feature: A great gift idea for the culinary-inclined
AccuSharp 001C Knife Sharpener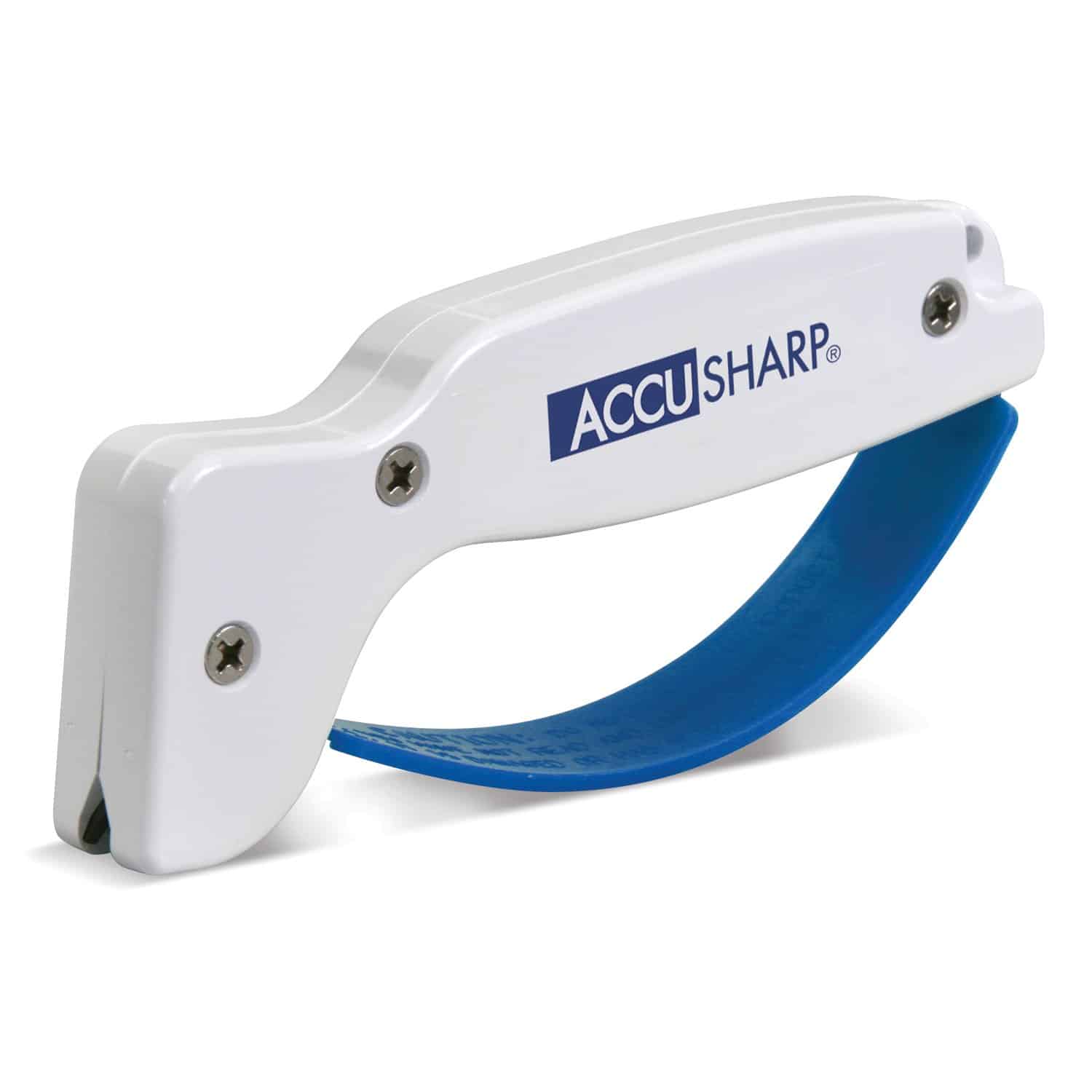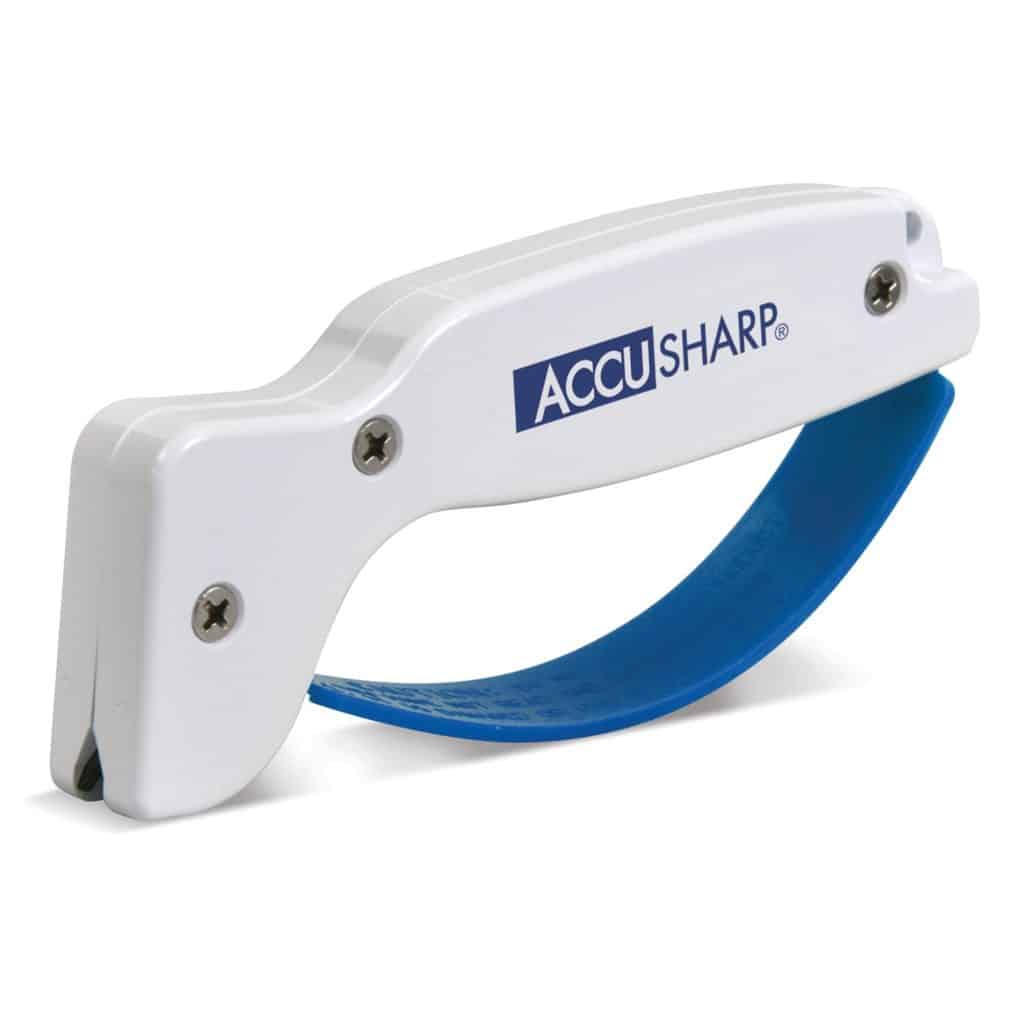 The AccuSharp 001C is one of the most ubiquitous handheld knife sharpeners on the market. Peek into any restaurant or food truck and you will likely see one of these hanging near the knife rack. It is not a surprise, either. The 001C is not only remarkably lightweight and affordable but it is also one of the most user-friendly manual knife sharpers that you can get.
The 001 is so easy to use that it actually only takes about 10 seconds to adequately sharpen just about any knife. Unlike most electric sharpeners, no oil is involved which means the entire process is entirely mess-free.
A full-length finger guard protects the user from accidentally running their knuckles across the knife blade while it is being sharpened. This feature alone is probably why this particular model has caught on the way it has in so many kitchens and restaurants nationwide.
The downside to a manual knife sharpener with a per-determined cutting angle is that it is not very effective for thicker blades. While thin knifes can be sharpened adequately, things like hatchets, machetes, and axes will become duller with the use of this product, not sharper.
The Specs
Brand: AccuSharp
Type: Manual Handheld
Model #: 001C
Top Feature: Very affordable
SunrisePro Supreme Knife Sharpener for all Blade Types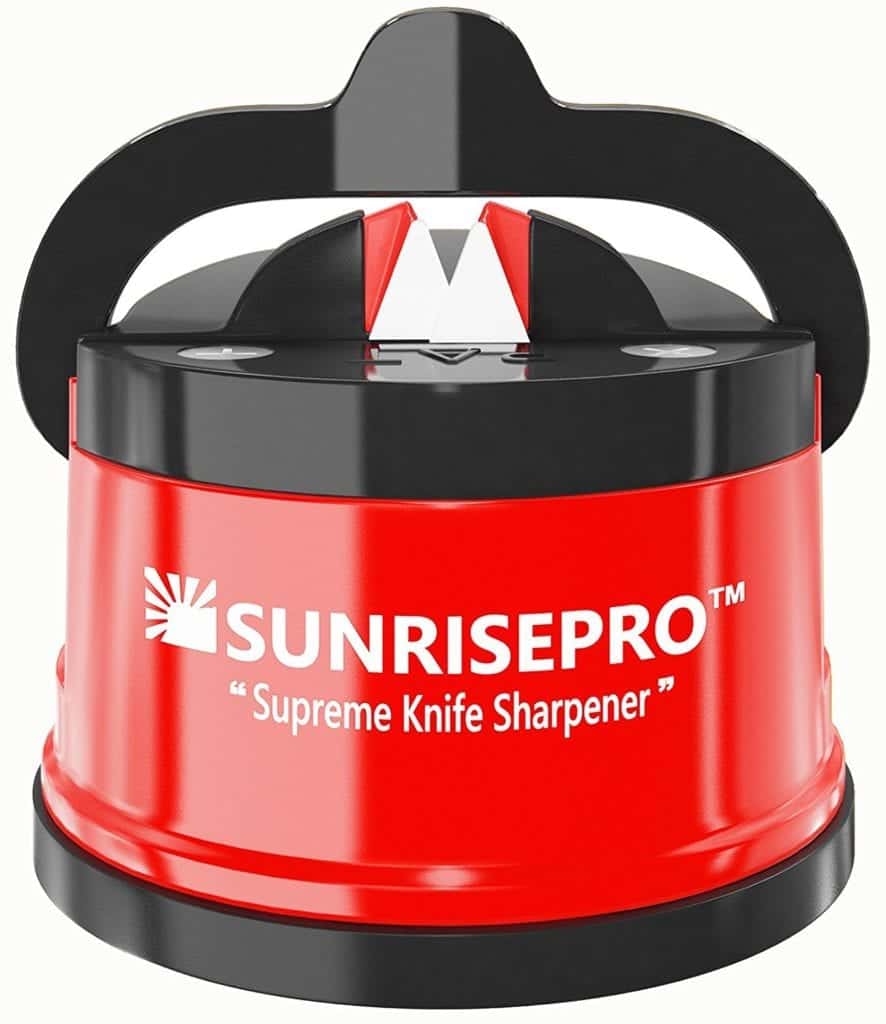 Whether you're looking to sharpen your pocket knife, hunting knife, or professional knife, you will not find a more effortless experience than with the SunrisePro. It is one of the most well-designed hand powered knife sharpeneners that we have had the pleasure of reviewing.
The benefits of this little product were immediately apparent. The first thing you will notice upon unboxing is the big heavy duty suction cup on the bottom of the sharpener. This is the mounting system, and it is hard not to love it immediately. Unlike a lot of manual knife sharpeners that are hand-held, the SunrisePro mounts firmly to a prep table or kitchen counter, allowing the user to pull the blades across the sharpening surface with both hands. Not only is this a far safer method, but it also stabilizes the blade and prevents uneven cuts, which can lead to poor blade performance.
The compact nature of this unit is surely going to make it a classic for small to medium sized home kitchens. It cuts at a fixed 20 degrees, which is more than appropriate for home kitchens, but might not be sharp enough for some Japanese-style knives. It does however work great for serrated knives as well, which makes it more than worth while for the up and coming gourmand.
The Specs
Brand: SunrisePro
Type: Manual Pull Through
Model #: JHCL-1
Top Feature: Suction-cup mounting system with good grip power
Lansky 8" Sharp Stick-Med. LSS8CM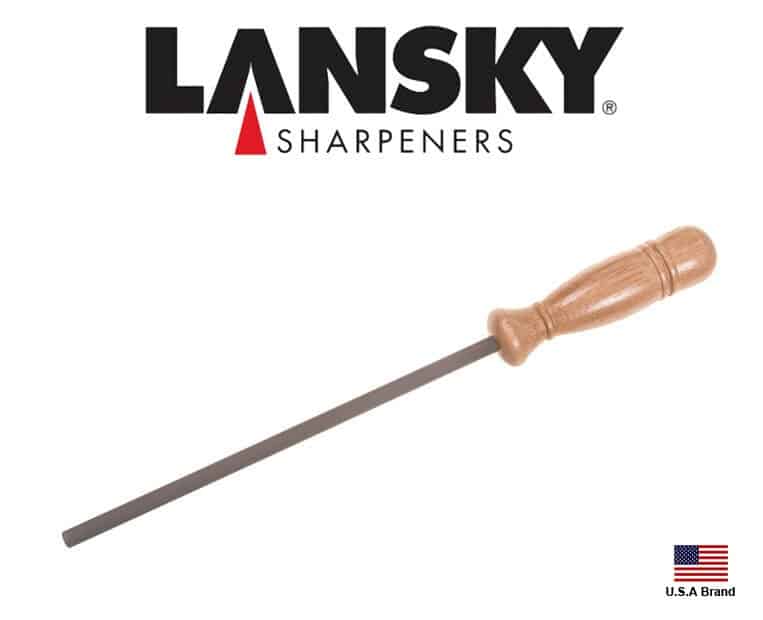 There are a lot of people out there who do not think very highly of sharpening rods, choosing instead to stick with their expensive electric oil sharpeners. Some of these people simply cannot believe that a sharpening rod of this size can provide any valuable degree of sharpening, considering both the round shape of the rod itself and the smooth surface of it.
The truth is that these sharpening rods are more than capable of keeping a razor sharp edge on even the most high-end kitchen knives. While they are more appropriate for daily honing rather than periodic "deep-sharpening", they remain a valuable tool in any Chef's personal collection.
One thing that you might not notice from the description is that this rod is 8" long, which is actually a few inches shorter than most of the sharpening rods that you may have encountered in your career. While the reduced length has no effect on the actual sharpening ability, it might take some time to get used to the modified sharpening motion required for a shorter rod.
The Specs:
Brand: Lansky Sharpeners
Type: Manual Medium-Grit Sharpening Rod
Model #: LSS8CM
Top Feature: Very small and easy to use
Wusthof PEtec Electric Sharpener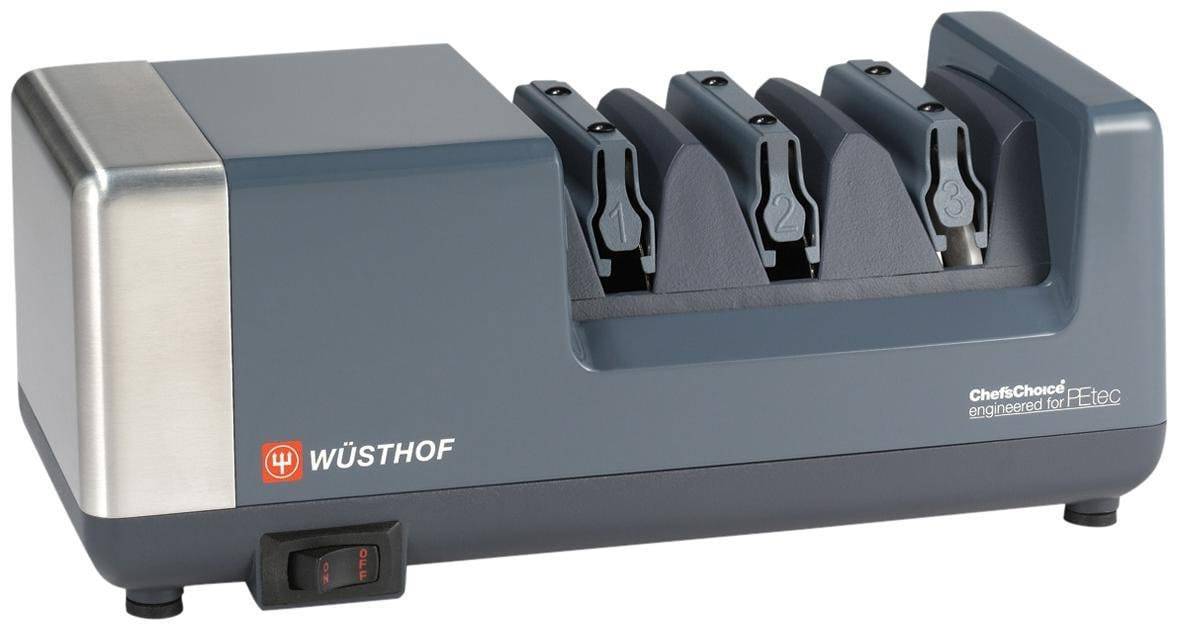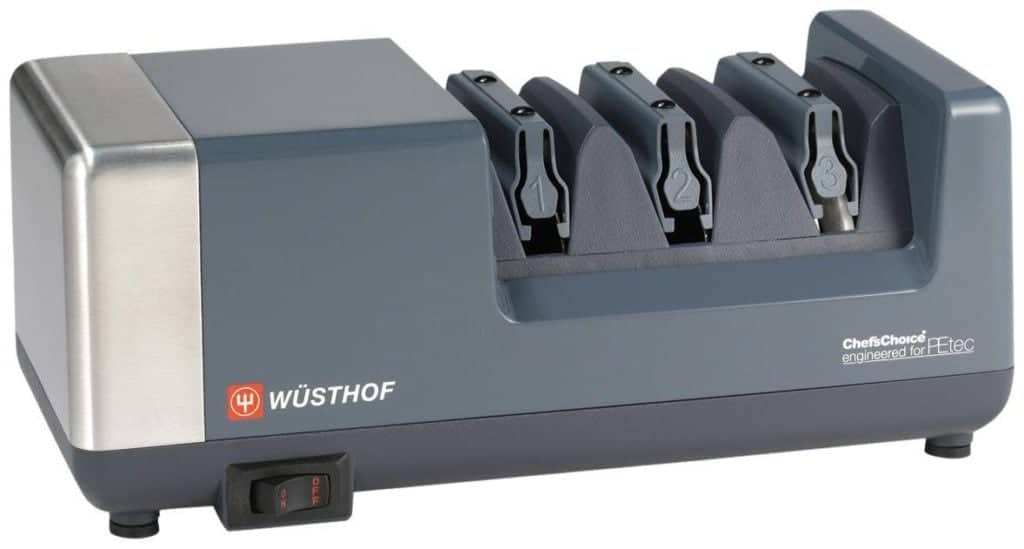 The first fully electric knife sharpener on our list also happens to be the first one that is made by a prominent global knife manufacturer. Wusthof is a 200 year old knife maker based out of Germany that has managed to stay relevant as the wide world has changed around it. Today they are known for making some of the best German style kitchen knives around, so you can go ahead and take their word for it when they say that they've made an electric knife sharpener with the same level of quality.
This three stage sharpener is specifically designed to make your knifes as sharp as they can possibly get. In fact, we have heard multiple stories about people who underestimated the effectiveness of a machine like this and were surprised at how amazingly sharp their knives had actually gotten.
It is true that this unit is designed for Wusthof knives, and will perform best with that particular kind of steel. However, it is an effective electric knife sharpener for any decent professional knife.
The Specs:
Brand: Wusthof
Type: Electric Pull Through
Model #: 2933
Top Feature: Engineered by a globally reputable knife company
Fallkniven DC3 Whetstone Diamond Ceramic Knife Sharpener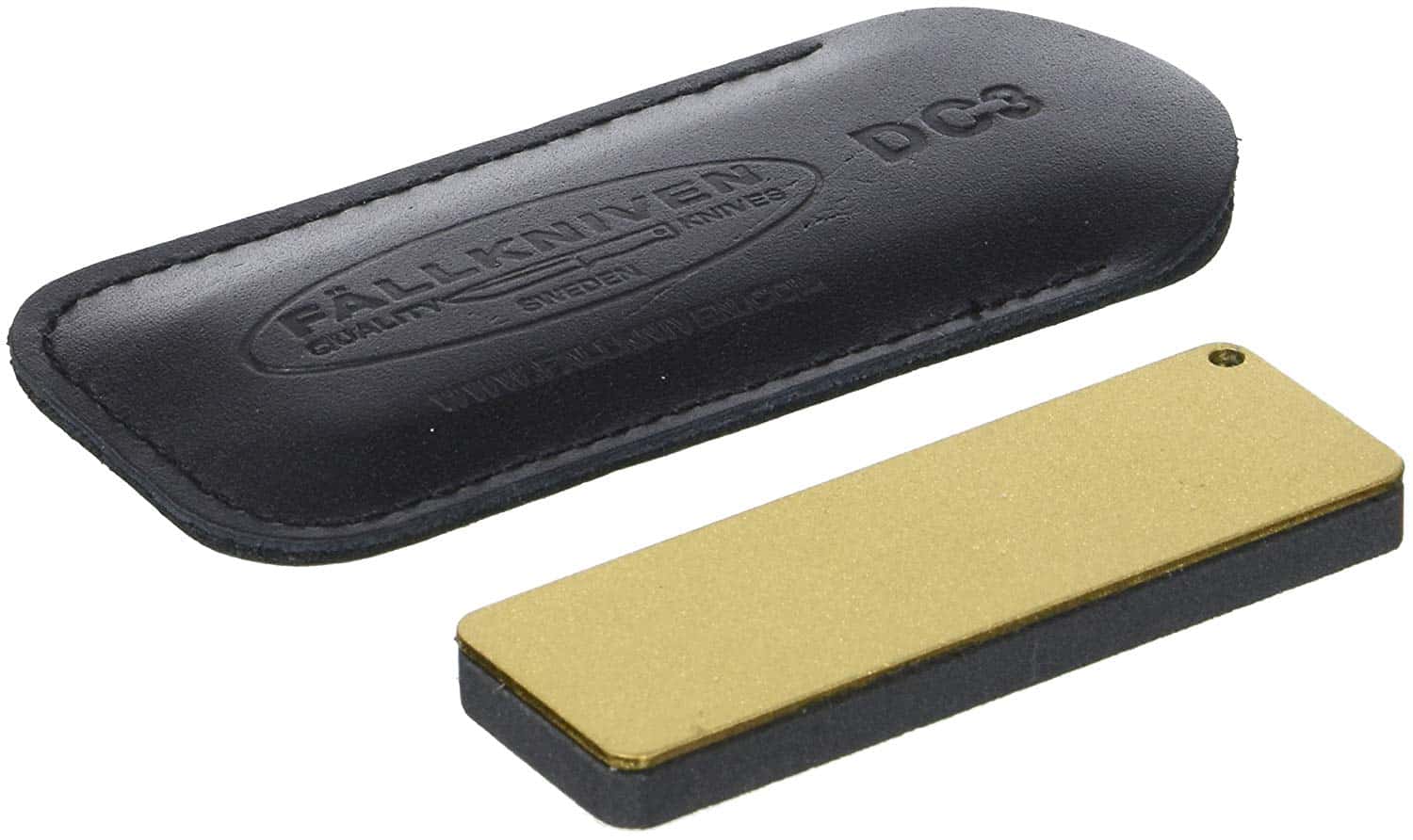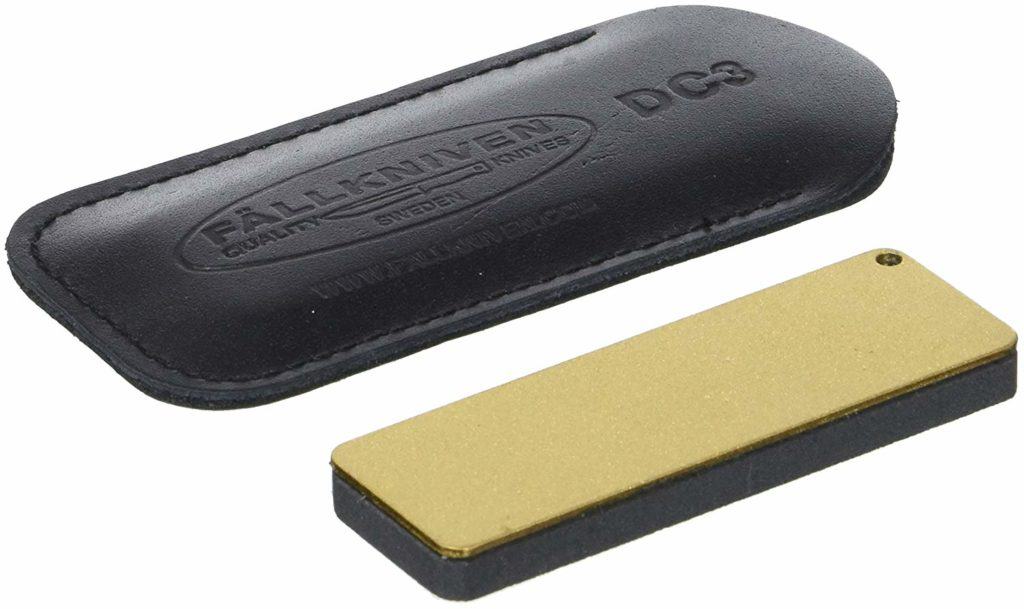 There is a reason that we are still using pocket sized sharpening stones after hundreds of thousands of years. It's because they are extremely effective, and they require nothing other than the knife blade and the stone itself to get the job done. The ability to carry a whetstone around is no doubt what separated the good hunters from the great hunters. Today, a person who carries their own whetstone is no doubt a person if considerable grit and resourcefulness. These are the kinds of people you want around when things start to go south.
At one 1.6 ounces this is hands-down the lightest and most portable knife sharpener on our list. It is small enough to fit into most pockets, which makes it a must-have for hunters and long distance hikers who need to keep their blades sharp.
It is true that a manual whetstone of this size is going to take some time to get used to. With the limited size it might be difficult for some users to get the hang of it, but if they stick with it they might never want to use their electric knife sharpener ever again.
The Specs:
Brand: Fallkniven
Type: Manual pocket whetstone
Model #: DC3
Top Feature: Very portable
Top Feature: Highly-adjustable cut angles
Chef's Choice 316 Diamond Hone Knife Sharpener for 15-Degree Knives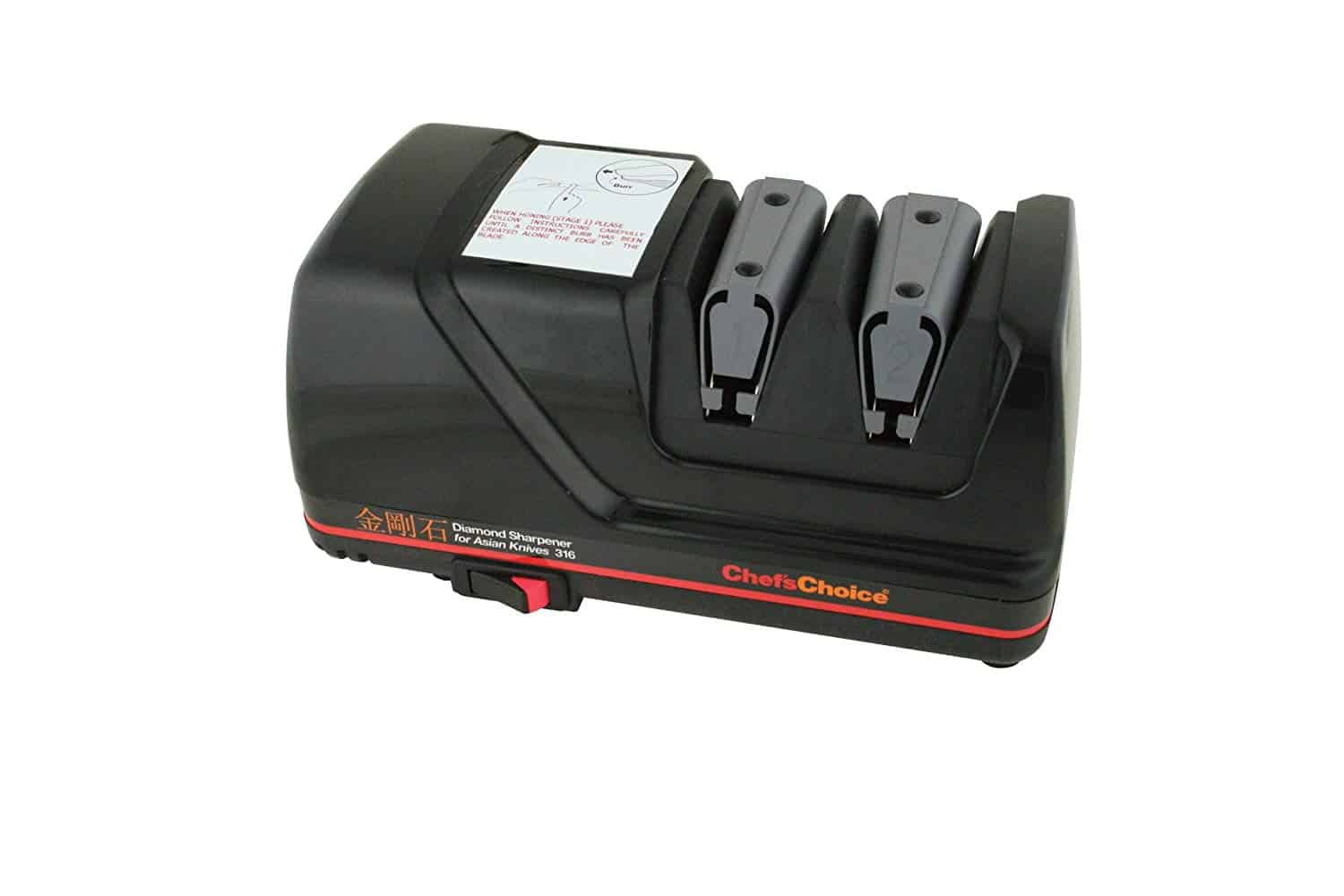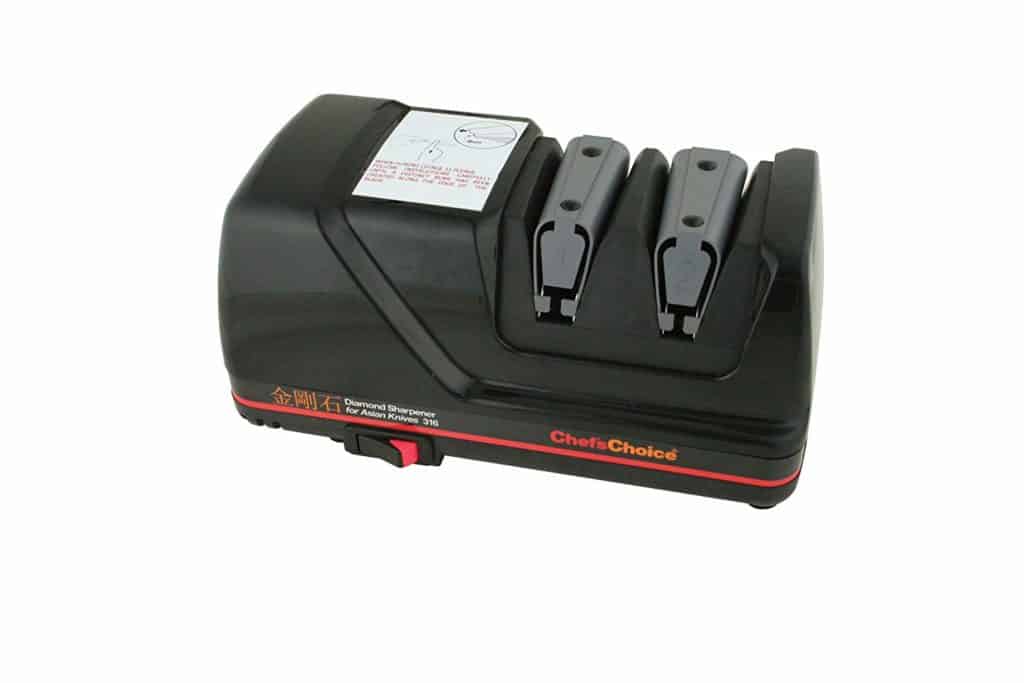 Here is a two stage electric knife sharpener for anyone who wants to make sure that their Japanese-style knives are living up to their full potential. It isn't often that you see an electric sharpener that is capable of sharpening a knife to 15 degrees. This is about as sharp of a grind as it gets, and most sharpeners have a hard time getting to 20 degrees, much less 15.  That makes the Chef's Choice 316 the perfect product for the culinary traditionalist who demands perfection.
Speaking of tradition, the 316 also offers single-side sharpening phases. What does this mean? Basically, it allows for the sharpening of ultra-traditional Japanese style knives that were single-beveled. This is not a knife style that you see very often these days, but it has been making a comeback in recent years as the global demand for authentic traditional food has increased significantly.
If we had to pick one thing that we didn't like about this particular unit, it would be the noise. It is slightly louder than some of its competitors, but that hardly seems like a fair criticism considering how well this things actually sharpens knives.
The Specs:
Brand: Chef's Choice
Type: Electric Knife Sharpener
Model #: 316
Top Feature: Precision 15 degree sharpening
Warthog WHSC2BK V-Sharp Classic II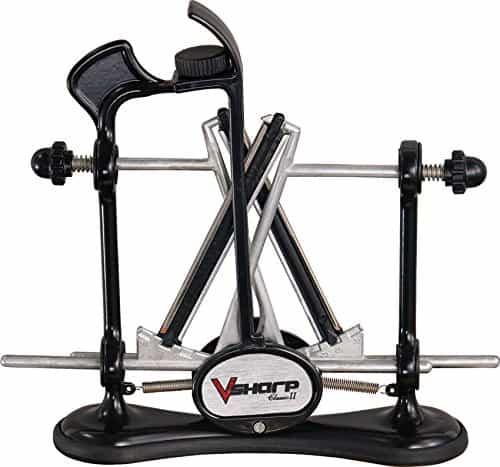 Don't let the striking shape and appearance of the Warthog V-Sharp Classic II startle you off. This is actually a manual knife sharpener with what is perhaps the most well-designed angle adjustment tools that we have seen. You can see from the picture how a pair of rods control the angle of the stones. While there are pre-set guides for 20 degrees, 25 degrees, and 30 degrees, you can sharpen any knife in your collection to whatever degree you desire.
A pair of 325 grit stones is adequate for stage one sharpening of most hunting and kitchen knives, but perhaps not fine enough for those final sharpening passes that are required for a truly razor-sharp knife.
The frame is made of hard plastic which cuts down on the overall weight of the unit but might have some effect on the lasting durability.
The Specs:
Brand: Warthog
Type: Manual Tabletop Knife Sharpener
Model #: C2BK
Chef's Choice Knife Sharpener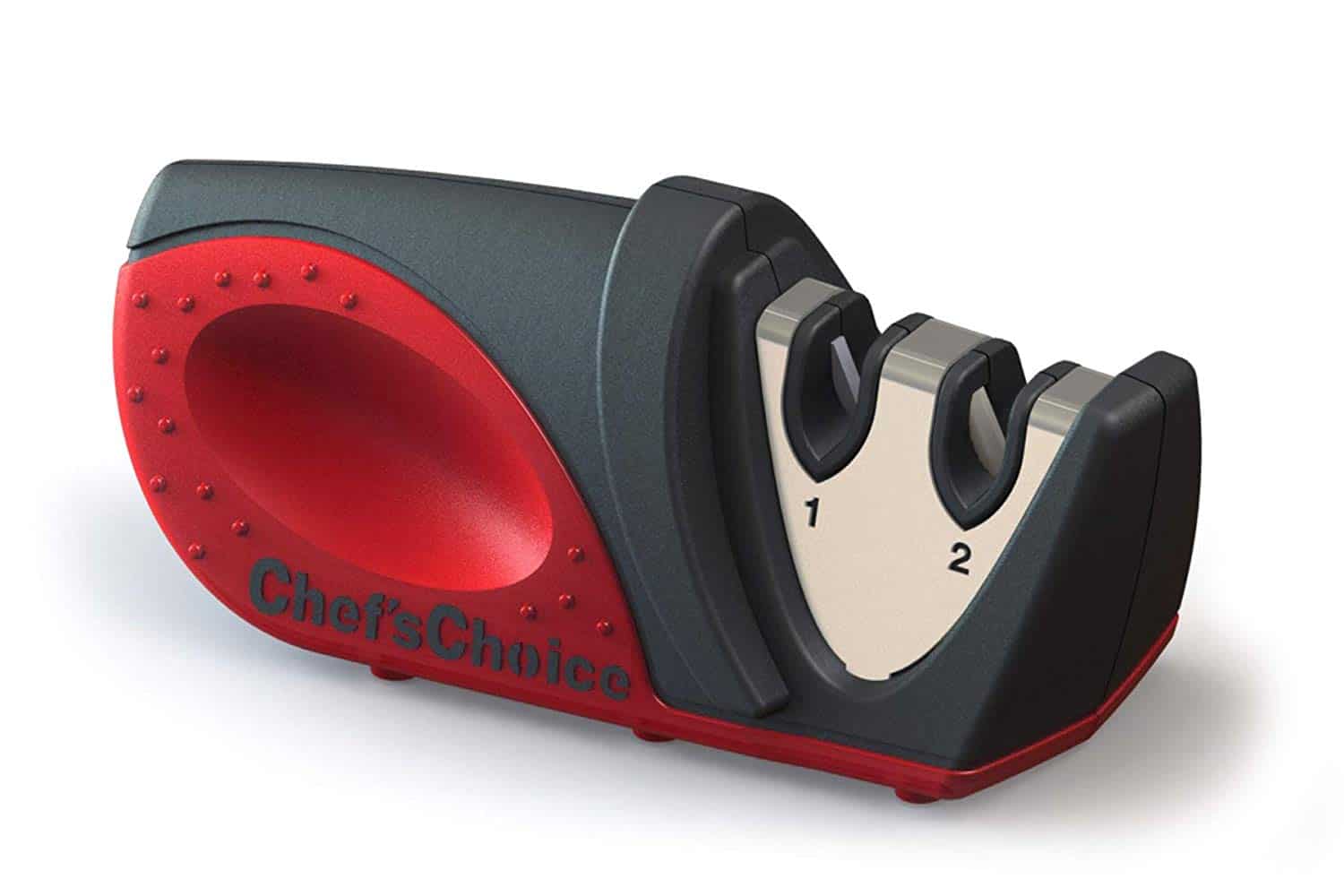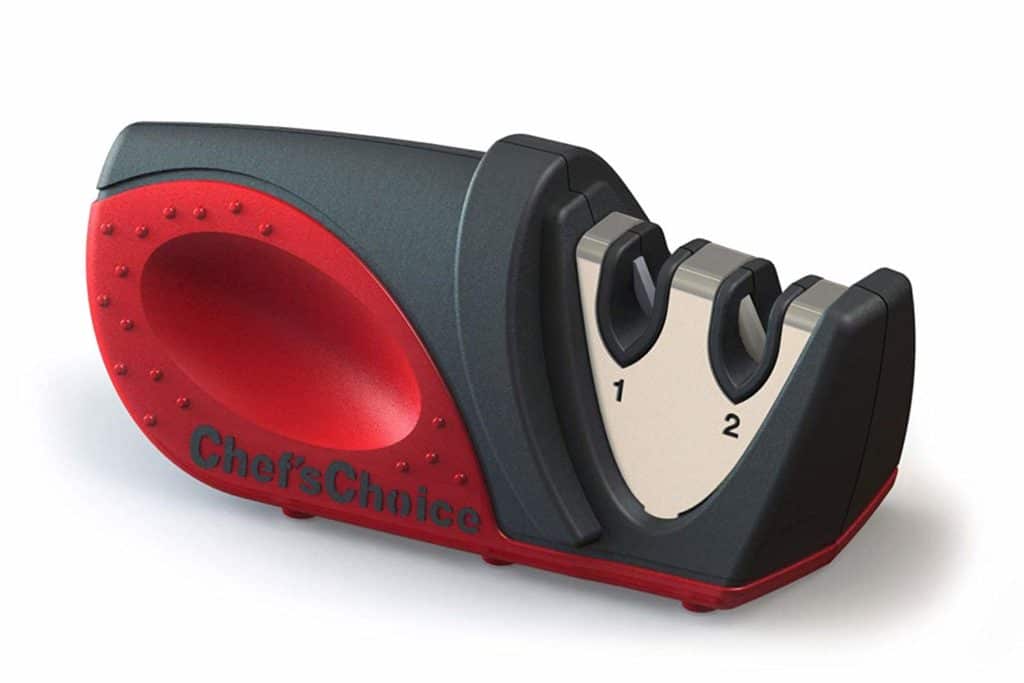 This two-stage handheld knife sharpener by Chef's Choice is certainly the most comfortable handheld sharpener in it's class. It feels just like a vegetable peeler in your hand, which makes the sharpening process startlingly easy. Almost too easy.
The set cut angles are to be expected with a sharpener at this price point, but they are indeed effective for most knives with an edge grind above 20 degrees.
The price point is the real winner. While this isn't the knife sharpener you should expect to see at your favorite restaurant, it is the one that might be good to have around in the kitchen drawer for periodic knife maintenance. We don't recommend it for Japanese style knives, or for that matter, top of the line European knives either. Bur for your average everyday knife, this little guy should work just fine.
Just be careful as you are using this thing. There is no safety guard in place, so a lose knife might do some damage if not properly controlled.
The Specs:
Brand: Chef's Choice
Type: Manual / Handheld
Model #:  4761200
Top Feature: Secure-grip handle
Diamond Machine Technology (DMT) CS2 12-Inch Ceramic Steel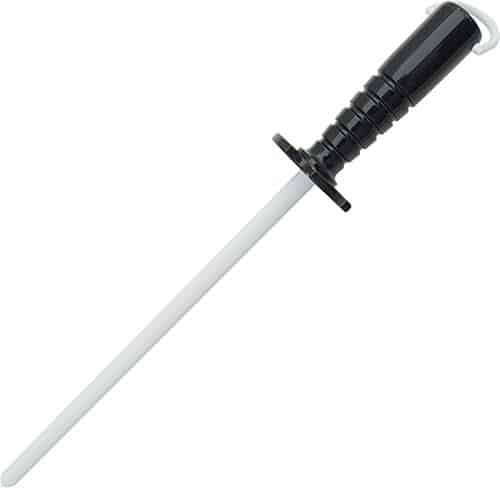 Here is the knife sharpening steel that they are calling "nigh unbreakable". The CS2 by Diamond Machine Technology boasts to have some of the best diamond coverage and uniformity of any rod-based sharpening unit on the market. There is a lot of mumbo-jumbo that goes into this claim, such as micronized mono-crystalline diamonds (whatever those are) and "HardCoat", DMT's proprietary diamond surface which promises to offer more coverage than any other brand.
If what they are saying is true, then it is possible to get a great sharp edge with only 5 to 6 strokes per edge side, which is only a fraction of the recommended 20 to30 strokes per side for traditional diamond-coated sharpening steels.
There is an initial break-in period for diamond-coated sharpening steels. It might feel quite rough for the first few uses, however if you use it regularly it should smooth out before long without causing any lasting damage to the blade.
The Specs:
Brand: Diamond Machine Technology (DMT)
Type: Manual steel rod sharpener
Model #: CS2
Top Feature: More diamond coverage that other brands
Lansky 4-Rod Turn Box LCD5D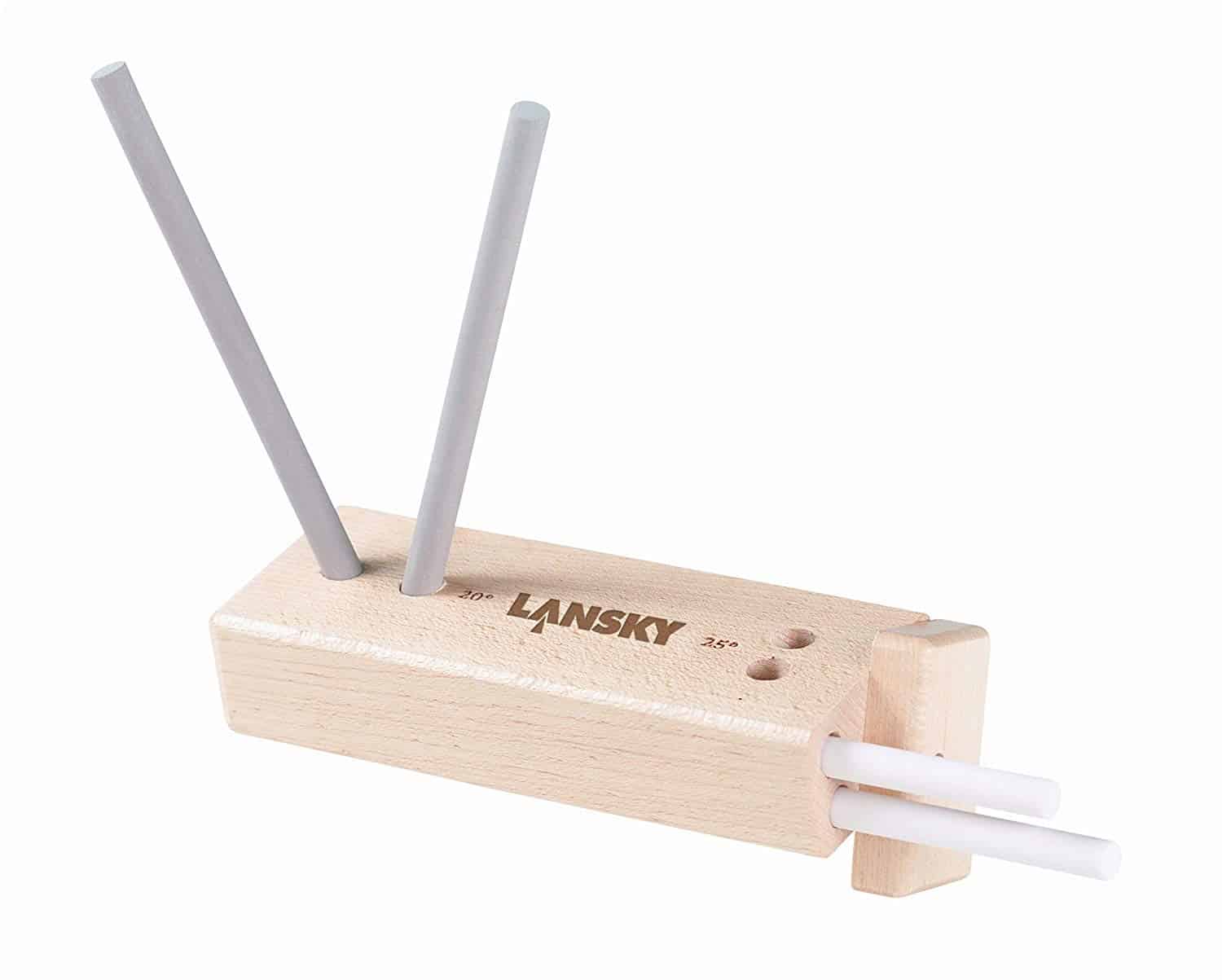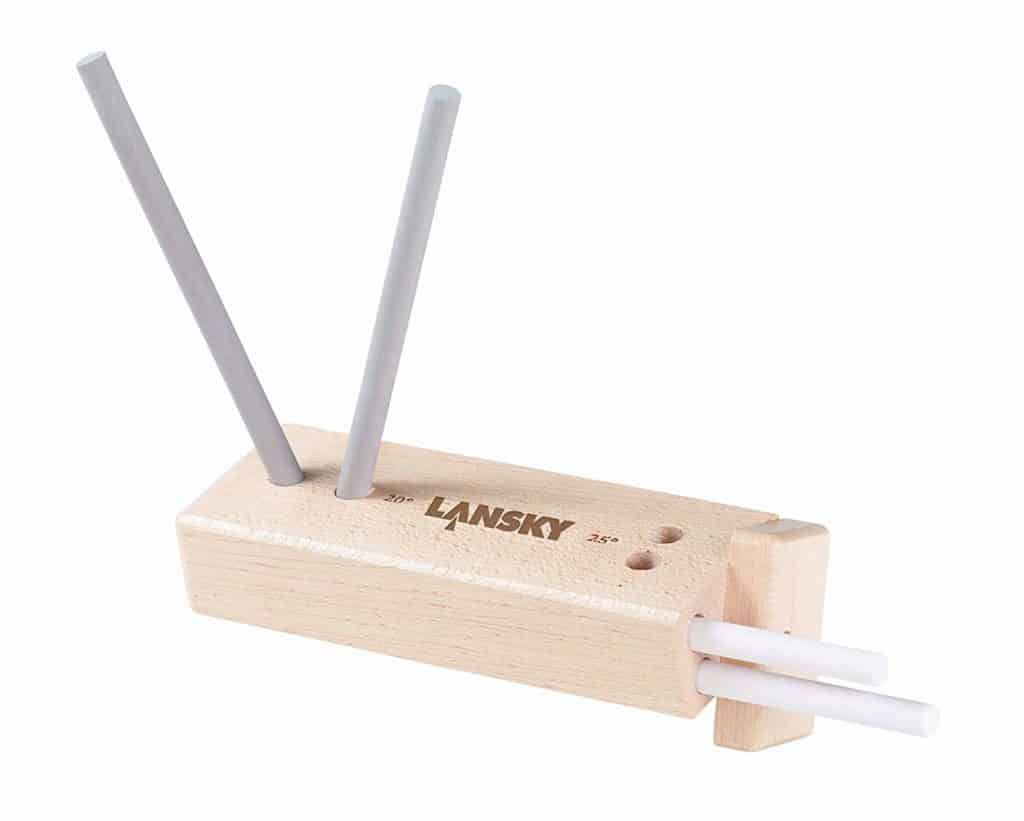 The Lansky 4-Rod Turn Box is one of the more unique products on our list. We certainly haven't seen anything like it before, although its actual design is quite simple once you examine it closely. It's the same concept as a steel sharpening rod, but instead of a free-form handle, the rods are inserted into holed pre-drilled into a block of hard wood. This way, the angle of the edge grind is held constant.
In addition, the Lanskey 4-Rod box has two different sets of holes so that knives can be reliably sharpened at either 20 degrees or 25 degrees based off personal preference.
Owners of high-end Japanese style knives might not appreciate the fact that this particular sharpening system cannot sharpen to 15 degrees, but lets be honest, there are few units that can do that, and the ones that can are considerably more expensive.
The small and compact nature of this sharpener make it the perfect addition to any camping trip, though it should fit just fine in the kitchen drawer.
The Specs:
Brand: Lansky
Type: Manual Rod-based knife sharpener
Model #: LCD5D
Top Feature: Very easy to store & transport
Mooker 3 Stage Professional Manual Kitchen Knife Sharpener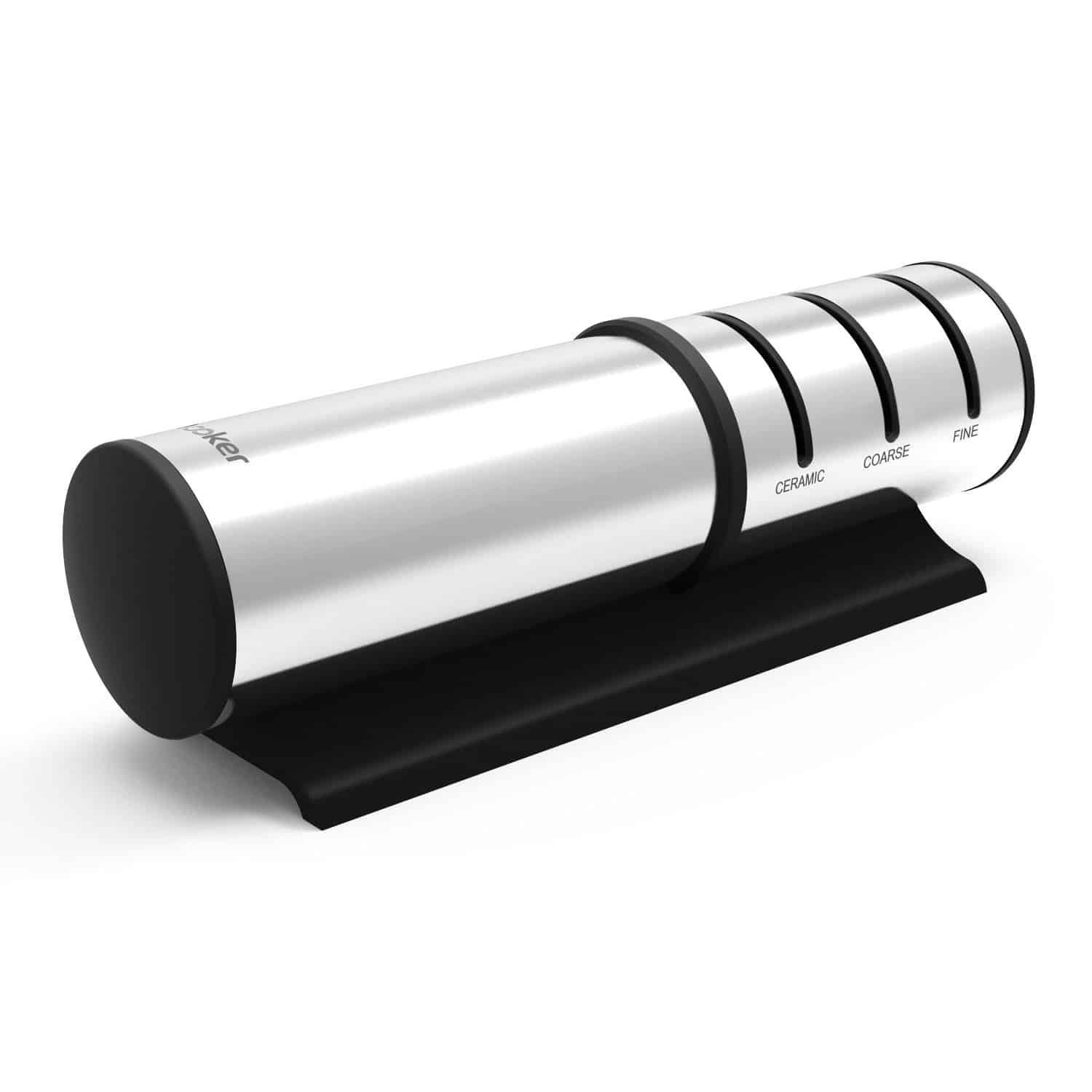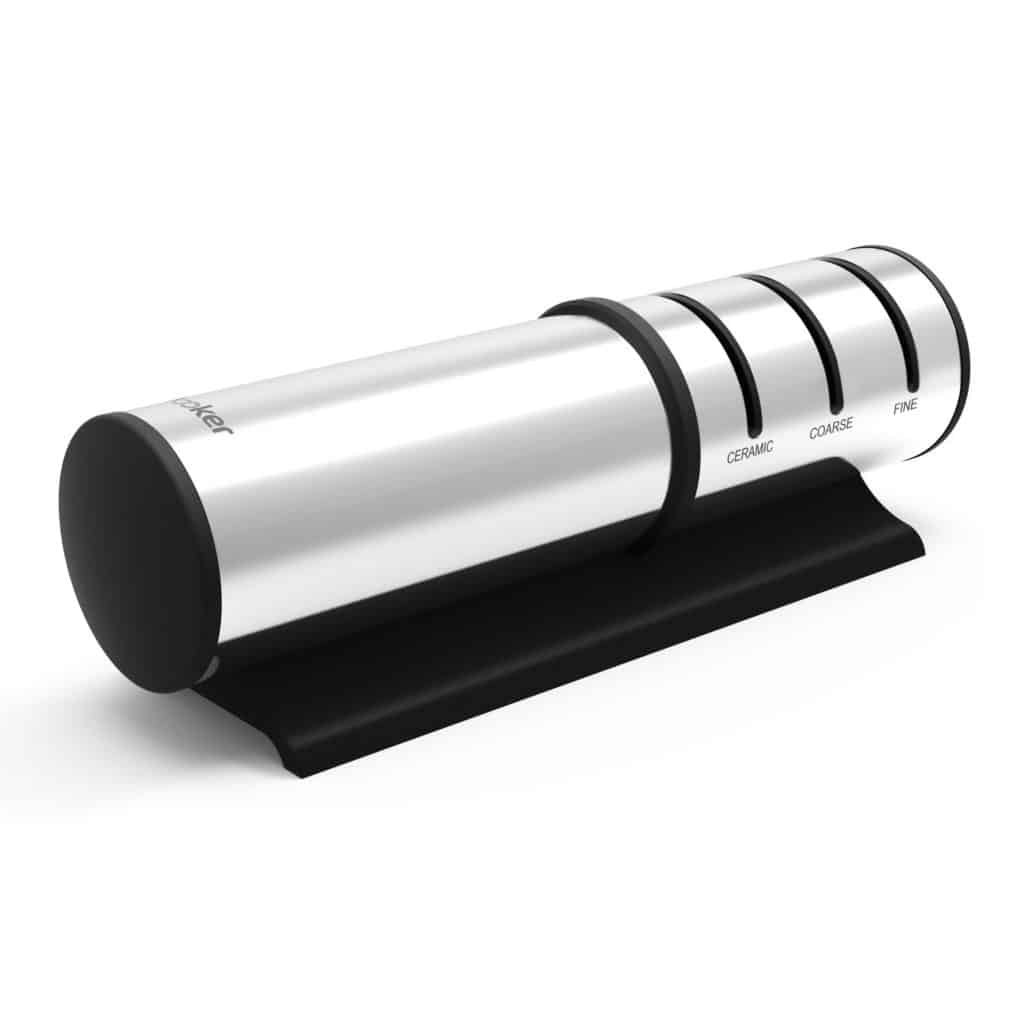 The three different sharpening wheels present in the Mooker knife sharpener come together to provide everything a chef needs to restore old knives to their original edge, and then keep them there. Dull and damaged blades will enjoy a pass (3 to 5 passes, to be specific) through the coarse tungsten steel wheel. Here large imperfections are eliminated and the blade's edge is mostly restored.
The second wheel is a fine-grit ceramic. This is the stage in which the knife edge is finely honed and polished, either after a few pulls through the tungsten wheel or more regularly as a part of proper kitchen knife maintenance.
A third ceramic diamond steel wheel is exclusively for ceramic knives, which have become more popular in recent years on account of how much more affordable they are. It's likely that there is already a ceramic knife in your kitchen, whether or not you know it.
The rubber base has a decent amount of sticking power, however we would have liked to see a slightly heavier unit here for a more stable, hands-free positioning.
The Specs:
Brand: Mooker
Type: 3 stage Manual
Model #: B06XSJH55H
Top Feature: Can sharpen ceramic knives as well as steel knives
Buyer's Guide: What to Look for in a Knife Sharpener
The 12 knife sharpeners that we looked at here represent only a portion of what is available on the market. Other styles, brands, and product lines are certainly out there, making the prospect of buying a knife sharpener that much more intimidating. That's why we're taking the time to examine some of the more important features of these sharpeners. By the end of it, you'll be able to shop like a pro with the full confidence that you're getting the right knife sharpener for you.
Cutting Angle
The angle at which a sharpening wheel comes into contact with the blade will determine the final sharpness of that blade. However, this is only true of knife sharpeners with a fixed-angle sharpening wheel, such as electric sharpeners or multi-stage pull-through. That's because there is no way to adjust the factory setting of the wheel.
Users will want to decide for themselves which cutting angle is best. This is not only a matter of personal preference, but also a matter is what is actually possible with your specific knife. For instance, the Japanese-style kitchen knife standard of 15 degrees is too fine an edge for the thicker, heavier European style kitchen knives which are usually about 20 degrees.
In our experience, 20 degrees is a common standard among prosumer level knives, with both 25 degrees and 30 degrees common options for many manual knife sharpeners.
Sharpening a knife on a whetstone is a different story altogether, because the user is in complete control of what angle the blade is meeting the stone.
User Friendliness
Knife sharpening is an intimidating activity for a lot of people, which has led to the emergence of a huge knife sharpening service industry. The home based chef however is not going to want to pay for a professional service, and truly dedicated chefs will probably not want anyone else touching their knives anyway.
The key to maintaining sharp knives is making sure you have a knife sharpener that is easy enough to use that it is used often.
For instance, pull-through style manual sharpeners make up the bulk of our list, likely because they were designed with the intention of simplifying the process. By fixing a series of grinding wheels in protected slots, then providing clear instructions for use, these products were able to convince cooks across the globe that keeping a properly sharpened knife is easier than it seems.
The Different Styles of Knife Sharpeners
Of course the most important thing you are looking for in a sharpener is the ability to properly and efficiently bring your knives to professional-level sharpness. The multiple styles of knife sharpeners provide different ways of achieving this task.
Ceramic & Diamond Rods
A sharpening rod can either be a singular piece mounted on a handle, or two rods set inside a wooden base as a specific angle. These are a great way to maintain an edge because they are quick and easy, not to mention small enough to store in any average kitchen drawer. On average they are also significantly less expensive than other styles.
The drawback of rod-style sharpeners is that they are only effective for maintaining an already sharp blade. While it is possible to hone the edge to an ultra-sharp point, it is not the best way to re-sharpen a fully dulled knife.
Honing Steels
Honing steels are very similar to diamond rods. They feature a long steel rod attached to a handle. The surface of the rod is either smooth, ridged, or diamond coated. Smooth honing steels can realign your blade edge, but cannot actually remove the steel particles necessary for a good sharpening, such as you would need with a dull knife. That is a job for ridged or diamond coated honing steels, and even they are less effective sharpening tools that some counter-mounted pull through models.
Pull Through or "V-style" Sharpeners
Most of the products featured on this list are of this style. While V-sharpeners have always been considered more of a quick field fix as opposed to a legitimate way to sharpen a knife, a lot of new innovations have allowed the style to progress to a respectable level. Now it is possible to get near-professional grade sharpening results from even the more moderately priced units.
Traditional pull through sharpeners utilized two angled pieces of metal, usually tungsten carbide. The blade is pulled across the meeting point of these two pieces of metal (the low point of the 'V') and steel is literally shaved off the knife, allowing it to be sharpened.
Modern updates have swapped the metal pieces for rotating wheels. The concept is very much the same, but the degree of accuracy can be significantly increased.
Manual vs. Electric: Which One is Right for Me?
The truth of the matter is that automatic electric knife sharpeners work in very similar ways to manual ones. The only difference is that the sharpening wheels are now being electrically powered, which makes the whole process a lot faster, and generally speaking it produces more reliable results. This is not to say however that electric sharpeners will always make you knife sharper. With most knives it is possible to get the same sharpness from a manual as you can get from an automatic.
It is worth noting that one of the biggest reasons electric knife sharpeners are not as common as manual ones is because they are significantly more expensive. In addition, anytime you mix an electric motor with sharp steel, the danger level goes up inherently. For this reason, we tend to favor manual sharpeners.
Price and Value
It is important to remember that you don't need to spend a fortune in order to have a set of properly sharpened knives. In fact, a simple honing rod can keep a blade maintained for a long time if it is used regularly.
Even the more complicated models are not as expensive as they used to be. It's entirely possible these days to get a great knife sharpener for less than thirty bucks if you know where to look.
Q: How often should I sharpen my knife?
With a steel kitchen knife, we recommend giving it a honing every 2 to 4 uses. This should be enough to keep it sharp for an extended period of time. Carbon steel knives on the other hand should be honed after every use.
If you maintain a proper honing schedule, then you only need to properly sharpen your knives once a year or so.
Q: How many times can you sharpen a knife before damaging it?
The knife sharpening process works by removing incredibly small amounts of steel from the blade edge, so it is unlikely that your knife will ever become unusable do to being sharpened to many times.  However this advice goes out the window if you are sharpening your blade too often. With proper honing, a kitchen blade really only needs a complete sharpening about once a year.
If you keep sharpening a blade, it will eventually loose all of it's factory grind, which will make it difficult to maintain an effective edge. At this point the knife will likely need to be professionally re-ground in order to restore a decent edge.
Q: Can I sharpen anything else with a knife sharpener? (Scissors, etc.)
This depends entirely on which model of knife sharpener you get. While many of the cheaper handheld pull-through style sharpeners work just fine for scissors, garden shears, pocket knives, and other tools, some of the bigger counter-mounted models might not be appropriate for that kind of thing. Especially when working with electric sharpeners, be sure to check the product specifications before you try to sharpen anything other than a steel knife.
Q: What is the best cutting angle for a knife sharpener? (15 degrees vs. 20 degrees)
Here's a debate that we are likely not qualified to settle. After all, it has been raging for hundreds of years. The German knife manufacturers have been cutting to a 20 or 25 degree angle since the very beginning, as this is a more appropriate edge for the thicker, heavier knives that this part of the world is known for.
Japanese style knives however are made in a completely different style. Both lighter and thinner, these knives are more often cut to an angle of 15 degrees, which is about as sharp as a knife comes if you order it online.
The recent explosion of popularity of Japanese style knives has influenced some German manufacturers to cut their blades to even smaller degrees as a response.
Q: Can you tell me how to sharpen a serrated dull knife?
While some of the sharpeners on our list claim to be able to sharpen serrated knives with ease, it is likely that they are not getting that job done as well as you might like. That's because serrated knives are structurally very different from regular kitchen knives. They work more like a saw, with a series of individual grooves and teeth doing most of the legwork. Each one of these grooves needs to be sharpened individually, which usually requires some specialized equipment to perform adequately.
Fortunately, serrated knife sharpeners can be very simple products and usually don't cost a whole lot of money. They work a lot like a honing steel, with some minor differences in the hand motion that is required.
Conclusion: The Best Knife Sharpener
Choosing a knife sharpener should be a bit easier know that you are equipped with the basic product knowledge to go at it on your own. However, you have read this far, so why not take our recommendations while you're here?
The best rod-type knife sharpener (honer) is almost definitely the Lansky 4-Rod Turn Box, which is both small enough and light enough to keep in the kitchen at all times. A few passes through the Turn Box before each use is the best way to ensure that your knife is staying well-honed.
However, if you're looking for something that has a bit more substance to it, something that can actually sharpen a fully dulled blade, then look no further than the Chef'sChoice 316 Diamond Hone Knife Sharpener. It's capable of sharpening just about any knife to an impressively piercing 15 degrees, about the same as most top of the line Japanese style kitchen knives.