Perhaps it's because they share a suffix, or perhaps it's the fact that they are often served at the same restaurants, events, and sometimes even on the same plate–either way, you wouldn't be alone in thinking that knockwurst and bratwurst are two different words for the same sausage!
We are happy to report to you, fellow sausage lovers, that this is not the case. These two German sausages are indeed distinct from one another. That said, if you like one of these sausages, you're likely to also be a fan of the other. So let's take the time to get to know them both!
What are Knockwurst Sausages?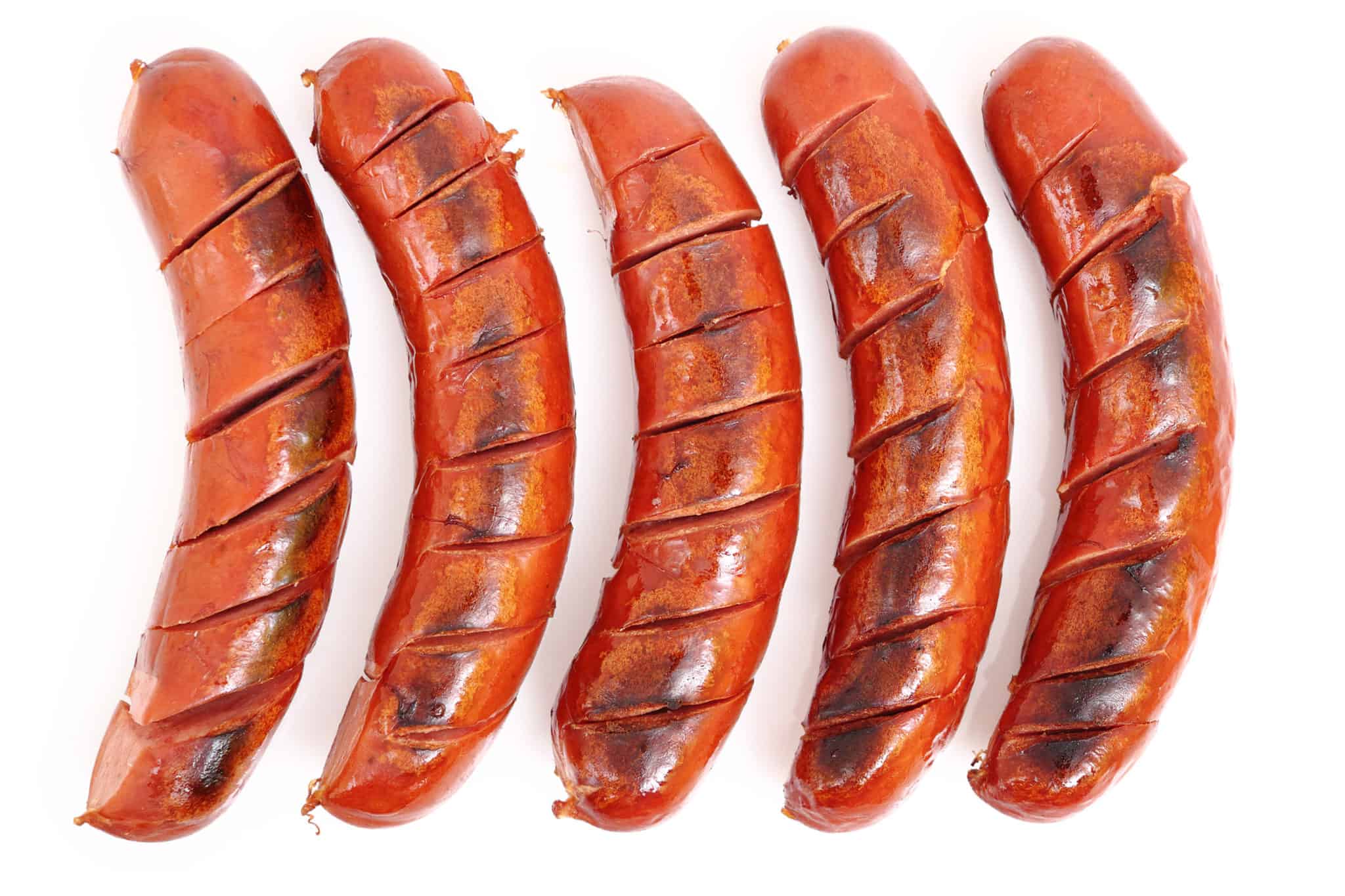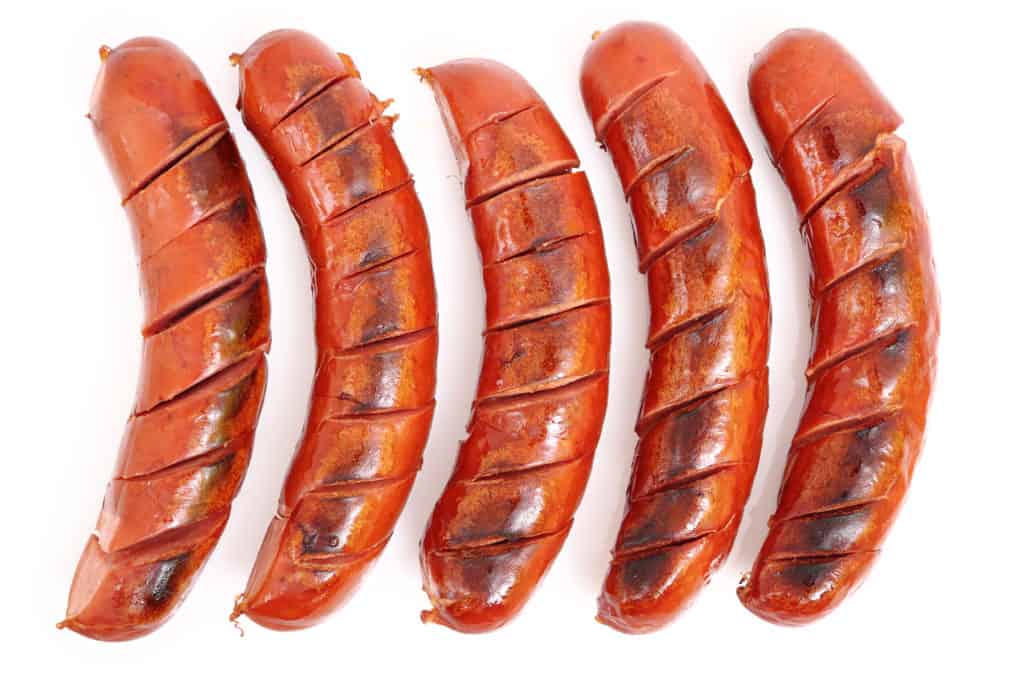 Also known as knackwurst, knockwurst sausages originated in Northern Germany, where the word "knacken" means "to crack". This refers straight to the fact that it's just what these sausages do! The meat in these sausages create a lot of juices as they cook, giving them a plump shape. The juices are contained in the casing, that is until you slice into it, and often a snapping or cracking sound can be heard.
How is Knockwurst Made?
Knockwurst sausage contains finely minced pork and veal and is heavily seasoned with plenty of fresh garlic and other spices. After the pork and veal are ground and mixed with the seasonings, it is packed into casings and tied off.
The sausages are then aged for several days, during which time some of the excess water evaporates from the sausages, concentrating the flavor and amping up the umami factor! After the aging is complete, the sausages are smoked over fragrant oak wood, giving them a flavor that is highly recognizable.
What Does Knockwurst Look Like?
Knockwurst tends to have a red to pinkish-orange color, which is much more pronounced on the outside due to the smoking process. Once sliced into, you can see that the interior of the sausage has a lighter color. Knockwurst sausage is a type of thick sausage, much thicker and more plump than your standard hot dog! In addition, knockwurst tends to be shorter in length.
Upon slicing into a link of knockwurst, you'll find that the interior is a bit coarse, as the meat mixture is not ground entirely smooth. Rather, some texture is left in the mixture and you should be able to detect small pieces of garlic mixed in as well.
What are Bratwurst Sausages?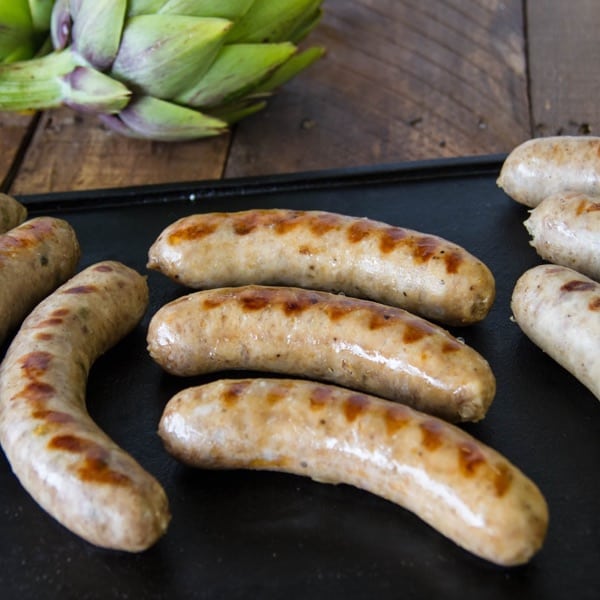 Fondly referred to as "brats", bratwurst sausages are perhaps more common to most folks, as these sausages are often seen in baseball game concession stands and at fairs and festivals. The German word "brat" actually means "finely chopped" and that's just what the filling of this sausage is! Seeing as "wurst" is the German word for sausage, the name bratwurst translates quite literally to "finely chopped sausage".
How is Bratwurst Made?
Bratwurst sausage is most often made of pork, but at times beef may be included in the mixture as well. Once the meat is ground to a smooth consistency and combined with seasonings, the mixture is then stuffed into a casing. There are many types of bratwursts, and some are cured, while others are sold fresh. Yet others are boiled and pre- cooked before packaging, giving them a pale white appearance!
Bratwurst tends to be mildly seasoned and leans towards the sweeter side, sometimes including the subtle additions of nutmeg or mace. Overall though, bratwurst tends to be much more mildly flavored than knockwurst or other sausages like kielbasa
What Does Bratwurst Look Like?
Bratwurst may be pale pink or nearly white in color, depending on how much it is cooked, if at all, during processing. Bratwurst also tends to be longer than knockwurst, typically around 8 inches in length. This meat mixture is more finely ground than that of knockwurst giving the sausage a more velvety, smooth texture as opposed to coarse.
How to Cook Knockwurst and Bratwurst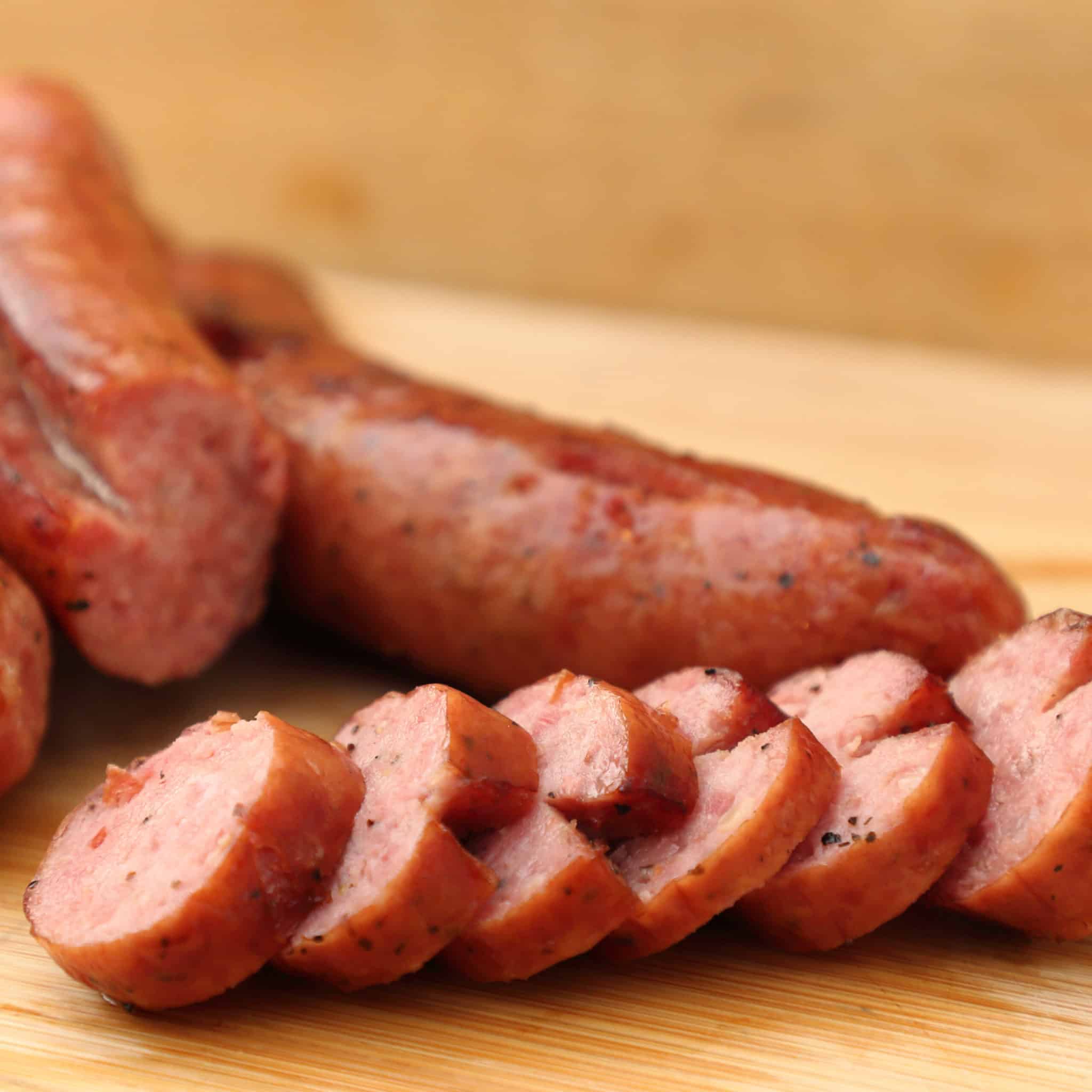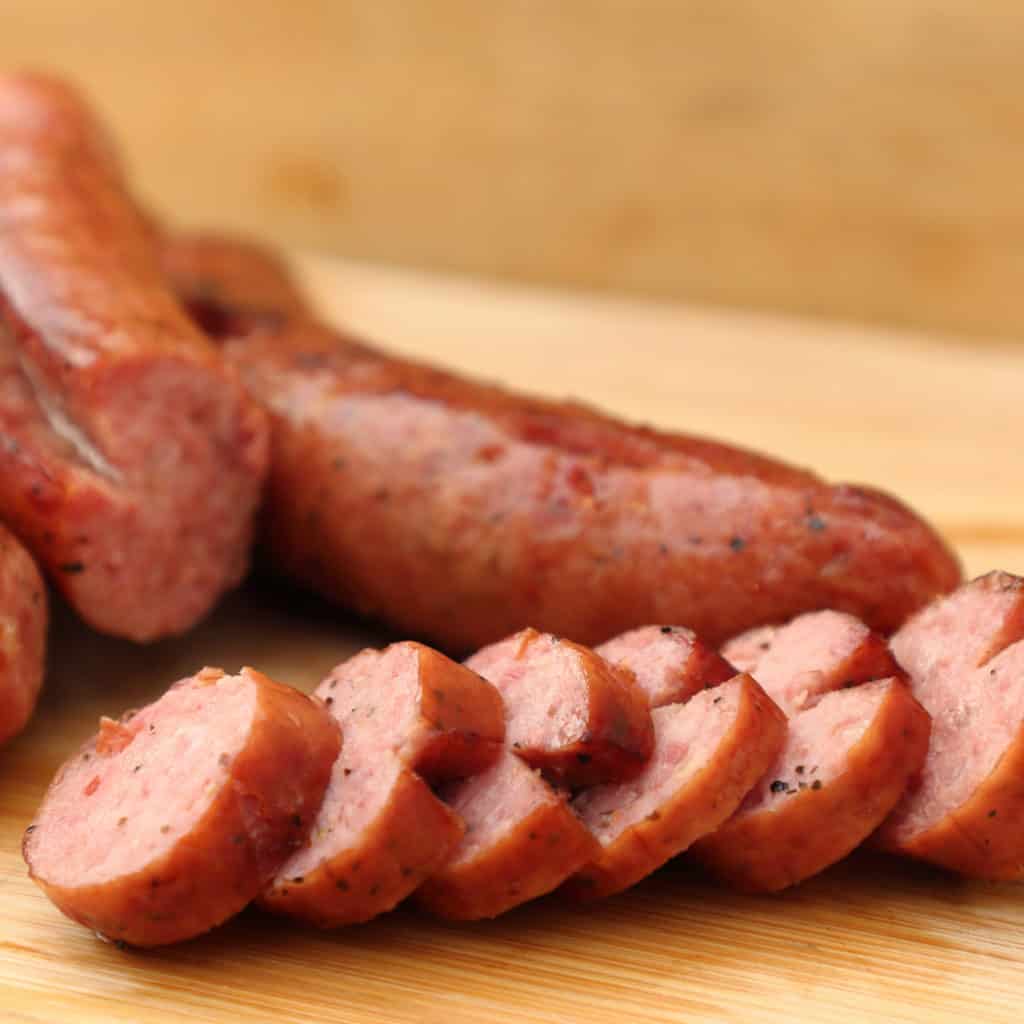 Both knockwurst and bratwurst are well suited to many different cooking methods, so feel free to try either of them in any of the culinary applications below, and beyond!
Grilled Knockwurst or Bratwurst
Both of these sausages are easily cooked on the grill, and take on a wonderful, charred flavor as a result. Since knockwurst and many varieties of bratwurst are not precooked, you may choose to boil them first in order to cook them thoroughly. Then, just transfer the sausages to a hot grill in order to impart the same color and flavor as if they had been grilled from start to finish.
Roasted Knockwurst or Bratwurst
These two German sausages can also be roasted in a hot skillet in the oven until golden brown all over. Since the casings of the sausage can be quite dry and lacking in any fat, it helps to lightly coat either knockwurst or bratwurst in vegetable oil or olive oil before roasting.
This will help the casing to crisp and deliver the snappy "knack" to the knockwurst, and to give some color to those pale looking bratwurst!
Simmered Knockwurst or Bratwurst
Simmering is a traditional (and easy!) way to cook sausages of all types, from hot dogs to knockwurst and bratwurst to kielbasa. One popular choice, particularly for Oktoberfest, is to simmer the sausages in beer.
If beer isn't your favorite or you prefer not to drink or cook with alcohol, you can most definitely simmer the sausages in stock or plain water. Try adding a few herbs into your simmering liquid for an extra boost of flavor!
What to Serve With Knockwurst and Bratwurst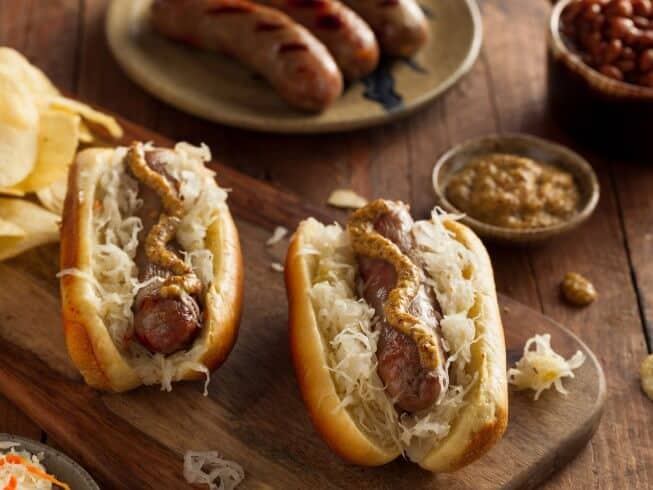 Whether served whole or sliced, in a sandwich or on its own, sausage plus sauerkraut is always a match made in heaven. Serving this crunchy, tangy, fermented cabbage alongside German sausages is a classic combination that dates way back in the history of German cuisine.
It is by no means the only option though. Both of these sausages are also perfectly accompanied by roasted bell peppers, boiled potatoes or potato salad, and any type of pickle you like!
Due to its smaller size, knockwurst is more commonly served as an appetizer and can be sliced and served alongside sweet German mustard for dipping.
Knockwurst vs. Bratwurst: Summary of Differences
As we've learned, knockwurst and bratwurst are two types of German sausage that may have similar ingredients and overall appearances, but nevertheless are quite distinct from one another. Here is a summary of their key differences.
Ingredients
Knockwurst sausages are made using pork and veal, while bratwurst sausages typically consist of pork, and sometimes a pork and beef mixture. Knockwurst will always include the addition of garlic and sometimes other spices, and bratwurst is more lightly seasoned with unique spices like nutmeg or mace.
Appearance
Since it has been smoked, knockwurst is typically darker in color, ranging from pinkish-red to reddish-orange. Bratwurst on the other hand, tends to have a more pale pink to white coloring, as it is sometimes cooked before being packaged and sold.
Knockwurst will also appear shorter in length and more plump around, while bratwurst is usually longer and sometimes thinner than knockwurst.
Texture
Knockwurst is a coarse sausage, as the meat and spice mixture is not ground as finely before being stuffed into casings. Bratwurst on the other hand is much more finely ground and has a smooth, consistent texture all the way through.
Taste
Knockwurst has a garlicky taste and is typically heavily seasoned with strong flavors, unlike bratwurst which has a mild taste. Bratwurst tastes more like the meat itself, with subtle sweetness from the warming spices and sometimes an herbaceous hit of marjoram. It is also worth noting that if you detect a hint of smoky flavor in your sausage, it's likely that you have knockwurst on your hands!
Knockwurst vs. Bratwurst: The Bottom Line
While each person may have a different favorite type of sausage, hopefully we can all agree that wursts are the best!
Bratwurst and knockwurst are two of the most common German sausages, which can be easily distinguished from one another on the basis of ingredients, appearance, size, taste, and texture.
Despite their differences, if you like the taste of one of these two, you're likely to get along well with the other so don't get stuck in a sausage rut by picking the same old type up from the butcher time and time again! Branch out and give one of these types of German sausage a try.