Hi! I am Marcellina from Marcellina in Cucina and I am thrilled to be hosting my second challenge! When I first hosted in December 2012 our culinary journey took us to Italy as we baked Panettone. On this occasion I would like to introduce you to one of my all time favourites – the Lamington.
The classic Australian Lamington is a cube of vanilla sponge cake dipped in chocolate icing then coated with desiccated coconut. Sounds simple but it is delicious! It is said that the cakes were named after Lord Lamington who was the Governor of Queensland, Australia from 1896 to 1901. Stories abound as to why the cakes came about. I like the one that tells of Lord Lamington's maid-servant accidentally dropping a freshly baked sponge cake into some melted chocolate. Apparently Lord Lamington disliked wastage so he suggested coating the chocolate coated cake in desiccated coconut to avoid messy fingers. A good idea, I think. Some New Zealanders actually like to claim the Lamington as their creation! However the Lamington came to be, it is now firmly embedded in the Australian culture. Sold in bakeries, cafés, supermarket, at bake sales and everywhere you expect and don't expect. The Lamington is also a star at fund-raisers with "Lamington Drives" very popular with schools, sporting clubs and many other fund-raising ventures. In fact this month while you create your own Lamingtons my son and I will be busy every weekend making Lamingtons to raise money to enable his rugby league team to travel to competitions. Last year many dozen Lamingtons were made and sold!
Usually the cake within the Lamington is a vanilla genoise sponge made by whipping eggs and sugar until very thick and pale. Usually I use my stand mixer although my grandmother was known to whisk by hand and bake in a wood-fired oven! Flour (in my recipe cornflour otherwise known as cornstarch) is sifted well with baking powder and is very carefully and delicately but thoroughly folded into the eggs and sugar. A little bit of melted butter can be folded in at the end. This is optional but does add a bit of moisture to the cake. This cake is quite prized in Australia for being of a light and fluffy texture and a good sponge cake baker is highly regarded. The sponge is a little difficult to master but the key is a light hand, accurate measuring, room temperature eggs, and knowing just how long to bake it. Oh, and don't open the oven door to peak or your cake will flop. It would be great if you could attempt this type of sponge – it is a great cake to know how to make. Otherwise a butter cake would be acceptable.
While I love the classic chocolate Lamington, I love its versatility more. The Lamington is sometimes seen split and filled with strawberry jam and whipped cream. At the afternoon tea table pink and white Lamingtons have been spotted. Like the Parisian Macaron, the Australian Lamington lends itself to a myriad of flavor possibilities. So it is with this in mind that I would like to inspire you. By all means, if you have never made or eaten a home made Lamington now is the time. But if you would like to explore the possibilities, please let your imagination go wild! Think of a chocolate, coffee or nutty sponge…citrus, maybe? Chocolate icing is great but imagine almond, orange, lemon, coffee or dipped in partly set jelly (jello). Maybe split your Lamington and fill with crème patisserie or dulce de leche? Not fussed on desiccated coconut? What about finely chopped hazelnuts or macadamias?
Recipe Source: Old family recipe
Blog-checking lines: For the May challenge Marcellina from Marcellina in Cucina dared us to make Lamingtons. An Australian delicacy that is as tasty as it is elegant
Posting Date: May 27, 2015
You can find the challenge PDF here
Notes:
It is best to use day old sponge since the process of slicing the cake into rectangles, icing and rolling in desiccated coconut is much easier.
Desiccated coconut is coconut meat that has been shredded or flaked and then dried to remove as much moisture as possible. Of all the forms of dried coconut this is generally the finest. Most commonly used as the coating on Lamingtons. Shredded coconut is similar to desiccated coconut but has a coarser texture. See this link for more information and pictures.
Use unsweetened desiccated coconut.
Mandatory Items: Your Lamington can be a sponge cake cube or a butter cake, coated with an icing or other thin frosting and rolled in coconut or other type of outer layer so to "avoid messy fingers" as requested by Lord Lamington.
Variations allowed: Any flavouring you desire for the cake and coating. Your Lamingtons may be rolled in coconut or other covering to "avoid messy fingers". If for health reasons you need to use other ingredients or recipe, I would love to see your version!
Preparation time:
Sponge cake – a bit more than an hour, 20 minutes whisking, 20-25 baking the rest for preparing and mixing. (It's best to leave the cake overnight before proceeding to coat with icing)
Chocolate icing – 10 minutes
Completing Lamingtons – 30-45 minutes then allow the icing to set about 2 hours
Equipment needed:
Measuring cups and spoons
Scales
Stand or hand held electric mixer
4.5 cm (1¾ inch) deep, 23cm x 33cm (9"x 13") baking pan, or similar size
Sieve
Whisk
Metal spoon
Spatula
Wooden spoon
Wire cooling rack
Serrated knife
Chopping board
Large bowl
Saucepan
Medium bowl

Recipe : Classic Lamingtons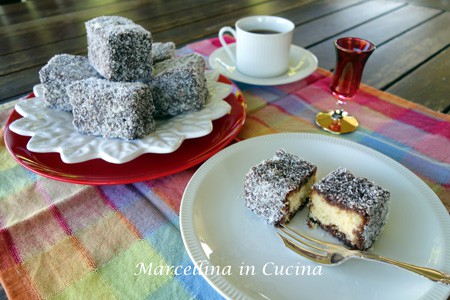 Sponge Cake
Servings: 24
Ingredients:
5 large eggs, at room temperature
1 cup (240 ml) (225 gm) (8 oz) castor (superfine) sugar
Pinch salt
1 teaspoon (5 ml) vanilla extract
1 ¼ cups (300 ml) (200 gm) (7 oz) cornflour (cornstarch)
1 ½ teaspoons (8 gm) baking powder
1 tablespoon (15 ml) (15 gm) (½ oz) butter, melted (optional)
2¾ cups (660 ml) (250 gm) (9 oz) unsweetened desiccated coconut, to assemble
Directions: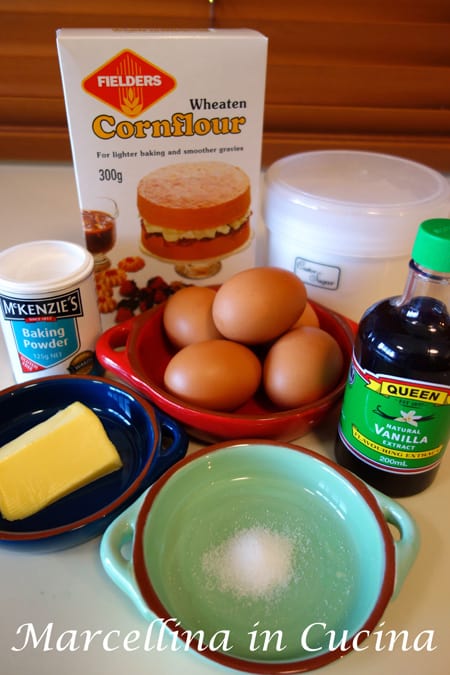 Preheat oven to moderate 180°C/350°F/gas mark 4.
Prepare a 4 ½ cm (1¾ inch) deep, 23cm x 33cm (9"x 13") baking pan by lining with non-stick paper.

In a stand mixer bowl place eggs, sugar and salt. Using the whisk attachment, beat on high for 15 minutes.
While the eggs and sugar are beating sift the cornflour and baking powder at least 3 times.
After 15 minutes add vanilla and beat on high for another 5 minutes. The mixture should have at least tripled in size, be light in colour and very foamy.

Sift flour mixture over the egg mixture. I like to use a whisk but you can also use a large metal spoon to lightly fold the flour in. Some people like to use a wooden spoon but I find it too heavy. Heavy handling now will result in a flat tough sponge. If you are using butter, thoroughly fold it in now but lightly.

Spread mixture into your prepared pan and smooth out evenly. Some cooks at this stage drop the pan onto the bench top to even out the air bubbles! I have never had that much courage!
Bake in preheated moderate oven for 22-25 minutes. The sponge will rise quite a lot but then settle back down. Don't be tempted to open the oven to peak. I also warn the family to walk gently past the oven! When baked the sponge will have shrunk very slightly from the sides and should feel springy when pressed gently.

Turn the sponge out immediately onto a wire rack to cool and reverse sponge so as not to mark the top. Allow to cool. It is best to keep the cake for a day before making the Lamingtons as the cake will be easier to handle.

Chocolate icing
Ingredients:
3 ¼ cups (780 ml) (400 gm) (14 oz) icing (powdered) sugar
1/3 cup (80 ml) (40 gm) (1-1/3 oz) cocoa powder
1 tablespoon (15 gm) (15 gm) (½ oz) butter, melted
½ to ¾ cup (120 ml to 180 ml) milk
Directions: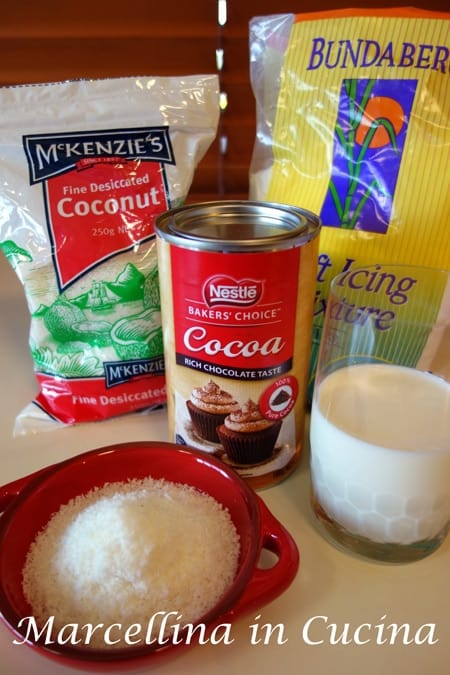 Sift the icing sugar and cocoa into a heatproof bowl. Stir in the butter and ½ cup milk. Set the bowl over a pan of hot water. Stir until icing is smooth adding more milk to thin the icing if needed. I find I need more than ½ cup but not quite ¾ cup of milk.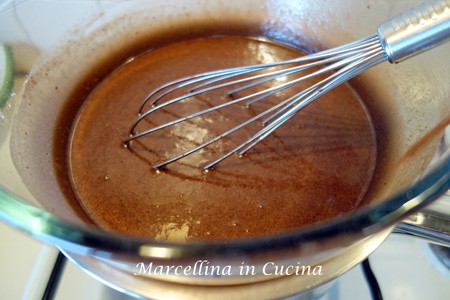 To assemble the Lamingtons:
Cut the sponge cake into 24 rectangular pieces – 6 across and 4 down. To be particular you can trim the crusts.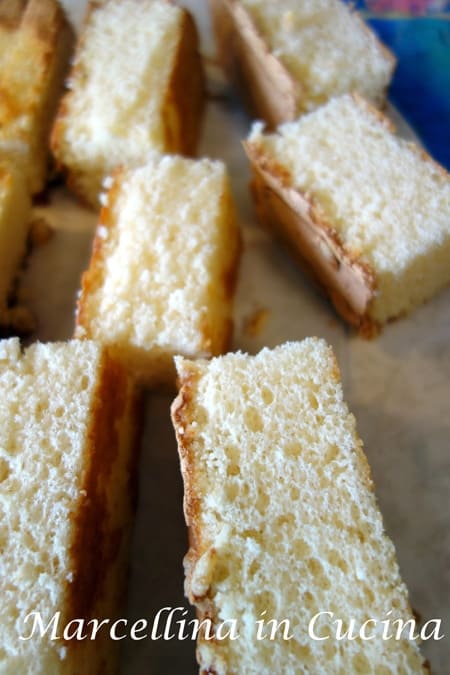 Keep the icing over the hot water to keep it melted. Place desiccated coconut in a shallow bowl.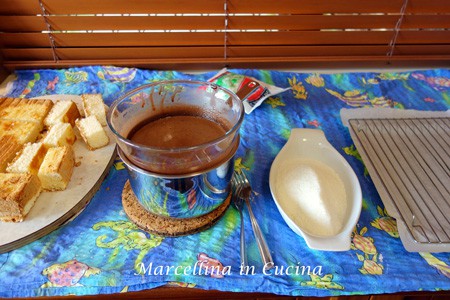 Dip each piece into the chocolate icing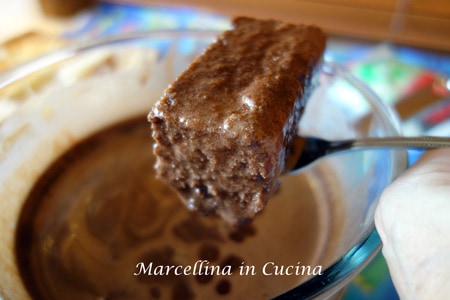 Allow excess to drip off then toss gently into the coconut.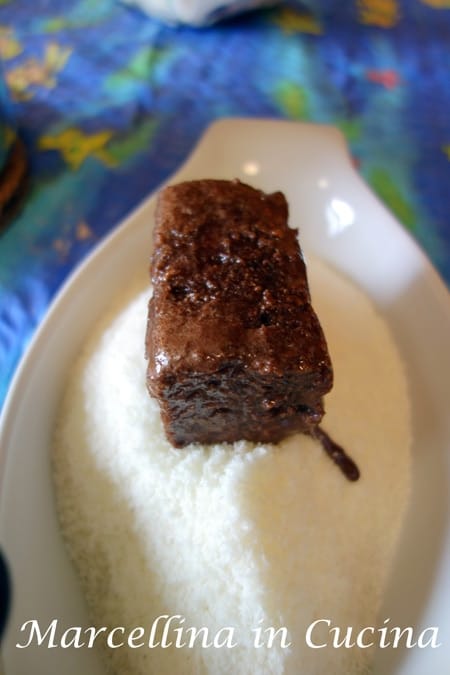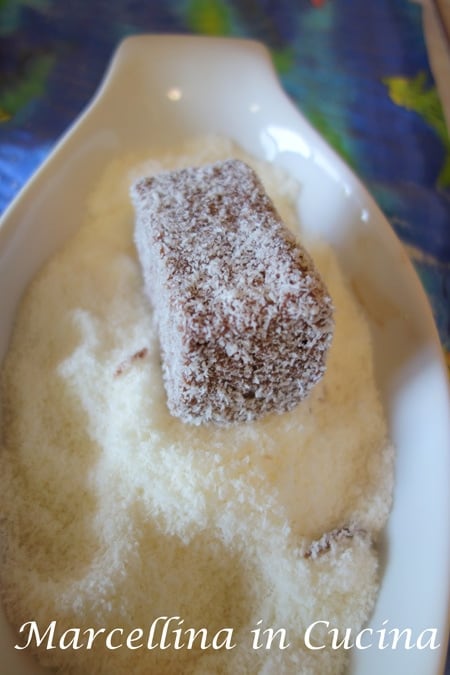 Stand cakes on a wire rack to set, about 2 hours.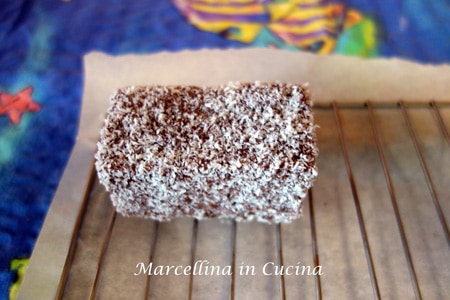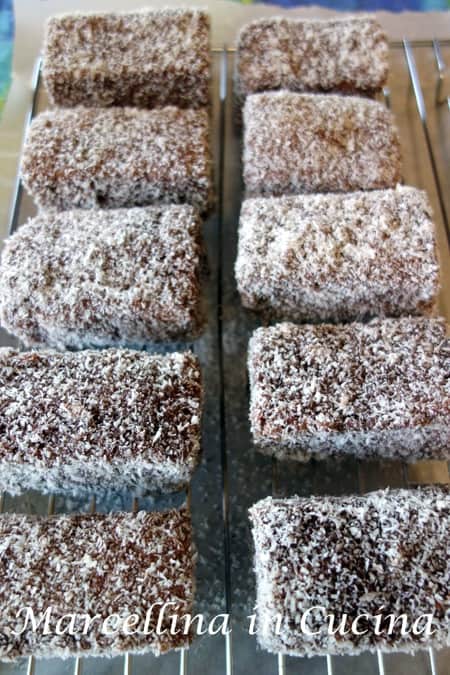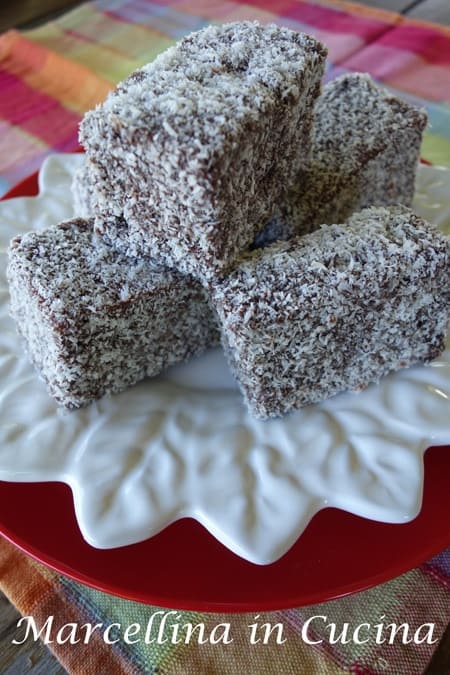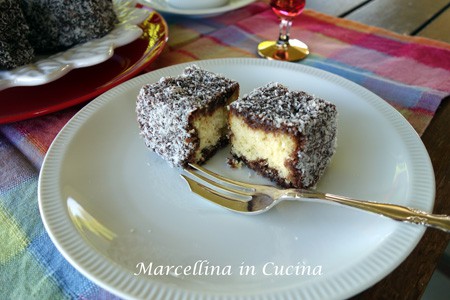 Storage and freezing instructions
Store Lamingtons in a sealed container in the refrigerator. Or do as many Australians do, in the same
sealed container store in the freezer for a handy treat for unexpected visitors. Lamingtons would last in the freezer for 2 months at least. Frozen Lamingtons defrost very quickly. Also many Australians mums will pop a Lamington into their children's school lunch box for a treat.
Additional information
Here are some useful links
https://www.youtube.com/watch?v=4XbyhbxFpQE
http://www.taste.com.au/recipes/28718/lamingtons+with+white+chocolate+cream
http://www.stephaniealexander.com.au/what-to-cook/recipes/lamingtons/
http://www.taste.com.au/recipes/6760/strawberry+lamingtons
http://www.tobieputtock.com/salted-caramel-lamingtons/
http://www.whatkatieate.com/recipes/mocha-chocolate-and-cherry-lamingtons/
Wonderful wedding Lamington cakes http://community.i-do.com.au/index.php?showtopic=114896
What is desiccated coconut? http://www.canadianliving.com/blogs/food/2014/06/24/shredded-flaked-and-desiccated-coconut-whats-the-difference/