Hello! I'm Suz from Serenely Full, and I'm excited to be your host for the month of October. I joined the Daring Bakers back in November 2009 and have absolutely loved being part of the group in the three years since then.
This month's challenge is to make mille-feuille, the popular French patisserie treat. 'Mille-feuille' is French for 'a thousand leaves' (or 'layers'), which is very apt, as it contains both layers of pastry (usually three) and layers within each pastry sheet …
… that's right! We're making puff pastry.
Download the printable .pdf file HERE
I think the last time the Daring Bakers made puff pastry was for the vol-au-vent challenge about three years ago, though the process for making croissants last September was much the same, albeit with a yeasted dough. Making puff pastry (or pâte feuilletée) basically involves a simple pastry dough, which is folded around sheet of butter (the beurrage). You then roll out your butter pastry package, fold it, roll it out, fold it, etc. – creating seams of butter that will puff up into distinct crispy layers when baked.
The traditional mille-feuille is filled with a vanilla pastry cream (crème pâtissière) and is also known as a Napoleon (thought to refer to Naples in Italy rather than the diminutive French emperor), a custard slice or a vanilla slice. It's often topped with royal icing and distinctive chocolate squiggles, and is popular the world over. Apparently very popular in Morocco – so much so that the recipe I'm using is from a series on Moroccan cuisine.
I've included the recipe for the classic mille-feuille, but you can fill your pastry layers with whatever takes your fancy! See the Additional Info at the bottom for inspiration.
Recipe Source:
Mille-feuille & pâte feuilletée/puff pastry : Christine Benlafquih for About.com (http://moroccanfood.about.com/od/dessertsandcookies/r/Mille-Feuille-Home… ; http://moroccanfood.about.com/od/dessertsandcookies/r/Puff-Pastry-Dough-… )
Crème pâtissière: I have tried several, including a recipe from the source above, but the most successful was from the Nick Malgieri recipe used in the May 2010 Croquembouche challenge.
Blog-checking lines:
Our October 2012 Daring Bakers' challenge was hosted by Suz of Serenely Full. Suz challenged us to not only tackle buttery and flaky puff pastry, but then take it step further and create a sinfully delicious Mille Feuille dessert with it!
Posting Date:
October 27, 2012
Notes:
1.The crème pâtissière needs overnight chilling to properly set. I made the crème pâtissière and the pastry dough one day, then baked the pastry layers and assembled my mille-feuille the next.
2.The puff pastry recipe requires you to chill your dough after every two turns, but if your kitchen's a bit warm or you think the butter might be melting, you can chill it after each turn.
3.You'll need lots of flour on hand for the rolling and folding.
4.The beurrage for this puff pastry recipe is a chilled butter/flour paste instead of pure butter. It worked well, but do feel free to use another puff pastry recipe, if you prefer.
Mandatory Items:
Make puff pastry and use it in a mille-feuille of your choice.
Variations allowed:
You can use any puff pastry recipe and any fillings. A different flavour crème pâtissière, fruit, whipped cream, jam, mousse. You can even go savoury.
Preparation time:
•Pastry: you will need about 30-40 minutes for making the dough/rolling/folding, approximately 2-2.5 hours chilling time, and 25 minutes for baking (more if you need to bake in more than one batch).
•Pastry cream: About 30-40 minutes, plus overnight chilling. This can be made a couple of days in advance.
•Icing/Assembling: Approximately 30-40 mins, plus several hours chilling time.
Equipment required:
Puff Pastry
•Mixing bowls
•Clingfilm
•Rolling pin
•Ruler/measuring tape
•Sharp knife
•Baking tray, plus another heavy tray to weigh down the pastry as it cooks
•Wire rack
•Greaseproof paper
Classic Mille-Feuille
•Mixing bowls
•Measuring jug
•Saucepan
•Whisk
•Clingfilm
•Heatproof bowl for the bain marie
•Electric whisk
•Piping bag or plastic bag with corner snipped off
•Sharp knife
•A flat tray/board on which to assemble the mille-feuille
Pâte feuilletée /Puff Pastry
Servings: Makes 8-10 mille-feuille (yields: 675g pastry)
Ingredients
1¾ cup (250g) plain/all-purpose flour
Scant ¼ cup (55 ml) (1¾ oz)(50g) unsalted butter, chilled and cubed
1 teaspoon (5ml) (6 gm) salt
½ cup plus 2 tablespoons (5/8 cup)(150 ml) cold water
14 tablespoons (210 ml) (7 oz) (200g) butter (for the beurrage), room temperature
3½ tablespoons (55ml) (30g) plain flour (for the beurrage)
Additional flour for rolling/turning
Directions:
1.Cut the larger quantity of butter into smallish pieces and set aside at room temperature.
2.Put the larger quantity of flour into a bowl with the salt and the cold, cubed butter.
3.Lightly rub the butter and flour between your fingertips until it forms a mealy breadcrumb texture.

4.Add the cold water and bring together with a fork or spoon until the mixture starts to cohere and come away from the sides of the bowl.
5.As the dough begins to come together, you can use your hands to start kneading and incorporating all the remaining loose bits. If the dough's a little dry, you can add a touch more water.
6.Knead for three minutes on a floured surface until the dough is smooth.
7.Wrap in clingfilm and refrigerate for at least 30 minutes.

8.While the dough is chilling, take your room temperature butter and mix with the smaller amount of plain flour until it forms a paste.
9.Place the butter paste between two sheets of clingfilm, and either with a rolling pin or your hands (I found hands easiest) shape it into a 4.5"/12cm square. You can use a ruler (or similar) to neaten the edges.

10.Refrigerate for about 10-15 minutes so the butter firms up slightly. If it's still soft, leave it a bit longer. If it's too hard and inflexible, leave it out to soften a touch. You want it to be solid but still malleable.
11.Once the dough has chilled, roll it out on a floured surface into a 6"/15cm square. Place the square of butter in the middle, with each corner touching the centre of the square's sides (see photo below).
12.Fold each corner of dough over the butter so they meet the centre (you might have to stretch them a little) and it resembles an envelope, and seal up the edges with your fingers. You'll be left with a little square parcel.

13.Turn the dough parcel over and tap the length of it with your rolling pan to flatten it slightly.
14.Keeping the work surface well floured, roll the dough carefully into a rectangle ¼ inch /6 mm in thickness.
15.With the longest side facing you, fold one third (on the right) inwards, so it's covering the middle section, and ensure that it is lined up (see below).

16.Then, fold the remaining flap of dough (on the left) inwards, so you're left with a narrow three-layered strip (see below).

17.Repeat steps 14, 15, 16.
18.Wrap up in clingfilm and chill for at least 30 minutes.
19. Repeat steps 14, 15, 16 twice.
20.Wrap up in clingfilm and chill again for at least 30 minutes.
21.Repeat steps 14, 15, 16 two final times.
22.Wrap up in clingfilm and refrigerate until needed. The dough keeps a couple of days in the fridge.
Pastry Cream / Crème Pâtissière:
(full batch; makes enough for 8-10 mille-feuille)
Ingredients
2 cups (450ml) whole milk
¼ cup (1¼ oz)(35 gm) cornflour/cornstarch
1 cup less 1 tablespoon (200gm) (7 oz) caster sugar
4 large egg yolks (if you're making the royal icing, reserve two egg whites)
2 large eggs
¼ cup (2 oz) (60gm) unsalted butter, cubed
2 teaspoons (10 ml) vanilla essence
Directions:
1.Mix the cornflour/cornstarch with ½ cup of milk and stir until dissolved.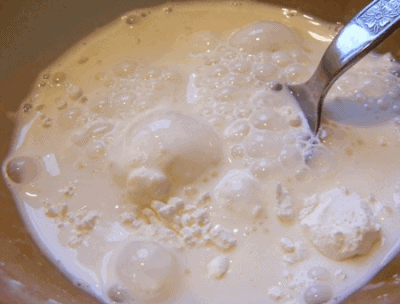 2.Heat the remaining milk in a saucepan with the sugar, dissolving the sugar and bringing the milk to the boil. Remove from heat.
3.Beat the whole eggs into the cornflour/milk mixture. Then beat in the egg yolks. Pour in 1/3 of the hot milk, stirring constantly to prevent the eggs from cooking.

4.Now, bring the remaining milk back to the boil, and add the eggy mixture, whisking as your pour. Keep whisking (don't stop or it'll solidify) on a medium heat until the mixture starts to thicken.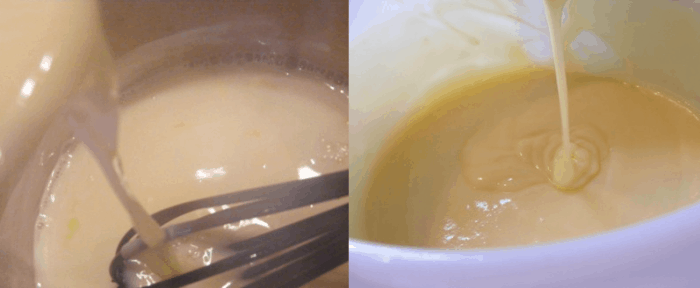 5.Remove the saucepan from the heat and thoroughly whisk the pastry cream. At this stage the pastry cream can look slightly lumpy, but a good whisking soon makes it smoother.
(N.B. If you're worried about the pastry cream continuing to cook off the heat, you can transfer it to a stainless steel/ceramic bowl.)
6.Beat in the butter and vanilla until fully incorporated.
7.If you haven't already, pour the pastry cream into a stainless steel or ceramic bowl, and then place clingfilm over the surface to stop a skin forming.
8.Refrigerate overnight to give the pastry cream time to further thicken.

Mille-Feuille/ Napoleon/ Custard Slice
Servings: Makes 8- 10
Ingredients
1 x batch pâte feuilletée/puff pastry (see above)
1 x batch crème pâtissière/pastry cream (see above)
2 ¾ cups (660 ml) (12⅓oz) (350gm) icing sugar
2 teaspoons (10 ml) lemon juice
2 large egg whites
½ cup (2¾ oz) (80gm) dark chocolate
Directions:
1.Preheat oven to moderately hot 200 °C /400°F/gas mark 6.
2.Lightly dust your work space with flour and remove your dough from the fridge.
3.Roll into a large rectangle, the thickness of cardboard. The recipe I followed specified no other dimensions, but I rolled mine to about 12"/30cm x 18"/46cm.
(I found it easiest to start the rolling on the work surface, and finish it off on a large piece of greaseproof paper. That way it's easier to move the sheets of pastry around.)
4.Cut into three equal pieces and place on a baking tray. If you don't have space for all three, you can bake them separately.
(I baked mine in separate batches. See below.)

5.Prick the pastry sheets all over with a fork.
6.Place another sheet of greaseproof paper over the top and then a heavy baking tray. This will prevent the layers from puffing up too much.
(N.B. I found my baking trays weren't heavy enough, so also used a pyrex dish to add more weight. Just ensure that the pastry sheets are evenly weighted down.)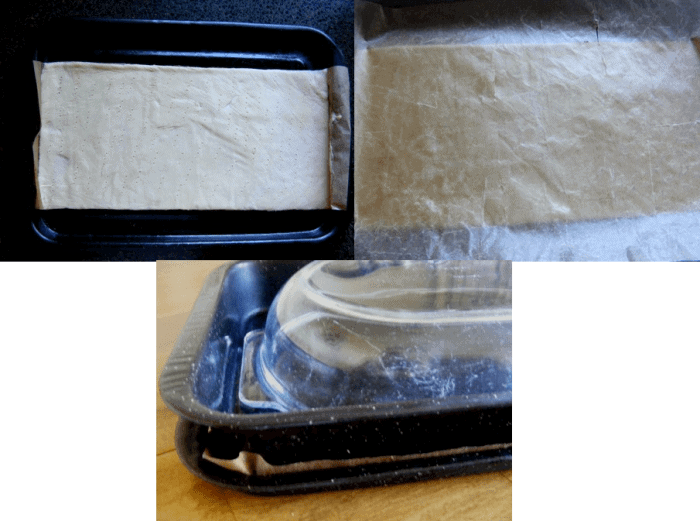 7.Bake each sheet for about 25 minutes in a moderately hot oven 200 °C /400°F/gas mark 6, removing the top layer of greaseproof paper/tray 10 minutes before the end for the tops to brown. Keep an eye on them and lower the temperature if you think they're browning too much.
8.Remove the baked sheets from the oven and leave on a wire rack to cool.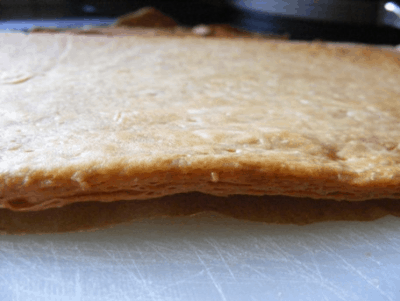 9.Once the pastry has cooled, you're ready to assemble your mille-feuille. Get a sturdy flat board, your pastry and the chilled crème pâtissière from the fridge.
10.Lay one sheet on the board and spread half the crème patisserie evenly over the top.
11.Take the second sheet and place it on top, pressing down lightly with your hands to ensure that it sticks to the filling.
12.Spread the remaining crème pâtissière and place the last sheet of pastry on top, pressing down again. (Don't worry if there's some oozing at the sides. That can be neatened later.)

13.Pop in the fridge while you prepare the icing / chocolate.
14.Melt the chocolate in a bain marie, stirring periodically. Once melted, transfer to a piping bag (or plastic bag with end snipped), resting nozzle side down in a glass or other tall container.

15.To make the icing, whisk 2 egg whites with 2 teaspoons lemon juice until lightly frothy.
16.Whisk in about (2 cups) 300gm of the icing sugar on a low setting until smooth and combined. The mixture should be thick enough to leave trails on the surface. If it's too thin, whisk in a bit more icing sugar.

17.Once ready, immediately pour over the top of the mille-feuille and spread evenly. I found that I didn't quite need all of the icing.
18.Still working quickly, pipe a row of thin chocolate lines along the widest length of your pastry sheet (see below). You can make them as far apart/close together as you like.

(Again, don't worry if it looks messy. It can be neatened later on.)
19.STILL working quickly (phew), take a sharp knife and lightly draw it down (from top to bottom) through the rows of chocolate. A centimeter (½ inch) or so further across, draw the knife up the way this time, from bottom to top. Move along, draw it down again. Then up. And so on, moving along the rows of chocolate until the top is covered in a pretty swirly pattern.
N.B. I made a few errors at this stage, getting it into my head that I should use a cocktail stick (I shouldn't) and only drawing it down in the one direction, instead of down and then back up again. Also, I don't think I worked quickly enough, which caused both the chocolate and icing to catch. This (http://moroccanfood.about.com/od/tipsandtechniques/ss/How-To-Make-Millef…) is a better idea of what you should do.
This is what I did:

Hmmm.
20.Once you've decorated your mille-feuille (no doubt far more beautifully than I did), with a clean knife mark out where you're going to cut your slices, depending on how big you want them to be and leaving space to trim the edges. I got ten out of mine – two rows of five.
21.Chill for a couple of hours to give the icing (etc.) time to set.
22.With a sharp knife, trim the edges and cut your slices.
23.Dig in!
Storage & Freezing Instructions/Tips:
The puff pastry dough will keep in the fridge for up to two days. Any leftovers can be well wrapped up & frozen for a year. Thaw for 30 minutes on the counter or overnight in the fridge.
The completed mille-feuille can be made a day or two in advance; it will last 2 or 3 days in an airtight container in the fridge, though will become less crisp.

Additional Information:
Puff pastry video: http://www.youtube.com/watch?v=Zg-ybzGok3U
Mille-feuille/Napoleon video: http://www.youtube.com/watch?v=oGQCWuKU7Co
Vegan puff pastry: http://veganbaking.net/pastries/718-puff-pastry
Gluten-free puff pastry (plus a chocolate mousse & raspberry mille-feuille): http://www.tarteletteblog.com/2010/04/recipe-gluten-free-puff-pastry.htm…
Vegan pastry cream: http://vegandad.blogspot.co.uk/2011_08_01_archive.html
A bunch of creative filling ideas:
Banoffee mille- feuille: http://www.bbc.co.uk/food/recipes/_banoffee_mille_feuille_37951
Lemon and ginger mille-feuille : http://www.bbc.co.uk/food/recipes/lemon_and_ginger_mille_19111
Chestnut and pear: http://www.bbc.co.uk/food/recipes/chestnutandpearmille_92786
Chocolate mille-feuille with blackberries and cassis: http://www.channel4.com/4food/recipes/tv-show-recipes/baking-mad-with-er…
Mushroom, goat cheese and hazelnut mille-feuille : http://frenchforfoodies.com/2010/09/26/mushroom-magic-cest-la-saison-des…
Blue cheese mille-feuille with glazed red onion: http://alfcooksvegetarian.blogspot.co.uk/2011/04/savoury-mille-feuille.h…