Is there anything quite like the aroma of fresh lemons? Bright, citrusy, and invigorating at first whiff, using the flavor of lemon in your recipes is a surefire way to wake up your taste buds and lift up your mood!
Lemon extract stands strong as one of the most popular ways to incorporate the power of lemon into culinary creations, especially when it comes to baked goods and dessert recipes. Lemon cake, lemon cookies, lemon muffins, and lemon ice cream are all likely to be loaded with lemon extract!
So, what happens when you need to get your lemon fix but you don't have any lemon extract on hand? Don't be sour! There are some great substitutes for lemon extract and chances are you happen to already have at least one of these on hand.
What is Lemon Extract?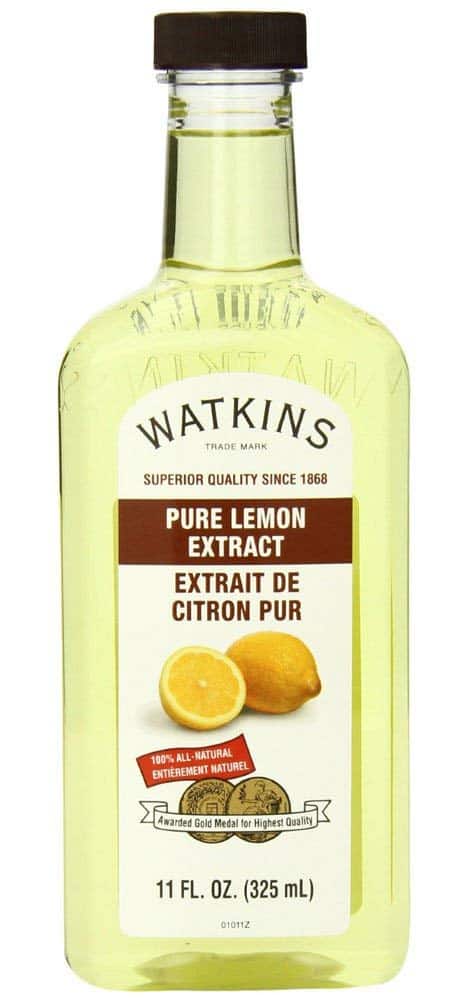 Pure lemon extract is fairly straightforward–it's just the extract of lemons! By soaking lemon peels in alcohol, the essential oils that are contained within the aromatic ring are drawn out of the lemon peels and into the liquid itself. The result is an extremely potent, lemon-flavored liquid that can add tons of lemon flavor into sweet or savory dishes.
The intensity of flavor that is packed into each drop of lemon extract means you don't need to use much of it in order to deliver loads of lemon flavor. In fact, just a fraction of a teaspoon of lemon extract is typically plenty for most recipes. Measure accurately! A little overflow of a robustly flavored ingredient such as lemon extract can easily overturn any recipe.
How is Lemon Extract Used
Lemon extract is used to impart lemon flavor into various dishes without adding any of the acidity, tartness, or sweetness that comes along with the addition of lemon juice. Another important distinction is that it only requires a very small amount of liquid lemon extract to achieve the desired flavor, keeping the total quantity of liquid in a recipe far lower than if lemon juice were used.
Therefore, lemon extract is most often used in pastries and baking, where the final product is highly influenced by the amount of liquid in the mixture, or in dishes which contain ingredients that are sensitive to acidity such as ice creams and custards.
Is Lemon Essence the Same as Lemon Extract?
Contrary to popular belief, these two products are indeed different from each other! Lemon essence is made by way of artificial flavoring, whereas lemon extract is lemon flavoring that comes from only the oil of actual lemons themselves.
The intensity of flavor in a lemon essence will depend entirely on the brand, as one brand of lemon essence may have a deeply concentrated flavor while another may taste more diluted. But generally speaking, lemon essence and lemon extract can be considered equivalent and be used interchangeably. Just use equal parts lemon essence to lemon extract in any recipe.
The Best Lemon Extract Substitutes
Deciding which lemon extract substitute is best for your recipe will depend on what type of dish you're looking to use it in. As we learned, the beauty of lemon extract is that it can lend citrus flavor to a dish without any acidity. Some of these lemon extract substitutes do have an acid component, making them unsuitable for some applications. Other options listed may introduce flavors which may not be compatible with your recipe. Rest assured, there is a substitute for lemon extract for everyone!
Lemon Zest (Or Other Citrus Zest)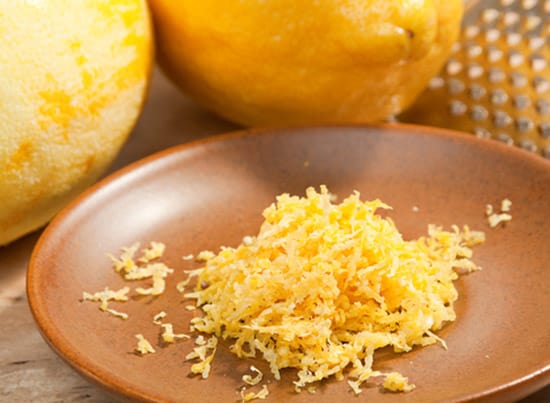 Since lemon extract gets its flavor from lemon oil, which is most concentrated in the peel of the fruit, lemon zest makes a perfect lemon extract substitute! As you zest a lemon using a zester or a grater, the fragrant lemon oil is released. Each little speck of lemon peel packs a wallop of lemon taste, without any acidity or tartness, just like lemon extract. Take care when zesting to avoid the pith, the white layer just below the rind, as this will impart a bitter taste.
Unlike lemon extract which will blend in seamlessly to any dish, the bits of lemon zest are likely to be visible in your final dish. In most cases, such as with baked goods and marinades, this will be of no issue. However, if you're looking for a uniform outcome, such as with ice cream or frosting, you may not want to see these bits of lemon rind in the mix.
If you don't have fresh lemons on hand but DO have other fresh citrus such as limes or oranges, you can easily use lime zest or orange zest as well! Neither of these will deliver lemon flavor of course, but they will deliver the same punch of bright citrusy flavor.
How Much to Use:
Go right ahead with a 1:1 ratio! The amount of flavor in any quantity of lemon zest (or lime zest or orange zest) should deliver just about the same dose of flavor of the same quantity of extract.
Lemon Juice (Or Other Citrus Juice)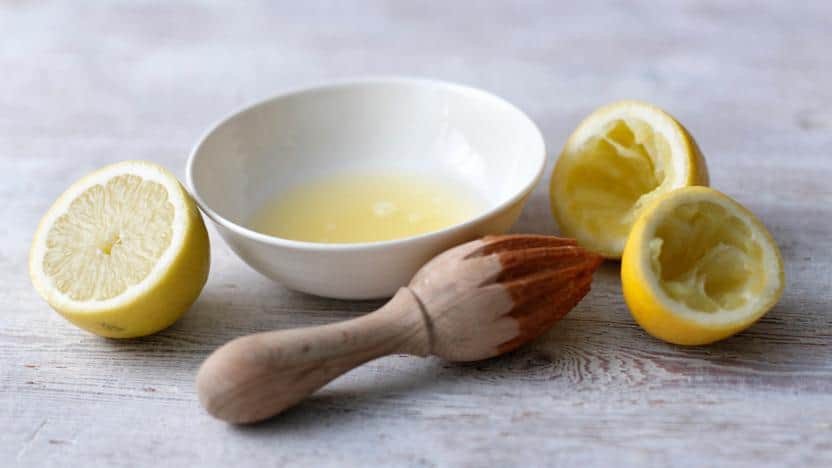 After lemon zest, the next most logical step in our quest for a lemon extract substitute is fresh lemon juice of course! Freshly squeezed lemon juice will be your best bet, but if you only have bottled or concentrated lemon juice, that would work here as well. Bear in mind that using lemon juice as a lemon extract replacement will add a considerable amount of extra liquid to your recipe, so you may want to calculate and reduce other liquid ingredients in order to compensate.
Although fresh lemon juice packs plenty of lemon flavor, it also brings acidity to the table. This is of no concern when it comes to salad dressings or sauces, so go ahead and get juicing! However, the introduction of acidity could pose an issue in recipes with milk ingredients, as acidity has the potential to curdle dairy. If using lemon juice as a replacement for lemon extract in a recipe such as ice cream, be sure to add the lemon juice after the dairy ingredients are chilled and will not be heated again.
No lemon juice? Take a look and see what other citrus fruits or citrus juice you may have lying around. Chances are that the alternative flavors of lime juice or orange juice would work just as well in your dish, or perhaps even something a bit more offbeat like grapefruit juice!
How Much to Use:
Use 2 tablespoons of lemon juice (or lime juice or orange juice) for every 1 teaspoon of lemon extract called for–that's a 6:1 ratio!
Lemon or Citrus Liqueur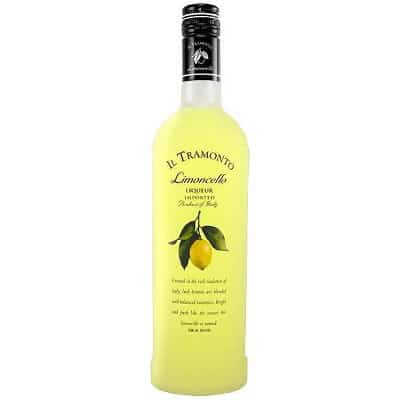 Just like lemon extract, citrus liqueur is intensely flavored, making it one of the best substitutes for lemon extract. Limoncello (lemon liqueur) is actually made by the same process of soaking lemon peels in alcohol, resulting in a bright punch of citrusy lemon flavor. If you have limoncello, or any lemon liqueur, that's your clear winner!
However, triple sec (orange flavored liqueur) would also work here, as well as other brightly flavored liqueurs such as cherry or apple! These will of course change the flavor of your dish entirely but as long as the other ingredients in the recipe will complement each other, different flavors are never a bad thing.
When substituting lemon extract with liqueur, you'll be adding much more liquid than the recipe calls for so be sure to reduce other liquids as needed. Also consider the fact that you are adding a significant amount of alcohol to your recipe! It's true that some alcohol will burn off during the cooking process, but still, using liqueur in those lemon cupcakes for the class bake sale? Probably not a good idea.
How Much to Use:
Start with 1 tablespoon of citrus liqueur, then add up to another tablespoon if desired.
Other Flavored Extracts
If you've been digging through your spice cabinet looking for the bottle of lemon extract, chances are you've had your hands on a bottle or two of other flavored extracts. Hold up right there, because one of those might be just what you need. Other flavors of extracts make for some of the best lemon extract substitutes due to the fact that the concentration of flavor is the same. The only difference will be the flavor itself!
Since lime and orange make excellent replacements in the zest and juice departments, it's not too surprising that lime extract and orange extract will be suitable stand-ins here as well. But did you know you could also substitute lemon extract with some entirely different extracts as well? Try cinnamon extract, almond extract, or other less common extracts such as strawberry or banana! These options will by no means deliver lemon taste to your dish, but they will change the flavor profile of your recipe to something else delicious. Were you planning on making lemon cookies? Forget the lemon extract and make cinnamon cookies instead!
How Much to Use:
You can use a 1:1 ratio, so whatever amount of lemon extract recipe calls for, you can use an equal amount of any other flavored extract.
Apple Cider Vinegar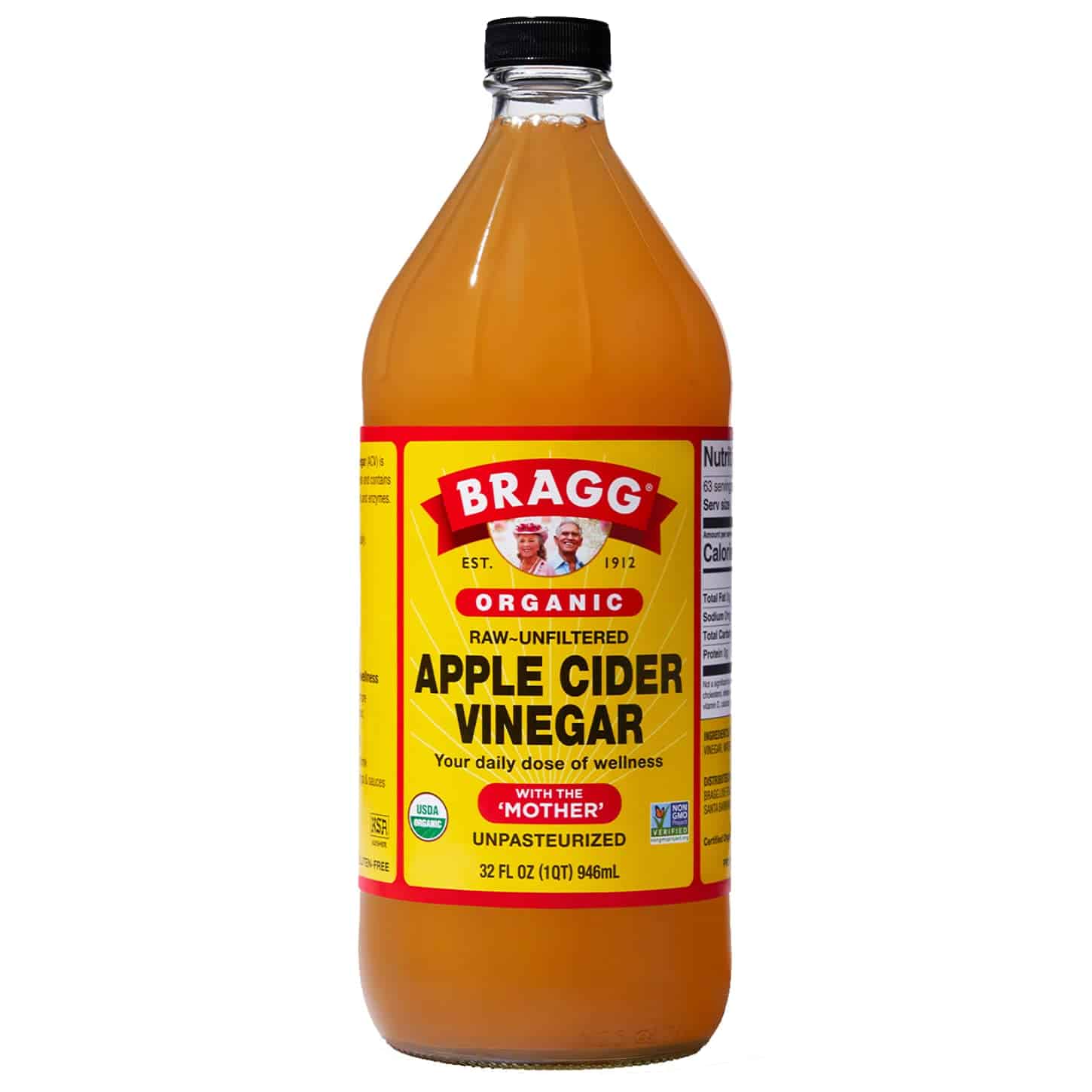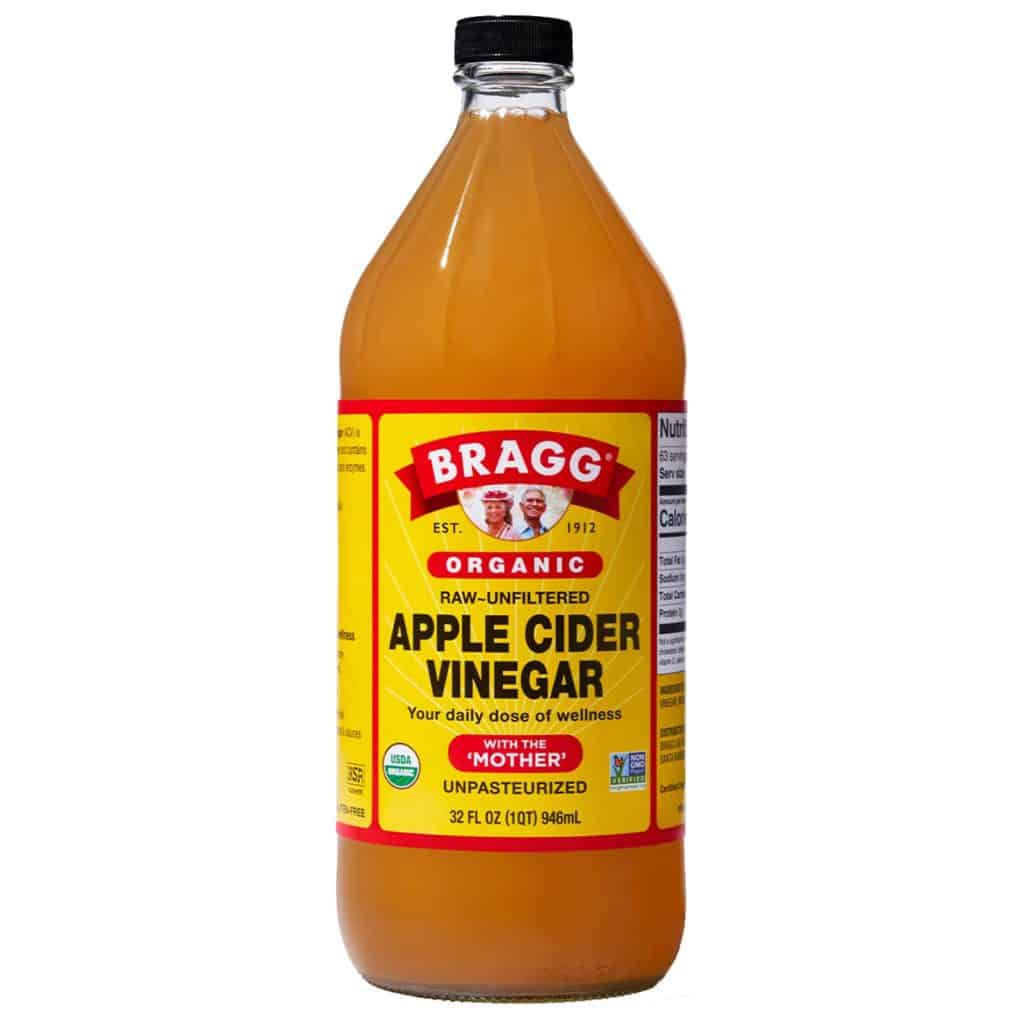 This made seem like an odd option as a substitute for lemon extract, as apple cider vinegar of course contains no citrus taste whatsoever! However, it does possess tanginess and a fruity flavor comparable to that of lemon juice, making it a viable option as a lemon extract substitute in some cases.
The inherent sharpness of apple cider vinegar will likely be a no-go in some sweet recipes (apple cider vinegar ice cream–not appetizing!), however it will work wonderfully in marinades, dressings, and sauces. Apple cider vinegar also has the added bonus of delivering extra lift to baked goods, making it an oddly wonderful choice for cakes and breads. This is due to the fact that when apple cider vinegar and baking soda come into contact, carbon dioxide is produced, resulting in an airy batter that will bake up light and fluffy!
How Much to Use:
Try a 4:1 ratio of apple cider vinegar to lemon extract called for in a recipe.
Choosing the Best Substitute for Lemon Extract
When considering your choices for a lemon extract substitute, there are several factors you should take into account in order to end up with the best possible results.
The total volume of liquid in the recipe. If you are working with a substitute such as citrus juice or liqueur, you will be adding quite a bit more liquid than if you were using the extract itself. Therefore, you may want to reduce other liquid ingredients in the recipe to compensate.
The overall flavor profile of your dish. Will another type of citrus be able to complement the other flavors that are at play in your recipe? Or is it possible to take a chance with another flavor entirely and try a different type of extract? The answers to these questions are ones that only you can answer, so trust your instincts and if possible, try a small batch of the ingredients together first as a taste test!
The level of sweetness. If you are considering using any type of juice as a substitute for lemon extract, think about any other sweet ingredients that are in the recipe, as you may want to decrease additional sugars to compensate.
Can You Replace Lemon Extract with Lemon Essential Oil?
Unlike lemon extract, which is made by soaking lemon peels in alcohol, lemon essential oil is typically made by cold pressing lemon peels in order to extract the lemon oil directly. This oil is then packaged and sold as is, with no additional ingredients or diluting ingredients.
It is possible to use lemon essential oil as a substitute for lemon extract, just be sure to do your homework carefully as not all essential oils are safe for consumption. If, after your research, you've deemed your lemon oil to be edible, be aware that essential oils are always much more concentrated than extracts, therefore you will likely only need a few drops to achieve the same level of lemon flavor in your recipe.
One Final Option: Make Your Own Lemon Extract!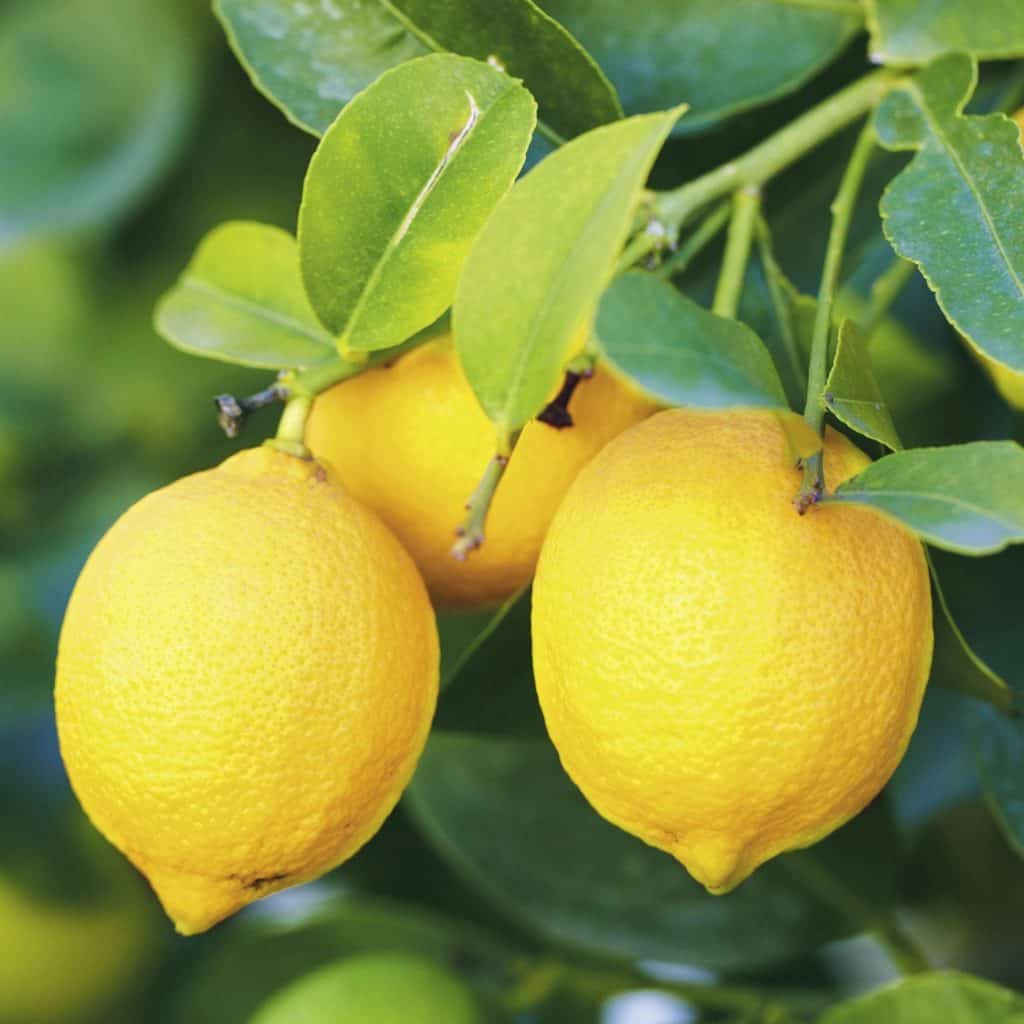 When life gives you lemons…make lemon extract!
Making lemon extract at home is an incredibly simple process and will certainly ensure that you never run out again. All you need is 6-8 fresh lemons (depending on their size), 1 cup of unflavored vodka, and a jar that has a tightly fitting lid.
Step 1
Use a zester or a grater to remove the zest, being careful not to dig into the pith, the white layer that lies below the yellow part of the rind as it contains bitter flavors. Place the lemon zest into the jar and pour the vodka over the zest. Seal the jar and shake gently to combine.
Step 2
Label the jar so you know what day your lemon extract began its soak. Then place the jar in a cool, dark place such as your pantry closet or a cupboard (away from any stove or oven heat).
Step 3
Allow the mixture to soak for 4-6 weeks, giving it a good shake about once a week to ensure that the flavors are mixing evenly. After 4 weeks, don't be afraid to crack open the jar and taste for flavor intensity! If you decide to give it longer, simply replace the lid and allow it to continue soaking for another week or two until you have achieved the desired flavor.
Step 4
When your lemon extract is ready, use a fine mesh strainer to remove the zest and transfer the extract into a clean bottle with a tightly fitting cap. Be sure to label your liquid gold!
Substitutes for Lemon Extract: The Bottom Line
When you encounter a recipe with lemon extract on the list, we hope it's been reassuring to learn that there are a variety of alternative ingredients you can use in its place.
Lemon zest remains the top option, as this provides a hefty dose of the same aromatic lemon oil that is found in the extract itself. But you may of course use the zest of other citrus fruits (or their juices!), brightly flavored liqueurs, other types of extract, and you can even give apple cider vinegar a whirl!
Each of these substitutes for lemon extract brings its own characteristics to the table and may work best in some recipes while they prove to be less successful in others. Don't be afraid to give something a try without being sure of the outcome! After all, cooking is about learning and that's what we're all here to do.