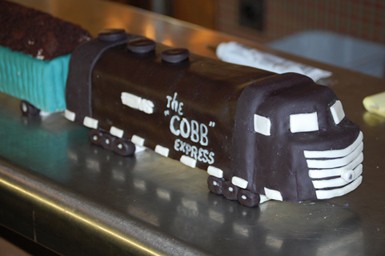 True, these words may not have been uttered with the best of intentions but when taken out of their original context, they can bring a smile to most everyone's face. My love affair with cake has been lifelong, it discriminates against no cake…I will bake them all. My talents, however, have limited me to mainly amateurish looking iced cakes, a pastry bag is not my friend. My dreams of perfectly piped scallops, scrollwork and roses never really panned out. The artist in me cried out, "why?". The concepts were there I just could not get them onto paper – or in this case, cake. I pondered this over a wedge of chocolate cake and this thought occurred to me, "perhaps it is not the artist but the medium". It was then that I discovered Fondant.
Because of some very talented people, Buddy Valastro and Duff Goldman come to mind, fondant is now (almost) a household word. I will not put myself on their level nor will I claim to be the DaVinci of cake but I now know that "pretty" cakes are possible. I have never come across an article on piping that made it sound impossible, the basic premise always seems to be – make icing, tint icing, choose tip, put icing in bag and squeeze, Viola!!!! I have read articles on fondant, however, painting it as a very fussing, trying product. In my experience I find all this information to be false, for me Piping=HARD, Fondant=EASY and because of this I want to give hope to others who wish to give fondant a try.
The best advice I can offer is to make a batch of fondant, channel your inner child and think Playdough! For me it really is that simple and I hope I can convince you of the same.
Obviously the best place to start is at the beginning and here that would mean to get your hands on some fondant. One can make their own, recipes abound on the internet but classic rolled fondant contains some ingredients which are not always readily at hand. It can also be purchased premade in buckets at your local cake supply store but as with anything premade and packaged it can be rather costly. Then there is "MMF", marshmallow fondant- a simple concoction that is very close to the original classic and when I say "simple" I mean SIMPLE. Mini marshmallows, a bit of water, powdered/icing sugar and a bit of flavoring (ie vanilla, lemon, orange, etc. extract). The ingredients and method are as follows…
Marshmallow Fondant
16 oz. mini marshmallows
2 lbs powdered/icing sugar
3-5 Tbs. water
Copious amounts of Crisco shortening (to grease your hands and counter to keep fondant from sticking)
Flavoring
Tints
Place marshmallows and 3 Tbs. water into a large microwave safe bowl, microwave for 30 seconds, stir and continue this till marshmallows are completely melted (approx. 2.5-3 minutes total). Add 1.75 lbs sugar to the bowl and then grease your hands and counter very well. Being careful, as the marshmallows are rather hot, begin to incorporate the sugar into the marshmallows with your hands. As the fondant comes together you can add your flavoring and continue kneading till you have a firm, smooth elastic ball of fondant. If it appears dry add more water, a half Tbs. at a time till the fondant stretches without tearing. At this point wrap the fondant in plastic wrap and let it rest 2 hours or overnight in the refrigerator. After it has rested knead it till it is soft and pliable, at this point you can knead in various gel food colors to get the colors needed for your cake.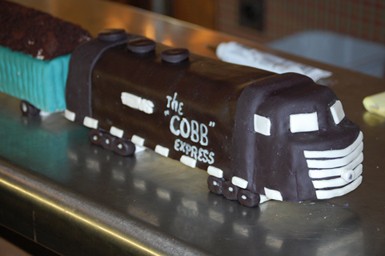 Now that you have made your fondant my next bit of advice would be….if you can dream it and carve it, you can cover it! However, I want to give you a few basics before you start your fondant journey.
The rolling out of fondant is very akin to rolling out a pie crust, begin with a disc of fondant and roll from the center to the edge, rotating and dusting with powdered sugar till you reach a thickness of slightly more than 1/8″. It is of great importance to dust very well because once the fondant sticks you will then have to stretch it to release and that creates thin spots which can affect the end products appearance. Not only is the thickness of the fondant important but the overall dimension is as well, you want to cover the cake with no seams whatsoever.(146) Using an 8″ wide round cake that stands 4″ high as an example here is the formula for achieving the correct size of fondant to fully cover the cake.
W" + 2H" + 2″=
8″ + 2(4″) + 2″=
8″ + 8″ + 2″= 18″
Think of it in these terms you must cover up one side of the cake, across the top and then back down the other side, the additional 2″ is just a 1″ buffer on either side. This formula works for all shapes, rounds, squares, rectangles and odd shapes, just keep in mind "up, across, down and then a buffer".
The time has come to cover the cake with your rolled fondant, for this you will need to have a well prepared base. Fondant may stick to countertops but without some sort of glue it doesn't stick well to cake. This glue is obviously your coating of icing, however since there is only a thin layer of icing and not your typical coat make sure that you fill your cake well. Once your cake is filled and assembled apply a thin coating of icing, just slightly more than a crumb coat, to the entire surface. It has been my experience that the simplest way to move the piece of fondant is to roll it onto a rolling pin, center it on one side of the cake and then to gently and slowly unroll it across the cake's surface. Once the cake has been draped in fondant the time is now come to achieve that final smooth glorious finish.
Finishing fondant is not unlike making a bed, you need to tuck, tighten and smooth till the surface is just as you want. There is a tool one can use to accomplish this task, a fondant smoother, but I just use my own hands, sometimes gloved sometimes not. For me, I like to "feel" what I am doing, although I think I might save myself some time in using the smoother. Starting in the center of the top surface I make semi-circular passes over the fondant out toward the sides, doing this until the entire top is taut, smooth and fully adhered to the cake. This motion gets rid of any air bubbles that may have appeared, if however you have a stubborn air bubble you can use a sharp needle to pierce it but do this only from the side of the bubble and not from the top. If you do it from the top you will be left with a very noticeable pin prick that just won't go away. Now that the top is smooth the time to work on the sides has arrived. Here is where you need to spend some time and practice a little patience. Slowly work your way from top to bottom of the side in small sections and smooth the fondant onto the surface of the cake. There will occur natural folds that you just need to either stretch out or compress so that they disappear and you end up with a flawless covering.
Now that you have a completely smooth surface, trim off any excess pieces and let the fun begin! A simple fondant covered cake ,with a single rose placed on top, is an elegant addition to any table but remove that rose and you have a blank canvas. You can paint on it, you can add sculpted pieces to it, you can…..you get the point, the options are endless. The time has come to let your inner child loose on his/her playdough, reach for the stars! Anything is within your grasp with fondant.