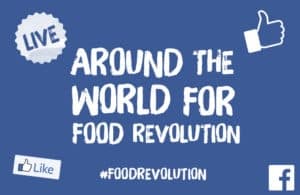 For Food Revolution Day on May 20th, we've teamed up with Facebook and their new Facebook Live tool that allows anyone to stream live video to their audience, engage in conversation and spread the word in a personal, direct and reactive way that traditional media cannot match.
MAY 20TH – THE FOOD REVOLUTION LINE UP
6.30 am (BST): India 11 am IST when a live stream of the 2 billionth meal served by the Akshaya Patra Foundation free midday meal service will be shown two, quick five minute streams.
At 10am UK time (BST), Jamie Oliver will kick-start a relay of live videos on his own Facebook page with lots of cooking, advice, debate and fun. He will then hand over to the first of nine other countries across six continents. Below is the full schedule for the day:
10.00am: London – Introduction from Jamie with special guests, Charlotte Crosby and Alfie Deyes
10.30am: (7.30pm local time): Sydney, Australia hosted by Donna Hay
11.00am: (3.30pm local time): Mumbai, India hosts Jacqueline Fernandez and Chef Kunal Kapur Watch it here (Jacqueline's Stream) , Watch it here (Chef Kunal's Stream)
11.30pm: (1.30pm local time): Nairobi, Kenya with hosts Chef Ali and singer Juliani
12.30pm: (1.30pm local time): Hamburg, Germany we will be joined by Chef Tim Malzer, Chef Steffen Henssler and the beautiful Janina Uhse.
1.00pm: (9am local time): São Paulo, Brazil, Chef David Hertz,  Marina Person,  Rodrigo Oliveira and Ana Luiza Trajano will be our hosts.
1.30pm: (1.30pm local time): London we swing back to Jamie who will be hosting with the lovely Cheryl cooking up a storm.
2.00pm: (4pm local time) Dar es Salaam, Tanzania, Chef Marion Elias and Alikiba will host us for 30 minutes of cooking and fun debate.
2.30pm: (2.30pm local time) Lagos, Nigeria, Chef Eros and Waje will be our hosts.
3.00pm: London Chef Gennaro with Chef Clodagh McKenna will be streaming live from the new Jamie Oliver Cooking School in London
3.30pm: (10.30am local time): Toronto, Canada, the lovely Chef Lynn Crawford will be hosting her live stream and no doubt cooking something delicious.
4.00pm: (5.00pm local time): Bart Van Olphen and Miljuschka Witzenhausen will stream live from the Netherlands.
4.30pm: (8.30am local time): LA, America, Kris Jenner, Chef Wolfgang Puck and  Cody Simpson will host a fun live segment with Jamie dialing in from London! Not to be missed.  (Kris's Stream) (Wolfgang's Stream) or
 (Cody's Stream)
5.00pm: (5.00pm local time) London Jamie rounds up the day with one last stream back on home turf, London with special guests,  Tanya Burr and Jim Chapman.
5.30pm: Food Revolution Day is finished, but the campaign is still going on!
Get involved online, follow the Facebook marathon, post your questions and share your stories online with #FoodRevolution.