Unless you're a skilled barista or coffee aficionado, knowing the difference between the myriad of coffee drinks on a café menu by name alone can be an uphill battle. A macchiato doesn't sound far off from a cappuccino, right?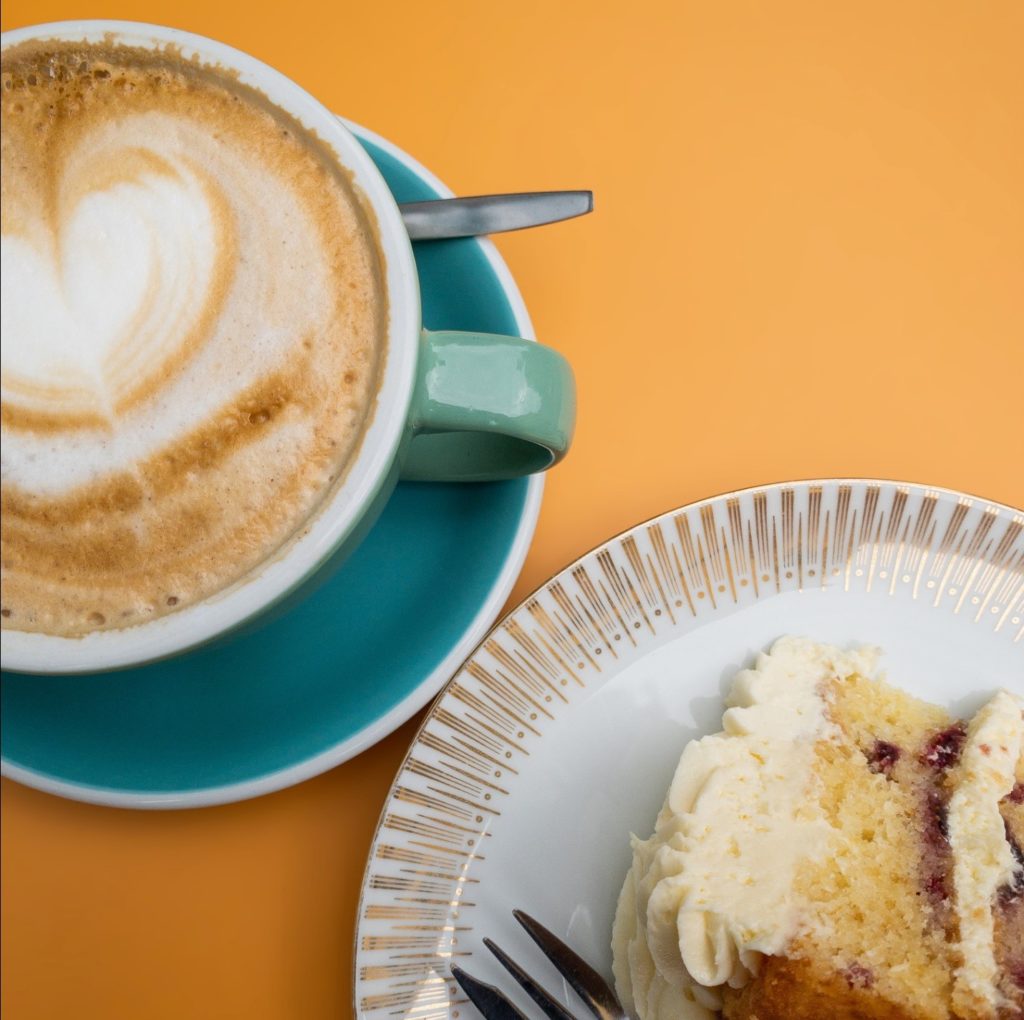 While the names seem to be based solely on the trend, history is abundant behind coffee house beverages. Granted, they are closely similar at first glance, but one sip and you'll know the difference.
It's, therefore, no surprise that cappuccino makers, coffee makers, and Nespresso machines, to mention a few, have littered the market.
With that being said, if you're looking to satisfy your curiosity, then stick around as we delve into the macchiato vs. cappuccino vs. latte matchup. You'll be able to tell the differences like a pro.
What Is a Cappuccino?
Just as you've watched a plethora of people walk away with their espressos in hand, chances are, you've witnessed coffee lovers sip on cappuccinos at local coffee shops. Contrary to the types of coffee drinks, which are dark liquids lacking other visually discernible features, a cappuccino's appearance is the tell-tale.
As a classic beverage renowned for its milky foam frothy top, cappuccino lures in lovers of coffee art because of the milky foam that is usually topped with the most elaborate swirly designs. It's also common to find cappuccinos with a fine dusting of cinnamon or chocolate powder on them.
How Is Cappuccino Made?
Making a cappuccino involves the following ingredients in equal amounts.
⅓ Steamed Milk
⅓ Espresso
⅓ Foamed Milk
These ingredients are poured into a cup in 3 steps.
Firstly, a rich shot of espresso is pressed and poured into the bottom of the cup.
Secondly, the steamed milk is added to the espresso.
Lastly, these two ingredients are topped with an airy and thick layer of foamed milk, filling the cup to the brim.
The contents of the cappuccino are all equal in volume. Moreover, the foamed milk and steam offset the espresso's powerful taste. Given that espresso constitutes ⅓ of the ingredients that go into making a cappuccino, it's no surprise to a coffee aficionado that the cappuccino traces its roots back to Italy.
Contrary to the espresso in which it was named for its process, the term cappuccino has nothing to do with coffee. It derived its name from the Capuchin friars that resided in Italy from the 16th century. Cappuccino's color has a close resemblance to Capuchin robes.
What Is a Latte?
As a fun experiment, you can walk into your local coffee shop and observe a barista making a cappuccino. Then, witness them making a latte. You'll notice the barista using the same ingredients to prepare both coffee drinks.
No, your eyes are not playing tricks on you. You're probably scratching your head wondering if both coffee drinks are made with milk foam, steamed milk, and espresso, what sets them apart?
Lattes stem from Europe, where they are still quite popular, more so, in the mornings. The French café au Lait is a closely similar beverage. Lattes began soaring in popularity in the US in the mid-1900s.
Also known as Café Latte, an Italian phrase that translates to 'milk coffee' revolves around having a silky, smooth micro-foam.
The foam's texture on lattes is the make-or-break as it gives this popular beloved beverage its unique look and how it feels in the mouth. It differs slightly from a latte macchiato that leans more towards a dominant espresso.
Another variation between a macchiato and latte is the aesthetic flair. A latte is well-known for the art that is carefully swirled into the foam right at the top. However, provided that a beverage has specific milk to coffee ratio, it can rightfully be regarded as a latte.
How Is Latte Made?
Lattes comprise the following ingredients:
Up to 8 ounces of steamed milk
A double shot of espresso
1cm thick layer of milk foam
While these are the same ingredients used to make a cappuccino, the difference lies in the quantity of milk used. The steamed milk to espresso ratio in lattes ranges from one to three and one to nine.
In the US and other countries across the globe, ordering a latte will get you precisely what you want, which is a coffee beverage that constitutes a cup of steamed milk, up to 2 espresso shots, and a layer of milk froth to top it off.
Nonetheless, when you visit Italy and other European countries, keep in mind that a latte has various names. For instance, you may order a latte macchiato in Italy, whereby a simple latte will only get you steamed milk. However, in France, you'll want to order a Café au Lait.
There's no denying that this diluted coffee drink is creamier with less espresso and a greater milk quantity. Some coffee drinkers will infuse other flavors and delight in this beverage as a dessert. One of the hallmarks of latte is the eye-catching designs that baristas create.
They get their creative juices flowing and draw impressive pictures right at the top of the latte within the foam, after which they serve a picture-perfect cup of coffee that not only sparks a smile but also satisfies your taste buds.
What Is a Macchiato?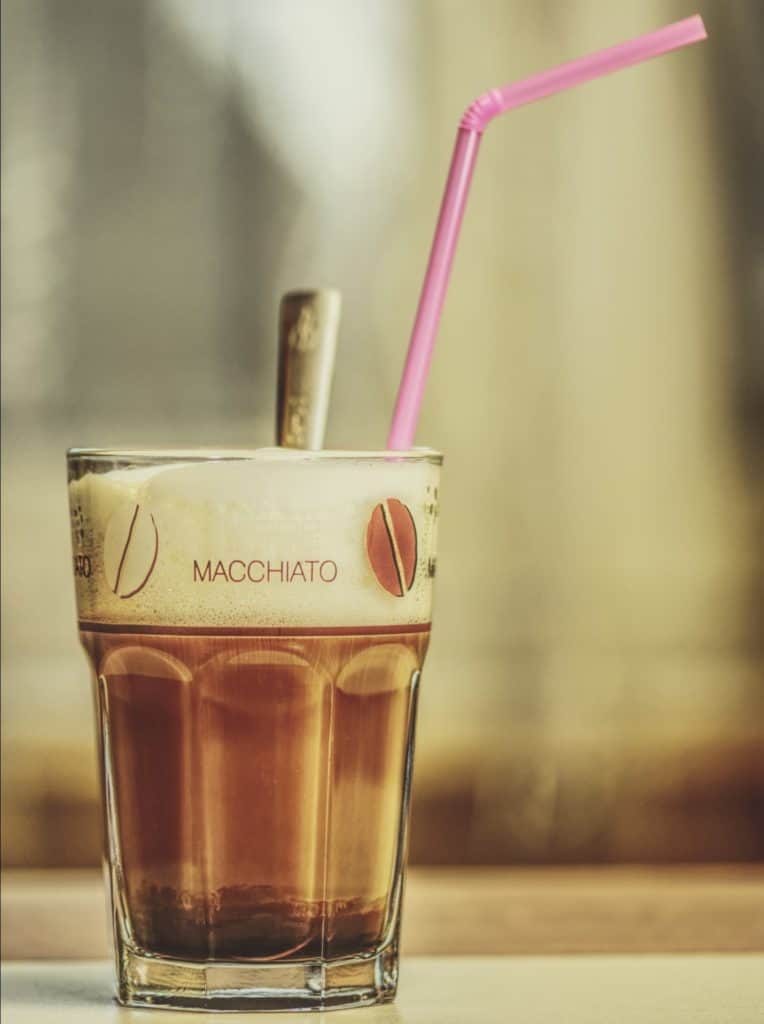 Also referred to as an espresso macchiato or café macchiato, it has a richer flavor compared to other coffee beverages. A macchiato constitutes a small quantity of steamed milk that is loaded with espresso. As opposed to thinking of ratios, you'd rather view it as an espresso with a hint of milk. Therefore, it's no surprise that the term 'macchiato' means 'spotted' in Italian.
The Portuguese refer to macchiato as 'café pingado,' which is the translation for 'coffee with a drop.' If you gravitate more towards strongly flavored coffee, then a macchiato is right up your alley. Macchiato may at times be served with foam on it.
However, more often than not, it's a small micro-foam layer that allows the rich espresso flavor to shine through. The use of espresso beans in macchiato is necessary as it's the key flavor of the beverage.
How Is Macchiato Made?
It's worth noting that some coffee shops serve a macchiato as a cappuccino. Moreover, they define a macchiato as a blended beverage that is infused with a myriad of flavors.
As a result, when you're trying to order a certain beverage, this can be confusing. Therefore, we'll break down a macchiato into its generic composition.
A macchiato can be regarded as a cross between a cappuccino and a straight espresso. It's made when a small quantity of foamed milk is added right at the top of the espresso.
While some baristas may prepare it with a dash spot of steamed milk, the most important thing is that a limited amount of milk is used.
Although the espresso macchiato, or café macchiato as it can be called, is simply an espresso shot with an added teaspoon of steamed milk and topped with foam, a latte macchiato is prepared the opposite way.
It's a shot of espresso which is poured into a larger quantity of steamed milk. Some baristas may add flavored syrups such as caramel to this type of macchiato.
As a tip, if you prefer an espresso shot with a hint of steamed or foamed milk, we recommend ordering an espresso macchiato. However, if you gravitate more towards a milkier beverage with a hint of flavor, then a latte macchiato is right up your alley.
Macchiato vs Cappuccino vs Latte: Nutritional Value
These beverages contain different foam and milk quantities, which in turn changes their respective nutritional profiles significantly. The content of nutrients is influenced by the added sweeteners or sugar and the type of milk used.
Keeping that in mind, a latte has the highest volume of milk. As such, it has the most protein, calories, and fat.
On the other hand, while a cappuccino has less milk, each serving has a healthy share of fat, calories, and protein. A macchiato has a splash of milk and is thereby considerably lower in protein, fat, and calories.
Macchiato vs. Cappuccino vs. Latte: Caffeine Content
All three coffee drinks contain similar quantities of caffeine per serving. A latte and cappuccino, for instance, are made via a shot of espresso and therefore contain the same content of caffeine.
A medium 475 ml (16 ounces) cappuccino and the same quantity of a latte contain about 173mg of caffeine. Meanwhile, a 60ml (2 ounces) macchiato has half as much caffeine with slightly over 85mg per serving.
The Bottom Line
Armed with the knowledge you need to make the perfect gourmet coffee drink at the comfort of your home or order a cup at your local café, you can easily decide on the beverage that tickles your fancy.
It all boils down to how strong you want the espresso flavor to be and the amount of milk you prefer, also given that the texture, taste, caffeine content, and nutritional value of a macchiato vs. cappuccino vs. latte differ.