In recent years, carbon steel pans have begun to grow in popularity. What was once the exclusive purview of high-end restaurant kitchens, has migrated into homes and home cooks are beginning to understand why these pans have been a Chef's favorite for decades.
Blue or Black Carbon steel, is a type of cookware material that seems to blend some of the best things about cast iron cookware with the convenience and accessibility of stainless steel pots and pans. Made In, producers of really nice Direct To Consumer cookware and cutlery has recently started offering blue carbon steel cookware and like all of their products, they are a joy to use.
Made-in products from knives, to cutlery, and kitchen accessories overall have, in my experience, been both excellently made and a very nice value. The Blue Carbon Steel Cookware Set by Made In is no exception, and over the course of a week or so I was able to put it through its paces, to really understand where this set of pans shines, and where it might need improvement.
Overall, what I found throughout my testing was a set of pans that combined the convenience of stainless steel cookware with the heat retention and non-stick qualities of a well-made cast iron pan. While carbon steel cookware might not be completely perfect, it really does offer the best of all worlds.
Made-in Carbon Steel Cookware Review!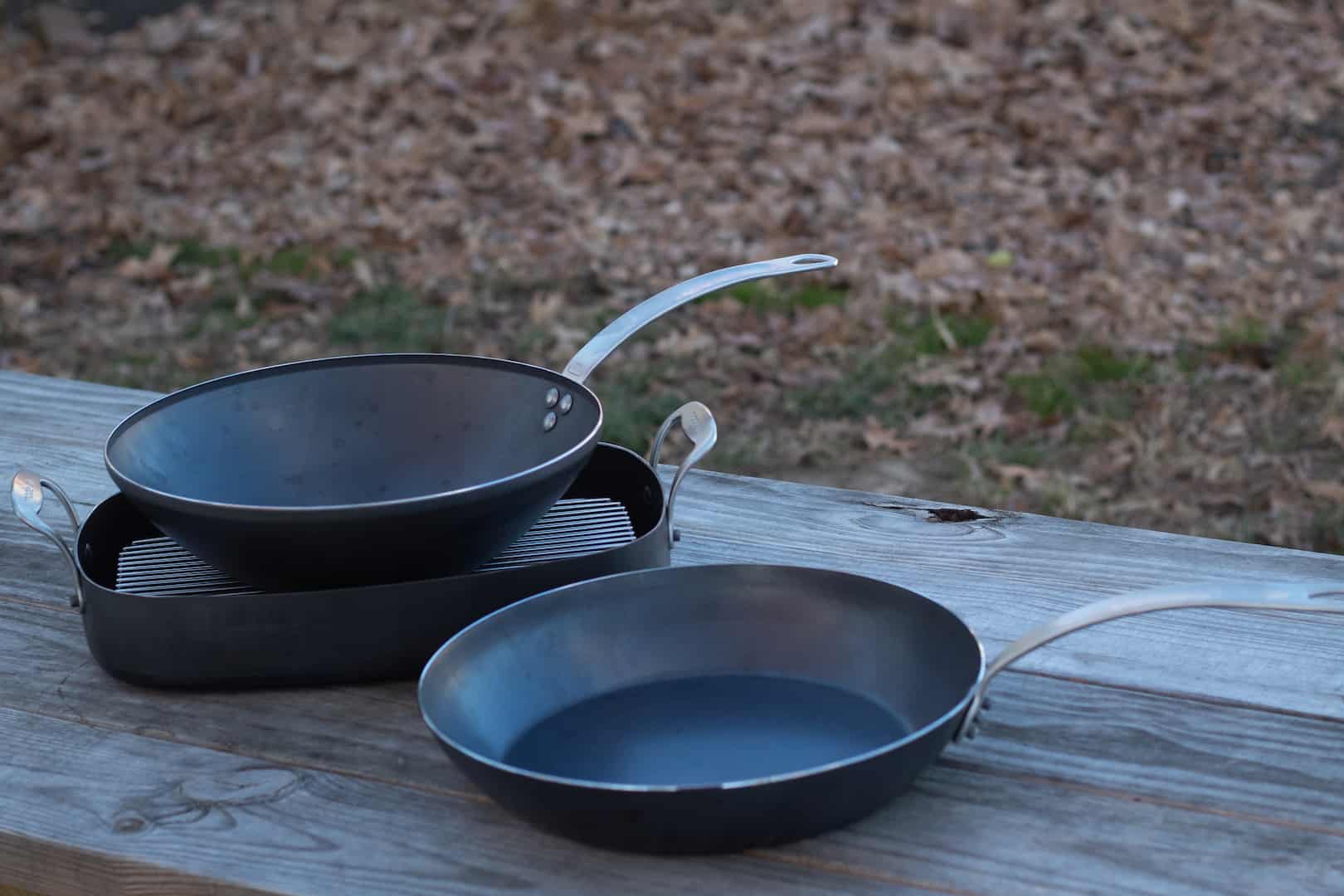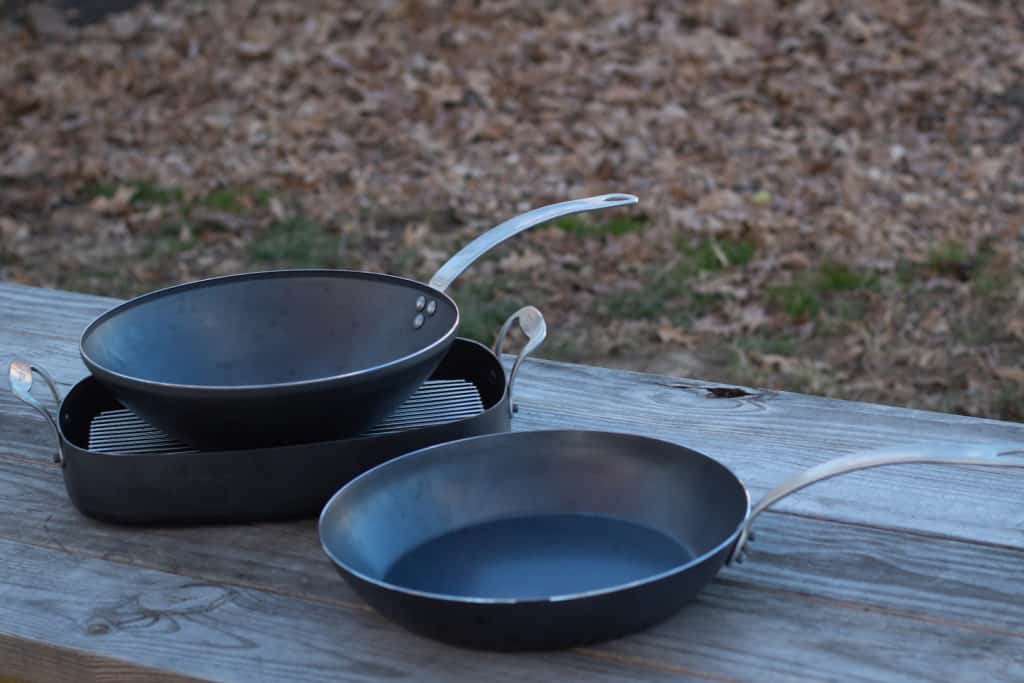 What We Liked:
High end feel
Strong construction
Set includes seasoning wax
Very reasonably priced
What We Didn't Like:
Handles and rivets are stainless steel
What's in the box?
12" Carbon Steel Frying Pan
Carbon Steel Wok
Carbon Steel Roasting Pan
Stainless Steel Roasting Rack
Storage Bag for the Roasting Pan
2 oz Can of Carbon Steel Wax
Look and Feel.
Carbon steel pans are usually made to feel pretty utilitarian. In all my experience with carbon steel or black steel pans, they've always felt like a camp tool or an ancient more primitive pan design. The Made In Carbon steel pans don't really feel that way to me.
With a sleek, curved design to the handle and a high level of finish on the pans themselves, these black steel pans don't feel quite as rough around the edges as many carbon steel designs on the market. If anything they look and feel like a stainless steel pan without the finish applied.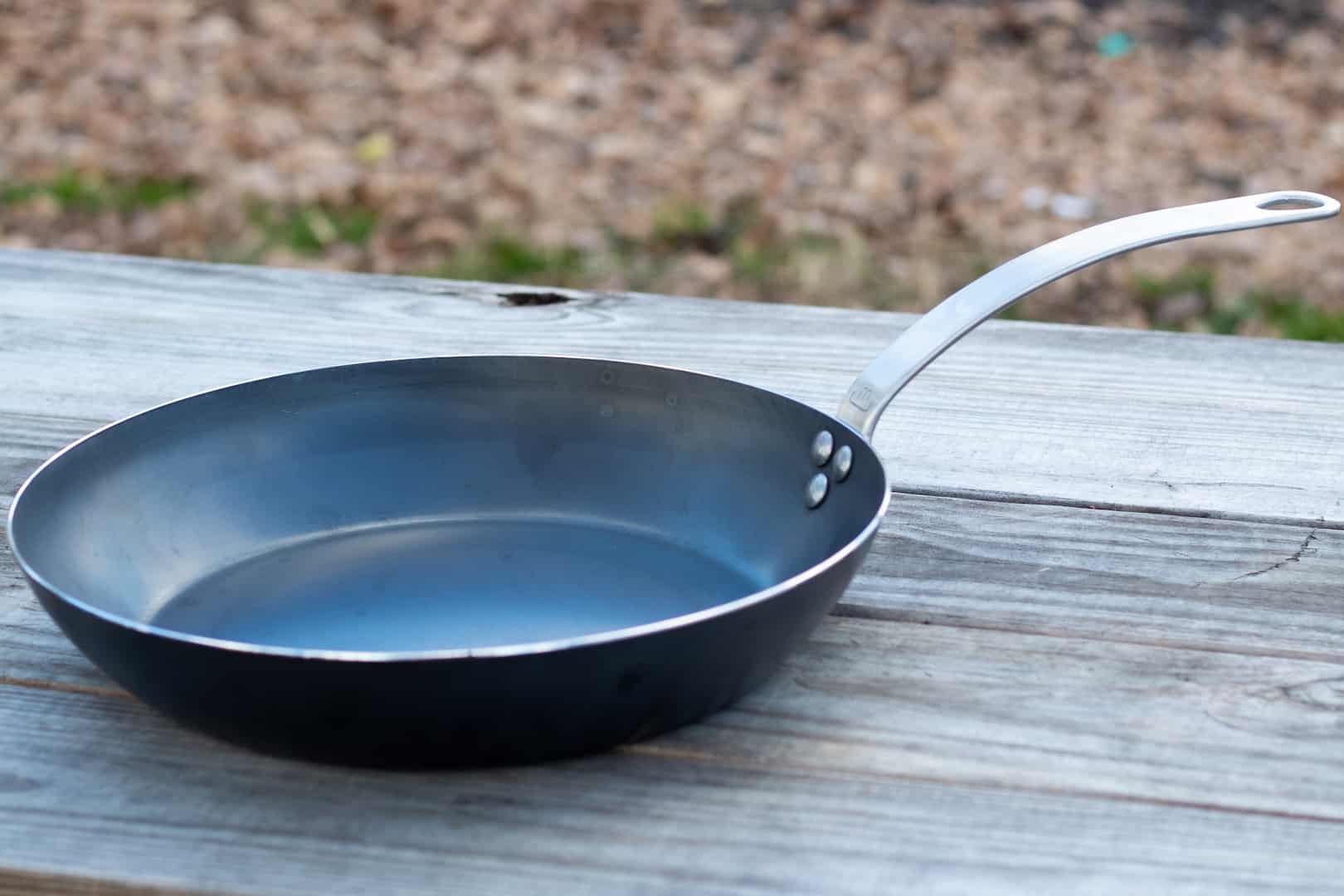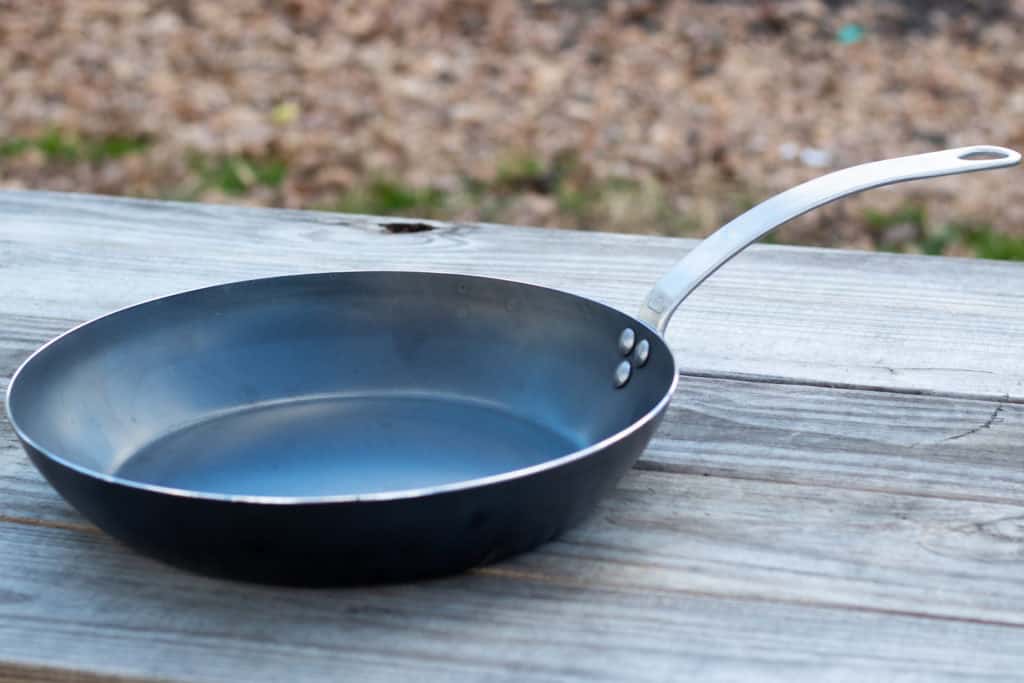 The pans themselves are constructed from a thin, but firm sheet of blue carbon steel, and out of the box, they have an almost grey or muted appearance, which thankfully deepens to a rich black/blue after they are seasoned.
The handles are made from stainless steel as well are the rivets. This might be might only issue with the aesthetic/design overall. During the seasoning process, the stainless steel has a tendency to get stained from the baked-on oil or seasoning layer, which mars the overall appearance of the pans. I would have preferred black steel rivets and handles but I understand that stainless steel adds strength and durability to the construction.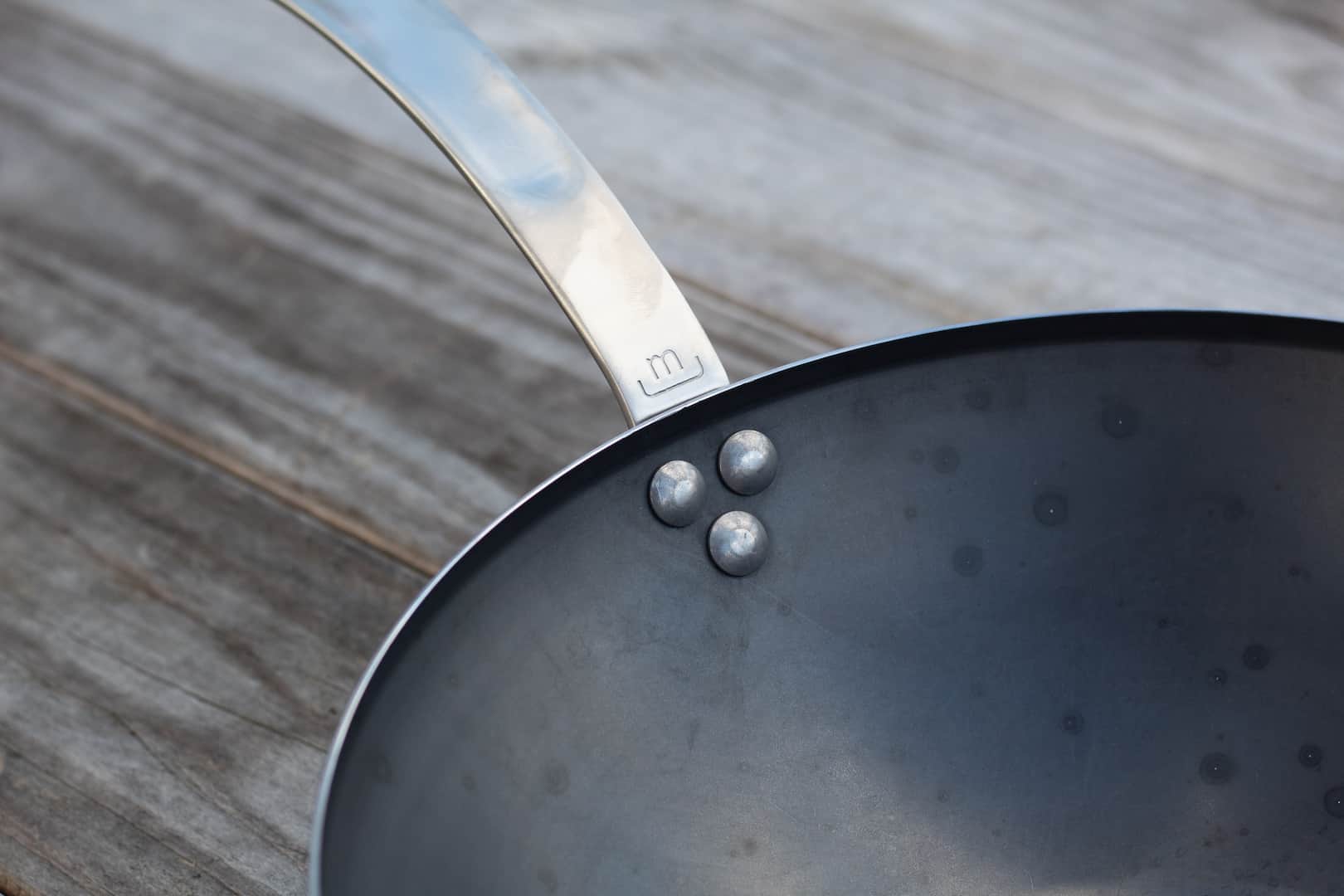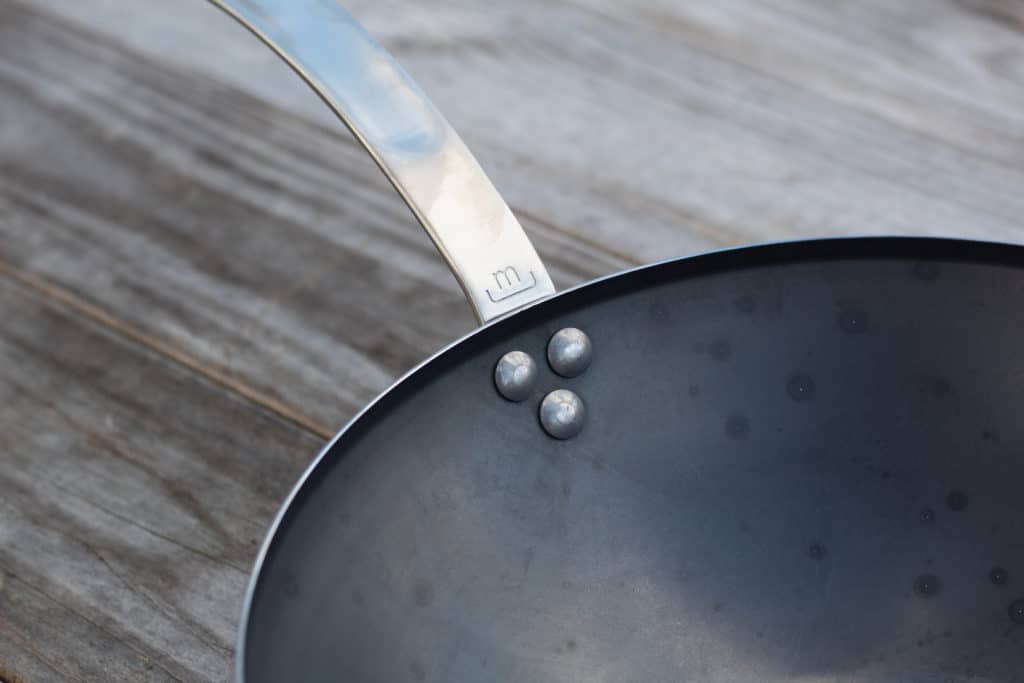 Seasoning the Made In Carbon Steel Pans:
The Made In carbon steel pans do not come seasoned and must be seasoned before you use them for the first time. To season the pans I washed them lightly with a few drops of soap, warm water, and a non-abrasive scrubber.
Once clean I wiped the pans dry and placed them on a burner. I heated the pans over medium/high heat for 3-5 minutes, until they were fully dried. Then I preheated the oven to 450°f.
While the oven was preheated I placed a few drops of canola oil into the pans and then wiped them inside and out with a paper towel, spreading the oil in a fine layer over the carbon steel surface.
Once the oven was preheated I placed all of the pans into the oven and allowed them to bake for an hour before turning the oven off and allowing them to cool.
After the pans had cooled, I removed them from the oven to reveal a fully seasoned, glossy finish that was ready to cook!
Using the 12" Frying Pan.
One reason I love carbon steel pans is they work really well on an open flame. Whether your looking for a go-to pan for using on the grill, or a new camping pan, carbon steel will almost always be a great option.
In years past I've always tried to bring a cast iron skillet on vacations or beach trips especially when I'm staying in a location with a kitchen available. Thanks to the space and weight-saving potential of a carbon steel pan it makes it even easier to take a perfect cooking pan wherever you happen to be traveling.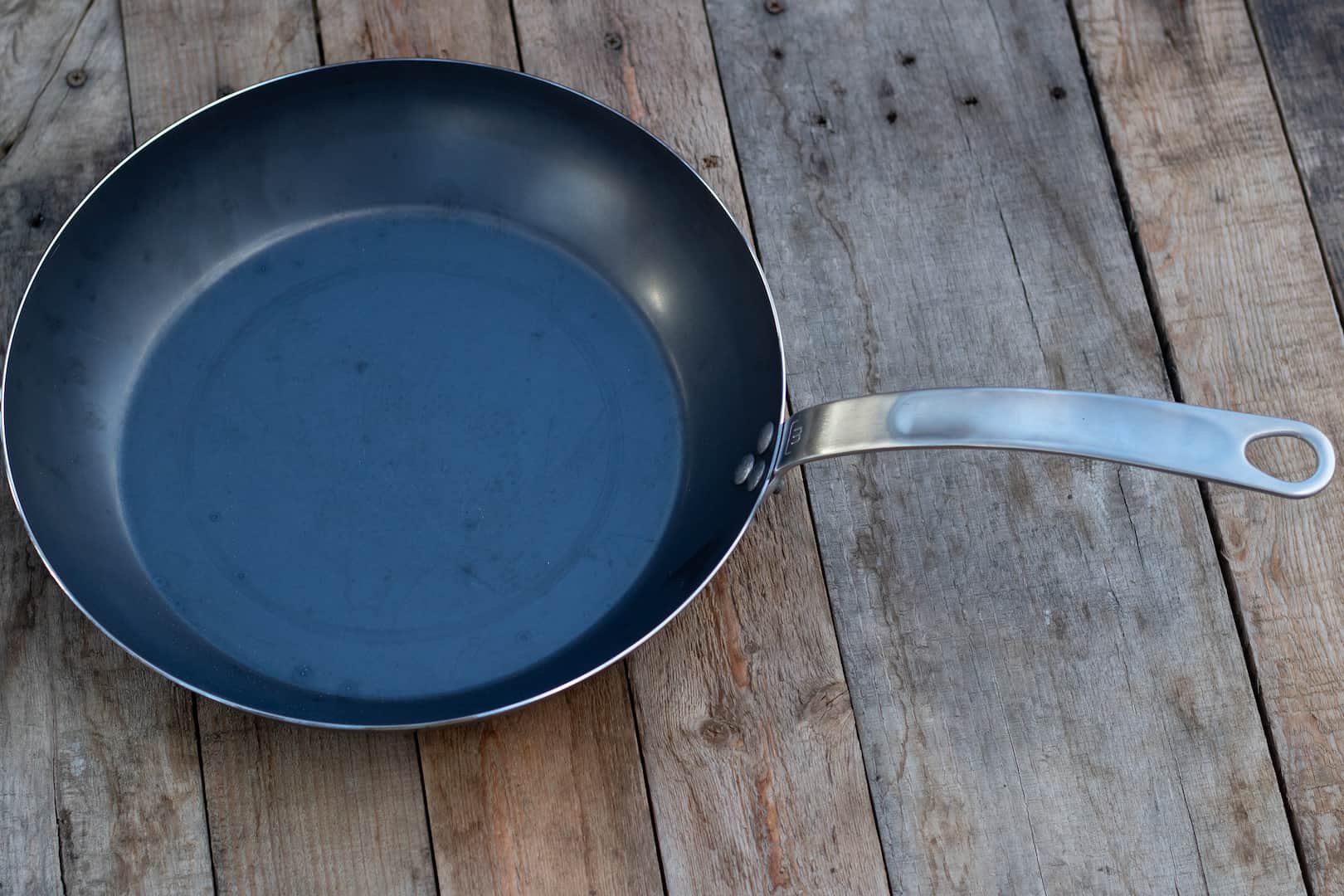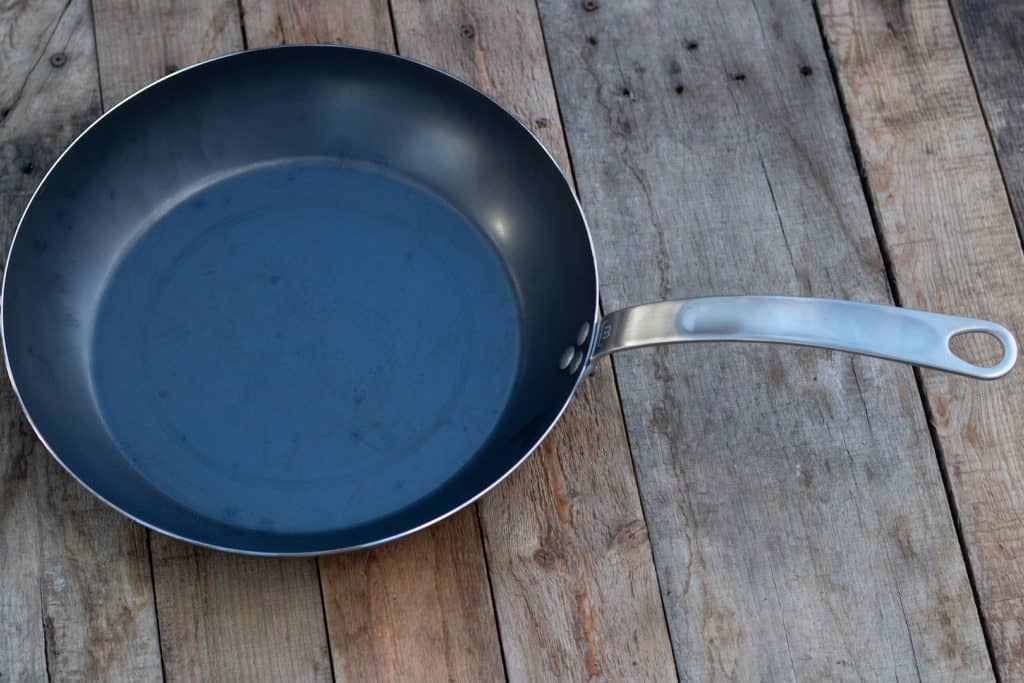 To test the frying pan I decided to fire up my charcoal grill and sear up a few rib-eyes. While I normally wouldn't fire up a grill to test out a frying pan or carbon steel skillet, I was hoping this pan could pull double duty as my camping pan and I wanted to see how it would do over an open fire.
Once the grill was up to temp, I put the 12" carbon steel frying pan directly onto the grill grate and allowed it to heat thoroughly. Thanks to the high conductivity of carbon steel, it doesn't take long to get hot, and like cast iron, carbon steel holds its temperature really well.
Now that I had the pan preheated I poured a few tablespoons of canola oil into the pan and popped two, seasoned 10 oz ribeyes into the pan to begin searing.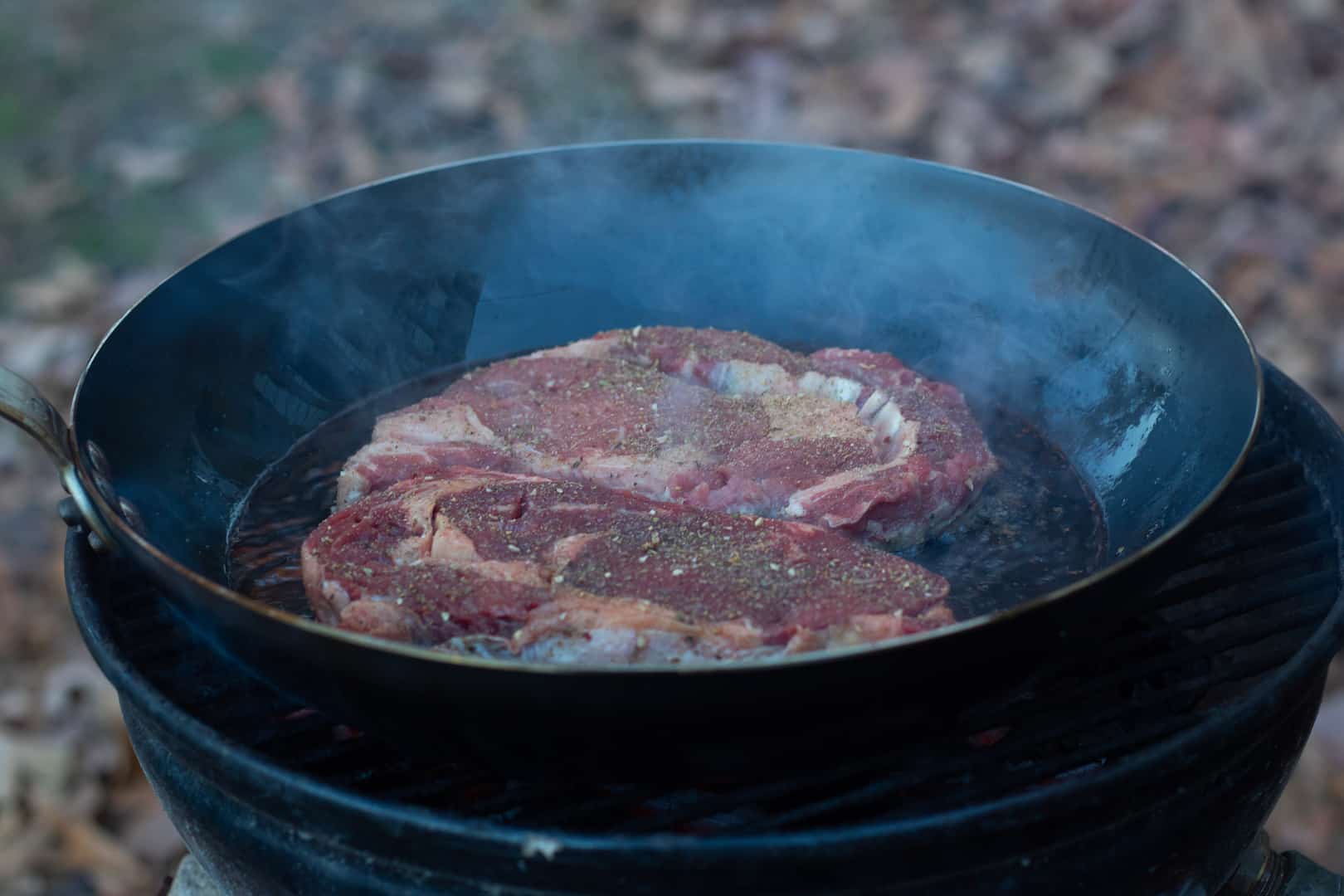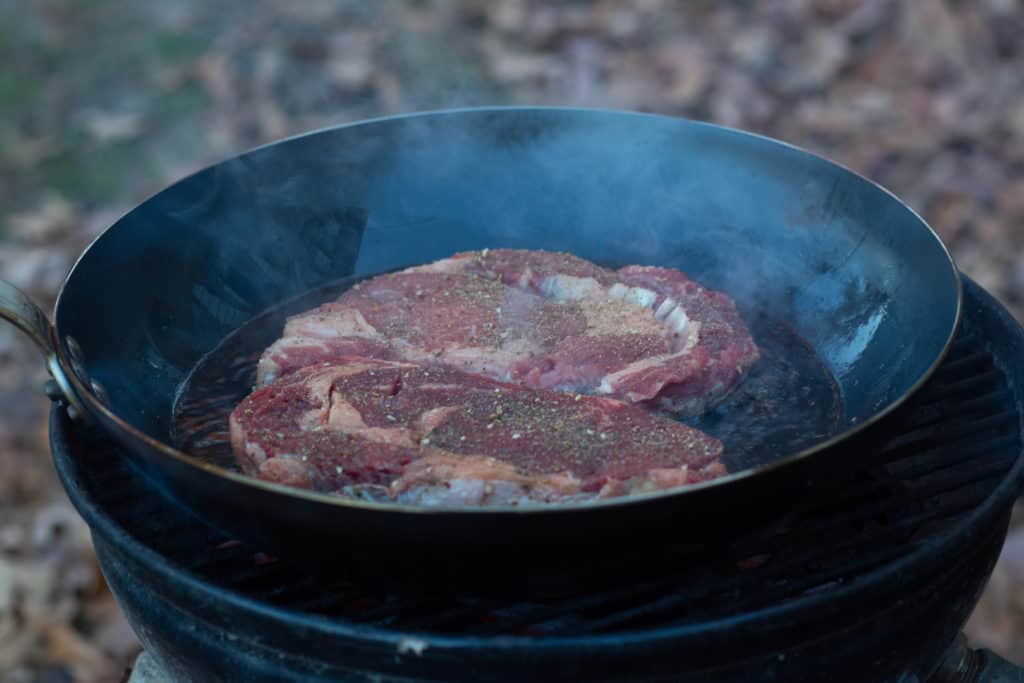 Thanks to the high conductivity of black carbon steel pans, cooking over coals or a live-fire means that you can end up overheating the pan pretty quickly. The trick is to move the pan away from the fire when it gets too hot and return it when you want to heat the pan back up. This can be annoying, but carbon steel pans lose heat quickly too so you only need to pull it off for a few seconds at a time to regulate the temperature.
After the steaks had seared for ~4 minutes, I flipped them and allowed them to cook for another 2 minutes before removing them from the pan and allowing them to rest.
Once I'd finished cooking it was a shame to dump the oil out and wipe the pan down. If I had been camping I would have quickly thrown some veggies into the pan to use up the awesome beef drippings and create a quick and easy side dish.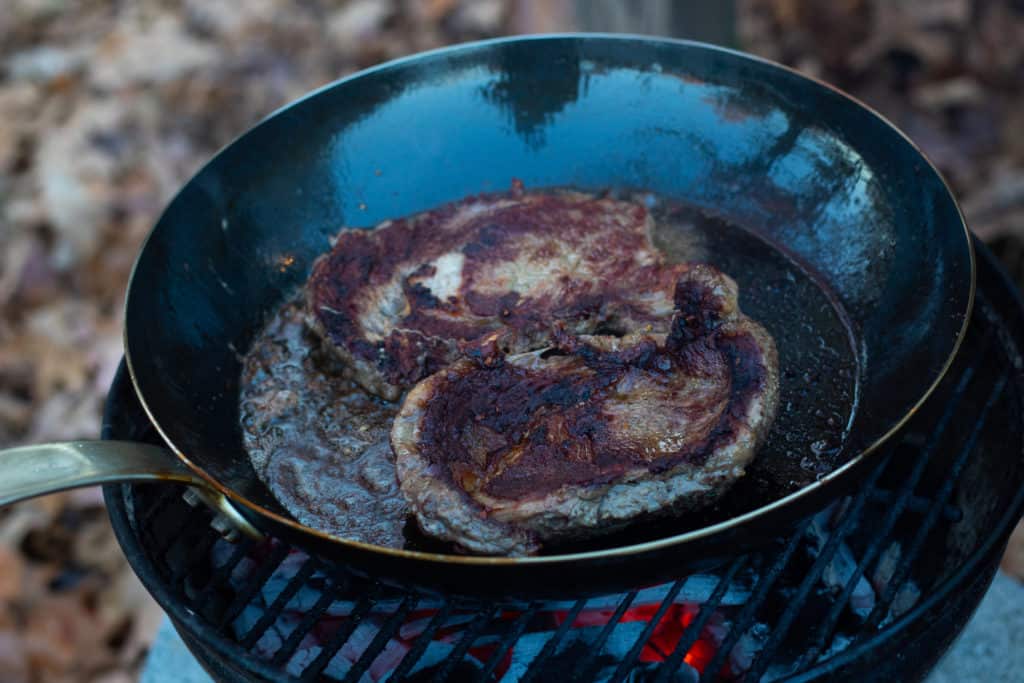 The skillet was more than hot enough to fully sear the ribeyes and after they finished cooking the seasoning layer held up well. All I had to do for cleanup was give the pan a wipe with a dry towel after it cooled and I was ready to go.
Even though cooking steaks over coals or an open fire is almost the same as searing them on a stovetop, there is something special about the flavor even though they are both cooked in a pan. The steaks were perfect with a great sear and awesome crust.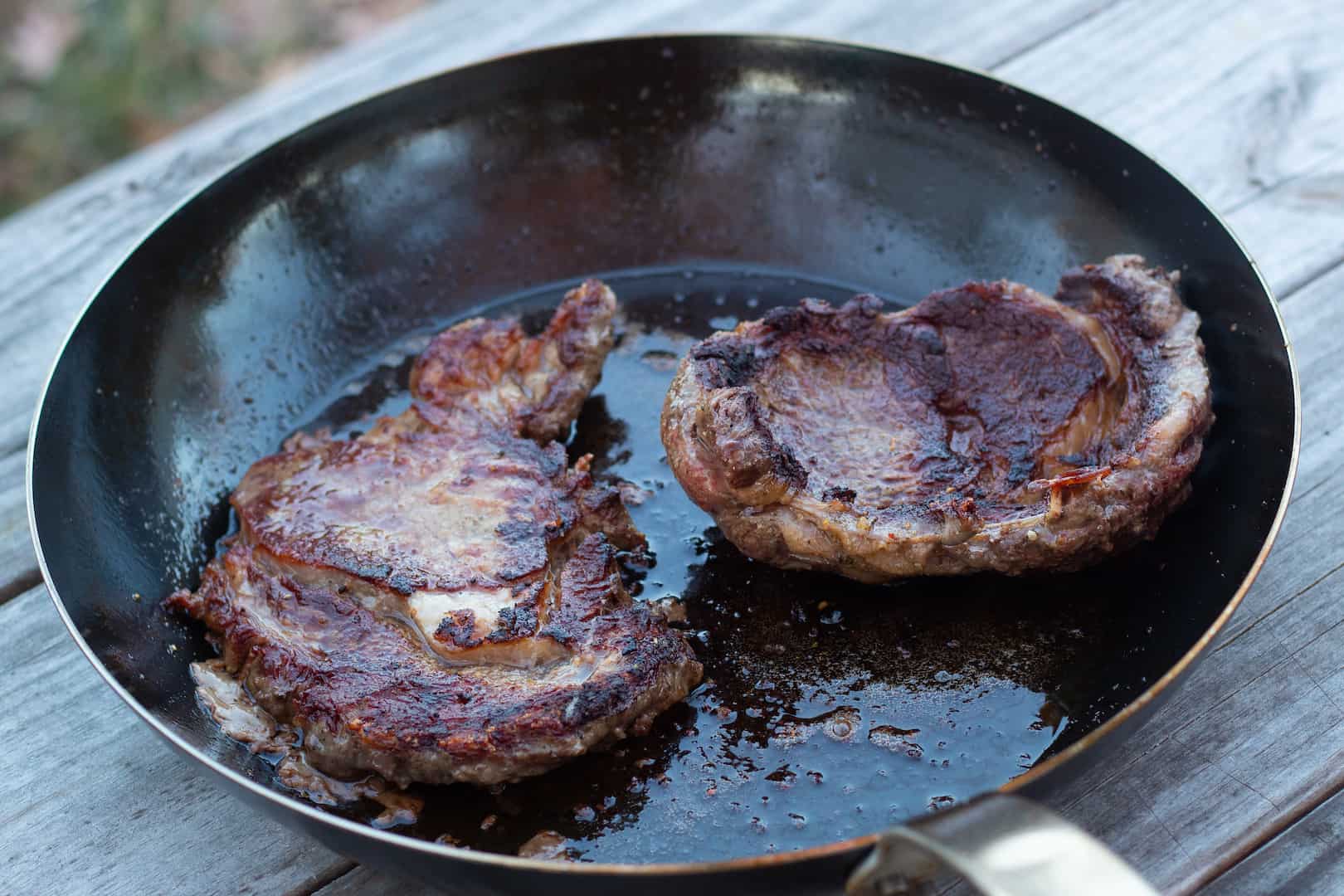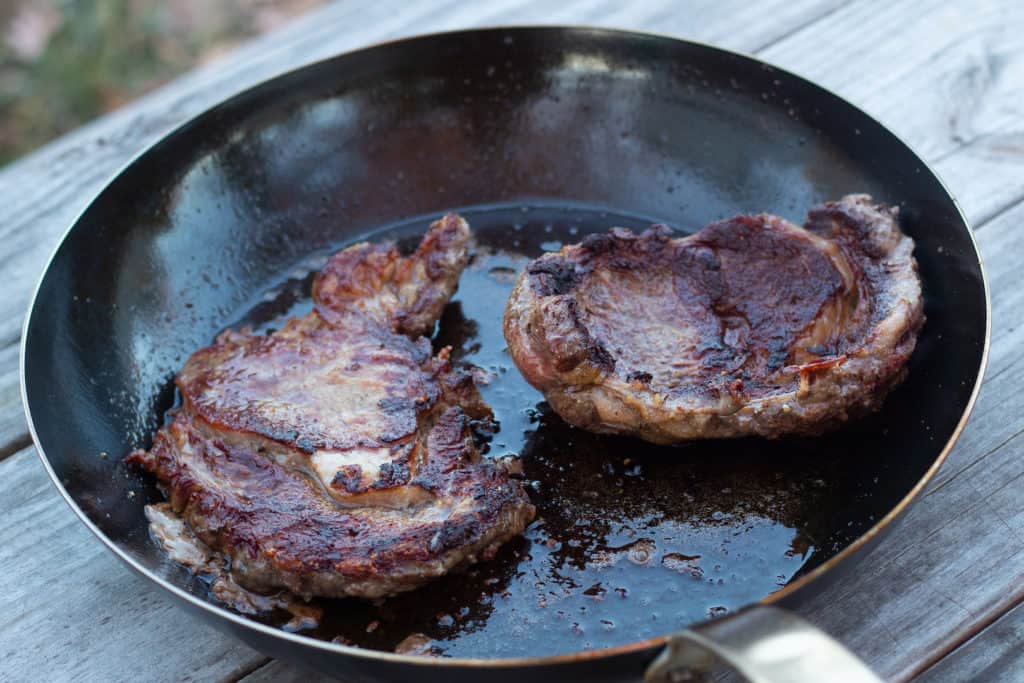 I have always loved cast iron pans and using them to prepare roasted ribeyes, but they are heavy, unwieldy, and take forever to cool down. Carbon steel frying pans like the Made In 12" frying pan is the perfect fusion of cast iron and stainless steel. They heat quickly, sear super well, and look beautiful while doing it.
Using the Carbon Steel Wok.
A wok is a great kitchen tool that's incredibly useful for a ton of different recipes and cooking methods. Most woks are carbon steel, to begin with, so the fact that the Made In wok is carbon steel isn't all that impressive.
The designer of this wok is really nice overall. The wok base is 5.5" in diameter and the total diameter of the Wok is just over 12" giving this piece a really even taper while retaining a relatively large direct cooking area.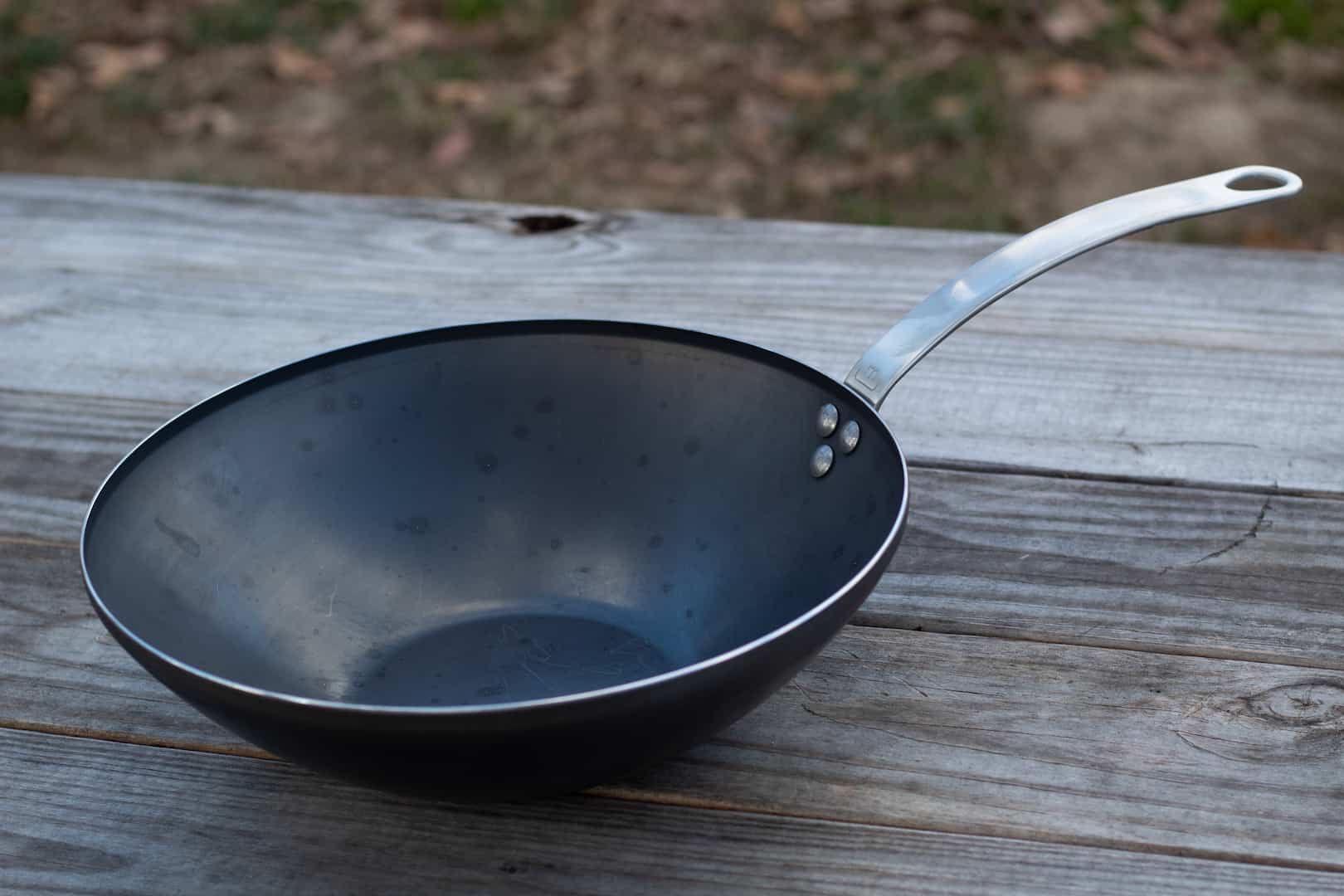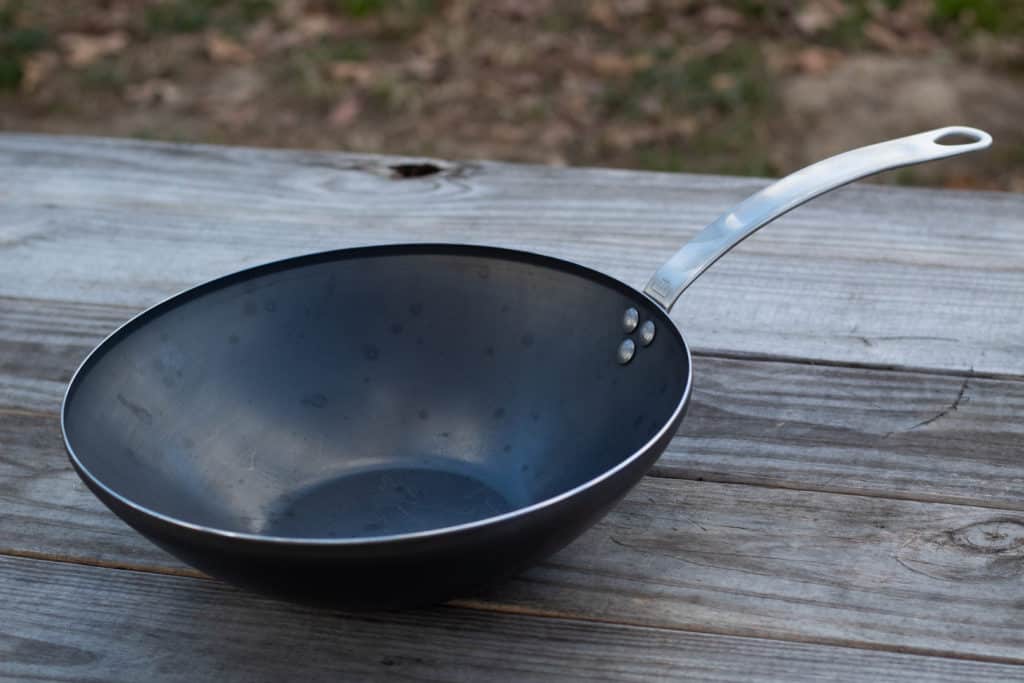 Most woks have a straight or slightly curved handle, the handle on the Made In wok is far more curved with a distinct "goose-neck" profile. For anyone with a lot of wok experience, this model is going to take some getting used to when it comes to flipping ingredients or stir-fries. For new wok users, this heavily curved handle will help mimic the experience of a saute or frying pan, which will help lessen the learning curve.
After seasoning the Wok I decided to make one of my favorite fall dishes, maple/soy brussels sprouts. I put the wok on my induction burner and set the power to medium/high. One of the benefits of carbon steel is that like cast iron and stainless steel cookware, it can be used on induction burners which makes it perfect for modern ranges.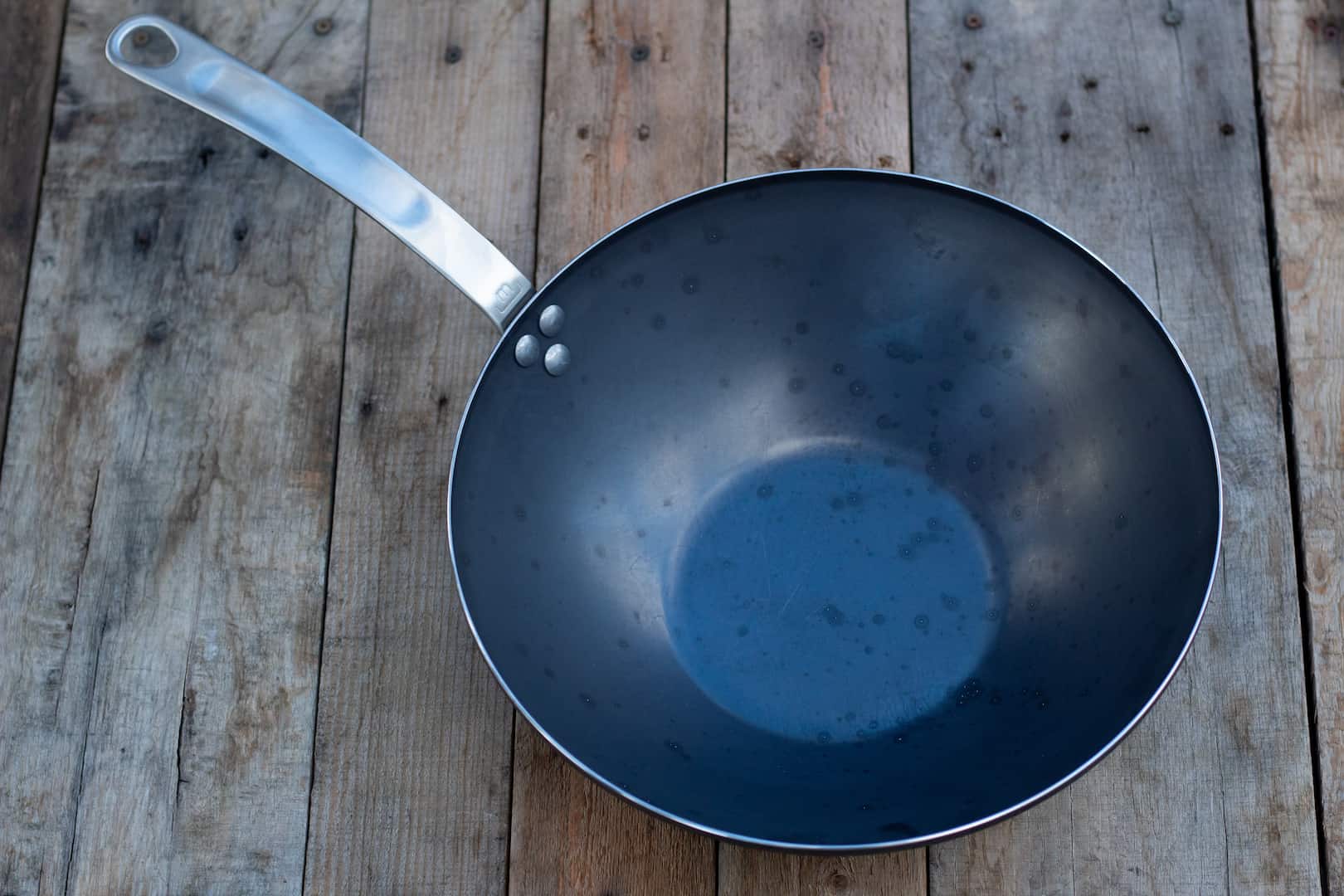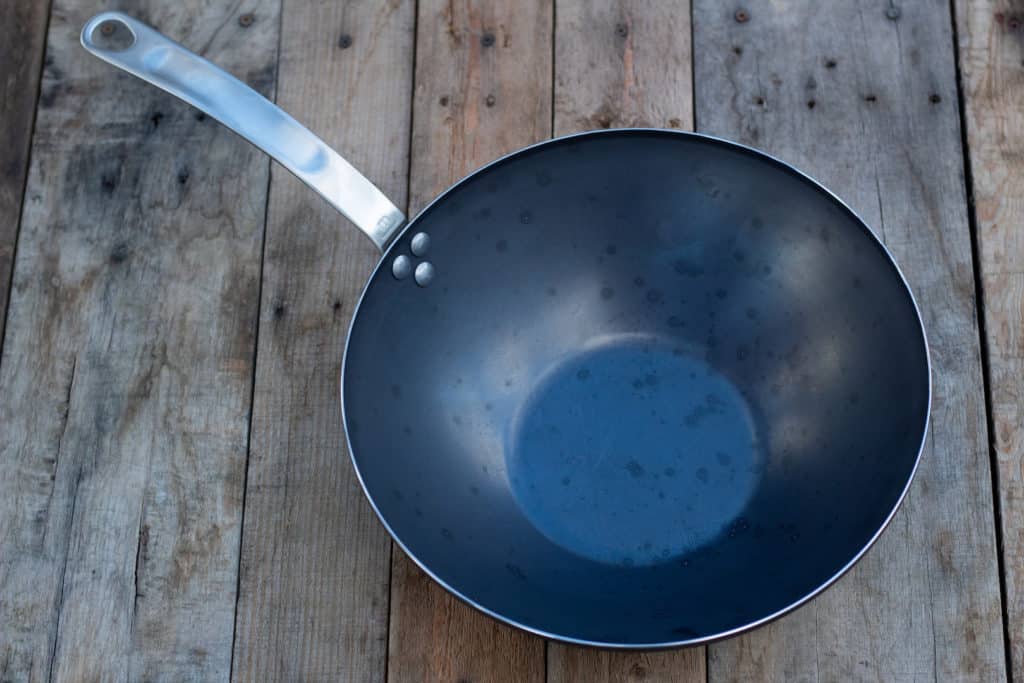 I don't have a modern induction range, but I like to use an induction burner from time to time when I use my wok because it's one of the best ways to simulate the supercharged wok burners used in traditional wok-cookery.
After the wok heated fully, I poured in some canola oil and allowed it to heat momentarily before adding the cleaned brussels sprouts. I let the sprouts sit for a minute or so to sear, before beginning to toss them from time to time. Finally, I added the maple syrup and soy sauce and allowed the mixture to reduce and caramelize around the Brussels before removing them from the wok to enjoy.
Cleanup was simple. I simply put the wok back on the burner for a few moments once I'd removed the sports, and then ran the inside of the wok under a stream of hot water. I swirled the water around the hot pan removing any stuck-on sauce and dumped it directly into my sink. Then I wiped the inside of the pan clean with a dry towel and finally wiped it down with a few drops of canola oil.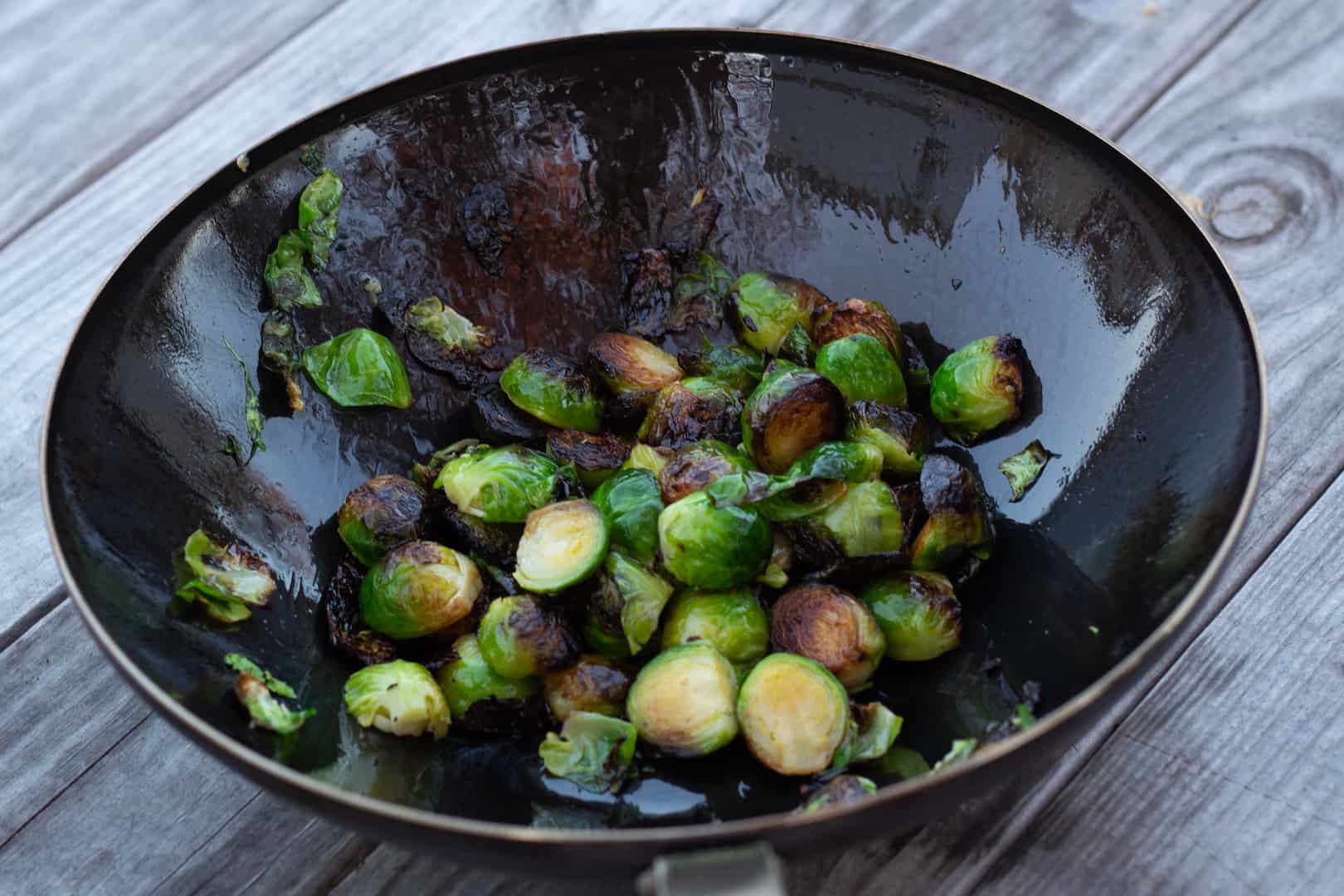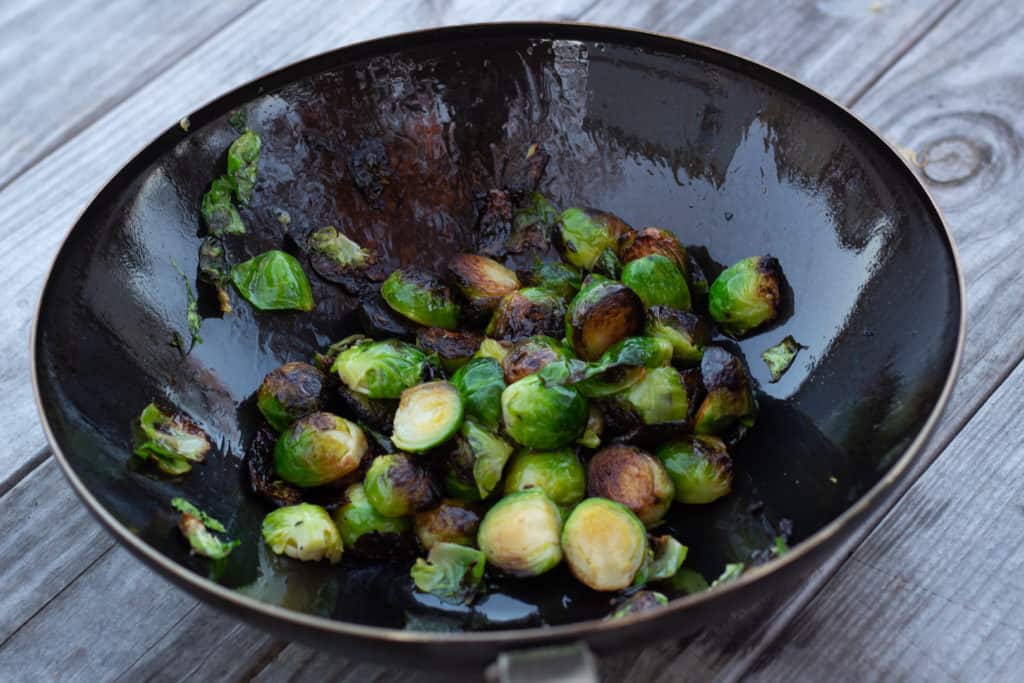 Despite the odd handle I really did like this Wok. The design is nice, and it feels cleaner and more well designed than many cheaper woks I've seen which is to be expected considering the price of this set overall. The taper on the wok itself is very even and allows you to quickly reduce a sauce, or boil a soup or stewed entree.
Using the Roasting Pan.
Using the Carbon Steel Roasting pan was incredibly simple, and really not at all different from using any other roasting pan. The removable stainless steel roasting rack is great for lifting roasts or proteins above the surface of the pan to create a more even, consistent product.
Other than the seasoning process, this roasting pan was no different from the many I've used over the years. To be honest, the utility of a carbon steel roasting pan eludes me a bit. While it's very pretty and has an incredibly even heat profile, carbon steel isn't great for roasting because of the frequency with which you'd need to re-season the pan.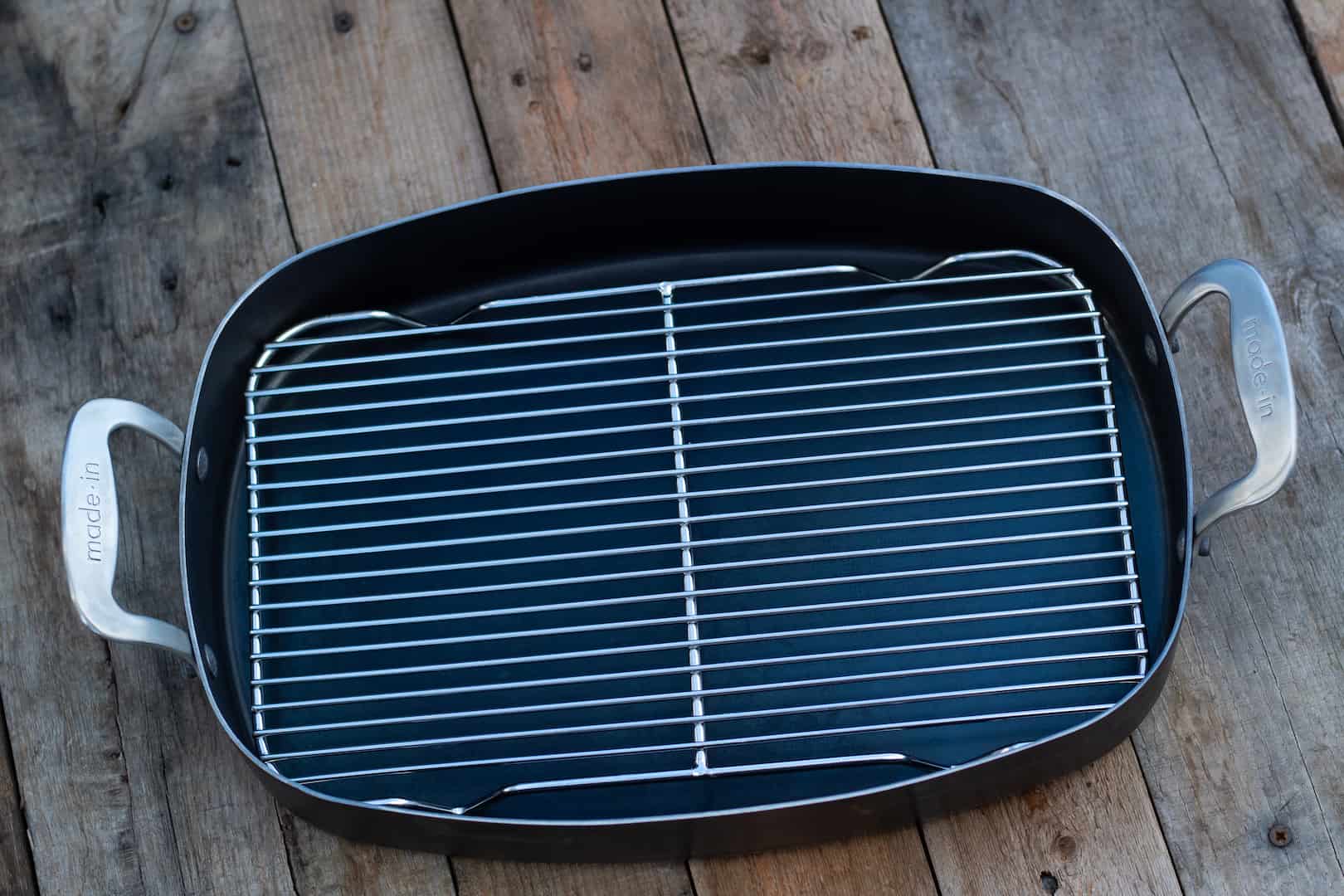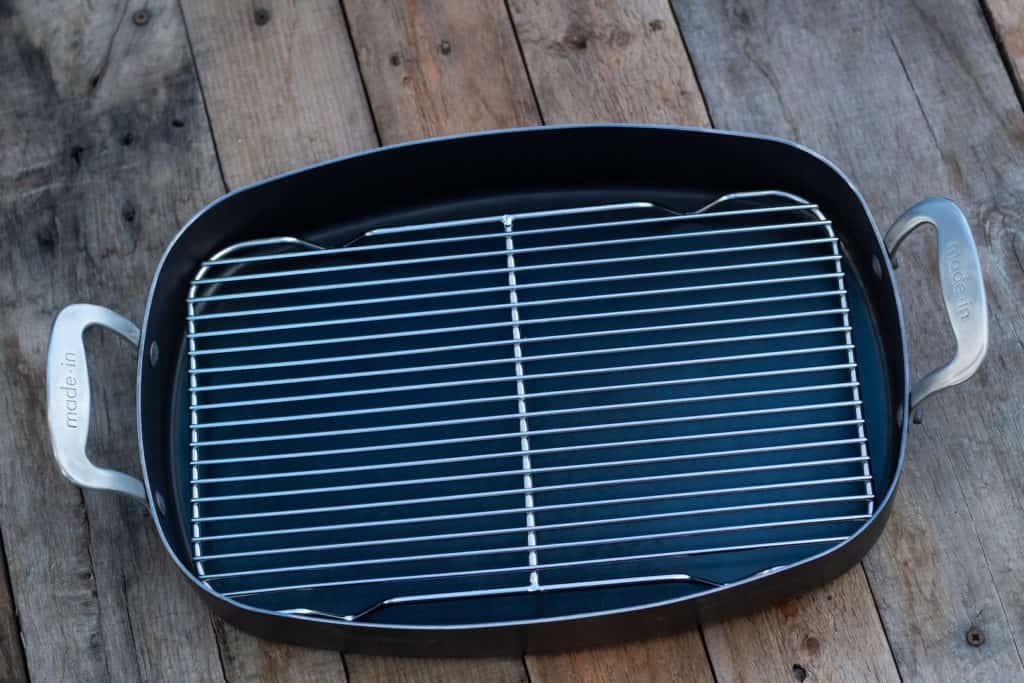 When liquids sit in the pan for a long time they strip away the seasoning layer, and when roasting items like a turkey, whole chicken, or prime rib, you are going to end up with some amount of drippings/liquid in the pan. Furthermore, carbon steel isn't great for braised or stewed items that would normally cook well in an enamel or stainless steel roasting pan.
Though I did really enjoy the roasting pan overall, it wouldn't be my first choice for a new roasting pan if I was in the market for one.
Cleaning Carbon Steel Pans.
I treat my carbon steel cookware a lot like my cast iron cookware. This means I'm cleaning it by hand, avoiding water and soap as much as possible, and never, ever putting it into the dishwasher.
It's important to note that Made In does not recommend cleaning these pans with water. While I agree, for the most part, there is going to come a time where you've burnt something to the bottom of the pan or cooked something that will require some sort of water-based cleaning. Water is after all the universal solvent and when it comes to cleaning it really does help.
To avoid water-based cleaning you need to get handy with a dry scouring pad, a stiff spatula, and salt. You can use salt to scour your pans to remove tough stuck-on food, but it can only get you so far. If you do end up in a situation where water or soap is needed, you'll have to make sure you re-season the pan before cooking in it again.
To re-season, your cookware simply follows the same instructions you used to season the pans initially. Depending on how often you cook in these carbon steel pans, you should get familiar with re-seasoning pretty quickly. Seasoning doesn't last forever and if you want to keep these pans around for as long as possible, continuously reapplying the seasoning with help keep them clean, and consistent.
Is the Made In Carbon Steel Cookware Set right for you?
Carbon steel is really nice to have around. With a super even heat profile, slick finish, and lightweight construction, carbon steel pans combine the best parts of stainless steel and cast iron cookware.
Though there are some drawbacks to this cookware, it can rust, and it requires more upkeep than most pans, it is far easier to maintain than cast iron pans can be and offers incredible versatility.
If you're in the market for a beautiful set of modern carbon steel cookware the 3-piece Made In Blue Carbon Steel Cookware Set is an awesome choice. These pans both look beautiful and create really tasty food. They are simple to clean, light, and easy to use. While they don't quite have that "classic" or "primitive" carbon cookware look, they certainly produce incredible food.