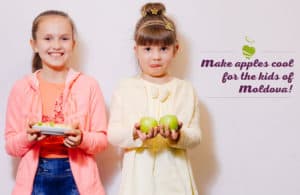 The average child from the Republic of Moldova, one of the poorest countries in Europe, consumes only two thirds of the minimum recommended quantity of fresh fruits. This leads to a whole deficit of vitamins in their diet, causing multiple health problems: fatigue, general weakness, stomachaches, bad eyesight, coordination disorders, as well as cognitive and memory problems.
A team of enthusiastic people, under the umbrella of an UNDP Moldova Project, passionately wanted to change the food habits among the entire county's younger generation and find an innovative way to increase their fruit intake.  The 'Make Apples Cool!' campaign was born.  The campaign is a crowdfunding initiative aimed at distributing sliced fresh apple snacks in all educational institutions in Moldova, as well as promoting the regular intake of fruits for your health.
Why sliced apples? We observed that fruit generally seems to be an unattractive choice for children, often being replaced by unhealthy junk foods.  Studies and surveys also proved that a certain product intake hugely depends on its attractiveness and appeal. Children might also be put off fruit as an option as it is sometimes difficult for a child to eat the whole piece in its entirety, especially when at school or kindergarten. Based on the technological ideas provided by small and medium enterprises and with the help of a deep analysis of children's preferences, the UNDP Moldova Project team decided to provide sliced fresh apple snacks, making them appetizing for children.
"We think that apples should be as popular and appealing as potato chips. Thus we ended up with the idea of sliced apple snacks. Apples contain more vitamins which are necessary for a harmonious physical and psychological development of the child. They are really good for preventing cardiovascular and oncological diseases" says Dumitru Vasilescu, UNDP Moldova Project Manager.
Through an open competition in the capital city Chisenau, five schools were selected to take part in the first stage of the pilot project which launches this autumn. Over 2,000 children will benefit throughout the year from attractively packed, sliced fresh apples delivered twice per week directly from the local producers. "The fruit producers have problems with low sales in the local market and they need support in order to come up with innovative products. This pilot project would help to solve a social problem, but also an economic dilemma, building a bridge between the schools and fruit producers", notes Dumitru Vasilescu.
"This is a wonderful and innovative initiative, which promotes a healthy lifestyle by including fresh fruit in the daily menu of school children and establishes a new market for fresh fruit with minimum processing, enabling exports and the creation of new jobs", says Dafina Gercheva, UN Resident Coordinator and UNDP Resident representative in the Republic of Moldova.
This UNDP Moldova initiative was fully welcomed by parents, heads of educational institutions, and fruit producers. A lot of parents support the idea, exemplified by several school surveys, while an information session with the directors of schools and kindergartens from Chisinau built the base for a subsequent constructive collaboration.
Since the end of May, the 'Make Apples Cool!' campaign succeeded in raising 90% of the target amount of 10,000 USD! Each dollar that is raised is then doubled by UNDP Moldova. Due to the success of the crowdfunding campaign, the project could be subsequently extended on a national scale which is fantastic news for kids in the whole of Moldova.
"The most important fact is that these fresh apple snacks will be provided on regular basis. It is well-known that during the cold period of the year, fruit intake is even lower as many families can't afford to buy fresh fruit. This program represents a long-term investment in the future, as it contributes to avoiding the costs determined by poor diet-related health problems. Many studies prove that healthy dietary habits are adopted during childhood and stay with you throughout your adult life", says Nelly Berezovschi, the director of Mihai Viteazul High School from Chisinau.
Each one of us can contribute to making this initiative possible amongst all children from every background to help them to be healthy and full of energy thanks to a vitamin-complex diet. As children develop healthy dietary habits, they will become ambassadors for fruit intake, and create a snowball effect which will ripple throughout society.
By donating just 14 USD, you can ensure the annual and regular intake of fresh fruit snacks for one child.  So donate now right here – there are still 10 days until the end of the campaign! Any donation could ensure a healthy and happy future for a child. Join the Food Revolution in Moldova and together we will make the apples 'cool' for children! Today, in Moldova, tomorrow, in the whole world – this local initiative may become a global one!
The "Make Apples Cool" Project is implemented by the United Nations Development Programme (UNDP), with the financial support of UNDP and the Ministry of Foreign Affairs of Norway and in partnership with Eximbank, Orange Moldova, Linella, 7 other private companies and over one hundred of individuals in the Republic of Moldova and from abroad.