Hi, everyone! I'm Lisa from the blog Parsley, Sage and Sweet. Are you ready to get really DARING? Well, I've got the challenge for you, and although it may seem daunting, it really isn't because once you do it once, you'll want to do it again and again, and you'll get better and better at it. It's also a rewarding skill that you'll have in your culinary arsenal forever. We're going to debone a whole chicken, stuff it, tie it, then roast it to create a Chicken Ballotine also known as a Ballotine of Chicken also known as a Poule en Saucisse. You may have also heard of a Chicken Galantine, The difference between a Chicken Ballotine and a Chicken Galantine is the cooking and serving method. Galantine is a deboned, stuffed chicken that is tied, rolled in a cloth, simmered in stock or braised, then served cold . It's commonly stuffed with forcemeat. If you'd prefer to poach your chicken, by all means, go right ahead, but I'm only providing the recipe for Chicken Ballotine, which is tied and roasted. However, I have linked a Chicken Galantine recipe at the end of this post.
So, exactly what is a Ballotine? The definition of Ballotine, according to Larousse Gastronomique is ; Meat, fowl, game or fish which is boned, stuffed and rolled into a bundle.
Download printable file HERE
Here's the fun and unique part of this challenge. It's a challenge by video. The video is by Jacques Pepin, whom I've admired and learned most everything I know from. The man is a demigod in the kitchen and a wonderful teacher as well. He makes it easy and uncomplicated – it's truly art the way he skillfully makes his way through the chicken with smooth, surgical precision. I'm still in awe every time I watch this video. You will be too.
I think this is the best method for deboning a chicken because outside of the scraping of the leg bones, it involves minimal cutting. You cut, then pull the chicken from the carcass and bones as you go along, but you must use a very sharp knife. I use a VERY sharp paring knife because I'm more comfortable with the size and it works wonderfully. In fact, I highly recommend using a small knife, even a little smaller than the one he uses in the video since you have more control, and it's safer. Since most of us are women, it's ideal for our dainty hands ;D.
Since you will be following the video step-by-step, you will end up rewinding each step several times, as I did the first time I tried it. However, when I first did it, years ago, I was watching it on my Jacques Pepin Complete Techniques DVD set, so I kept running back and forth from the table to the TV, washing my hands each time. Considering that you'll be watching it online…I recommend placing your laptop or Ipad, or whatever you use, on the table you're doing the deboning. When you need to rewind, wrap your fingers/hand in a clean towel to do so. You can wash your hands every time you need to rewind, but trust me, unless you already have experience boning out a whole chicken, it can get tedious because you may be rewinding a lot!
The first time I deboned a chicken, it took me about an hour. Don't worry about the time it takes to do this since not many, outside of Jacques (and Martin Yan) can bone out a whole chicken in one minute, so don't try to achieve that. Like with everything in life, the more you do it, the better you get at it. I'm down to 10-15 minutes after doing it 7 times!
Putting aside all the technical aspects of this challenge for a moment.. do you know what it's like to bite into a whole drumstick filled with luscious stuffing, not worrying about the bone? It's my favorite part to eat – BUT, you need to cut off the drumstick holding the knuckle at the end, since it melds into the chicken ballotine. However, it's lovely sliced within the roll, too – a mix of dark and white meat with the stuffing. Butchers charge anywhere from $40.00 to even $80.00 to debone a whole chicken, so learning this skill saves you money. Make this for your Easter or Passover Seder dinner (choose a stuffing without bread for Passover)! You will impress the heck out of your family and/or guests. Everyone I've ever served it to went nuts over it and they always request it from that moment on.
That said, I did not change anything in any of these recipes since, in my experience, I've never had a Jacques Pepin recipe, including this one, not turn out perfect in every aspect.
Both stuffing recipes were created for this Chicken Ballotine recipe, so both are the perfect amount of stuffing to stuff and roll a 3 ¾ to 4 lb chicken.
Finally, I did not take photos of each step of deboning the chicken because; 1) There would be like 50 messy photos that would confuse all of you, and 2) When you're boning out a chicken, you're in a zone – stopping to wash your hands and take a photo of each cut and each pull would be tedious and crazy! I also didn't want to contaminate my camera (if you have someone to shoot photos while you're doing it, by all means, go for it!) , and 3) The video shows you every single step clearly. You need nothing but the video, hence this being a challenge by video.
I will be here to answer any questions you have. If you don't see an answer here within 24 hours of posting your question.. email me at [email protected] */]]>, but I will be checking constantly.
Recipe Source: Essential Pepin – kqed.org
Blog-checking lines: For the April Daring Cooks Challenge, Lisa from Parsley, Sage and Sweet has challenged us to debone a whole chicken, using this video by Jacques Pepin as our guide; then stuff it, tie it and roast it, to create a Chicken Ballotine.
Posting Date: April 14, 2013
Note: Take your time with the wishbone, the first bone you will be cutting out. It tends to crack easily, and it can puncture your finger. Use towels for gripping the chicken when you cut and/or pull, if need be, since you know how slippery chicken can be. Most important – keep a clean area! Make sure everything is washed thoroughly before proceeding. After you've boned out the chicken – wash and sterilize everything – from the table to the cutting board, towels, knives etc. Finally, save the carcass and bones to make stock! Freeze in a freezer bag if you're not going to make stock immediately – up to 1 year.
Mandatory Items: You must bone out a whole chicken, stuff it, roll it and tie it. The method of cooking it is your choice. If you absolutely cannot do a whole chicken, buy some whole chicken legs and debone the thigh and drumstick like he does in the video, then stuff and tie them. The sauce and chicken lollipops are not mandatory. I threw the wings into a stock I made afterwards.
Variations allowed: As mentioned above, if a whole chicken is too much, bone out and stuff some whole chicken legs. I've provided two recipes for stuffing from Jacques Pepin, specifically made for this Chicken Ballotine, but you can prepare and use any kind of stuffing you want. I've also given you the recipe for his sauce that goes with the Chicken Ballotine, but use any sauce you like, although it doesn't need a sauce. It's your choice whether to make one or not, it's not a requirement. You may also poach your stuffed, tied chicken if you like, for a Chicken Galantine or Galantine of Chicken. in which I've provided a link for at the end of this post. You can find and use your own Chicken Galantine recipe, if you'd like.
If you'd like to use anouther poultry, such as duck, go right ahead. A friend once made some lovely Cornish game hen ballotines that were out of this world!
ALTERNATIVE COOKS – I've wracked my brain trying to come up with something as challenging for you all, but could not. So, stuff and roast a vegetable of your choice – do something we've almost never seen before!
Preparation time: The time it takes to debone a whole chicken is different for everyone. Take your time.. learn as you go, and be careful.
Red Rice Stuffing – 1 hour and 5 minutes plus cooling time.
Spinach, Cheese and Bread Stuffing – About 5 – 10 minutes plus cooling time.
Sauce – 5-10 minutes
Whole Stuffed Chicken – 1 hour roasting time
Equipment required:
● A very sharp knife to cut off the wings (recommended – a chef's knife)
● A very sharp knife that fits your hand comfortably, to debone the chicken. (recommended – a boning or paring knife)
● Clean, sterile cutting board
● Lots of kitchen towels
● Cotton kitchen twine
● Roasting pan
If you'd like to view this video on Youtube, here's the link – http://www.youtube.com/watch?v=kAekQ5fzfGM
Ballotine of Chicken
Servings: 4 -6
Ingredients
1 chicken (about 3-3/4 pounds) (1-3/4 kg), boned
1/4 teaspoon (1.25 ml) (1¼ gm) salt
1/4 teaspoon (1.25 ml) (½ gm) freshly ground black pepper
Red Rice Stuffing or Spinach, Cheese, and Bread Stuffing (see recipes below)
Sauce
Ingredients
1/3 cup (80 ml) water
1/2 cup (120 ml) dry red wine (you can substitute chicken or vegetable stock or fruit juice, such as grape)
1 celery stalk (2 oz) (60 gm), peeled and cut into 1/4-inch (1¼ cm) dice (1/2 cup) (120 ml)
1 small onion, chopped (1/2 cup)
1 carrot (2 oz) (60 gm), peeled and cut into 1/4-inch (1¼ cm) dice (1/3 cup) (80 ml)
1/2 teaspoon (2½ ml) potato starch OR cornstarch (4 gm), dissolved in 1 tablespoon (15 ml) water
1 tablespoon (15 ml) dark soy sauce
1 tablespoon (15 ml) (4 gm) chopped fresh parsley
Directions:
1 Preheat the oven to moderately hot 400°F/200°C/gas mark 6.
2 Lay the chicken skin side down on the work surface and sprinkle with the salt and pepper. Spread the cool rice or spinach mixture evenly over the chicken – stuffing the legs too. If using the spinach stuffing, sprinkle the cheese and bread cubes on top of the spinach. Roll the chicken up, tie it with kitchen string, and place it in a roasting pan.
3 Roast the ballotine for about 1 hour or until the temperature is 160-165 degrees F in the center of the ballotine. I took mine out after 50 minutes and let it sit until it reached 165. Lift it from the pan and place it on a platter.
NOTES – My chicken didn't brown very well as you can see in the photo below. even though I rubbed it with olive oil before seasoning it. I guess it's just the luck of the draw. Try rubbing it with butter..or brushing it with melted butter, which has worked out well for me in the past as far as browning goes. A glaze of your choice, brushed on for the last 10 to 15 minutes of roasting will probably give you good color too. Also, I pounded the chicken prior to stuffing it to make for easier rolling. Place some plastic wrap over your deboned, open chicken and flatten as best you can with a mallet or rolling pin.
For the sauce:
4 Skim off and discard most of the fat from the drippings in the pan. Add the water and wine to the drippings to deglaze the pan, and heat over medium heat, stirring to loosen and melt the solidified juices.
5 Strain the juices into a saucepan. Add the celery, onion, and carrot and bring to a boil over high heat. Cover, reduce the heat to low, and boil gently for 5 minutes. Stir in the dissolved potato starch and soy sauce and bring the mixture back to a boil, stirring, to thicken it. Remove from the heat.
6 Transfer the ballotine to a cutting board and remove the string. Cut half of it into 4 or 5 slices, each about 1 inch thick. Return the uncut half of the ballotine to the serving platter and arrange the cut slices in front of it. Pour the sauce over and around the ballotine, garnish with the parsley, and serve. Cut additional slices of ballotine as needed at the table.
Red Rice Stuffing
Ingredients
1/2 cup (120 ml) (115 gm) (4 oz) Wehani rice
1 1/4 cups (300 ml) chicken or vegetable stock or low-salt canned chicken broth or vegetable broth
1/4 teaspoon (1 ¼ ml) (1½ gm) salt
1/2 ounce (15 gm) (about 1/2 cup) dried mushrooms, such as cèpes (porcini), rinsed and broken into pieces
1/2 large leek, trimmed (leaving some green), split, washed, and sliced (1 cup)
1 onion (4 ounces/120 gm), chopped (3/4 cup) (180 ml)
1 tablespoon (15 ml) olive oil
1/4 cup (60 ml) water
Directions:
1 Combine the rice, stock, salt, and dried mushrooms in a large saucepan and bring to a boil, then cover, reduce the heat to low, and cook for 1 hour, or until the rice is tender. Set the rice aside in the pan, uncovered.
2 Meanwhile, combine the leek, onion, oil, and water in a saucepan and bring to a boil, then cover, reduce the heat, and cook at a gentle boil for 5 minutes. Remove the lid and continue to cook until all the water is gone. Add to the rice, mix well, and let cool to room temperature.
3 Place step by step photos accordingly, or leave note where you want photos to go.
Spinach, Cheese, and Bread Stuffing
Ingredients
1 tablespoon (15 ml) olive oil
1 teaspoon (5 ml) (3 gm) finely chopped garlic
5 ounces (140 gm) baby spinach leaves
1/4 teaspoon (1¼ ml) (1½ gm) salt
1/4 teaspoon (1¼ ml) (½ gm) freshly ground black pepper
1 cup (240 ml) grated Gruyère or mozzarella cheese (about 4 ounces/115 gm)
1 1/2 cups cubed (1/2-inch) (1¼ cm) bread
Directions:
1Heat the oil in a large saucepan or skillet. Add the garlic, spinach, salt, and pepper and cook for 1 minute to soften the garlic and wilt the spinach.
2Transfer to a bowl and let cool to room temperature.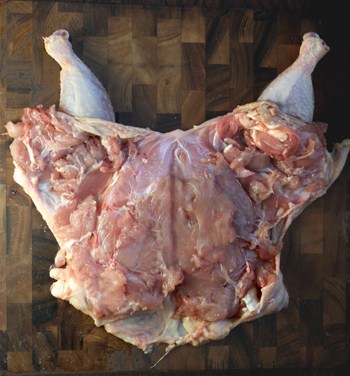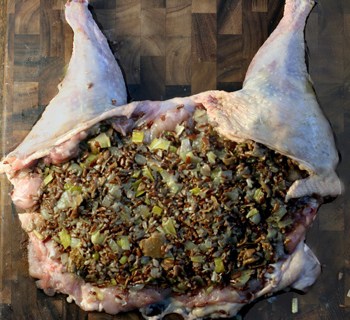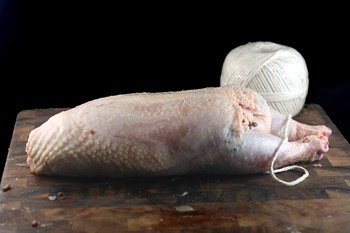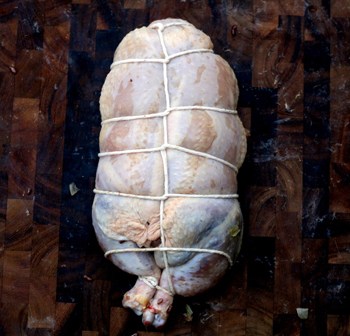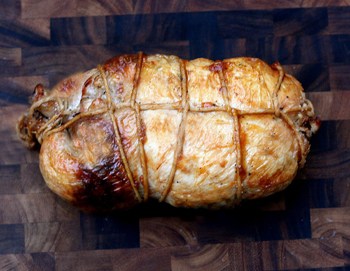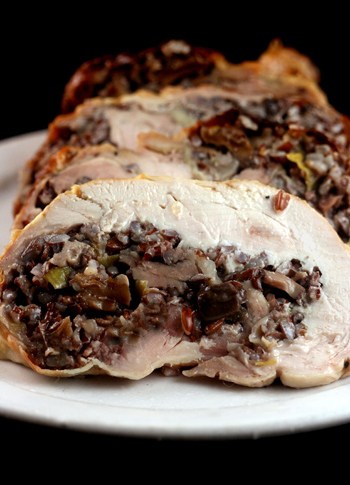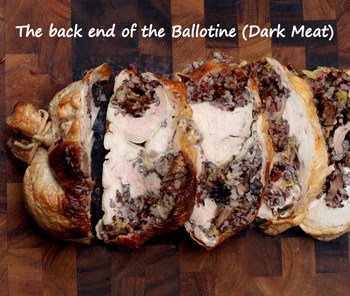 Storage & Freezing Instructions/Tips: Wrap up any leftovers tightly and store in the refrigerator for up to 3-4 days. If not using bones, scraps and carcass from chicken for a stock or any other preparations, immediately, seal tightly in a freezer bag and freeze for up to 1 year.
Additional Information:
Chicken Galantine Recipe
Boning Knife Jacques uses in video – in case you're interested.