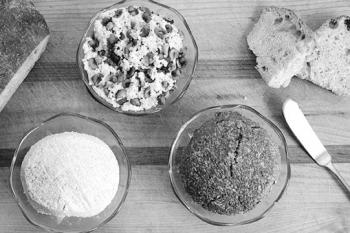 Sometime last year, after I made my first batch of fresh buttermilk cheese, I was hooked. It's subtle yet rich with a slight tang. The cheese comes together with only three basic ingredients: buttermilk, whole milk, and coarse sea salt. That's it. No rennet or cultures required.
Maybe it's because I look at this plain button cheese as a blank canvas. One to brush with a color palette composed of herbs, spices, nuts, or sweeteners. My approach to flavoring fresh cheese is similar to that of ice cream or frozen yogurt, the savory and sweet possibilities are endless. But I have to tell you the best part, it's so much faster than making ice cream, we're talking 15 minutes or less start to finish.
Here's how it works. Heat a quart of organic whole milk, one and one-half cups of organic whole buttermilk, and two teaspoons of coarse sea salt in a heavy-bottomed pan until the curds separate from the whey, somewhere between 180 to 212 degrees.
After eight minutes or so, ladle the curds into a strainer lined with cheesecloth and let the whey drain off for a minute or two. Wrap the cheesecloth around the curds and gently twist to squeeze out the excess whey. Unwrap the cheese and invert it onto a plate and serve warm with toasted baguette rounds or homemade biscuits or cool to room temperature (for ten minutes). To make a firmer cheese, place the cheese still wrapped in its cloth in a pie pan refrigerate for ten minutes, then invert and serve.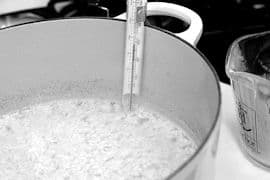 I recommend making the plain fresh buttermilk cheese first in order to learn the basic recipe. After that the pantry is the limit. For inspiration, I've included three of my favorite flavors, cardamom, chocolate tarragon (inspired by Tara's Organic Ice Cream), and black pepper toasted hazelnut cheese. To create your own flavors, as a general guideline, use up to 1 tablespoon of extracts, herbs, spices, or zest and 2 to 3 tablespoons of sweetener, coconut, or cocoa powder. Heat them along with the milk, buttermilk, and salt in step two then follow the recipe as written for the plain version. You can also coat the cheese with shaved chocolate, chopped and toasted nuts, or toasted seeds once the cheese is set.
You can serve this cheese any time of day, I often make four or five different yet complementary flavors and sample a little of each for breakfast and dessert alongside hearty wheat crackers. Other times I spoon it straight off the plate or drizzle it with honey and slices of apples, figs, or grapes. It the kind of thing that once you make it, you'll never turn back. Or at least that's what happened to me.
Fresh Buttermilk Cheese
Yield 1 6-ounce round; serves 4 as a snack with toasts, crackers, or fresh fruit
1 quart organic whole milk
1 ½ cups organic whole or low-fat buttermilk
2 teaspoons coarse sea salt
To make flavored cheese, add the ingredients such as dried herbs, spices, extracts, or zests in step 2, then proceed with the recipe for plain fresh buttermilk cheese.
Try:
Adding 1 teaspoon of cardamom with milk, buttermilk, and salt
Adding 1 teaspoon of freshly ground black pepper with milk, buttermilk, and salt and ¼ cup of chopped toasted hazelnuts (skins removed) once the cheese has set for 10 minutes (see step 4).
Adding 2 tablespoons raw sugar, 2 tablespoons unsweetened cocoa powder, and 1 teaspoon of tarragon with milk, buttermilk, and salt (either reduce the salt to a slight pinch or leave it out altogether)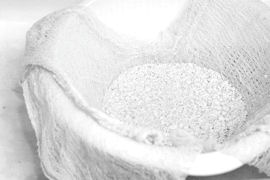 Cut out three pieces of cheesecloth into 12-inch squares. Line a colander or medium strainer with all three layers of cheesecloth. Set colander in sink.
Combine milk, buttermilk, and salt in a large heavy-bottomed saucepan, and heat over medium-high heat until mixture has separated into white curds and translucent whey, about 8 minutes. If using low-fat buttermilk, separation occurs at about 180 degrees and the curds will clump together readily. If using whole buttermilk, separation occurs closer to the boiling point, about 212 degrees, and the curds are finer-grained. When using whole buttermilk, let curds and whey stand off heat for about 3 minutes after separation, so the curds cling together and facilitate the straining step.)
Ladle the contents of the saucepan into the prepared colander. Let the whey drain, 1 to 2 minutes. Lift the four corners of the cheesecloth and gather them together. Gently twist the gathered cloth over the cheese and press out any excess whey.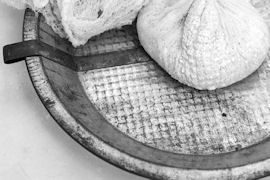 Cheese can be unwrapped immediately and served warm, or let stand until cooled to room temperature, about 10 minutes more. To serve a firmer cheese, transfer cheese, in its cloth, to a small flat-bottomed dish or pie plate; refrigerate until cool, about 10 minutes. Unwrap cheese and gently invert onto plate; discard cloth. Tent cheese with plastic wrap and keep refrigerated up to 2 days. Remove from refrigerator and let stand for 10 minutes at room temperature before serving.