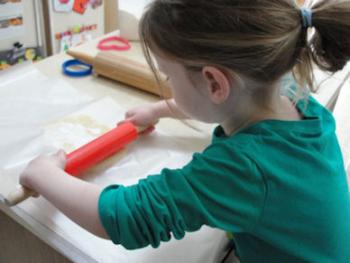 Ah, the holidays. Time for families to come together and celebrate, practice generations-old traditions and create new ones.
It can also be a difficult time, with children of all ages home from school and winding up under foot, looking for ways to stay busy and be involved in all of the holiday preparations.
Rather than shooing the kids out of the kitchen, the holidays are a perfect time to have them pull up a chair, bench or stool and have them jump right in, literally, with both hands. The benefits of involving children in food preparation have been enumerated time and time again, and it is never too early to get started. Though often hectic, the holidays are the perfect time to give it a try, since the kitchen is usually the hub of activity in so many homes during this time of year.
So whether it is your son, daughter, brother, sister, niece, nephew, grandson or granddaughter, here are some fun ways to include kids of all ages into the holiday cooking and baking magic.
Let them help determine the menu
While you are choosing your favorite traditional holiday menu items, make each child a part of the decision making, whether it be deciding on something special to add as a side or a new dessert to add to the repertoire. They will be so proud to share their ideas and to feel that they have a part in the big, important family traditions.
Let them help with the shopping
Trust me – I know that having to keep track of kids in the grocery store can be a hassle. No matter what age they are, they definitely have their own ideas as to what they would rather be doing than being stuck in (or walking next to) a shopping cart. But the grocery store is a great place to involve children in the cooking process. Older kids can be big helpers – you can divide your list and they can help find specific items (it can even become a game!), and there is so much for younger kids to learn, too – colors and shapes, the differences between fruits and vegetables, even counting items in the cart.
Photo by Shelley of C Mom Cook
Give them their own tools
An apron like mommy's. A mixing bowl like daddy's. Kids want to be what they see, and they learn by imitation. So when you pull out a mixing bowl and spoon, pull out an extra and let the little ones help. For young children, you may just wind up with some messy musical accompaniment, but the older the child, the more involved they can be. Children as young as two can help measure, mix and pour ingredients, and will feel extra pride in letting people know that they cooked. The tools you give them can be yours, on loan for the duration of the cooking project, or you can incorporate the kitchen experience into this season's gift giving by providing them with their own set of tools.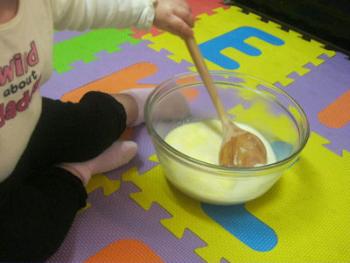 Photo by Ruth of The Crafts of Mommyhood
Find parts of the meal or of specific recipes that they can "own"
Similar to allowing children (especially older children) help with menu selection, allowing them to take ownership over a dish, or even a part of the process, will build confidence and instill a great sense of pride. Each child can even "personalize" their recipe to truly make it their own, and successes can be added to the annual traditions, making each child feel a deeper sense of pride in their contribution to the family holidays.
With a little bit of creativity, you will find that kids can be a big help, and their help in the kitchen can be a lot of fun.
Things to remember as the adult
Cooking with children can be as much fun for the adult(s) involved as for the children, as long as the process is approached in the right spirit. A sense of humor is completely necessary, as is a bit of patience and understanding. In order to make the process easier and more fun for all involved, here are a few tips:
Photo by Louise of Please Don't Feed the Animals
Start early
With both planning and prep work built into the schedule, the addition of a pair or two (or three or four!) of little hands won't come as a time-wasting surprise.
Set (realistic) expectations
This is an important thing for all involved, both adults and children, but is particularly helpful when planning a kitchen adventure with children. Make sure that they know which parts they are responsible for, which parts they are allowed to help with, and which parts are strictly for the adults (usually anything involving the stove, oven or raw meat).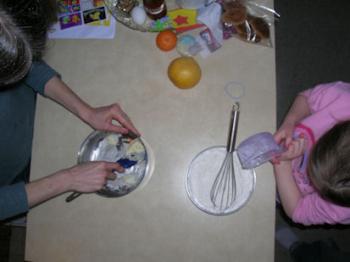 Photo by Shelley of C Mom Cook
Make sure you follow your own rules
If you tell the kids to wash their hands before beginning, make sure they see you doing so, as well. If you have a rule about not eating raw batter, you had better believe that those little eyes will see you sneak a taste, no matter how much you try to hide it! Kids have an innate sense of what is fair, and any perceived imbalance will turn a fun kitchen day into a tantrum or meltdown.
Expect a mess
This is what usually discourages most adults from involving kids in the kitchen, especially during the holidays when there is so much to do, but don't let some extra clean up keep you from a wonderful experience. And never underestimate a kid's ability, and, surprisingly, even willingness, to help clean up a mess, as long as it is handled with humor.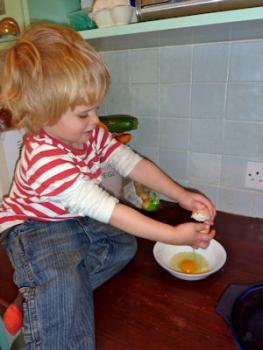 Photo by Louise of Please Don't Feed the Animals The benefits of cooking with kids are visible all over the Daring Kitchen, too. We have several bloggers among our ranks who consistently and actively involve their children in the challenges (and their other kitchen adventures). We also have Daring Cooks and Daring Bakers of all ages, who share stories of their love of food beginning at a young age, watching their parents and grandparents prepare family meals.
So this holiday season, make memories that will last a lifetime and traditions that will live on in the daily lives of future generations to come.