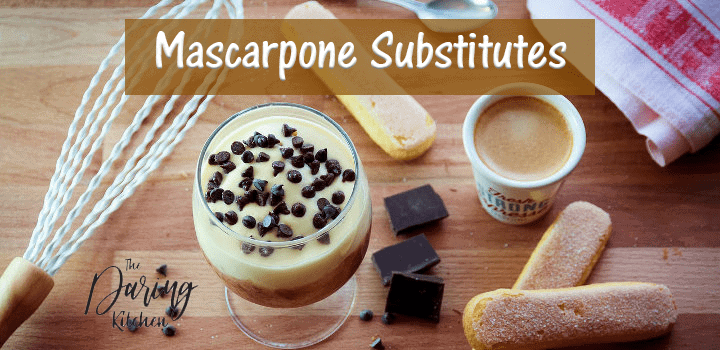 Mascarpone. An Italian-origin fresh cheese that tiramisu lovers all over the world certainly appreciate. Yet some people love to hate because of its high-calorie content - about 400 calories per 100 grams of mascarpone.
And if that's not enough reason to be looking for a mascarpone substitute, then what is? Mascarpone is also hard to find and expensive. Its high-fat content and light yet creamy flavor makes it difficult to replace with other dairy or non-dairy products, but with some adjustments, you can duplicate its texture and taste.
So, whether you are in search of a healthier replacement, a vegan alternative, or a solution that doesn't go bad as fast as mascarpone when opened, there are various substitutes to use in your sweet and savory recipes.
What Is Mascarpone?
Mascarpone cheese is a soft mild cream cheese with a little sweet taste. It is produced using cow's milk milked in the morning and then pasteurized and centrifuged to obtain cream with 35% fat.
Unlike most types of cheese, the milk cream is now subjected not to the usual curdling by rennet coagulation (rennet is an enzyme extracted from the stomach of lambs or calves). Instead, mascarpone is produced through the addition of citric or acetic acid and processing for 5-10 minutes at high temperature. The combination of acid and high temperature is what gives this cheese its creamy consistency.
It is important to note that mascarpone should be consumed fresh. It goes rancid very quickly and should therefore be stored in the refrigerator and consumed within a couple of days after opening.
The most popular dessert using mascarpone is obviously tiramisu. It also tastes delicious in other desserts such as cheesecake, tarts, and trifles. It is often combined with liqueurs and coffee, but its versatility doesn't stop there.
From canapé-style snacks to pizza toppings and deluxe omelets, anything is possible for this deliciously creamy cheese. In savory recipes, it is often used to thicken sauces and soups as well as season pasta and risotto replacing butter.
Cream Cheese
Are you looking for a substitute for mascarpone in tiramisu that no one will notice or suspect that it's not real mascarpone cheese?
Cream cheese is a great alternative as long as you mix it with whipping cream and butter.You see, regular cream cheese has less fat than mascarpone and a more acidic taste.
Try mixing 8 ounces full-fat cream cheese with 4 tablespoons whipping cream and 2 tablespoons softened butter until blended. This will give you almost equal to 300g mascarpone.
Cream cheese is a good substitution for a baked cheesecake. Its slightly acidic tang makes cheesecakes rich while the lower fat content makes them lighter as compared to cheesecakes made with mascarpone.
Crème Fraîche
Crème Fraîche is the French version of Mascarpone, but less thick, less sweet and tangier. It also has less fat content (around 30-45%) whereas mascarpone contains at least 47% fat.
From baking to finishing a soup and making dessert toppings, crème fraîche can be used as a substitution in several ways. And the best part about it is that it doesn't curdle when used in soups or sauces.
It's easy to make it at home. All you need to do is mix equal amounts of sour cream and heavy whipping cream. I cup of crème fraîche replaces 1 cup of mascarpone.
Ricotta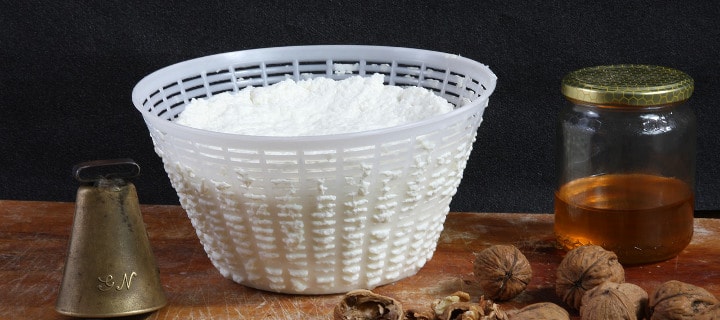 Although both mascarpone and ricotta are spreadable and smooth, ricotta is more grainy in texture. Mascarpone is made from thick cream whereas ricotta is a cheese. It also contains a lot less fat so the result in terms of taste and texture will be less rich and smooth (not a good replacement for tiramisu after all).
To make up for some of their different features, try mixing ricotta with whipping cream and cream cheese.
Besides, plain ricotta is great value as savory pasta filling or any other type of pasta that is good at capturing this creamy cheese.
Full Fat Greek yogurt
Greek yogurt is highly nutritious, inexpensive, and easily accessible. But it also comes with its drawbacks. For example, it's not as creamy and rich as mascarpone and the taste is tangier. However, it can work well in baking recipes, desserts, and fruit bowls.
If you want to finish off your soup or sauce with that great creamy texture, it's one of the best ingredients. Because it has less fat than mascarpone, it can curdle if cooked at high temperatures. Add it at the end of your cooking or use a very low temperature. The ratio is 1 cup of yogurt for 1 cup of mascarpone.
Sour Cream
Sour cream has a similar to mascarpone texture but a lot less fat (at least 18% fat content). Thus, you'll lose creaminess if you substitute sour cream for mascarpone. It's also tangier in taste, which means that it can stand up better to savory dishes such as sauces and casseroles rather than sweet desserts.
Generally, sour cream is an excellent ingredient in baking and cake frosting recipes. It's also great for some of our favorite creamy dressings and dips.
Cottage cheese
If you are worried about calories, cottage cheese is a good low-fat alternative. It also provides more protein than mascarpone.
Due to the curds of the cheese, it lacks mascarpone's creamy consistency, but you can make it smooth and spreadable by breaking up the curds in a food processor or blender.
You can use cottage cheese in a healthy keto cheesecake recipe and other yummy desserts or follow the savory route.
Dairy-Free Alternatives To Mascarpone
Coconut milk mixed with cashew butter
Coconut cream blended with lemon juice
Vegan cream cheese
Silken soft tofu with vegan cream