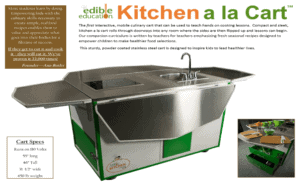 "Imagine a world where children were fed tasty and nutritious, real food at school from the age of 4 to 18. A world where every child was educated about how amazing food is, where it comes from, how it affects the body and how it can save their lives." Jamie Oliver
In Richmond, Virginia USA, I did imagine that world and were awe-inspired by Jamie's vision since becoming one of the first American Food Revolution Day Ambassadors when the call for essays first came out to become an Ambassador in 2012, the first FRD with 60 USA Ambassadors.  We met an 11 year old that had never eaten a strawberry, a 6 year old that didn't eat oranges and thousands that have never prepared food until our chefs came to their school.
Now, Edible Education has taught over 30,000 kids in Virginia, and searched for a way to expand our experiential learning culinary lessons to all.  After a food truck builder came into our kitchens to talk to young entrepreneurs about building their own food carts, I began the journey to design and create the answer for any school, hospital or wellness center to teach nutrition education.
The Kitchen a la Cart was born in the spring of 2016 to accelerate change with a powerful strategy based on Jamie's visions for individuals, families and communities to transform their health.  The Kitchen a la Cart is a mobile, teaching kitchen on wheels.  It is complete with hot and cold running water, an induction burner, convection oven and drawers to store all the equipment you need to cook with 10 students.
At Edible Education, we know first hand that when kids get to smell it, cut it and cook it, they'll eat it!  Now everyone can offer that experience.  Since launching, we have sold the cart into 22 states with inquiries from Italy, Germany and Australia. Our new Executive Chef, Quincy Jackson has recently come on board after retiring from the White House as the former Oval Office Chef to Presidents Clinton, Bush and Obama and we are very excited for a fantastic 2018 together.
As a former high school culinary arts teacher, I couldn't handle watching kids consume energy drinks and spiced chips for breakfast any longer.  I quit teaching, started my cooking school out of my garage and worked really, really hard to do what I was born to do – teach kids to cook and to eat healthier.
In 2015, I was a guest in Jamie's offices with the Food Revolution Team, again, completely in in awe and I didn't get to meet Jamie that visit, but heard him taping a show in his studio – and smelled it – amazing!  His steadfast passion and message has been an inspiration to all of us at Edible Education and yes, we continue to imagine his vision of nutrition education for every child.