If you're looking to take your cooking to the next level, you need a meat grinder for your kitchen. This kitchen appliance comes in handy every time a recipe calls for minced meat. On top of that, some models will even let you stuff sausages, giving you even more options in the kitchen!
The main selling points of any food grinder is that meals become much cheaper and much, much healthier once you start grinding meat yourself. It's a game-changing gadget for any meat lover.
Today, we're looking at the best meat grinder units available on the market now. We've reviewed and ranked the top models to help you pick out the one best for your needs. You'll also find an exhaustive buying guide and frequently asked questions answered. We did all the work so that you can have fun buying.
1. Best Rated Meat Grinder: ALTRA Multifunction Stainless Steel Mincer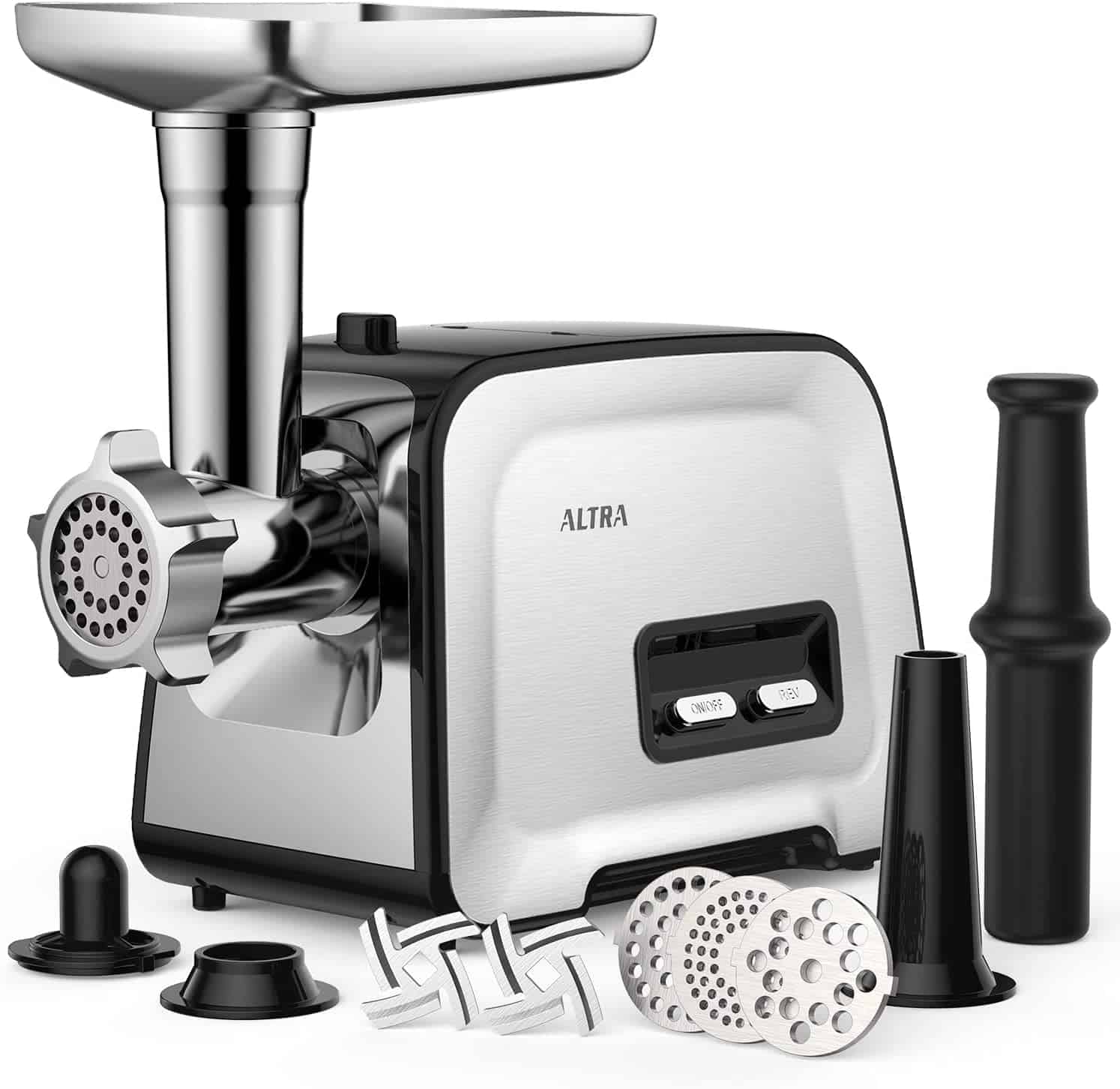 If we could only recommend one appliance, we'd pick this ALTRA stainless steel model. It's super versatile, affordable, and very easy to use. We have no doubt it's the best home meat grinder for most home cooks.
With this appliance, you can grind up to two pounds of meat per minute. The easy-to-use on and off switches make using it a breeze.
The accessories it comes with are also big pluses, especially if you want to be adventurous and try your hand at different recipes. You'll get three different stainless steel cutting plates (for fine, medium, and coarse ground), a sausage stuffing tube, and a kibbe attachment. It's versatility at its finest.
All parts that come in contact with your food are made of food-grade materials. The stainless steel blades and the ABS plastic accessories ensure your food will stay perfectly safe for consumption.
On top of all that, this is a very sturdy electric meat grinder. The appliance has a triple-wall design, making it more resistant to wear-and-tear, rust, and dents. It protects your investment and ensures you keep using your grinder for a long time.
Cleaning it couldn't be easier either. Although the parts aren't dishwasher-safe, they can be soaked in soapy water when you're done using the unit. Pat them dry and you're done. Additionally, the "reverse" button helps you unclog the machine once it starts getting sluggish.
Lastly, the noise-reduction feature and the built-in accessories storage drawer are two high-quality features to have, too.
2. Best Budget Meat Grinder: Sunmile Electric Grinder and Sausage Stuffer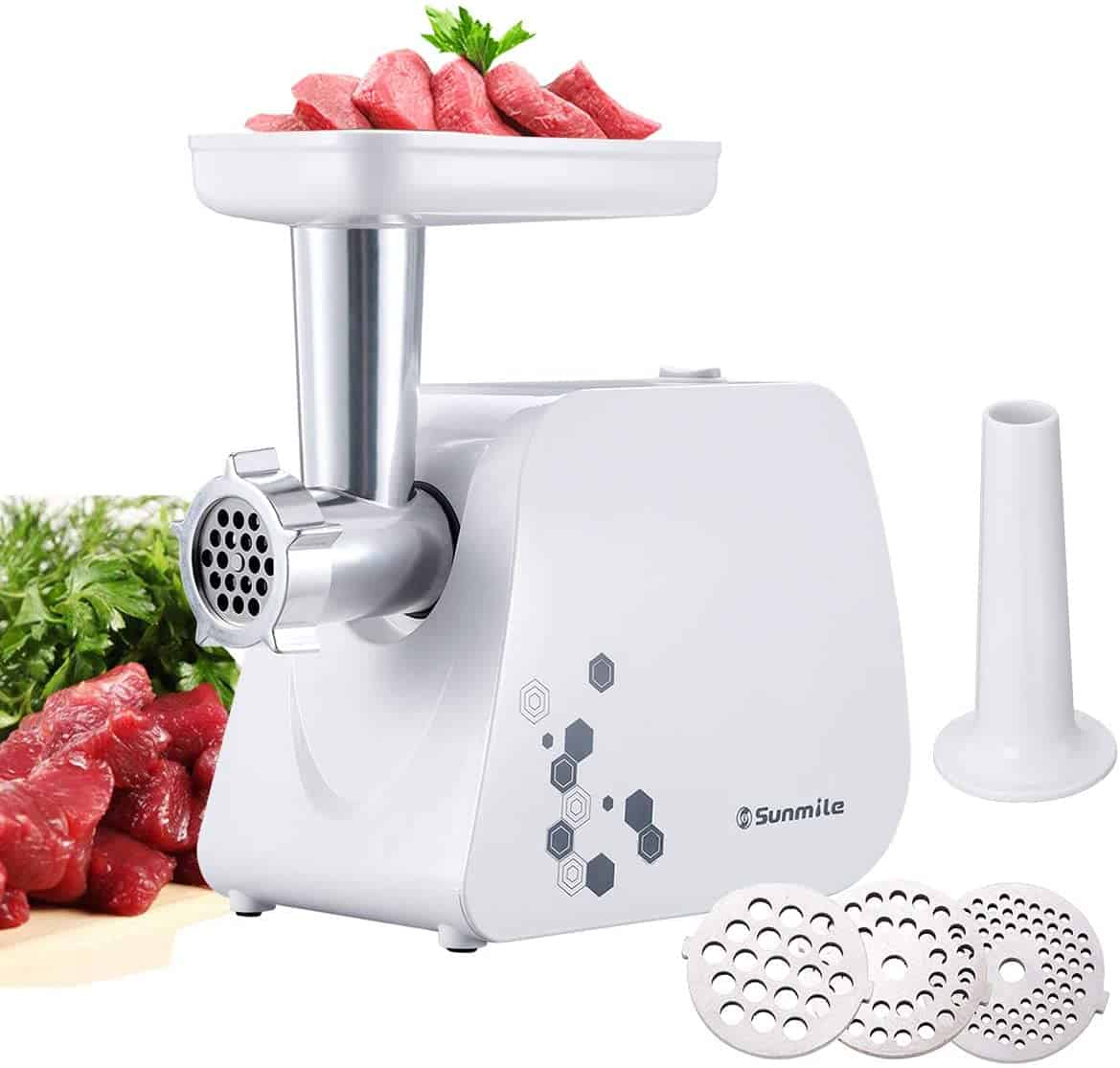 If you're looking for a more affordable unit, look no further. This Sunmile electric meat grinder is the best cheap meat grinder you'll find. It's easy to use, surprisingly versatile, and, most importantly, budget-friendly!
This unit can handle up to 150 pounds of meat per hour. That's roughly two-and-a-half pounds per minute, meaning you'll get supper done in no time.
You can choose how coarse you want your grind to be. The three disks give you flexibility and full control over your cooking. You can even stuff sausages with this unit because it comes with special sausage stuffing tubes.
Another awesome thing about it is how easy it is to use. The three big buttons say on, off, and reverse. Straightforward, right? You won't be left wondering how to go about grinding meat using this appliance.
Additionally, there is a circuit-breaker built into the Sunmile grinder. It protects your appliance from any power surges, making it last longer. This will value your investment in the long-run.
Unfortunately, since the parts are made of aluminum, you can't put them in the dishwasher. However, they're still easy to clean with warm running water and a neutral detergent.
But don't worry, all materials used are food-grade steel, aluminum, and ABS plastic. That means your food stays perfectly healthy for human consumption.
3. Best Premium Pick: LEM Products Heavy-Duty Stainless Steel Big Bite Mincer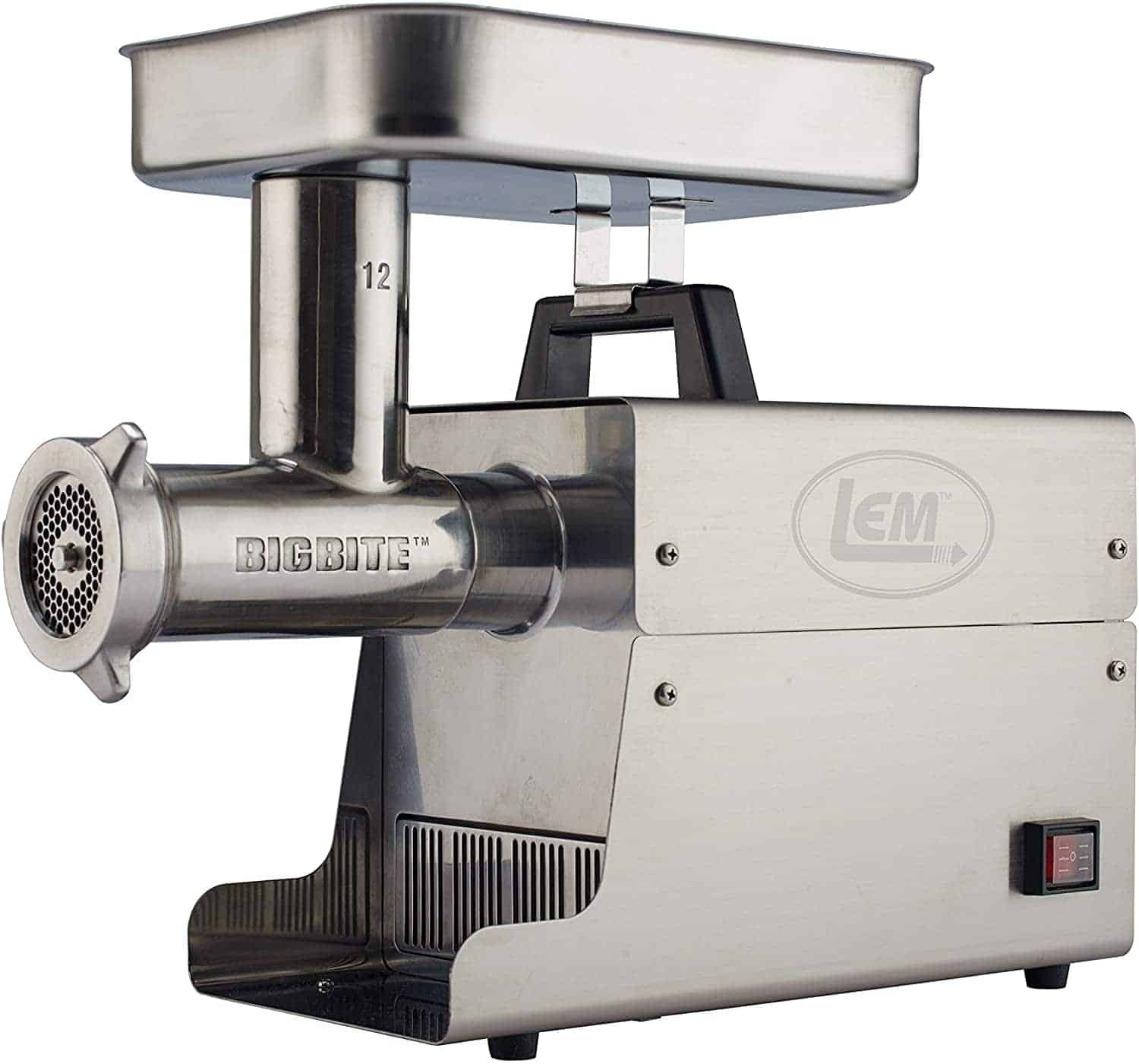 We've looked at ways you can stick to your budget and still get a high-quality meat mincer. But what if you want to splurge? If that's your case, the best electric meat grinder out there is the LEM Products Big Bite Stainless Steel Mincer.
This large meat grinder costs several hundreds of dollars, but you'll get your money's worth. It's the closest you can get to a commercial-use machine for your home. It's so powerful it processes up to seven pounds of meat in one minute!
The strong and sturdy stainless steel cutting plates and blades let you mince tougher meats and bones easily and conveniently. Plus, since it comes with two different steel plates, you can get both coarse and fine mince. But that's not all—it also comes with three sausage stuffing tubes and one meat stomper.
They don't call it "Big Bite" for no reason. You can grind large chunks of meat into the feeder without the machine clogging up or breaking down. This means the whole grinding process is infinitely easier and quicker than it is with other models.
Although this unit is large, it barely makes any noise. It's not something you'd usually expect from a professional-like appliance, right? Well, thanks to the lubricated engine, wide grinding head, larger auger, and better gears, it will keep noise to a minimum.
You only need to take one look to see how sturdily built this unit is. The reinforced stainless steel and brushed-steel finish keep it running and looking perfectly over the years. Plus, the circuit-breaker protects it from power surges.
If you do happen to come across any problems, you'll be happy to know the LEM meat grinder comes with reliable lifetime customer support and a five-year warranty.
4. Best Stand Mixer Attachment: KENOME Metal Mincer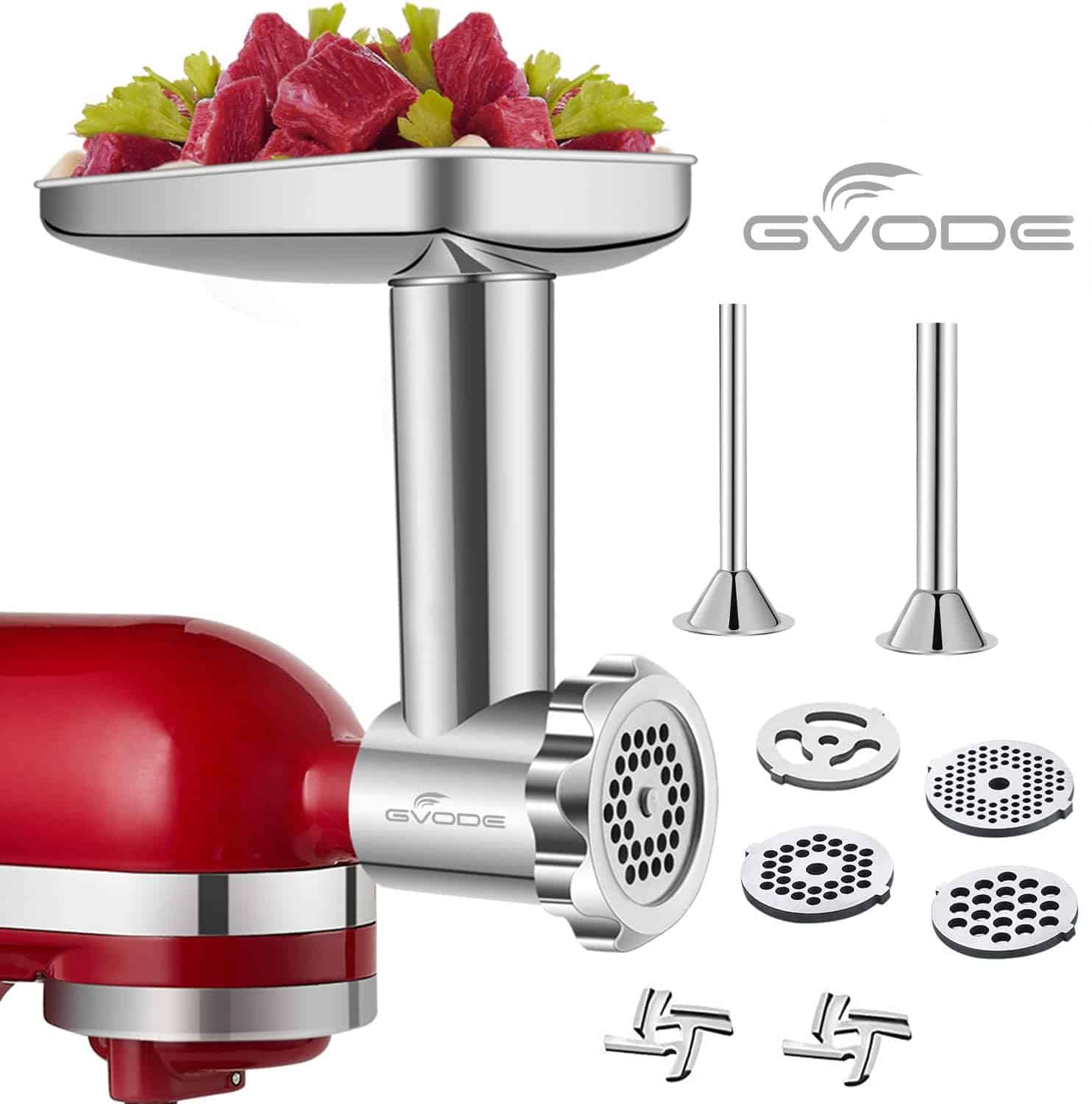 The GVODE attachment is perfect for you if you already have a stand mixer. It's easy to set up and even easier to use. And the best part? It runs smoothly just like any other electric meat grinder without costing a fortune.
This attachment fits perfectly with all KitchenAid stand mixers. Assemble it on the hub of your appliance, make sure it's well secure, and start running your machine. It's that easy to use.
Every single part of this attachment is made of food-grade stainless steel. On top of being healthier from a food-safety perspective, they're also more durable and will last you longer.
You'll also have more control over your cooking using this attachment. It comes with three grinding plates: two for fine grinding and one for coarse grinding. On top of that, you can also stuff sausages using the two special stuffing tubes that come with it.
You can conveniently put these attachments in the dishwasher or you can soak them in soapy warm water.
5. Best Manual Meat Grinder: LHS Hand Crank Food Grinder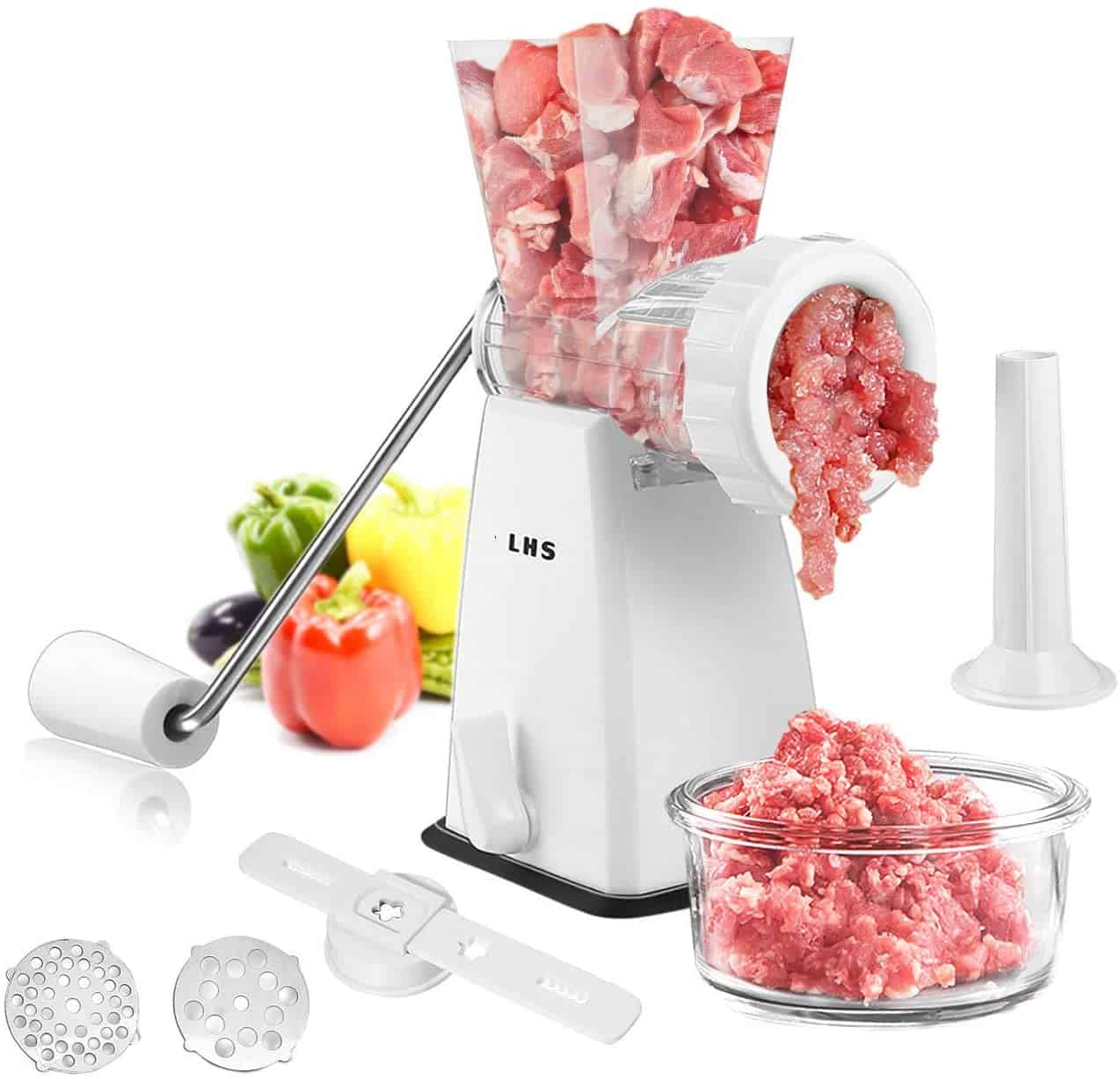 All the models we've looked at so far have been electric, but not this one. The LHS mincer is the best crank manual meat grinder you'll find—if you'd rather go the manual-grinder route. It's also cheaper, so that's something to consider.
Since there is no built-in electrical system, you grind the meat using your own force. That means you'll have to turn the hand crank to push the food through the blades and stainless steel cutting plates. While you won't get minced meat effortlessly, you're also not dependent on electricity to whip up your favorite meals.
This also makes it easier to use than other models. It's the most no-frills approach we've ever seen: place the meat in the feeding cone and turn the handle. That's it.
Despite being minimalistic, you still get two different stainless steel plates. This way, you can get both finely ground and coarsely ground meat. Surprisingly enough, it even includes a dough shaper. When you attach it to the grinder and feed your dough through it, it will come out on the other side in one of four cool designs!
Lastly, the safety features on this unit are great. The suction-cup base makes your appliance stick to the countertop while you're using it, preventing it from falling and breaking. On top of that, the plastic meat stomper protects you, as you don't have to use your hand or fingers to feed the meat into the grinder.
6. Best Heavy-Duty Meat Grinder: STX Turboforce Platinum Mincer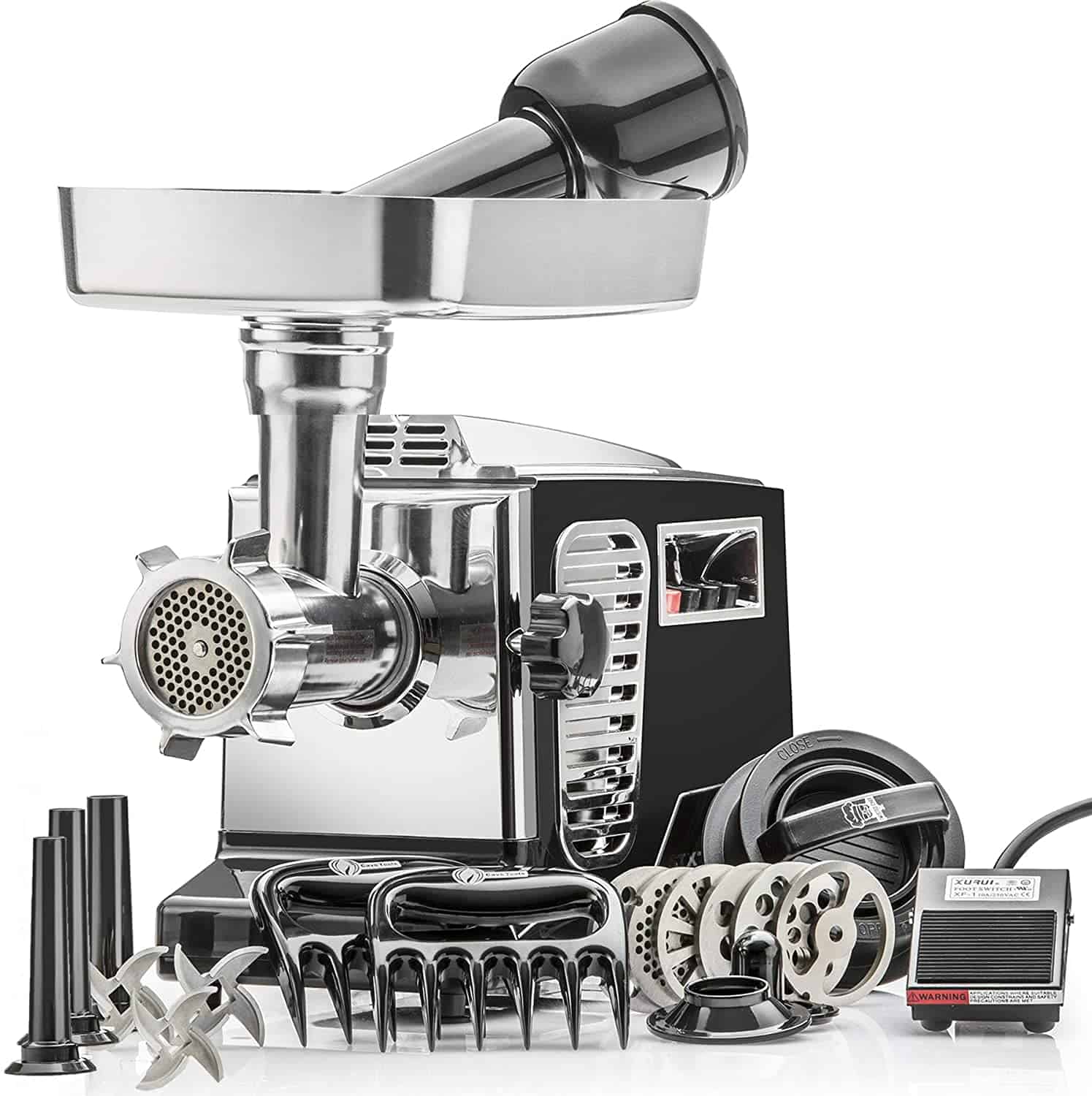 The last item on our list is this STX Stainless Steel Turboforce model. It is hands-down the best heavy-duty commercial-use meat grinder, as it comes with a ton of different accessories and handy features.
Using this unit, you can process up to 225 pounds of meat in one hour. Thanks to the 2000-watt engine and wide, sturdy grinding head, grinding tough meats and bones has never been easier or more convenient.
If you're in the middle of a long grinding session, you'll be pleased to hear you can use the foot pedal to power this appliance. Press it to grind the meat, release it to stop. Simple, right? This way, you can handle meat with both your hands and not get the grinder all dirty and smudged.
You also get a lot more control over your cooking using this unit. It boasts three speeds: slow, medium, and high. Choose the one that best fits your needs, depending on the cut of meat you're grinding and what you want your end result to be.
Speaking of control, no mincer is more versatile than this one. It comes with a whole array of accessories for you to choose from. For starters, there are five different sized stainless steel plates (from very fine to coarse). Then, three stainless steel blades, for different cuts of meat. Also, a set of three sausage stuffing tubes and a kubbe attachment. It even comes with a patty maker press, a pair of meat shredder claws, and a stainless steel meat tray. Of course, it also includes a sturdy food pusher.
Why Use a Meat Grinder?
You might be wondering: "Why not just buy ground meat from the supermarket?" That's a great question—with an even better answer.
Firstly, store-bought minced meat isn't as fresh as meat you grind yourself. It's usually made from cuts that didn't sell and have been sitting out for a few days. There is also no way of knowing exactly what kinds of meat when into the grinder at the butcher's shop. There could be bone, connective tissue, and cartilage all mixed into the meat.
Secondly, grinding your meat gives you the most control. You can choose how fatty or how chunky you want the end result to be, for instance. Moreover, you can choose what cuts of meat (or even what types of meat!) you'll use in your mince. For example, you can swap out the beef for turkey to make a healthier ground. You're the butcher in this situation: all the power to you!
Thirdly, grinding meat is cheaper than buying it minced, at least in most places. Are you surprised? The next time you go to the butcher's or the grocery store, compare the price of one pound of beef and one pound of ground beef. Make this comparison for other kinds of meat, too. You'll see that you get your money's worth by doing it at home.
What Are Meat Grinders Used For?
Meat grinders can...well, grind meat, of course. There are tons of recipes that use minced meat: burger patties, lasagna soup, beef tacos—the list goes on and on.
But your cooking creativity doesn't have to end there. The best meat grinders are versatile and let you whip up countless other recipes.
For starters, they double as sausage stuffers—given that you have the right accessories. Play around with different types of meat and the coarseness of the grind. It's a choose-your-own-meat-adventure type of deal.
You can also grind bones and feed them to your animal companion. Animal bones are packed with nutrients and minerals essential for Fido and Mittens to grow up healthy. They're much better and safer for them than whole bones, as pets can choke on these huge chunks.
Surprisingly enough, electric meat grinders handle vegetables well, too. Some chefs have ditched food processors and go straight to their food grinder. If you're whipping up a batch of veggie dumplings or veggie rolls, your grinder will come in handy.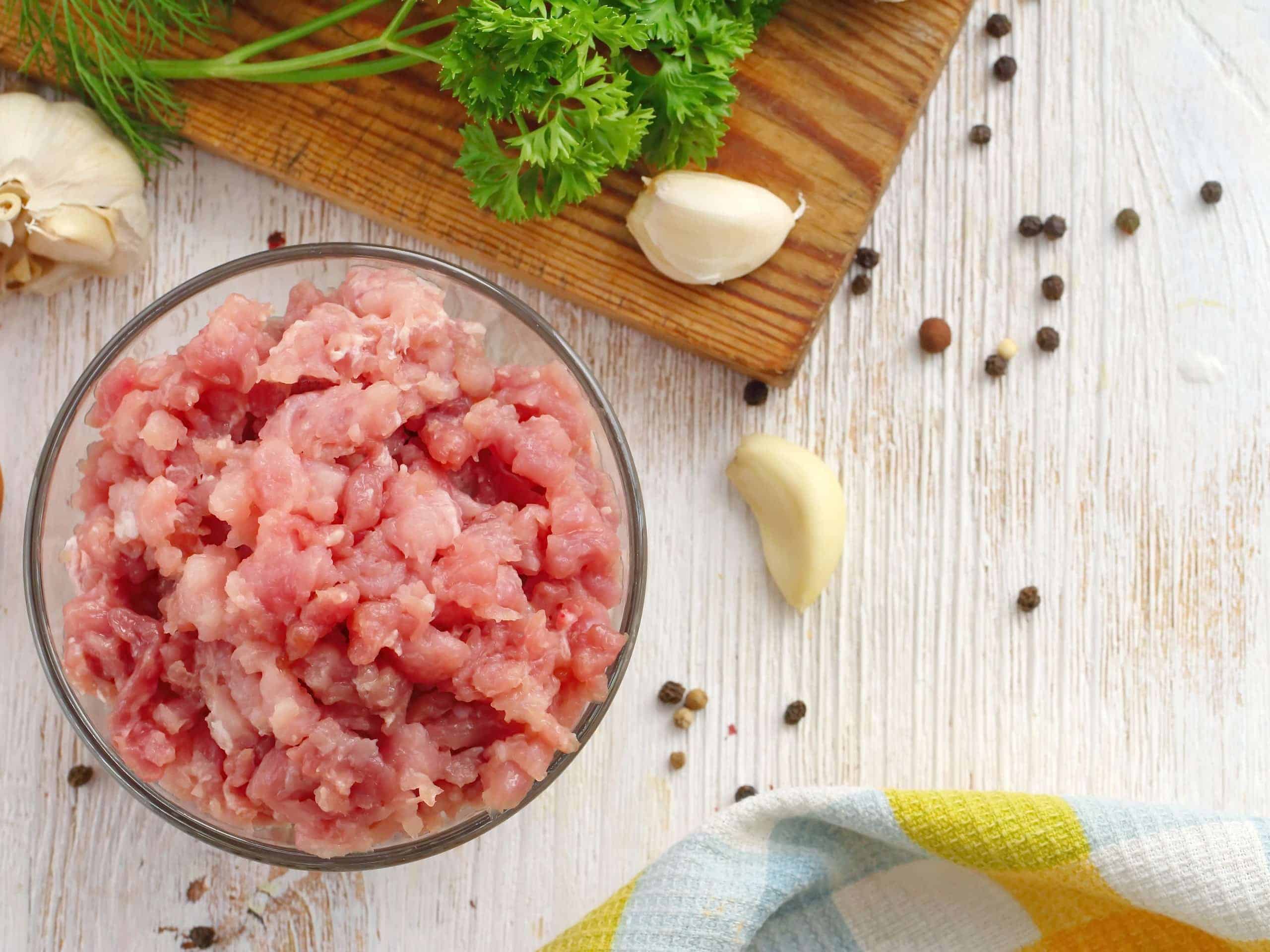 Different Types of Meat Grinders
There are three types of meat grinders. They all have their pros and cons, so the one that's best for you will totally depend on your preference—and budget. Let's break down each of these models.
Electric Meat Grinder
An electric meat grinder is the easiest model to use if you don't fancy an arm workout in the kitchen. Plug it in, turn it on, and pass the meat through the feeding tube. It's that easy and you don't need to do anything else.
If you need to grind a lot of meat, these models will get the job done in the blink of an eye, sometimes in less than two minutes.
Keep in mind that these are the most expensive food grinders you can find.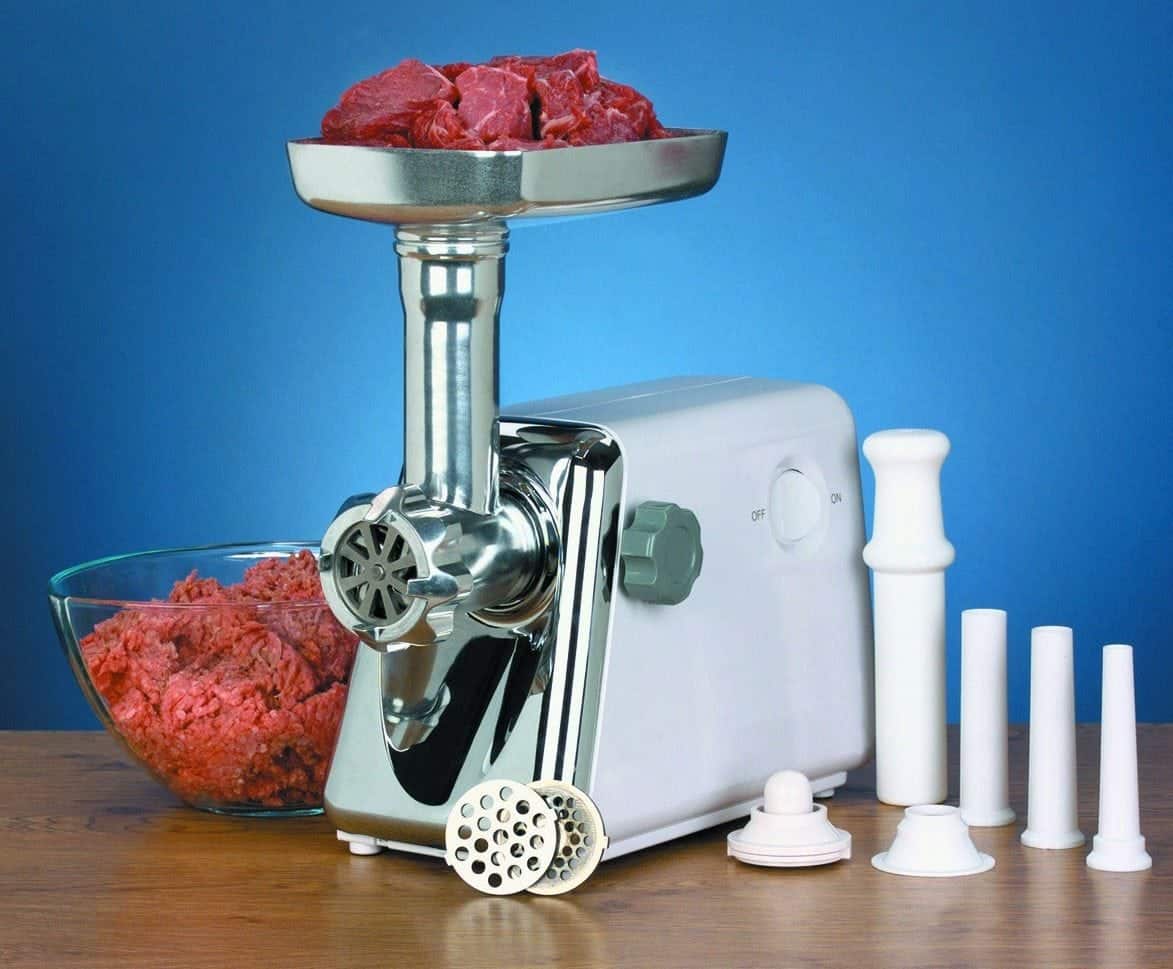 Manual Meat Grinder
If you're on a tighter budget, a manual meat grinder is an awesome alternative. You'll have to turn the hand crank yourself and use your muscles, so take that into consideration. Regardless, these models will get the job done.
They're also easier to store, as they're smaller units. On top of that, they're lightweight and much cheaper.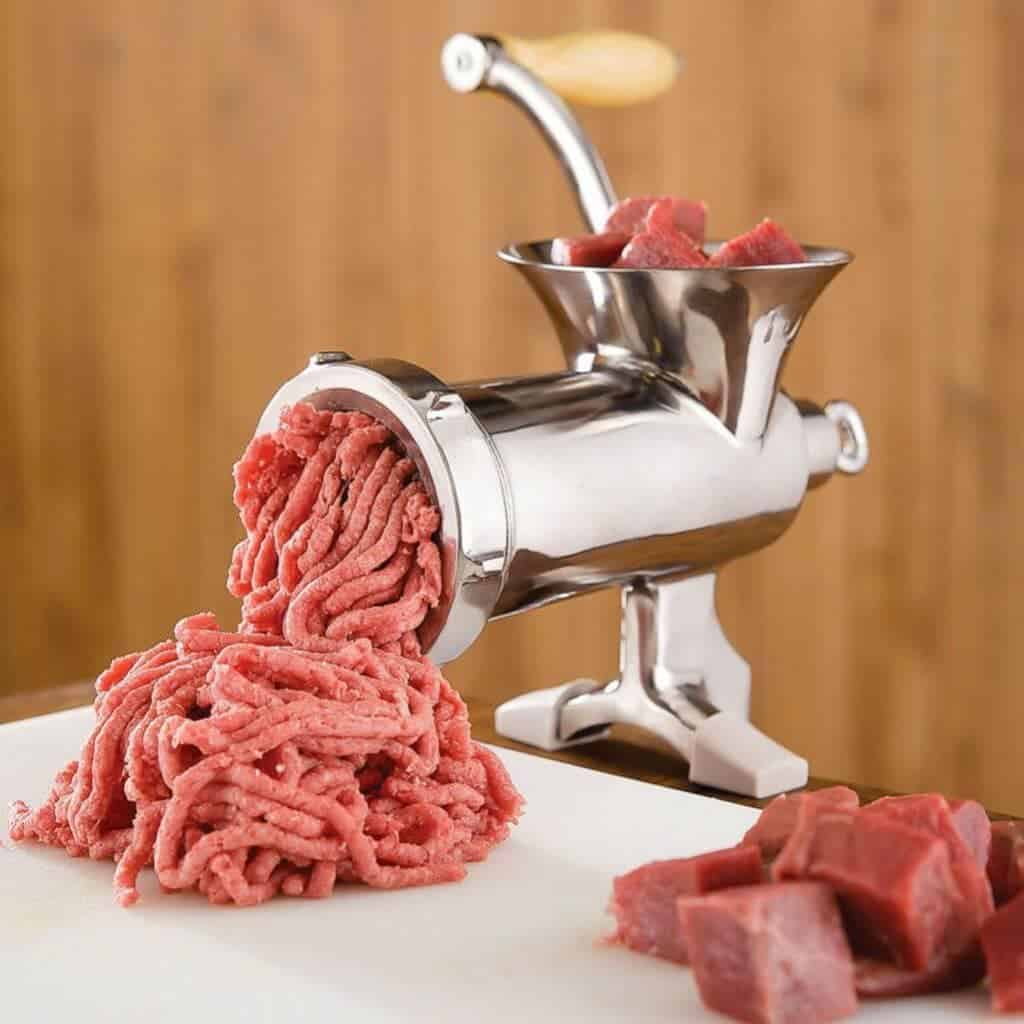 Stand-Mixer Attachment
Do you already have a stand mixer? If so, you can go the cheaper route and just get a stand-mixer attachment. They're usually made of stainless steel, plastic, or both. Attach them to the mixer, turn it on, and pass the meat through the feeding chute. 
Stand mixers have a built-in motor, so with an attachment, it's as if you have an electric meat grinder, only for a fraction of the price.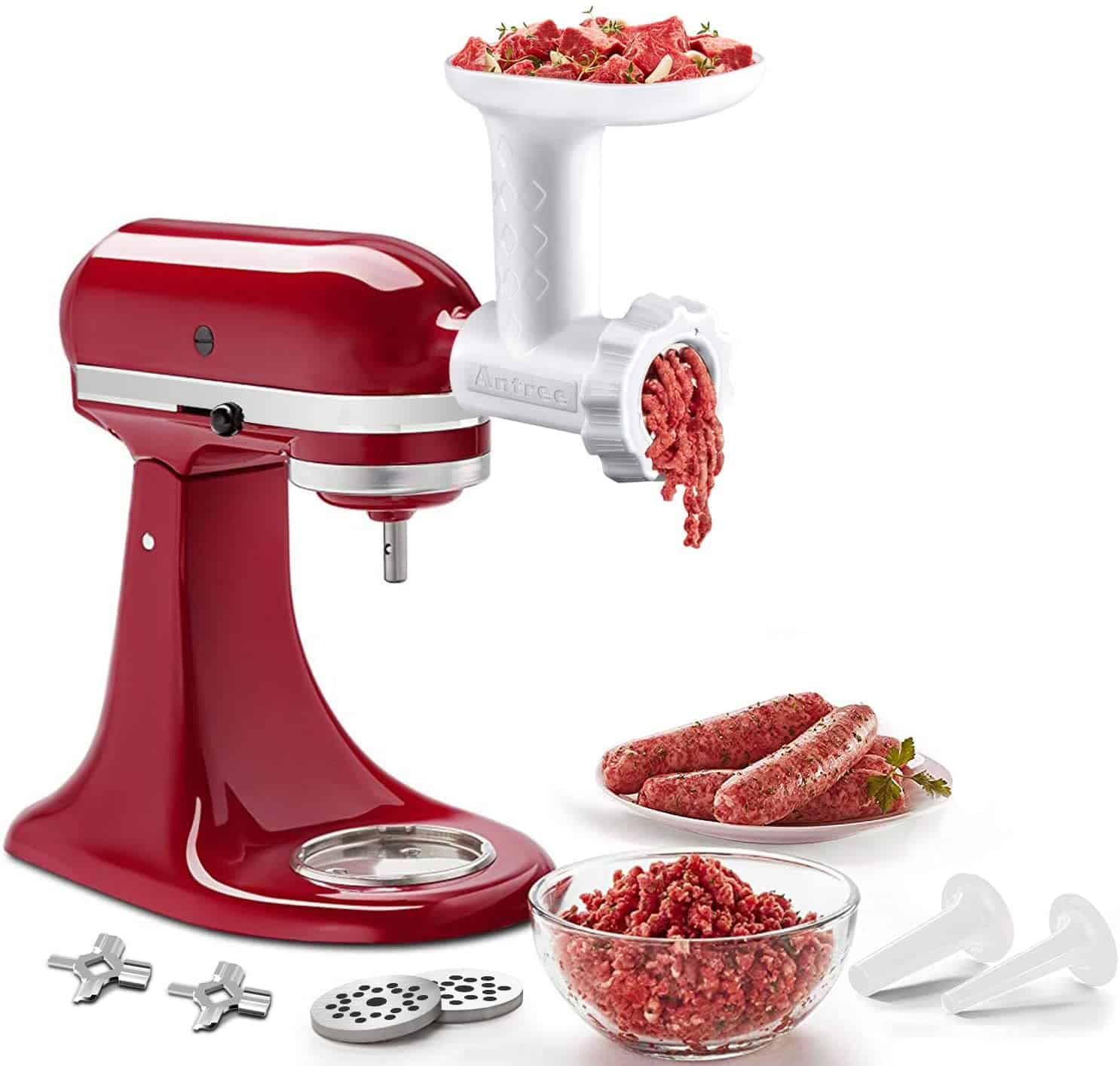 How to Choose the Best Meat Mincer?: Buying Guide
Maybe none of the items we've reviewed made its way into your heart. (It's okay, we promise we won't get hurt.) Put on your comparison hat and dig in. When you do your research for the perfect model for your home, look for these features. The best meat grinders will check off most of these boxes.
Power
Power is the number one feature to look at when researching food grinder models. The more powerful the meat grinding machine, the more pounds of meat it can grind per hour, and the smoother it will run. On the other hand, a unit with a weak motor won't get the job done as professionally and could even overheat and break down.
You can easily see if a gadget is powerful by its wattage. We recommend getting a gadget that runs at between 400 and 800 watts. For comparison's sake, the heavy-duty and commercial-use electric meat grinders you see at the butcher's boast up to 2000 watts of power.
Durability
When you're buying a kitchen appliance as expensive as a meat mincer, you'll want to make sure your investment is safe. That's why it's best to pick a robust model, even if it's slightly more expensive than other units available.
Pay special attention to the material the meat grinder parts are made of. Stainless steel and aluminum are your best bet. They can withstand the most pressure and are pretty awesome at keeping up their shape. On top of that, they also prevent rust from building up and ruining your meat grinding machine.
If you're looking at a manual model, make sure the hand crank is well-built. Sometimes handles are made of cheap plastic, not accounting for the amount of pressure you'll have to put in to manually grind meat and bone.
Grid Options
Pay close attention to the size of the holes on the stainless steel grid. That is, to the diameter of the small-ish holes on the metal round disk where the meat falls out of. That's what gives the ground its squiggly look.
Remember, the thickness of the holes determines how coarse your ground meat will be. Coarse ground is great for chilis and other stews because it will hold its shape during the cooking process. Sloppy joes, sausages, and dumplings, on the other hand, work best with finely ground meat.
The best meat grinders will come with at least two different grids for a wider range of grinding.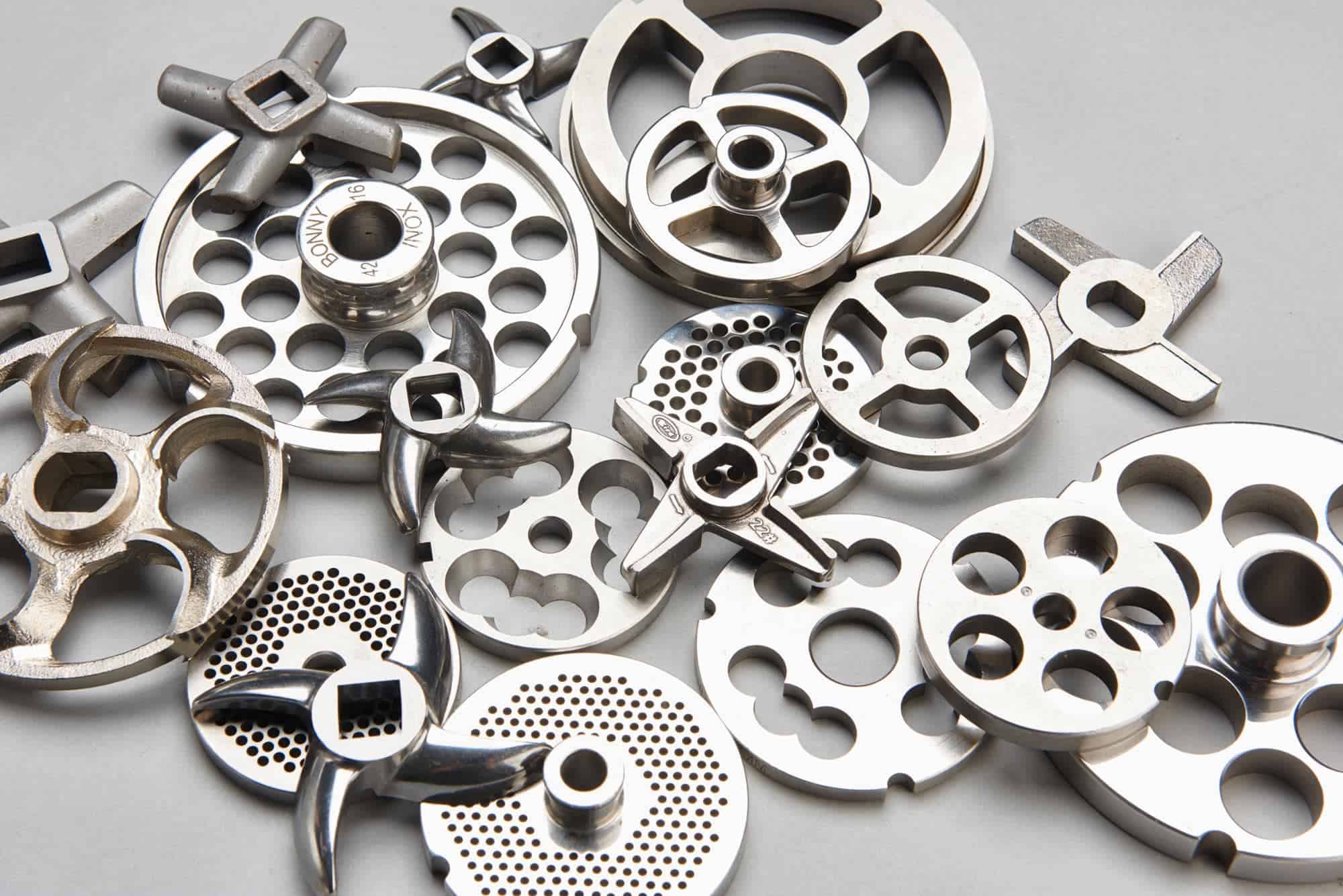 Versatility
While this isn't a deal-breaking for most people, having a wide variety of accessories at your disposal is always a plus.
The best food grinders come with different-sized grids, duplicate blades, and a metal or plastic food pusher.
In addition to that, some models also include a stainless steel tray, burger kits, a sausage stuffing tubes, and sometimes even tools to make kibbe.
These grinder attachments aren't crucial, but they'll give you a wider range of cooking possibilities—as well as make cooking more convenient and fun.
Size and Capacity
How many pounds of meat do you plan on grinding at a time? This will affect which model you end up buying.
Generous-capacity models are more expensive but can grind hundreds of pounds of meat per hour. Those are great for hunters, who need to grind large quantities of meat.
But if you only need to ground a handful of pounds of beef, pork, lamb, or turkey at a time, a smaller model will work just fine. You'll save money and counter space.
Materials
We already mentioned that aluminum and stainless steel parts make the best meat grinders. They're easy to clean, very durable, and don't gather as much rust as other materials do. On top of all that, they're perfectly safe to handle food in a healthy way.
Some models also use plastic parts, both outside and inside the meat chute. Don't get alarmed if you see that: it's not necessarily a bad thing. Plastic parts can make a food grinder much more affordable and lightweight—two pluses. Plus, as long as they use high-quality plastic, you have nothing to worry about. ABS plastic is durable, sturdy, non-toxic, and hypoallergenic: the best choice to handle foods for human consumption. Keep that in mind.
Easy to Use
As with most kitchen appliances, you want a grinder that is straightforward and easy to use. It's the only way you're going to make the perfect minced meat without losing your sanity over an unnecessarily complicated appliance.
Look for models that are easy to set up, turn on, and turn off. You'll be surprised at how complex and confusing some models are. If you're not careful, it could take you longer to assemble your grinder and get it going than to grind the meat.
Easy to Clean
Similarly, units that are easy to clean after you're done using them are always the best choice. Before investing in a specific model, ask yourself: "Will I be able to easily disassemble all the parts, or will it take me hours to figure this out?" You'll have your answer soon enough.
In addition to that, take a closer look at the parts. Will they rust if you wash them with hot water and soap? If so, your appliance won't last a long time. Are they dishwasher safe? Are there any hard-to-reach crevices that will make clean up impossible?
Always remember that you need to thoroughly clean and sanitize every part of the grinder that comes in contact with meat. Not doing so will be a disaster. Raw meat traces can quickly become a petri dish for every nasty microorganism seeking to wreak havoc on your health.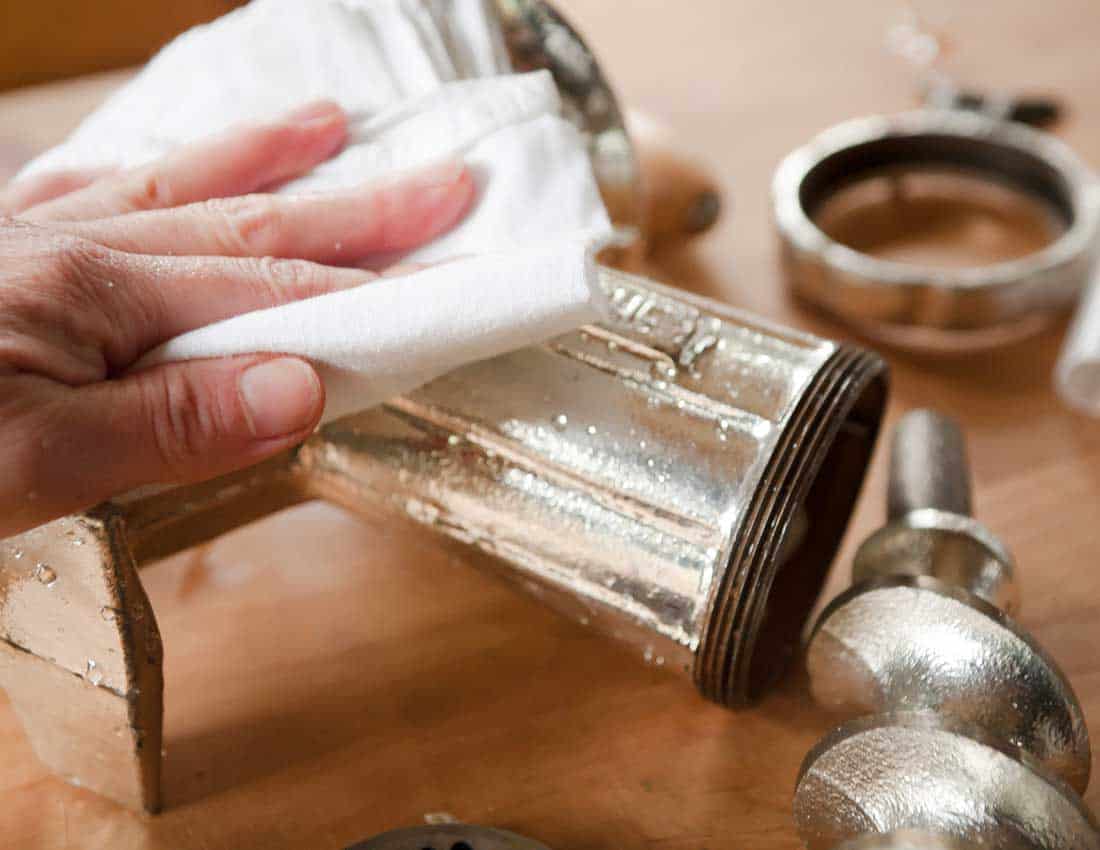 Safety Features
There are safety features built-into meat mincers to reduce the risk for accidents. When paired with general safety tips, they can protect you and the unit itself.
For starters, you should only get a model that comes with a large metal or plastic food pusher. This eliminates the need for you to put your hand and fingers into the feeding chute, which could cause serious injuries, such as cuts and amputations. It's not just us telling you this—OSHA standards recommend the same thing!
Secondly, you can also protect your appliance from electrical surges. Units that come with a circuit breaker and overheating protection last longer. Additionally, choosing a model with a long warranty will also safeguard your investment. They're extra features and will cost you more, but well worth considering.
Noise
Lastly, we recommend units that don't make a lot of noise—for obvious reasons. Especially if you plan on grinding dozens or even hundreds of pounds of meat. However, since all units make some noise and noisier models can boast some impressive additional features, this one is totally up to your consideration.