Who doesn't love a good charcuterie platter, laid out on a fancy-looking cutting board? Or a tasty sandwich filled with thin slices of meat and cheese? Getting them pre-sliced and packaged from the grocery store just isn't the same. Which is why we recommend investing in the best meat slicer for your kitchen. It will make every lunch and snack extra delicious—and help you save money in the long-run.
Don't be intimidated by these heavy-duty machines. There are plenty of meat slicers for home use out there, and they can be more affordable than you'd think. Meat slicers make the perfect addition to any foodie's home. Just think of how many new ingredients and flavor combinations you could discover once you can slice your own meats and cheeses at home. And, as if that weren't enough, you can even use your meat slicer for slicing bread and veggies!
Today, we're guiding you through this often intimidating world. We've reviewed the top six best meat slicers and ranked them. You'll also find a thorough buying guide at the end, which will help you pick out the perfect appliance for your kitchen.
1. Best Meat Slicer Overall: OSTBA 7.5-Inch Blade, Stainless Steel Electric Meat Slicer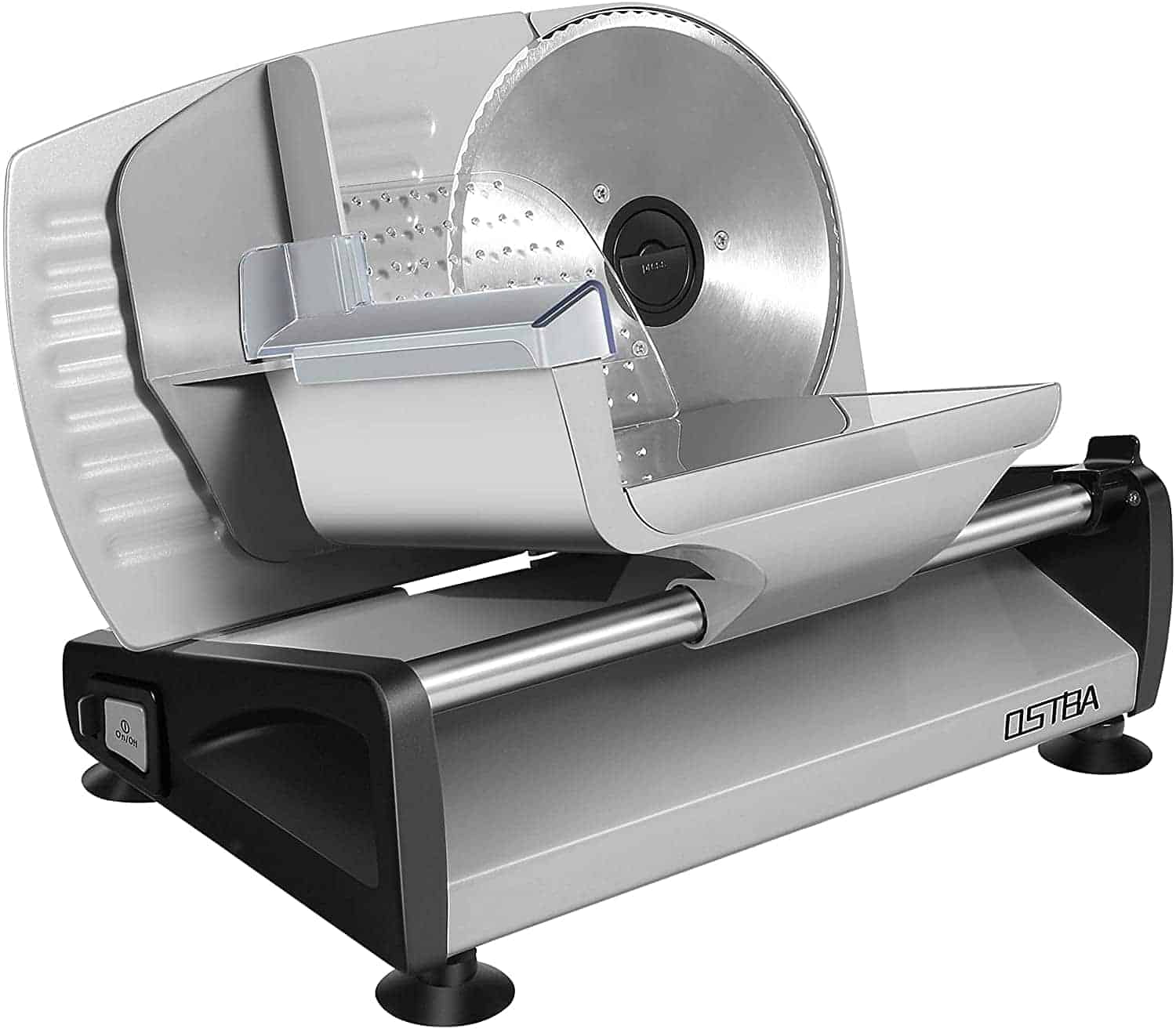 This OSTBA 7.5-inch blade model takes the prize for all-around best food slicer out there. It's very reliable, incredibly easy to use, and even easier to clean. If you're not sure what features to look for, take our advice and get yourself this model.
One of the best things about this cheese and meat slicer is how intuitive it is to use. The design is very straightforward, meaning there is no steep learning curve for even the least tech-savvy home cook. This a very easy-to-use model.
Since this is an electric meat slicer, the rotating blade does all the work for you. The 180-watt motor ensures you're getting evenly cut slices of meat every time. Even if you're slicing several pounds of meat in one go, you won't have to take a break halfway through to keep your meat slicer from breaking down.
The sharp stainless steel blade is of the highest quality. Besides retaining its edge wonderfully, it has a serrated edge to help you cut through frozen meat and bread. Plus, since it measures 7.5 inches in diameter, it's wide enough to elegantly slice most cuts of cured meats out there.
Another awesome feature is the adjustable thickness knob. This small accessory lets you have full control of how your deli slices turn out.
Fortunately, cleaning up is a breeze. Both the blade and the food carriage are removable. Wash them with water and soap, leave them to dry, and reassemble everything. It takes less than two minutes.
Lastly, the rubber feet on the bottom make for an amazing safety addition. They ensure the meat slicer stays put on your work surface and doesn't slip. When you're handling heavy blocks of meat and a very sharp rotating blade, this is definitely a feature to look out for.
2. Runner Up: Chefman Die-Cast Aluminum Electric Meat and Food Slicer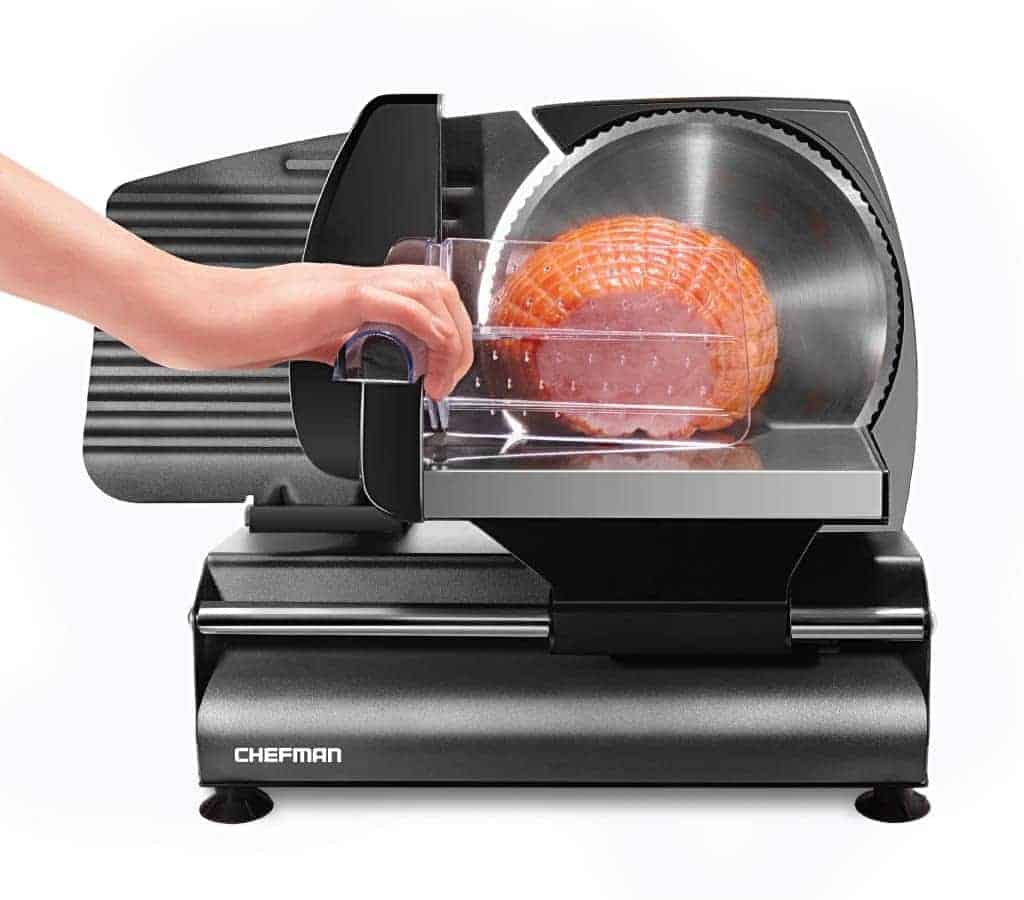 Don't overlook the Chefman Electric Meat Slicer just because it's not number one! It was a hard choice between these two models. This meat slicer churns out great results time and time again, has some amazing features, and a beautiful design.
You can use this slicer right from the moment you get it. Luckily, there are no confusing instruction manuals or forehead-scratching design features built-in.
Additionally, the compact design makes this a smaller machine than other models on the market. It measures nine by twelve inches. If you don't have much storage room, this may be the model to invest in.
The 7.5-inch serrated blade is made from sturdy stainless steel, meaning it won't rust and it will keep its shape for a long time. Moreover, since the front and back have been thoroughly polished, your cuts of meat should slide through without a problem.
You can also play around with how your deli meat and cheese slices will come out. The adjustable thickness knob at the back of the appliance lets you choose if you want thin or extra-thick slices—and everything in between.
We like how the food carriage comes with a built-in handle. This way, when you're pushing the meat toward the blade, you don't run the chance of accidentally touching the blade with your bare fingers. The rubber non-slip feet are yet another added layer of protection.
When it's time to clean things up, you can remove the stainless steel blade and the die-cast aluminum housing. This way, you can more efficiently sanitize all the nooks and crannies.
3. Best Meat Slicer for the Money: Elite Gourmet Platinum EMT-625B Ultimate Precision Slicer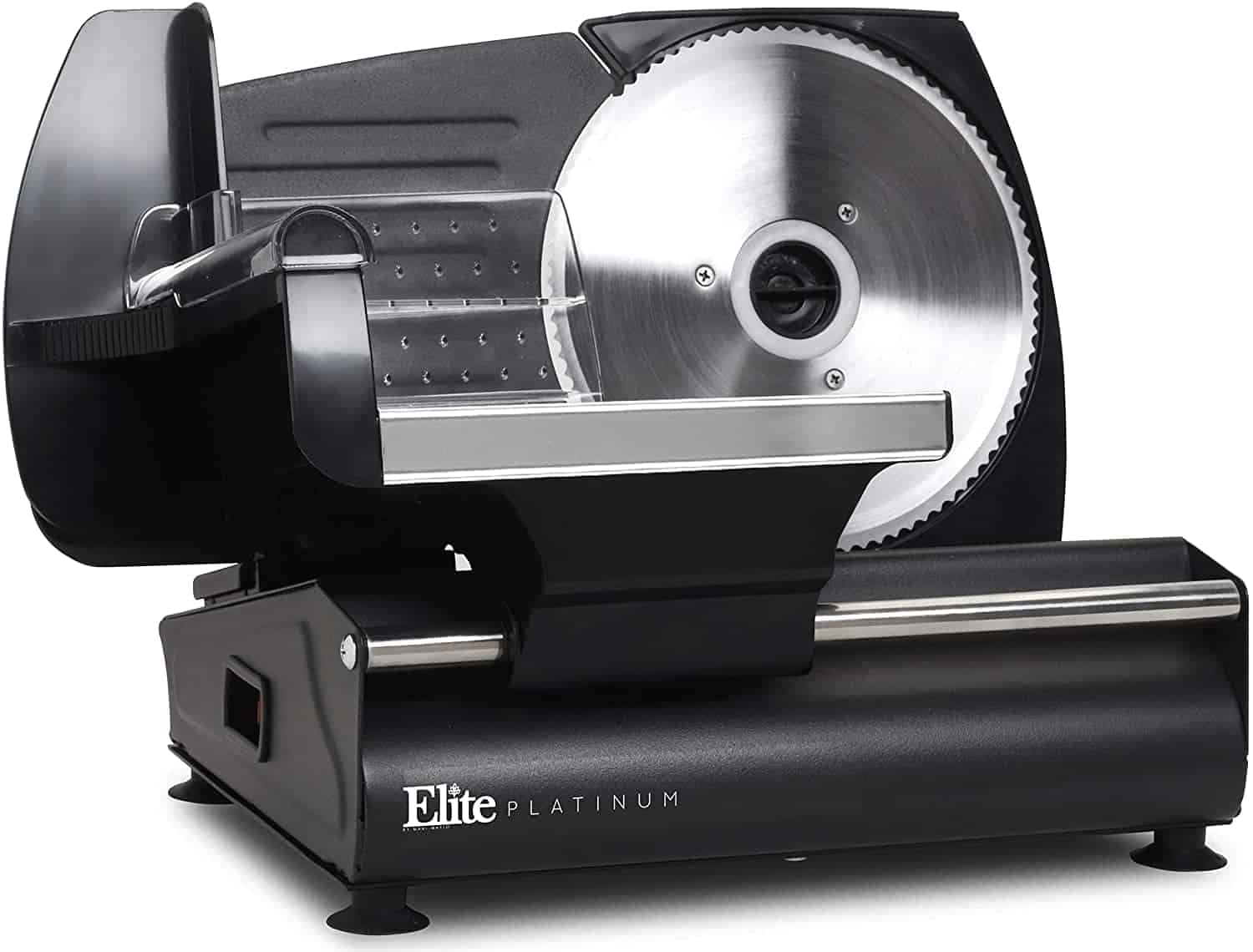 If you're on a budget, you can still get a good meat slicer. The Elite Gourmet is affordable and still delivers great-quality results consistently. While it doesn't have as many bells and whistles as other models, it has the essential features you need to assemble the perfect sandwich or the best party platter you've ever laid eyes on.
The motor isn't the most powerful out there, which is to be expected given the budget-friendly price. The 110-watt motor still does a good job, though. It handles most deli meats and salami well. Just remember to take breaks and switch off the meat slicer if you're planning on prepping many pounds of meat. It will give the slicer time to cool off.
If you partially freeze fresh meat, you'll still be able to process it using the Elite Gourmet slicer. The serrated blade is strong enough to cut any kind of slice without them losing their shape.
When you want to change things up, you can select how thick you want your meat slices to be. There is a dial with numbers on it behind the meat slicer. Choose any thickness, from zero to fifteen millimeters of width.
Both the blade guard and the non-slip feet at the base are great safety features. They protect you from freak accidents in the kitchen. And as long as you keep the slicer unplugged from the wall, you won't run any chance of it running when you're least expecting it.
4. Best Commercial-Grade Slicer: Best Choice Products 10-Inch Blade Professional Meat Slicer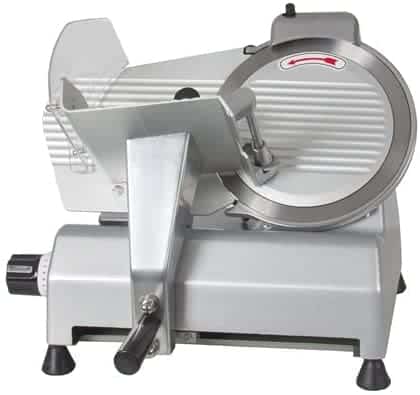 We're getting out the big guns. The Best Choice Products Slicer is the first heavy-duty commercial appliance on our list. You're bound to be impressed by the sheer size and versatility this slicer has to offer.
First things first, you'll notice that there are practically no plastic parts in this model. The entire slicer is made of sturdy, robust stainless steel. This ensures it stays in pristine condition for many years to come, thus making your investment even more worthwhile.
The large stainless steel blade is yet another thing setting this model apart from the competition. It is extra-wide, clocking in at ten inches in diameter. In this case, blade size does matter if you want to get the most use out of your slicer. With a large blade, you can cut through pretty much any cut of meat, cured or otherwise.
The heavy-duty 240-watt powerful motor is truly a force to be reckoned with. You'll find that the blade has no problem slicing through hard, frozen slabs of meat. It won't even hiccup. You could have the meat slicer running for over three hours indoors and it still wouldn't overheat. If you need to slice large volumes of meat, cheese, veggies, and bread, this is probably the appliance for you.
Of course, you can change up the thickness of the slices easily. The knob at the side gives you full control. Whether you want paper-thin slices or super-thick 17-millimeter slices, all you have to do adjust the dial.
The non-skid feet at the bottom and handle on the meat carriage are great safety features to have. Especially since this machine is so heavy and so powerful!
5. Best Premium Pick: KWS MS-10NT Premium Heavy-Duty Commercial Meat Slicer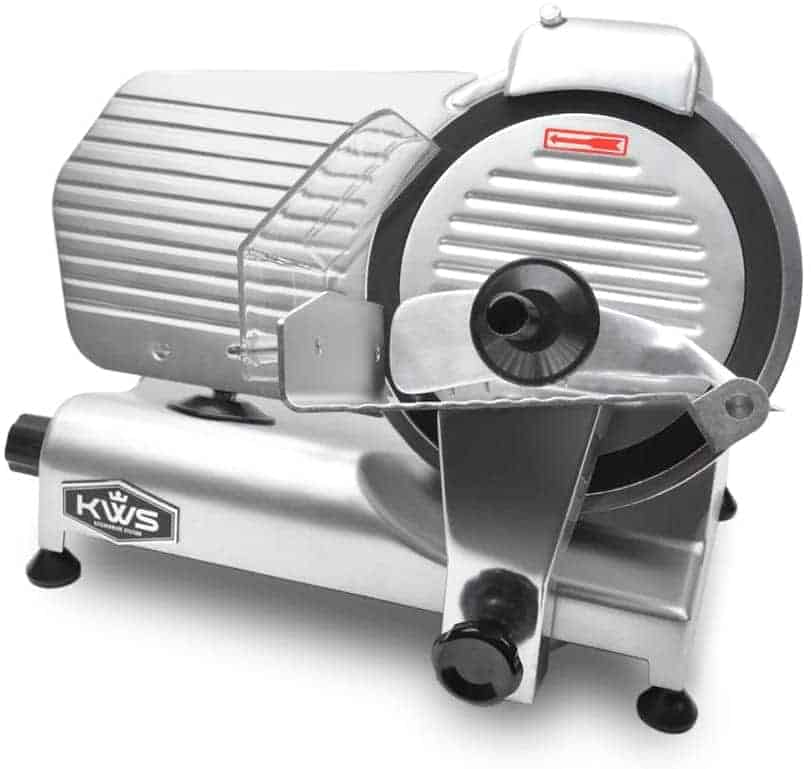 Another great commercial-type appliance to look into is the KWS MS-10NT model. This high-end slicer is one of the best-performing appliances out there—and well worth the steeper price tag, if you can afford it. 
The sturdy structure is almost completely made from strong metal alloys. Besides giving the slicer a sleek look, it also gives it extra structural integrity and ensures the slicer runs for decades to come.
The 10-inch Teflon blade is also of the highest quality. It's completely polished and effortlessly slides through the meat to deliver perfectly cut slices. Plus, since it is rust-proof, it keeps its shape for a long time as well.
We love the strong meat carriage with a built-in handle. This way, you can push the meat back and forth without having to directly touch the meat. Moreover, the blade ring guard is there to make double-sure you never touch the sharp blade when the slicer is running.
One feature the KWS slicer boasts that most other models don't is a quiet motor. While it isn't completely silent, this appliance still keeps the noise to a minimum. Compared to cheaper models, the KWS saves you from severe headaches.
But this doesn't mean the motor is any less powerful! This stainless steel electric slicer runs on 320 watts, by far the highest wattage power we've looked at in this article. There's no wonder deli stores choose to stock this slicer for commercial use!
6. Honorable Mention: Befen Manual Frozen Meat Slicer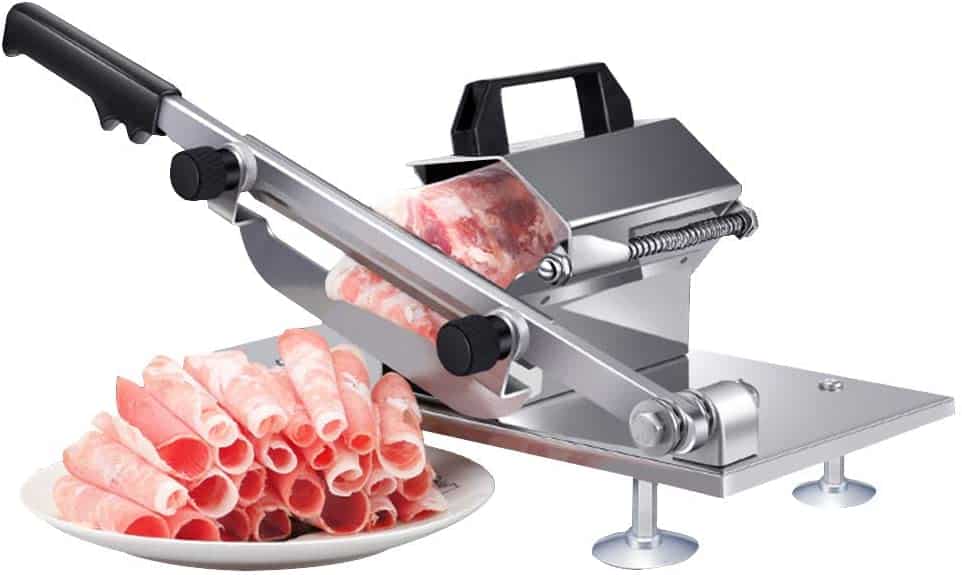 This Befen model is on another level, but it's still worth considering if you're not after a super-sophisticated appliance. For that reason, it's more on the affordable side, but it can also offer more limited features and options.
The main upside of this traditional-looking model is how easy it is to use. Since there is no motor, you'll have to do all the work by pushing down the stainless steel blade handle. It will cut through your meat in whatever thickness you desire. Just make sure to adjust your chunk of meat as you go.
Despite not being a very pricey model, you'll still get a lot of use out of it. Especially since it is completely built from stainless steel. This keeps it from rusting and from chipping, a clear advantage over plastic-casing food slicers.
If you're cutting fresh meat, you'll want to leave it in the freezer overnight until it's rock hard. This manual slicer delivers better results when you pass perfectly solid foods through its feeding chute. Alternatively, you can also get cheese, bread, and vegetables in the sliding food table. The stainless steel blade will slice them as it does with meat.
A great feature is the suction-cup feet. They keep the appliance firmly set on the table and don't let it skid. Besides keeping you safe, they also help ensure your slices turn out the same thickness every time.
Why Use a Meat Slicer?
Here's the million-dollar question: "Why buy a bulky appliance when you can just buy deli meat from the store?" If you're a foodie, you already know the answer to that. 
Being able to cut meat and cheese at home gives you a lot more quality, freedom, and choices.
For starters, freshly sliced meat always tasted better than the pre-packaged stuff, for the same reason why you'd buy a cheese grater.
Secondly, when you buy a specialty high-quality cut of cured meat to slice at home, you can choose how thin or thick you want the slices to be. Not to mention that you can venture past the same-old boring selection of meats most general supermarkets have to offer. Even if you have a great delicatessen nearby, making your own meat slices can still end up saving you money.
You can also use your meat slicer for home use to cut bread, vegetables, and cheese. Even if you don't have a commercial slicer, you'll be able to cut through even frozen bread and hard, cured cheeses.
With all these functions, you'll quickly find out how essential your meat slicer is in building the perfect charcuterie board.
Different Types of Meat Slicers
Meat slicers come in very different shapes and sizes. Each model boasts different features, making it great for specific occasions. But what are the major differences between meat slicers? Why do some models cost around $100 and others can cost three or four times as much? Let's dive in.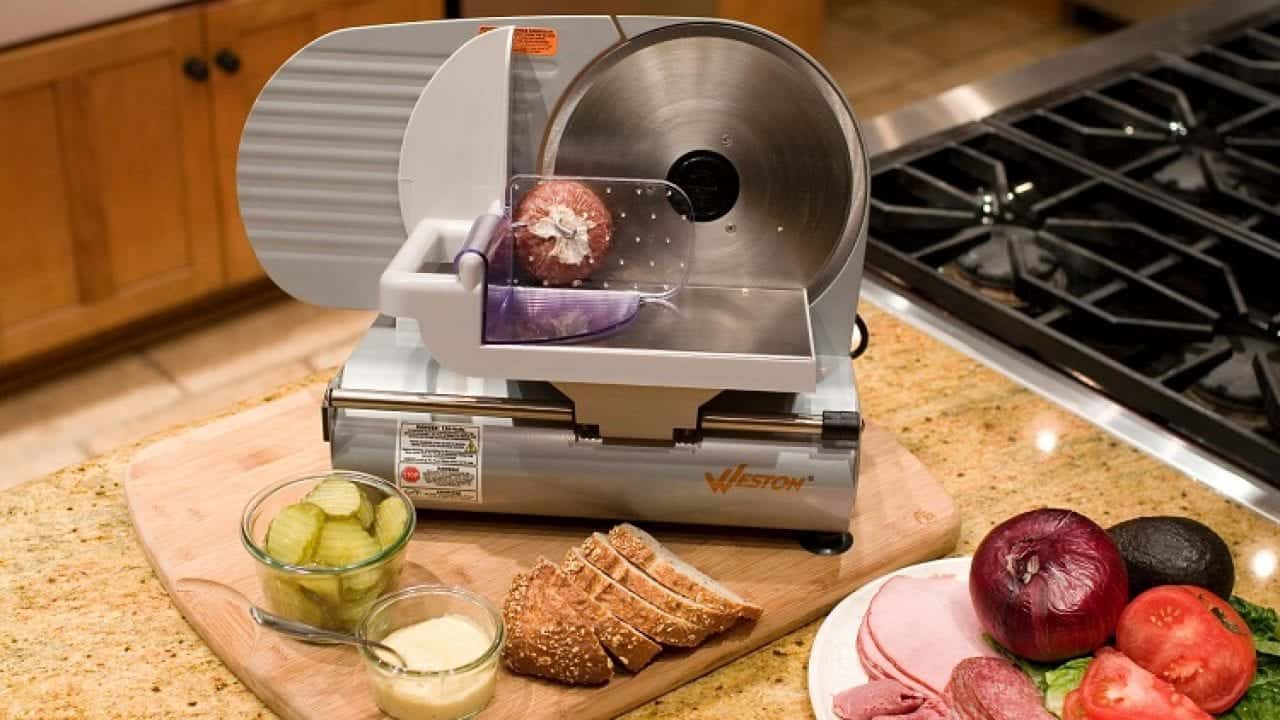 Commercial-Grade vs. Home Use
The first obvious difference is that there are meat slicers for commercial use and home slicers for home use.
Commercial slicers will effortlessly cut through any meat you put in front of its cutting blade. Their motors are extremely powerful, which is what makes these models so expensive. You'll only find them in restaurants, deli stores, and supermarkets, as they're quite bulky.
You'll also find plenty of at-home meat slicers on the market. They're significantly cheaper but still get the job done, just maybe not as seamlessly. The reason why they're so popular with home cooks is that they'll cut through just about any popular meats, cheeses, and bread without much of a hassle. Even though they're not as powerful as the commercial ones, they do everything a home chef would need.
Manual Meat Slicer
Manual meat slicers used to be the most popular model, but lots of people still use and swear by them.
For starters, they're very easy to use. Since there's no motor, you just have to push down the cutting blade on your cut of meat. You can eye how thin or how thick the slices should be and adjust as you go.
Secondly, they're very reliable. As long as you keep paying attention to what you're doing, you'll end up with beautifully cut meat. No need to worry about programmable settings.
Lastly, as you can imagine, manual meat slicers are the most affordable models out there. Easy cleaning is also their forte. Plus, they're relatively easy to store for future use.
Electric Meat Slicer
When electric meat slicers entered the market, they took it up by storm. And it's no wonder why. These modern appliances help you slice meat at home without any of the physical labor required by manual slicers.
The motor gets the stainless steel blade spinning. All you have to do is push your cut of meat toward it. Some deli meat shaver models will even do this pushing motion for you.
You can adjust the desired thickness of your slices of meat. The machine will then automatically churn out slices of meat that are that thickness consistently. This is the biggest upper-hand electric deli slicers have over manual models. Whereas with a manual model, you have to eyeball it, electric machines offer an unbeatable cutting precision.
Of course, these models are more expensive, but we'd say they're worth the splurge. Besides, since there are so many electric slicers on the market now, you're bound to find a good deal on one.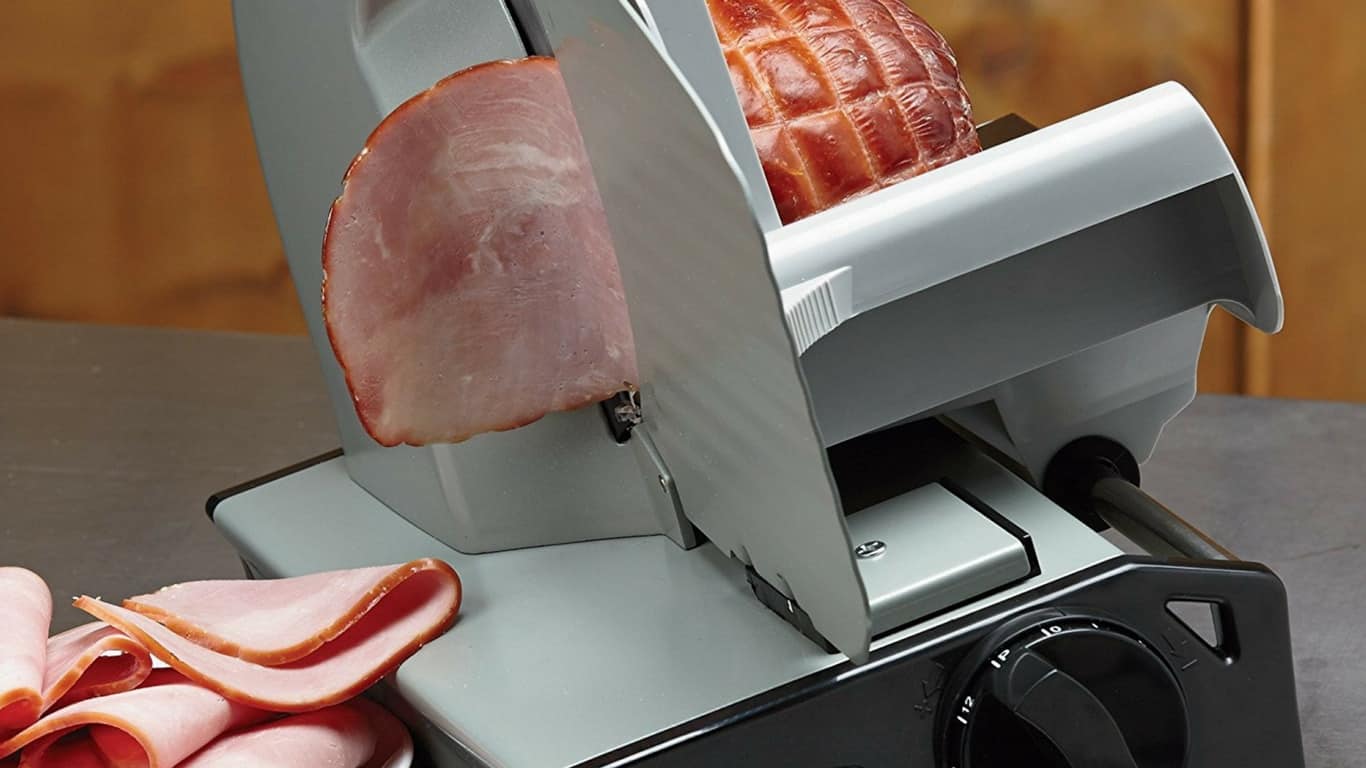 What Is the Best Meat Slicer?: Ultimate Buying Guide
The best meat slicers are expensive, so you'll want to make sure your investment is safe. Here are some features to look out for. It will help you narrow down the choices to a manageable selection. The best meat slicer for your needs will check off pretty much all of these boxes.
Motor Power
This is the most important feature to look out for if you're looking at electric slicers. It's quite literally a make-it-or-break-it feature.
We recommend only getting a meat slicer that has at least a 100-watt motor. Anything under that would likely not get the job done. Moreover, low-wattage models will quickly overheat and possibly break down in the middle of your cutting session.
The higher the wattage of your electric slicer, the more expensive it will be. But it will also be sturdier and more heavy-duty.
Quality and Type of Blade
Similarly, getting a high-quality blade is also a make-it-or-break-it decision. How will you cut anything if you have a brittle blade?
The best blades out there are made of stainless steel so that they don't rust. They also look sturdy, which translates to them having a longer life and cutting effectively for years to come.
Some models have serrated blades. These may be worth considering, as they're stronger than smooth blades. You'll be able to cut through frozen meat and hard bread with these serrated blades.
Blade size is also something to look into. While it doesn't make a huge difference, it could affect how well your slicer cuts through large chunks of meat and cheese. Measure the blade from the bottom to the top. Is it as tall or, even better, taller than the slab of meat you want to slice? Generally speaking, a 7.5-inch blade is good enough for most home cooks.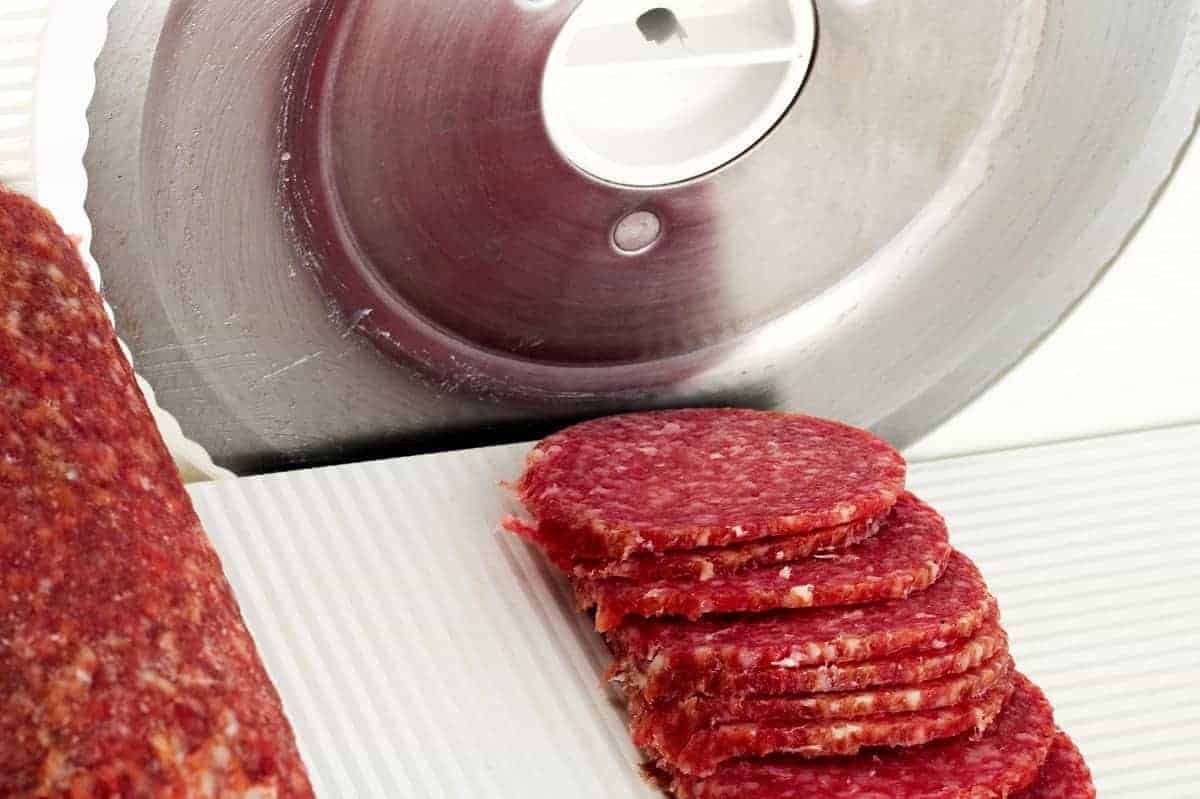 Adjustable Slice Thickness
You'll find that the best meat slicers have an adjustable dial or knob either at the back or side. They let you choose the thickness of your slices. Thick slices are perfect for sandwiches, while thin slices go great on charcuterie boards.
Keep in mind that this is only true for electric meat deli slicers. With manual meat slicers, you can adjust the thickness of the slices by pushing your cut of meat closer or further away from the blade.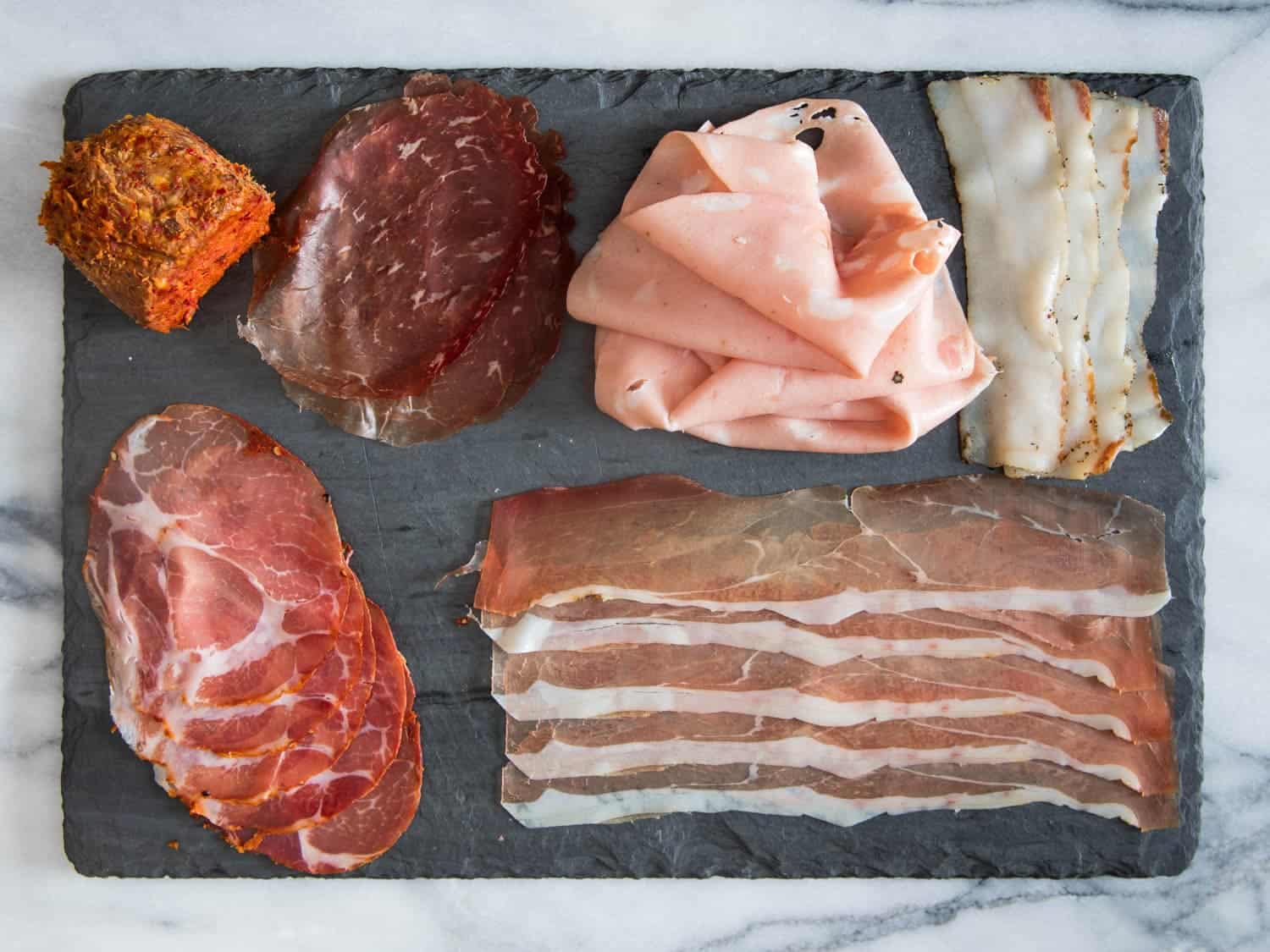 Safety Features
A meat slicer can do wonders for you in the kitchen. But just like meat grinders, they're intimidating for one very simple reason: Their blades are extremely sharp, which can result in a dangerous accident.
You always have to be super careful when handling your food slicer. If you don't feel very confident using it, wear protective metal mesh gloves. Even if you do, pay attention to all your movements.
Some models come with enhanced safety features. They're an extra reassurance that you won't get hurt.
For starters, some have a child-lock over the power button, to prevent you or others from accidentally turning on the food slicer.
Secondly, a blade guard is always a great addition. This metal or plastic part keeps even more distance between your fingers and the blade.
Lastly, investing in a model that has a handle on the food carriage is also a wise idea. This way, you can push the meat to the blade without actually touching it.
All these features drastically improve safety and lower your chances of getting into a serious kitchen accident. But they're never a replacement for being careful!
Easy to Clean
Easy cleaning is a must for time-pressed home chefs. If you don't want to spend lots of time cleaning your appliance, choose one with a removable blade. Then wash it with some warm water and gentle soap. The food carriage is easier to clean, as you can wipe it with a soapy cloth to really make sure you've gotten rid of all the meat juices.
Sharpening
With time, your blade will slowly get duller, no matter how sharp it was in the beginning. If your meat slicer comes with a removable blade, you can sharpen it with some sanding paper or with a sanding stone.
If you can't remove it, you'll have a harder time getting it razor-sharp again, but it's not impossible. With some time and patience, your food slicer will be good as new.
Noise Levels
Let's face it: even the best meat slicers are noisy. But some models are significantly quieter than others. If you plan on slicing many pounds of meat, the grinding noise from the machine can be enough to give you a headache. In that case, spending a bit more to get a quieter food slicer would be a good idea.
Size and Design
How much room do you have for your slicer at home? Is your kitchen really small? If so, you're probably better off with a manual model, since they don't take up as much space. But if a lack of space isn't a problem, you can disregard this advice and just pick whatever slicer seems best to you.
Best Meat Slicer Brand
Investing in a quality slicer often means getting it from a reputable brand. It's the best way to make sure your investment is safe and will last you many, many years. Here is a list of the 10 best meat slicer manufacturers:
Chef's Choice

BESWOOD

Cuisinart

Kitchener

Hobart

CUSIMAX

KWS

OSTBA

Chefman

Elite Gourmet