Hi there! We are Shelley from C Mom Cook and Ruth from The Crafts of Mommyhood. We are twin sisters who share a love of food, but who have very different cooking styles. Ruth keeps a vegetarian home while Shelley is a carnivore through and through. Despite our differences, we both love all aspects of food – eating it, preparing it, and sharing it with the people we love.
For this month's challenge, we wanted to do something a little bit different.
So many of the challenges this year have helped us learn skills or techniques that are pretty specialized – and that have proven to be very challenging.
Download printable file HERE
And while the big challenges absolutely bring big rewards (not to mention yummy results), this month we thought we would go a bit more creative.
There are many foods that appear across a variety of cultures, with only slight differences or variations. This month we wanted to test out one food across many cultures to see how many variations we can bring to the blogosphere. So this month we challenge the community to bring us meatballs from around the world.
A meatball, at the most basic level, is some kind of ground meat that has been rolled into a ball and cooked. But that is where the basics end. Usually other ingredients are involved – generally breadcrumbs and eggs, to give the ball body and bind it together, and a variety of spices for flavor. The type or types of meat used, the method of preparing the balls and especially the way the meat is served can vary so greatly that it is sometimes amazing to think that they are all the "same" kind of basic food.
It is these differences that we are looking to celebrate this month – to create more meatball dishes than anyone ever would have thought possible, and to show the world just how versatile the "simple" meatball can be.
Recipe Source: Basic meatball recipes or based on recipes from cooks.com and Mark Bittman, with additional inspiration recipes provided from various online sources.
Blog-checking lines: The June Daring Cooks' challenge sure kept us rolling – meatballs, that is! Shelley from C Mom Cook and Ruth from The Crafts of Mommyhood challenged us to try meatballs from around the world and to create our own meatball meal celebrating a culture or cuisine of our own choice.
Posting Date: June 14, 2013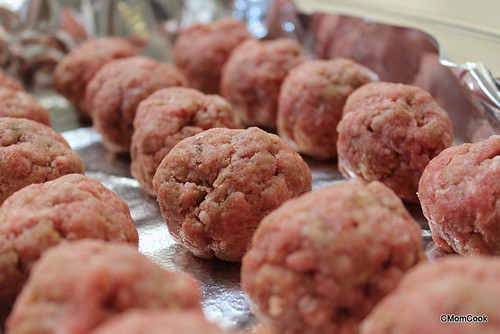 Note: This challenge is taking a very broad view of the word "meatballs." So broad, in fact, that we toyed with sub-titling the challenge "roundish ground stuff." Don't let the title limit your thinking – we are definitely looking for variety here.
In addition to the infinite variations available in the ingredients for meatballs, there is also no single method for cooking them. They can be fried, baked, broiled, poached or braised. The determining factor in cooking method is usually the intended finished product, which means that even the same recipe can be cooked different ways when served with a different style meal. Which is where creativity will truly come into play with this challenge.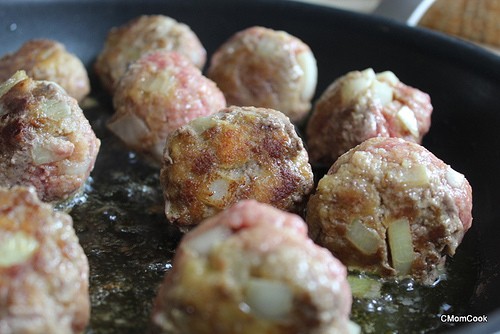 There are two general methods of preparing meatballs – what I refer to as the "wet prep" and the "dry prep" methods. The wet prep method involves mixing the meat with slices of bread that have been soaked in milk (usually) as the bulk while the dry prep mixes the meat with dry breadcrumbs. In both cases, the meat is also mixed with eggs and spices to produce a flavorful, moist and delicious bite.
But just because we keep repeating the word "meat," meatballs are no longer simply the realm of the carnivore. While it might seem like an oxymoron, vegetarian "meatballs" are incredibly versatile and can be used in the same ways as their traditional counterparts. There are many different protein alternatives which can be used as the base for your meatless meatballs, each lending its own flavor, texture and personality to the final dish.
Beans make a wonderful base for vegetarian "meatballs." Either canned beans or cooked dried bean can be used, making for a relatively inexpensive protein source. The beans can be mashed to any desired consistency, giving the cook a great deal of control over the texture of the final dish. Different types of beans can be used depending on the style of dish you are making. Cannellini beans mixed with spinach, onion and garlic (with or without cheeses) make a great Florentine dish, while black beans with corn, tomatoes and cilantro can give your "meatballs" a more Mexican flair.
Another benefit to using beans is the stickiness which mashed beans naturally have. This works well for vegan chefs who do not use eggs to bind their balls together.
Tofu is another choice for the protein base. Because it does not have a strong flavor on its own it works well when there is another ingredient being highlighted, such as a vegetable or herb. The tofu gives the needed protein to the dish as well as moisture and a structural base.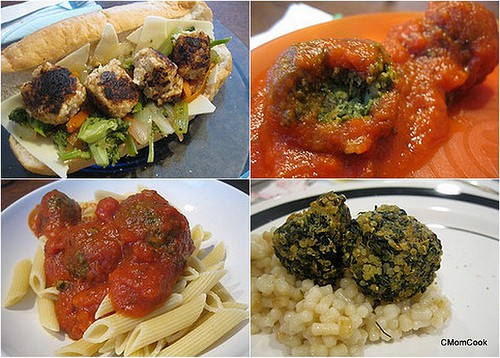 Other bases which work well for "meatballs" include ground nuts, lentils, chopped or ground seitan, texturized vegetable protein or even white or brown rice.
Additionally, if you are looking for an egg free binder for your meatballs, either because you are vegan or if you have an allergy, flax or chia seeds provide a great alternative that also adds a powerful punch of health benefits to your "meat"balls.
Some general tips and guidelines:
Use meat with a bit of fat to keep meatballs from being dry and tasteless. Play around with combinations, varying the amount of fat if you want, until you find the mixture that you like best for both taste and texture.
Milk and eggs help to make meatballs moist. The general guideline is one egg per pound of meat, but there are recipes that use up to four eggs per pound. You want a mixture that you can work with to form the balls, so not too wet, but one that is not so dry as to make an end product that doesn't feel good in your mouth when you bite into it.
Make sure that you season your meat mixture with salt and pepper. A good way to test the seasoning is by poaching or frying a sample. You can always adjust the seasoning as you see fit. And remember – you can vary the level of spice in the meat mixture depending on the sauce or sides that you will be serving with the finished meatballs.
Sauteing your meatballs in a pan before adding them to a sauce or soup forms a crust, which will help keep them from falling apart. The crust, though, adds a bite to the meatball that you have to decide if you want as part of your finished soup or sauce.
You can change the flavor of your meatballs by adding a variety of spices or aromatics to your meat mixture. You can also add other ingredients, such as onions, garlic, shallots, cheeses or even other grains (rice, quinoa…) to enhance or change the flavor or mouth-feel of the finished product. It is up to you where you want the majority of your flavor – in the meatball itself or in the sauce/final preparation you are working with.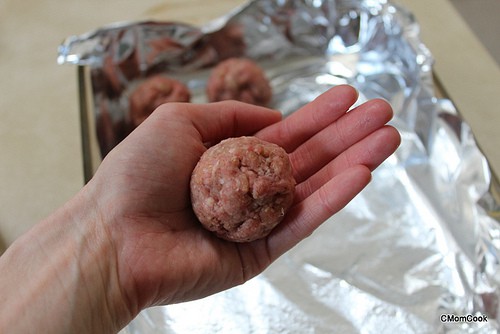 Shaping meatballs is generally done by hand, though there are tools available for those who are either a bit squeamish about touching raw meat or who are worried about overworking the meat mixture, which can make the finished product a bit tough. Whether you use a meatball-baller, two spoons or your own two hands, it is important to try to shape your meatballs as carefully and consistently as you can. "Consistently" meaning that you want all of your meatballs to be as close to the same size as possibly so that they will cook evenly and in the same amount of time. "Carefully" meaning that you don't want to pack the mixture too tightly, which creates a very dense meatball. Use a light touch and only roll the mixture as little as is needed to create the shape and size that you are looking for.
Want to take your meatballs up an extra notch? How about stuffing them? A small piece of mozzarella or a dab of ricotta in the center of your meatball takes it up to the next level.
Mandatory Items: Make a meatball of your choosing, representing your favorite meal or a culture that interests you and create a meal to complement the style, culture or flavors you chose.
Variations allowed: Too many to list – you can choose any meat or meat substitute that works for your dietary needs and/or mood, and any cooking method that matches the ingredients and meal you choose. The sky is the limit – recreate your favorite meal in meatball form (cheeseburgers? Chicken parmesan? What can you turn into a meatball?) or create a meal around a type meatball from a different culture. Try a new vegetarian variety, a different method or a new combination of ground meats. As long as you create a meal inspired by the idea of "meatball," it works!
Preparation time: Will completely vary based on the recipe, preparation method and cooking method you choose.
Equipment required:
The required equipment will vary depending on the recipe chosen, method of preparation chosen and each cook's comfort level working with the meat (or meat substitute) mixture with their hands. At a minimum, you will need:
•Mixing bowl
•Measuring tools
•Spoon(s) for mixing/shaping, if desired
•Frying pan/pot/baking dish, depending on method of cooking chosen
The first recipes that we are providing here are just to get you started – they are bare-bones, basic meatball recipes – one for the dry-prep method and one for the wet-prep method. It is important to keep a few things in mind. These recipes are basically for proportion-purposes – so that you can have an idea as to where to start regarding how many eggs or how much bread crumbs to use for each pound of meat (or meat substitute). Most people have a meatball recipe that they are comfortable with, and that is great. You do not need to follow either of these basic recipes. They are here as a springboard.
Basic Meatball, Dry-Prep Method
Servings: 3-4
Based on: cooks.com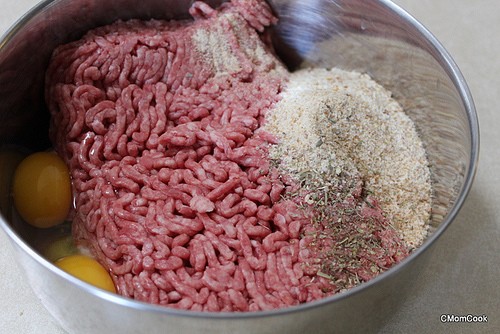 Ingredients:
1 pound (500 gm) chopped meat (beef, veal, pork etc, or any combination of these)
½ cup (120 ml)(60 gm/2 oz) bread crumbs (seasoned or plain)
1 large egg
Salt and pepper to taste
2 Tablespoons (30 ml) Olive Oil or other mild flavored oil
Directions:
Combine all ingredients in a large bowl using either your hands or a sturdy spoon until all ingredients are well incorporated (but do not overwork).
Scoop out approximately walnut-sized scoops of the mixture and gently roll into balls in the palms of your hand.
If baking, place in a roasting pan that has been lined with foil and sprayed with non-stick cooking spray (this makes for easy clean-up).
Bake meatballs in an oven that has been preheated to moderate 350°/180°C/gas mark 4 for approximately 35 minutes, turning the balls halfway (cooking time may vary, depending on the size of the balls you made).
If pan-frying, heat approximately 2 tablespoons (30 ml) of olive oil in a sauté pan over medium to medium high heat and cook the meatballs in batches (do not crowd the pan) until browned nicely on all sides.
Basic Meatball, Wet-Prep Method
Servings: 3-4
Based on Mark Bittman's recipe, as seen from: Seasonally Effective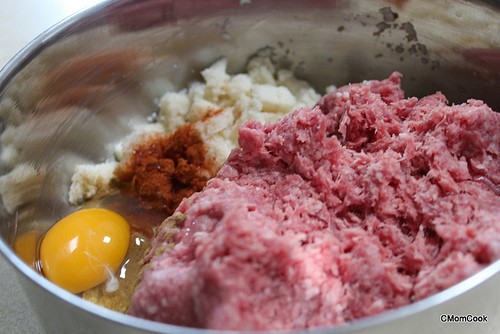 Ingredients:
1 or 2 slices of white bread (crusts removed preferably, but not necessary), torn or cut into small pieces
¼ – ½ cup (60-120 ml) milk (or milk substitute – I have used flax milk here successfully)
1 pound (500 gm) ground beef (or other meat, or meat combination of your choice)
Salt, pepper and spices to taste
Directions:
Soak the bread in the milk (using only enough milk to soak up the bread – will vary a little based on the bread you use) for about 5 minutes until the milk has completely soaked all of the bread.
Once the bread has soaked up the milk, add the meat and spices and mix it thoroughly with a spoon or your hands (your hands work best with this method to really squish the bread throughout the meat, but it's up to your comfort level).
Cook as directed in the dry-prep method, either baking or frying.
Either of these recipes provides you with a basic meatball that you can then use as the base for your meatball meal.
We have found that each one pound of meat can make approximately 12 meatballs. Using this as a guideline, plan accordingly for how much meat you will need to feed your crew and adjust the proportions accordingly.
We recommend trying both methods to see what you like best. We grew up learning the dry-prep method, which we always liked. Since beginning preparations for this challenge, I (Shelley) have actually learned that my family prefers the texture of meatballs prepared with the wet-prep method, but also adding an egg, as seen in the dry prep method. Who knew?? So have fun and experiment and find what works for you.
And while you are at it, feel free to use whatever spices and/or flavors match the meal you are preparing. Add minced onions or garlic, raw or cooked. Add finely diced or pureed vegetables, shredded cheese, fresh or dried spices – the only limit is your imagination!
We will now provide you with a few recipes of different styles of meatballs that we have prepared to offer a bit of inspiration. Feel free to use any of these recipes, to ignore them completely, or to use them as inspiration in creating your meatball meals.
Spanish Meatballs
Servings: 4-6
Inspired by: Martha Stewart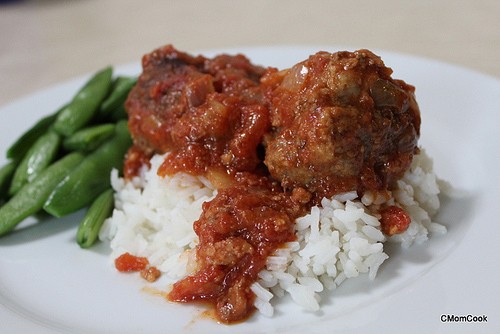 Ingredients:
2 slices of white bread (crusts removed preferably, but not necessary), torn or cut into small pieces
¼ cup (60 ml) milk (or milk substitute)
2 pounds (1 kg) ground beef (or other meat, or meat combination of your choice)
1 medium yellow onion, finely diced (divided)
1½ teaspoons (7½ ml) (3 gm) ground cumin (divided)
1½ teaspoons (7½ ml) (3 gm) paprika (divided)
2 large eggs
Salt and pepper to taste
1 can (800 gm/28 oz) diced or crushed tomatoes
2-3 tablespoons (30-45 ml) extra virgin olive oil
Directions:
Prepare the meatballs using the wet-prep method described above, including half of the onion (raw), and half each of the cumin and paprika.
Bake the meatballs at moderate 350°/180°C/gas mark 4 for 30 minutes, turning them halfway through cook time.
While the meatballs cook, heat the olive oil in a large saucepan over medium high heat.
Add onions and sauté with salt and pepper (to taste) until they soften and are fragrant, about 2 minutes.
Add tomatoes to the onions, stir, then add the remaining half of each cumin and paprika.
Bring the sauce to a boil, then reduce heat to a low simmer
When meatballs are done cooking, carefully drain them and place them into the simmering sauce.
Allow to simmer for about 15 minutes before serving.
Serve over rice or with rustic bread.
Swedish Meatballs
Servings: 4-6
From by: Cooking With Mel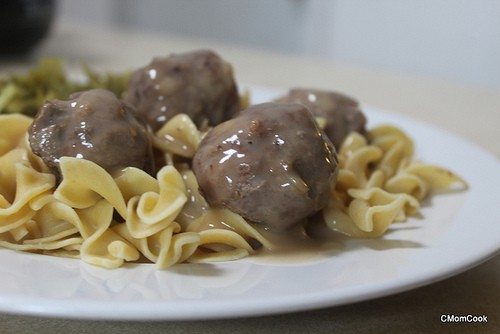 Ingredients:
For the meatballs:
2 slices of white bread (crusts removed preferably, but not necessary), torn or cut into small pieces
¼ cup (60 ml) milk (or milk substitute)
2 pounds (1 kg) ground beef (or other meat, or meat combination of your choice)
1 tablespoon (15 ml) (15 gm) (½ oz) butter
½ cup finely diced onion
2 large eggs
Salt and pepper to taste
For the gravy:
2 tablespoons (30 ml) (30 gm) (1 oz) butter
¼ cup (60 ml) (35 gm) (1¼ oz) all-purpose (plain) flour
3 cups (750 ml) beef broth
¼ cup (60 ml) half and half (half milk and half light cream)
(Note: I made this using flax milk in both the meatballs and the gravy, and used olive oil in place of the butter to make these dairy free to accommodate my son's dairy allergy and it worked out beautifully)
Directions:
Preheat oven to very cool 200°F/93°C/gas mark ¼.
In a small bowl, tear the bread into small slices and then add the milk, allowing the bread to soak.
While the bread soaks, heat the butter in a sauté pan over medium heat, then add the onions, along with a pinch of salt, and allow the onions to soften.
Remove the pan from the heat and set aside, allowing the onions to cool a bit.
Combine the ground meat, soaked bread, eggs, salt, pepper and sautéed onions, mixing well to combine fully without overworking.
Roll the meatballs (I make my Swedish meatballs a little smaller than other styles, not sure why…) and set them aside.
Heat the 2 tablespoons (30 ml) of butter in a sauté pan over medium-low to medium heat then cook the meatballs in batches until browned evenly on all sides, approximately 7-10 minutes per batch.
As each batch is done cooking, remove the meatballs to an oven-safe dish and keep them in the warm 200°F/93°C/gas mark ¼ oven to stay warm.
Once all of the meatballs are done cooking and are in the oven staying warm, lower the temperature a little bit on your pan and whisk in the flour. Whisk for about 1-2 minutes.
Gradually whisk in the beef broth until everything thickens nicely.
Raise heat to medium
Add in the half and half and continue to cook and whisk until the gravy reaches the consistency you like.
Remove the meatballs from the oven and serve, smothered in the gravy.
Italian Meatballs
Servings: 3-4
Based on our family's basic meatball recipe, re-inspired by: The Bumbling Chef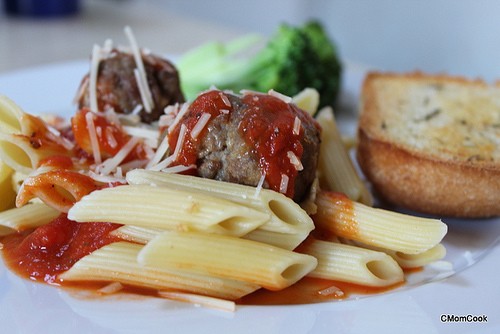 Ingredients:
1 pound (½ kg) ground beef (or other meat, or meat combination of your choice)
1 large egg
¾ cup (180 gm) (45 gm) (1-2/3 oz) Italian style breadcrumbs OR plain breadcrumbs or matzo meal combined with 1 tablespoon Italian seasonings
1 teaspoon (5 ml) (3 gm) garlic powder
¼ – ½ cup (60 – 120 ml) ( 25 gm – 45 gm) (1 to 1-2/3 oz) grated parmesan cheese (to taste)
Salt and pepper to taste
Directions:
Combine all ingredients in a large bowl.
Shape meat mixture into balls and place onto a baking sheet that has been covered with foil and sprayed with non-stick cooking spray.
Bake the meatballs at moderate 350°/180°C/gas mark 4 for approximately 30 minutes, turning them halfway through cook time (cook time may vary depending on the size of your meatballs).
Serve over pasta with shredded parmesan cheese or use to make a delicious meatball parmesan sandwich or hoagie.
You may also choose to simmer these meatballs in the marinara sauce (or other red sauce of your choice) in order to cook them – this infuses the entire meatball with the flavor and moisture of the sauce, and infuses the sauce with the flavor of the meatballs. The choice is yours!
Sweet and Sour Meatballs
Servings: 4-6
This recipe is the one that was made in our family, so while variations can be found online, this is just our regular family recipe!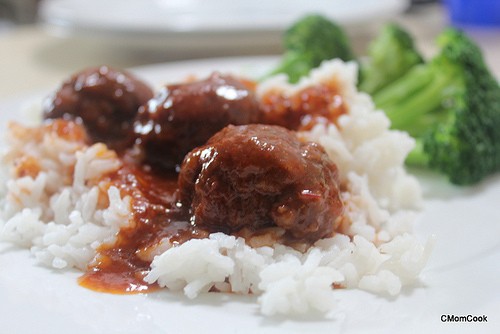 Ingredients:
Prepared meatballs, a double batch (about 24 meatballs)
1 jar (12 oz) (340 gm) chili sauce
1 jar 12 oz) (340 gm) grape jelly (jam)
Juice of one lemon
Directions:
In a large pot, combine the chili sauce, grape jelly and lemon juice.
Heat this mixture over medium heat until the jelly melts and everything begins to incorporate.
Add the meatballs to the sauce and simmer for at least 30 minutes, until the meatballs are heated through
This recipe is very, very adaptable. If you don't have chili sauce, use ketchup. Or cocktail sauce. Don't have a lemon? Use a lime! Want some added kick? Add a splash or two of teriyaki sauce (yum. I promise.). Be adventurous with your flavor of jam, if you want. You can also choose to cook the meatballs in the sauce rather than adding them in after they are cooked – whatever you choose. We always served these over rice, but they make great appetizer meatballs, or can be served however you prefer.
Italian Wedding Soup
Servings: 6-8
This is the version Shelley made, as seen at: C Mom Cook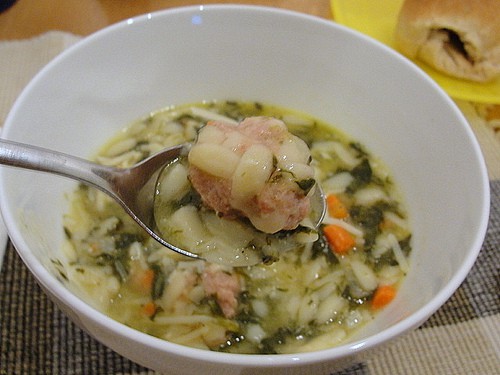 Ingredients:
For the meatballs:
1½ pounds (700 gm) ground turkey
½ cup (120 ml) (60 gm/2oz) breadcrumbs
2 tablespoons (30 ml) (10 gm) (1/3 oz) grated parmesan cheese
1 large egg, lightly beaten
2 garlic cloves, minced
1 teaspoon (5 ml) (3 gm) Italian seasoning
½ teaspoon (2 ½ ml) (3 gm) sea salt
1/8 teaspoon fresh ground black pepper
For the soup:
5 carrots, diced
1 yellow onion, diced
5 cloves garlic, minced
1 teaspoon (5 ml) (3gm) Italian seasoning
2-3 tablespoons (30-45 ml) olive oil
Sea salt and fresh black pepper, to taste
6 cups (1500 ml) chicken broth
2 cups (500 ml) water
1 box frozen, chopped spinach
½ – 2/3 cup small pasta (such as ditalini, tubettini or even orzo)
¼ cup (60 ml) (25 gm ) (1 oz) grated parmesan cheese, plus more for serving
Directions:
For the meatballs:
1.Combine all ingredients in a large bowl.
2.Using your hands, form small meatballs, about the size of a quarter.
3.Set prepared meatballs aside.
For the soup:
4.In a large soup pot, sauté the onion and carrot in the olive oil over medium low heat until soft and tender. Season well with salt and pepper.
5.Add the garlic and Italian seasoning and continue to sautee until fragrant, about another two minutes.
6.Add the chicken broth and turn the heat up to bring the soup to a slow boil.
7.Once the soup comes to a boil, carefully add the meatballs, one at a time (to keep them from sticking or clumping together).
8.Once all of the meatballs have been added, pour in the dry pasta and the spinach.
9.Bring the pot back up to a simmer, season with additional salt and pepper as needed, and simmer for at least 25 minutes.
10.Stir in the ¼ cup of parmesan cheese.
11.Taste and adjust seasonings as needed.
12.Serve with additional parmesan cheese with a side of crusty bread.
Still looking for some ideas?
Use ground turkey to make turkey meatballs and create a Thanksgiving inspired meal, with turkey gravy, cranberries and sweet potatoes.
Mix your ground meat with taco seasonings and/or simmer them in taco sauce and make meatball tacos.
Prepare your meatball with a little piece of mozzarella cheese inside then smother in marinara sauce for an inside-out meatball parmesan sandwich.
Make a meatball that would be perfect for breakfast!
For additional inspiration, we have started a Pinterest board of ideas. The link to the meatball inspiration board is in the Additional Information section.
Storage & Freezing Instructions/Tips:
Meatballs are a great food to prepare ahead of time and freeze. Because the meat is already ground, you will not experience the same texture-change that can occur with other meats upon freezing/defrosting.
Meatballs can be frozen either before or after cooking. To freeze meatballs before they have been cooked, place the balls, once prepared and rolled, on a sheet pan lined with parchment paper, then place the whole pan in the freezer. Once they have frozen, remove the pan and transfer the frozen meatballs to a freezer bag. Uncooked meatballs can be frozen for up to three to four months. Meatballs can also be frozen after cooking. Allow them to cool, then transfer to a freezer bag and freeze immediately. Cooked meatballs can be frozen for two to three months. Whether frozen cooked or uncooked, to defrost the meatballs, transfer the frozen bag to the refrigerator the day before you plan to use them, then reheat/cook according to the meal you plan to enjoy!
Additional Information:
Basics about meatballs: http://www.ehow.com/about_4672404_meatballs.html
More basics, with additional cultural variations: http://en.wikipedia.org/wiki/Meatball
Ideas for recipes for vegetarian meatballs: http://www.squidoo.com/vegetarian-meatballs
A delicious cannellini bean vegetarian meatball: http://www.squidoo.com/vegetarian-meatballs
Some more vegetarian (and some vegan, too) recipes for inspiration (though these links are ones that we have not, ourselves, tested):
http://allrecipes.com/recipe/vegetarian-sweet-and-sour-meatballs/
http://www.food.com/recipe/easy-tofu-no-meat-balls-vegan-and-gluten-free-361658
http://www.myvegancookbook.com/recipes/recipe.php?id=109
http://www.yummly.com/recipe/Tvp-Meatballs-Recipezaar?columns=4&position=7/32
And, for yet additional inspiration, here is a link to a Pinterest board that we have been using to bookmark all kinds of awesome, amazing and fun looking meatballs:
http://pinterest.com/shelley_c/meatballs/