Mediterranean Chickpea Salad- Boiled chickpeas tossed together with a variety of freshly chopped vegetables like crispy cucumbers, cherry tomatoes, and tangy olives, then garnished with feta cheese, oregano, and thyme before being drizzled with a homemade zesty vinaigrette dressing. This tasty salad is light, refreshing, and the perfect addition to all of your summertime activities.
https://youtu.be/Jzf1q50Ix_k
Something about summer salads makes them so much more enjoyable than other in-season salads. Maybe it's the abundance of fresh, delicious produce that's available, or perhaps it's the fact that they're the perfect way to cool down on a long hot day. No matter what the reason is, I always look forward to eating fresh summer salads all season long!
If you've been looking for a new exciting salad recipe to add to your rotation this summer, look no further than this Mediterranean chickpea salad! It's packed with mouthwatering flavors and fresh, colorful veggies. Plus, it is incredibly easy to make. Mediterranean chickpea salad is so good that people will be asking you to bring it to BBQs and other get-togethers all summer long.
Why You'll Love This Chickpea Salad Recipe
Beautiful- Packed with vibrant, colorful vegetables, this Mediterranean chickpea salad is as pretty to look at as it is delicious to eat.
Refreshing- This chickpea salad is full of fresh ingredients that make this an ideal dish on a hot day.
Delicious- The perfect combination of juicy tomatoes, crisp cucumbers, and zesty red onions come together to create a fantastic salad full of flavor.
Great For BBQs- Mediterranean chickpea salad is easily portable and a real crowd pleaser making it an ideal dish to bring to all of your summer get-togethers.
Easy To Make- This salad comes together quickly with minimal effort. Simply chop up the vegetables, add the chickpeas, garnish with cheese, and drizzle with the vinegar dressing.
Equipment Needed To Make Mediterranean Chickpea Salad
Small Mixing Bowl

Large Mixing Bowl

Whisk

Knife

Cutting Board

Stirring Spoon

Measuring Cups and Spoons

Ingredients For Making Mediterranean Salad With Chickpeas
For The Dressing:
Olive Oil

Lemon Juice

White Wine Vinegar

Honey

Garlic

Dried Oregano

Salt

Black Pepper
For The Salad:
Yellow Bell Pepper

Pitted Black Olives

Red Onion

Cucumber

Cherry Tomatoes

Artichokes

Boiled Chickpeas

Feta Cheese

Thyme

Oregano

How To Make Mediterranean Chickpea Salad
To make this delicious chickpea salad, start by preparing the dressing. Combine all of the dressing ingredients in a small mixing bowl and whisk until well combined. Set aside.
Cut cherry tomatoes and olives in half using a cutting board, then chop the other vegetables into small pieces. Add chickpeas to the chopped vegetables and mix well.
Serve fresh, garnished with crumbled feta, dried oregano, and thyme before adding the dressing on top. Enjoy!
What to Serve/Pair With This Fresh Mediterranean Salad Recipe
This salad is perfect for summer BBQs, potlucks, and picnics. It's also a great light lunch or side dish. Try pairing it with grilled chicken, fish, or steak. You could also serve it with some crusty bread and enjoy it as is!
Popular Substitutions & Additions
There are so many ways that you can customize this salad to make it your own. Here are some popular substitutions and additions:
Chickpeas- You could substitute the chickpeas for other types of beans, such as white beans, pinto beans, or black beans.
Vegetables- Feel free to mix up the vegetables according to your preference. Some other great options include red bell peppers, zucchini, diced avocado, and green onions.
Cheese- If you're not a fan of feta cheese, you could use goat cheese, mozzarella, or even Parmesan cheese.
Dressing- Use lime juice instead of lemon juice, swap out white wine vinegar for a different type of vinegar and change up the herbs. You can also substitute a store-bought dressing instead of making your own.
Herbs- Try mixing up the herbs and spices to suit your taste. Some other great options include basil, parsley, and dill.
With so many delicious ways to customize this chickpea salad, there's no reason not to give it a try!

How To Reheat & Store Mediterranean Salad With Chickpeas    
What Is The Best Way To Store Chickpea Salad?
Mediterranean chickpea salad is best stored in an airtight container in the refrigerator.
How Long Will Fresh Mediterranean Chickpea Salad Last In The Fridge?
This chickpea salad will last in the fridge for 3-4 days when stored properly.
Can I Freeze Mediterranean Chickpea Salad?
No, I do not recommend freezing this salad as the chickpeas and vegetables will become mushy and unpleasant when thawed.
How To Reheat Mediterranean Chickpea Salad?
Chickpea salad should be served cold or at room temperature. If you prefer room-temperature chickpea salad, simply take it out of the fridge about 30 minutes before eating.

Mediterranean Chickpea Salad FAQs 
How do I boil chickpeas?
To boil chickpeas, simply add them to a pot of boiling water. Boil for about 10 minutes or until cooked through. Once they're done, drain them and add them to your salad.
Is this Mediterranean chickpea salad vegan?
No. As written, this chickpea salad is vegetarian, not vegan. To make this salad vegan, simply omit the feta cheese or substitute it for a vegan cheese alternative to make this salad vegan.
Can I make this salad ahead of time?
Yes! This salad is actually best when made ahead of time so that the flavors have a chance to meld together. I would recommend making it at least an hour before you plan on serving it.
Is there something I can use instead of white wine vinegar?
Yes. You could use apple cider vinegar, red wine vinegar, or even balsamic vinegar in place of the white wine vinegar that the recipe calls for.
Will canned chickpeas work in this recipe?
Yes. You can absolutely use canned chickpeas in this recipe if you're short on time. Just make sure to drain and rinse them before adding them to the salad.
What are brined artichokes?
Brined artichokes are artichokes that have been preserved in a vinegar and water solution. They can be found in the international aisle of most grocery stores.  

Don't Forget To Come Back And Let Me Know How Your Mediterranean Chickpea Salad Turned Out!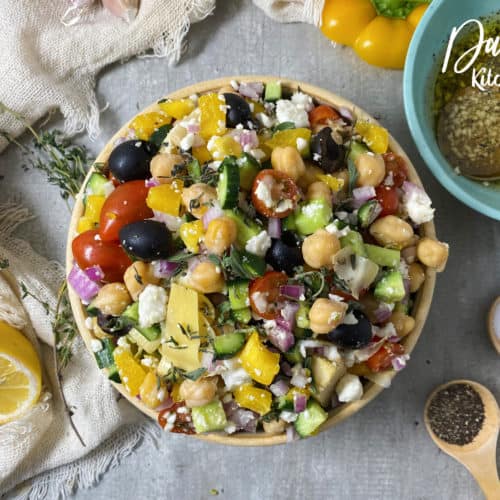 Mediterranean Chickpea Salad
Chickpeas with fresh cut cucumbers, tomatoes, and olives, topped with feta cheese, oregano, and thyme, then drizzled with a zesty homemade vinaigrette dressing.
Print
Pin
Rate
Ingredients
For the Dressing
¼

cup

Olive oil

2

tbsp

Lemon juice

2

tbsp

White wine vinegar

1

tbsp

Honey

1

Garlic clove

minced

1

tsp

Oregano

dried

Salt

to taste

Black Pepper

to taste
For the Salad
1

Yellow bell pepper

½

cup

Pitted black olives

½

Red onion

1

Cucumber

1

cup

Cherry tomatoes

¾

cup

Brined artichokes

15

oz

Boiled chickpeas

½

cup

Crumbled feta cheese

2

tbsp

Thyme leaves

2

tbsp

Oregano
Instructions
Add all the ingredients for the dressing in a small bowl and whisk together until well combined.

Chop the bell pepper, onion, cucumber, and artichokes.

Cut the cherry tomatoes and the olives in half and add them to the rest of the chopped vegetables. Mix in chickpeas and crumbled feta cheese.

Add the oregano and the thyme.

Mix and add dressing to the top.
Nutrition
Calories:
389
kcal
|
Carbohydrates:
32
g
|
Protein:
10
g
|
Fat:
26
g
|
Saturated Fat:
5
g
|
Polyunsaturated Fat:
3
g
|
Monounsaturated Fat:
13
g
|
Cholesterol:
17
mg
|
Sodium:
924
mg
|
Potassium:
514
mg
|
Fiber:
9
g
|
Sugar:
8
g
|
Vitamin A:
1050
IU
|
Vitamin C:
83
mg
|
Calcium:
232
mg
|
Iron:
4
mg