Look out meal prep - the Mediterranean bowl is here! With veggies and plant based protein, this bowl will fill you up and fuel up. It's a great addition to anyone's work schedule!
Best Meal Prep: Mediterranean Lunch Bowl
With a crazy busy schedule, being able to plan meals ahead of time is really a blessing. Opening up your fridge and knowing food is there for you, either to take to work or eat right away, brings so much relief!
For years, I've been meal prepping all kinds of foods. It helps me eat healthier on a daily and. minimize my food waste. Meal prep also inspires me to get creative so that I have something delicious to look forward to during a hectic day.
The best part about meal prep is that you can get fresh vegetables into your diet. That is what inspired this Mediterranean lunch bowl. I wanted to have something that was full of veggies and super filling. The fresh flavors of Mediterranean cuisine are so ideal for this. You get all the sustenance from hummus, beans, and veggies, like arugula and cucumbers. Topped off with zesty olive oil and lemon and you're good to go!
Everything fits into a container easily, on top of some hearty quinoa with simple olive oil and lemon wedges. No crazy dressings or fillers. Just simple wholesome food that you can eat anytime!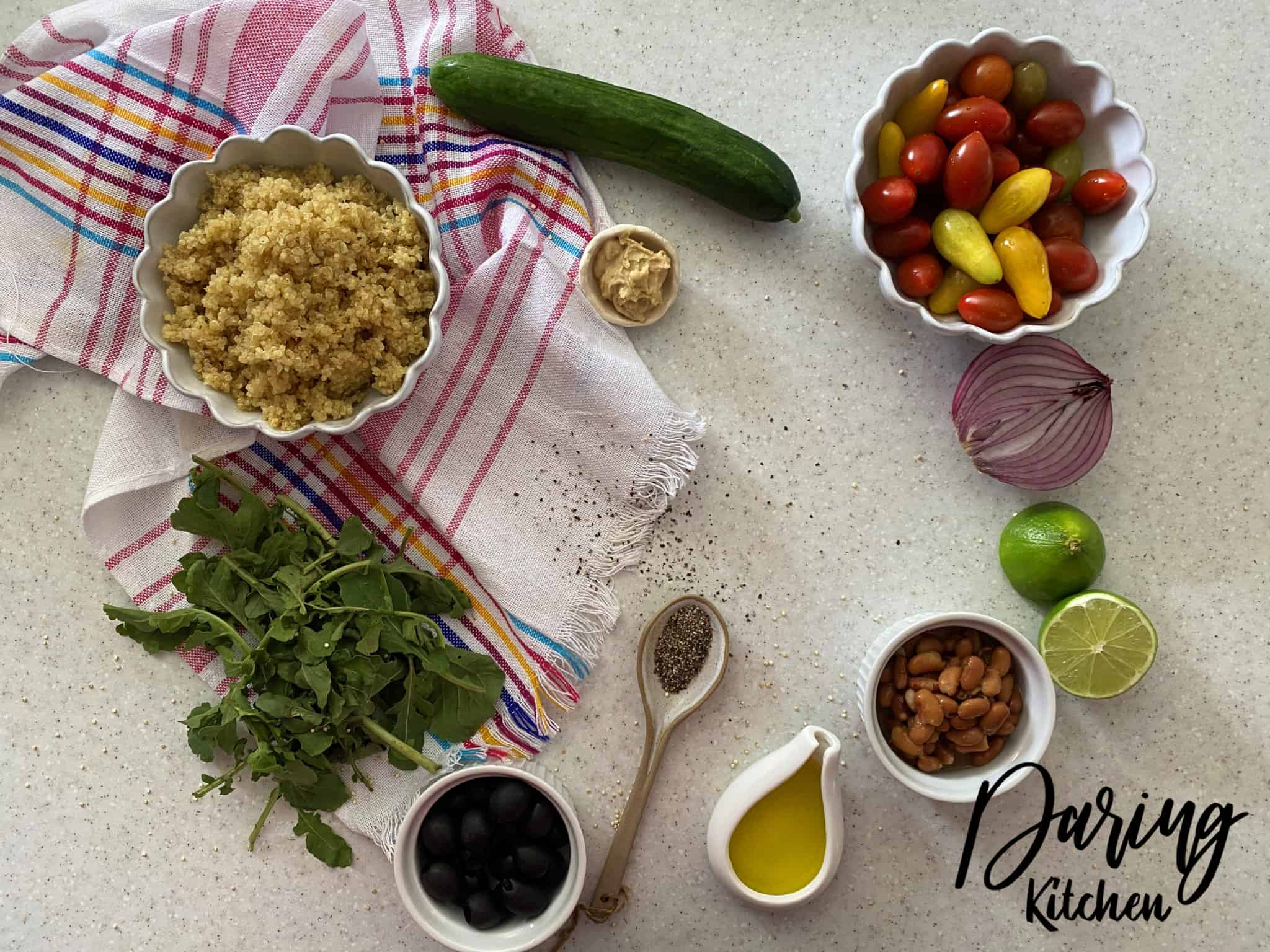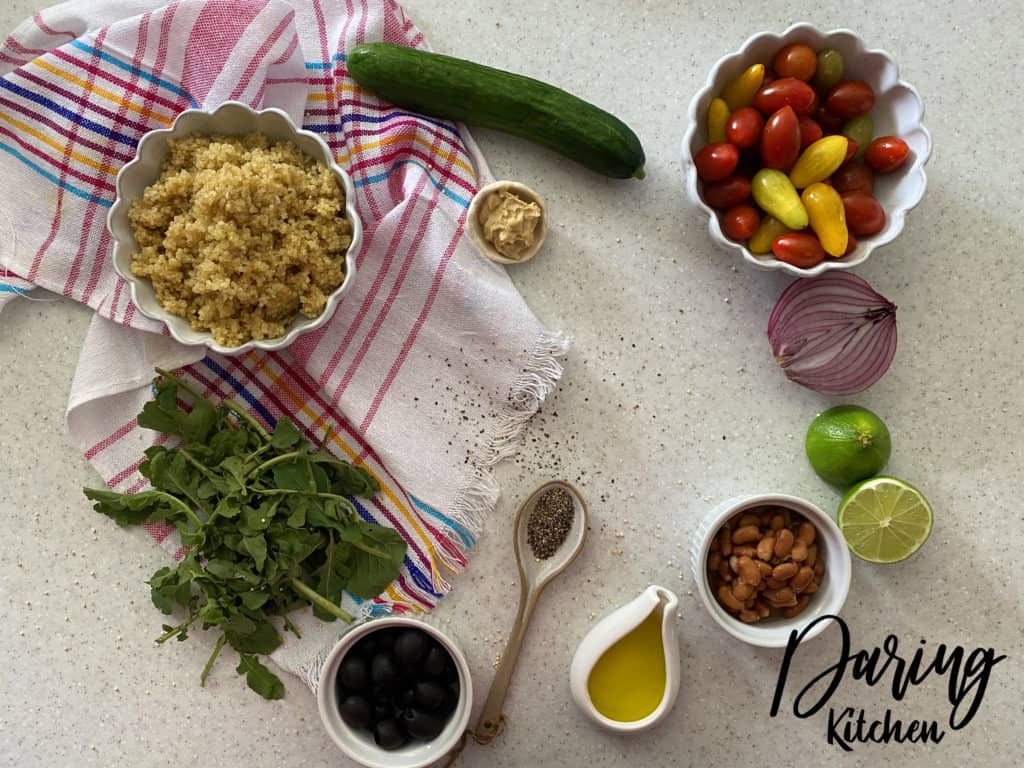 What's in this Lunch Bowl
Healthy recipes mean quality ingredients. This hummus bowl features a lot more than just chickpeas. Here are all the ingredients that make this one of the most wonderful recipes for meal prep.
Cooked Quinoa
This is the base for this recipe. While quinoa may not be very Mediterranean, I adore it because it adds more protein to the dish. You can also use brown rice, wild rice, or a bed of greens instead. Sometimes, I add sweet potato (as I can never get enough of this root!)
Kidney Beans
Hearty and nourishing, kidney beans are some of the best beans around. They add more fiber and protein to this meal. You can also use other beans you love. I switch up sometimes, using cannellini or lima beans. You can also use chickpeas, but the choice is up to you.
Hummus
Who doesn't adore hummus? This chickpea spread is one of my favorite things to eat, especially when. garnished with fresh herbs, olive oil, and roasted chickpeas. Plus, it is so easy to make homemade hummus. All you need is a few ingredients... chickpeas, tahini sauce, olive oil, lemon, and salt - that's it! You can also add a little garlic powder and freshly ground black pepper too. Otherwise, grocery store hummus usually does the trick.
Cherry Tomatoes
You can't make a Mediterranean meal without tomatoes! These add a juicy zesty bite to the bowl and taste so delicious with hummus. I prefer cherry tomatoes for their sweetness, but grape tomatoes or any seasonal tomatoes work too.
Olives
You can't have a Mediterranean dish without olives! I love to keep it classic with greek kalamata olives, but you can choose any olives you love.
Veggies
You must have fresh vegetables in your bowl. The main ones I used are cucumbers, onions, and arugula. But, you are free to add more veggies from there! Sometimes, I love roasted vegetables in this dish. You can easily make these ahead of time. Or, just use any roasted vegetables you have leftover from a meal the night before. The choice is up to you!
The Dressing (Olive Oil, Lemon, & Black Pepper)
To finish off your bowl the simple Mediterranean way, always go with olive oil, fresh lemon juice, and black pepper. Olive oil offers an abundance of healthy fats and nutrients. Combined with lemon and pepper, you have an easy and delicious dressing. I prefer to leave the lemon wedges cut and squeeze them before I dig into my lunch bowl. You can also add in some feta cheese too if you like.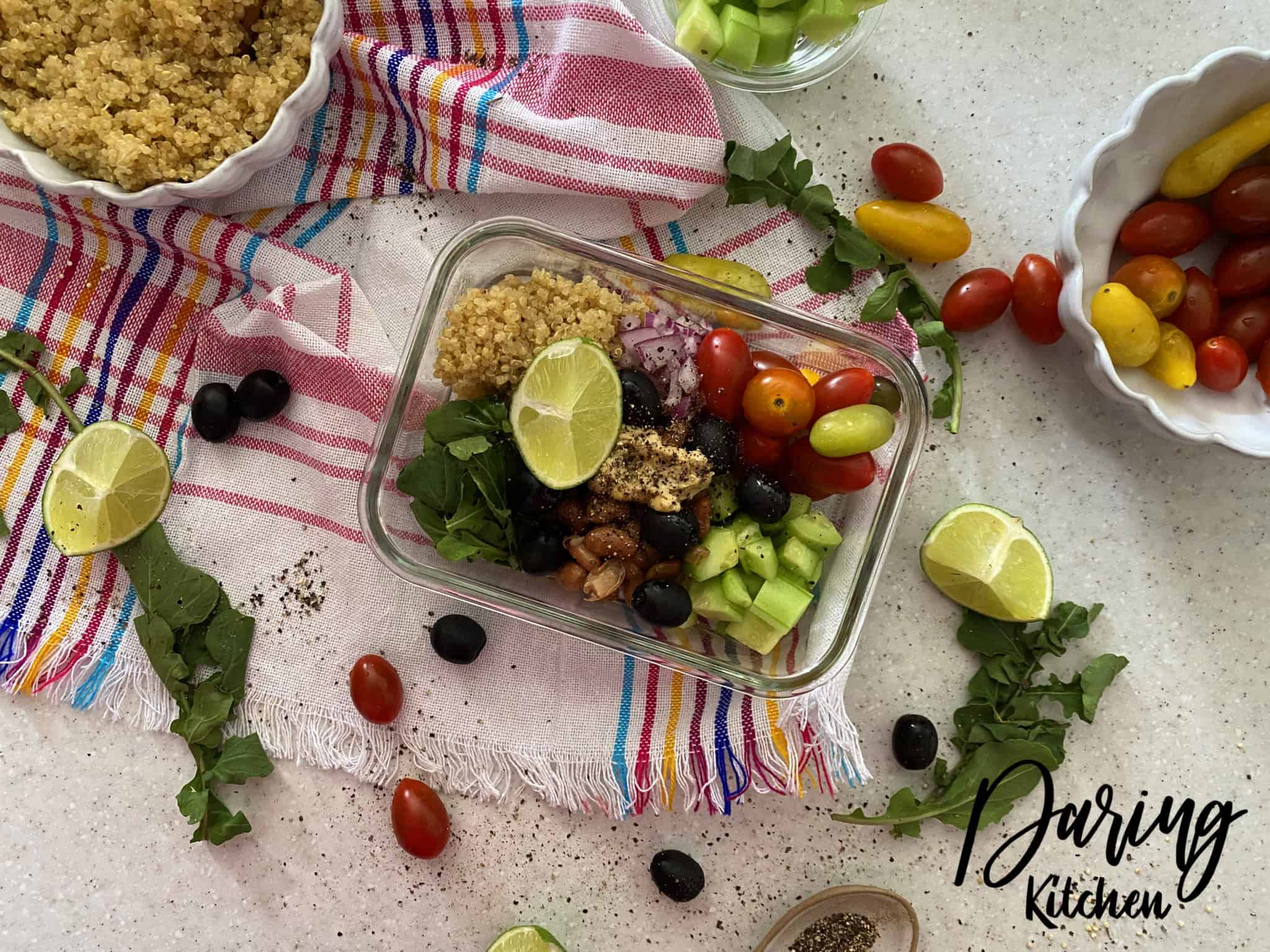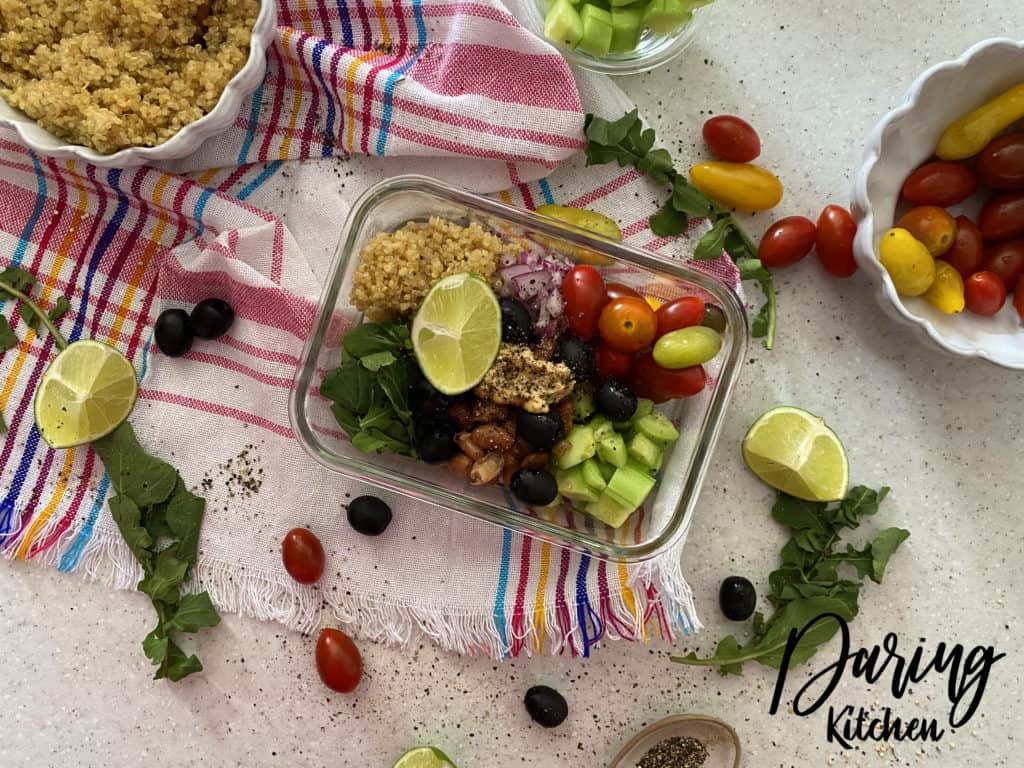 How to Make this Lunch Bowl
This recipe is super easy to make and yields 2 generous bowls of Mediterranean deliciousness!
The first step is to prep your veggies and quinoa. This you can easily do ahead of time (and I recommend it, as this is definitely a meal prep recipe!)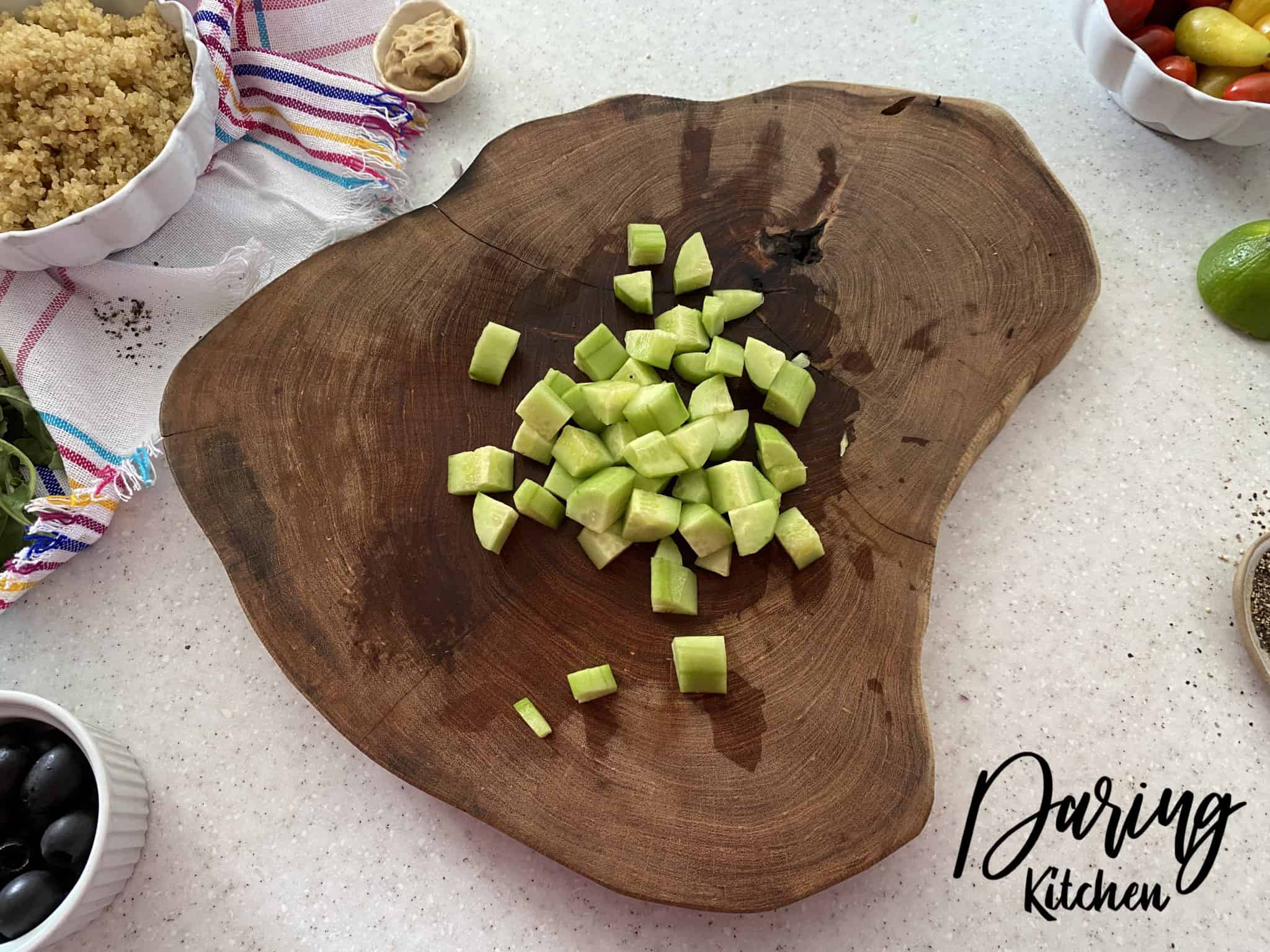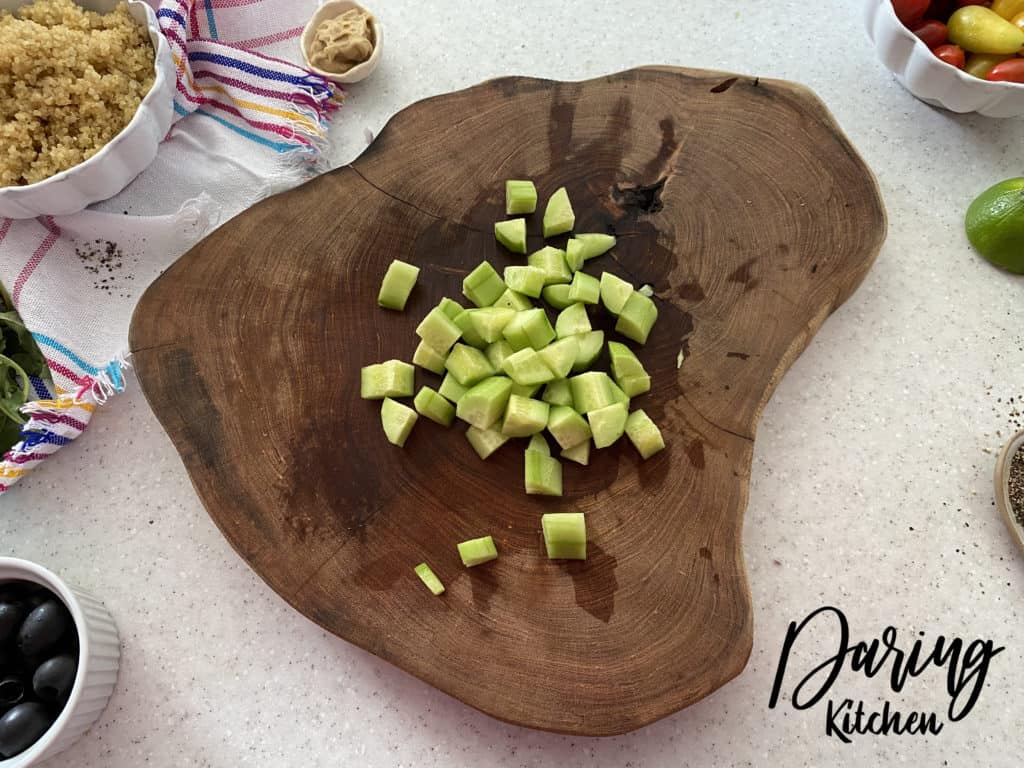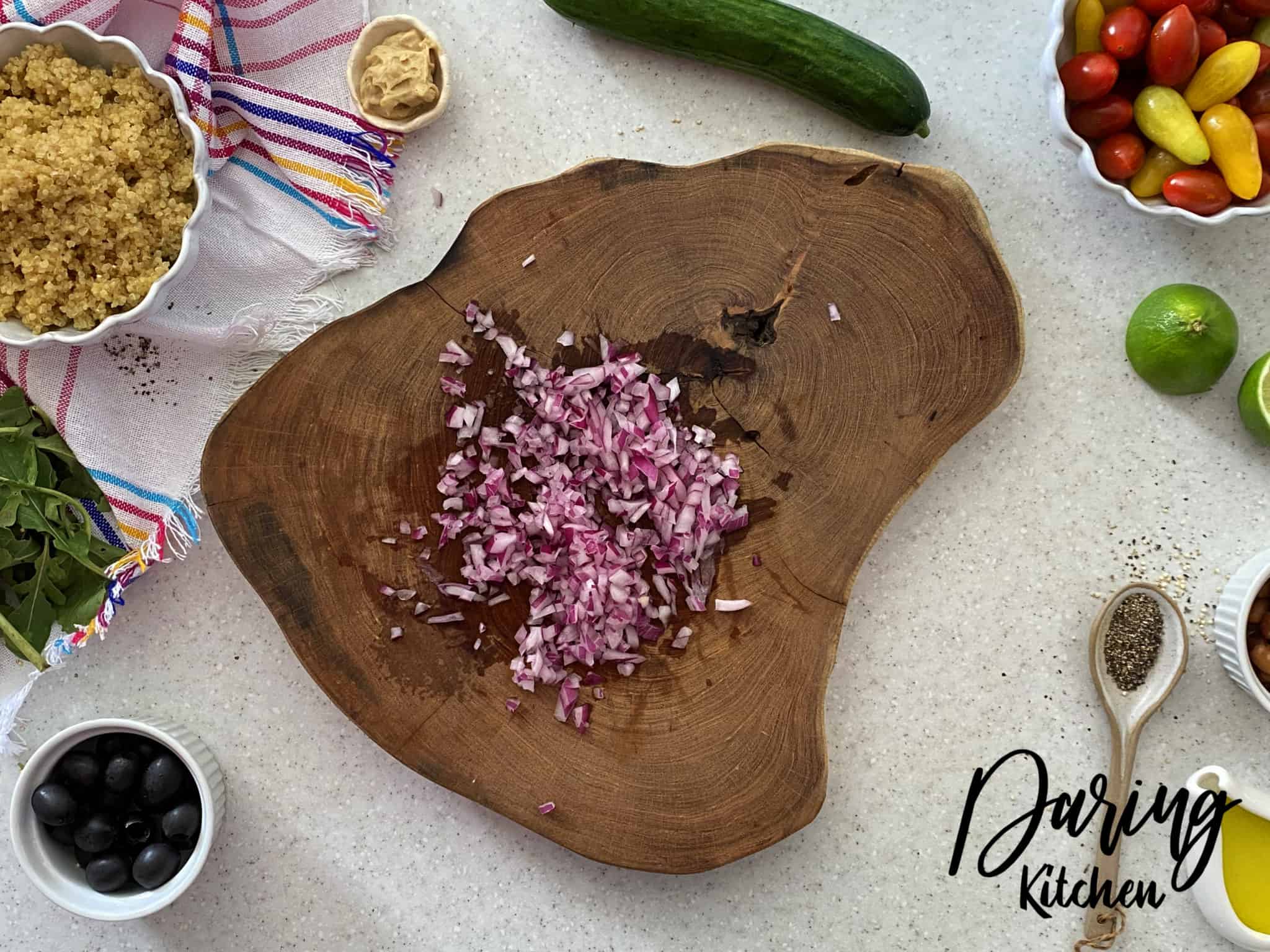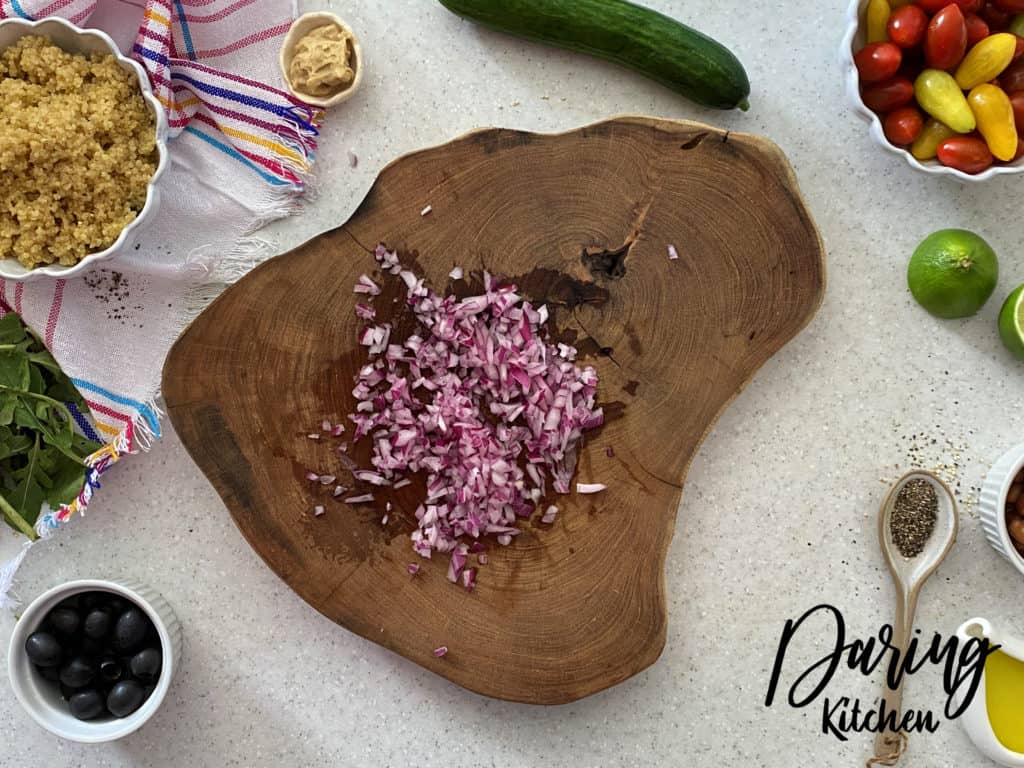 Make your quinoa according to the instructions. Then, chop your cucumbers and onions with a handy vegetable chopper. I prefer not to cut my tomatoes, but you can if you like. Wash your arugula and make sure it's dry. Then, cut your lemon into 4 wedges.
If you're making homemade hummus, definitely prep that ahead too. Store-bought hummus works perfectly fine too. Whatever you choose, always scoop a little extra on the side if you think you love hummus as I do!
Now, it's time to assemble your bowl. Using your favorite meal prep container or bowl, scoop enough quinoa on one side of the container. On the opposite side is where you'll make a little salad. Place your bed of arugula, topping it with your tomatoes and chopped veggies. You can combine the veggies or separate them, the choice is up to you!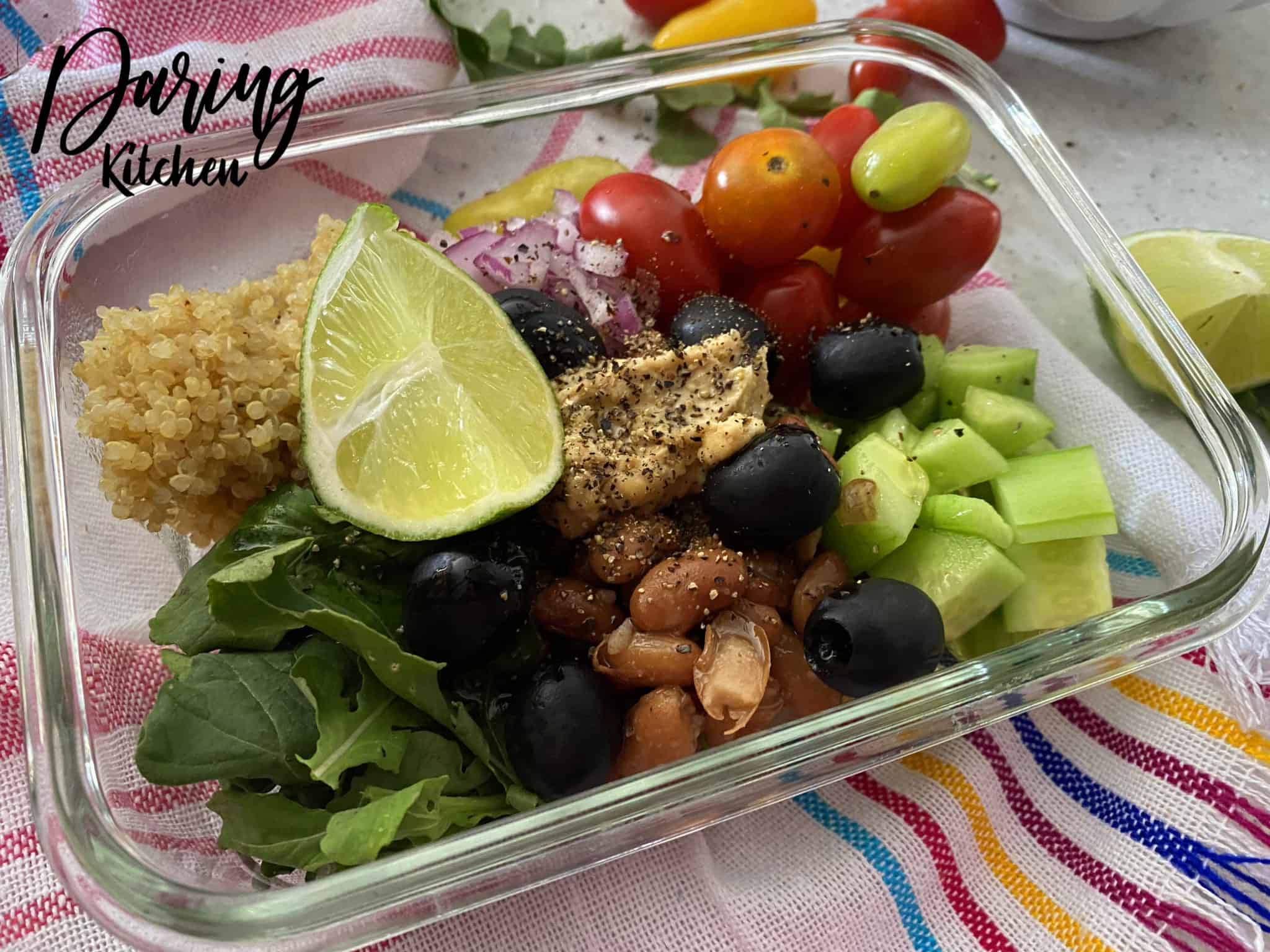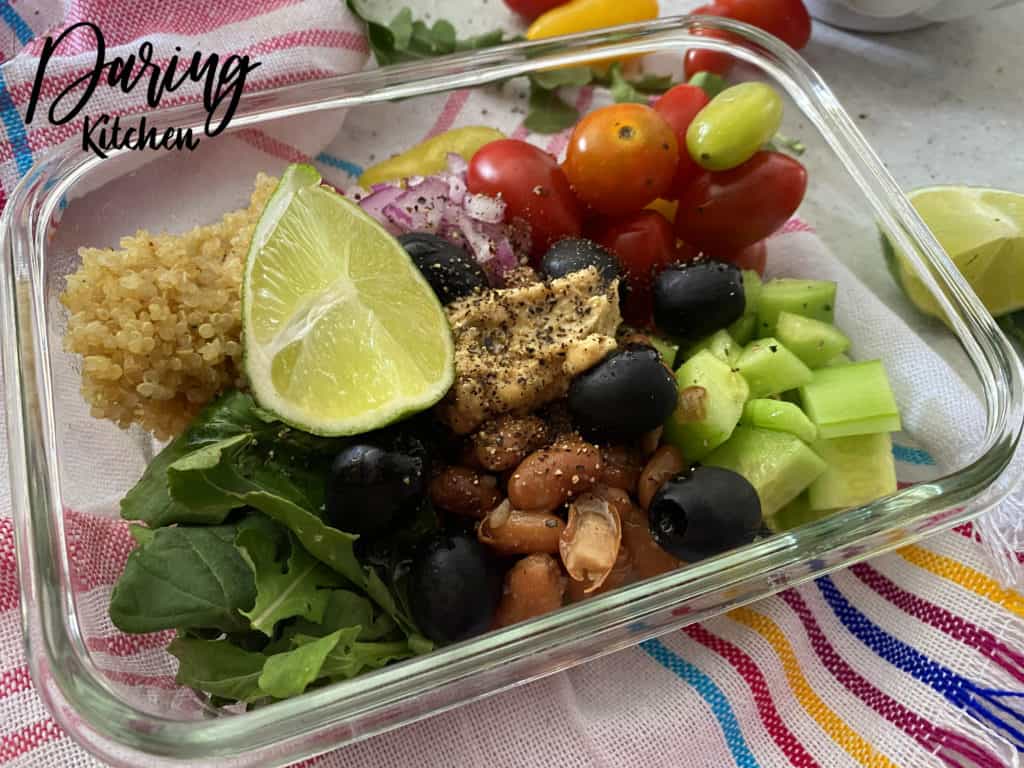 Continue to add your beans and olives, leaving room for your hummus. Then, drizzle olive oil over everything with some freshly ground black pepper. The amount is up to you. Finish off the bowls with lemon wedges.
Did you try this Mediterranean bowl? I hope you did, as it's one of my best bowl recipes. Please don't be shy to leave any of your thoughts in the comments below. I'd love to hear how your own bowls turned out!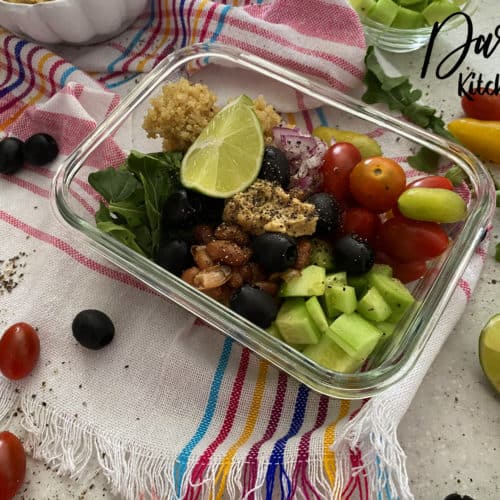 Mediterranean Lunch Bowl
This bowl is so simple to make, even ahead of time! It's filled with the most nourishing ingredients, helping you stay healthy all week long.
Print
Pin
Rate
Equipment
Cutting Board

Knife

Vegetable Peeler
Ingredients
½

onion

1

cucumber

1

lemon

1

cup

cooked quinoa

4

oz

arugula

¾

cup

cherry tomatoes

15.5

oz

kidney beans

12

kalamata olives

8

oz

hummus

4

tsp

olive oil

black pepper

to taste
Instructions
Peel and dice cucumber, chop the onion.

Cut the lemon in 4 pieces.

Grab a bowl and add sufficient quinoa to one of the sides.

Add the Onion to another side of the bowl.

Add the beans to the bowl.

Add Olive oil on top and black pepper to taste.

Garnish with a wedge of lemon.
Nutrition
Calories:
753
kcal
|
Carbohydrates:
102
g
|
Protein:
36
g
|
Fat:
26
g
|
Saturated Fat:
4
g
|
Polyunsaturated Fat:
7
g
|
Monounsaturated Fat:
14
g
|
Sodium:
841
mg
|
Potassium:
1963
mg
|
Fiber:
31
g
|
Sugar:
9
g
|
Vitamin A:
1872
IU
|
Vitamin C:
59
mg
|
Calcium:
271
mg
|
Iron:
13
mg