Quinoa salad is a delicious dish that will tantalize your taste buds! It's not only loaded with protein-rich quinoa and fresh veggies, but it also packs a punch of Mexican flavor.
Why You'll Love This Mexican Quinoa Recipe
Great For Meal Prep- This quinoa salad recipe is an excellent meal prep option because it tastes just as good (if not better!) the next day. It's also a great way to use up all of your vegetables in one dish.
Filling and Healthy- Quinoa is a great source of protein, and this salad is also loaded with other healthy ingredients like black beans, corn, and avocado. It's sure to keep you full for hours!
Delicious Mexican Flavor- The combination of spices, jalapeño peppers, and lime juice gives this Mexican quinoa salad a flavorful kick.
What Is A Mexican Quinoa Salad?
A quinoa salad is a dish made by combining cooked quinoa with other ingredients like vegetables, beans, and spices. It's a great way to get your protein in while enjoying some delicious flavors. This Mexican quinoa salad is particularly flavorful, thanks to adding jalapeno peppers, cumin, and chili powder.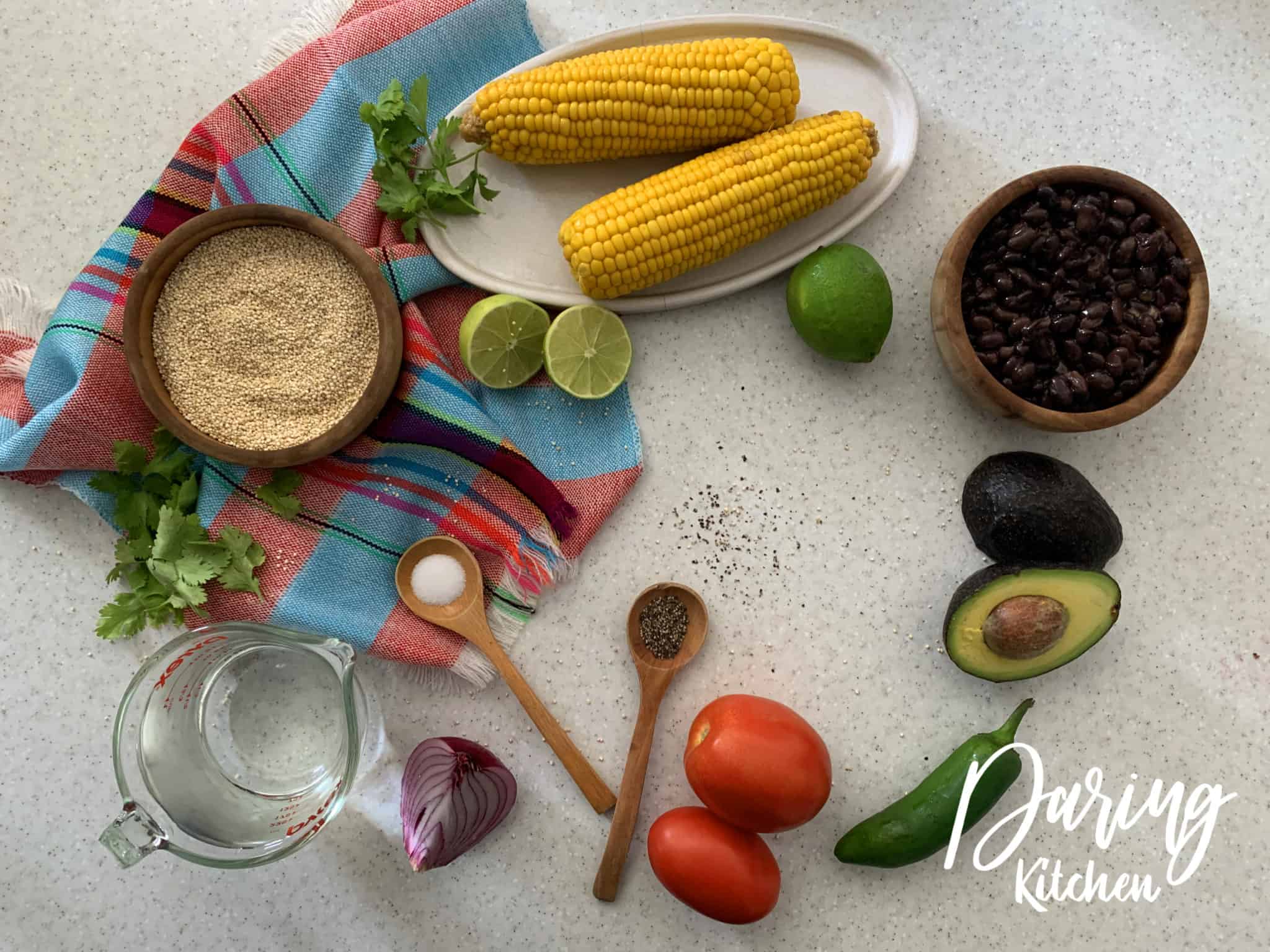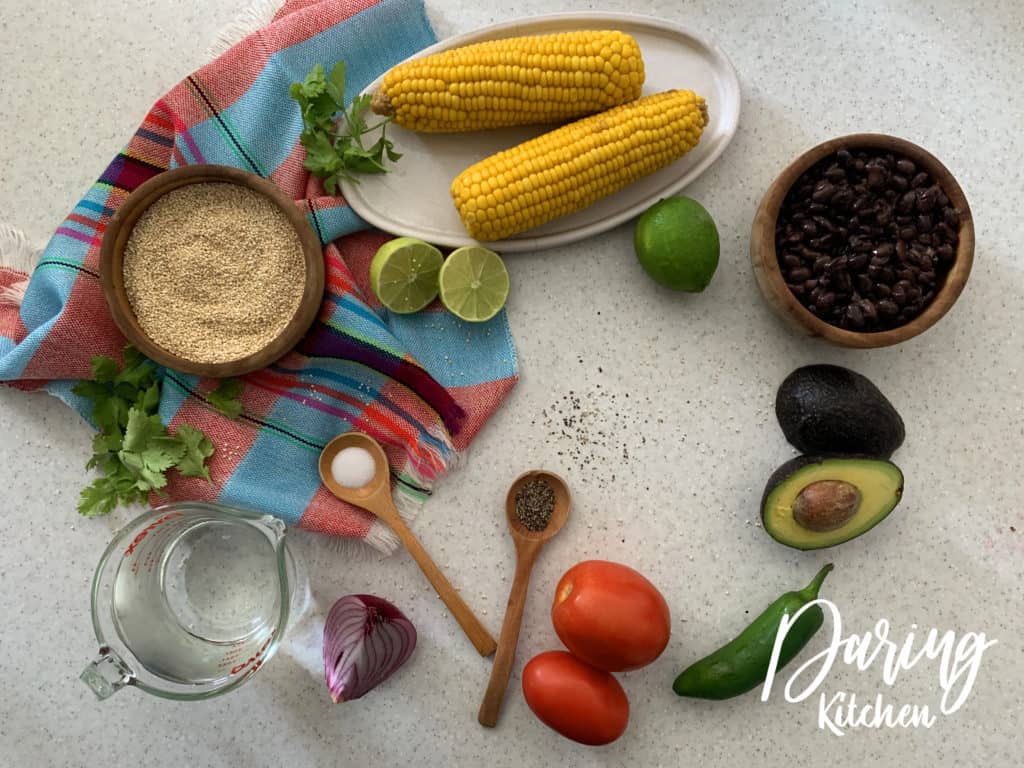 Equipment Needed
Cutting Board
Chef's Knife
Medium Saucepan
Stirring Spoon
Large Bowl
Measuring Cups and Spoons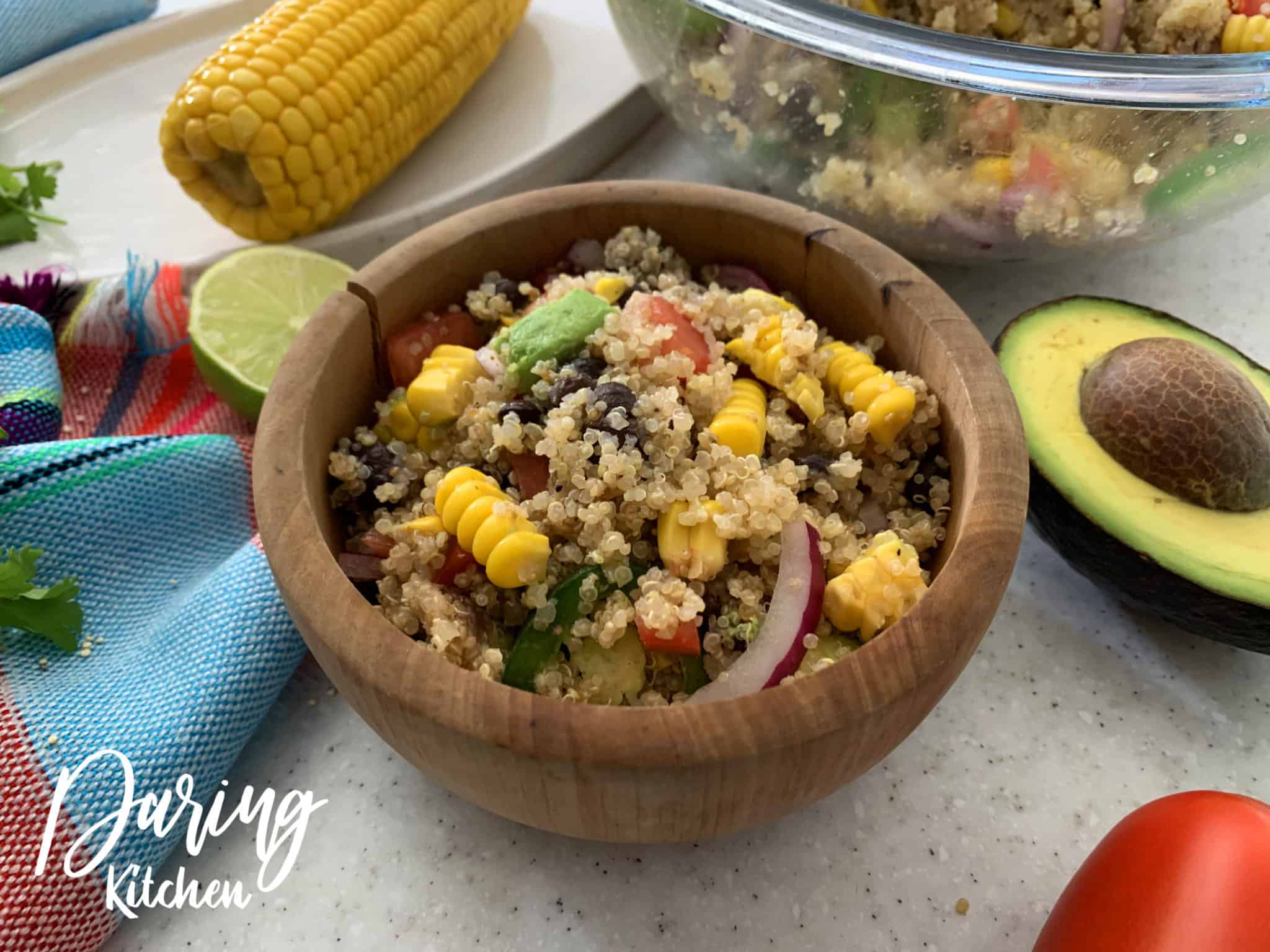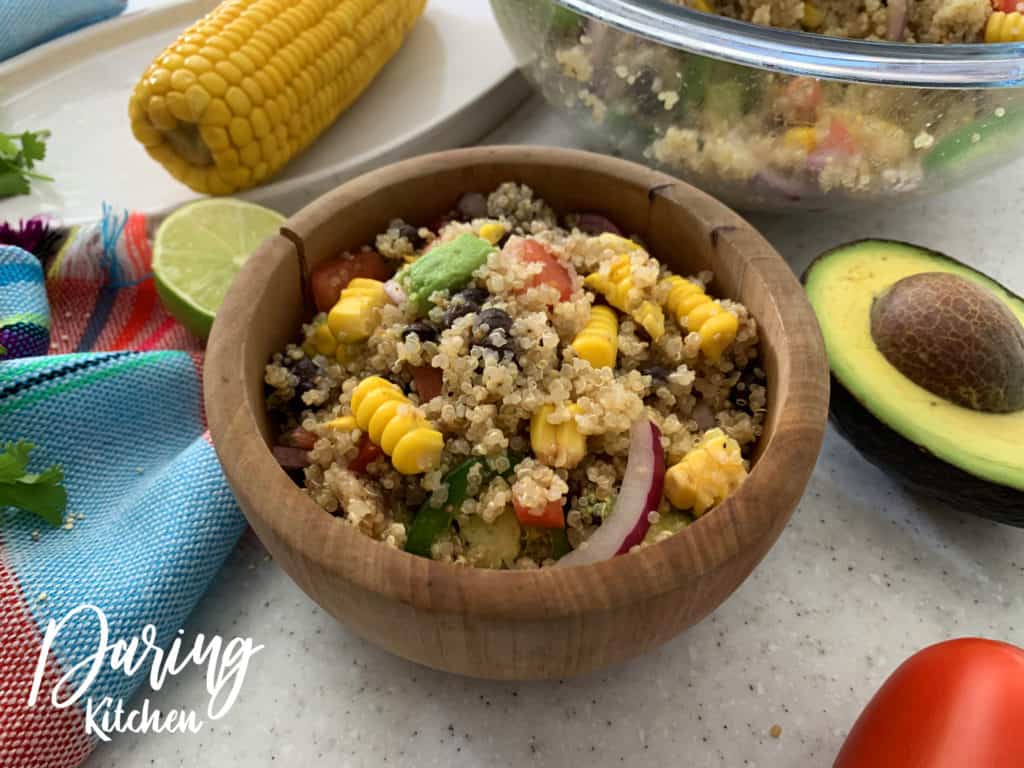 Ingredients
Tomatoes- Originally from South America and brought to Mexico thousands of years ago, fresh tomatoes are an authentic addition to this dish. I love using cherry tomatoes for their awesome sweetness. Grape tomatoes work well too!
Onion- Mexican-inspired food almost always has a little onion in it somewhere! For this recipe, I chose red onion. It lends a nice sweetness and adds more color to the dish.
Jalapeno Pepper- The plant's name means "from Jalapa," referring to the city in Mexico where it was originally found. Jalapenos are what give this quinoa salad its spicy Mexican flare!
Corn- Another Mexican food staple, corn is an easy addition to this Mexican quinoa salad recipe. I suggest using fresh corn if you can make charred corn even better! Frozen corn or canned corn work if you're running short on time.
Avocado- It's hard to think about Mexican dishes without avocado. This fruit is full of so many healthy fats and vitamins; it's insane! Diced avocado is a healthy way to make any salad or bowl more filling.
Quinoa- This ancient grain adds more nutrients and protein to this salad than rice would. I love using it in most Mexican-inspired dishes, like my Mexican Quinoa Stuffed Sweet Potatoes!
Limes- Fresh lime juice makes all the difference. It helps to create a very simple lime dressing with tomatoes without any need for oil! It's crazy how much flavor lime juice brings to the table. If you don't have any lime juice, lemon juice is a reliable substitute.
Black Beans- One of my favorite ways to get fiber and protein. Fresh black beans are seriously delicious and more optimal than canned black beans, as they have more nutrients and flavor. You can also use kidney beans or chickpeas for a Mediterranean twist.
Salt and Pepper- The simplest way to season your food! I rarely give these a measurement - everyone has their preference for salt and pepper. Just do it to taste!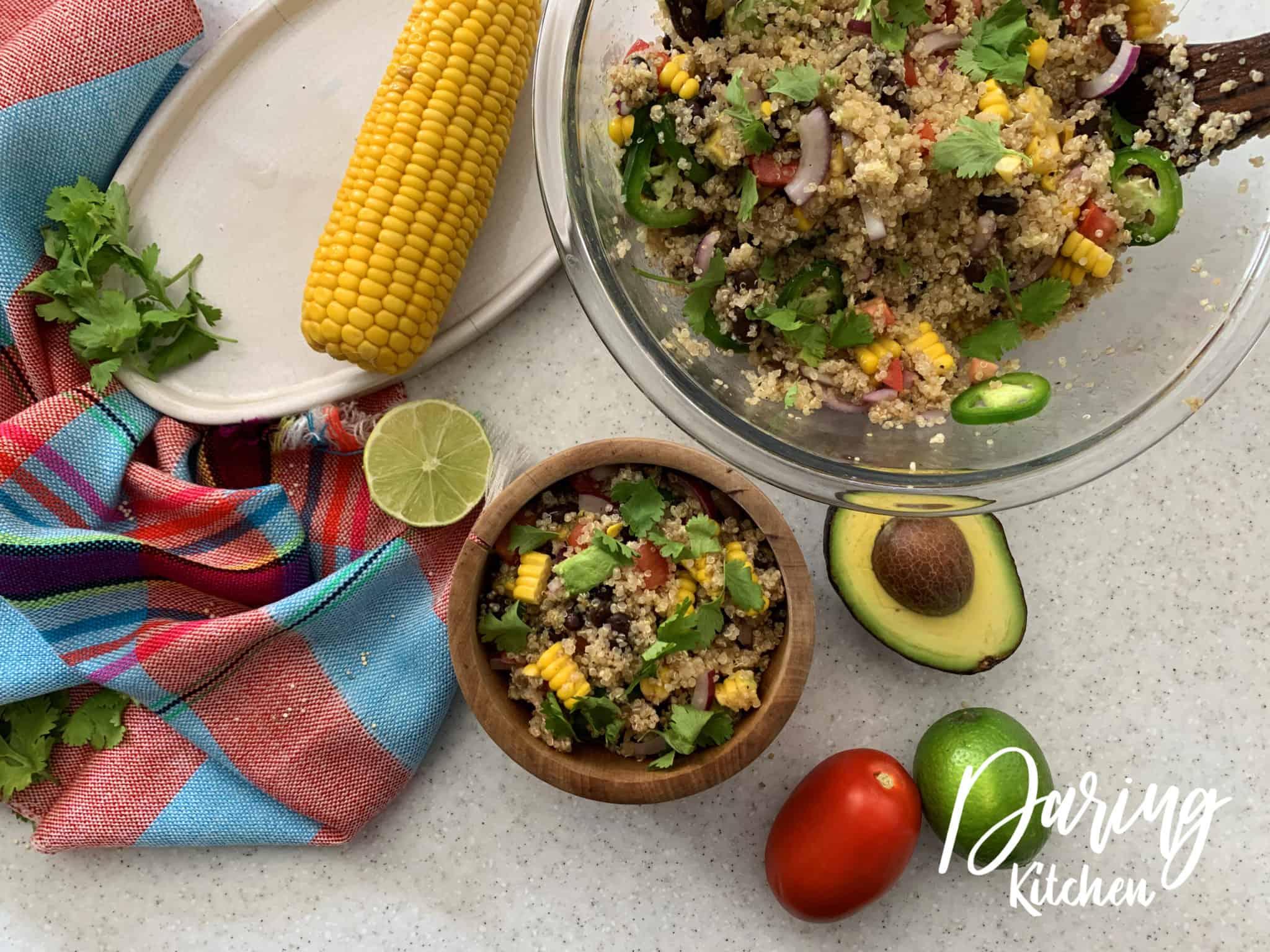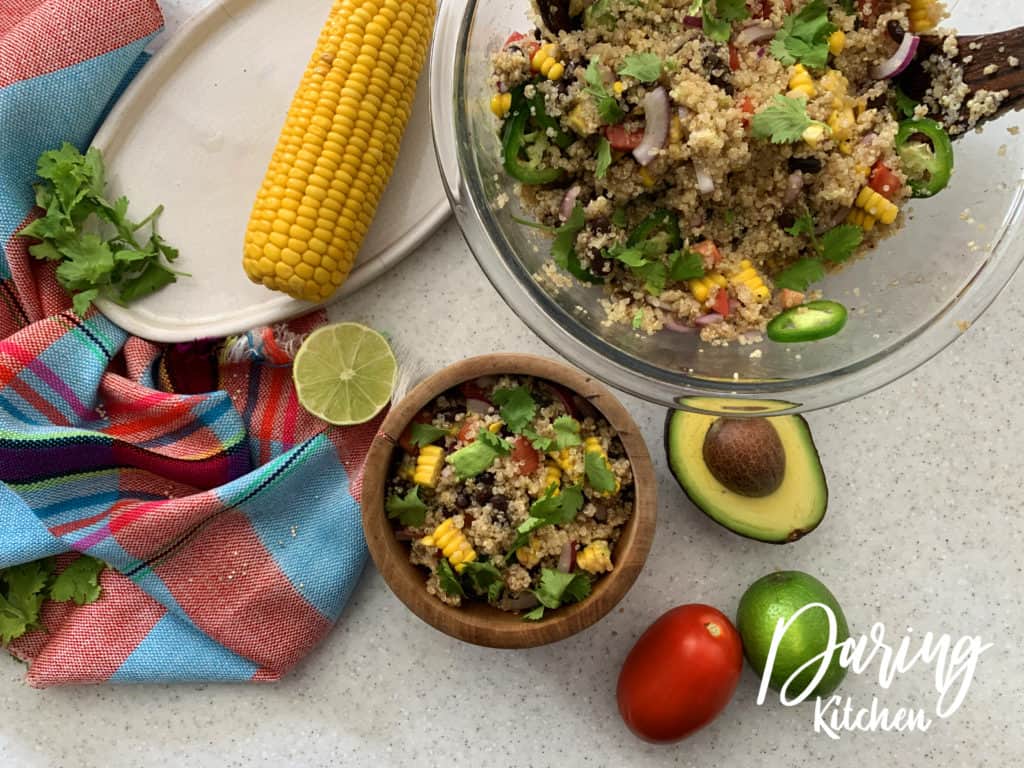 How To Make A Refreshing Mexican Quinoa Salad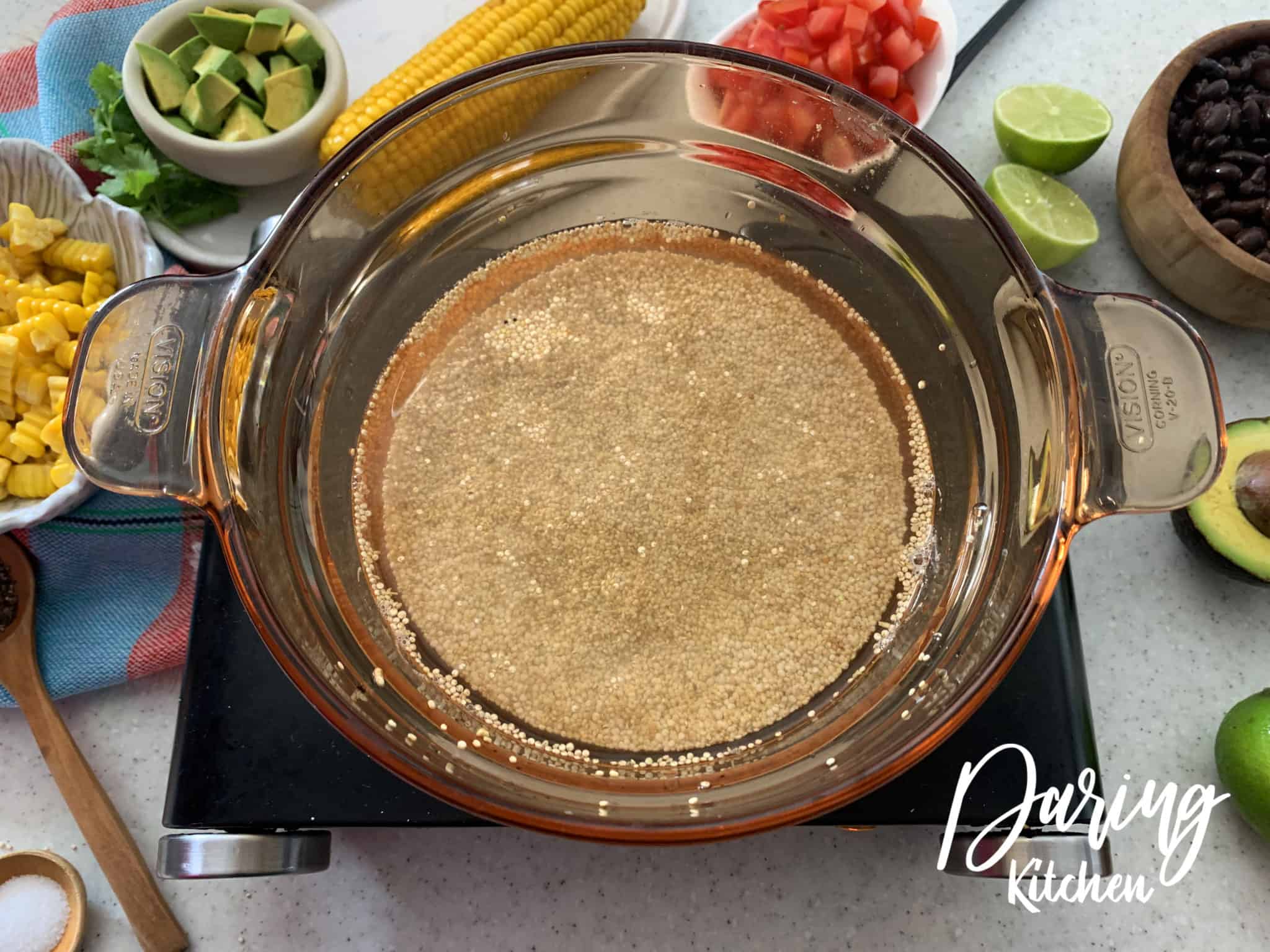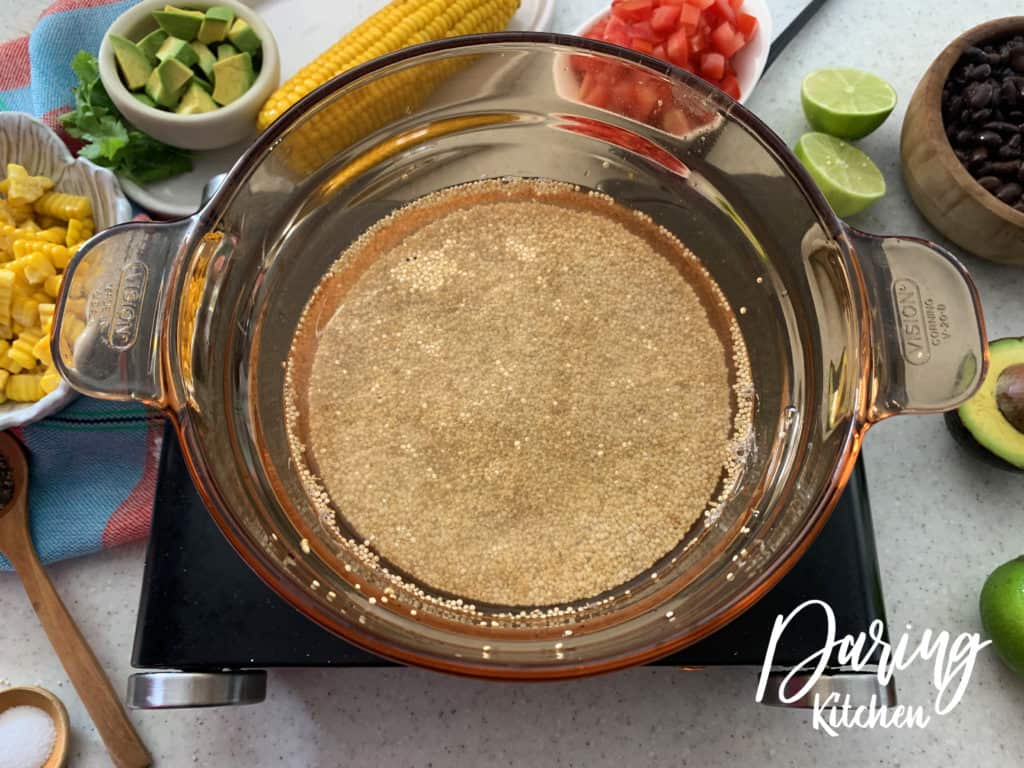 To start, rinse and cook your quinoa before preparing the vegetables.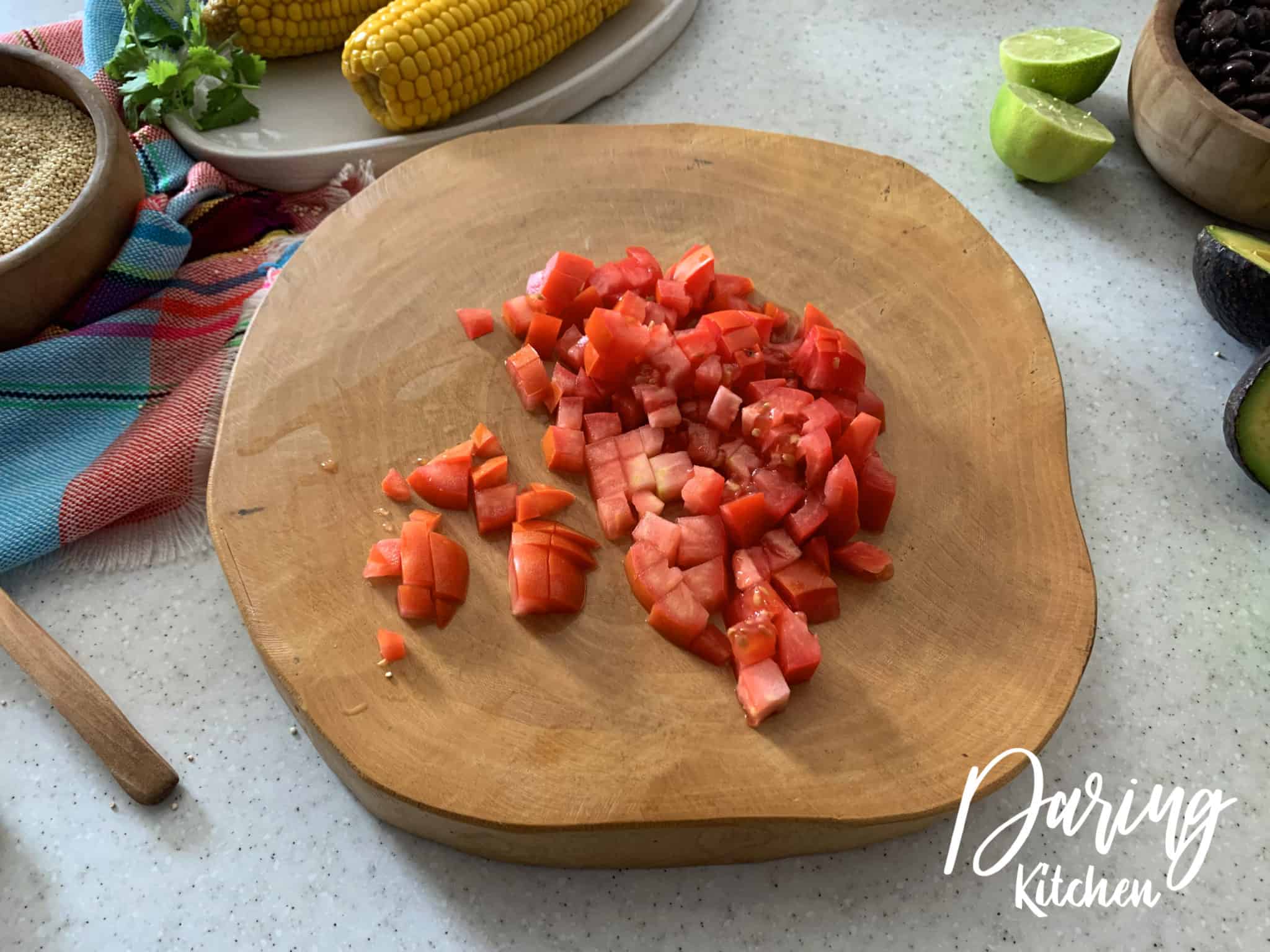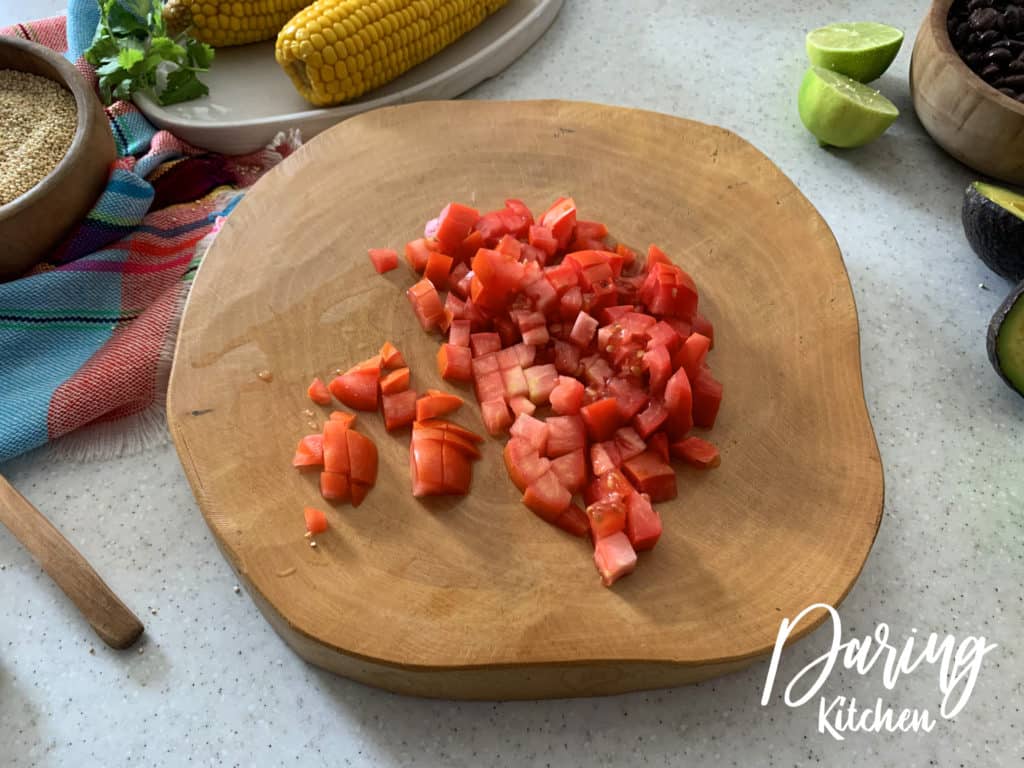 Chop your onions and tomatoes using a chef's knife.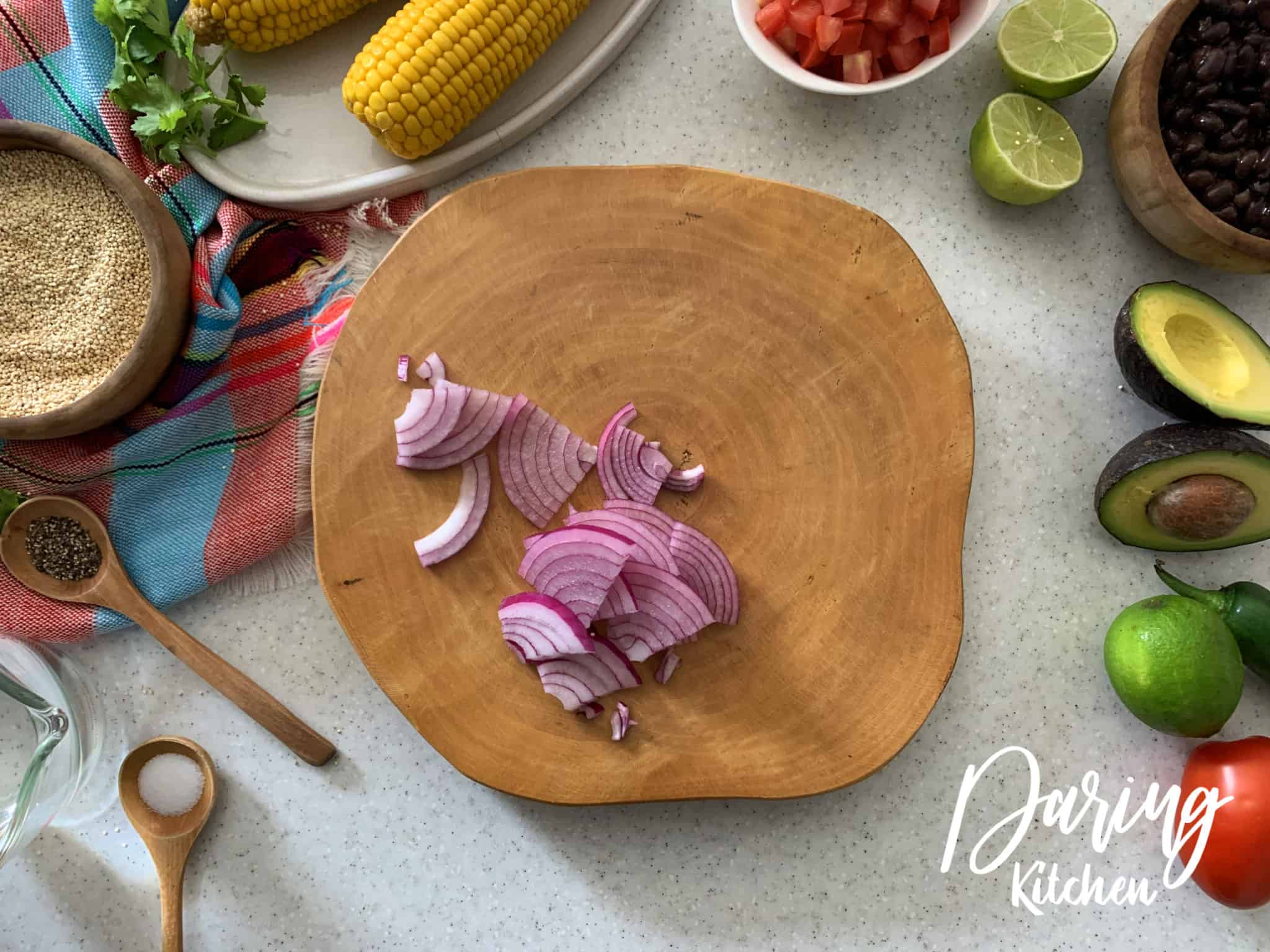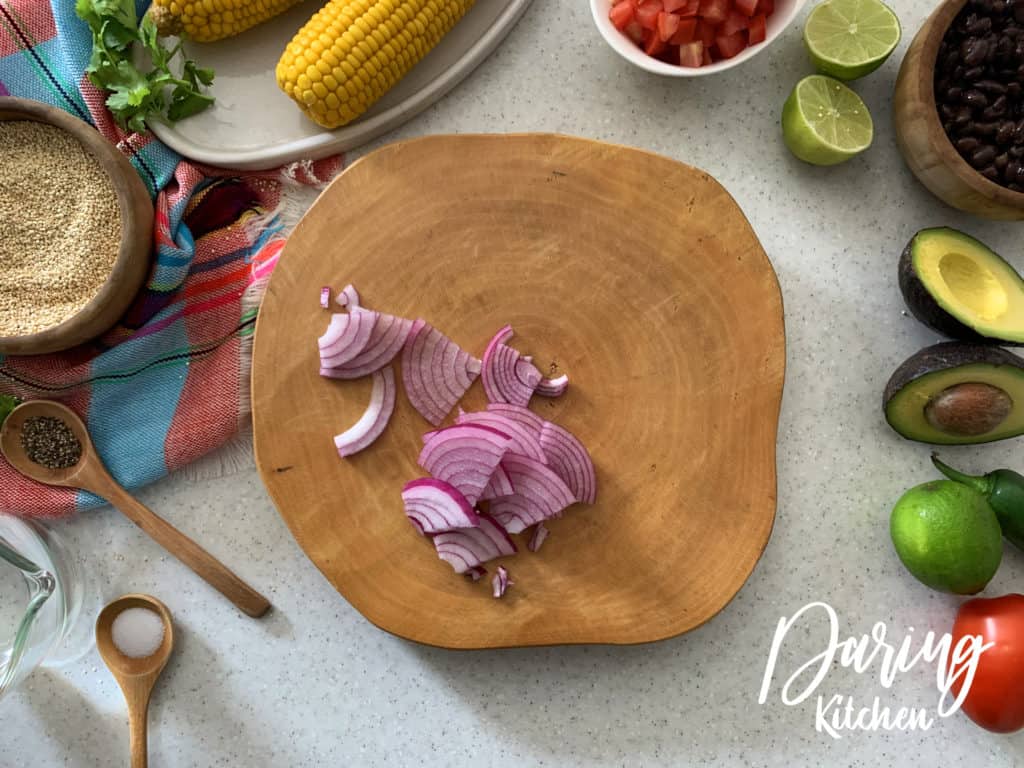 Next, chop up the jalapeno while not touching your face.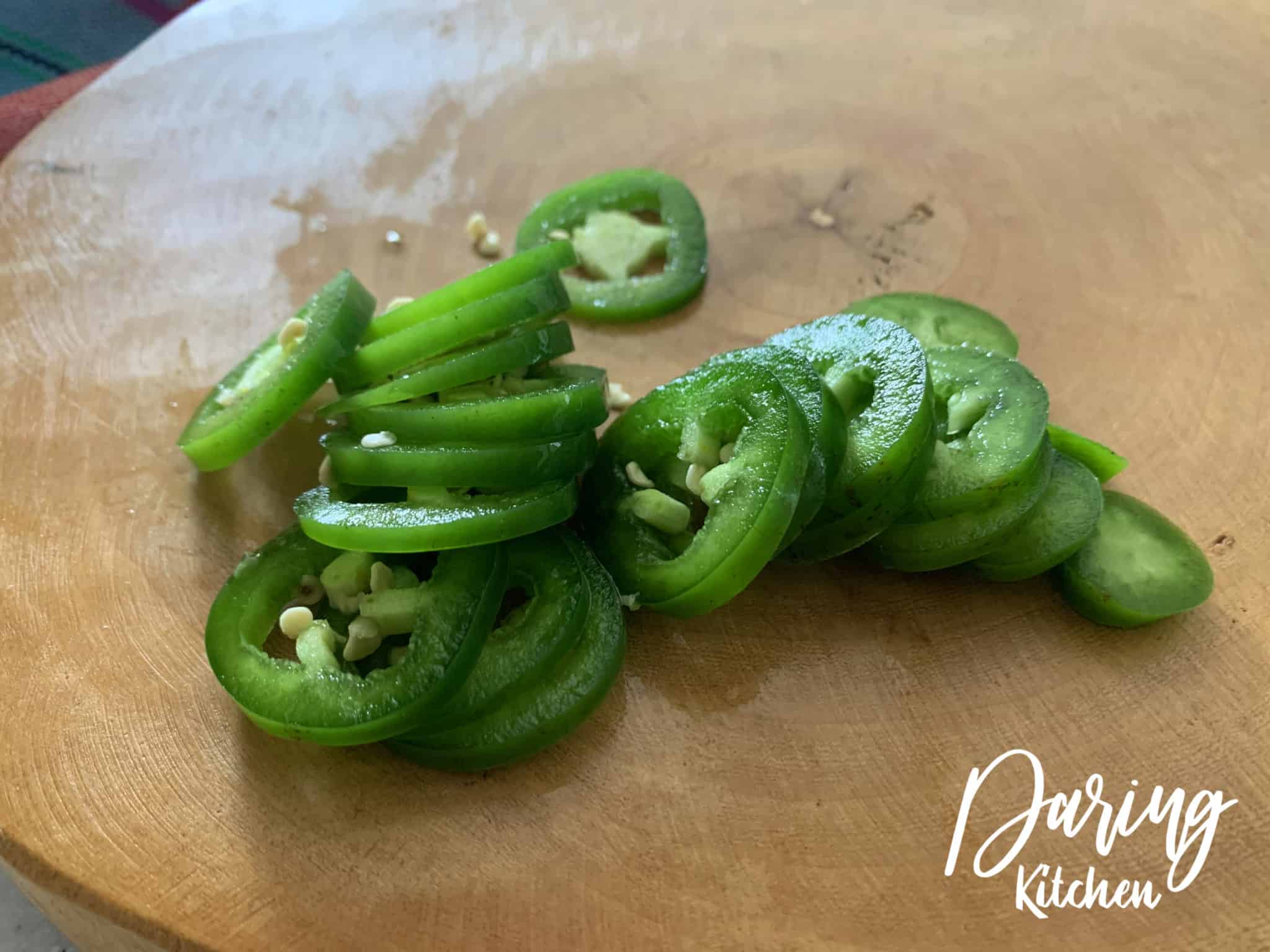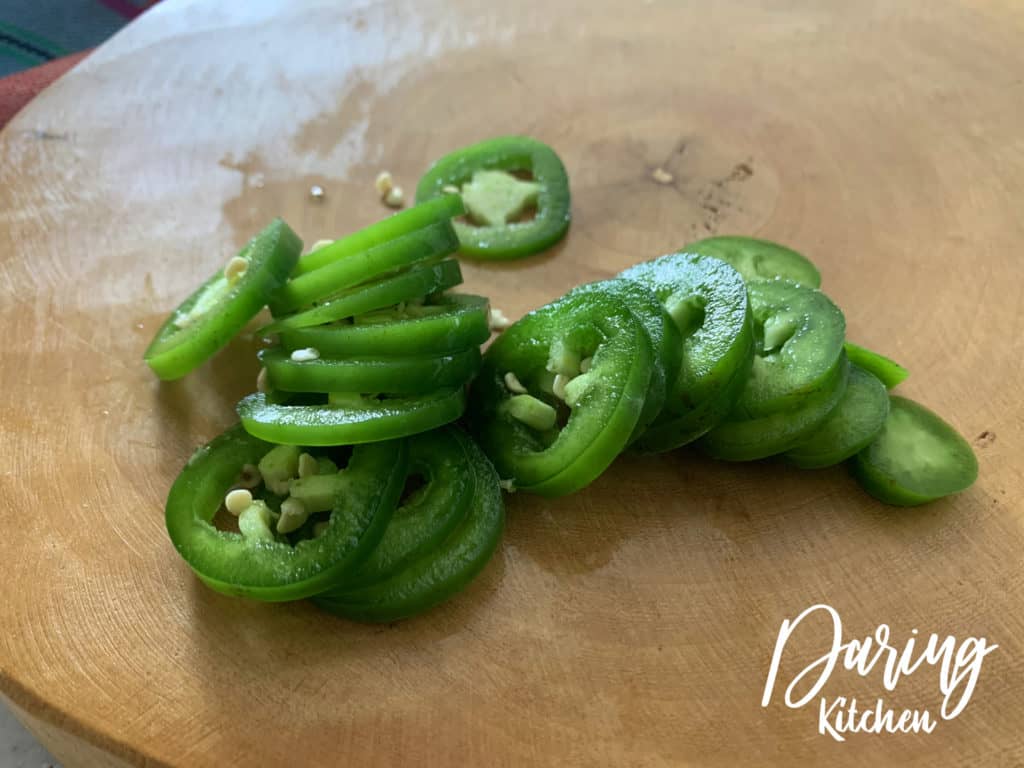 It's important to avoid accidentally getting any of the spice in your eyes.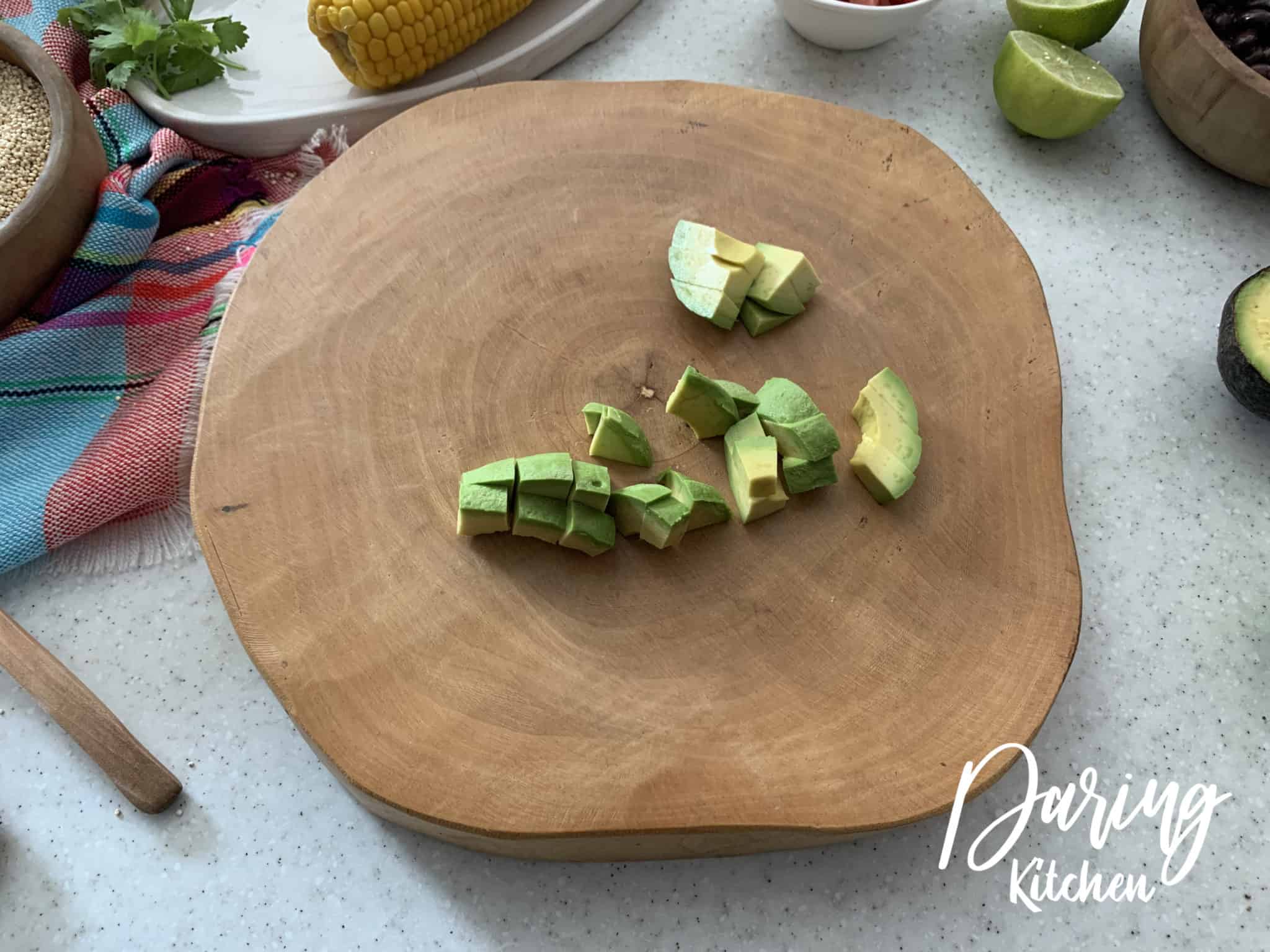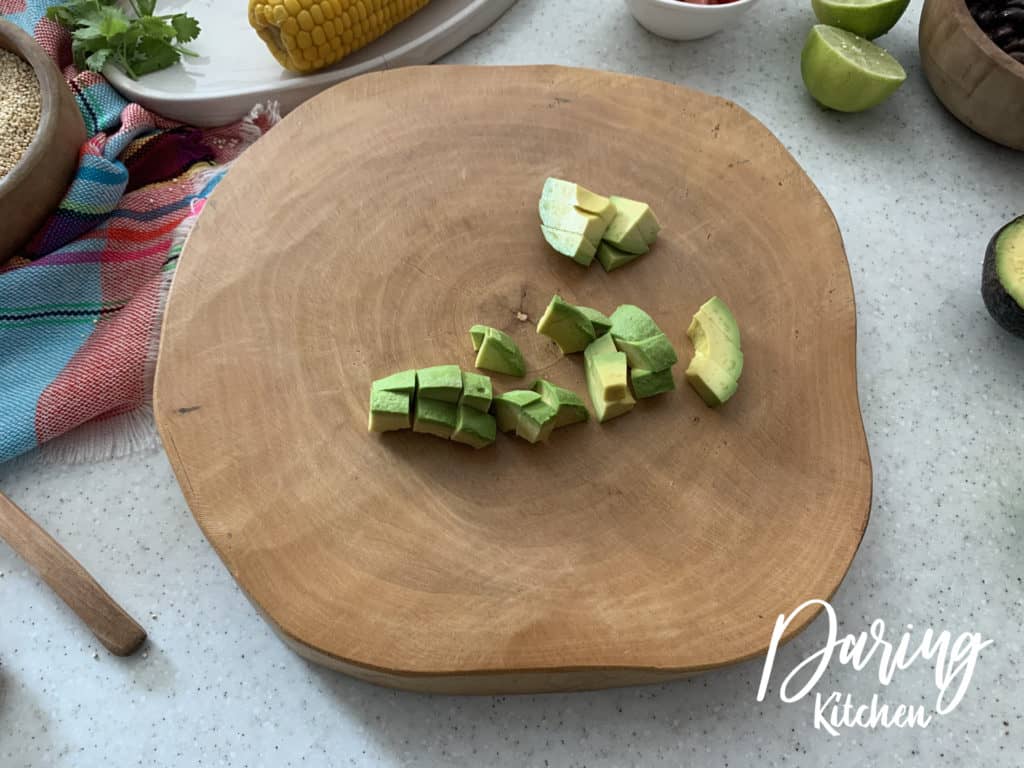 Next, dice your avocado into small pieces to ensure that each bite contains some avocado. If you are preparing this dish in advance, remember to add some lime juice to the avocado to prevent it from turning brown due to oxidation.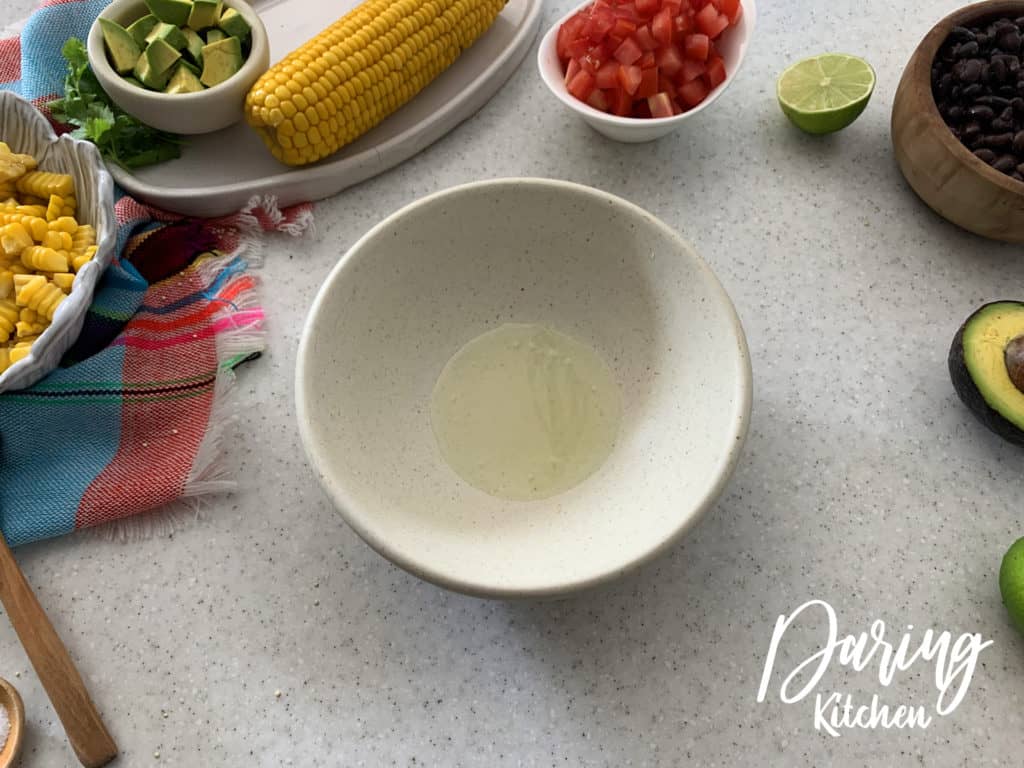 To combine the ingredients, pour lime juice into a large bowl, then add the quinoa and mix well.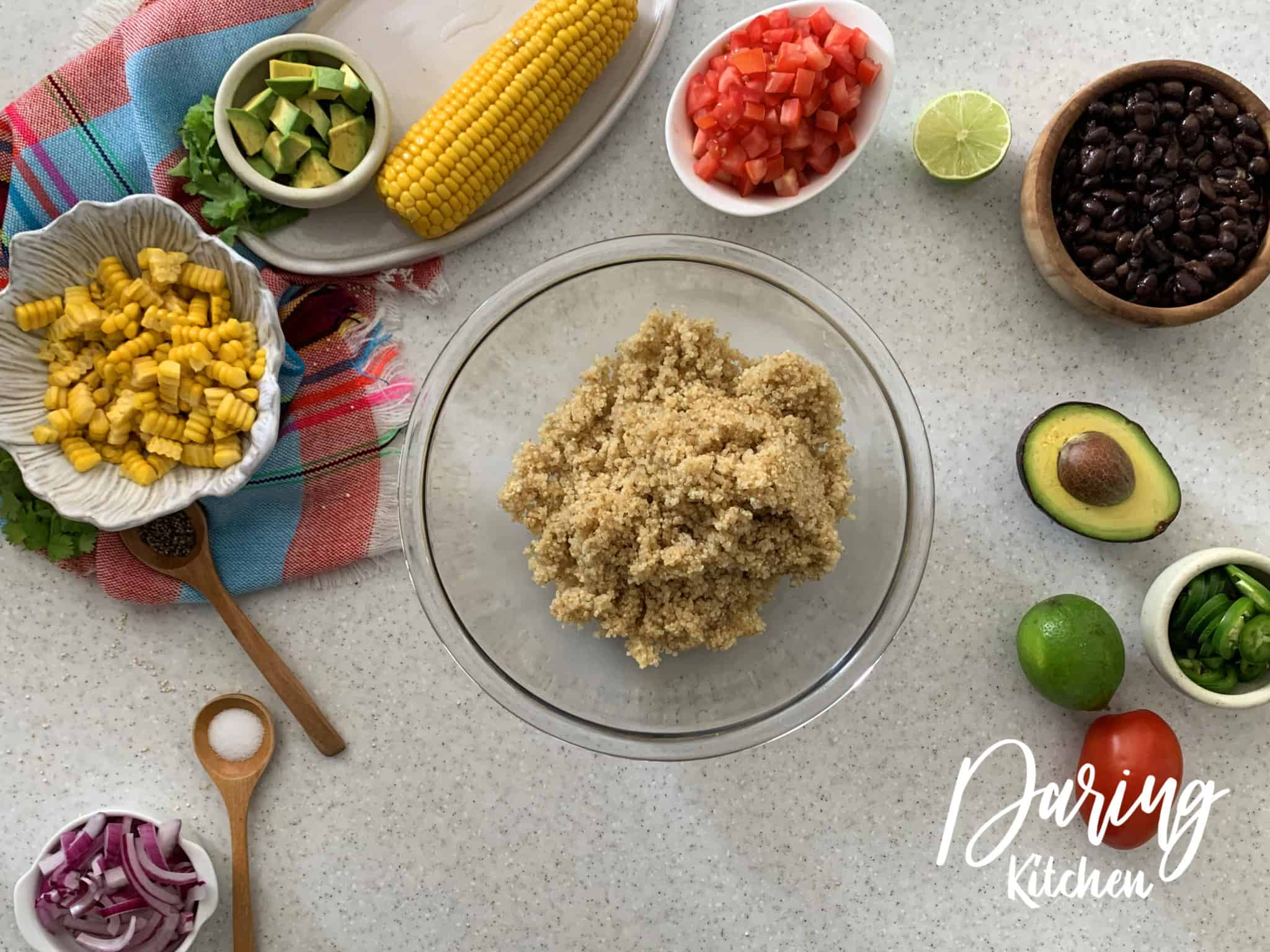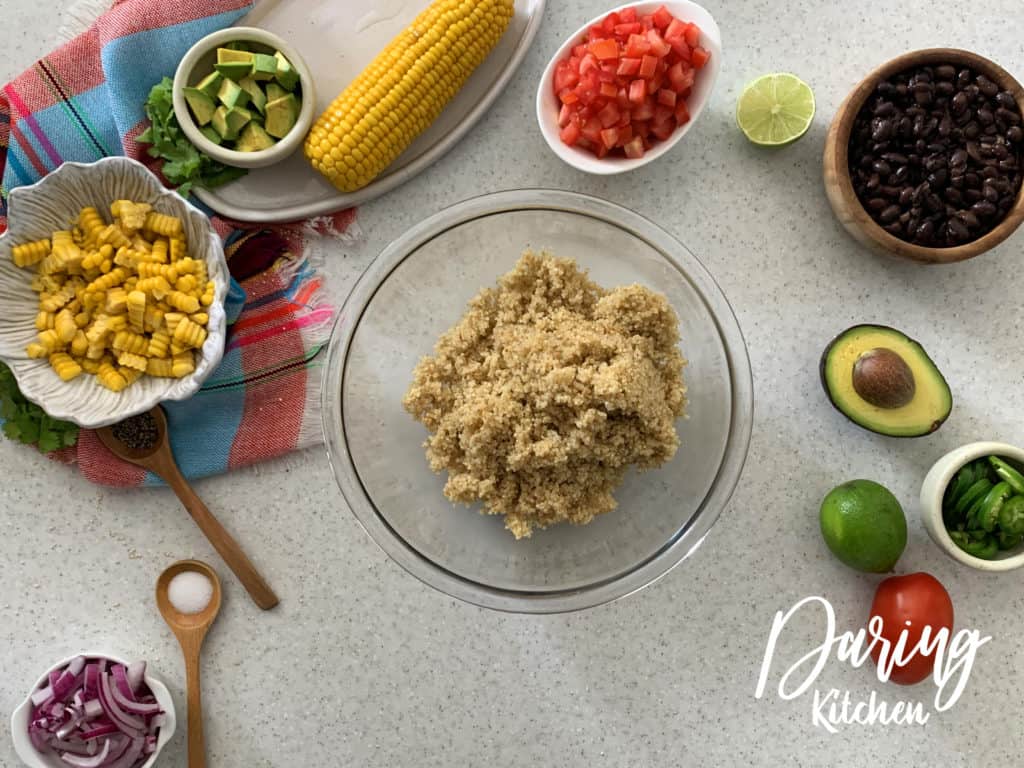 Mix the quinoa mixture with the chopped fruits, vegetables, and beans. Add salt and pepper to the salad as per your liking.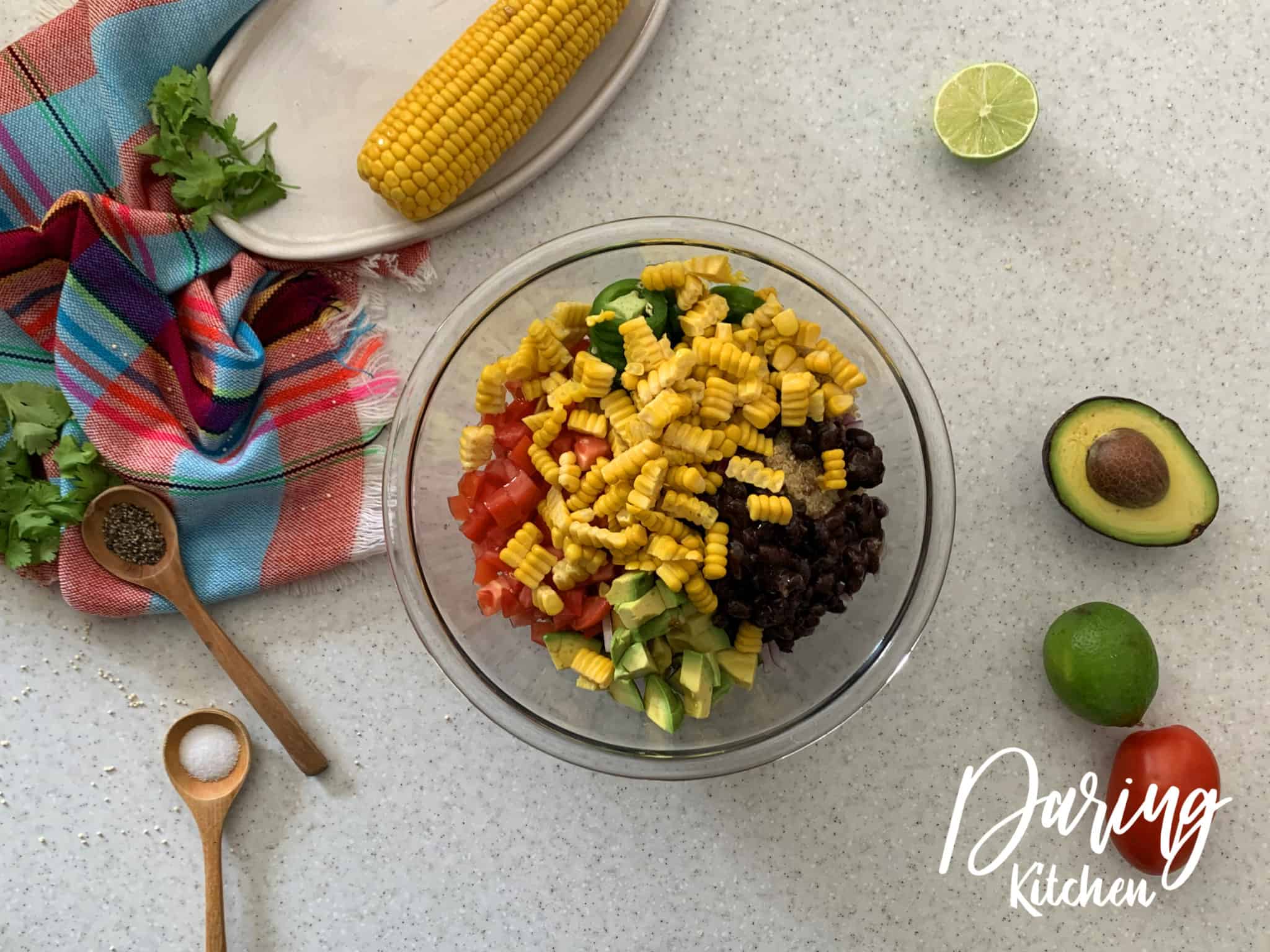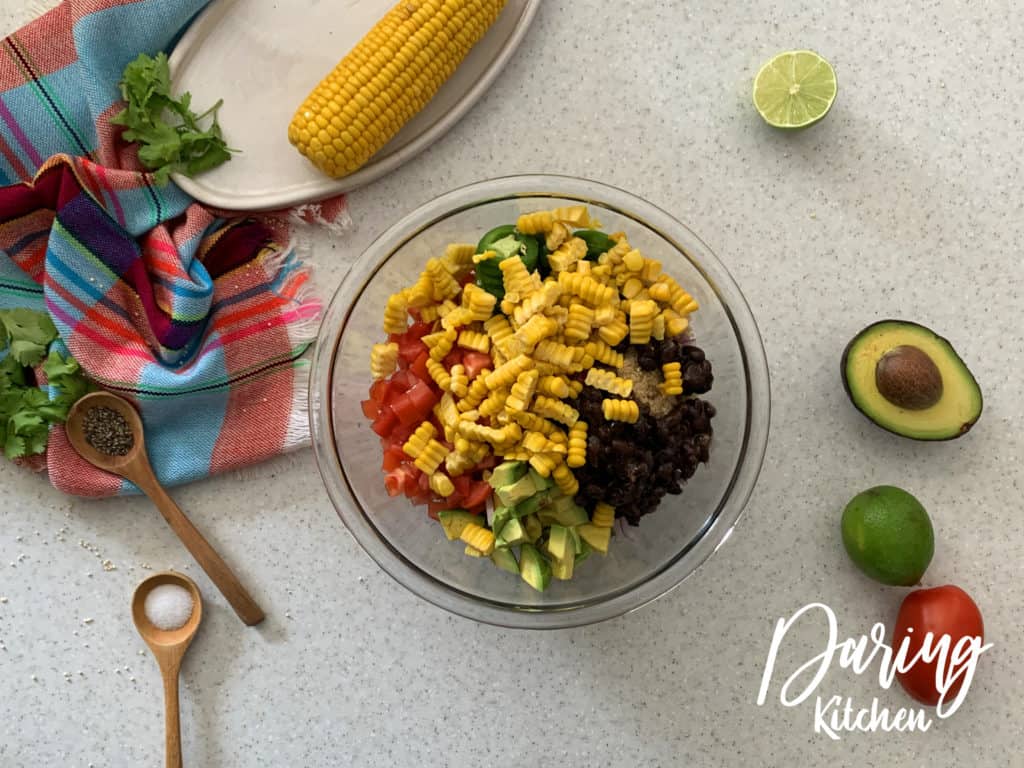 Transfer the salad into an airtight container if you prepare it beforehand. Adding cilantro and lime zest as a garnish to the salad is optional.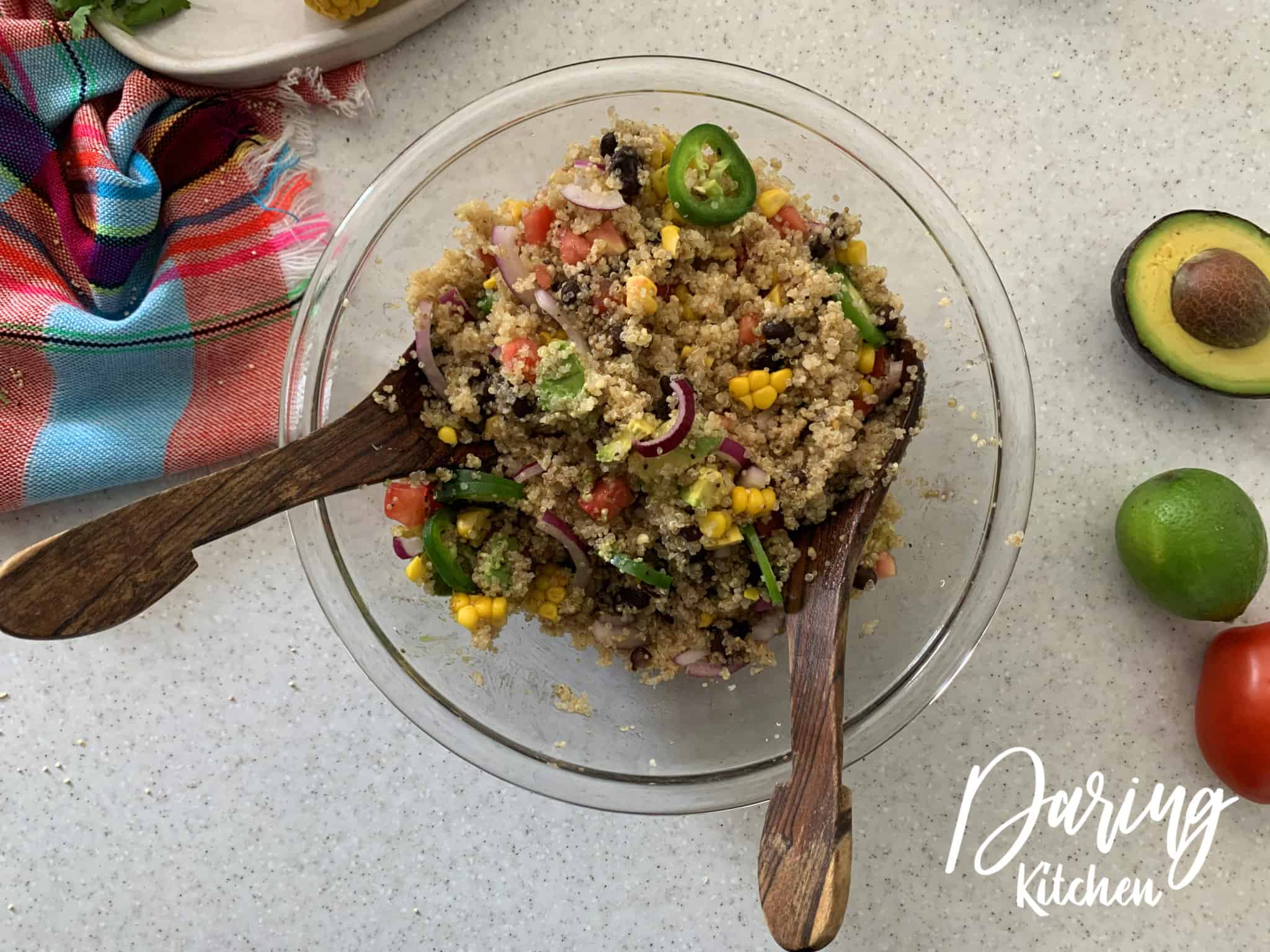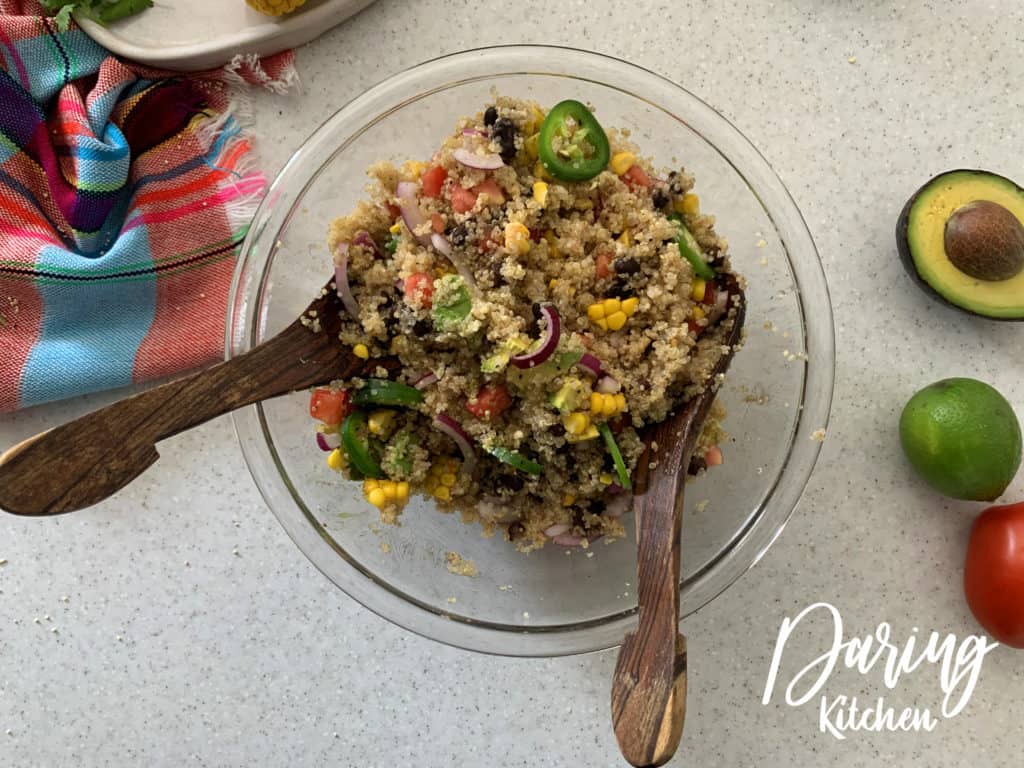 Tips For Perfectly Cooked Quinoa
Although following the package instructions for cooking quinoa is helpful, I enjoy sharing my personal tips and tricks for preparing the best and fluffiest quinoa.
Always make sure to rinse your quinoa thoroughly before cooking. This removes the saponin, a natural coating that can make the quinoa taste soapy and bitter if left unwashed.

For more flavor, try cooking your quinoa with vegetable broth. If you want to reduce the sodium in your dish, mix the broth with water at a 1:1 ratio.

Cover and leave your quinoa for 10 minutes after cooking instead of serving it immediately to make it fluffier.
Popular Substitutions And Additions
If you want to make this Mexican quinoa salad your own, feel free to change it up a bit. Some popular substitutions and additions include:
Swap the black beans for pinto beans or kidney beans.

Add more veggies like bell peppers, zucchini, squash, or carrots.

Top the Mexican quinoa salad with a tangy lime vinaigrette dressing, sour cream, green onions, shredded cheddar cheese, crumbled feta cheese, or cotija cheese for an extra burst of flavor.

Add some diced chicken, ground turkey, or shrimp to make it a complete meal.

Try different herbs and spices such as smoked paprika, turmeric, garlic powder, fresh cilantro, or parsley for an extra punch of flavor!

Mix in a splash of olive oil for a creamier Mexican quinoa salad.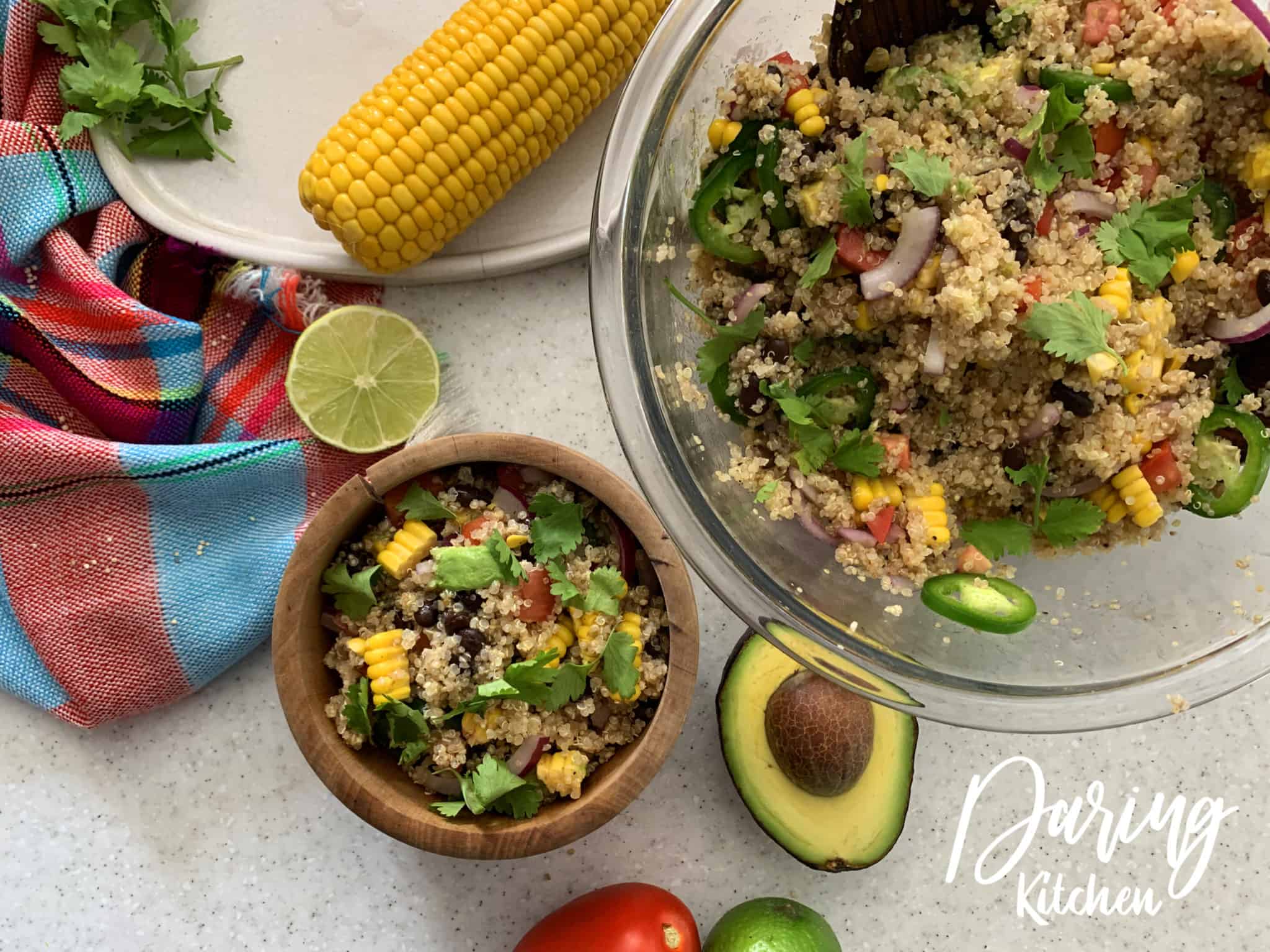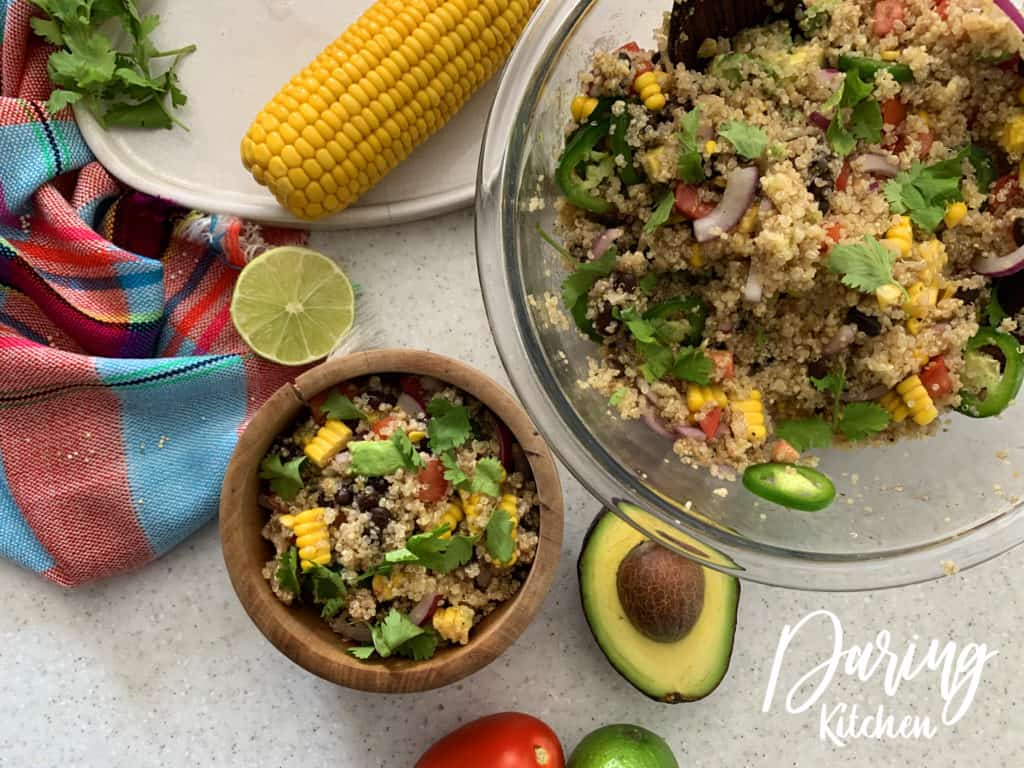 Can I Freeze Mexican Quinoa Salad?
Yes, you can freeze this Mexican quinoa salad. Let the cooked quinoa and vegetables cool down completely before transferring them to a freezer-safe container or bag. When ready to eat, thaw in the fridge overnight and serve chilled.
Easy Quinoa Salad Recipe FAQs
Why did my cooked quinoa come out bitter?
If your quinoa comes out bitter, it's likely because you didn't rinse the grains before cooking. Quinoa has a natural coating of saponin that can make it taste bitter. To avoid this, rinse the quinoa well in cold water before cooking.
Is Mexican quinoa salad healthy?
Yes, this is a very healthy and filling quinoa salad. Quinoa is high in protein and fiber, while vegetables and spices provide vitamins and minerals. It's also rich in omega-3 fatty acids from the avocado!
Can I make this Mexican quinoa salad ahead of time?
Absolutely! This salad can be made a few days ahead and stored in an airtight container in the fridge. It's actually even better the next day as the flavors have more time to meld together.
How do I store Mexican quinoa salad?
The best way to store this salad is to place it in an airtight container and keep it in the fridge. It will last for up to 4 days. If you want to freeze it, let it cool down completely before transferring the quinoa salad to a freezer-safe container or bag.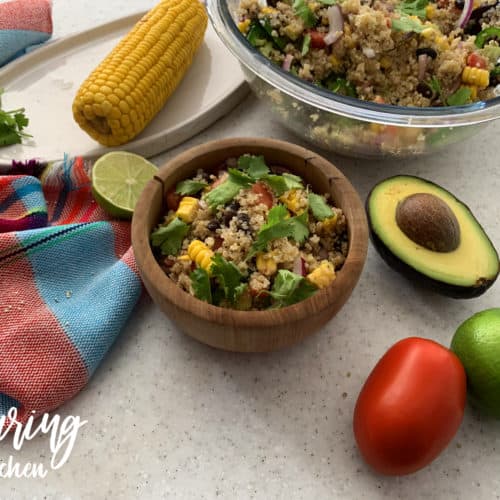 Mexican Quinoa Salad
This zesty and delicious Mexican Quinoa salad is your next favorite vegan, gluten free, and dairy-free MEAL PREP recipe!
Print
Pin
Rate
Equipment
Cutting Board

Knife

Vegetable Peeler
Ingredients
2

tomatoes

¼

onion

1

jalapeño pepper

½

cup

cooked kernels

1

avocado

1

cup

cooked quinoa

2

limes

1

cup

cooked black beans

salt

to taste

black pepper

to taste
Instructions
Cook the Quinoa as per instructions.

Mix everything together and add the beans.

Season with salt and pepper to taste.
Nutrition
Calories:
866
kcal
|
Carbohydrates:
124
g
|
Protein:
31
g
|
Fat:
35
g
|
Saturated Fat:
5
g
|
Polyunsaturated Fat:
6
g
|
Monounsaturated Fat:
21
g
|
Sodium:
45
mg
|
Potassium:
2664
mg
|
Fiber:
41
g
|
Sugar:
13
g
|
Vitamin A:
2430
IU
|
Vitamin C:
95
mg
|
Calcium:
177
mg
|
Iron:
9
mg