Hi! I'm Michele from Veggie Num Nums, and for this month's challenge I thought I'd do something a little bit different—I was never good at thinking inside the box.
The challenge is to prepare a Mezze (pronounced "mez-ay", although many people seem to pronounce it as "mezz") Table including, but not limited to, homemade Pita bread and Hummus. If you're not familiar with mezze, it's more of a style of eating than a specific recipe or recipes. Mezze is a bunch of small dishes served all at once—sort of like the Middle Eastern version of Spanish Tapas. It can be served as appetizers before a meal, or as the meal itself.

To download the recipe in .pdf format, click HERE!

I love the idea of mezze because, at least for me, it's fun to eat that way–taking a little bit of this and a little bit of that. It's also a fantastic way to share a meal with family and friends. I tried to pick a challenge that would accommodate everyone—vegans, meat eaters, gluten free cooks; and I think that having a selection of recipes to choose from will give you a chance to let your creativity shine.
The recipe requirements are making pita bread from scratch, and also hummus. If you can't eat wheat you can make the pita with an alternative flour. The trick to mezze is having a bunch of dishes that are easy to pick up and to eat with bread, and that all feature Middle Eastern flavors.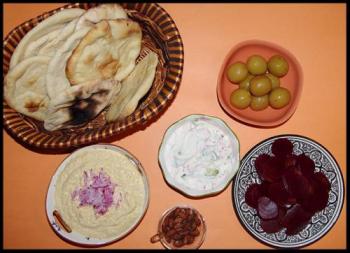 A simple mezze meal could be something like pita bread, hummus, olives, roasted almonds, and some feta cheese. If you want to be more elaborate you can add salads, other dips, cooked beans, roasted meat or fish, a variety of flatbreads, and on and on. The presentation is important as you want your mezze table to be just as appealing to the eye as it is to the stomach. I know that eating this way isn't second nature to most people, but it can be a fun way to share a meal with those close to you.
Here, I'm giving you the recipe for the pita bread, and for the hummus; and then also optional recipes for raita which is a cucumber-yogurt dip, preserved lemons which are a staple in Morocco, and falafels. I'm going to include a link to my blog where there are a bunch of others recipes I've made while practicing for this challenge. You can pick and choose whatever sounds good to you. I have not included any meat or seafood recipes because I am a vegetarian, but simple grilled protein served in small pieces would work well, and below there are links on Middle Eastern Cuisine that have many recipes for all diets. Just remember, you want food that you can scoop up and eat with pita bread.
This challenge would be great for entertaining—a cocktail party, a super bowl party, or just a fun night with friends. You can make everything in advance so you'll have time to socialize with your guests. Mezze also works well for just a couple of people—if you and your Honey want to spend a lazy Sunday on the couch watching the snow fall, how neat would it be to have a Middle Eastern spread to snack on all day.
I do so hope that you find this challenge fun and interesting, and UN-stressful. You are only required to make the pita and hummus—two items that are pretty much ubiquitous on a mezze table. But, you can make as many of the other recipes as you choose to—you can go minimalist or extravagant, it's all up to you.
Some basic flavors found in Middle Eastern cooking include things like olives, lemons, chickpeas, fava beans, feta cheese, yogurt, eggplant, mint, cilantro, cloves, cumin, olive oil, beets, garlic, lentils, paprika, and tahini. If you're feeling adventurous, you can buy special Middle Eastern spice blends and ingredients from the online grocery store I've linked to below.
There is no special equipment necessary, though a food processor would be helpful. You'll just need the basic bowls, baking sheets, measuring cups, etc.
Conversions found at Convertme.com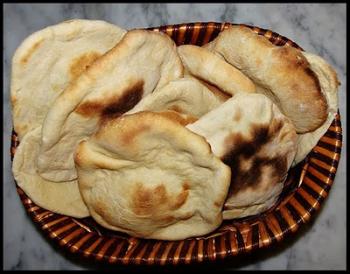 Pita Bread – Recipe adapted from Flatbreads & Flavors by Jeffrey Alford and Naomi Duguid
Prep time: 20 minutes to make, 90 minutes to rise and about 45 minutes to cook
Ingredients
2 teaspoons regular dry yeast (.43 ounces/12.1 grams)
2.5 cups lukewarm water (21 ounces/591 grams)
5-6 cups all-purpose flour (may use a combination of 50% whole wheat and 50% all-purpose, or a combination of alternative flours for gluten free pita) (17.5 -21 ounces/497-596 grams)
1 tablespoon table salt (.50 ounces/15 grams)
2 tablespoons olive oil (.95 ounces/29 ml)
Directions:
In a large bread bowl, sprinkle the yeast over the warm water. Stir to dissolve. Stir in 3 cups flour, a cup at a time, and then stir 100 times, about 1 minute, in the same direction to activate the gluten. Let this sponge rest for at least 10 minutes, or as long as 2 hours.
Sprinkle the salt over the sponge and stir in the olive oil. Mix well. Add more flour, a cup at a time, until the dough is too stiff to stir. Turn it out onto a lightly floured surface and knead for 8 to 10 minutes, until smooth and elastic. Rinse out the bowl, dry, and lightly oil. Return the dough to the bowl and cover with plastic wrap. Let rise until at least doubled in size, approximately 1 1/2 hours.
Place a pizza stone, or two small baking sheets, on the bottom rack of your oven, leaving a 1-inch gap all around between the stone or sheets and the oven walls to allow heat to circulate. Preheat the oven to 450F (230C).
Gently punch down the dough. Divide the dough in half, and then set half aside, covered, while you work with the rest. Divide the other half into 8 equal pieces and flatten each piece with lightly floured hands. Roll out each piece to a circle 8 to 9 inches in diameter and less than 1/4 inch thick. Keep the rolled-out breads covered until ready to bake, but do not stack.
Place 2 breads, or more if your oven is large enough, on the stone or baking sheets, and bake for 2 to 3 minutes, or until each bread has gone into a full balloon. If for some reason your bread doesn't puff up, don't worry it should still taste delicious. Wrap the baked breads together in a large kitchen towel to keep them warm and soft while you bake the remaining rolled-out breads. Then repeat with the rest of the dough.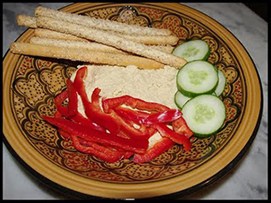 Hummus – Recipe adapted from The New Book of Middle Eastern Food by Claudia Roden
Prep Time: Hummus can be made in about 15 minutes once the beans are cooked. If you're using dried beans you need to soak them overnight and then cook them the next day which takes about 90 minutes.
Ingredients
1.5 cups dried chickpeas, soaked in cold water overnight (or substitute well drained canned chickpeas and omit the cooking) (10 ounces/301 grams)
2-2.5 lemons, juiced (3 ounces/89ml)
2-3 garlic cloves, peeled and crushed
a big pinch of salt
4 tablespoons tahini (sesame paste) OR use peanut butter or any other nut butter—feel free to experiment) (1.5 ounces/45 grams)
additional flavorings (optional) I would use about 1/3 cup or a few ounces to start, and add more to taste
Directions:
Drain and boil the soaked chickpeas in fresh water for about 1 ½ hours, or until tender. Drain, but reserve the cooking liquid.
Puree the beans in a food processor (or you can use a potato masher) adding the cooking water as needed until you have a smooth paste.
Add the rest of the ingredients and mix well. Adjust the seasonings to taste.
Cucumber Raita – Recipe adapted from The Indian Grocery Store Demystified by Linda Bladholm
Prep time: Approximately 15 minutes
Ingredients
1 medium cucumber, peeled and most of the seeds removed
1 teaspoon cumin seeds (.1 ounce/3 grams) OR use a small pinch of dried cumin—to taste
2 cups plain whole milk or Greek yogurt (17 ounces/473ml)
1 garlic clove, peeled and minced
fresh coriander or mint, chopped, a couple pinches or more to taste
cayenne pepper or paprika, just a pinch to use as a garnish (optional)
Directions:
Peel cucumber, de-seed, and dice. Blot off moisture with paper towels.
Toast cumin seeds for a few seconds in a small, heavy frying pan over high heat.
In a bowl, stir yogurt until it is smooth.
Mix it with the cumin, garlic and coriander or mint leaves (I used some grated radish instead).
Stir in the cucumber and sprinkle with cayenne or paprika, and chill before serving.

Falafels – Recipe from Joan Nathan and Epicurious.com
Prep Time: Overnight for dry beans and 1 hour to make Falafels
Ingredients
1 cup dried chickpeas, soaked in cold water overnight OR use well canned drained chickpeas (7 ounces/100 grams)
1/2 large onion (roughly chopped, about 1 cup)
2 tablespoons fresh parsley, chopped OR use a couple pinches of dried parsley (.2 ounces/5 grams)
2 tablespoons fresh cilantro, chopped OR use a couple pinches of dried cilantro (.2 ounces/5 grams)
1 teaspoon table salt (.1 ounce/5 grams)
1 teaspoon dried hot red peppers (cayenne) (.1 ounce/2 grams)
4 whole garlic cloves, peeled
1 teaspoon cumin (.1 ounce/2 grams)
1 teaspoon baking powder (.13 ounces/4 grams)
4 tablespoons all-purpose flour (1 ounce/24 grams) (you may need a bit extra)
tasteless oil for frying (vegetable, canola, peanut, soybean, etc.), you will need enough so that the oil is three inches deep in whatever pan you are using for frying
Directions:
Put the chickpeas in a large bowl and add enough cold water to cover them by at least 2 inches. Let soak overnight, and then drain. Or use canned chickpeas, drained.
Place the drained, uncooked chickpeas and the onions in the bowl of a food processor fitted with a steel blade. Add the parsley, cilantro, salt, hot pepper, garlic, and cumin. Process until blended but not pureed. If you don't have a food processor, then feel free to mash this up as smooth as possible by hand.
Sprinkle in the baking powder and 4 tablespoons of the flour, and pulse. You want to add enough bulgur or flour so that the dough forms a small ball and no longer sticks to your hands. Turn into a bowl and refrigerate, covered, for several hours.
Form the chickpea mixture into balls about the size of walnuts.
Heat 3 inches of oil to 375 degrees (190C) in a deep pot or wok and fry 1 ball to test. If it falls apart, add a little flour. Then fry about 6 balls at once for a few minutes on each side, or until golden brown.
Drain on paper towels.
Note: I sometimes prefer to bake these so I can avoid the deep frying. I bake them on a nonstick pad (silpat or the like) at 325F (160C), just until they're firm, about 20 minutes.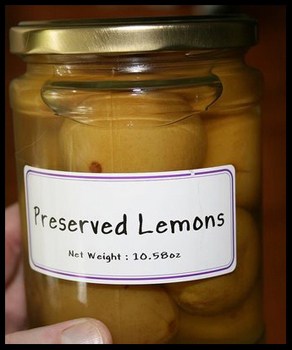 Preserved Lemons – Recipe from Paula Wolfert and Epicurious
Prep Time: 10 minutes and then up to 30 days
Ingredients
5 lemons
¼ cup salt (2 ounces/60 grams)
Optional Safi Mixture:
1 cinnamon stick
3 whole cloves
5 to 6 coriander seeds
3 to 4 black peppercorns
1 bay leaf
freshly squeezed lemon juice to taste, only if needed
Directions:
Special Equipment: 1 pint Mason Jar – Sterilized
If you wish to soften the peel, soak the lemons in lukewarm water for 3 days, changing the water daily.
Quarter the lemons from the top to within 1/2 inch of the bottom, sprinkle salt on the exposed flesh, then reshape the fruit.
Place 1 tablespoon salt on the bottom of the mason jar. Pack in the lemons and push them down, adding more salt, and the optional spices between layers. Press the lemons down to release their juices and to make room for the remaining lemons. (If the juice released from the squashed fruit does not cover them, add freshly squeezed lemon juice — not chemically produced lemon juice and not water.*) Leave some air space before sealing the jar.
Let the lemons ripen in a warm place, shaking the jar each day to distribute the salt and juice. Let ripen for 30 days.
To use, rinse the lemons, as needed, under running water, removing and discarding the pulp, if desired — and there is no need to refrigerate after opening. Preserved lemons will keep up to a year, and the pickling juice can be used two or three times over the course of a year.
Notes from Epicurious:
According to the late Michael Field, the best way to extract the maximum amount of juice from a lemon is to boil it in water for 2 or 3 minutes and allow it to cool before squeezing.
Notes from Paula Wolfert:
Located on Morocco's Atlantic coast, south of Casablanca and north of Essaouira, the city of Safi is known for its seafood specialties.
To most closely approximate the flavor of Moroccan lemons, Wolfert recommends Meyer lemons for this recipe. This lemon/mandarin orange hybrid, in season in January and February, has yellow-orange flesh, a smooth rind, and a sweeter flavor than other lemons.
To sterilize a mason jar for the lemons, place it upside down in a steamer and steam for 10 minutes. Using tongs (wrap the ends in rubber bands for a better grip), remove the hot jar and dry it upside down on a paper towel-lined baking sheet in a warm oven. To sterilize the jar's top, boil it in water for 5 minutes, then remove with tongs. For more information on home canning, click here.
When you're ready to use a lemon, remove it with clean utensils to avoid contaminating the inside of the jar with bacteria. This way, the remaining contents of the jar will not need to be refrigerated.
Additional Links:
The New Book of Middle Eastern Food by Claudia Roden