Hi, my name is Manal Obieda, known as Manal's Bites. I am thrilled to be hosting the February 2015 Daring Cooks' Challenge and I hope you will enjoy the experience of making a delicious with me. I became a member of this great group in 2013 and I'm so happy I joined. Every month, I look forward to new challenges, techniques and indeed new dishes representing many countries and cultures around the world. After all, this is what food is about, bringing people together, right?!
Recipe Source: heritage in general. I am bringing you dishes which I inherited from my family in addition to adaptations while experimenting in my kitchen to mimic dishes I have eaten at restaurants.
Blog-checking lines: For the February daring cooks challenge,Manal from Manal's Bites invited us to celebrate the most important meal of the day style!
Challenge hashtag:
#daring_cooks #middle_eastern_breakfast
Notes:
Breakfast is a very important meal in the Middle East; it is major! In fact, I think all meals are major in this part of the world! Food is always celebrated in every meal so why should breakfast be an exception!
Fridays, the first day of the weekend here in this part of the world is the "Day" where breakfast is celebrated the most. Family members get together around the variety of dishes that are usually scattered around the table for everyone to nibble on; dipping pieces of hot toasted pita bread, sipping hot sage or mint tea while enjoying warm and precious family conversations.
On Friday's breakfast starts late like 9:30 or 10 am (sometimes later for some people); this might be considered a brunch in the West. However during the week, breakfast can be as early as 6:30 am before everyone is off to school or work. Many people might even have breakfast at work with co-workers during their break time or grab it on the go from the nearest falafel restaurant or the Ka'eak man (a delicious sesame coated bread that is filled with za'atar, cream cheese or boiled eggs. )
The variety of food presented at the breakfast table depends on the season, weather and the Middle Eastern country where breakfast is served. Here is a simple breakdown of the important ingredients that are almost available in every Middle Eastern household.
V.O.O. (extra virgin olive oil): This is a very important staple in any Middle Eastern pantry. It has to be Extra Virgin and it is sold in big many-gallons containers not in bottles. October and November is the olive-picking season and people start to buy their stock of it for the upcoming year. It goes on almost everything i.e. Hummus, Foul Mudammas, Labaneh (yogurt cheese) and with Za'atar not to mention frying cheese and eggs.
Za'atar: The fragrant herb is so unique; especially when blended with sesame seeds, sumac (a Middle Eastern sour spice) and other spices. Phenomenal. If you are interested in knowing more about it and how to prepare it at home, visit http://www.manalsbites.com/2014/04/homemade-saturday-zatar-middle-eastern.html This great staple is either eaten by dipping a toasted pita bread in E.V.O.O and then in Za'atar or is used to on top of an open pastry mixed with E.V.O.O (Manaeesh Za'atar)
Olives: They come in all kinds of varieties and usually are pickled in each household during October and November. Olive trees are all over the place in the Middle East, even as trees in the streets. It is quite common in Jordan for example to find people picking olives from trees that are planted on street pavements in preparation for home pickling. They can be small or big, green or black and come in different varieties. Each family has their preference and usually stocks up on this in big pickling jars for the upcoming year.
Cheese: A very important element at Middle Eastern breakfast tables and it comes in many varieties eg. Nabulsi cheese (referred to Nablus in Palestine it is a salty hard white cheese that is usually soaked in water to get rid of some it's saltiness prior eating, fried in E.V.O.O or as a topping to open faced pastry (Cheese Manaeesh); Romi Cheese is a hard yellow cheese that is very popular in Egypt and in a way similar to Parmesan.
Labaneh or Yogurt cheese: it is served with a splash of extra virgin olive oil and some fresh mint leaves on the Syrian, Lebanese, Jordanian and Palestinian breakfast tables along with a dish of local black and green olives.
Eggs: They are served in all their forms, fried, scrambled plain or with onions and boiled potatoes, or in the form of a parsley and onion omelet in what is called "Ejjeh" and on top of an open faced pastry called "Beid Manaeesh".
Tahini: An important ingredient to make, used in many dishes like hummus and foul.
Fresh veggies especially tomatoes, cucumbers, radishes, green onions and mint leaves.
Tea: is the number one drink with breakfast and is usually served with fresh mint leaves or dried sage in addition to plenty of sugar.
Hummus: is a food dip or spread made from cooked, mashed chickpeas blended with tahini, olive oil, lemon juice, salt and garlic. Today, it is popular throughout the Middle East (including Turkey), North Africa (including Morocco), and in Middle Eastern cuisine around the globe. As an appetizer and dip, hummus is scooped with flatbread, such as pita. Garnishes include chopped tomato, cucumber, cilantro (coriander), parsley, caramelized onions, sautéed mushrooms, whole chickpeas, extra virgin olive oil, hard-boiled eggs, paprika, sumac, foul (or ful) (cooked fava beans), olives, pickles and pine nuts.
Pita bread: Yes, this is the one and only item even the poorest of the poor can live without. It is very cheap in bakeries and is served with all meals. Dipping pita in all the aforementioned in addition to other breakfast dishes is the way breakfast food is eaten. It is best fresh but because no one has the time to go buy it fresh, people buy their needs for few days and freeze it. It is usually toasted on an open flame to scorch it and it's simply delicious. If you wish to make your own pita bread see in the Daring Cooks' Feb 2010 Mezze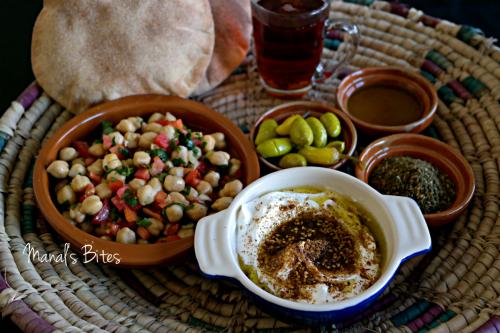 These are the staples, however people tend to stock up on dried or canned chick peas and Foul (Slow cooked dried fava beans). They love making Hummus and foul at home but many also tend to buy them fresh from small local restaurants in addition to the delicious Falafel. Another popular vegetable is "Makdoos"; mini eggplants stuffed with a mixture of ground walnuts, garlic and hot red pepper and pickled in extra virgin olive oil.
Some families also like to serve some fried homemade French fries at the breakfast table. Another lovely food is meat and comes in the form of spicy sausages (Na'anea'), Murtadella and on occasion fried lamb or chicken livers with onions.
Sweets are not very popular as a main breakfast food like pancakes in the west. Sweet items seem to be served in simple and straight forward forms like a variety of jams or honey with butter, Debis (dates or grapes molasses) served with Tahini on the side and the popular Halaweh (made out of sesame seeds).
So as you can see, the ingredients of the Middle Eastern breakfast are very simple yet rich in every meaning of the word; Ingredients that come from the earth with minimum amount of processing, without additives and additional artificial flavors. So if you have never tried a Middle Eastern Breakfast before, I hope that you will do through this challenge and enjoy it as much as we do every single day!!!
Mandatory Items:
You must make a breakfast table with at least 3 items that come under a Middle Eastern breakfast.
Variations allowed:
You can choose any three items from the list or the recipes provided.
Preparation time:
It depends on the dish you decide to make but usually preparing the whole breakfast doesn't take more than half an hour given that you have all ingredients on hand.
Equipment required:
Depends on the recipe
Recipe 1: Flavored Yogurt Cheese (Labaneh)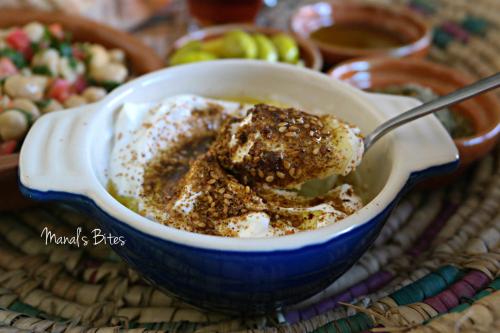 Ingredients
To make Labaneh
1 kg (2¼ lbs) good quality Greek (natural-set) yogurt
1 tablespoon salt (you can use less or more)
¼ cup (60 ml) water
Cheese cloth or a clean white pillow case
Za'atar or mint or chili Flavored Labaneh
1 cup Labaneh
1-2 tablespoons Za'atar or 2 tablespoons fresh mint chopped or 1 teaspoon dried mint or the amount you like of chili paste (hot red Chile pepper that is ground into a paste, sprinkled with salt so the water will come out and preserved in olive oil)
Directions:
To make Labaneh
Mix water with the salt; add to yogurt and mix. Pour the whole amount into a cheese cloth and hang above your sink or a bowl so the water will start coming out of the yogurt. I usually make this in the morning and it should be ready the next day in cool weather. Open your cheese cloth and you should end up with a creamy labaneh that looks almost like cream cheese but on the sour side. Put in a tight container and it should keep well for about a week in the fridge (You can't freeze this). Serve with a splash of Extra Virgin Olive Oil.
If you leave it to strain further you can shape it into balls and preserve it in E.V.O.O.
To make Za'atar or mint or Chile Flavored Labaneh
Mix Za'atar or mint or Chile with Labaneh and serve with E.V.O.O. with a hot loaf of pita bread.
Recipe 2: Hummus Fatteh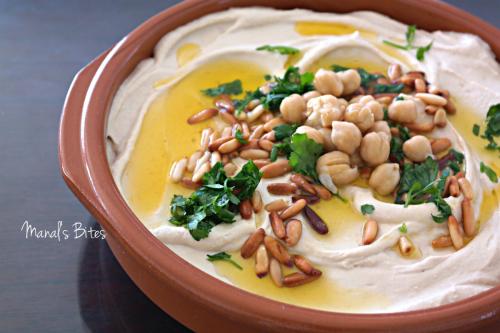 Ingredients
To make Hummus
1 can (14 oz) (400 gm) chick peas, washed and drained. I like to cook my own chick peas from dried ones.
3 tablespoons (45 ml) (2 oz) (55 gm) Tahini paste (can be found in Middle Eastern supermarkets)
Juice of one lemon or more if you like it sour
salt to taste
1 clove of garlic, minced
2 tablespoons (30 ml) Greek (natural-set) Yogurt
Some water or even better some of the liquid that you cooked your chick peas in
For Fettah
1 amount of Hummus
1 big loaf pita bread cut into squares and fried. You can also use toast if you like; just remove the edges and cut into small pieces
1 tablespoon (15 ml) lemon juice
½ teaspoon ground cumin
Some of the liquid that you cooked chick peas in or just plain water
For garnish:
Chick peas, olive oil or ghee (clarified butter), chopped parsley, pine nuts
Directions:
To make Hummus
Mix all ingredients in the food processor except for the water. Add water as needed to get a nice smooth texture. Give it a taste and adjust salt and lemon juice according to your preference. I like mine on the sour side. This is served with pita bread but you can take it to the next level with the fatteh.
To make Fatteh:
Put the fried pita in the bottom of your serving plate. Mix some of the water where you cooked your chick peas or just water with salt and lemon juice. Sprinkle some of this on top of the bread. Don't add too much as you don't want it to be too soggy. Add hummus.
In a small frying pan, heat some olive oil or ghee (clarified butter) and fry the pine nuts. Pour immediately on top of the Fattah (it will make a lovely splash and should smell awesome). Sprinkle some chopped flat leaf parsley, cumin and top with chick peas. You can also sprinkle some chile powder if you like on top.
Recipe 3: Egyptian Fool
(sometimes called Ful Medames) (cooked Fava beans)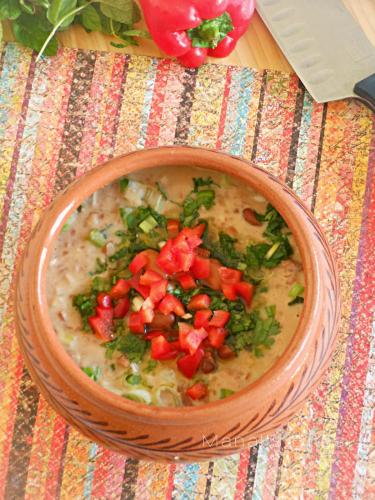 Ingredients
2 cans (2×14 oz) (2×400 gm) Foul (ful) Medames (cooked fava beans)
1 medium tomato, finely chopped
2 green onions, finely chopped
1/3 cup (80 ml) (3½ oz) (100 gm) Tahini sauce
1 lemon, juiced (you can add more if you like)
Salt
2 cloves of garlic, minced
Some cold water for the Tahini sauce
1/2 cup (120 ml) (1 oz) (25 gm) cilantro (coriander), chopped
Extra virgin olive oil to drizzle on top
Directions:
In a small pan, cook foul (including its canning water) on high heat, when it boils, simmer for few minutes letting some of the water evaporate. Mash a bit with a potato masher leaving some whole.
Take off heat; add tomatoes.
In a separate small bowl mix tahini sauce, garlic, salt, lemon juice and enough cold water to get the consistency of liquid cream.
Add tahini mixture to foul, then add 3/4 amount of the cilantro and green onions.
Pour mixture in a serving plate, top with remaining cilantro and green onions (you can add some hot red peppers if you like the hot kick, I used sweet red bell peppers for a contrast in color).
Drizzle with olive oil.
Recipe 4:Chick Pea Salad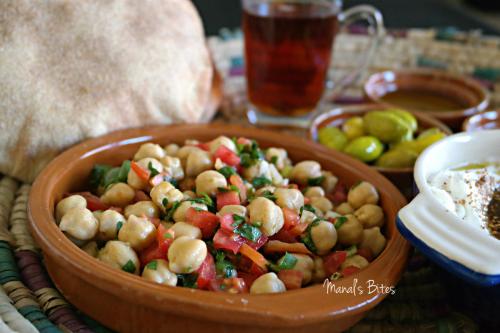 Ingredients
1 can (14 oz) (400 gm) chick peas, drained and washed
1 medium tomato, finely chopped
1 green onion, finely chopped
1 lemon, juiced (you can add more if you like)
Salt
½ teaspoon ground cumin
1/4 cup (60 ml) (½ oz) (15 gm) flat leaf parsley, chopped
Extra virgin olive oil to drizzle on top
Directions:
Mix all ingredients and serve with hot pita bread.
Recipe 5:Mixed Salad with white cheese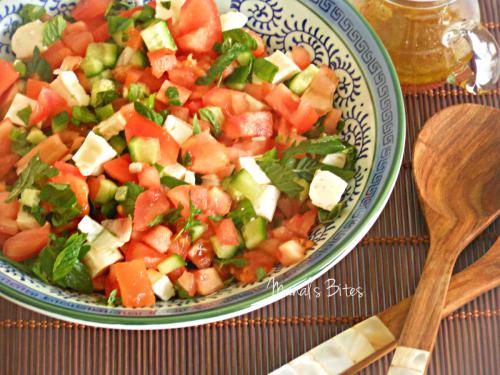 Ingredients
2 large tomatoes, chopped
2 small cucumbers, chopped
¼ cup (60 ml) (½ oz) (15 gm) fresh mint leaves, chopped
½ red onion or 1 green onion, chopped
1 cup (240 ml) (4½ oz) (130 gm) of white cheese like Halloumi or Nabulsi cheese (can be found in Middle Eastern stores); you can also use Feta if you can't find any of the above.
3 tablespoons (45 ml) lemon juice
6 tablespoons (90 ml) E.V.O.O.
Salt
Pepper
Directions:
Mix all up; adjust lemon and salt to your taste. Go easy on the salt as the white cheese tends to be salty unless you soak it in water prior to making this dish
Storage & Freezing Instructions/Tips:
All dishes are best eaten on the day made.
Additional Information:
For more recipes, feel free to visit www.manalsbites.com at this link