With summer fast approaching, you can be certain of one thing: a spike in the number of backyard barbecues and picnic potlucks in your life! And of course, along with this comes a slew of creamy, dreamy salads--whether you favor pasta salad over potato salad, or can't get enough of refreshing green salads when they're drizzled in rich, velvety dressings.
If you've experienced the joy of any of these dishes, you already know the incomparable taste of condiments such as mayonnaise and Miracle Whip. But what exactly sets these two products apart from one another? How do you know when to opt for one over the other, or, does it even really matter?
The fact is, while similar in appearance and use, Miracle Whip and mayonnaise are distinct from one another in several important ways. Let's find out all there is to know about these two popular condiments and hopefully help you make your decision when it comes to reaching for mayo or Miracle Whip next time you head to the grocery store.
What is Miracle Whip?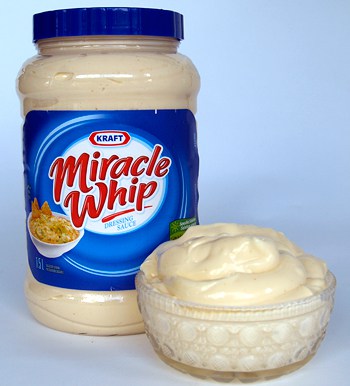 Perhaps the most distinguishing factor about Miracle Whip is that it is a trademarked term which refers to an entirely specific product, manufactured and sold by one brand: Kraft Foods. After making its debut at the 1933 World's Fair (yes, really that long ago!), Miracle Whip quickly gained traction in the condiment aisle. Miracle Whip is not technically mayonnaise, for the simple fact that according to the FDA, any product marketed as such must consist of at least 65% vegetable oil, which Miracle Whip does not meet the criteria for.
Although it was marketed as a cheaper alternative to salad dressing, Miracle Whip also came to be used in many of the same manners as mayonnaise, whether spread on sandwiches or tossed with all types of salads.
The unique flavor and novel texture of this salad-dressing-unlike-salad-dressings of its time stuck! When the low-fat diet craze started hitting in the 1980's, products like Miracle Whip got an added boost by boasting a nutritional label containing far less fat than oil-based condiments like mayonnaise.
Types of Miracle Whip
There are several different versions of Miracle Whip to choose from:
Miracle Whip Original: the classic version of this crave worthy condiment!
Miracle Whip Light: slightly less fat and calories than the original version.
Miracle Whip Olive Oil: instead of being made with soybean oil and high fructose corn syrup, this variety is made with olive oil and real sugar.
Miracle Whip 50% Less Sodium and Cholesterol: the original recipe is adjusted to include only half the amounts of both sodium and cholesterol.
What is Miracle Whip Made of?
Miracle Whip is made up of several ingredients, of which there are a few key players. Water and vinegar are mixed with soybean oil and high fructose corn syrup to form the base, which is also thickened with eggs and cornstarch. Miracle Whip takes its iconic flavor from seasoning ingredients like paprika, garlic, mustard powder, and of course, plenty of salt. The exact amounts of these ingredients are unknown and other important flavorings are simply listed on the ingredients label as "spice", making the exact recipe for Miracle Whip a trade secret!
How do all of these ingredients work together to create such a light and creamy texture though? The whipped texture of the product owes everything (including its name!) to a major advance in food technology. The folks at Kraft had cooked up a special emulsifying machine, which proved to be extremely effective at whipping ingredients in a cohesive, creamy dressing with a perfectly spreadable consistency. They called this machine The Miracle Whip, and decided to name their star product after the device as well.
What Does Miracle Whip Taste Like?
Due to the fact that Miracle Whip contains extra sugar, it has a sweet taste that may surprise anyone who hasn't had it before or is expecting it to taste like mayo. The healthy dose of vinegar in the recipe also gives it a noticeably tangy taste, while the additional spices and seasonings deliver a unique flavor punch to the dressing.
Miracle Whip Nutrition
In comparison to mayonnaise, Miracle Whip contains about half the fat and calories! This is great news for anyone watching their fat intake or counting calories. Miracle whip is able to achieve this reduction in fat and calorie counts by using less oil and instead replacing it with other stabilizing ingredients such as cornstarch.
The downside, however, is that there is more sugar, and unfortunately this sugar is in the form of high fructose corn syrup. There is still some controversy surrounding this widely used sweetener, but the bottom line is that it seems to not be good for you. Evidence suggests that high fructose corn syrup contributes to inflammation, obesity, and liver damage in ways that regular table sugar doesn't.
While the amounts of high fructose corn syrup and other processed ingredients are relatively low in a serving size of Miracle Whip, the bottom line is that this is a processed food, and one that offers minimal nutrient benefit at that.
Where to Get Miracle Whip
If you're an established Miracle Whip lover or are looking to try the sweet and tangy taste for yourself, you'll be thrilled to hear that Miracle Whip is widely available and can be found stocking the shelves of most major grocery stores and supermarket chains. It can be found in the condiment aisle, right alongside all of the mayonnaise options, which is perhaps a major factor in why Miracle Whip is so often mis-categorized as being a type of mayonnaise when in reality, it is an entirely different product.
What is Mayonnaise?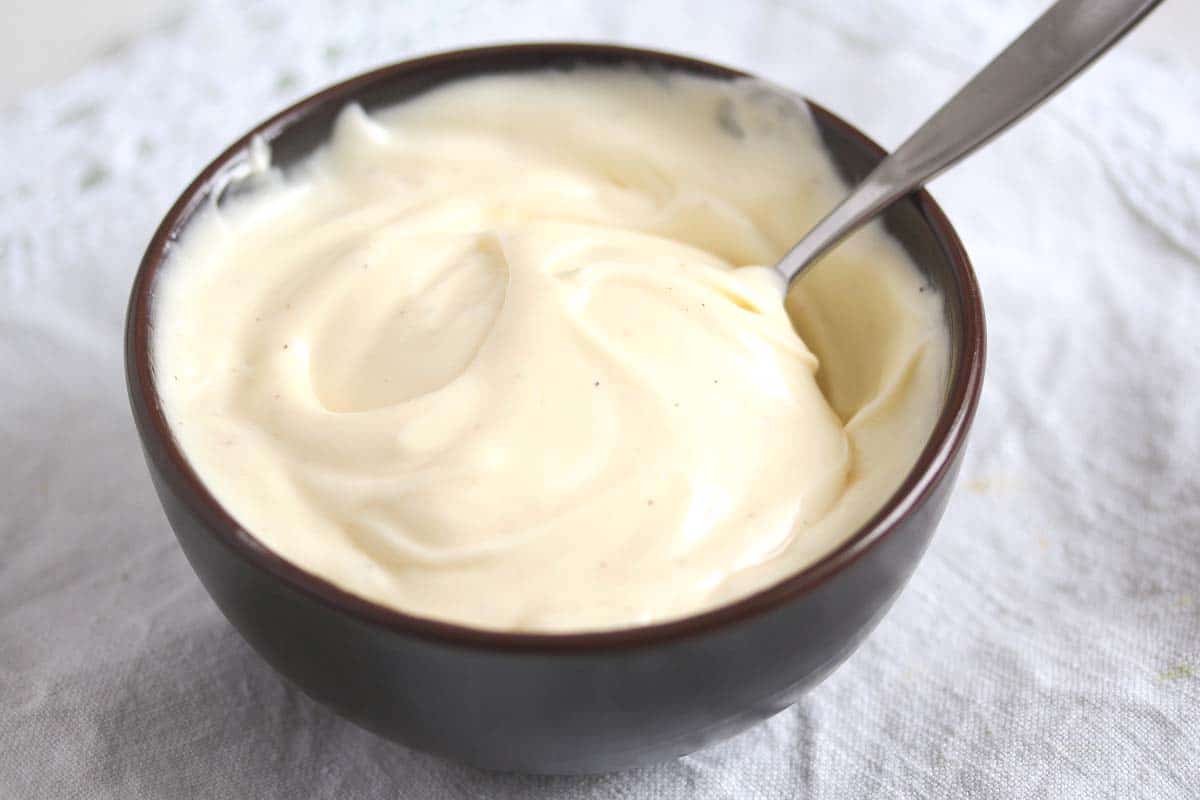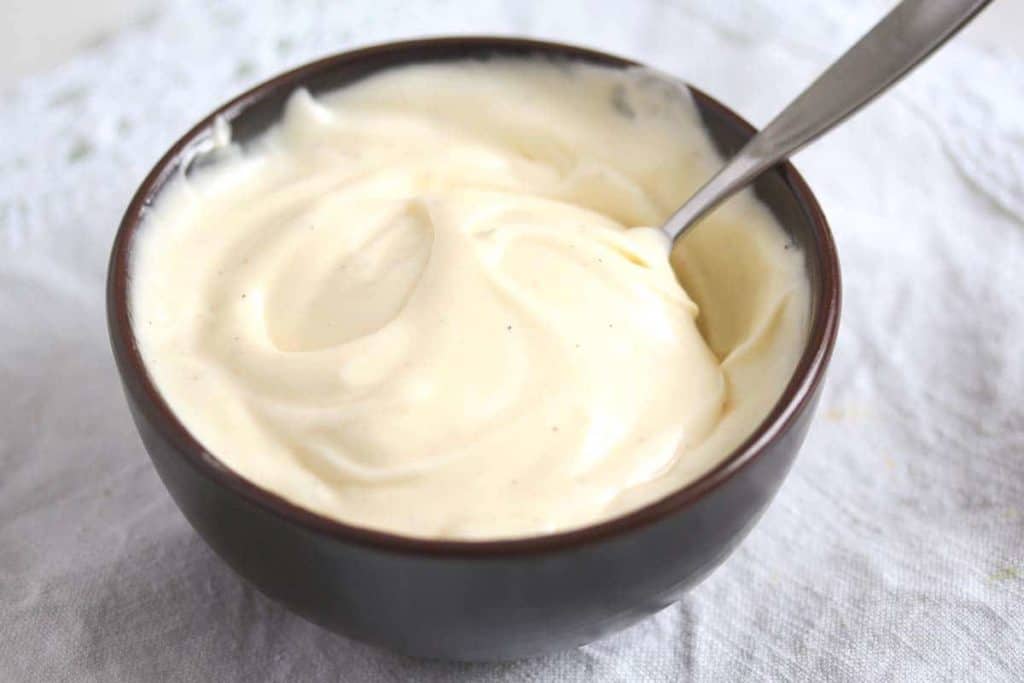 Mayonnaise, in simple terms, is an emulsified sauce, and an important one at that! Some sources even consider it to be a one of the foundational "mother sauces"' of classic French cuisine along with hollandaise and tomaté, to name a few. Unlike Miracle Whip, which is one product offered by one brand, mayonnaise is simply a type of sauce, meaning anyone can make and sell a version of mayonnaise and are free to call it as such!
Many other sauces and condiments are derived from mayo as well, such as rémoulade and tartar sauce. One popular take on mayonnaise that is often seen on restaurant menus is aioli. Sometimes thought of as synonymous with mayo, aioli has some distinguishing characteristics of its own, but certainly takes its base of flavor and texture from mayonnaise.
Types of Mayonnaise
One visit to the condiment aisle will inform you just how many mayonnaise options there are to choose from! There are several big brands that are popular nationwide, as well as small-batch options and homemade versions aplenty!
Hellman's/Best Foods Real Mayonnaise: the name will vary depending on region, but both of these mayos are the same thing!
Kraft Real Mayo: that's right, the same company that produces Miracle Whip also puts out several versions of actual mayonnaise as well, from fat free mayonnaise to a version made with avocado oil.
Heinz Real Mayonnaise: this famous ketchup manufacturer makes plenty of other condiments as well, among them, fluffy white mayonnaise.
Duke's Real Mayonnaise: Duke's is all the rage in the Southern United States, renowned for its extra vinegary bite and ultra-creamy texture as compared to other mayonnaises.
Kewpie Mayonnaise: this Japanese style mayo is thicker than other varieties and gets a flavor boost from the inclusion of umami-rich MSG.
Store Brands & Regional Varieties: many major grocery store chains offer their own versions of this popular condiment, from Trader Joe's to Walmart and Whole Foods.
What is Mayonnaise Made of?
Where Miracle Whip contains a very specific ingredients list, the fact that the term "mayonnaise" refers only to a type of sauce and not any one variety in particular means there is a much larger range of ingredients used. However, there are a handful of ingredients on which most mayonnaises are based.
For starters, most classic mayonnaise recipes are based on the combination of real eggs (either whole eggs, egg yolk, or some combination of the two) and some type of vegetable oil, most commonly soybean, canola, or olive.
The specific characteristics of the yolk of the egg makes mayonnaise emulsified, giving it that rich, creamy, almost gelatinous texture. From there, most mayonnaises are seasoned with acidity in the form of either vinegar or lemon juice (or both!), as well as salt, sugar, and sometimes other unique spices or seasonings.
What Does Mayonnaise Taste Like?
Depending on the type and proportion of ingredients used, mayonnaise can vary widely in taste. Some mayos will taste more "eggy" while others may be lemon or vinegar forward. The flavor will also be heavily dependent on the type of oil that is used to make the emulsion, as olive oil based mayonnaise will taste strong and fruity while soybean oil based mayo may taste much lighter. The common characteristic between all mayonnaise though is that it will taste oily, rich, and often fairly salty.
Its lack of other spices and seasonings makes mayo a most versatile condiment, essentially a black canvas which can be adjusted to take on other flavorings, thereby altering the taste of the mayonnaise. Hot red pepper can be added to create a spicy chipotle mayo while a load of minced fresh herbs can be stirred in for green goddess dressing.
Mayonnaise Nutrition
The major downside to mayonnaise is that it is high in fat, in many cases delivering around 10 grams per tablespoon! Unfortunately, when oil is an essential component, as are egg yolks, this high fat content comes with the territory. The good news is though that some of these fats are in the form of omega-3 and omega-6 fatty acids which are healthy!
Another piece of good news is that there is no high fructose corn syrup in most store-bought mayonnaises (be sure to check the label though!) and furthermore, if you opt to make your own mayonnaise at home, you can control the quality and quantity of ingredients used. Make no mistake though, mayonnaise is not a "health" food, but can certainly be a part of a healthy diet when used mindfully.
Where to Get Mayonnaise
Most major brands of mayonnaise can be found in large grocery store chains and supermarkets. Though, if you have your heart set on a regional favorite such as Duke's, keep in mind you may need to buy from an online store as a lack in popularity in certain areas may cause some stores to opt not to carry all varieties.
Homemade or small-batch mayo is also available in many independent retailers and restaurants. How do you know which is which? It can be tough to tell, but most store bought stuff will be nearly white and very fluffy in texture, while homemade mayo tends to be more pale yellow in coloring and thicker.
Other Mayonnaise and Miracle Whip Questions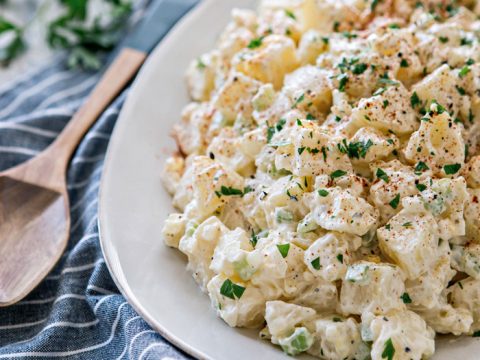 Whether you prefer one or the other, or have room in your heart for both, here are a few more tips, tricks, and FAQs about these two popular condiments!
Ideas for Using Mayo and Miracle Whip
You might find yourself only reaching for that jar of mayo or Miracle Whip when it's time to make a turkey sandwich. But, there are actually a ton of other ways to enjoy either product! Here are a few ideas for beautiful meals and snacks that you don't have to be a professional chef in order to pull off.
Baked Goods
Mayo in baked goods? Yep, you heard that right! You can absolutely use either mayo or miracle whip as an egg and/or oil substitute in most any baking recipes. You'll be surprised at the resultant extra-moist chocolate cake or perfectly chewy cookies.
Deviled Eggs
You may already be used to using mayo in your deviled egg recipes, but this is also a great place to make use of Miracle Whip's sweet, tangy, spicy flavor.
Grilled Cheese
Did you know that mayonnaise and Miracle Whip could help you achieve a crispier grilled cheese? Instead of grilling your sandwich in butter or oil, spread a bit of Miracle Whip or mayonnaise on the outsides of the bread before placing it in the pan. The spreadable consistencies of these two products make them perfect for getting into all the nooks and crannies, and the extra flavor on the exterior of your grilled cheese is a delicious combination as well.
Dipping Sauces
Get creative with your creamy sauce game! Try mixing Miracle Whip or mayonnaise with minced fresh herbs, roasted garlic, chopped capers, or roasted red peppers for a chicken finger or vegetable crudité dipping sauce. For a creamy BBQ style dip, just combine equal parts miracle whip and your favorite barbecue sauce!
Is Miracle Whip Healthier Than Mayonnaise?
This is perhaps the biggest question many folks have when comparing these two products. While it's true that Miracle Whip is lower in fat and calories as compared to mayonnaise, the fact is, Miracle Whip is much more processed than most mayonnaises. It contains several different less-than-ideal ingredients such as high fructose corn syrup and refined soybean oil, both of which are thought to contribute to overall health issues.
However, everything in moderation is the motto! If, according to your taste preferences, nothing quite beats the unique taste of Miracle Whip, go ahead and use it! Just be sure to watch the portion size, and the same goes for any saturated-fat rich mayonnaise as well.
Are There Alternatives to Miracle Whip and Mayonnaise?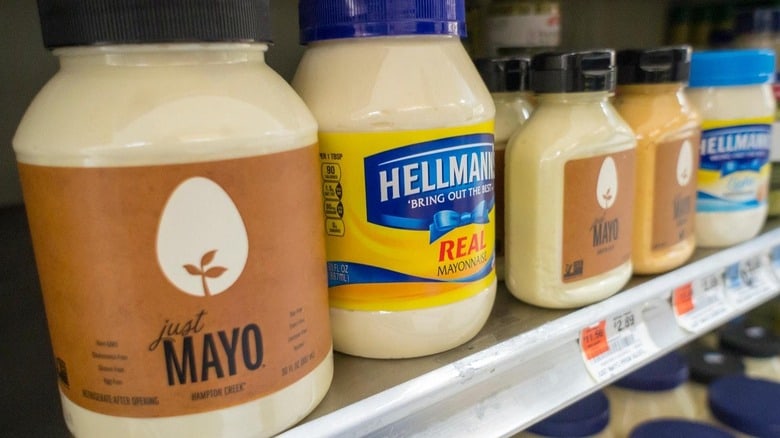 What to do if you have an egg allergy, follow a plant based diet, or simply would prefer to stay away from both mayonnaise and Miracle Whip? Here are several alternative ideas!
Yogurt or Sour Cream: either of these would certainly impart a different flavor than mayo and Miracle Whip, but they offer an egg-free way to deliver a similar creamy consistency to your dishes.
Plant-Based Mayo: these products are a great condiment option if you are a plant-based eater, but bear in mind they are likely to be heavily processed.
Vinaigrette-Based Dressing: this might sound obvious but try swapping out that Miracle Whip or mayo in your favorite potato and chicken salads for vinaigrette based salad dressings! The result will not be creamy, but it will be delicious.
Hummus: offers a reduced fat alternative to all of the above! This spread is super savory and rich-tasting and can hit the same spot as mayo or Miracle Whip when spread on a sandwich like our Vegan BLT Sandwich! Or, thin the hummus with water and whisk, then use it as a salad dressing!
Comparing Mayonnaise and Miracle Whip: Final Thoughts
We hope this deep dive on mayo and Miracle Whip has left you feeling fully prepared for the onset of cookout season! The main takeaway is that although these two products sit alongside one another on grocery store shelves and have the same basic ingredients, they are truly unique products--from taste and processing all the way through nutritional value.
Miracle Whip has a sweet and more heavily seasoned flavor, while mayonnaise is rich, oily, and more varied. Unlike mayonnaise, Miracle Whip contains less fat and oil, but it does contain more refined ingredients. The great news is that despite these differences, these two products can be used in most of the same applications and can certainly be used to substitute one another as needed!
Whether you are a player for team Miracle Whip or you're a huge fan of the mayonnaise club, there is plenty of condiment love to go around!