Bold, flavorful, and just straight-up delicious, this Moroccan sweet potato salad will please everyone. This one of my favorite new salad recipes. The dressing is just unbeatable!
My Favorite Sweet Potato Salad Recipe
There are a ton of salad recipes out there. But, this one is extra special.
Most people do not think of sweet potatoes when they think of salad. However, if you live in a place with cold winters, you need a salad that's more filling than refreshing. This sweet potato salad recipe does both.
What I also love about this sweet potato salad is its ingredients. Not only are there perfectly roasted sweet potatoes, but also slivered almonds and dried cranberries. These enhance the naturally nutty and sweet flavors of the sweet potatoes. The slivered almonds give that nice crunch that you need in a good salad.
Using dried fruit, nuts, and a zesty dressing is what makes this salad Moroccan inspired. Every bite has a rainbow of flavors, from sweet to spicy to zesty.
I cannot tell you how much I adore roasted sweet potatoes. Their natural sweetness is beyond yummy. Roasted sweet potatoes are also super easy to make. All you need are a few staple ingredients, such as olive oil and spices. I love to add in different spices. My favorite is paprika. Or, if you like things spicy, cayenne pepper. Just don't forget to season with salt and pepper.
The best part is sweet potatoes cook surprisingly quickly! When you chop sweet potatoes into cubes, they roast very quickly in the oven. This also makes sweet potatoes easy to prepare ahead of time.
If you often meal prep, this sweet potato salad recipe is a great and healthy pick. Since the salad can be served cold or at room temperature, the sweet potatoes can be easily cooked into large batches. This will take a lot out of your cook time, letting you enjoy this sweet potato salad in no time.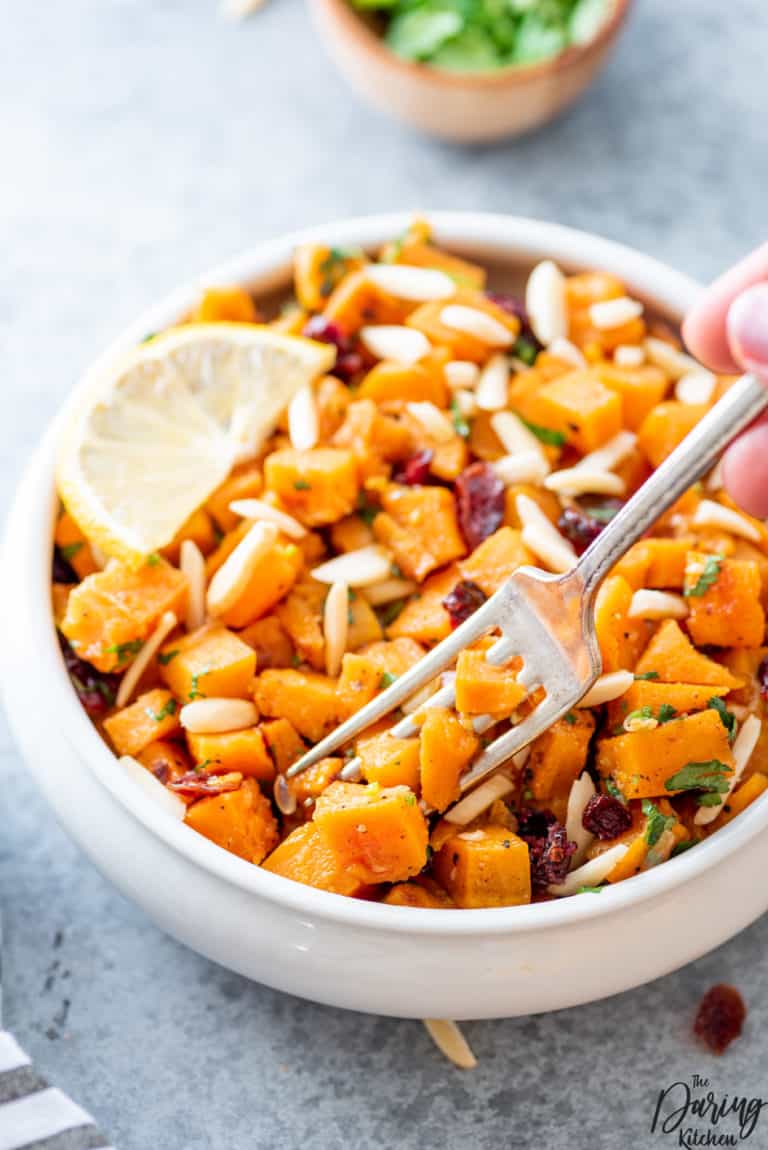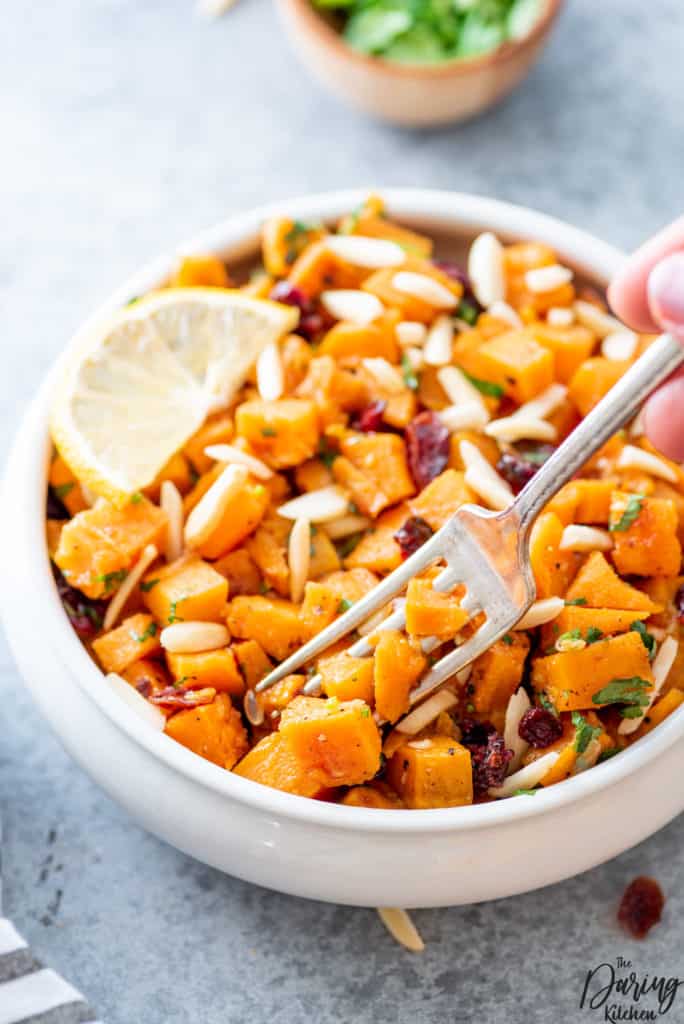 The Best Dressing Ever
What is a salad without dressing? Not a salad to me!
This roasted sweet potato salad has some exceptional flavor going on. That all has to do with its bold and bright dressing.
The dressing for this sweet potato salad contains not 1, but 5 different spices. Morocco is home to so many spices. The various spice blends are amazing. They taste even better when paired with just the right salad.
This dressing features cayenne, cumin, coriander, cinnamon, and ground black pepper. When mixed with olive oil, these spices come alive. It is essential that you use all the spices for this sweet potato salad, as it is what elevates the flavor of the entire dish. If you aren't a fan of spicy dressings, simply omit the cayenne powder.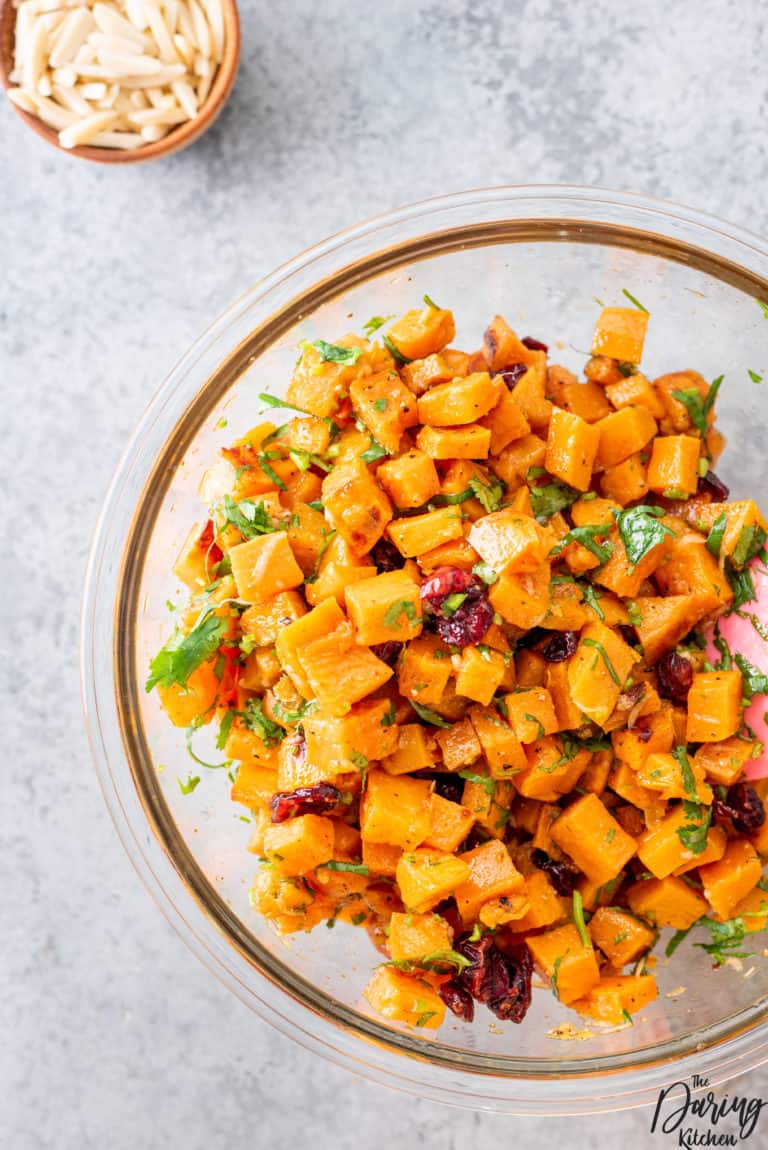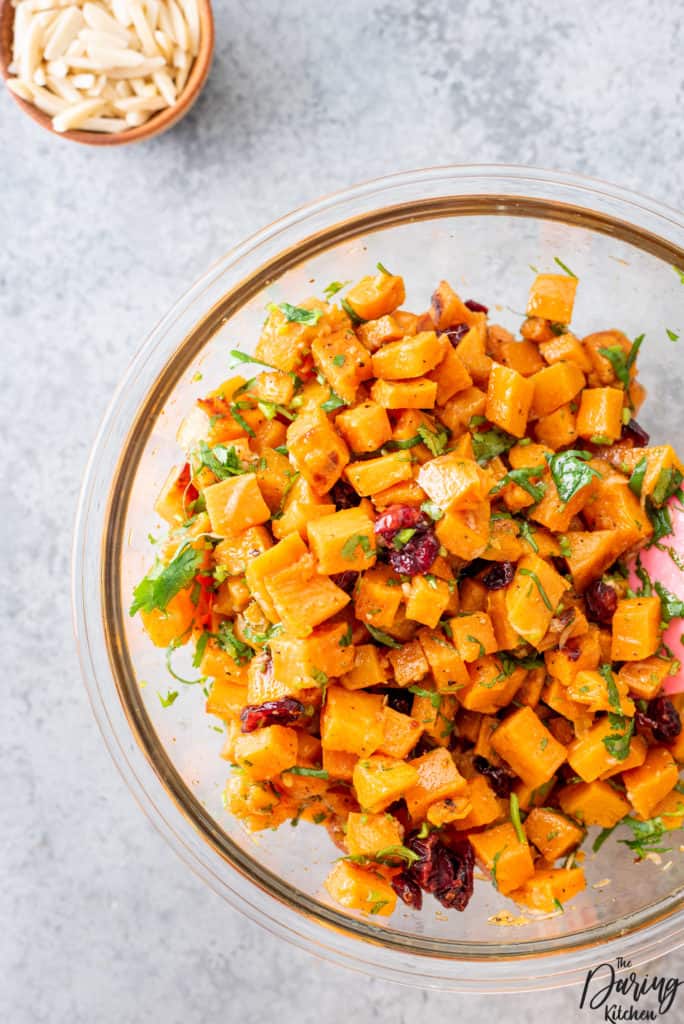 But, if you like a little heat, let the cayenne stay. Altogether, this dressing isn't that spicy. That's because the dressing also contains lemon juice and lemon zest. It's hard to make a Moroccan-inspired dish without adding any citrus!
The bright acidity of this citrus levels out the spice evenly. Combined with a little garlic, the lemon adds a nice juicy bite to the salad.
Just like your sweet potatoes, you can make this dressing ahead of time too! It only takes a few minutes to make. I encourage making the dressing in larger batches so that you can use it for more than this roasted sweet potatoes salad. After you try this dressing once, you will definitely want it on so many more dishes.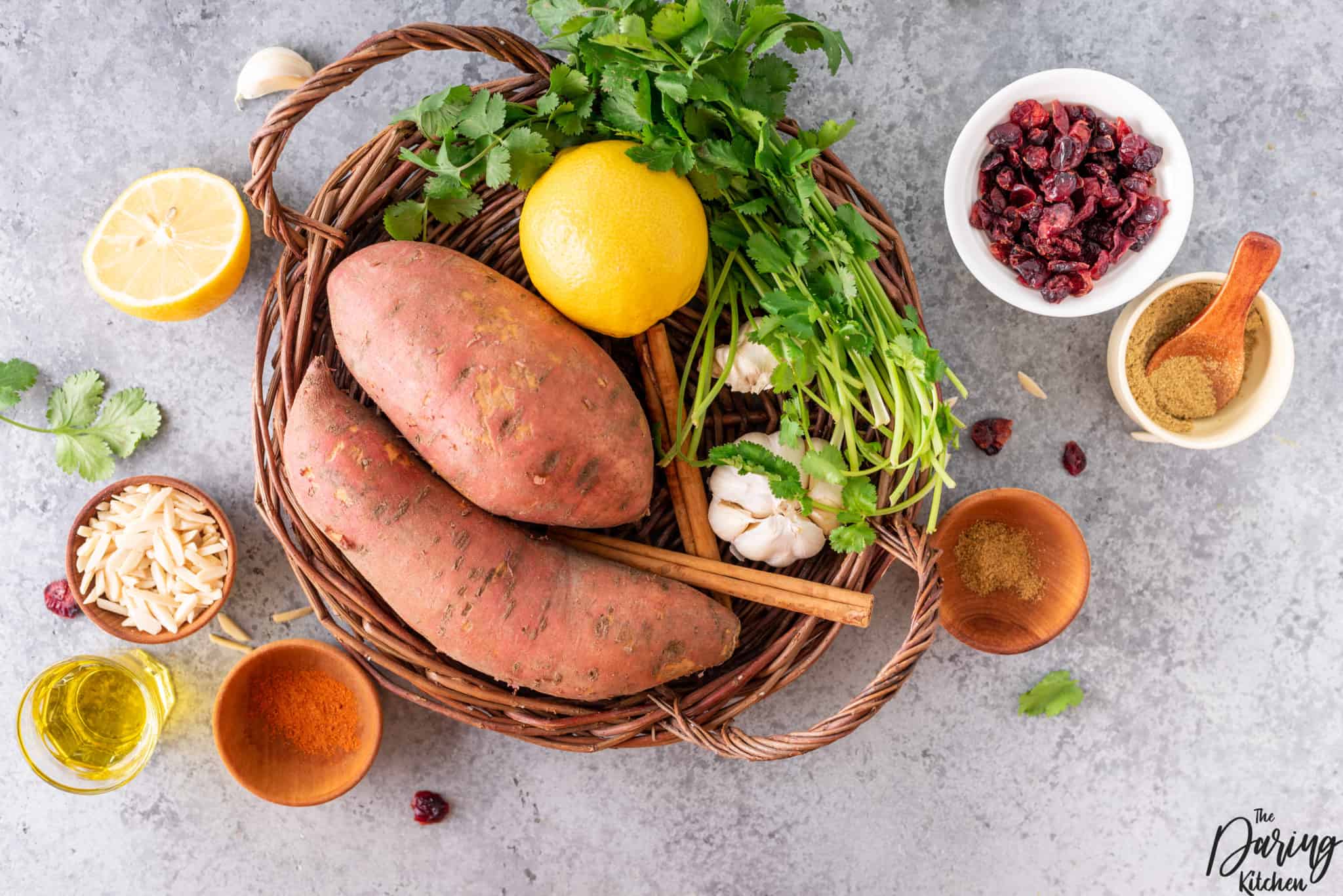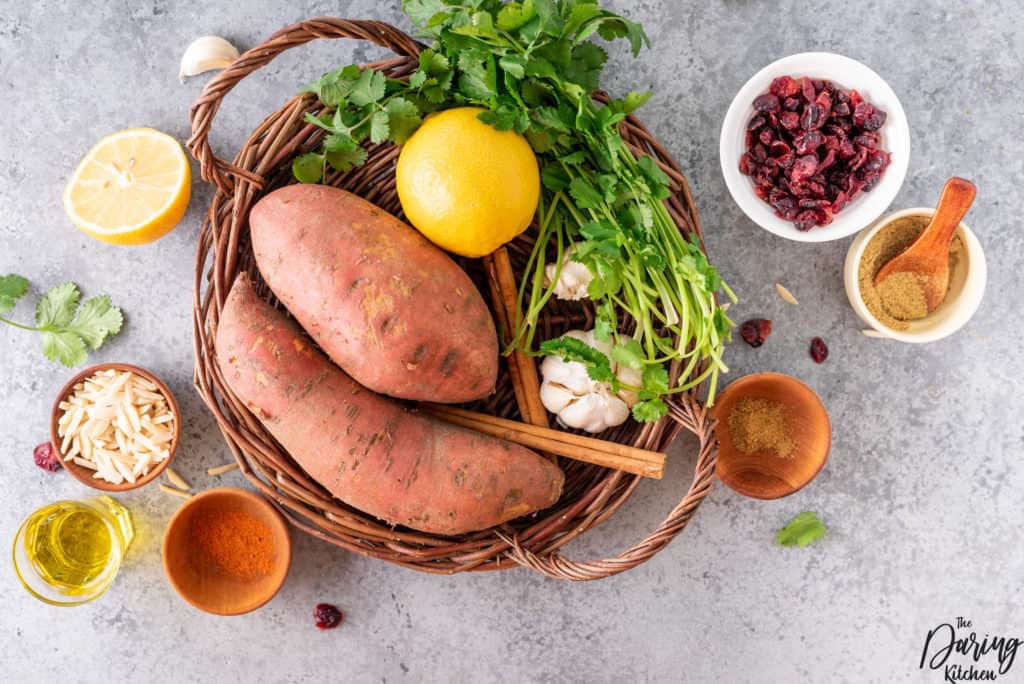 How to Make Moroccan Sweet Potato Salad
Hungry yet? I am! The great news is that this sweet potato salad is very simple to make. All you need is a couple of mixing bowls, a baking sheet, and your oven!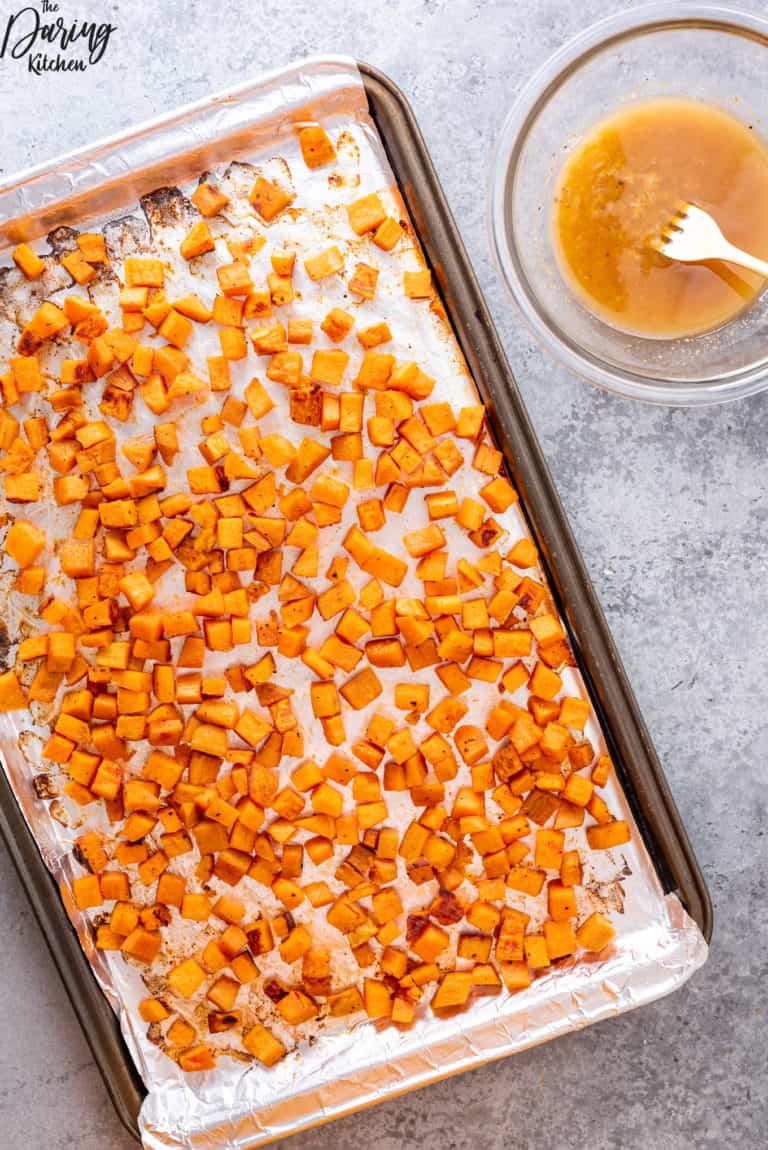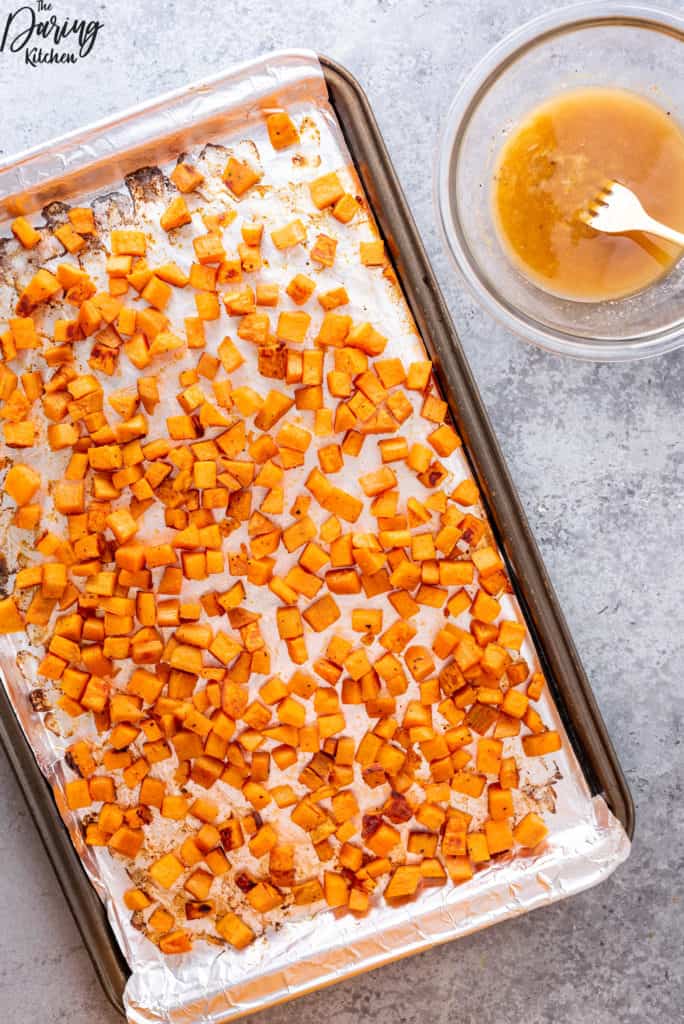 First, preheat oven to 400 degrees. While your oven warms up, peel and chop your sweet potatoes into 1-inch cubes. Add them into a bowl with paprika, black pepper, and salt. Toss everything together so that the spices are evenly distributed. Then, coat everything generously in olive oil.
Line your baking sheet with aluminum foil. Spread out your sweet potatoes evenly. Then, place them in the oven for 20 minutes.
While your sweet potatoes roast, start to prep your dressing. Pour 3 tablespoons of olive oil into a small bowl, along with minced garlic and your lemon juice and zest. Add in a ½ teaspoon of cayenne and cumin, followed by a full teaspoon of black pepper and coriander. Then, add a quarter teaspoon of cinnamon. Whisk everything together until emulsified. Season with salt to taste.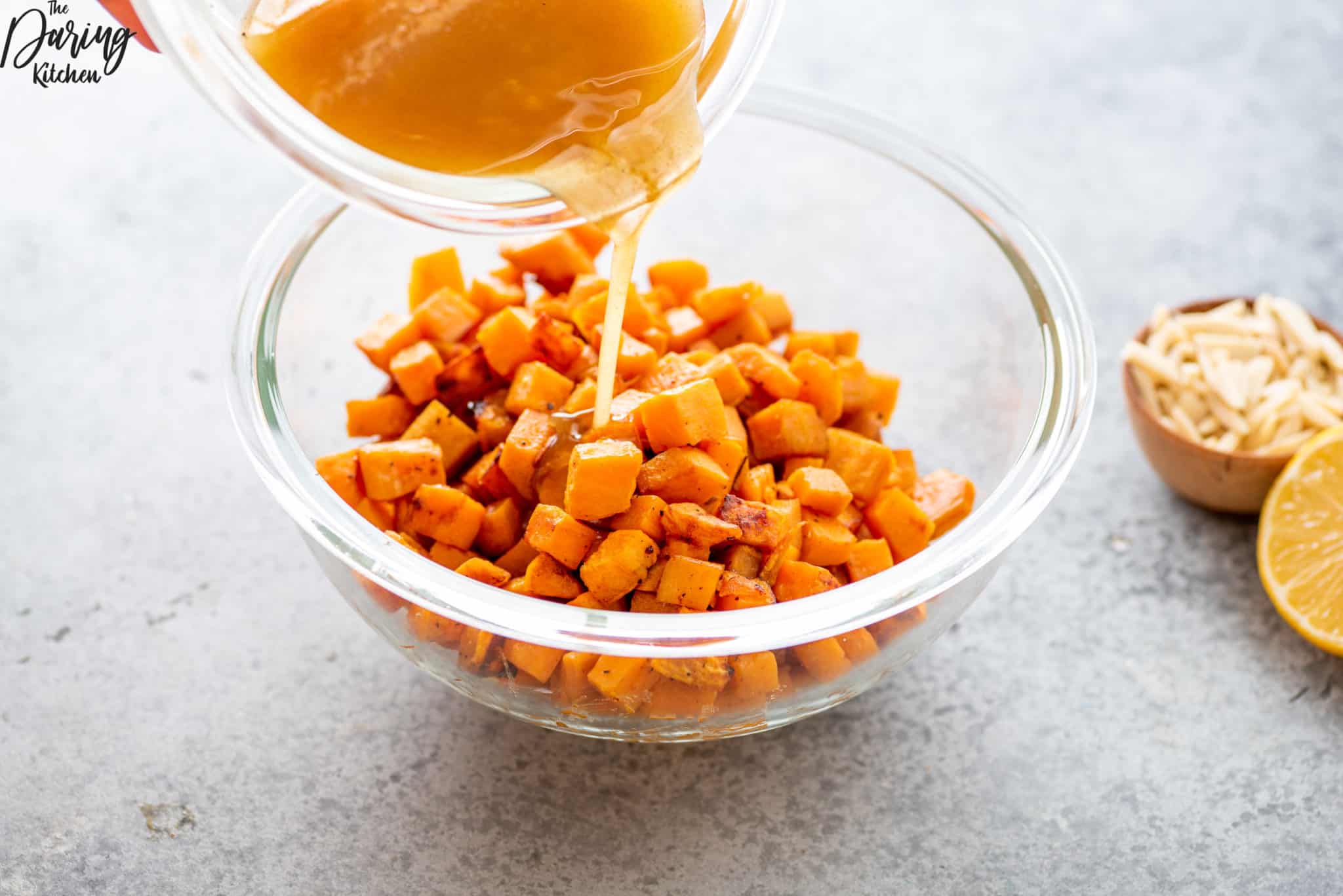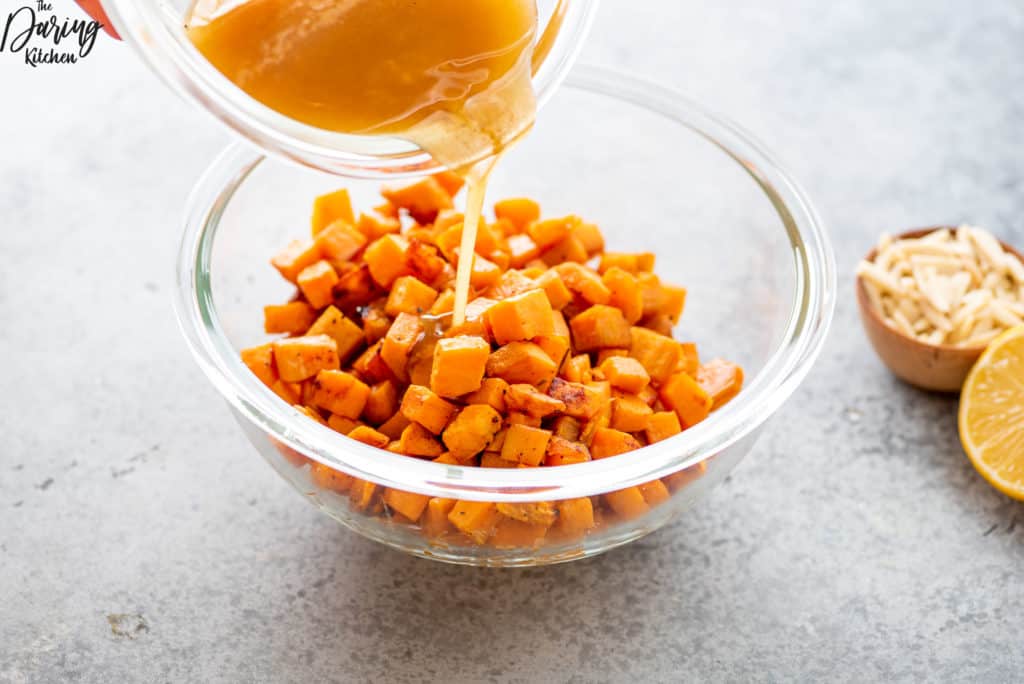 Once your sweet potatoes are ready, grab a mixing bowl or a serving bowl. Transfer the sweet potatoes to the bowl with your homemade dressing. Toss the sweet potatoes with dried cranberries and chopped cilantro.
Garnish the salad with tons of slivered almonds and a sprig of cilantro.
Enjoy! Let me know what you loved about this sweet potato salad recipe in the comments below.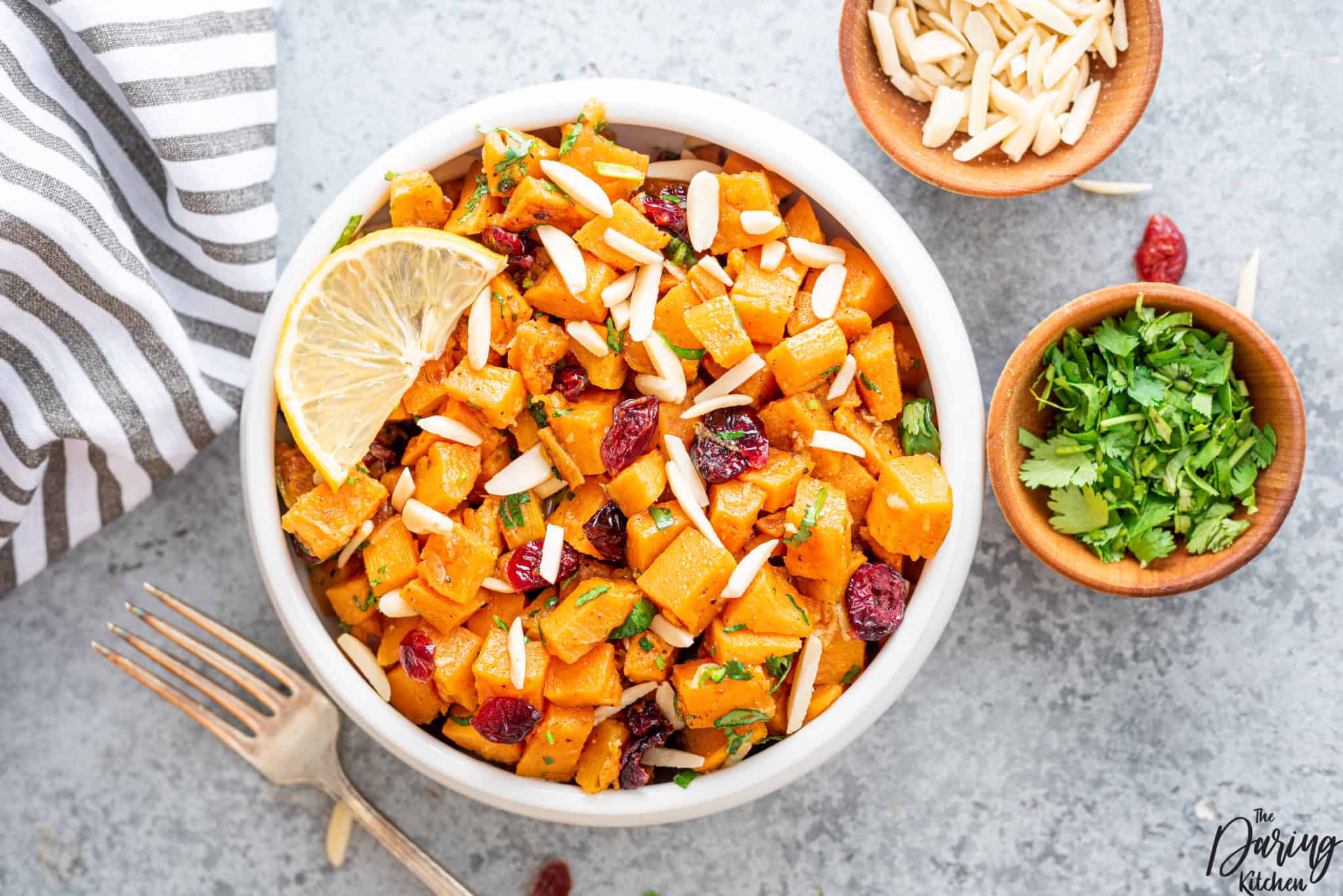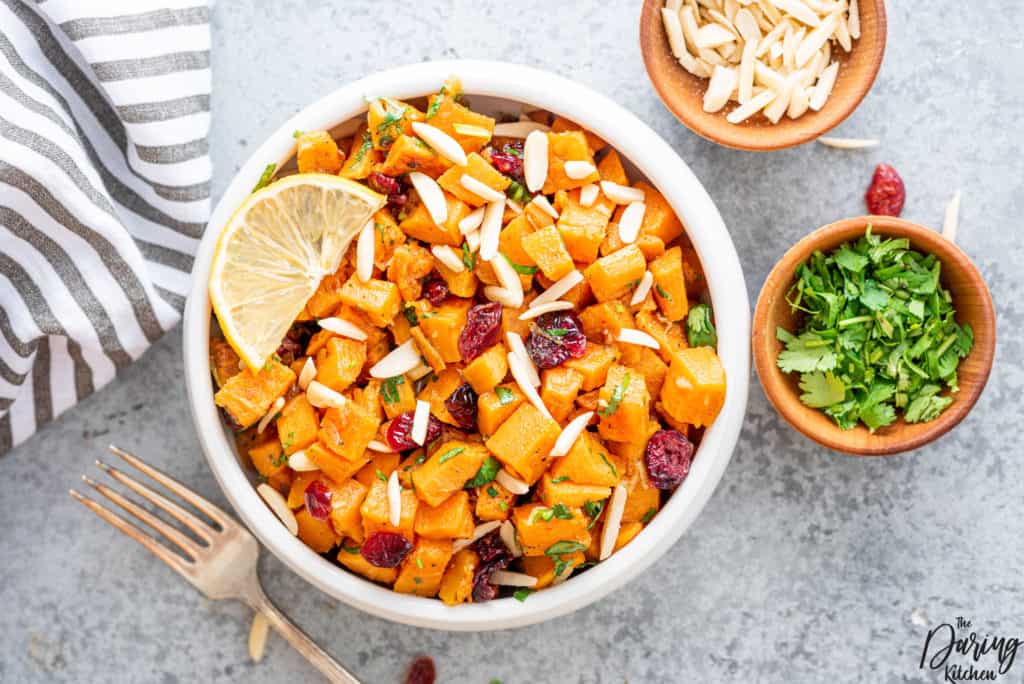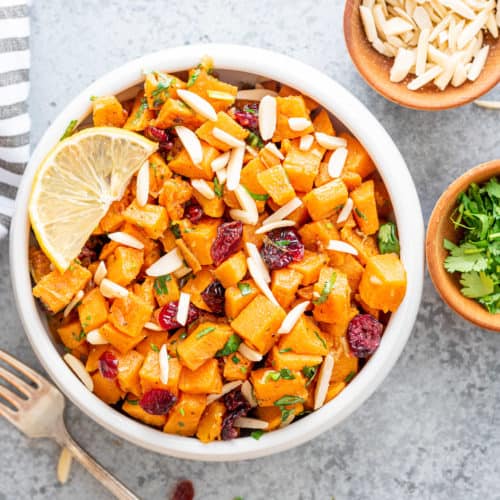 Moroccan Sweet Potato Salad
A staple salad filled with delicious roasted sweet potatoes and the zestiest dressing.
Print
Pin
Rate
Equipment
Mixing bowls

Baking sheet (13X18)
Ingredients
2

lb

sweet potato

peeled and cubed

1

tsp

paprika

1

tsp

ground black pepper

1 ½

tsp

salt

2

tbsp

olive oil

2

tbsp

cilantro

chopped

3

tbsp

dried cranberries

2

tbsp

slivered almonds

garnish
For dressing
3

tbsp

olive oil

2

tbsp

lemon juice

1

tsp

lemon zest

½

tbsp

garlic

minced

½

tsp

cayenne pepper

½

tsp

cumin powder

1

tsp

ground black pepper

¼

tsp

ground cinnamon

1

tsp

coriander powder

1

tsp

salt
Instructions
Preheat the oven to 400 degrees F. Line a baking sheet with aluminum foil and keep it ready.

Peel the skin and chop the sweet potatoes to equal cubes (1-inch size) and transfer them to a bowl. Add paprika, ground black pepper, salt, and olive oil. Coat them well.

Arrange the sweet potatoes on the prepared baking sheet evenly. Bake them for 20 minutes flipping the sweet potatoes halfway through.

Meanwhile, prepare the dressing by combining the "for dressing" ingredients in a small bowl. Whisk until well combined.

Transfer the roasted sweet potatoes to a bowl and pour the dressings over it and coat them well.

Add the chopped cilantro and dried cranberries and toss the salad.

Serve the salad by garnishing with crunchy slivered almonds.
Nutrition
Calories:
851
kcal
|
Carbohydrates:
117
g
|
Protein:
10
g
|
Fat:
41
g
|
Saturated Fat:
5
g
|
Sodium:
3162
mg
|
Potassium:
1731
mg
|
Fiber:
18
g
|
Sugar:
35
g
|
Vitamin A:
65108
IU
|
Vitamin C:
19
mg
|
Calcium:
206
mg
|
Iron:
5
mg