While most of us are familiar with blackberries, all we may know of mulberries is the children's nursery rhyme about a Mulberry Bush, a monkey, and a weasel.
If you've never seen a mulberry before, you'd be surprised how much they look like blackberries. In fact, at first glance, they are almost indistinguishable from one another. While they are different fruits, with very different flavors, if you had to distinguish between a pile of the two, it would be difficult to tell the difference.
While they may appear similar, flavor-wise these two fruits are very different. Blackberries are sweet with a jammy, peppery flavor while mulberries are far more vegetal in flavor. They have some sweetness, and floral quality, but overall they taste "green" and "grassy" even when fully ripe.
One of the biggest differences between mulberry and blackberry plants is where they are grown. Mulberries grow on a tree, while blackberries are grown on a bush or bramble, and outside of their overall flavors, this is the biggest distinguishing characteristic between the two fruits.
Over the course of this article, we will dive into the big differences between a mulberry vs blackberry, looking at where they are similar and where they differ.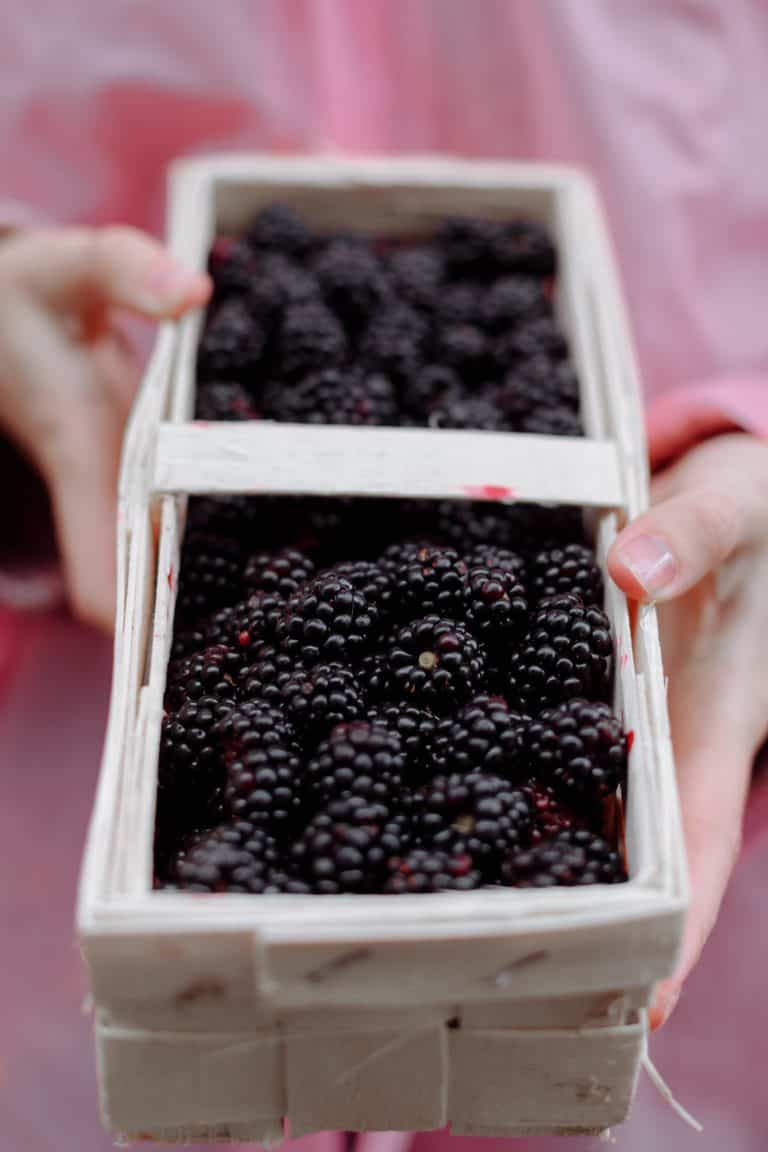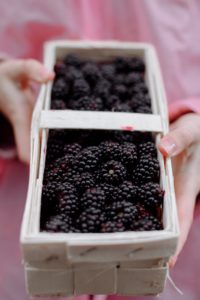 What are blackberries?
Blackberry is a fruit that is actually not a genuine berry by the classical definition but instead is considered an "aggregate fruit". This means that instead of 1 fruit pod, there are many smaller fruit pods connected to a central stem. If you've eaten a blackberry this will make sense as the center of the "berry" is slightly woody and tougher than the fruit pods themselves.
Where do blackberries grow?
Blackberries primarily grow on a blackberry bush, which is one of the major differences between a blackberry and a mulberry. Like other berries such as grapes, blackberry bushes can create a bramble, or be grown on a trellis system. They are a perennial bush and will fruit year after year, though if you are a gardener you'll find that yard intruders like deer or squirrels will often get away with your harvest before you get a chance to try any for yourself.
Blackberry bushes grown in canes, and they will sprout large stalks which grow heavy and fall over. Where the cane touches the ground you'll find a new blackberry plant that will become attached to the ground. This is the method by which the blackberry bramble will expand and you can expedite this process at home by burying offshoots of the blackberry bush midway through the branch to help create new plants more quickly.
Blackberry Season and Availability.
Blackberries ripen in June through August in North American and depending on locality. These delicious fruits begin as green buds and slowly turn red, finally morphing into a deep purple/black color when ripe.
Blackberrys can be found Nationwide and many blackberry farmers offer "pick your own" blackberries during the season.
Blackberry flavor and appearance.
Blackberries look like a small cartoon grenade or a collection of small black orbs surrounding a central point. They are about the size of a soda cap and have a rich sweet flavor, with notes of pepper, and violet. Blackberry fruits range in size but are usually 1 inch long and ½-1 inch in diameter.
Blackberry fruit will change in color throughout its life span beginning as a green under-ripe fruit and progressing to red and finally dark purple almost black in color.
Because they are an aggregate fruit and are composed of a lot of smaller fruit balls surrounding a stem, blackberries are very fragile, prone to bruising or crushing. They have a short shelf life of 3-6 days and are best kept refrigerated.
Blackberry fruits have a sweet and tart flavor that works well with citrus and sugar as well as with other berries like raspberries or strawberries. Blackberry fruits taste great in sweet and savory applications, one of my favorite uses for blackberries is in a savory sauce for pan-roasted duck breast!
Cooking with Blackberries
Blackberry fruits are delicious in a number of different recipes and dishes. They work particularly well in baking and pastry recipes, such as blackberry pie, blackberry cobbler, or blackberry jam.
Blackberry fruit also works well in conjunction with other berries, I like to mix them with raspberries, as they have a similar season and taste wonderful together. During the summer months when blackberries are in season I like to get flats of them from my local farmers' market and make jams and jellies to give away as gifts during the holidays.
Blackberry pancakes are another great way to use delicious blackberries when they are in season. Simply pop a few blackberries into the pancake batter as it's cooking and then flip them to carmelize the berries and cook them through.
What are mulberries?
Mulberry fruits aren't actually berries but instead are multiple or collective fruits shaped much like a blackberry. Mulberries belong to the mora family of deciduous trees originally from Asia. Mulberry trees can be found in many places around the world but tend to be less common in North America, though there are some regional exceptions.
Mulberry fruit range in color from dark purple to red and white when they are underripe. You can use mulberries at all stages of their growth, and white mulberries taste delicious in a vinegary quick pickle as an addition to salads or grain bowls. While blackberries are squatter and usually around an inch in length, mulberries are much longer and often reach 2 inches or more in length. Like blackberries, mulberries have a short shelf life once ripe and will begin to go bad in 3-5 days even when kept refrigerated.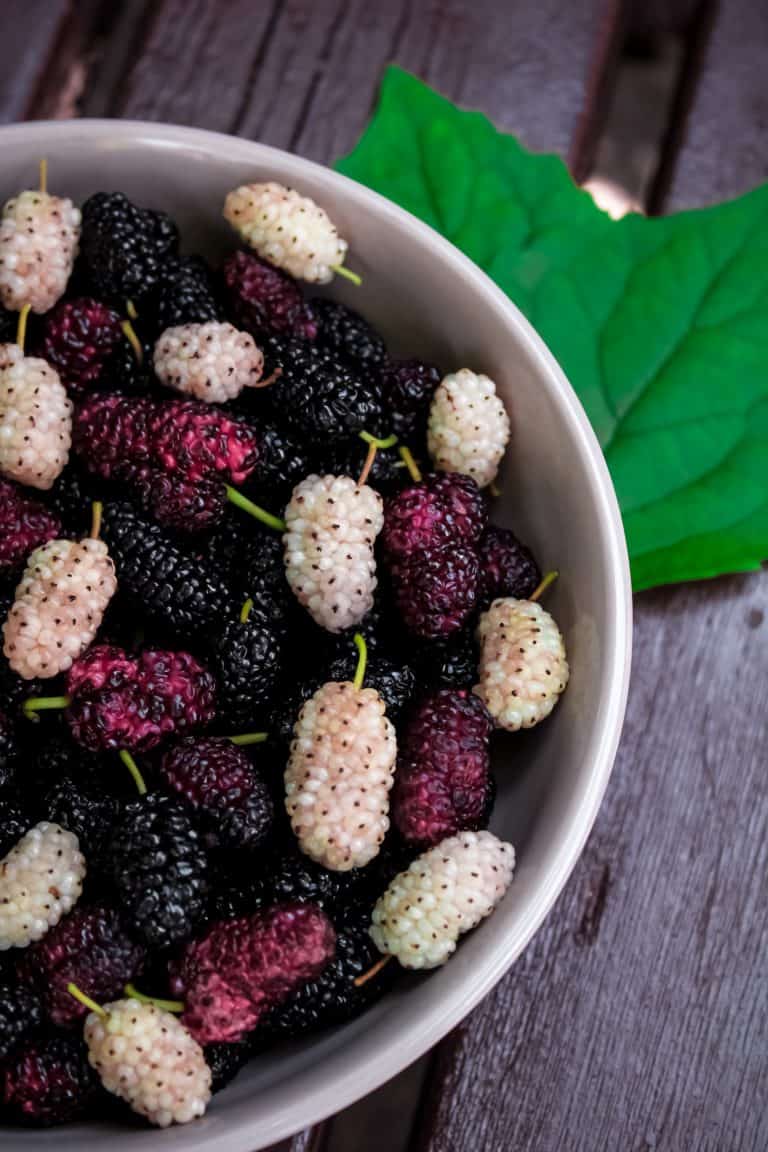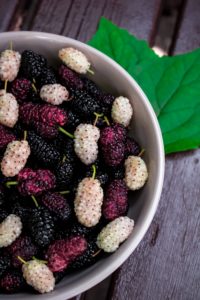 All around the Mulberry Tree?
While the old nursery rhyme claims that mulberries grow on a bush, Mulberries actually grow on a deciduous tree in the mora family. Mulberry trees are fast-growing and often mature in under 10 years. Mulberry fruits are a wonderful treat and are a great benefit of having a mulberry tree nearby, but these trees do produce a lot of pollen and are considered a large contributor to seasonal allergies.
The leaves of white mulberry trees are the sole food source of the silkworm. This is also the reason why you find a high concentration of mulberry trees throughout the mid-Atlantic and specifically the Virginias as the silk trade had a large impact on Colonial Virginia. Beyond uses for their fruit and leaves, mulberry trees can be used to make paper, and the thinnest paper in the world is made in Japan from mulberry stems.
What does mulberry fruit taste like?
While mulberry fruits look similar to blackberries they are very different in flavor. Though mulberries can be considered to be sweet, their flavor is much grassier, and more vegetable-like than blackberries are. They can be used in jams or baked goods, but they need much more sugar to become palatable than blackberries might, and they have a woodier central stem than blackberries that don't break down as well. I like to mix mulberry fruits with other berries and I actually love to use them with blackberry fruit for a double punch of berry flavor.
Mulberry fruit can be used in teas for its anti-oxidant properties and their pigments can be used as a food coloring or a dye for clothing. Traditionally mulberries trees were prised for their leaves especially in their native Asian countries.
Health Benefits of Mulberry Fruits
While mulberries might not be as tasty as blackberries there is a number of associated health benefits with their consumption that make them a great addition to any healthy diet. From possibly lowering cholesterol, helping to avoid fatty liver disease, and improve blood sugar control. Finally, mulberries are antioxidants that help reduce oxidative stress and possibly prevent certain types of cancer.
Mulberries vs Blackberries Final Thoughts.
While mulberries and blackberries look very similar they are definitely completely different fruits with different flavor profiles and culinary uses. Here are some similarities and differences between the two.
Similarities between Blackberries vs Mulberries:
Both are edible fruits that are small in size and dark purple in color when ripe
Both fruits are high in antioxidants and have a number of health benefits associated with their consumption.
Neither mulberry fruits nor blackberry fruits are technically considered berries and are instead collective or aggregate fruits.
Both mulberries and blackberries grow wild but they are also cultivated domestically as well.
Differences between Blackberry vs Mulberry:
Blackberry is a perennial plant and grows as a bush.
Mulberries grow on a deciduous tree that has many different uses.
Blackberries have a sweet and tart flavor with a high amount of sugar in the fruit.
Mulberries are less sweet and taste more vegetable-like than blackberries.
The mulberry tree can be used for a number of things besides fruit production, while a blackberry bush's primary function is producing delicious berries.