This is Steph, from Stephfood, based out of Toronto, Canada. I like to cook, and started blogging as a way to motivate myself into cooking new things.
This challenge is all about getting your hands dirty, by making a style of pasta or noodle without the use of motorized tools. So many cultures make flour as a method of preserving wheat and rice harvest, and then use the flour to make staple food items such as bread and noodles. In this challenge, I have offered up two examples of hand-made noodles from different cultures, with very simple sauces to accompany them.
As a bonus, I want to challenge you to find examples from your cultural background!
Download the printable .pdf file HERE
Recipe Source:
Spätzle and Butter and Breadcrumb Sauce recipes are family recipes that my dad shared with me

Fresh Egg Pasta is from the book The Complete Book of Pasta and Noodles by the Editors of Cook's Illustrated (Boston Common Press, 2000)

Aglio, Olio, Peperoncino e Basilico sauce has no real source –  just a culmination of many good pasta meals featuring these ingredients.
Blog-checking lines: Steph from Stephfood was our Daring Cooks' July hostess.  Steph challenged us to make homemade noodles without the help of a motorized pasta machine.  She provided us with recipes for Spätzle and Fresh Egg Pasta as well as a few delicious sauces to pair our noodles with!
Posting Date: July 14, 2011
Download the printable .pdf file HERE
Notes:  
Different flours may be substituted in either recipe, but it may change the texture and consistency and you may need to tweak the recipe.
Heavier flours, such as whole wheat, can be tougher to work with, but add great character to the dish!
Mandatory Items: Prepare some pasta by hand, without the use of motorized tools, and prepare the appropriate sauce/seasoning to go with it. The concept of "noodle" or "pasta" is being applied very loosely here, as some traditional recipes may seem closer to a dumpling than what you consider a noodle. Use your own judgment and creativity here.
Variations allowed:  Many variations are allowed here – no strict recipe is required. It goes without saying that people with dietary requirements may substitute the "traditional" ingredients in favor of ingredients that are appropriate for them. Similarly, substitutions may be made where suggested ingredients are not readily available, or are cost prohibitive.
Preparation time:
Spätzle – this is a very quick and easy recipe, about 30 minutes total
preparation of dough –  5 – 10 minutes
dropping into boiling water – 5 – 10 minutes
cooking time – about 10 – 15 minutes (for the denser style – thinner variations will take less time to cook)
sauce preparation – about 5 minutes, and can be done while the Spätzle cooks
Egg Fettuccine – this takes about 2.5 – 3 hours total, in the following stages:
initial dough creation – about 10 minutes
dough resting – minimum 15 minutes to a maximum of 2 hours (I let it rest for 30 minutes and prepared the sauce during this time)
rolling and cutting of noodles – about 1.5 to 2 hours
boiling the noodle – about 5 minutes
Equipment required:
– 1 pair of clean hands, ready to work!
– 1 sheet of plastic wrap  (for covering Egg Fettuccine dough)
– Large mixing bowl
– A clean, dry surface to lay or hang the cut Fettuccine during preparation
– A fine metal sifter (for sifting flour)
– Measuring cups
– Mixing spoon, preferably wooden
– Large pot (for cooking pasta)
– Two tablespoons (for shaping and dropping Spätzle)
– Manual pasta rollers (for rolling and cutting Egg Fettuccine) OR a rolling pin and a very sharp knife
German Spätzle
Ingredients:
2 large eggs
½ cup (120 ml) milk (any style of milk you what, but I believe buttermilk may be traditional. I've always used 1 or 2%.)
1½ cups (360 ml) (210 gm) (7½ oz) all-purpose (plain) flour (approximately – have more on hand, in case)
up to 1 tablespoon (15 ml) of herbs and spices (optional – I added some cayenne and herbes de provence)
1 tablespoon (15 ml) (3 gm) fresh parsley, chopped (optional – I added this for color mostly)
Directions:
In a large bowl, whisk together eggs, milk and any herbs and spices that you want to incorporate into the spätzle.
Incorporate the flour in small batches, by sifting in a small amount at a time and mixing until the flour is completely integrated. Keep adding flour until the dough becomes elastic, smooth and very hard to stir.
Boil a large pot of water. Dip a table spoon into the boiling water to wet it. To form the spätzle, fill the tablespoon about half way with dough, and release into the boiling water.
Boil for 15 to 20 minutes.
Drain the water from the spätzle. Because it's full of fun craters where water can hide, you will need to drain it especially well. Toss with the chopped parsley.
Plate, and dab a bit of the sauce on each spätzle. Don't add too much – it's really more of a light dressing than a sauce.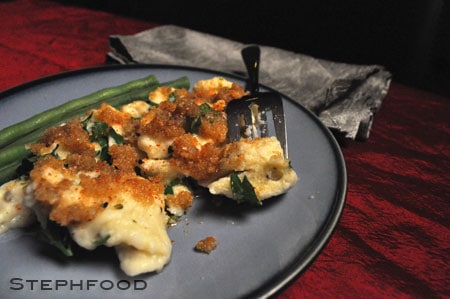 Butter and Breadcrumb Sauce (for Spätzle):
Ingredients:
½ cup (120 ml) (30 gm) (1 oz) fresh breadcrumbs OR ½ cup (120 gm) (60 gm) (2 oz) dry breadcrumbs (either variety can be used)
salt and pepper, to taste
Directions:
Melt the butter… this can be done in the microwave, or on the stove.
Mix in the breadcrumbs. If needed, gently heat further (especially if you store breadcrumbs in the fridge or freezer).
Season to your taste
Handmade Egg Fettuccine:
4 – 6 servings
The following photos show the use of pasta rollers, however, the recipe will include steps for people using a rolling pin and knife instead of rollers. For a visual reference, please see this video of a pasta making demonstration with a rolling pin. His recipe is slightly different, but you can see the shape and thickness the dough should be, and how to cut the noodles. http://www.5min.com/Video/Hand-Made-Pasta-Recipe-179300529
Ingredients:
2 cups (480 ml) (280 gm) (10 oz) all-purpose (plain) flour
3 large eggs, beaten
water, as needed
Directions:
Sift the flour into a large mixing bowl.
Push the flour out of the very center of the bowl, to make a 'well'. Pour the beaten egg into the 'well'.
Slowly incorporate the flour into the egg by mixing a small amount of flour into the "well" at a time and mixing until incorporated. Start by mixing in flour around the perimeter of the egg, and gradually widening the mixing to include more and more flour. Mix until all of the egg is mixed into the flour.
At this stage, use your hands to try to form a rough ball. If the dough is too dry, add a few drops of water and incorporate. Be careful to not add too much liquid – it's better to slowly add water as needed, as opposed to trying to add more flour to a sticky dough. My trick is to wet my fingers, instead of pouring water directly into the dough. This ensures a minimal amount of water is added, and is more evenly distributed.
Knead the dough for a few minutes, until it is smooth.
Roll the dough into a ball, cover with plastic wrap, and set aside to rest. It should be allowed to rest for at least 15 minutes, at most 2 hours. Take this time to set up your pasta roller, and/or to prepare the sauce.
Divide dough into 6 equal pieces. Take one piece to start, and put the remaining back into the plastic wrap so that they don't dry out.

Form the piece of dough into a ball, and then flatten using the palm of your hand.
If using pasta rollers: Run this through the pasta roller at its widest setting
If using a rolling pin: Use a rolling pin to create a thin elongated oval.
Place the dough horizontally on your work surface, and fold the long ends into the center, so that they meet. Press down on the edges to seal them. At this stage, you should have a rectangular shape.
If using pasta rollers: Run the dough through the pasta roller, open-side first, again at the widest setting
If using a rolling pin: Roll into a long, thin rectangle. Carefully flip the thin dough over, and dust with flour on both sides.  Skip to step #15.
Repeat steps 9 and 10
Now run the dough through the roller two more times, again on the widest setting, without folding first. This will help to make the dough very smooth and elastic, for stretching.
Now stretch the dough by running through the rollers, each time switching to a narrower setting. After the final setting, you should be able to see the outline of your hand through the dough.
If using pasta rollers: Run the stretched dough through the fettuccine-sized cutters. Gently lay or hang your freshly cut pasta, and cover with a clean cloth so that it doesn't dry out while you roll and cut the rest of your dough.OR, If using a rolling pin: Carefully roll the dough up (like rolling up a yoga mat). Choose how wide your noodle will be, and using a very sharp knife, cut through the rolled up dough. Unroll the noodles as you go, to prevent sticking.

Repeat steps 8-15 for the remaining dough.
Bring a large pot of water to a boil, gently drop in the freshly cut pasta, and cook for about 5 minutes. Drain and toss with sauce and enjoy immediately!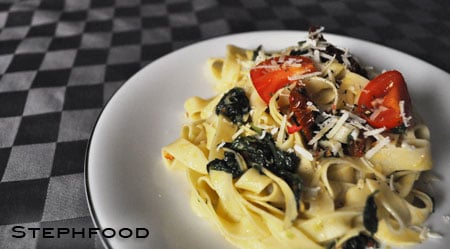 Aglio, Olio, Peperoncino e Basilico:
This recipe is sort of a cross between alio e olio (garlic and olive oil) and pesto. This doesn't have the fine processing of basil that pesto does, allowing the oil to do most of the work of coating the pasta.
Should coat about 4 servings of pasta. Very easy to double, if needed.
Ingredients:
1 clove of garlic
¼ teaspoon (1¼ ml) (¾ gm) coarse sea salt, plus more to taste
1 small bunch of basil
¼ teaspoon (1¼ ml) (½ gm) chili flakes
¼ cup (60 ml) extra virgin olive oil
1 cup (240 ml) (150 gm) (5⅓ oz) quartered cherry tomatoes
freshly ground black pepper, to taste
freshly grated Parmigiano-Reggiano

Directions:
Using a mortar and pestle, mash the garlic with ¼ teaspoon of sea salt into a fine paste.
Add a few basil leaves to the mortar and pestle at a time, and mash until softened (but not pureed). Do this until all of the basil is added.
Add the chili flakes.
If your mortar is not large enough, transfer the mixture to a bowl. Slowly mix in the olive oil. Add the salt to taste.
Set the mixture aside for at least a half and hour to allow the flavors to mingle.
When ready, gently toss with warm/hot pasta, adding more olive oil if needed.
Add in the cherry tomatoes, and mix well.
Add freshly ground pepper, to taste.
Serve topped with Parmigiano-Reggiano, and a few more chili flakes.
Freezing/Storage Instructions/Tips:
The fresh fettuccine can be frozen before cooking. You may wish to lightly coat the pasta with a little bit of flour to prevent sticking. Gently tuck the pasta into a freezer safe bag and freeze flat. After cooking, the pasta may be refrigerated for up to two days.
The spätzle can be refrigerated after cooking, and will also keep for a couple of days in a properly sealed container.
Additional Information: