Can't decide whether a Nespresso vs. Keurig is right for you?
Don't worry - you've come to the right place. Both kinds of pods offer exceptional coffee, and both have come quite a long way in recent years. When you're looking for a convenient brew that also tastes fantastic, both of these options should do the trick nicely.
But how do you choose? In this article, we'll cover all of the main differences between Nespresso vs Keurig that you need to know about.
What is a Nespresso?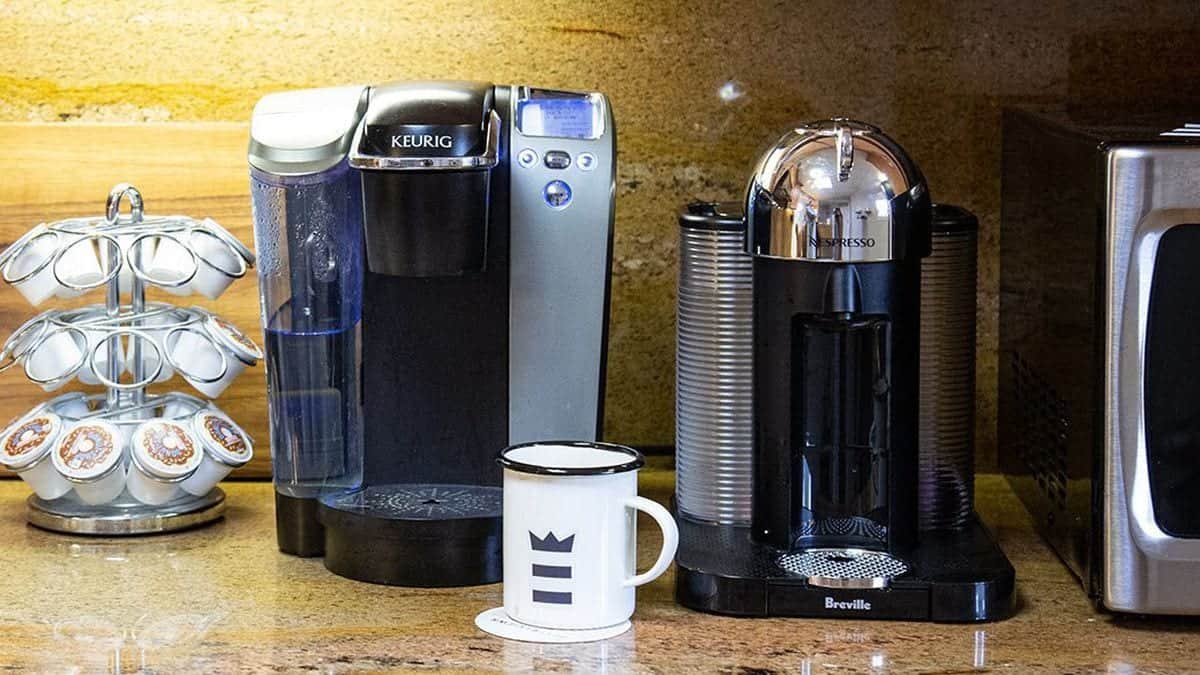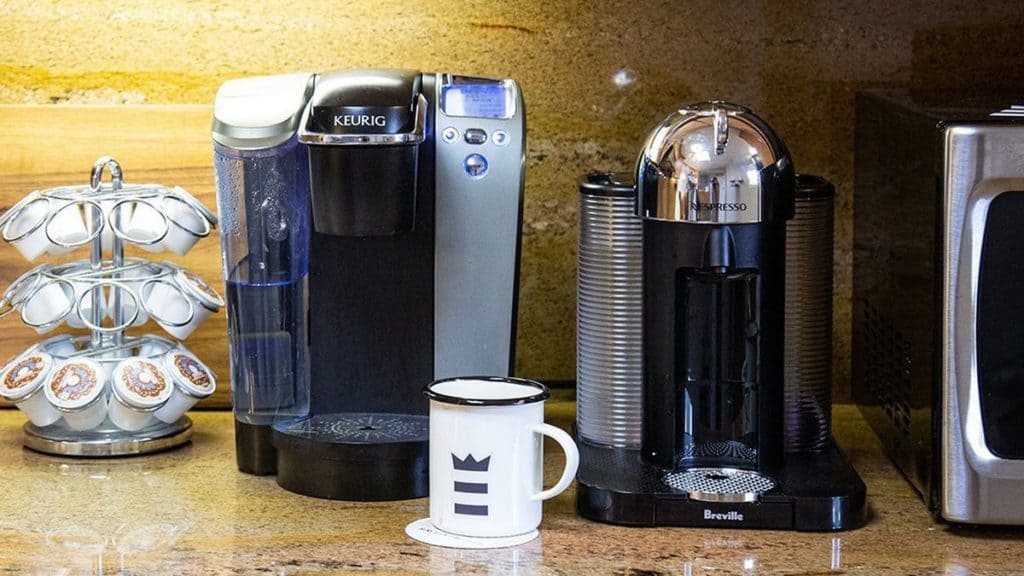 Nespresso is a company out of Switzerland that is a subset of the Nestle Group. Although Nespresso isn't as common in places like the United States (a fact that is quickly changing, we might add!) it is incredibly popular in Europe.
When considering Nespresso machines, you will find two major types. The OriginalLine and the VertuoLine. Of course, there are several products that fall within each of these categories, but for the most part, these are the two biggest niches.
Interestingly, there are no third-party competitors that offer anything like the capsules you can buy for the VertuoLine, which is a product produced for North American markets in particular (due to the preference here for larger serving sizes). VertuoLine coffee machines are also unique in that they use centrifusion technology to blend and infuse hot water and coffee. 
Furthermore, VertuoLine machines and pods have barcodes - this makes it possible for your Nespresso machine to know exactly how to brew each and every pod. How neat is that?
Around 2000, Nespresso coffee machines were also offered by companies such as Philips, Breville, and De'Longhi.
What is Keurig?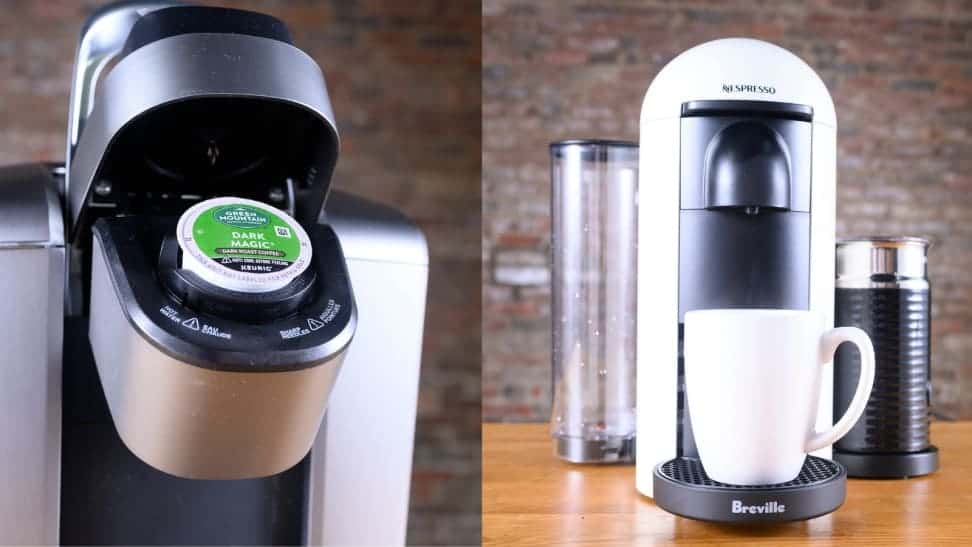 Keurig is part and parcel of the third-largest beverage company in North America, Keurig - Dr.Pepper. Formerly known as Green Mountain Coffee Roasters, this duo began marketing its products primarily for office use but now offers coffee machines for home use as well.

Although Nespresso works with other brands that also produce its coffee machines, Keurig does not - but it does partner with other brands that help produce its pods. As a result, there are more than 60 different brands that offer Keurig coffee pods, or "K-cups." You'll have an endless array of brewing options regardless of your personal tastes. 
Furthermore, there are over 50 different makes and models of Keurig coffee machines so you will have options no matter what your needs might be. 
Differences of Nespresso vs. Keurig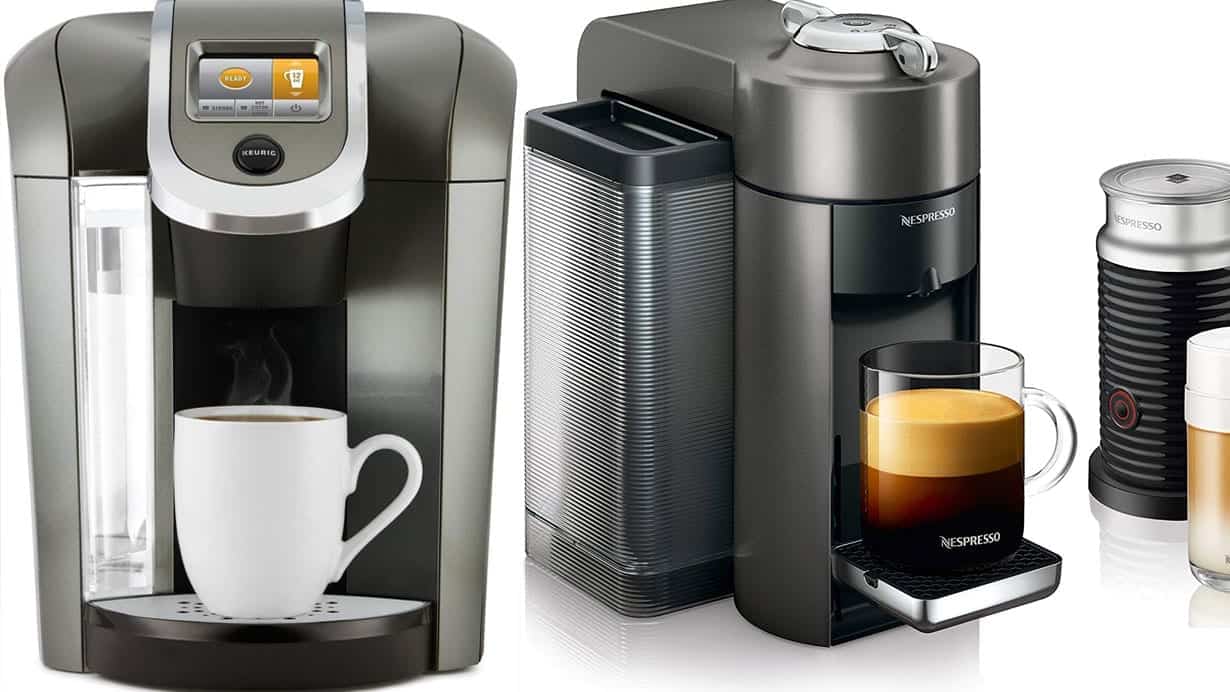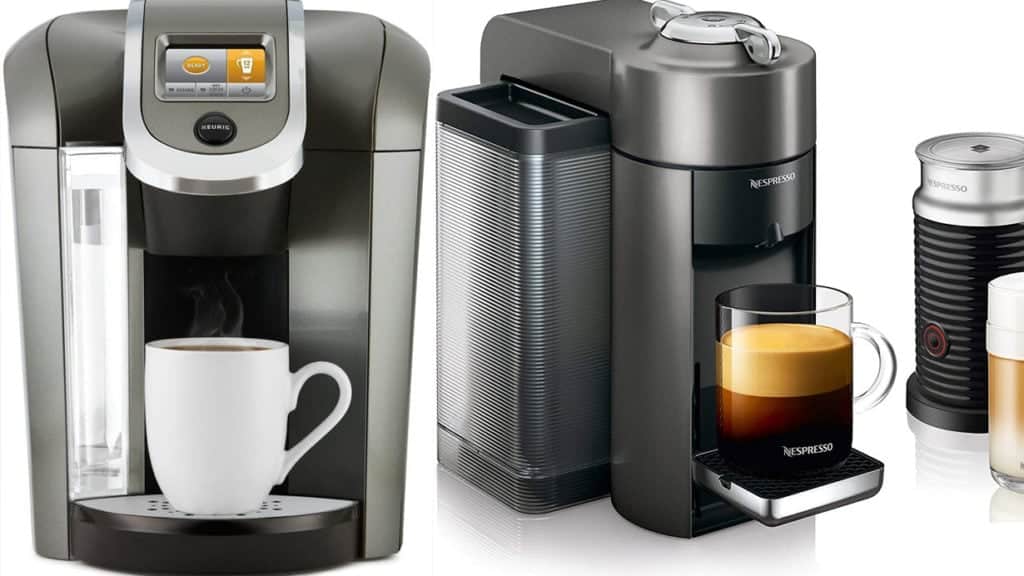 Type of Brew
Without a doubt, this is the biggest difference between Nespresso vs Keurig coffee, as well as one of the most obvious. With a Nespresso machine, you are going to be brewing primarily espresso, and with a Keurig coffee maker, you will be making coffee.
There are some exceptions, though. Some Nespresso machines have the ability to brew regular coffee. There are no Keurig coffee machines, however, that can brew espresso. You can also make drinks like Americano with a Nespresso machine, which is similar to a regular cup of coffee.
Of course, the Keurig vs Nespresso is compatible with more flavors of various types of single serve coffee pods to make coffee at home - so you might end up getting more out of this machine anyway.
The Pods
Nespresso capsules come in four major varieties, each of which is produced directly by Nespresso itself. They all produce delicious, high-quality single-serve drinks, but there is a significant limitation when it comes to the drink choices.
Not only that, but Nespresso pods are made out of aluminum. These are recyclable, but if not disposed of properly, they can produce some waste. 
Keurig, on the other hand, has hundreds of pod options from a number of different brands. You don't have to limit yourself just to coffee, either - there are pods for just about any kind of hot beverage. 
The Price
Keurig is more budget-friendly than Nespresso. Not only are the coffee machines themselves less expensive, but since there are so many single serve coffee pods and pod manufacturers out there, you can often find these at lower rates, too. 
That said, the brew quality, according to avid users, often isn't quite as high.
Nespresso, on the other hand, partners with reputable manufacturers to offer a higher-quality build and design. You'll pay more money for a Nespresso machine than for a Keurig machine, but as the saying goes, you get what you pay for with both Keurig and Nespresso.
When you're considering the difference in price between the two coffee machines, it's also important that you consider the cost per serving. On average, a Nespresso OriginalLine pod will cost $0.80 while a VertuoLine pod is around $1.15. For a traditional K-cups single-serve pods, you'll pay $0.50. 
However, there are more expensive, high quality options, including the K-Mug, K-Vue Brew, K-Garage Pods, and Rivo, each of which can cost anywhere between $1.50 and $2.00 per single serve cup of coffee. 
The Environmental Impact
Nespresso is definitely the more environmentally-friendly company when you compare Nespresso vs. Keurig. It has an AAA Sustainable Quality Program along with a recycling program - these both work to improve the sustainability of the coffee industry and reduce the environmental impact of the Nespresso pods.
Nepresso's recycling program wasn't the most successful at first, but today, it continues to grow and has clear goals for reducing environmental impact. The Keurig company and coffee maker, on the other hand, has zero recycling programs. The company has drawn a lot of criticism for its Nespresso pods, which are made out of plastic, aluminum, and paper, and are next to impossible to be recycled.
Even in places where recycling K cups is possible, the small size of the Nespresso pods means that they often get filtered out. Some single serve coffee pods can only be recycled if their components are manually disassembled.
Caffeine Content
You might also want to factor in how much caffeine you are going to get out of your chosen brew. Nespresso capsules usually come in at around 55 to 65 milligrams of caffeine, depending on the brew you select, while Keurig's K-cups offer anywhere between 100 to 140 milligrams of caffeine. Therefore, when it comes to Keurig vs. Nespresso in this category, Keurig is probably the way to go.
Much of this depends on the size of the drink, though, as Keurig's drinks tend to be a lot bigger than those offered by Nespresso.
Maintenance 
Both the Keurig and Nespresso machine are relatively easy to clean and maintain - in fact, the instructions for using either are about the same. You should start by wiping down the exterior of the unit and washing the removable parts.
Every six months or so, you will need to flush the machine thoroughly to prevent a buildup of lime or scale.
Nespresso actually offers a special cleaning mode which just requires you to press a few buttons at once or in sequence on your machine. All you need for this cleaning process is hot water - you don't have to purchase anything else.
With the Keurig machine, the descaling process is a bit more complicated and hands-on. Many people do this simply with some vinegar and water, but the manufacturer actually recommends using special Keurig Hot Descaling Solution. This solution comes with its own step-by-step instructions. At most, though, this process only takes about 15 minutes to complete. 
Brewing with Nespresso: Ease of Use
Before you can brew with Nespresso, you have to allow the machine to scan the barcode of your capsule. You can choose from eight separate eight-ounce coffee variants or you can choose from four separate 1.4-ounce espresso flavors. Each capsule has a barcode embedded around its rim. 
This technology makes the Nespresso extremely easy to use - there is very little room for operator error. All you have to do is fill the reservoir with water, scan the capsule and place it on the slot, close and secure the lid, put your coffee mug on the tray, and press the button. Once your coffee or espresso has brewed, you can eject the capsule.
All of this is done with the unique centrifusion brewing technology. This technology offers some of the highest-quality brews, combining fast-spinning capsules that move at 7,000 RPMs. After brewing has been completed, the machine keeps brewing for a moment to help remove water and leave only dry coffee grounds inside the capsule. This makes cleanup a bit easier.
Brewing with Keurig: Ease of Use
It is not difficult to brew a delicious cup of coffee with Keurig machines, either, although the process is rather different. This company has a patented brewing technology that is often regarded as one of the best in the single-serve coffee business. 
When you brew with Keurig machines, you will be using a pressurized system that will provide a means to make the exact amount of coffee at the perfect ratio and temperature. Your coffee flavors will be ideal for each and every serving.
To use your Keurig machines, you will fill the reservoir with fresh water and place your mug on the drip tray. You will insert your favorite flavor of K-cup into the slot, close the lid, and then press the button to begin brewing. The machine will puncture the pod as you close the lid and water will be pressurized so that it passes through the pods, extracts the coffee, and filters a delicious brew down into your cup.
The Verdict: Nespresso vs. Keurig
Ultimately, choosing between Nespresso vs. Keurig will come down to what kind of coffee beverages you prefer the most. If you like espresso-type drinks (such as cappuccinos, lattes, and straight espresso) then Nespresso will be the best option for you.
However, if you're happy drinking a regular cup of coffee each and every morning and aren't a fan of all the bells and whistles that espresso machines have to offer, Keurig will do the trick nicely.
Both Nespresso and Keurig provide a means to make delicious coffee and espresso drinks in a convenient coffee maker right at home. However, each coffee machine is a bit different in how it makes that cup of coffee.
Whichever one you choose, you're sure to enjoy the results and experience a truly wonderful coffee and espresso experience. Enjoy!