If you like the idea of having a nutritious smoothie in the morning or a frozen cocktail on the weekend, there's nothing better than making your own fresh drink at home. It's cheaper, more convenient, and you can have full control of what you're making. The only way to guarantee that you get a bar-quality drink is to get a powerful do-it-all high-speed blender. There's nothing better for the job than the best Ninja blender for your kitchen.
A blender is a Jack of all trades. Some people prefer to use it to make frozen drinks and fresh juice but for many of us, nothing beats the convenience of being able to whip up milkshakes, creamy soups, salad dressings, gravies, salsas, and even puree a variety of other foods.
The question is, how do you ensure you are buying a good enough blender for your needs? It's simple enough to decide to buy a blender. But there are tons of great Ninja blenders on the market to choose from. You'd probably need to take a few hours to sift through all the available options. How do you pick the best blender out of hundreds on the market?
Easy.
If you are looking for a blender that can crush, chop, process, and spiralize a variety of ingredients, you've come to the right place. Today, we're reviewing the best Ninja blenders. We've also compiled a buyer's guide for you to make sure you're getting the best gadget for your needs. Keep on reading!
1. Nutri Ninja Blender Duo with Auto-iQ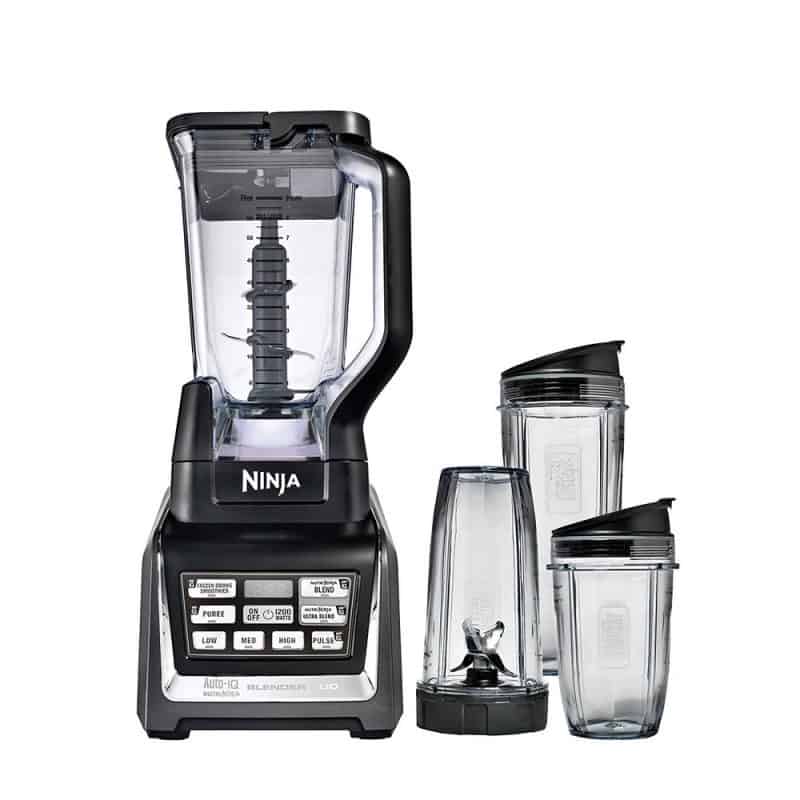 It makes perfect sense that this Ninja Blender Duo with Auto-iQ BL642 should come first on our list. It is one of the best blenders on the market because it has an unbeatable system that takes the guesswork out of blending.
With a 1200-watt motor, the Nutri duo delivers tons of power to crush and pulverize even the hardest of produce you throw at it and a smart technology that determines the right amount of blending time to avoid over or under processing.
Additionally, it comes with patented technology and has a 64-ounce capacity which means you can make several batches of frozen drinks and smoothies at a go and several serving bowls to serve your blend.
And if you want to make a smaller batch, you can switch out to one of the other blending cups. It will save you time when cleaning things up. Plus, since they're dishwasher-safe, you have nothing to fret over when you're done using them.
Best Features
Smart technology that determines how long the ingredients should be blended
Extractor blades that crush and break down whole produce completely for maximum nutrient and vitamin extraction
A recipe book with 75 different recipes to try out
It can double as a family-style or personal blender because it comes with a large blender pitcher and single-serve cups with to-go lids
2. Ninja Professional Blender, 72-oz Pitcher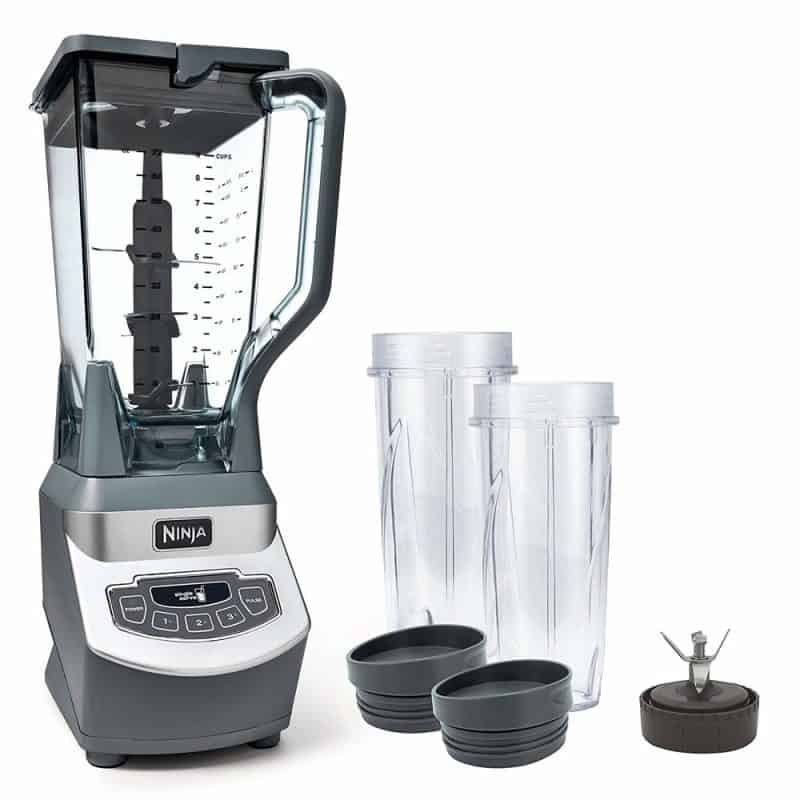 What's not to love about the Ninja Professional Countertop Blender? It is simple yet surprisingly elegant, has a high-powered motor, and costs a lot less than most high-performance Ninja blenders that work just as well.
It features a strong 1100-watt base and motor that give you the power to crush and pulverize ingredients within seconds. The nutrient and vitamin extractor blades also blast through the hardest produce to extract nutrients and vitamins.
It is an excellent option if you are looking for a mid-range priced blender that provides value for money. It's even a great pick for families, given the roomy 72-ounce pitcher. It also comes with two additional single-serve cups if you want to whip up smaller batches.
Best Features
It has a powerful motor and 1100-watt base that completely pulverizes ingredients to a fine blend
The 72-ounce pitcher holds a lot of food, which is convenient especially if you are making drinks for a large crowd
It provides dishwasher-safe convenience which makes cleaning up a less tedious task
The two 16-ounce single-serve blending cups make this the perfect personal blender
Crushing pitcher breaks down ingredients in seconds
3-speed settings to give you total control over the blend
3. Ninja 1200 Blender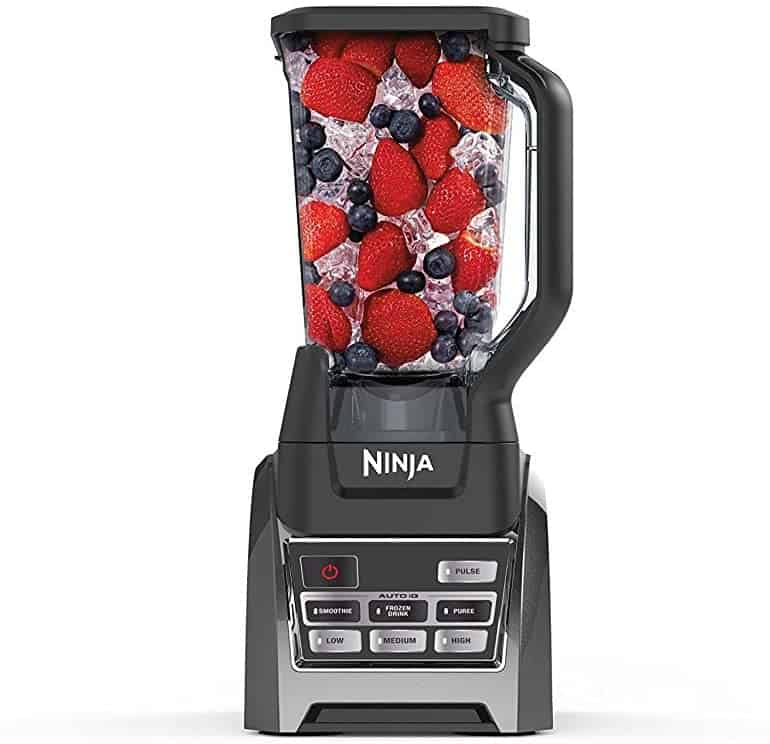 The Ninja 1200 is no stranger in the kitchen scene. It is the best model to buy if you are looking for a mid-range priced blender that provides value for your money.
According to Ninja, the Ninja 1200 is the first Auto-iQ standalone blender they have ever delivered and judging by the power this little beast of a blender provides, it is safe to say that they did a great job.
Featuring an Auto-iQ technology that provides intelligent programs that combine timed blending, and pulsing and pausing patterns, you no longer have to try so hard to figure out how to use the blender as it takes the guesswork out of the process. Additionally, it has powerful and sharp blades that completely pulverize any ingredients thrown at it in seconds.
Best Features
It is constructed from eco-friendly BPA-free and dishwasher-safe materials
It has a large enough capacity to hold large batches of liquid at a go
Intelligent programs that do all the work for you
Suction pads that keep your blender stable atop the counter
4. Ninja Kitchen Mega Kitchen System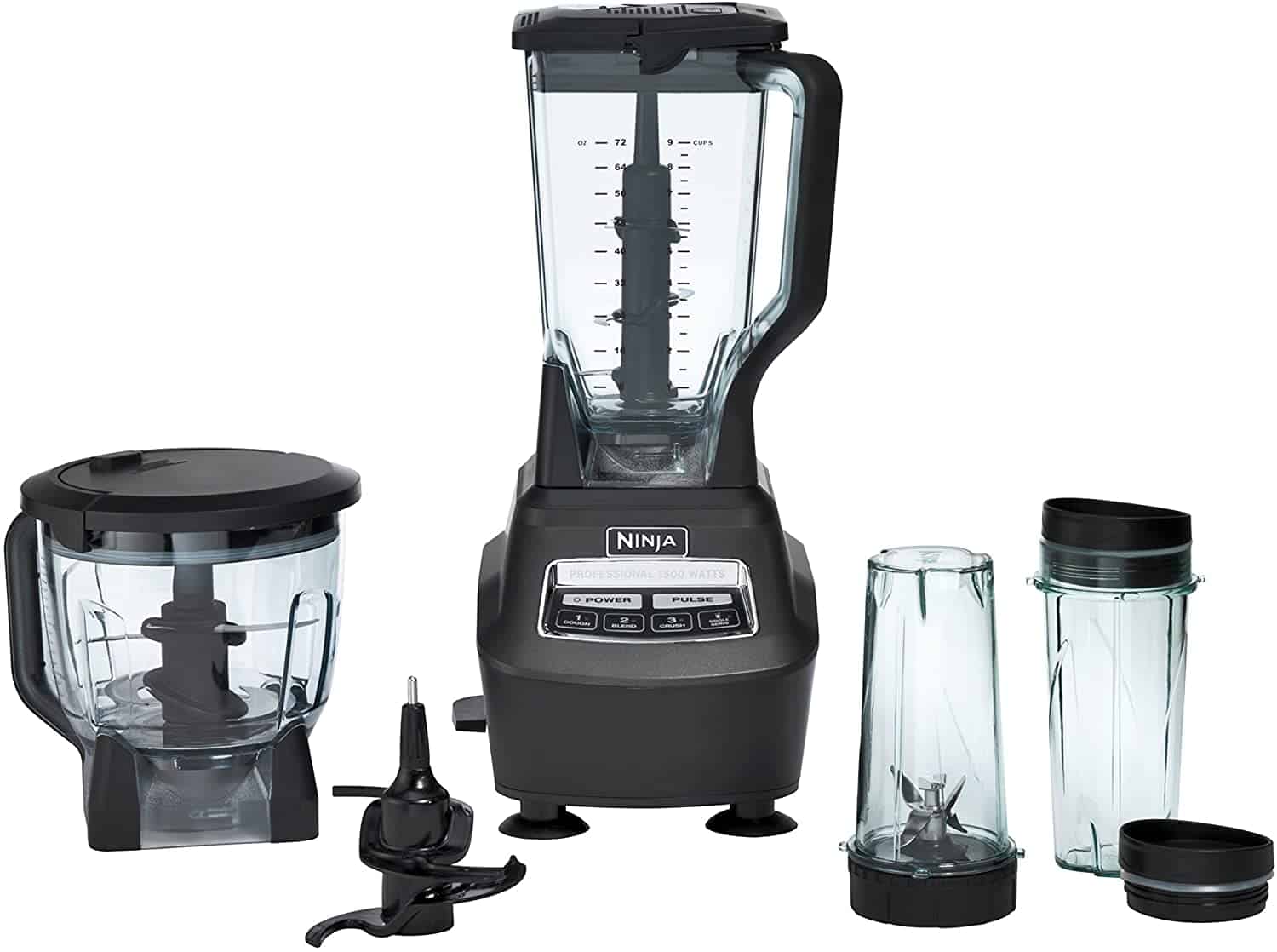 The next product on our list is the Ninja Mega Kitchen System. It's a mix of two different appliances: a blender/food processor. Use it as a family-style blender or as a personal blender by switching between the four cups and bowls to get even more things done in the kitchen.
Boasting a 1500-watt motor, this is one of the best Ninja blenders out there because of how sturdy and durable it is. It has enough power to crush ice and frozen fruits, make healthy ice cream recipes, whip up nut butters, and a lot more. You can even knead dough, using the dough hook! If you can think it, you can blend it.
Of course, so much versatility comes at a higher price. But once you think of all the appliances you can replace (i.e. food processor, stand mixer, vegetable chopper, and so on), you'll see that the Ninja Mega Kitchen System is a worthy investment. It will save you counter space and money in the long run.
Best Features
It is constructed from BPA-free and dishwasher-safe materials to avoid chemicals leaching into your drink
Strong and powerful 1500-watt motor completely pulverizes all the ingredients to a fine blend
Modern elegant look that compliments your kitchen décor
Versatile four cups (single-serve and large pitcher with spout lid) and different blade attachments
5. Nutri Ninja Personal Blender, Pro BL456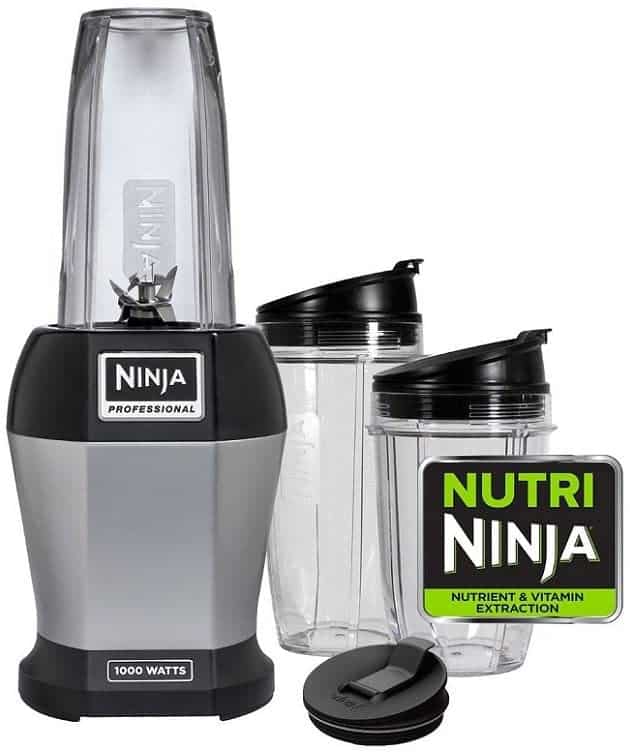 You won't have to break the bank to buy the Nutri Ninja Personal Blender, Pro BL456. You'd probably be a bit skeptical about buying this blender because nothing this cheap is ever any good. But nothing could be further from the truth when it comes to the Ninja Pro BL456.
Providing a 900-watt base and motor to break down and cut through even the hardest of ingredients, this Ninja Pro silver black BL456 could be the smallest in the bunch but it is comparable to larger models that cost a lot more.
What we particularly like about this blender is the rugged pro extractor blades that blast through whole produce just to get the nutrients and vitamins so that you are not only drinking a healthy drink but one that is also packed with all the nutrients and vitamins you need. Nothing goes to waste.
Best Features
Extractor blades that extract all the nutrients and vitamins
BPA-free parts don't put your health at risk
Dishwasher safe parts make this blender easy to clean
Several single-serve cups let you whip up different-sized batches
6. Nutri Ninja BL482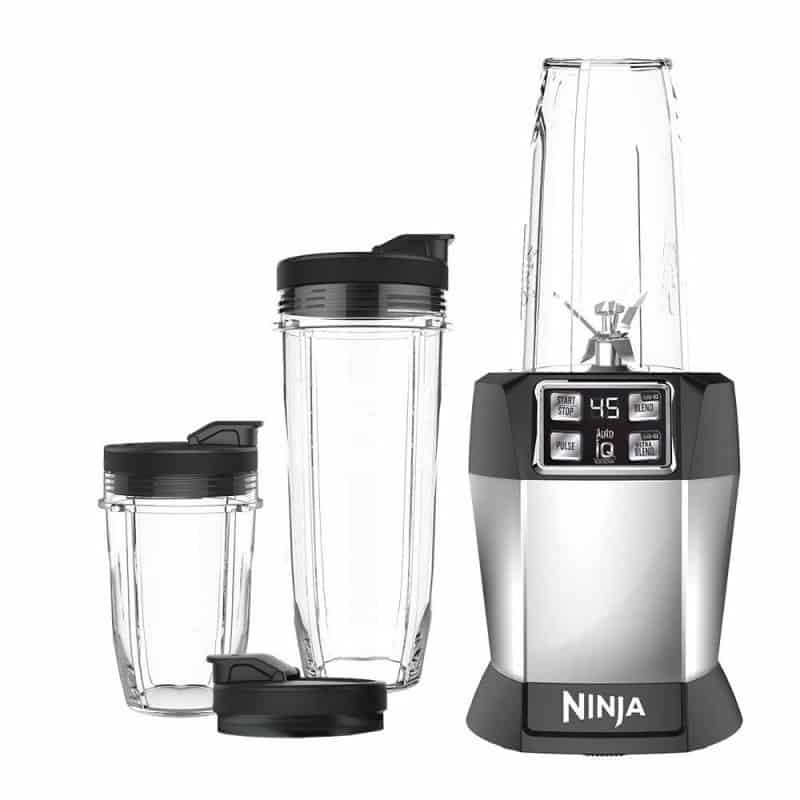 Does it drive you crazy that you have spent big bucks on a blender but still need to shake, stir and mix constantly to get the perfect blend? The Nutri Ninja Auto iQ BL482 is just what you need.
Featuring the intelligent patented Auto iQ technology that provides unique pulsing, blending and pausing patterns to deliver consistent results every time, you no longer need to think too much about how to go about blending as it has taken the guesswork out of the equation.
Best Features
Pro extractor blades that break down even the hardest of ingredients into a smooth blend
Smart intuitive technology that makes it easy to use the blender even if you don't know much about it
The Nutri Ninja cups have a twist on lid that you can easily open and sip on the go
 7. Nutri Ninja Auto iQ BL492 Compact System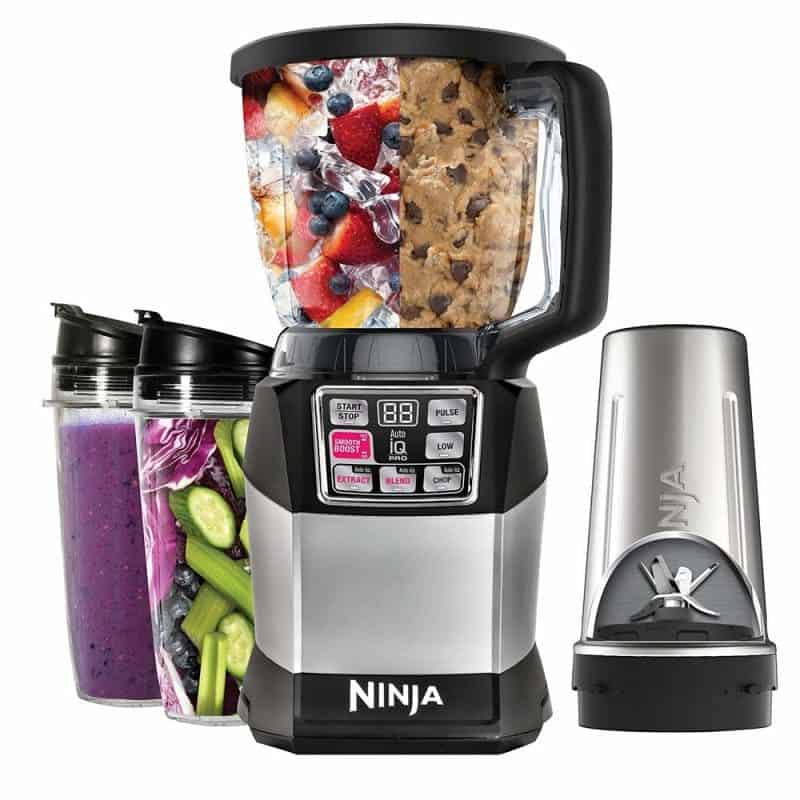 Featuring an Auto iQ technology that takes customization to the next level, this is an amazing professional blender. It meets all our expectations and then some.
It is a high-quality system that exudes just as much elegance and functionality as some pricier models out there. What's more, it combines powerful blades with high speeds to ensure that no chunk of ingredient is left unpulverized. And all this, with just a touch of a button.
Best Features
Double-walled stainless steel cup keeps your drink cool
Food processor attachment lets you prepare even more meals
Pro extractor blades that break down ingredients to get all the nutrients and vitamins
Different Types of Ninja Blenders
Let's go through the types of appliances out there so you can decide which are the best Ninja blenders for you.
Basic Blenders
A basic blender is what most people think of when they go in search of the best Ninja blender. In many ways, it's like a traditional blender that's good for making frozen drinks (such as cocktails, smoothies, and milkshakes) and occasionally crushing ice. However, unlike other conventional blenders, Ninja units work a lot faster.
Ninja Chef Blenders
A Ninja chef blender is often considered a chef's handy tool. That is because it is often used by individuals who like to incorporate blending into their cooking. Especially if you are looking for a faster and more convenient way to break down ingredients and get the right texture for your recipe. Plus they take the guesswork out of the preparation process so you are bound to get a finer well-made recipe than if you were to make the recipe yourself.
Intelli-Sense Kitchen Systems
A Ninja intelli-sense blender is an all in one blender that combines the benefits of a high power blender, traditional blender, spiralizer, and food processor (no, they're not the same as a blender!) in one single appliance. So whether you want to process food or spiralize your ingredients, you can easily do so. All you have to do is switch the containers for each specified task.
Nutri Ninja
A Nutri Ninja blender is, in essence, a nutrient extractor that extracts all the nutrients from frozen fruits and vegetables as they process. Because a Nutri model is a bit larger, it has a powerful enough motor and blades strong enough to blast through whole fruits and vegetables as well as the seeds to make a nutrition-packed drink.
How to Choose the Best Ninja Blender for You: Buyer's Guide
You can never be too thorough with your pre-purchase research. Since the best Ninja blenders aren't the cheapest kitchen gadgets out there, you need to make sure you're investing in a model that will work for you.
We've taken the hassle out of the research and summed up the key blender features to look out for. Don't be fooled into splurging on a blender you won't use!
Capacity
The first thing to consider before making a purchase decision is what size would be ideal for your household. For individual servings, the best blenders are personal blenders and can hold between 16 and 24 ounces. However, if you are preparing smoothies for a large crowd, you'll need a blender with a capacity of up to 72 ounce so that you can blend in large batches. Some models even come with multiple different sized containers which make it easier for you to choose the right sized container for the task at hand.
Power
In most cases, the higher the blender's motor wattage the more powerful it is. Most regular blenders will probably range between 500 to 800 watts of power whereas a Ninja will range between 900 to 1,500 watts. Talk about strength.
The amount of power you'll need depends on what you plan to use your blender for. If you only plan to crush ice, grind nuts, and make cocktails, a 900-watt small Ninja blender is more than sufficient.
However, if you are going to pulverize harder ingredients that require more power, you need a more powerful option of between 1100 watts to 1500 watts of power.
Speeds
These mixers typically come with at least two speeds: high and low. However, sometimes they may be as many as three speeds or more for better precision and control over the texture. It's also handy to have a pulse feature.
Accessories
Without accessories, your blender will be just another regular blender that does the bare minimum. Accessories are the gizmos that make your blender a tad interesting and range from decorative to practical. Some essential must-have accessories for the best Ninja Blender models include:
Auto spiralizer: An auto spiralizer cuts vegetables into long spirals perfect for salads and veggie noodles.
Tamper:  A tamper allows you to press down the ingredients in the reservoir to ensure that they are processed as smoothly as possible.
In addition to a tamper and an auto spiralizer, other Ninja products include spaghetti and fettuccine blades that you can use to make pasta and cut the dough into small-sized noodles.
Price
You can find models to suit all budgets depending on the number of accessories and extra features that are included. But you should expect to pay a lot more for high-performance machines compared to basic models designed for more basic needs.
Preset Programs
In addition to variable speed settings, some products also have the convenience of having preset programs where you just simply throw in the ingredients and the blender will choose the rights speeds and automatically stop blending when done. You will pay a little more for this convenience, but it's definitely worth it. Others even come with a food processor attachment.
Wrapping It Up: Why the Ninja Blender?
If you've been using blenders made by other brands (such as Vitamix, for example), you might be at odds with the idea of switching to a Ninja blender. Especially considering it costs a tad more than conventional blenders. Here are some of the reasons why we'd highly recommend that you try out the best Ninja blender for your needs:
It performs a host of other functions performed by other kitchen appliances such as a spiralizer, food processor, stand mixer, grater, and juicer.
It is both powerful and fast. You can even use it to blast through whole fruit, grind nuts and it will only take minutes to pulverize the ingredients to a smooth texture.
If you purchase a high-performance Ninja blender, you'll get consistent results with each blend.
They are equipped with a variety of containers that come in different sizes so you always have a variety to choose from depending on the recipe you are preparing.
The best Ninja blenders offer dishwasher-safe convenience to make cleaning up easier.